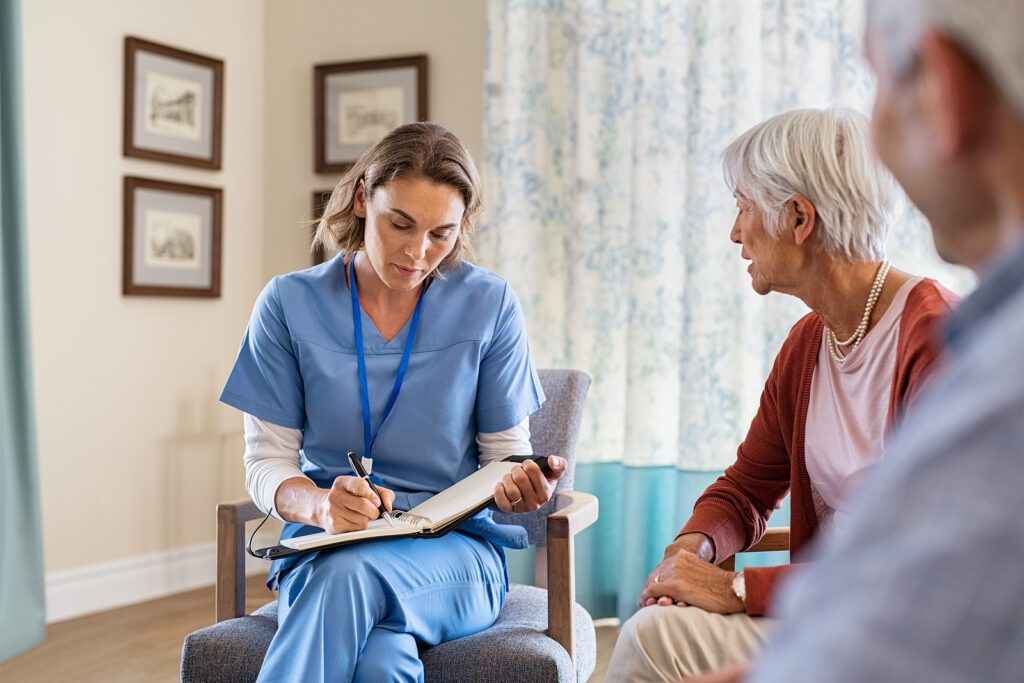 Although there is some overlap in the role of the certified nursing assistant and practical nurse, the LPN has the advantage that they can collaborate with the healthcare team to develop and implement patient care plans and care for patients. LPNs maintain patient records, communicate with patients and their families, observe and document patients' responses to treatment, start IVs, and use medical equipment. If you're ready to practice beyond your role as a CNA, enrolling in a Practical Nursing program is a first step. CNAs may qualify for advanced placement in the program or obtain an advantage in the selective admissions process.
Jefferson Community & Technical College – Louisville
Certified nursing assistants may receive credit for the Nursing Assistant Skills module in the Practical Nursing Diploma Program at Jefferson Community and Technical College. The program is approved by the Kentucky Board of Nursing (KBN) and includes theory and practical sessions to prepare students for success on the state licensure exam. The curriculum covers 40 credit hours in the classroom, lab, and clinical sites. Some of the coursework may be delivered online. Course topics include Achieving Academic Success, Medical Terminology, General Psychology, Fundamentals of Nursing Care, Pharmacology in Nursing, Mental Health, Anatomy and Physiology, Nursing Care, Childbearing Family, and Nursing Trends and Issues. Graduates will be eligible to apply to sit for the NCLEX for Practical Nurses. Prospective students must complete the prerequisite courses before applying to the program.
Admission criteria:
Must secure admission to Jefferson College before applying to the Practical Nursing Program
Attend a program information session
Submit an application for admission to the Practical Nursing program
Submit official high school transcript or official GED scores -must demonstrate above-average standing in high school or on the GED
Submit unofficial transcripts of any post-secondary work completed at an accredited institution
Must have a cumulative GPA of at least 2.0 on all college work
Provide documentation of Kentucky SRNA certification
Complete a criminal background check and drug screen
Complete the immunization requirements and physical assessment – Influenza, MMR, TB. Varicella, Hepatitis B
Must have Basic Life Support (BLS) CPR certification – American Heart Association or American Red Cross
Attend an orientation and workshop before the start of classes
Complete the training videos on HIPAA, OSHA/Infection Control, and Professionalism
Tuition for the program is $179 per credit for in-state students and $358 per credit hour for out-of-state students. In addition to tuition, students must cover the costs for books, uniforms, skills kits, liability insurance, and nursing pin. The program is eligible for financial aid.
Address: 200 W Broadway, Louisville, KY 40202
Phone: (502) 213-5333
NCLEX-PN Pass Rate: 92%
Galen College of Nursing – Louisville
Certified nursing assistants may enroll in the practical nursing program at Galen College of Nursing to earn the licensed practical nursing credential. CNAs may be exempt from pre-admission testing and have an advantage in the competitive admissions process. The practical nursing program covers 1,440 contact hours including 600 hours of theory, 192 lab hours, and clinical hours. Areas of study include integrated human services, nursing and healthcare, fundamentals of nursing, pharmacology, mental health concepts, geriatric nursing, and integrated human sciences. The learning concepts taught in the classroom will be reinforced by laboratory practice. Graduates will be eligible to take the NCLEX-PN program for licensure in the state. They will provide patient-centered care, demonstrate caring behavior, communicate effectively, use critical thinking skills and clinical judgement, participate in collaborative relationships, and coordinate care of diverse patients. Full-time and part-time schedules are available. The day program is 12 months long and the evening program Is 21 months long.
Admission criteria:
Must be a high school graduate or possess a GED diploma
Must be able to communicate effectively in English
Meet with an admission representative to determine pre-admission testing requirements
Apply for admission to the PN program
CNA applicants must have a current, unencumbered CNA certificate
Provide social security number verification
Pass a criminal background check and drug screen – the background check fee is non-refundable
Must obtain a negative TB test and provide proof of immunizations
Must have current CPR certification
The total program cost of $21,803 includes books, immunizations, uniforms, clinical supplies, and CPR.
Website: https://galencollege.edu/
Address: 1031 Zorn Avenue, Suite 400, Louisville, KY 40207
Phone: (502) 410-6200
NCLEX-PN Pass Rate: 82%
MedQuest College
The accelerated practical nursing program at MedQuest College is open to certified nursing assistants and non-healthcare professionals. The program leads to a practical nursing diploma and covers a total of 1,212 contact hours including 588 hours of lectures, 192 hours in the on-campus lab, and 432 hours at an assigned clinical site. Course topics include Human Structure and Function, Introduction to Nursing and Healthcare, Foundations of Nursing, Medical Surgical Nursing I, Pharmacology, Gerontology Nursing, Mental Health Nursing, Maternal Child Nursing, and Transition to Professional Practice. Graduates will be eligible to take the NCLEX-PN to become a Licensed Practical Nurse. The duration of the program is 12 months.
Admission criteria:
Secure admission to MedQuest College as a regular student and pay the enrollment fee of $60
Complete a pre-entrance academic assessment or arrange for an official transcript of previous exam scores to be sent to an Administrator of the Nursing program. Wonderlic, ACT, TEAS or SAT scores are accepted
Must be 18 years or older
Must be a high school graduate
Attend an applicant interview with the Nursing Administrator
Complete a criminal background check
Obtain a clear drug screen
Complete the Emergency Medical Release Form
Complete a satisfactory physical
Submit results of a 2-step TB test or chest x-ray
Submit documentation of up-to-date immunization – Hepatitis B, Tdap, MMR, varicella, influenza
Submit current BLS for Healthcare Provider through the American Red Cross
Provide proof of health insurance
The program cost of $23,966 includes tuition, books, and supplies/fees, medical materials, safety equipment, three sets of uniforms, student liability policy, immunizations, ande NCLEX-PN test fee.
Website: https://medquestcollege.edu/
Address: 10400 Linn Station Road, Suite 120, Louisville, Kentucky 40223
Phone: 502-530-1604
NCLEX-PN Pass Rate: 44%
ATA College – Louisville
The practical nursing program at ATA College is open to CNAs who hold an active, current license to practice. The fast-track program is offered in hybrid format to give nurse aides the flexibility to work while they study. Some of the courses will be delivered online and the hands-on training is conducted on campus in the modern, well-equipped lab. Students will also develop practical skills during the 687-hour clinical rotations conducted at local health care facilities. the program covers a total of 1,431 contact hours or 90.5 credit hours. Course topics include success skills, microbiology, nutrition, anatomy and physiology, medical math, medical terminology, pediatric nursing, medical surgical nursing, fundamentals of practical nursing, and mental health nursing. The program is approved by Kentucky Board of Nursing. Extensive NCLEX preparation assessments will help students to success on the licensure exam. Graduates are eligible to take the NCLEX-PN to become licensed practical nurses. The duration of the program is 60 weeks.
Admission criteria:
Provide proof of high school graduation or GED diploma
Must communicate effectively in English. Applicants whose first language is not English must submit TOEFL scores
Apply for admission to the nursing program
Pass a criminal background screening process
Pass a nine-panel drug screen test administered by Baptist Worx
Complete the immunization requirements – MMR, varicella, Tdap, PPD, Hepatitis B, and Influenza
The program cost of $32,796 includes tuition, registration fee, general fees, nursing fee, and books. Financial aid is available for eligible students.
Website: https://www.ata.edu/
Address: 10200 Linn Station Rd, Louisville, KY 40223
Phone: (502) 412-4028
NCLEX-PN Pass Rate: 69%
Sullivan University
Certified nursing assistants are eligible to apply to the practical nursing program at  Sullivan University and receive credit for their experience. The program nursing program leads to a Practical Nursing Diploma and grants nurse aides the eligibility to take the NCLEX to practice as a practical nurse. The training includes hands-on learning with industry equipment to prepare students for real life situations. Course topics include personal and vocational relationships, math concepts for pharmacology, introduction to nursing and healthcare, development of the caregiver role, introduction to health deviations, pharmacology, mental health concepts, nursing and childbearing family, health deviations, nursing trends and issues, and management of the geriatric client. The program requires completion of 86 credit hours (1420 clock hours). Graduates are eligible to apply to sit for the NCLEX for Practical Nurses. New students are admission four times a year.
Admission criteria:
Apply for admission to Sullivan University and pay the non-refundable application fee of $30
Attend an interview with an Admissions Representative
Apply for admission to the nursing program
Submit transcripts for all courses completed at post-secondary institutions
Complete an entrance evaluation or submit satisfactory SAT or ACT scores
Must have a high school diploma or GED certificate – a high school GPA of 2.0 or above is required
Take and pass the TEAS with a minimum score of 53 on Reading and 50 on Math
Must submit to a criminal background check
Submit documentation of immunization
Must have CPR for Health Care Providers card
Tuition costs $275 per credit hour for practical nursing. Additional costs for fees, CPR certification, background check, health requirements, textbooks, and supplies.
Website: https://www.sullivan.edu/
Address: 3101 Bardstown Rd, Louisville, KY 40205
Phone: 502-456-6505
NCLEX-PN Pass Rate: 47%