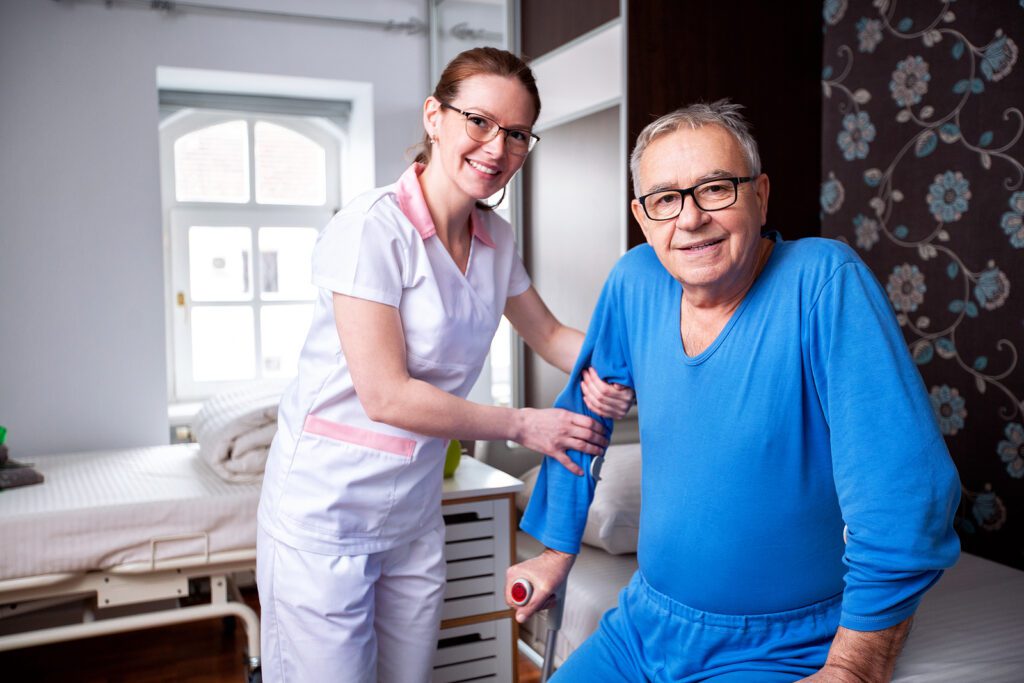 Licensed practical nurses play a pivotal role in the delivery of care in long-term care facilities, hospitals, and home health care. They work under the supervision registered nurses and doctors to restore health and prevent diseases. Certification as a nursing assistant and experience in the field may be recognized by practical nursing programs in the admissions and selections process. CNA candidates may also qualify for advanced placement credit to complete the program in less time. Upon completion of the practical nursing program, you will be eligible to sit for the NCLEX for Practical Nurses and may also continue your education to the associate degree through an LPN to RN bridge program.
Milwaukee Area Technical College
The Practical Nursing Diploma requires nurse assistant training for entry. Persons who want to practice as a licensed practical nurse must first complete an approved nurse aide program, but state certification is not required. Certified nurse aides may use their certification to obtain extra points in the competitive admissions process. The Practical Nursing program ladders into the Registered Nursing associate degree, giving CNAs the opportunity to continue their career to the registered nurse if they choose. The curriculum requires completion of 32 credit hours of theory and hands-on experiences in the lab and at clinical agencies. Course topics include General Anatomy and Physiology, Written Communication, Nursing Fundamentals, Nursing Skills, Nursing Pharmacology, Introduction to Clinical Practice, Health Alterations I and II, Health Promotion, Clinical Care Across the Lifespan, Introduction to Clinical Management, and Psychology of Human Relations. Graduates will be eligible to take the NCLEX for licensure as a practical nurse. The duration of the program is two semesters.
Admission criteria:
Must be at least 18 years of age
Must have a high school diploma or GED
Have at least one year of high school biology and chemistry or one semester of college biology and chemistry
Submit a completed application and fee
Must have a cumulative GPA of 2.5 or higher
Complete online student orientation
Take and pass the NLN exam
Take and pass the admission placement assessment
Must submit documentation showing completion of an approved nursing assistant program
Complete the science and liberal arts courses with a grade B or better
Attend a mandatory orientation
Complete the required CastleBranch documents
Complete criminal background check, drug test, and health records
Tuition costs $2,418.75 for students completing 15 credits per semester. The costs of fees, books, uniforms, and other supplies are additional. Financial aid is available for eligible students.
Website: https://www.matc.edu/
Address: 700 W. State Street, Milwaukee WI. 53233
Phone: (414) 297-MATC (6282)
Toll Free: (800) 720-6282
Email: info@matc.edu
NCLEX-PN Pass Rate: 90.91%
Lakeshore Technical College
The practical nursing technical diploma at Lakeshore Technical College lets certified nursing assistants build on their existing skills to complete the requirements for practice as licensed practical nurse. With current state certification, CNAs will need an additional 28 credits to earn the Practical Nursing Diploma – three credits are transferred in. Moreover, CNAs will have a competitive advantage as nursing assistant skills must be attained prior to starting clinicals. Course topics include Developmental Psychology, Written Communication, General Anatomy and Physiology, Oral/Interpersonal Communication, Nursing Fundamentals, Nursing Skills, Nursing Pharmacology, Nursing Introduction to Clinical Practice, Nursing Health Alterations, Nursing Health Promotions, Nursing Clinical Care Across Lifespan, Introduction to Clinical Care Management, and Math for Nursing. Students will know how to personify integrity, responsibility, and ethics in practice, demonstrate written, verbal and non-verbal communication, use knowledge of the nursing process to make clinical decisions, collaborate as a member of the health care team, and use information technology to communicate and manage data in decision making. The program is approved by the Wisconsin Board of Nursing and accredited by the Accreditation Commission for Education in Nursing. Graduates will be eligible to take the NCLEX for Practical Nurses. The program is offered on a part-time, evening schedule only and admission is limited to 16 students for each cycle. Classes meet 3 to 4 evenings per week and some Saturdays.
Admission criteria:
Submit a completed application for admission online and pay the non-refundable application fee of $30
Submit official high school transcripts
Submit official college transcripts and test scores from within the last five years (optional, highly recommended)
Complete the Background Information Disclosure form and pay the processing fee of $20
Complete the online Student Success Questionnaire
Complete Technical Standards form
Read the Nursing Program Handbook and sign the verification page to submit with the application
Must have a current CNA license to qualify for advance standing
Schedule a Program Counseling/Registration Session with an assigned program counselor
Take and pass the HESI with a score of 70% or better
Complete the Health/TB Tetanus Form
Demonstrate math competence – have an Accuplacer score of 263 or have a minimum grade C of 263 or better
Must have CPR Basic Life Support Healthcare Provider certification before starting clinicals
Tuition costs $143.45 plus $8.61 per credit student activity fee for WI residents. Other costs include uniforms, textbooks, lab fees, insurance, and transport to the clinical sites. The program is eligible for financial aid.
Website: https://gotoltc.edu/
Address: 1290 North Ave, Cleveland, WI 53015
Phone: 920-693-1000
NCLEX-PN Pass Rate: 100%
Bryant & Stratton College
Certified nursing assistants can enroll in the Practical Nursing diploma at Bryant & Stratton College to prepare for a role as a licensed practical nurse. The curriculum includes instruction in the classroom as well as activities in the school's simulation lab and at local health care facilities. It requires the completion of 41 credit hours to obtain the Practical Nursing Diploma. Areas of study include anatomy and physiology, pharmacology for LPNs, medical surgical nursing, lifespan development and nursing practice, maternal child nursing, fundamentals of practical nursing, intravenous therapy, and practical nursing leadership. Graduates will be eligible to apply to sit for the NCLEX for Practical Nurses. They may also transfer credits to the Associate of Science Degree in Nursing program and complete the requirements for registered nursing in one year.
Admission criteria:
Apply for admission to Bryant & Stratton College and pay the non-refundable application fee
Provide official high school transcripts
Attend an admissions interview
Complete the Background Check Authorization to initiate a criminal background check
Take and pass the HESI with a score of 70% or better
Provide documentation of recent physical exam and other lab tests including drug screen
Complete standardized assessments
Attain college level placement scores on both the English and Mathematics placement evaluations
CNA applicants must hold current certification to receive credit
Complete the drug screen requirements
Provide proof of vaccination or lab report of titer – MMR, Tdap, Hepatitis B, Varicella, COVID-19, Influenza
Must have health insurance as required by the clinical agency
Must have continued Certification in CPR and AED throughout the program
Tuition costs $9,600 per semester. The cost for books, supplies, and fees are additional.
Website: https://www.bryantstratton.edu/
Address: 500 W Silver Spring Dr, Bayshore Town Center, Suite K340, Glendale, WI 53217
Phone: 414-961-9600
NCLEX-PN Pass Rate: 80%