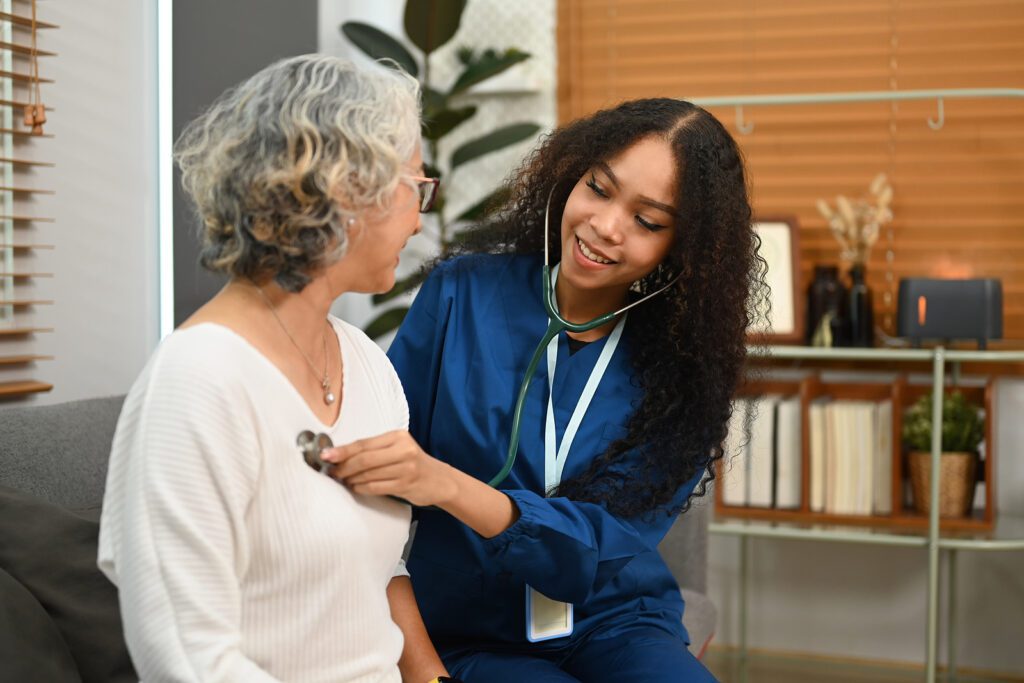 Certified nurse assisting is a fast and easy way to enter the health care industry in a supportive role. If you're itching to take the next step on the career ladder, practical nursing is another great option that doesn't require a degree. In just 12 months or less of full-time study, you can prepare for licensure as a practical nurse and fill the need for nurses in residential care facilities, nursing homes, and hospitals.
Licensed vocational work under the guidance of a registered nurse. Responsibilities include wound care, observation and reporting, assisting with medical treatments, assisting with patient care plans, administering medication, supervising certified nursing assistants, and measuring vital signs. There are many benefits that arise from the transition from CNA to LVN. The key ones include greater responsibility, higher wages, opportunities to continue your education to registered nursing (in just one more year), and upgrade your occupational title.
City College of San Francisco
The Licensed Vocational Nursing program at the John Adams Center of the City College of San Francisco is open to Certified Nursing Assistants seeking to advanced their nursing career. While no credit is awarded for nurse aide certification, CNAs may receive an advantage in the competitive admissions process. Once enrolled in the program, nurse aides will receive the foundational skills to secure employment in long-term care facilities, acute care facilities, clinics, home health, and physicians' offices. The program covers 40.5 units of college credit. Areas of study include Fundamentals of Vocational Nursing, Basic Medical Surgical Nursing Lecture and Lab, Adult Medical-Surgical Nursing I and II Lecture and Lab, Mental Health Nursing, Concepts in Community Health Nursing, Maternity Nursing, and Advanced Medical Surgical Nursing Lecture and Lab. Graduates will be eligible to take the state exam to become a licensed vocational nurse. The full-time program is designed to be completed in 18 months.
Admission criteria:
Apply for admission to the Vocational Nursing Program
Attend one mandatory program orientation – must register for a Zoom invite
Submit official high school transcript from an official US accredited school showing completion of the 12th grade or GED or US high school equivalent
Provide documentation of completing English-1A or higher and Math-40 or higher with a grade C or better
CNA applicants must provide proof of current certification
Must have an overall GPA of 2.5 in Science and 2.0 on English-1A
Complete the prerequisite courses or acceptable equivalent with a grade C or higher – must be completed within 5 years prior to enrollment. Prerequisites: Anatomy and Physiology, Pharmacology, Nutrition, and Child Growth and Development
Complete a physical exam and proof of immunity for specified communicable diseases – Hepatitis B, Varicella, MMR, annual Influenza, Tdap, and TB
Must have a current CPR card – Basic Life Support (BLS for Provider) for adult, children, infants
Purchase uniforms from the school's designated vendor
Complete background check and drug screen at a designated provider
Attend a mandatory New Student Onboarding Orientation
Tuition costs $46 per unit for California residents and $360 for non-residents. for resident students. Students must budget additional funds for books, supplies, uniforms, certification, and equipment.
Website: https://www.ccsf.edu/
Address: 50 Frida Kahlo Way, Cloud Hall 119 (1st Floor), San Francisco, CA 94112
Phone: 415-239-3200
Fax: 415-239-3065
NCLEX-PN Pass Rate: 83%
Gurnick Academy
The Vocational Nurse Program at Gurnick Academy is open to certified nursing assistants as well as applicants with no experience in healthcare. CNAs may gain a competitive advantage in the admissions process. Transfer credit is not available for nurse aide certification. CNAs will obtain knowledge and skills to build on their existing education and training in patient care. The curriculum covers 1,570 instructional hours of theory and skills training. Course topics include fundamentals of nursing, anatomy and physiology, clinical nutrition, medical surgical nursing, pharmacology, obstetric nursing, pediatric nursing, psychiatric nursing, and preparation for NCLEX. Students will have two attempts to pass the ATI exit exam for graduation. Success on the exam is an indicator of success on the NCLEX. Graduates are prepared for success on the NCLEX for Vocational Nurses. The program admits new cohorts twice per year. Morning and evening schedules are available. Morning classes meet Monday through Friday from 9:00 am to 2:00 pm. Evening classes meet from 5:00 pm to 10:00 pm. Clinical times are 6:30 am to 3:30 pm and 2:30 pm to 11:30 pm respectively. The duration of the program is 152 instructional weeks.
Admission criteria:
Must have a high school diploma or GED
Must be at least 18 years of age – official ID required
Complete the entrance exam with the minimum score required – 16
Complete the Application/Registration packet
Must meet the immunity/vaccination requirements – varicella, MMR, tetanus, hepatitis B, two-step tuberculin, COVID-19
Must provide an attestation from a family physician certifying absence of physical, mental, and contagious disorders
Complete drug screening before starting clinical rotations – must be completed at the school's chosen laboratory
Must complete a general background check before starting the clinical rotation
Submit proof of completion and current certification in CPR for Basic Life Support
Must have the ability to read and write English
Attend an interview with the VN program coordinator or designee
Complete the Essential Medical Bioscience prerequisite course with a grade C or better
Complete the Distance Education Questionnaire
The total program cost of $38,111 includes STRF, registration fee, books, and tuition.
Website: https://www.gurnick.edu/
Address: 2121 South El Camino Real, Building B-200, San Mateo, CA 94403
Phone: 1-877-GURNICK
NCLEX-PN Pass Rate: 75%
Unitek College
Certified nursing assistants may leverage their training and experience in healthcare and enroll in the Vocational Nursing Program at Unitek College. The program consists of 1620 instructional clock hours, including 660 hours of didactive theory and 960 hours of supervised lab/clinical instruction. The school's labs contain patient care stations to simulate actual hospital settings, to prepare students before commencement of the clinical rotations. Students will develop skills through the use of common equipment such as IV poles, blood pressure cuff, enteral feeding pump, scales, adult and pediatric mannequins, and more.  Course topics include nursing fundamentals, introduction to pharmacology, medical surgical nursing, maternal and newborn nursing, pediatrics, professional development, mental health, the nursing process, first aid, pain management, infection prevention, legal and ethical issues in nursing, safety and emergency, and data college. Graduates will be eligible to sit for the NCLEX-PN licensure exam. They can also apply to complete the Associate of Science in Vocational Nursing offered at Unitek. The duration of the program is 12 months.
Admission criteria:
Must be at least 18 years of age prior to the clinical rotations
Must have completed a 12th grade level education
Must provide valid identification with the application for admission
Must self-declare as a US citizen, national or eligible permanent resident of the United States
Must have a valid social security number or Federal Tax ID number
Submit a completed application for admission
Sign the Enrollment Agreement
Complete a satisfactory background check and drug screen upon acceptance to the program
Complete the VN PRQ courses within 12 months prior to the scheduled start date of the VN program
Complete the physical exam requirements including immunizations and TB testing
Must have current CPR certification – BLS for Healthcare Providers from the American Heart Association
The program cost of $36,630.50 includes tuition, textbooks, registration fee, supplies, lab fee, program fees, STRF, and technology fees.