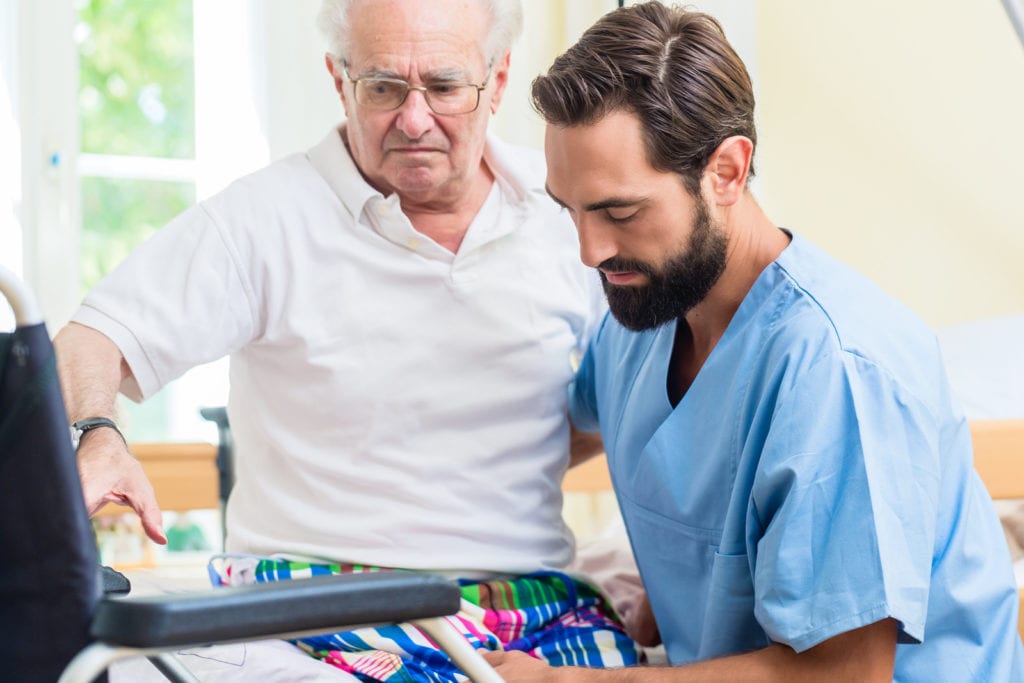 Nurses are the backbone of the healthcare team. They are innovators always seeking to expand their wealth of knowledge to provide the best possible patient care. The CNA to LPN program support health care professionals in their quest for further education. Through the on-campus or hybrid programs, nurse aides will acquire knowledge and skills to take and pass the NCLEX for Practical Nurses and care for patients in a new role as a practical nurse. The curriculum will include theory and hands-on training that reflect the best practices in the industry. It will emphasize the need for continuous education for nurses, so graduates will be inclined to pursue the Associate Degree in Nursing or Bachelor of Science in Nursing to become a registered nurse.
Green River Community College
The practical nursing program at Green River College is open to Certified Nursing Assistants seeking to become a practical nurse. The program is offered in a full-time face-to-face format or a part-time hybrid format with some of the coursework being delivered online. The program consists of 90 credits of theory and hands-on activities in the school's lab and at clinical sites in and around Seattle. Students will enjoy extensive hands-on practice in the state-of-the-art SIM lab equipped with beds, simulation manikins, observation room, and debrief room before participating in patient care in a real-world setting. A minimum grade of 2.5 or higher is required in nursing and supporting courses to graduate from the program. CNAs have the opportunity to increase job security and responsibilities on the nursing team and can also bridge into an ADN or BSN program upon completion.  Graduates are eligible to apply to the State Board for the NCLEX-PN. The full-time program can be completed in three quarters and the part-time program in six quarters.
Admission criteria:
Submit official transcripts of the completed prerequisite courses. Must be completed with a 2.5 GPA or higher – General Biology with Lab, Anatomy and Physiology I & II, Microbiology, Introduction to Chemistry, Communication Studies, English Composition, Nutrition, Introduction to Statistics, General Psychology, and Lifespan Psychology
Must have a minimum GPA of 2.5 or higher
Submit an application to Green River College and obtain a student ID number
Must have an American Heart Association Basic Life Support Healthcare provider card
Successfully pass a criminal state and national background check
Successfully pass drug screening
Complete a two-page essay responding to a prompt related to Nursing
Submit a one-page resume describing the specific activities and responsibilities of the applicant's experience
Complete and pass the Kaplan Nursing School Entrance Exam with an overall score of 67%
Complete the required immunizations and tests – 2-step TB, influenza, hepatitis B, MMR, varicella, Tdap, and COVID-19
Submit the Practical Nursing Application Spring (Part-time) or Fall (Full-time)
Provide a color-copy of a valid photo ID
Provide a copy of Nurse Aide license for extra points in the selection process
Resident tuition costs approximately $4,896 – not including supplies and cost fees. Lab, clinical placement requirements, simulations, and materials cost an additional $1,500. Books, uniforms, gait belt, watch with second hand, immunization, insurance, drug screen, and State Board fees are not included.
Clover Park Technical College
The Practical Nursing (PN) certificate program at Clover Park Technical College prepares nursing assistants and adults with no experience in health care for licensure and employment as a practical nurse. The program costs if 60 credits of nursing courses and 53 credits of general education courses that students must complete with a grade B or better to meet the graduation requirements. The curriculum emphasizes the art and science of nursing. Content is delivered in the classroom, skills lab, and clinical practice settings. Nursing faculty will supervise students during real-life nursing scenarios at local health care facilities. Rotations are typically scheduled between 5:00 a.m. and 11:30 p.m. Evening and weekend shifts may be scheduled. Graduates are eligible to apply for the NCLEX-PN for state licensure. The full-time program can be completed in 4 quarters.
Admission criteria:
Submit official transcripts of prerequisite courses completed at an accredited institution with a minimum 2.0 GPA – Chemistry, Biology, Human Anatomy and Physiology I & II, English Composition, Microbiology with Lab, Intermediate Algebra, Nutrition, General Psychology, Lifespan Psychology, College Success
Take and pass the NLN PAX Pre-Admission exam with a score of 102 combined score or higher
Submit official college transcripts (if the prerequisite courses were completed at another institution)
Submit a completed application with all the required documents and pay the non-refundable application fee of $80
Complete a state-approved CNA program, pass the state certification exam, and maintain a current nursing assistant license throughout the program
Submit to possible drug testing for clinical rotations
Must have personal health insurance
Must have current American Heart Association Basic Life Support card for Healthcare Provider
Must have no Record on File for disqualifying crimes on Washington State Patrol and DSHS background check
Must complete the immunization requirements by the first day of the quarter
The cost of the program is $9,671.34 for a state resident and $17,024.20 for a non-resident. The program is eligible for financial aid. Other funding options include the Opportunity Grant, BFET, or Worker Retraining for eligible students.
Website: https://www.cptc.edu/
Address: 4500 Steilacoom Blvd SW, Lakewood, WA 98499
Phone: (253) 589-5800
NCLEX-PN Pass Rate: 89.74%
Edmonds Community College
The LPN program at Edmonds Community College admits certified nursing aides who hold a current license to practice. The program is approved by the Washington State Nursing Care Quality Assurance Commission and leads to a certificate of proficiency in practical nursing. The curriculum is specially designed for those who are currently working in health. It will integrate theory and practical experiences. Theoretical content will be delivered online and in the classroom. The lab experiences will be conducted on campus in the school's modern lab. Lab sessions occur one to two evenings per week. Clinical experiences are scheduled at local health care facilities and give students the opportunity to care for patients in in long-term care facilities, acute care hospitals, and community agencies under the direction of experienced faculty. Graduates will be eligible to apply to take the NCLEX for Practical Nurses. The duration of the part-time program is 7 quarters – 21 months.
Admission criteria:
Submit transcripts indicating a minimum 2.75 cumulative GPA on prerequisite courses – English composition, intermediate algebra, anatomy and physiology, and lifespan psychology
Must have a minimum of 6 months patient care experience
Must have a valid CNA certificate – extra points awarded
Document technology skills
Submit two professional recommendations
Pass a criminal background check
Take and pass the TEAS V test – Reading Comprehension >50% and total score at a proficient level or above
Tuition for resident students is $8,138.88 and $20,972.16 for non-residents. Fees cost $3,643.15. Books, supplies, and other miscellaneous expenses cost $1,547.15.