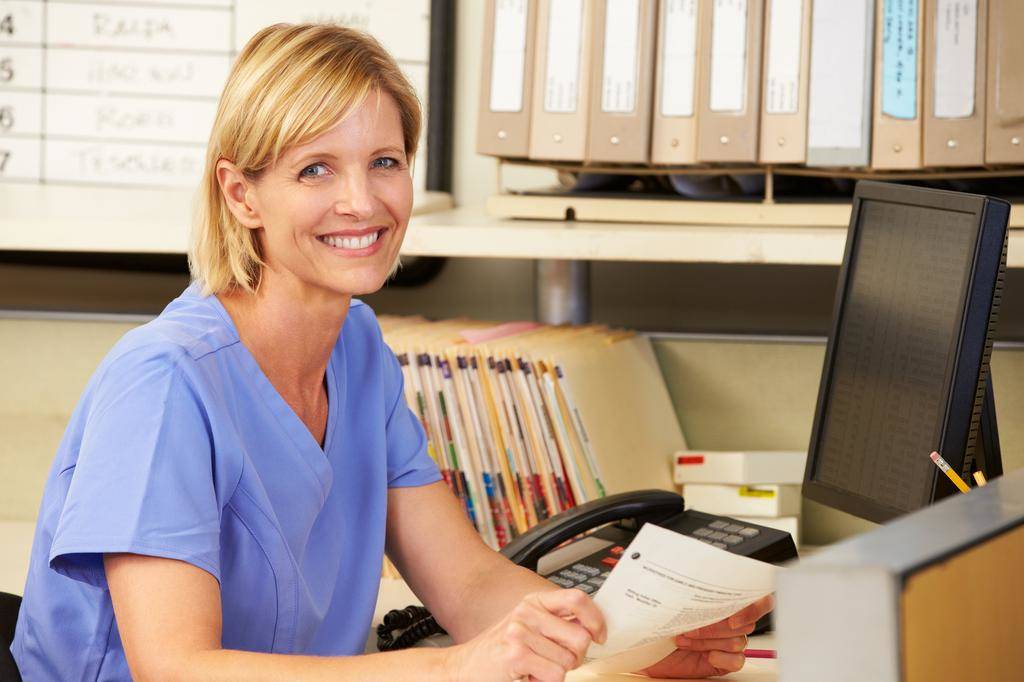 The huge demand for direct care professionals, no licensing requirements, and short-term training requirements make nursing assisting one of the most sought-after professions in Wisconsin. Through a contract with the Wisconsin Department of Health Services, D&S Diversified Technologies LLP- Headmaster LLP manages the testing and certification of nurse aides. A prospective nurse aide must complete a state-approved training program comprising of at least 75 hours of instruction including 16 hours of clinical practice before applying for the NNAAP exam. New nurse aide candidates must pass both parts of the exam within one year of graduating from the nurse aide training program. There is no restriction on the number of times a candidate can take the exam within the one-year period.
CNA Classes in WI:
How to Apply for the NNAAP Exam in Wisconsin
The following is a list of the eligibility routes to apply for the NNAAP exam or direct placement on the Wisconsin Registry.
New Nurse Aide
Submit a copy of your certificate of completion with your NNAAP application if you successfully completed a nurse aide training program and have never been registered as a nurse aide. You must pass both parts of the exam within one year of completing the training program. You can retake the exam as many times as it takes to succeed in the one-year period. However, if you do not pass the exam within one year, you must enroll in another nurse aide training program.
Student Nurse or Graduate Nurse
If you're a student nurse or graduate nurse who has not completed the NCLEX-RN or NCLEX-PN, you must submit an original transcript of your education and a student nurse/graduate nurse verification form stating that you met the training requirements to practice as a nurse aide. Send the Verification form to the Department of Health for approval and the authorization form will be issued if you're eligible. Send the authorization form, completed NNAAP application, and fee to the American Red cross to schedule the exam. If you failed the NCLEX-PN or NCLEX-RN, you must complete an Application for Competency Evaluation and obtain a letter from the Board indicating that you failed the NCLEX. Submit the documents with the correct fee to the ARC for scheduling your exam.
Out of State Nurse Aide
If you are a nurse aide candidate from another state who has completed a training program of 75 hours, which included 16 hours of clinical, and you successfully completed a nurse aide competency exam but the exam is not the same or substantially similar to the Wisconsin competency examination, you will be required to successfully complete the Wisconsin examination within one (1) year of receiving approval to test.
Out of State Nurse Aide
If you are a nurse aide candidate from another state who has completed a training program of 75 hours, which included 16 hours of clinical, but you have not tested and are within a year of completing your training program; you will be required to successfully complete the Wisconsin competency examination, an approved DHS training program and successfully complete the Wisconsin competency examination.
If you are a nurse aide candidate from another state who has completed a training program of 75 hours, which included 16 hours of clinical, you have not tested, and are past one year of completing your training program, you will be denied and required to successfully complete an approved DHS training program and successfully complete the Wisconsin competency examination.
Out-of-State Eligibility – Inactive Certification
If you are a nurse aide currently listed on another state's Registry, but have an Inactive status, and have completed an approved nurse aide training program of at least 75 hours with at least 16 hours of clinical training in another state, you must successfully pass the Wisconsin competency exam in order to be eligible for placement on the WNAR. To apply for placement on the WNAR, you must complete an Out-of-State application.
To schedule an exam under the eligibility routes listed above, you must:
Create TestMaster Universe TMU account and verify the account
Complete the initial sign in and update your demographic registration information
Your training program instructor will verify the name entered into TMU against the identification you will present when you sign in at a test event. Your ID must be a non-foreign government issued, signed, unexpired photo bearing ID.
You will receive a verification form during your training to sign, attesting to the fact that there is an exact match.
Pay the applicable fee and schedule your test event
If you need to make special testing arrangements for the exam, you must request it with your application. Special arrangements will be made if you qualify under the Americans with Disabilities Act and submit documentation from a licensed professional detailing the type of disability. You should also include the type of accommodation needed.
Note: You can schedule and/or reschedule up to 3 business days prior to a scheduled test date of your choice and receive your test confirmation notification online, via text or email, or on the screen while you are logged in. You may login with any Internet connected device. To change or reschedule your test date, login to TMU to update at least 3 business days before your scheduled test date.
You will receive your test confirmation notice on the screen at the time you schedule online. You can also view you confirmation notice any time by logging into you TMU.
Exam Costs
Payment for the test may be made using a money order, cashier's check or facility check, MasterCard or Visa.
The fees for the exam are as follows:
Knowledge and Demonstration Skills – $125
Oral Exam and Demonstration Skills – $130
Knowledge only – $32
Oral only – $37
Demonstration/Skills only – $93
NNAAP Exam Overview Wisconsin
The classroom lectures, hands-on lab, and clinical experiences made available in the nursing assistant program may be all the preparation you need to pass the Written (or Oral) exam and the Skills Evaluation. Review your notes, workbook, and textbooks. The NNAAP Skills List in the candidate handbook is another helpful tool to prepare for success. If you need additional aid, CNA practice tests are also helpful. You can find sample questions in the Candidate Handbook, but there are also numerous sites that simulate the exam by multiple-choice questions in a timed format and answers with feedback after you've completed the exam. You can take the exam as many times as you need to within one year of graduation to pass both the Written and Skills components. Your name will be added to the Wisconsin Nurse Aide Registry upon successful completion.
The Written Exam
The Written Exam is a 60-minute exam consisting of 75 questions in multiple-choice format. The test questions are divided into three main categories each with a defined percentage. The categories are basic nursing skills, aging process and restorative care, data collection, personal care, resident right, disease process, safety, role and responsibility, mental health, care impaired, communication, and infection control. You must obtain a score of 75% to pass the knowledge exam.
The Oral Exam
The Oral alternative to the Written exam is an option if you have reading difficulties. A reading assessment with simple questions and multiple-choice responses in the Candidate Handbook could help you to decide whether you need the Oral exam. The answers to the assessment are listed at the end of the test. You'll need to add your results and consider your score. A "passing" score is 17 or above. If you score less than 17 on the assessment, you should consider applying for the Oral exam which costs the same as the Written exam. You must select the option for oral testing during the application. You'll listen to both components of the exam and use the answer sheet to provide your responses. There are two parts to the exam. The first 67 questions will be similar to the Written exam. The final 8 questions will test your reading comprehension skills. All questions are in the multiple-choice format. You must receive a passing score on both parts to achieve success on the Oral exam.
Virtual Knowledge Exam Option
A virtual knowledge exam option is available if you want to take the exam at home.
Candidates must have:
An updated version of Google Chrome as your Internet browser.
Internet Explorer is not supported by TMU
A reliable Internet (Wi-Fi) connection.
A personal computer/tablet/laptop to log into TMU to access the knowledge test.
Your Email or Username and Password to take the virtual TMU Knowledge test.
A smartphone to access the 'facetime app' that you will need to have downloaded.

D&SDT-Headmaster will provide you with information about the 'facetime app' you will need before test day.
The night before your scheduled virtual knowledge exam, D&SDT-Headmaster will email you a reminder with the password-protected link to join the test event

A distraction and interruption-free area of your home, etc., where you will be testing
The Skills Exam
You'll demonstrate your ability to perform your duties as a CNA during the 30-minute skills evaluation. In an environment that is set up like an actual caregiving environment, the Nurse Aide Evaluator will point out all the equipment you'll need to use for your test. You'll receive an instruction card with the three to four skills you'll have to perform – in the order they're listed. The NAE will also review the guidelines for the evaluation. Another candidate will volunteer to play the role of a weakened elderly person. You will also need to act as a candidate volunteer for another skills evaluation, so dress appropriately in flat, slip-on, non-skid shoes with enclosed toes, a loose-fitting top with short sleeves, and loose-fitting pants that you can easily roll up. One of the mandatory tasks will be bedpan and output with required hand washing, catheter care with required hand washing, isolation gown and gloves – empty urinary drainage bag – with required hand washing, and perineal care of a female with required hand washing.
Note: Hand washing is embedded in each of the mandatory tasks and must be demonstrated at the end of each mandatory task.
To pass each skill, you must be familiar with the Critical Element Step that you must perform perfectly. The Critical Element Steps for each skill is highlighted in bold type in the Candidate Handbook. If you make a mistake or forget a step, you can make corrections after you tell the NAE the step you forgot. Once you begin a new skill, you cannot go back to make corrections to a previous skill. You must obtain a score of 80% or more to pass the skills exam.
What To Bring To The Exam
According to the exam guidelines, you're required to arrive 30 minutes before the scheduled time for check-in. During this time, the NAE will verify your two forms of identification and provide instructions for the exam. Check-in 30 minutes before both the written exam and the skills evaluation even though they're on the same day. The two forms of required ID must contain your signature, and the name must match the name on the registration. One ID should have a recent photo. Acceptable forms of ID are a driver's license, clinic card, library card, passport, social security card with signature, alien registration card, or state-issued identification card. Photocopies of the ID, tampered IDs, and expired IDs will not be accepted.
Other items to take to the center are:
Confirmation letter
Three no. 2 sharpened pencils
Eraser
A watch with a second hand
You must wear scrubs and closed-toe shoes for the exam. If your attire and grooming are inappropriate for the clinical skills exam, you may have to leave the test site and reschedule to take it at a later date at your own expense. Long fingernails and dangling earrings are not acceptable. You must not have any visible tattoos or body piercings.
Receiving Your Scores
Your test results will be officially scored and double-checked after you have completed both the Knowledge Test and Skill Test.
Official test results will be available the next business day after your test event. You may check your test results online by logging in to your TMU account.
If you pass both components of the competency exam, your name will be placed on the WNAR.
If you fail either test component, you must reapply to retake the component that you failed. The procedures for reapplying will be sent via email.
You are eligible to test as many times as needed within one year of your date of training program completion. After one year, you must complete another DHS-approved training program in order to be eligible to schedule further testing
Contact the Registry
Wisconsin Department of Health Services
Division of Quality Assurance Office of Caregiver Quality
PO Box 2969
Madison, WI 53701-2969
608-261-8319
D&S Diversified Technologies (D&SDT),
Headmaster, LLP
PO Box 6609
Helena, MT 59604
Phone #: (800) 393-8664
Fax #: (406) 442-3357
Email: wisconsin@hdmaster.com
Web Site: www.hdmaster.com