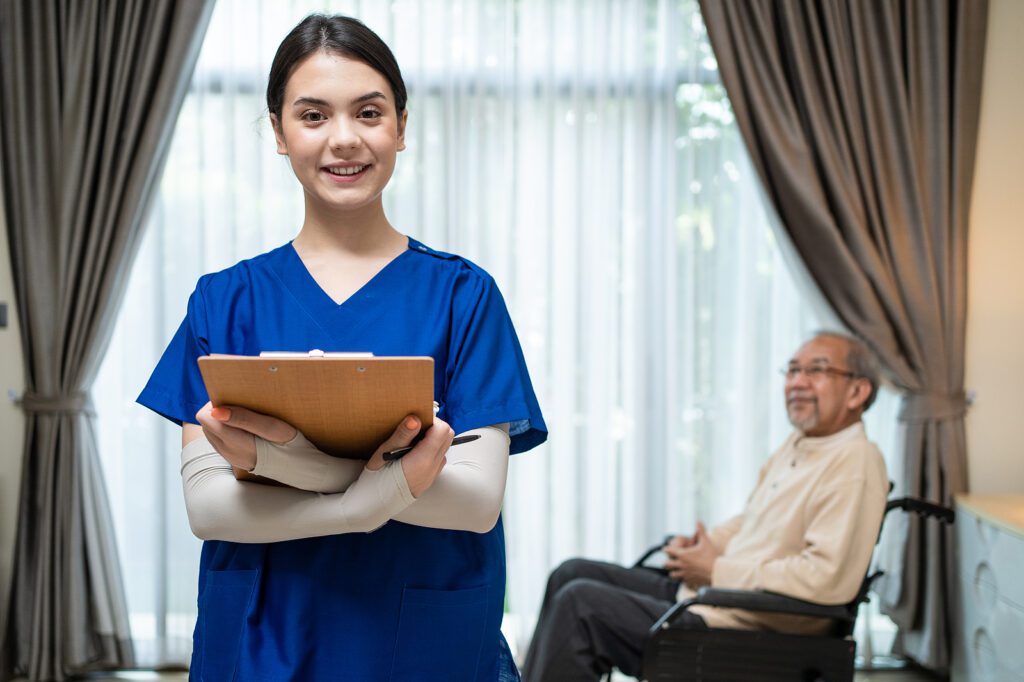 The health care industry always has a demand for more health care workers. Training to become a Certified Nursing Assistant is one of the fastest means of entering the industry. Online CNA classes merge speed of learning with convenience providing the opportunity to not only prepare for employment in 2 to 4 weeks but also the option to complete part of the requirements at home and – at your own pace if needed. Online programs provide the same high-quality training as traditional programs with personalized one-on-one tutoring from experienced instructors. The clinical rotations and the simulated lab sessions will be completed in person. You will also need to schedule a date for the state exam, which will also be completed in person. Online CNA training are accepted by nursing programs, so you can provide your certificate to receive credit or increase your chances of acceptance to a licensed practical or registered nursing program if you decide to continue your education in nursing.
First Coast CNA
First Coast CNA offers an online-hybrid CNA program that prepares adults for certification in Florida. The curriculum covers 120 contact hours which includes 40 hours of online learning. Students enrolled in that program option can study at their own pace and complete 40 hours of hands-on training on campus and the final 40 hours at a long-term health care facility. Faculty will prepare students for success on the written and skills portions of the state exam using the 22 essential skills videos and practice and mock exams. Upon completion of the program requirements, students will receive a Certificate of Completion and be eligible to take the state exam – conveniently offered at FCCNA's facility. As a FDLE approved Live Scan Level 2 Background Check Provider, the school gives students the opportunity to complete all the requirements for certification in one place.  BLS/CPR certification is also available for interested persons.
Admission criteria:
Apply for admission to the program
No high school diploma is required (If older than 18 years)
The program cost of $1,099 includes tuition, supplies, exam review for written and skills portion, and assistance with resume. Level 2 Live Scan background check, state exam registration fee, and AHA BLS/CPR certification are optional add-ons. A flexible payment plan is available for all students.
Website: https://firstcoastcna.com/
Address: 3728 Philips Highway #13 Jacksonville, Fl 32207
Phone: (904)-778-5547
Email: info@firstcoastcna.com
Florida State College Jacksonville (North Campus)
The Continuing Education Department at Florida State College Jacksonville prepares adults for a rewarding career as a nursing assistant. The program is offered in a hybrid/online learning format to give students the convenience of completing the theoretical part of the coursework online. The training comprises of two components. The first is the Basic Health Care Worker which introduces students to the health care environment with an emphasis on the health caer team and delivery systems. It will cover legal responsibilities, communication interpersonal behaviors, infection control, information technology, emergencies, blood borne diseases, employability skills, and basic math and science. The second component is Nurse Aide Training which covers the overall concepts of being a nursing assistant and prepares students for the world of work. It includes simulated activities and hands-on experiences in a clinical setting. Graduates will be eligible to take the state exam to become a Certified Nursing Assistant.
Admission criteria:
Must be a U.S. citizen or legal immigrant
Be at least 18 years of age
Have a high school diploma or GED
Complete a background check and fingerprinting
Complete satisfactory drug screening
Must be physically capable of performing the duties of a nurse aide
Provide proof of current immunizations and TB test
Must have American Heart Association CPR/AED/BLS Certification
Tuition for the program is $1,228. Additional costs for background check, CPR certification, drug screen, immunization, books, uniforms, supplies, and state exam are not included.
Florida Training Academy and Acuity CPR & Safety Training
Florida Training Academy offers an online training option for adults to apply for state certification as a certified nurse aide. Through the CNA exam prep program, students will view live demos of the 22 essential skills and practice them to boost their confidence for the skills portion of the state exam. An experienced nurse instructor will work one-on-one with each student to guide them through the skills requirements. Students will have continuous access to the online practice exams and online prep courses. Graduates will be eligible to apply to challenge the state nurse aide exam. FTA will guide students through the process of applying for the state exam and obtain state certification. Morning and weekend 2-day classes are available.
Admission criteria:
Register online
Make a deposit of $100
Select class date and time
No high school diploma or GED required
The cost of the training is $225 for the 2-day weekend class. Payment plans are available. Job placement assistance may be available for graduates.
Website: https://fltraining.com/
Address: 2253 Cassat Avenue Jacksonville, FL 32210
Phone: (904) 551-0918
Fax: (904) 302-8055