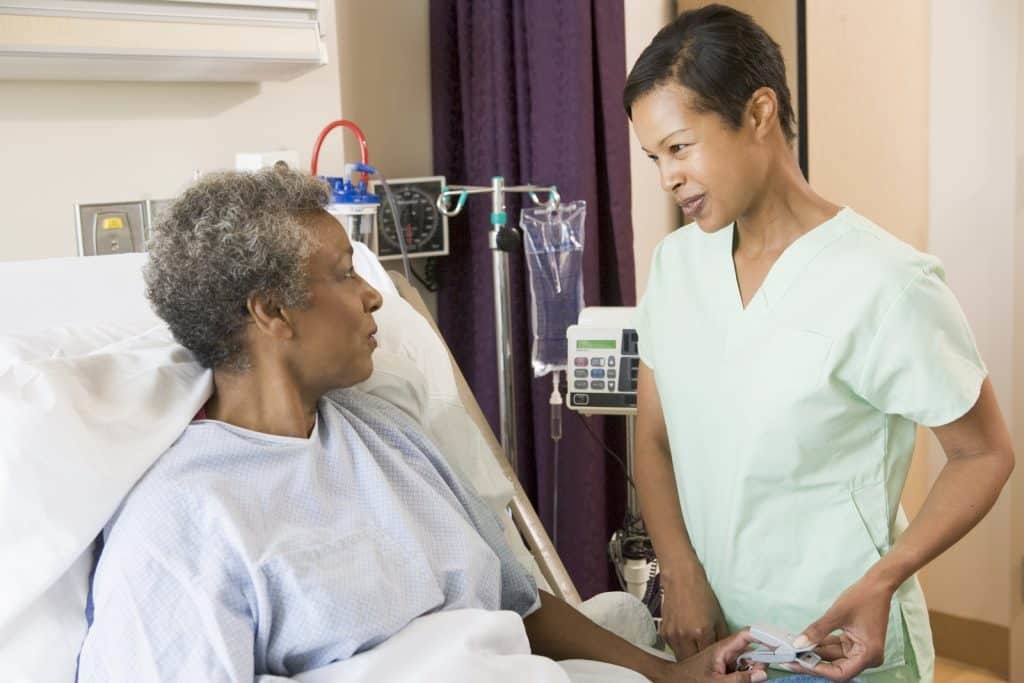 Nurse aides carry a number of different titles that vary by state, institution, and setting. Titles include certified nursing assistant, state registered nurse assistant, licensed nurse assistant, orderly, hospital attendant, and geriatric nurse aide. Working primarily in nursing homes, but also in assisted living facilities and hospitals, they assist residents with the activities of daily living, such as bathing, dressing, grooming, eating, and toileting. Nurse aides also perform clinical tasks, such as measuring vital signs and blood pressure, and administering oral medications. CNAs are an integral part of the health care system, providing up to 80 percent of the direct care administered to American seniors in need of long-term care.
The nurse assistant training and competency evaluation program prepare prospective nurse aides to meet the unique challenges of caring for an elderly population. Traditionally offered as a combination classroom, laboratory, clinical site program, there is now an emergence of online CNA classes targeting adult learners who need a convenient and flexible program to cover the course content.
CNA Classes Online Overview
For more than a decade, the Internet has evolved from a fun pastime to an essential aspect of our daily lives. In 2000, less than 50 percent of the U.S. population had access to the Internet. Today, the proliferation of smart devices and high-speed internet service providers increase accessibility and affordability to more than 80 percent of American consumers who use the Internet for shopping, research, and entertainment. Another major player in the digital world is the education sector, which experienced explosive growth over the last decade.
Online learning facilitates access to vast stores of information in real time. No longer do you need to travel to a campus or other learning site to get the information you need. In its earliest days, accredited institutions accounted for the majority of online programs. However, unaccredited institutions perform a similar task by preparing adult learners for careers in health care and other pathways.  Online classes for certified nurse assistants, like their on-campus counterparts, are not accredited by a national accrediting agency. A word of caution though: online CNA classes must be approved the state's certifying agency (the Board of Nursing, Department of Health, etc.) if you plan to apply for certification – a requirement for employment in Medicare/Medicaid funded long-term care facilities.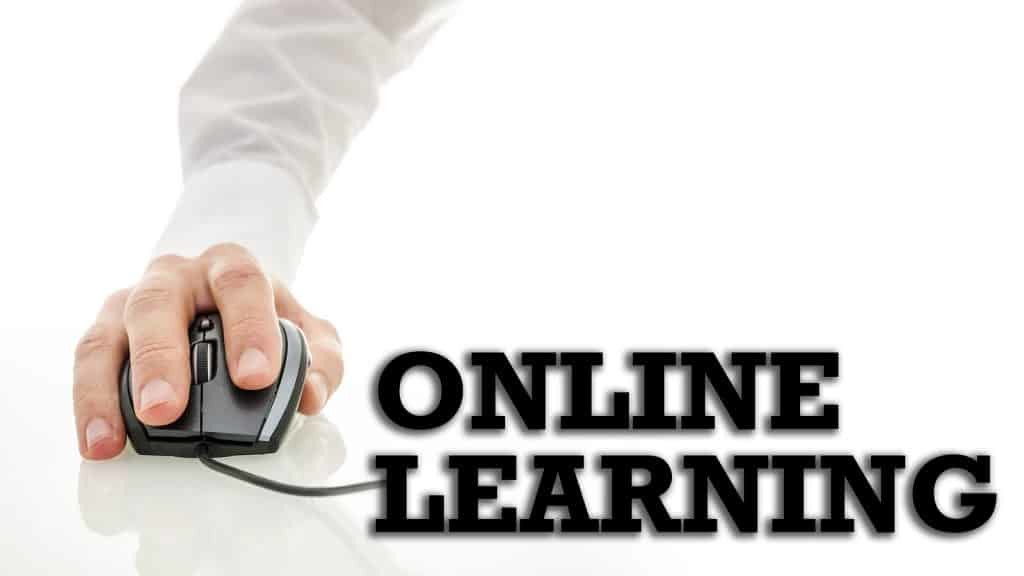 Benefits of Online CNA Classes
All professionals should be knowledgeable in their area of practice, but healthcare professionals, in particular, must be well-informed and trained to attend to patients whose lives may hang in the balance. For this reason, certified nursing assistant training must be relevant and thorough, and include didactic as well as practical learning experiences in a simulated lab and health care facility.
Online CNA Classes Can Happen Anywhere
Online CNA classes facilitate remote learning, so you can follow the lesson plan from your home or office. As an adult learner, you may not have the time to attend classes at a physical location after a long day of work. Mobile devices increase accessibility, making it possible to log on and learn on the go – as long as you have an internet connection. The lessons will be available for review anytime you need them throughout the program, and for a few months afterward. Although a few programs are self-paced, the majority of hybrid CNA programs may have a stipulated time to complete.
Online CNA Classes Are Effective
Due to strict state and federal clinical training requirements for CNAs, online classes for these unlicensed professionals are not the norm. In the U.S. more than 95% of the CNA classes approved by state bodies are offered in the traditional format. In those states where online training is accepted, it is obvious that the content and delivery methods are just as effective, or even more so than traditional learning environments. An abundance of features, such as text, worksheets, continuous assessments, audio, discussion boards, and on-campus meet-ups provide opportunities for learners to gather information, ask questions, and develop the skills to become effective health care professionals.
Online CNA Classes Can Be Less Expensive Than Traditional Training
Cost-wise, you should expect to pay less for an online class due to the lower cost to establish and maintain an online program. Keep in mind that programs that offer unrestricted access to faculty may cost more than self-directed courses. Also, while the cost of training may be slightly lower, you will need to budget for a computer or similar device and internet service (if you don't have them) to access the online content.
Online CNA Classes Provide a Searchable Resource
Online CNA Classes are not only valuable in real-time but may also be a useful resource throughout your career as a CNA. The program's content may be accessible in a searchable, digital format for months after graduation. Some schools provide a DVD resource or grant lifetime access to the content. Even throughout the training, you may be able to use skip ahead and focus on the modules where you need the most training. For the skills training, you'll also have opportunities to practice and review the steps as much as you need to prepare for the competency exam.
Online CNA Classes Appeal to All Types of Learners
Are you a visual learner? Or do you prefer a hands-on or self-paced approach to learning? Through the use of videos, audio, text, images, interactive discussions, and hands-on training opportunities, you'll have many ways to learn the concepts of safe and effective patient care. By removing the limitations of a scheduled classroom lecture, online programs let you take breaks as often as you need to absorb the content. If you're a fast-paced learner, you can move ahead quickly as you won't have to wait on others to move on to the next module.
If time (of lack thereof) is an issue, online training will be an invaluable resource. Keep in mind that the requirements for hands-on training mean online training may not be completely online and may employ a blended education model. Blended programs combine the familiarity of face-to-face interactions with the flexibility and convenience of online instruction. For the didactic portion of the training, you'll get a reprieve from mundane lectures and scheduled class times. The online training will prepare you for the hands-on experience, which will take place under the watchful eyes of a registered nurse at a long-term care facility. Online CNA classes are currently not approved in all states, but it's a growing trend that may soon be available at a campus near you.
Challenges of Online CNA Classes
As credible as online CNA classes may be, they are not without limitations. Teacher-learner engagement is critical when it comes to the preparation of a direct care workforce, especially for graduates who will go on to care for the nation's elderly. Online classes may not be ideal if you're not capable of learning in isolation or have technological difficulties. More than 50 percent of new nurse assistant students do not have prior health care experience and cannot always make the association between the knowledge disbursed to past experiences. Therefore, the practical experiences in a simulated lab that corroborate classroom lectures, as applied in traditional education, may be better suited to some learners.
Online CNA classes encourage participation and follow a well-thought-out process to motivate and develop students. However, some essential skills may not be imparted effectively online as in a traditional face-to-face approach. Certified nurse assistants must possess a broad range of clinical and non-clinical skills needed to care for the complex and challenging senior population. Online training may can not effectively provide instruction in communication techniques and hands-on skills that students need to safely care for older adults. A lot of the critical skills must be garnered through direct hands-on approaches, such as modeling and repeated practice in a clinical lab and opportunities for real-world practice and immediate feedback under the supervision of a licensed nurse. Apart from the limitation of online training to facilitate hands-on learning, federal requirements mandate clinical training in a licensed facility. Therefore, credible online CNA programs that are approved by a state board cannot be exclusively online.
One might argue that advancements in simulations that allow instructors to use interactive media, video animation, virtual patients, and other technology to impart knowledge are sufficient to meet training needs. However, as evidenced by state requirements for real-life experiences, simulations are just not enough to facilitate the skills application essential to health care. In-person skills observation and practice with immediate feedback cannot be simulated in this aspect of training.
The Objective of CNA Training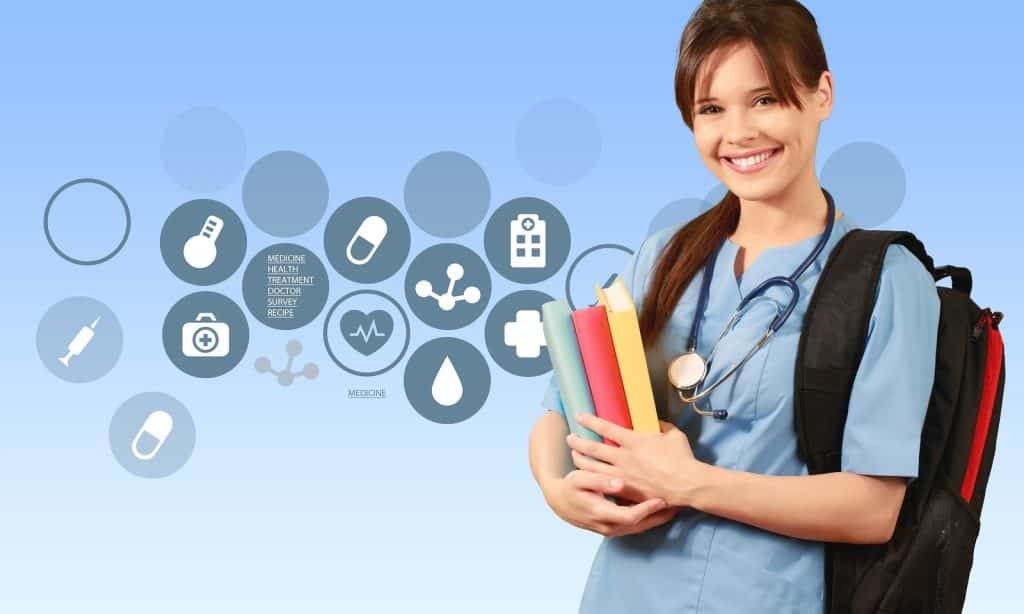 The Omnibus Budget Reconciliation Act of 1987 (OBRA '87) established the Nurse Aide Training and Competency Evaluation Program, outlining minimum federal requirements for nurse aides' education. To work in a Medicare or Medicaid-licensed facility or home health agency, you must successfully complete at least 75 hours of state-approved training, a competency evaluation to become state-certified, and at least 12 hours of continuing education per year. The 75-hour minimum training requirement must include at least 16 hours of clinical experience or hands-on practical in a clinical setting where you'll demonstrate your ability to perform specific tasks.
Many states, such as Alaska and California, have established training requirements for nurse aides that exceed the federally mandated minimums. Currently, 31 states and the District of Columbia, require more than 75 hours of initial training. Moreover, each state's certifying body holds the responsibility of developing training programs and ensuring compliance with education requirements and competency evaluation.
Traditionally, training is offered at vocational schools, community colleges, nursing homes, home health agencies, and proprietary training providers.
As the linchpin of health care delivery for older adults, nurse aides and other direct care workers supply the major portion of direct care services to seniors, including clinical services and assistance with personal care – bathing, dressing, grooming, and feeding. In light of the increasing demand for direct care workers, there has been an increase in demand for training providers to ensure that they have the knowledge and skills to meet the health care needs of older patients.
CNA classes, as limited as they may be, contribute to the quality of care in nursing homes. The training seeks to emphasize the provision of quality and safe care to all residents, including those with behavioral difficulties associated with dementia and those in need to end-of-life care.
Duration of CNA Training
Over the last decade, there have been repeated calls to increase the number of hours required for nurse aide training. The National Citizen's Coalition for Nursing Home Reform recommended 160 hours of training, minimum, for nurse aides. AARP, in 2006, interviewed training providers in 10 states who recommended that the federal minimums be increased from 75 hours to between 100 and 120 hours, which will give students time to assimilate all the information.
As highlighted previously, more than 50 percent of states currently exceed the federal minimums required for CNA training. The lifting of the federal standard provides students with the enhanced preparation to function in the role of a nursing assistant. Extra training hours give instructors time to cover additional knowledge and skill areas to develop the competencies direct care workers need to care for an older adult.
The duration of a CNA program in your state will depend on state regulations. Similarly, the allocation of hours with respect to clinical training will also vary. In the fifty states and the District of Washington, there's a substantial difference in the allocation of training hours in the classroom (or online lectures) and clinical training.
Here's a breakdown of training by state:
Training Requirements by State
Hours
State
Minimum Training Hours
Minimum Clinical Hours
120+ Hours

(13 States + DC)

Maine
180
70
Missouri
175
100
California
150
100
Delaware
150
75
Oregon
150
75
Alaska
140
80
Arizona
120
40
District of Columbia
120
75
Florida
120
40
Idaho
120
40
Illinois
120
40
Virginia
120
40
West Virginia
120
55
Wisconsin
120
32
76-119 Hours

(18 states)

Indiana
105
75
Connecticut
100
50
Hawaii
100
70
Maryland
100
40
New Hampshire
100
60
New York
100
30
Rhode Island
100
20
South Carolina
100
40
Texas
100
40
Arkansas
90
16
Kansas
90
45
New Jersey
90
40
Georgia
85
16
Washington
85
50
Louisiana
80
40
Pennsylvania
80
37.5
Utah
80
16
Vermont
80
30
75 Hours

(19 states)

Alabama
75
16
Colorado
75
16
Iowa
75
30
Kentucky
75
16
Massachusetts
75
16
Michigan
75
16
Minnesota
75
16
Mississippi
75
16
Montana
75
25
Nebraska
75
N/A
Nevada
75
N/A
New Mexico
75
N/A
North Carolina
75
16
North Dakota
75
16
Ohio
75
16
Oklahoma
75
16
South Dakota
75
16
Tennessee
75
35
Wyoming
75
16
What's Covered in the Training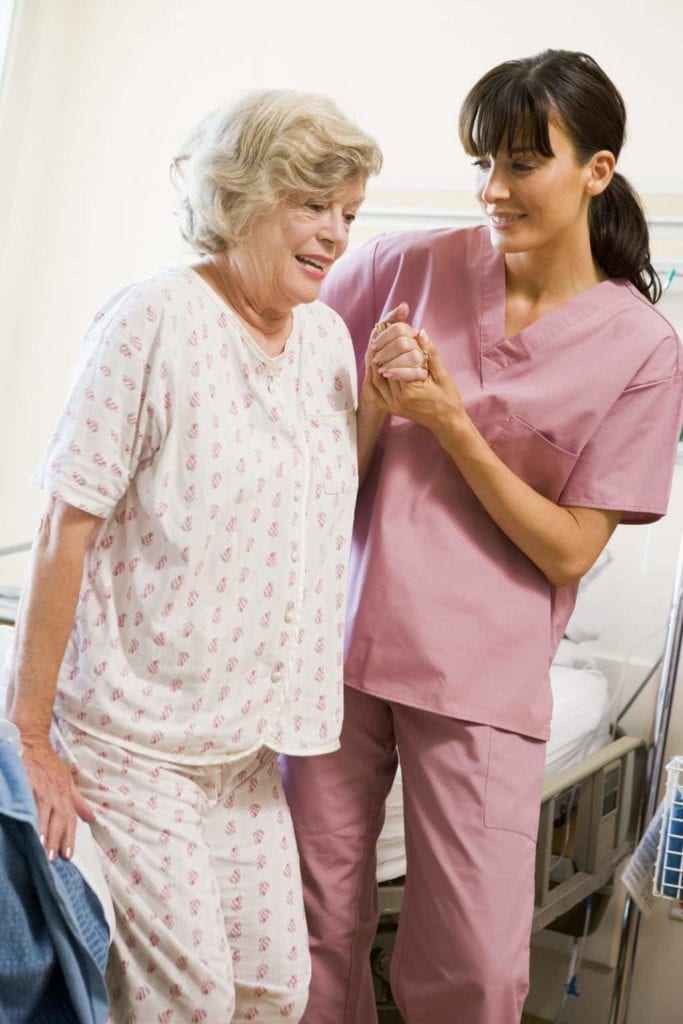 CNA training, for the most part, keeps pace with the demands of the increasing complexities of patient diagnoses, especially Alzheimer's disease and other behavioral and cognitive disorders associated with the elderly. It equips students with specific skills related to feeding, hydration, lifting, catheter care, personal care, rehabilitation, and lifting, so they're able to work with older adults with complex health care needs. An important part of the training is specific to the sensitivity needed to work with ethnically diverse patients and staff. Since cultural competence is not expressly stated in the federal requirements, only a few programs may cover this essential area.
Like traditional programs, the curriculum will cover the basics of bedside patient care in line with federal and state requirements. A registered nurse may conduct the interactive portions of the course and will supervisor any clinical experiences in a licensed facility. The timing of the practical work will vary by program – some may commence during the theory component of the course and others at the conclusion.
Courses covered include, but are not limited to:
The Nurse Aide's Role: Detailed information on your role as guided by state and federal laws, including how to perform those skills related to your role. You'll learn how to provide personal care, basic nursing skills and clinical skills, and communication with patients and members of the health care team.
Infection Control: Identifying how your daily activities are linked to the chain of infection and the proper use of personal protective equipment to prevent the spread of infection.
Safety and Emergency: The principles of safety and emergency in a health care environment and how to maintain a safe place for seniors who are vulnerable to injuries.
Communication: Effective communication techniques, including the influence of culture when communicating with people from different ethnic backgrounds.
Laws and Ethics: how to practice ethically and the role of the Nurse Aide Registry in maintaining a register of nurse aides. You'll also learn why you must obtain consent before you provide care and examples of abuse, neglect, and misappropriate of property.
Dignity: Human dignity and your role in maintaining it.
Basic Restorative Care: Using basic restorative techniques and bowel and bladder training.
Body Systems and Functions: The basics of cell structure and function and body systems, including the respiratory system, immune system, circulatory system, and immune system.
Body Mechanics: How proper body mechanics prevent injuries and how to safely assist a falling person.
Nutrition: Covers the nutritional and fluid requirements for seniors and how to calculate dietary intake, fluid intake, and output.
Appropriate Use of Restraints: How to minimize or avoid the use of restraints due to their negative effects on residents.
Communication Techniques: Why and how to communicate important information to the health care team. It will also cover HIPAA, reporting, and recording.
The Nursing Process: Identifying a nurse aide's role in the nursing process.
Incident Reporting: Gathering information, observing, and accurately reporting events.
Critical Thinking: Questions you should ask to think critically in a medical environment.
Family and Family Support: How the patient views family support and how you, as a nurse aide, can support the patient's family members.
Cognitive Changes: Cognitive changes in seniors and how they influence care.
Psychological Effects of Aging: The psychological effects of aging and how they affect care.
Dementia and Alzheimer's Disease: Caring for persons with Alzheimer's.
Mental Illness: How to respond to an agitated patient.
Pain: Techniques for reducing pain.
End of Life Care: How to administer end of life care with respect for cultural differences.
At the conclusion of the program, a nurse aide graduate will have the know-how and clinical skills to provide safe and competent care under the supervision of a licensed nurse. Requirements for state certification vary, but graduates are eligible to sit the nurse assistant competency exam for certification as a certified nursing assistant.
Nurse assistant education prepares graduates for immediate entry-level employment, but it also provides a firm foundation for future study in nursing or related field.
Online CNA Classes: The Clinical Experience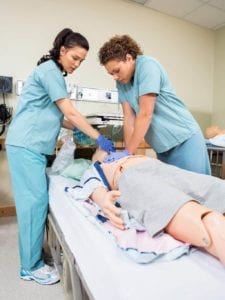 Online CNA classes must provide a clinical component to meet federal and state requirements for hands-on training. The clinical experience will cover at least 16 hours of instruction in a licensed nursing facility, but may go up to 100 hours in some states.
Direct patient care experiences provided under the direction of a licensed nurse and in collaboration with other students and health care professionals will reinforce the theoretical training. You'll demonstrate effective infection control practices, perform vital signs and identify abnormal results, document a patient's clinical record, apply proper body mechanics to prevent injury and promote safety, and communicate effectively with patients and staff.  Opportunities to demonstrate feeding techniques and promote good dietary health, use assistive, orthotic, and prosthetic devices, and promote quality of life will also be available. Throughout the experience, it is essential that you demonstrate loving care, empathy, and a patient-centered approach to care.
Frequently Asked Questions
What is a CNA?
A Certified Nursing Assistant (CNA) is a person who has successfully completed an approved nursing assistant training program and is authorized by the state to assist residents or patients with the activities of daily living under the direction of a licensed nurse. Depending on the location and facility, a CNA may be identified as an Unlicensed Assistive Personnel (UAP) or Personal Care Aides (PCA). In some states, CNAs are referred to as State Registered Nurse Assistants, Geriatric Nurse Assistant (GNA), or Licensed Nurse Assistant (LNA).
How do I become a CNA?
Due to low barriers to entry, nurse assisting is one of the easiest and fastest ways to enter the field of health care. You don't need a high school diploma or experience in health care to enter most CNA programs. However, you should have a clear criminal background and no instances of abuse or neglect as a health care worker in any capacity. Training programs are approximately 4 to 6 weeks and include lectures in the classroom and practical learning experiences. They are offered at community colleges, vocational schools, high schools, nursing facilities, and the American Red Cross. After completing the program and passing a nurse aide competency evaluation, you may be eligible for certification in your state. Review the pages on this site for more detailed information on becoming a CNA.
Where can I work as a CNA?
The majority of CNAs work in long-term care where there is a huge demand for these direct care professionals. However, employment opportunities may be available in hospitals, assisted living facilities, home health care agencies, adult day care centers, and within the school system.
What qualifications do I need to enroll in an online CNA program?
General qualifications are:
18 years of age or parental consent if you're 16 or 17
No criminal convictions
Meet the health requirements for the clinical practicum.
Which is better, an online CNA course or traditional CNA classes?
There are pros and cons to every type of learning environment. Your personal goals will determine which option you choose. Whether you choose CNA classes online or follow the traditional on-campus route, you should select a program that is approved by the state certifying agency if you plan to apply for certification to work in a Medicaid/Medicare approved facility. In terms of course content, the outline and information will be the same within your state as each program seeks to prepare students for success on the competency evaluation and for their role as a nurse assistant. Both program formats will also include practical training opportunities in a simulated lab and nursing facility. Therefore, your selection will be based on your learning style, availability, finances, and personal preference. If you do not need an abundance of face-to-face interactions with an instructor and don't have the time to attend classes on a set schedule, then an online CNA class is the way to go.
What should I look for in an online CNA program?
Your first, second, and third concerns should be, is the program approved by the state certifying agency? The answer to this question is critical, as you may not be permitted to take the competency exam for certification if you did not complete an approved program.
After confirming the program's eligibility, other concerns should be the scheduled times for clinical practice (especially if you have other commitments), the cost of attendance, and opportunities for developing your clinical skill set. How would the content be delivered? Would it be available 24-7? Would the administrator assist with arrangements for the nurse aide exam? These are some other questions to consider when selecting an online program.
How do I get free online CNA training?
Free CNA training is primarily available through nursing facilities, local Job Corps, and the American Red Cross (with scholarship opportunities). Since these providers rarely offer online learning, it may be difficult to locate a training provider that offers free online CNA classes. However, you may be eligible for reimbursement of your training expenses if you are employed or become employed at a Medicare/Medicaid funded facility within 12 months of completing the program. Check with the training provider, employer, or local Medicaid office for more details.
Further Reading
NNAAP Skills List
Online CNA Classes By State
Alabama
(75 hours)
No state-approved online programs
Alaska
(140 hours)
No state-approved online programs
Arizona
(120 hours)
No state-approved online programs
Arkansas
(90 hours)
No state-approved online programs
California
(150 hours)
No state-approved online programs
Colorado
(75 hours)
https://www.compasscna.com/ (Partially Online)
108 West Baseline Rd
Lafayette, CO 80026
303-484-9650
Connecticut
(100 hours)
No state-approved online programs
Delaware
(150 hours)
No state-approved online programs
District of Columbia
(120 hours)
No state-approved online programs
Florida
(120 hours)
There are no state-approved online programs in Florida. However, since Florida permits first-time applicants to challenge the competency exam, there are several schools that offer online CNA Test Preps to prepare candidates for success on the competency exam. Test prep programs are not approved by the Board of Nursing and do not provide the required 120 hours of instruction.
Georgia
(85 hours)
No state-approved online programs
Hawaii
(100 hours)
No state-approved online programs
Illinois
(120 hours)
No state-approved online programs
Indiana
(105 hours)
No state-approved online programs
Iowa
(75 hours)
Although the Board permits partial online programs, there are no state-approved online programs at present.
Kansas
(90 hours)
Allied Health Career Training LLC
2622 W Central B112
Wichita, KS 67203
(316) 854-3892
Pratt Community College
348 NE SR 61
Pratt KS 67124
(620) 672-5641
Butler Community College
110 E 21 St
Andover, KS 67042
(316) 323-6072
Neosho Community College
800 W 14 ST
Chanute KS 66720
(620) 431-2820
Kentucky
(75 hours)
Health Education Center
3903 Vantage Place
Louisville, KY 40299
(502) 762-5151
Louisiana
(80 hours)
No state-approved online programs
Maine
(180 hours)
No state-approved online programs
Maryland
(100 hours)
No state-approved online programs
Massachusetts
(75 hours)
No state-approved online programs
Michigan
(75 hours)
No state-approved online programs
Mississippi
(75 hours)
No state-approved online programs
Meds-Medical Educational Development and Support
1425 S Noland Rd
Independence, MO 64106
(816) 373-6337
MO Association of Nursing Home Administration
4100 Country Club
Jefferson City, MO 65109
(573) 634-5345
Montana
(75 hours)
Miles Community College
2715 Dickinson St,
Miles City, MT 59301
406-874-6100
Nebraska
(75 hours)
No state-approved online programs
Nevada
(75 hours)
No state-approved online programs
New Hampshire
(100 hours)
No state-approved online programs
New Jersey
(90 hours)
No state-approved online programs
New Mexico
(75 hours)
No state-approved online programs
New York
(100 hours)
No state-approved online programs
North Carolina
(75 hours)
Care One Health Training Institute
319 Chapanoke Road, Suite 104,
Raleigh, North Carolina 27603
(919) 773.7165
North Dakota
(75 hours)
Lake Region State College (Hybrid)
1801 College Drive North
Devils Lake, ND 58301
1 (800) 443-1313
Williston State College
1410 University Drive
Williston, ND 58802
(701) 774-6236
Ohio
(75 hours)
No state-approved online programs
Oklahoma
(75 hours)
No state-approved online programs
Oregon
(75 hours)
Caregiver Training Institute
12790 SE Stark St Suite 100
Portland, OR. 97233
(503) 257-0117
Pennsylvania
(80 hours)
No state-approved online programs
Rhode Island
(100 hours)
No state-approved online programs
South Carolina
(100 hours)
No state-approved online programs
South Dakota
(100 hours)
Avera
3900 W Avera Drive
Sioux Falls, SD 57108
(605) 668-8475
Tennessee
(75 hours)
No state-approved online programs
Texas
(100 hours)
No state-approved online programs
Utah
(80 hours)
No state-approved online programs
Vermont
(80 hours)
No state-approved online programs
Virginia
(120 hours)
No state-approved online programs
Washington
(85 hours)
No state-approved online programs
West Virginia
(120 hours)
No state-approved online programs
Wisconsin
(120 hours)
No state-approved online programs
Wyoming
(75 hours)
No state-approved online programs