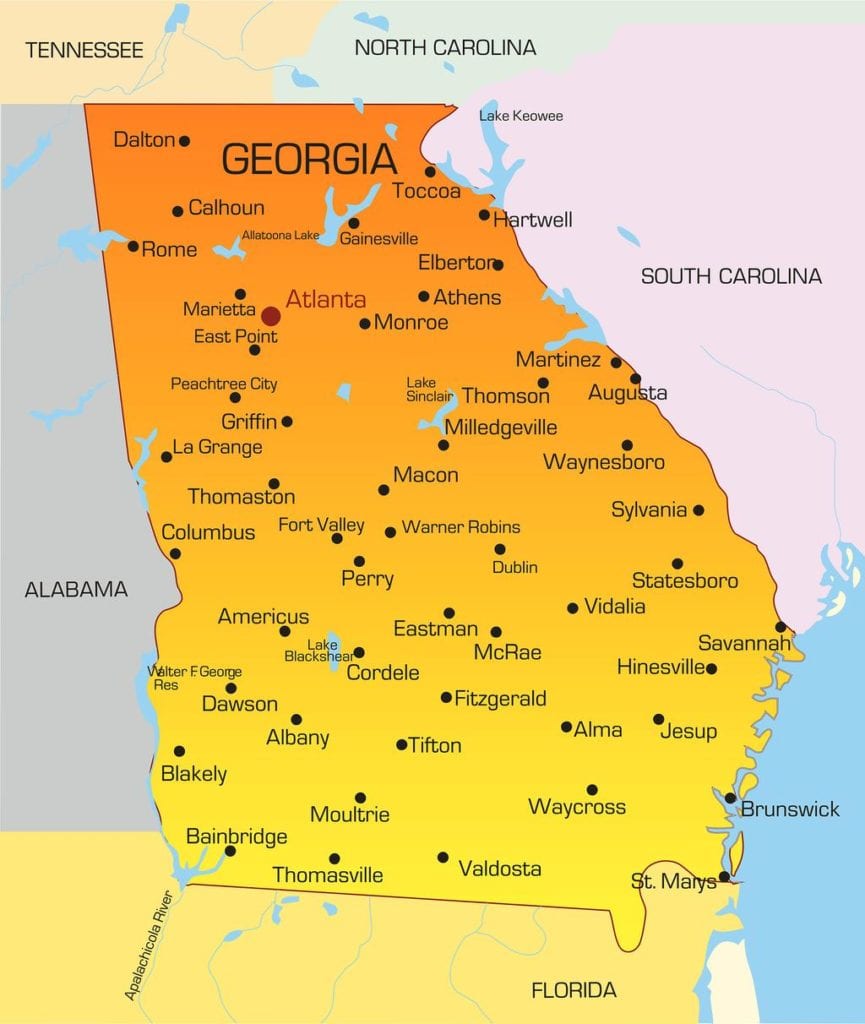 The management of Georgia's Nurse Aide Training, Competency Evaluation and Nurse Aide Registry falls under the purview of the Department of Community Health (DCH). However, Alliant GMCF manages the administration of the Registry, Testing and Training Programs through a contract with DCH.
CNA Classes in Georgia:
Other Georgia cities: Please scroll down below or use CTRL+F (Command+F on Mac) to search this page.
Certification Requirements
There are several nurse aide programs located across the state of Georgia. Most programs meet the requirements set forth by the Georgia Medical Care Foundation (GMCF). In order to work as a CNA, you must complete a state-accredited program and obtain a listing on the nurse aide registry after passing the state competency evaluation.
One exception to the rule listed above occurs when a nursing home offers employment. Nurse aides can work with the home for a period of four months while making provisions to take the state evaluation. During the 4-month period, student nurse aides can only perform the tasks they've been trained to do – to the satisfaction of the program instructor.
Prerequisites to Training
Nursing homes and personal care homes must, by law, conduct a criminal background check on all prospective employees. Other facilities may conduct checks at their discretion. With that in mind, most training providers include a mandatory background check as a condition of enrollment. Other prerequisites to training include:
You must be at least 16 years old
You must demonstrate the ability to read and write English
You do not need a high school diploma
Georgia's Certified Nurse Aide Training Requirements
Georgia-approved nurse aide training must consist of a minimum of 85 hours of training. The training curriculum should cover classroom, labs, and clinical rotation within the prescribed 85 hours. Twenty-four hours of supervised clinical training must take place at a nursing home. Students must earn 100 percent rating in the lab rotation before advancing to the clinical externship. A licensed LPN or RN must supervise students for the entire clinical experience.
Training programs are available through nursing homes, technical schools, vocational institutions, home healthcare agencies, high schools, colleges, and free-standing private facilities. Visit the Georgia Web portal or check the list below to find a list of approved programs in your area. The department has the right to refuse your application for testing if you do not graduate from a state-accredited program.
Cost of Training
CNA training programs in Georgia can take as little as a four weeks, and costs range from $500 to $1500. Most schools quote rates for tuition only and leave the cost of textbooks, uniform, supplies, and state exam fee up to the students. Financial aid is rare, but there may be funding opportunities available through several state programs for people who are financially challenged.
Nurse Aide Testing
Pearson Vue is the governing body that administers the National Nurse Aide Assessment Program. Effective July 1, 2104, the new cost for the exam is $112. Only graduates of an approved training program are eligible to take the exam. The state's CNA competency test comprises of two parts: a written (or oral) and a skills component. The written exam contains 70 multiple choice questions while the oral exam consists of 60 multiple choice questions and 10 multiple choice comprehension questions. For the skills exam, an administrator evaluates your ability to execute five randomly selected skills.
Once you pass the exam, you'll be automatically added to Georgia's Nurse Aide Registry. The license must remain in active status to maintain eligibility to work as a certified nurse aide. Make sure to renew the license every two years – as long as you've worked a minimum of eight hours as a CNA and obtained 12 hours of in-service education over the 24-month period
Application for Nurse Aide Testing in Georgia
Effective July 26, 2017, Georgia nursing assistant candidates who are eligible to test will be able to register online and schedule their exams.
Though the NNAAP exam is not electronic, the online registration and scheduling will eliminate the transit time for mailing a paper application, avoid delays caused by incomplete applications, and decrease the time it takes to schedule the test.
Fill on the required fields to create an ID and receive a password then follow the step-by-step instructions in the reservation process. Pay the examination fee using a credit card or prepaid card and make an online reservation at least 12 days prior to the test date.
The established fees for the NNAAP Exam in Georgia are as follows (all fees are non-refundable):
Written Exam and Skills Evaluation                         $112
Oral Exam (English) and Skills Evaluation             $112
Oral Exam (Spanish) and Skills Evaluation            $112
Written Exam only (retest)                                         $27
Oral Exam only English (retest)                                 $27
Oral Exam only Spanish (retest)                                $27
Skills Evaluation only (retest)                                    $85
CNA Reciprocity Georgia
You may apply for a listing on the Georgia Nurse Aide Registry by virtue of your certification in another state. Eligibility will be granted if you're
Listed on another state's Registry in active status and have no disciplinary actions on file
Free from charges of abuse, neglect, or misappropriation of resident/patient property recorded on another state's registr
You must hold a valid social security card and have completed at least 8 paid hours of practice as a nursing assistant within the past two years.
To apply for Certification by Reciprocity complete the following steps:
Submit a completed Application for Nurse Aide Registry Listing by Reciprocity
Submit a legible copy of your social security card, government issued photo ID, and State Certification Card or printout from the web portal
Provide a copy of your Certified Nurse Aide Training Program completion certificate if you're not listed on a Certified Nurse Aide Registry
Provide proof of employment – a letter from your employer in a company letterhead and listing your job duties, a paycheck stub, or a W-2 form.
The Registry will not mail out a certification card until you provide a Georgia address. You must print out verification status online at www.mmis.georgia.gov
Make sure to update your address with the Registry within 10 days of making the change.
CNA Renewal Georgia
Once you've completed the requirements for certification, your name will be added to the Georgia Nurse Aide Registry for two years. Before your certification expires, you'll need to fill out a renewal form and provide proof of at least 8 hours of paid work within the past two years to renew your listing. Federal law requires that the hours be completed under the supervision of a registered nurse.
If you did not complete the minimum required hours, you must retest to remain on the Georgia Nurse Aide Registry. If you wait three or more years before renewing your certification, you must take another state-approved nursing assistant program. You will not be eligible to work as a Certified Nurse Aide at a Medicaid licensed facility if do not submit the renewal application and required documents.
The Registry will mail out the renewal forms at least 60 days before the certification expires. The form will be sent to your last known address, so it is vital that you maintain up-to-date information at the Registry.
Steps for renewing your CNA certification in Georgia:
Submit a completed Application for Renewal as a Nurse Aide form
Complete Section A of the application and have your employer sign the form if you're currently working as a nurse aide.
Submit a copy of your pay stub or W-2 Form to verify your employment
Private Duty CNA Renewal Requirements:
Provide proof of income if you are currently working or have worked private duty. All private duty hours for consideration must have been completed under the supervision of a Licensed Practical Nurse or Registered Nurse
Provide a notarized statement from your employer with a detailed outline of your job duties and timeframe worked. The statement must include the signature and license number of the supervising LPN or RN
Attach a copy of your check stub or W-2 as verification of employment – failure to provide this information will delay processing of your recertification
Once you're completed the requirements for renewal, the Registry will issue a new certification card with the new expiration date.
Renewal is also a good time to update your name and address at the Registry if there were changes. Fill out the Change of Name or Personal Information Form and submit to the Registry.
Contact the Registry
Alliant GMCF
1455 Lincoln Parkway
Suite #800
Atlanta, GA 30346
Phone: 678-527-3000 or (800) 414-4358
Fax: 678-527-3001
State Approved CNA Programs in Georgia
East Central Georgia CNA Programs

Athens, GA CNA programs:
Columbia County Schools
120 Pine Tops Drive, Athens, GA 30606
(706) 830-5839
Augusta, GA CNA programs:
A.R. Johnson Health Science & Engineering Magnet
1324 Laney-Walker Blvd, Augusta, GA 30901
(706) 823-6933
Helms Career Institute-Augusta
3145 Washington Road, Attention: Susan Johnson, Augusta, GA 30907
(706) 651-9707
Tender Care Training School
1755 Gordon Highway, Ste D & E, Augusta, GA 30904
(706) 736-9225
TFL (Training For Life Academy)
2321 Peach Orchard Road, Suite G & H, Augusta, GA 30906
(706) 814-6941
Augusta Technical College
3200 Augusta Tech Drive, 900 Building, Augusta, GA 30906
(706) 771-4185
Pruitthealth Augusta
2541 Milledgeville Road, Augusta, GA 30904
(706) 738-2581
Dublin, GA CNA programs:
Oconee Fall Line Technical College-South Campus
560 Pinehill Road, Dublin, GA 31021
(478) 274-7736
Grovetown, GA CNA programs:
Remedy Health Career Center, LLC
4901 Columbia Road, Grovetown, GA 30813
(706) 922-1000
Louisville, GA CNA programs:
Pruitthealth Old Capitol
310 Highway 1 Bypass, Louisville, GA 30434
(478) 625-3741
Martinez, GA CNA programs:
Breath of Life Training LLC
124 Commercial Blvd Suite B, Martinez GA 30907
(706) 305-9000
Elevations Professional CNA Program
106 Davis Road Suite G, Martinez GA 30907
(704) 591-5712
Metter, GA CNA programs:
Azalea Health & Rehab
300 Cedar Street, P.O. Box 356, Metter, GA 30439
(912) 685-5734
Southeaster Tech College – Metter HS Dual Enrollment
34905 S GA Highway 129 Metter, GA 30439
(912) 685-2134
Millen, GA CNA programs:
Pruitthealth Bethany
466 S. Gray Street, Millen GA 30442
(478) 982-2531
Sandersville, GA CNA programs:
Oconee Fall Line Technical College-North Campus
1189 Deepstep Road, Sandersville, GA 31082
(478) 553-2100
Soperton, GA CNA programs:
Treutlen Nursing Home
5590 N Third Street, Soperton, GA 30457
(912) 529-4418
Sparta, GA CNA programs:
Sparta Health and Rehabilitation
11744 Hwy 22 Sparta, GA 30904
(706) 444-6057
Statesboro, GA CNA programs:
Ogeechee Technical College
One Joe Kennedy Boulevard, Statesboro, GA 30458
(912) 486-7653
Ogeechee Technical College-Claxton Hs
One Joe Kennedy Blvd, Statesboro, GA 30458
(912) 486-7653
Ogeechee Technical College-Economic Development
One Joe Kennedy Blvd, Statesboro, GA 30458
(912) 486-4653
Ogeechee Technical College-Portal Hs
One Joe Kennedy Blvd, Statesboro, GA 30458
(912) 486-7653
Ogeechee Technical College-Screven HS
One Joe Kennedy Blvd, Statesboro, GA 30458
(912) 486-7653
Swainsboro, GA CNA programs:
Southeastern Technical College-Swainsboro Campus
346 Kite Road, Swainsboro, GA 30401
(478) 289-2335
Southeastern Technical College-Treutlen Workforce
346 Kite Rd, Swainsboro, GA 30401
(478) 289-2335
Thomson, GA CNA programs:
Thomson Health and Rehabilitation
511 Mount Pleasant Road, Thomson GA 30824
(706) 595-5574
Union Point, GA CNA programs:
Greene Point Health Care
1321 Washington Highway, P.O. Box 312, Union Point, GA 30669
(706) 486-2167
Metro Atlanta Georgia CNA Programs
Atlanta, GA CNA programs:
4Front Nursing Aide Academy
225 Peachtree St. NE Suite 585, Atlanta GA 30303
(404) 850-9252
Murray Career Institute
233 Mitchell Street, Suite 550, Atlanta, GA 30303
(404) 228-1568
Altierus Career Education
2841 Greenbar Pkwy SW Atlanta, GA 30331
(678) 500-3400
Atlanta Career Institute
5380 Peachtree Industrial Blvd., Suite 120, Norcross, GA 30071
(770) 807-0170
Covenant CNA School
151 Ellis Street NE, Suite 150b, Atlanta, GA 30303
(404) 733-5491
Atlanta Technical College-Perry Center
1560 Metropolitan Parkway SW, Atlanta, GA 30310
(404) 225-4417
Cross Keys High School
1626 North Druid Hills Rd NE, Atlanta, GA 30087
(678) 874-6102
Austell, GA CNA programs:
Health Tech Training Institute, LLC
2777 Jefferson Street, Austell, GA 30168
(404) 751-8009
Buford, GA CNA programs:
Favored Health Care Services
4297 Buford Drive, Suite 2-B, Buford, GA 30518
(770) 932-4932
Chamblee, GA CNA programs:
Warren Technical School
3075 Alton Road, Chamblee, GA 30341
(678) 676-6502
Clarkston, GA CNA programs:
New Beginning CNA Training
3895 Church Street, Room 310, Clarkston, GA 30021
(404) 856-0679
College Park, GA CNA programs:
Faks Allied Health Education Ctr.
5530 Old National Highway, Ste C, College Park, GA 30349
(404) 763-0055
The Source Consulting and Training LLC
5532 Old National Hwy, Building G Suite 100 A-C, College Park, GA 30349
(404) 758-1181
Conyers, GA CNA programs:
Ashona Medical Institute
1315 Milstead Road N.E., Conyers, GA 30013
(770) 922-6912
Clarkston, GA CNA programs:
Georgia Piedmont Technical College-Dekalb
495 North Indian Creek Drive, Clarkston, GA 30021
(404) 297-9522
Conyers, GA CNA programs:
Premier Medical Careers
1015 Milstead Avenue, Suite 200, Conyers, GA 30012
(678) 413-1663
Covington, GA CNA programs:
Georgia Piedmont Technical College-Newton
8100 Bob Williams Pkwy, Covington, GA 30014
(404) 297-9522
Dacula, GA CNA programs:
JAS Links Medical Training Institute
3613 Braselton Hwy, Dacula GA 30019
(678) 804-9105
Decatur, GA CNA programs:
Woodruff Medical Training & Testing
2637 North Decatur Rd, Decatur, GA 30033
(404) 499-1777
Life Solutions for Health, LLC
4798 Flat Shoals Parkway, Decatur, GA 30034
(770) 808-7788
Professional Medical Institute, Inc.
4336 Covington Hwy, Suite 203, Decatur, GA 30035
(404) 289-7177
Southwest Dekalb High School
2863 Kelly Chapel Rd, Decatur, GA 30034
(678) 874-1958
DekalB HS of Technology/South
3303 Panthersville Road, Decatur, GA 30034
(678) 874-4502
Towers High School
3919 Brookcrest Circle, Attention Nurse Aide Program, Decatur, GA 30032
(678) 874-2333
Duluth, GA CNA programs:
Woodruff Medical Training And Testing- Duluth
2131 Pleasant Hill Road, Suite 125, Duluth, GA 30096
(678) 475-9353
Dunwoody, GA CNA programs:
Sunrise Senior Living
1240 Ashford Center Parkway, Dunwoody, GA 30338
(678) 780-1582
Ellenwood, GA CNA programs:
Cedar Grove High School
2360 River Road Ellenwood, GA 30294
(678) 874-4002
Fayetteville, GA CNA programs:
Golden Age Healthcare Training, Inc.
160 Carnegie Place, Fayetteville, GA 30214
(404) 663-6455
Sanzie Healthcare Services, Inc.
290 Hwy 314, Suite C, Fayetteville, GA 30214
(770) 716-2233
Forest Park, GA CNA programs:
Covenant CNA School
561 Forest Parkway, Forest Part GA 30297
(404) 733-5491
Griffin, GA CNA programs:
Griffin-Spalding High School
433 Wilson Rd, Griffin, GA 30224
(770) 229-3775
Southern Crescent Technical College/Griffin
501 Varsity Road, Griffin GA 30233
(770) 228-7348
Hapeville, GA CNA programs:
Metropolitan Career School
1001 Virginia Avenue, Hapeville GA 30354
(404) 684-0111
Jeffersonville, GA CNA programs:
Cedar Grove High School
2360 River Road, Ellenwood, GA 30294
(678) 874-4002
Jackson, GA CNA programs:
Blessed Assurance Healthcare
34 North Mulberry Street, P. O. Box 332, Jackson, GA 30233
(770) 775-9991
Lawrenceville, GA CNA programs:
Gwinnett Technical College-Lawrenceville
5150 Sugarloaf Parkway, Building 900, Lawrenceville, GA 30052
(770) 962-7580
Maxwell HS of Technology
990 Mcelvaney Lane, Lawrenceville, GA 30044
(770) 963-6838
Mentee Career and Training Institute
3545 Cruse Rd, Ste 100, Lawrenceville, GA 30044
(770) 931-5020
Lithonia, GA CNA programs:
Arabia Mountain High School
6610 Browns Mill Road, Lithonia, GA 30038
(678) 875-3602
Hope Institute, LLC
6658 Hillandale Dr., Suite E, Lithonia, GA 30058
(678) 755-8725
Lilburn, GA CNA programs:
Education & Career Resources of GA
4055 Lawrenceville Hwy, Suite 200, Lilburn, GA 30047
(770) 717-0310
Locust Grove, GA CNA programs:
Blessed Assurance Healthcare
6965 HWY 42 S, Locust Grove, GA 30248
(678) 782-7775
Mableton, GA CNA programs:
Cobb Certified Nurse Assisting School
5590 Mableton Parkway, Suite 121, Mableton, GA 30126
(678) 398-1234
Marietta, GA CNA programs:
Aabacus Certified Nursing Assistant Program
2188 Austell Raod SW, Marietta GA 30008
(404) 997-9791
Cumberland Medical LLC- Marietta
3411 Austell Rd SW, Suite 100, Marietta, GA 30008
(770) 435-2555
Metro Medical Training Center
140 Marble Mill Road, Suite B, Marietta, GA 30060
(770) 437-1250
Chattahoochee Technical College-Cont-Ed
980 South Cobb Drive Southeast, Marietta, GA 30060
(770) 529-2348
Chattahoochee Technical College-Marietta Campus
980 South Cobb Drive, Marietta, GA 30060
(770) 529-2348
McDonough, GA CNA programs:
NV Enterprises Training Academy
371 Mcdonough Parkway, McDonough, GA 30253
(770) 957-1558
Newman, GA CNA programs:
Newnan Health & Rehabilitation
244 East Broad Street, Newnan, GA 30264
(770) 253-7160
Village Samaritan Training Institute
4 Forest Circle, Newnan, GA 30265
(770) 304-3306
Norcross, GA CNA programs:
New Horizons Medical Institute
5675 Jimmy Carter Blvd, Ste J, Norcross, GA 30071
(770) 447-0722
Powder Springs, GA CNA programs:
Allwell Healthcare Certification, Inc
4171 Marietta Street, Powder Springs GA 30127
(678) 504-5686
Riverdale, GA CNA programs:
Active Assist Care Inc.
6504 Church St, Suite 11, Riverdale, GA 30274
(678) 667-8787
Center For Progressive Training Inc.
1805 Highway 138 SW, Crossroad Plaza, Riverdale, GA 30296
(770) 996-0637
Roswell, GA CNA programs:
CVSC LLC
648 Mimosa Blvd, Roswell, GA 30075
(770) 643-1712
Snellville, GA CNA programs:
Adas Medical Training School
2140 Mcgee Road, Suite C-530, Snellville, GA 30078
(678) 638-1073
Smyrna, GA CNA programs:
Advanced Professional Nurses, Inc.
3320 South Cobb Drive Ste C, Smyrna, GA 30080
(770) 364-8148
Snellville, GA CNA programs:
Adas Medical Training School
2140 McGee Road, Snellville GA 30078
(678) 638-1073
Social Circle, GA CNA programs:
Social Circle High School
154 Alcova Drive, Social Circle, GA 30025
(770) 464-2611
Stone Mountain, GA CNA programs:
Stephenson High School
701 Stephenson Road, Stone Mountain, GA 30087
(678) 676-4202
Rosemont at Stone Mountain
5160 Springview Avenue, Stone Mountain, GA 30083
(770) 498-4144
New Covenant Community
6254 Memorial Dr Stone Mountain, GA 30083
(404) 916-0321
Tucker, GA CNA programs:
Christies Health service
3469 Lawrenceville Hwy Tucker, GA 30084
(770) 939-0144
Woodstock, GA CNA programs:
Giving Care At Home Education Center, LLC
604 Industrial Court, Suite A, Woodstock, GA 30189
(678) 831-0830
River Ridge High School
400 Arnold Mill Road, Woodstock, GA 30188
(770) 591-8450
Middle Georgia CNA Programs
Cochran, GA CNA programs:
Bleckley County High School
1 Royal Drive, Cochran, GA 31014
(478) 934-6258
Cordele, GA CNA programs:
South Georgia Technical College
402 North Midway Road, Cordele, GA 31015
(229)271-4069
Douglas, GA CNA programs:
Coffee County High School
159 Trojan Way, Douglas, GA 31533
(912) 384-2094
Ycarte Health Career Center
1214 North Peterson Avenue, Douglas, GA 31533
(912) 384-8680
Shady Acres Nursing Home
1310 West Gordon Street, Douglas, GA 31533
(912)384-7811
Fitzgerald, GA CNA programs:
Wiregrass Georgia Technical College-Fitzgerald
667 Perry House Road, Fitzgerald, GA 31750
(229) 468-2219
Nashville, GA CNA programs:
Berrien High School
500 East Smith Avenue, Nashville, GA 31639
(229) 686-7428
Ocilla, GA CNA programs:
Pruitt Health
209 West Hudson Street, Ocilla GA 31774
(229) 468-9431
Sylvester, GA CNA programs
Worth County High School
406 West King Street, Sylvester, GA 31791
(229)777-8450
Tifton, GA CNA programs:
South Regional Tech – Tift County High School
One Blue Devil Way, Tifton GA
(229) 391-6955
Southern Regional Technical College – Tifton Campus
52 Tech Drive, Tifton GA 31794
(299) 391-6955
Valdosta, GA CNA programs:
Wiregrass Georgia Technical College – Cook Campus
4089 Val Tech Rd, Valdosta, GA 31602
(229)333-2100
Wiregrass Georgia Technical College – East Campus
4089 Val Tech Road, Valdosta, GA 31602
(229)333-2100
Wiregrass Georgia Technical College -Valdosta
4089 Val Tech Road, Valdosta, GA 31602
(229)333-2100
Wiregrass Georgia Technical College-Brooks Campus
4089 Val Tech Road, Valdosta, GA 31602
(229) 333-2100
Northeast Georgia CNA Programs

Athens, GA CNA programs:
Athens Technical College
800 Highway 29 North, Athens, GA 30601
(706) 425-3328
Athens Technical College-Elbert Campus
800 Highway 29 North, Athens, GA 30601
(706) 425-3328
Athens Technical College-Walton Campus
800 Highway 29 North, Athens, GA 30601
(706) 425-3328
Innovative Healthcare Institute, LLC
100 Seagraves Dr, Athens GA 30605
(706) 705-2033
One Breath CNA
3701 Atlanta Hwy Athens GA 30606
(678) 661-0443
The Oaks of Athens
490 Kathwood Drive Athens GA 30607
(706) 355-7400
Baldwin, GA CNA programs:
The Oaks of Scenic View
205 Peach Orchard Rd, Baldwin, GA 30511
(706)778-8377
Blairsville, GA CNA programs:
Union County Nursing Home
164 Nursing Home Circle, Blairsville, GA 30512
(706) 745-4948
Union County High School
153 Panther Circle, Blairsville GA 30512
(706) 745-2216
Braselton, GA CNA programs:
Medical Institute of Northeast Georgia, LLC
1215 Tuscany Dr, Braselton, GA 30517
(678) 425-6464
Clayton, GA CNA programs:
Mountain View Health Care
547 Warwoman Road, Clayton, GA 30525
(706)782-4276
Clarkesville, GA CNA programs:
North Georgia Technical College
1500 Hwy 197 N Clarksville GA 30523
(678) 591-9503
Cleveland, GA CNA programs:
White County High School
2600 Hwy 129V, Cleveland, GA 30528
(706)865-2312
Commerce, GA High Schools offering CNA programs:
East Jackson Comprehensive High School
1435 Hoods Mill Road, Commerce, GA 30529
(706)336-8900
Dahlonega, GA CNA programs:
Gold City Convalescent Center
222 Moore's Drive, Dahlonega GA 30533
(706)864-3045
Flowery Branch, GA CNA programs:
North Georgia Nursing Academy
3616 Atlanta Hwy, Flowery Branch GA 30542
(770) 534-1373
Gainesville, GA CNA programs:
Woodruff Medical Training and Testing
675 E Butler Parkway, Gainesville, GA 30501
(770) 297-8080
Hartwell, GA CNA programs:
Hart County High School
59 Fifth Street, Hartwell, GA 30643
(706) 376-5461
Hart Care Center, Inc
261 Fairview Avenue, Hartwell GA 30643
(706) 376-7121
Hiawassee, GA CNA programs:
Chatuge Regional Nursing Home
386 Belaire Drive, Hiawassee, GA 30546
(706) 896-2231
Lavonia, GA CNA programs:
Future Nurse Learning Center
795 Grogan Street, Lavonia GA 30553
(706) 491-8017
Lincolnton, GA CNA programs:
Lincoln County High School
200 Charles Ward Elam St. Lincolnton, GA 30817
(706) 359-3121
Oakwood, GA CNA programs:
Lanier Technical College
2990 Landrum Education Drive, Oakwood, GA 30041
(770) 533-6976
Toccoa, GA CNA programs:
Stephens County Hospital
163 Hospital Drive, Toccoa, GA 30577
(706) 282-4200
Pruitt Health Toccoa
633 Falls Road Toccoa, GA 30577
(706) 886-8491
Washington, GA CNA programs:
Washington-Wilkes Comp HS
1180 Tignall Road, Washington, GA 30673
(706) 678-2426
Northwest Georgia CNA Programs

Acworth, GA CNA programs:
Chattahoochee Tech College-North Metro Cont. Ed
5198 Ross Road, Acworth, GA 30102
(770) 529-2348
Chattahoochee Technical College-North Metro
5198 Ross Road, Acworth, GA 30102
(770) 529-2348
Blue Ridge, CNA programs:
Fannin County High School
300 Rebel Circle, Blue Ridge, GA 30513
(706) 632-2013
Pruitt Health of Blue Ridge
99 Ouida Street, P O Box 1227, Blue Ridge, GA 30513
(706) 632-2271
North Georgia CNA Training Institute
300 Rebel Circle, Blue Ridge, GA 30513
(706) 851-4237
Calhoun, GA CNA programs:
Georgia Northwestern Tech College-Sornoraville HS
7430 Fairmount Hwy Se, Calhoun, GA 30701
(706) 764-3532
Georgia Northwestern Tech-Gordon Central HS
335 Warrior Path NE, Calhoun, GA 30703
(706) 764-3532
CNA Nursing School of Calhoun
135 Professional Court, Ste 125, Calhoun, GA 30701
(706) 629-2651
Calhoun Health Care Center
1387 Us 41 North, Calhoun, GA 30701
(706) 629-1289
Cartersville, GA CNA programs:
Bartow County College & Career Academy
738 Grassdale Road, Cartersville, GA 30121
(770) 606-5175
The Training Center of NW Georgia, Inc.
238 Nelson Street, Cartersville, GA 30120
(770) 606-9697
Maple Ridge Health Care Center
22 Maple Ridge Drive, Cartersville, GA 30120
(770) 606-8800
Townsend Park Health and Rehabilitation
196 N Dixie Avenue Cartersville GA 301320
(770) 387-0662
Carrollton, GA CNA programs:
University Of West Georgia
1601 Maple Street, Carrollton, GA 30118
(678) 839-6612
Village Samaritan, LLC
251 Prism Drive, Ste 7, Carrollton, GA 30116
(770) 830-5683
The Oaks of Carrollton
921 Old Newnan Road, Carrollton, GA 30116
(770) 834-2242
Cedartown, GA CNA programs:
Cedartown High School
167 Frank Lott Drive, Cedartown, GA 30125
(770) 748-0490
Chatsworth, GA CNA programs:
Chatsworth Health Care Center
P O Box 1126, 102 Hospital Drive, Chatsworth, GA 30705
(706) 695-8313
Dallas, GA CNA programs:
Paulding County High School
1297 Villa Rica Highway, Dallas, GA 30157
(770) 443-8003
CPR With Mickey- Dallas
110 Evans Mill Drive, Ste 704, Dallas, GA 30157
(770) 573-2448
Wellstar Paulding Nursing Center
600 W. Memorial Drive, Dallas, GA 30132
(770) 443-4763
Dalton, GA CNA programs:
Regency Park Nursing & Rehabilitation
1212 Broadrick Drive, Dalton, GA 30720
(706) 270-8008
Ellijay, GA CNA programs:
Gilmer Nursing Home
1362 South Main Street, Ellijay, GA 30540
(706) 276-4741
Fort Oglethorpe, GA CNA programs:
CNA Nursing School
96 Stuart Road, Fort Oglethorpe, GA 30736
(706) 861-2651
Lakeview-Fort Oglethorpe High School
1850 Battlefield Parkway, Attn: Nurse Aide Training Program, Fort Oglethrope, GA
(706) 266-0342
NHC Fort Oglethorpe
2403 Battlefield Parkway, Fort Oglethorpe, GA 30742
(706) 866-7700
Pruitt Health of Fort Oglethorpe
1067 Battlefield Parkway, Fort Oglethorpe GA 30742
(706) 861-5154
Franklin, GA CNA programs:
Pruitt Health of Franklin
360 South River Road, Franklin, GA 30217
(706) 675-6674
Jasper, GA CNA programs:
Grandview Health Care Center
618 Gennett Drive, Jasper, GA 30143
(706) 692-6323
Pruitt Health of Jasper
P.O. Box 490, 1350 East Church, Jasper, GA 30143
(706) 253-2441
Rock Springs, GA CNA programs:
Georgia Northwestern Technical College-Heritage HS
265 Bicentennial Trail, Rock Springs, GA 30739
(706) 764-3532
Georgia Northwestern Technical College-Lakeview HS
265 Bicentennial Trail, Rock Springs, GA 30739
(706) 764-3532
Georgia Northwestern Technical College-Ringgold HS
265 Bicentenial Trail, Rock Springs, GA 30739
(706) 764-3532
Georgia Northwestern Technical College-Walker Co.
265 Bicentennial Trail, Rock Springs, GA 30739
(706) 764-3532
Georgia Northwestern Technical College-Calhoun HS
265 Bicentennial Trail, Rock Spring, GA 30739
(706) 764-3532
Georgia Northwestern Technical College-Dade HS
265 Bicentennial Trail, Rock Spring, GA 30739
(706) 764-3532
Rome, GA CNA programs:
Georgia Northwestern Technical College Career Acad.
100 Tom Poe Drive, SW, Attn: Nurse Aide Program, Rome, GA 30161
(706) 764-3532
Georgia Northwestern Technical College-Floyd Co.
One Maurice Culberson Drive, Rome, GA 30161
(706) 295-6968
Georgia Northwestern Technical College-Rome HS
1000 Veterans Memorial Highway NE, Attn: Nurse Aide Program, Rome, GA 30161
(706) 764-3532
Georgia Highland College
415 E 3rd Avenue, Rome GA 30161
(706) 295-6321
Rossville, GA CNA programs:
Ridgeland High School
2478 Happy Valley Road, Rossville, GA 30741
(706) 820-9063
NHC Healthcare
1425 McFarland Avenue Rossville, GA 30741
(706) 861-0863
Summerville, GA CNA programs:
Chattooga High School
989 Highway 114, Summerville, GA 30747
(706) 857-2402
Oakview Health & Rehab
960 Highland Avenue, Summerville, GA 30747
(706) 857-4761
Temple, GA CNA programs:
Faithful Guardian, LLC
285 Carrollton Street, Temple GA 30179
(770) 214-2252
Villa Rica, GA CNA programs:
Faithful Guardian, LLC
220 West Wilson Street, Villa Rica, GA 30180
(770) 214-2252
Waco, GA CNA programs:
West Georgia Technical College- Lagrange
176 Murphy Campus Blvd, Waco, GA 30182
(770) 537-7964
West Georgia Technical College-Coweta Campus
176 Murphy Campus Blvd, Waco, GA 30182
(770) 537-7964
West Georgia Technical College-Douglas Campus
176 Murphy Campus Blvd, Waco, GA 30182
(770) 537-7964
West Georgia Technical College-Greenville Campus
176 Murphy Campus Blvd, Waco, GA 30182
(706) 756-4605
West Georgia Technical College-Carroll
176 Murphy Campus Blvd, Waco, GA 30182
(770) 537-7964
West Georgia Technical College-Heard County
176 Murphy Campus Blvd, Waco, GA 30182
(770) 537-7964
West Georgia Technical College-Lagrange HS
176 Murphy Campus Blvd, Attn: Cheryle Turner, Waco, GA 30182
(770) 537-7964
West Georgia Technical College-Troup HS
176 Murphy Campus Blvd, Attn: Cheryle Turner, Waco, GA 30182
(706) 756-4605
West Georgia Technical College-Waco
176 Murphy Campus Blvd, Waco, GA 30182
(770) 537-7964
Southeast Georgia CNA Programs

Alma, GA CNA programs:
Bacon County High School
903 North Pierce Street, Alma, GA 31510
(912) 632-4414
Brunswick, GA CNA programs:
ADL Training & Testing
2919 Altama Avenue, Brunswick, GA 31520
(912) 265-9355
Brunswick Job Corps Center
4401 Glynco Parkway, Brunswick, GA 31525
(912) 264-8843
Sears Manor Nursing Home, LLC
3311 Lee Street, Brunswick, GA 31520
(912) 264-1857
Coastal Pines Technical College
3700 Glynco Parkway Brunswick GA 31525
(912) 262-4308
Hinesville, GA CNA programs:
Infinite Health Care Academy
1016 Live Oak Drive, Hinesville, GA 31310
(404) 913-1948
Pathways Health Career Training Center, LLC
105 North Main Street, Hinesville, GA 31313
(912) 532-3887
Liberty College & Career Academy
245 Dorsey Rd., Hinesville, GA 31313
(912) 876-4957
Kingsland, GA CNA programs:
Camden County High School
6300 Laurel Island Pkwy, Kingsland, GA 31548
(912) 729-7318
Rincon, GA CNA programs:
Zenith Training and Testing Institute LLC
P O Box 1082, Rincon, GA 31326
(912) 303-8410
Effingham College & Career Academy
2940 Highway 21 South, Rincon, GA 31326
(912) 754-5610
Savannah, GA CNA programs:
Dominion Health Care Solutions, LLC
7160 Hodgson Memorial Drive, Ste 103, Savannah, GA 31406
(912) 303-0445
Savannah Technical College
5717 White Bluff Road, Savannah, GA
(912) 443-4084
Woodville Tompkins Technical & Career High School
151 Coach Joe Turner Drive, Savannah, GA 31408
(912) 965-6750
Riverview Health and Rehabilitation Center
6711 Laroche Avenue Savannah GA 31406
(912) 790-3225
Vidalia, GA CNA programs:
Southeastern Technical College-Vidalia Campus
3001 East First Street, Vidalia, GA 30474
(912) 538-3275
The Oaks of Bethany
1305 North Street East, Vidalia, GA 30474
(912) 537-7922
Horizon Health Career Training Center
303 Slayton Street, Vidalia, GA 30474
(912) 538-8175
Waycross, GA CNA programs:
Ware County High School
700 Victory Drive, Waycross, GA 31503
(912) 287-2351
Baptist Village Inc.
2650 Carswell Avenue, Waycross, GA 31503
(912) 283-7050
Southwest Georgia CNA Programs

Albany, GA CNA programs:
Albany Technical College Main Campus
1704 South Slappey Boulevard, Albany, GA 31701
(229) 430-2832
Albany Technical College-Albany High School
1704 South Slappey Blvd, Albany, GA 31701
(229) 430-2832
Albany Technical College-Dougherty Comp HS
1704 South Slappey Blvd, Albany, GA 31701
(229) 430-2832
Albany Technical College-Monroe Comp HS
1704 South Slappey Blvd, Albany, GA 31701
(229) 430-2832
Albany Technical College-Westover Comp HS
1704 South Slappey Blvd, Albany, GA 31701
(229) 430-2832
Turner Job Corps Center
2000 Schilling Avenue, Albany, GA 31705
(229) 883-8500
Go With A Nurses Assistant (Gwana)
707 North Slappey Blvd, Albany, GA 31707
(229) 483-0025
Heritage Health Career Center
900 South Westover Blvd, Albany, GA 31701
(229) 255-3274
New Beginnings Health and Career Training Center
2401 Dawson Rd, Suite M, Albany, GA 31707
(229) 255-3424
Wynfield Park Health and Rehab
223 W Third Ave Albany, GA 31701
(229) 435-0741
Americus, GA CNA programs:
Magnolia Manor Nursing Center
2001 South Lee Street, Americus, GA 31709
(229) 924-9352
Innovative Senior Solutions
721 A Felder Street, Americus, GA 31709
(229) 928-3673
Bainbridge, GA CNA programs
Bainbridge High School
One Bearcat Blvd, Bainbridge, GA 39819
(229) 248-2230
Bainbridge State College
2500 E. Shotwell Street, Bainbridge, GA 39819
(229) 243-6486
Bainbridge State College- Early County Site
2500 E Shotwell Street, Bainbridge, GA 39819
(229) 243-6486
Bainbridge State College- Miller County Dual
2500 E Shotwell Street, Bainbridge, GA 39818
(229) 243-6486
Bainbridge State College- Seminole County Dual
2500 E Shotwell Street, Bainbridge, GA 39819
(229) 243-6486
Cairo, GA CNA programs:
Life Way Training Institute
410 4th Street Se, Cairo, GA 39828
(229) 403-9964
Cairo High School-Grady County Vocational Center
455 5th Street SE, Cairo, GA 39828
(229) 377-2044
Camilla, GA CNA programs
Mitchell County High School
1000 Newton Highway, Camilla, GA 31730
(229) 336-0970
Moultrie, GA CNA programs:
Pruitt Health of Sunrise
2709 South Main Street, Moultrie, GA 31768
(229) 985-7173
Colquitt County High School
1800 Park Avenue, Moultrie, GA 31768
(229) 890-6162
Quitman, GA CNA programs:
Presbyterian Home, Inc.
1901 W. Screven Street, Quitman, GA 31643
(229) 263-6146
Richland, GA CNA programs:
Four County Health and Rehabilitation
124 Overby Drive, Richland, GA 31825
(229) 887-2021
Thomasville, GA CNA programs:
South Georgia Career Center
118 S. Madison Street, Suite 4, Thomasville, GA 31792
(229) 236-5020
Southern Regional Technical College
15689 Us Highway 19 North, Thomasville, GA 31792
(229) 391-6955
Southern Regional Technical College -Pelham HS
15689 U.S. Highway 19 North, Thomasville, GA 31792
(229) 391-6955
Southern Regional Technical College Thomas Co.-HS
15689 U.S. Highway 19 North, Thomasville, GA 31792
(229) 391-6955
Southern Regional Technical College Thomasville HS
15689 U.S. Highway 19 North, Thomasville, GA 31792
(229) 391-6955
Thomas County Central High School
4686 Us Hwy 84 Bypass West, Thomasville, GA 31792
(229) 225-5050
West Central
Butler, GA CNA programs:
Taylor County Health Care
165 S Broad St Butler, GA 31006
(478) 862-2220
Columbus, GA CNA programs:
Columbus Technical College
928 Manchester Expressway, Columbus, GA 31904
(706) 225-0526
Columbus, GA Nursing
Magnolia Manor Nursing Ctr East
2010 Warm Springs Road, Columbus, GA 31904
(706) 324-0387
Muscogee Manor & Rehabilitation Center
7200 Manor Road, Columbus, GA 31907
(706) 561-3218
Columbus, GA Freestanding CNA programs:
South Columbus Nurse's Aide Program
1213 Benning Drive, Columbus, GA 31903
(706) 689-5094
Stat Medical Services, Inc.
2 Bradley Park Court, Columbus, GA 31904
(706) 322-7776
Fort Benning, GA CNA programs:
American Red Cross
7200 Anderson Avenue, Fort Benning, GA 31905
(706) 545-5194
Forsyth, GA CNA programs:
Pruitt Health of Forsyth
521 Cabiness Road, Forsyth, GA 31029
(478) 994-5671
Pruitt Health of Monroe
4796 Highway 42 North, Forsyth, GA 31029
(478) 994-5662
Greenville, GA CNA programs:
Pruitthealth-Greenville
99 Hill Haven Rd, Greenville, GA 30222
(706) 672-4241
Greensboro, GA CNA programs:
Nursing Academy of Georgia, LLC
1003 S Main Street, Greensboro, GA 30642
(404) 916-0563
Macon, GA CNA programs:
Central Georgia Technical College – Baldwin
3300 Macon Tech Drive, Macon, GA 31206
(478) 757-3585
Central Georgia Technical College-Crawford Center
3300 Macon Tech Drive, Macon, GA 31206
(478) 757-3585
Central Georgia Technical College-Hawkinsville
3300 Macon Tech Drive, Macon, GA 31206
(478) 757-3585
Central Georgia Technical College-Hutchings Center
3300 Macon Tech Drive, Macon, GA 31206
(478) 757-3585
Central Georgia Technical College-Jones County Hs
3300 Macon Tech Drive, Macon, GA 31206
(478) 757-3585
Central Georgia Technical College-Mary Persons Hs
3300 Macon Tech Drive, Macon, GA 31206
(478) 757-3585
Central Georgia Technical College-Putnam Center
3300 Macon Tech Drive, Macon, GA 31206
(478) 757-3585
Central Georgia Technical College-Twiggs County Hs
3300 Macon Tech Drive, Macon, GA 31206
(478) 757-3585
Central Georgia Technical College-Warner Robins
3300 Macon Tech Drive, Macon, GA 31206
(478) 757-3585
Central Georgia Technical College/Macon Campus
3300 Macon Tech Drive, Macon, GA 31206
(478) 757-3585
Central Georgia Technical College-NE High School
3300 Macon Tech Drive, Macon, GA 31206
(478) 757-3585
Endurance Holistic Health Education and Training
105 Hwy 49, Ste E10, Macon, GA 31211
(478) 718-9090
Helms Career Institute-Macon Campus
3076 Riverside Drive, Macon, GA 31210
(478) 314-4444
Extended Health Services, Inc.
2720 Sheraton Drive, Suite D-180, Macon, GA 31204
(478) 746-9988
Pruitt Health of Macon
2255 Anthony Road, Macon, GA 31204
(478) 784-7900
The Oaks of Peake
6190 Peake Road, Macon, GA 31220
(478) 471-7474
Marshallville, GA CNA programs:
The Oaks Nursing Home
777 Nursing Home Road, Marshallville, GA 31057
(478) 967-2223
Milledgeville, GA CNA programs:
Excell Home Care Services, Inc.
931 N Jefferson Street, Milledgeville, GA 31061
(478) 453-2273
Georgia War Veterans Home
2249 Vinson Highway, Milledgeville, GA 31061
(478) 445-4516
Peachstate Nursing Agency, Ltd.
140 West Washington Street, Milledgeville, GA 31061
(478) 453-3369
Collaborative Health Care Training Institute
2601 North Columbia Street, Ste C, Milledgeville, GA 31061
(478) 295-2626
Helms Career Institute-Milledgeville Campus
2485 N. Columbia Street Suite 114, Milledgeville, GA
(478) 452-3900
Affinity Healthcare Training Center
187 Roberson Mill Rd, Milledgeville, GA 31061
(478) 451-9079
Monticello, GA CNA programs:
Jasper County High School
14477 Highway 11 North, Attention: Patty Cole, Monticello, GA 31064
(706) 468-5016
Perry, GA CNA programs:
Summerhill Senior Living Community
500 Stanley Street, Perry, GA 31069
(478) 987-3100
Thomaston, GA CNA programs:
Riverside Health & Rehab
101 Old Talbotton Road, Thomaston, GA 30286
(706) 647-8161
Southern Crescent Technical College
1533 Hwy 19 South Thomaston, GA 30286
(706) 646-6148
Toomsboro, GA CNA programs:
Pruitt Health of Toomsboro
210 Main Street, Toomsboro, GA 31090
(478) 933-5395
Warner Robins, GA CNA programs:
Health Tech of Georgia, Inc.
202 North Davis Drive, Warner Robins, GA 31093
(478) 923-7007
Houston County Career Academy
1311 Corder Road, Warner Robins, GA 31088
(478) 322-3280
Waverly, GA CNA programs:
Oak View Home-Waverly Hall
119 Oak View Street, Waverly Hall, GA 31831
(706) 582-2117
Warm Springs, GA CNA programs:
Roosevelt Warm Springs Rehabilitation
6135 Roosevelt Hwy, Warm Springs, Georgia 31830
(706) 655-5109