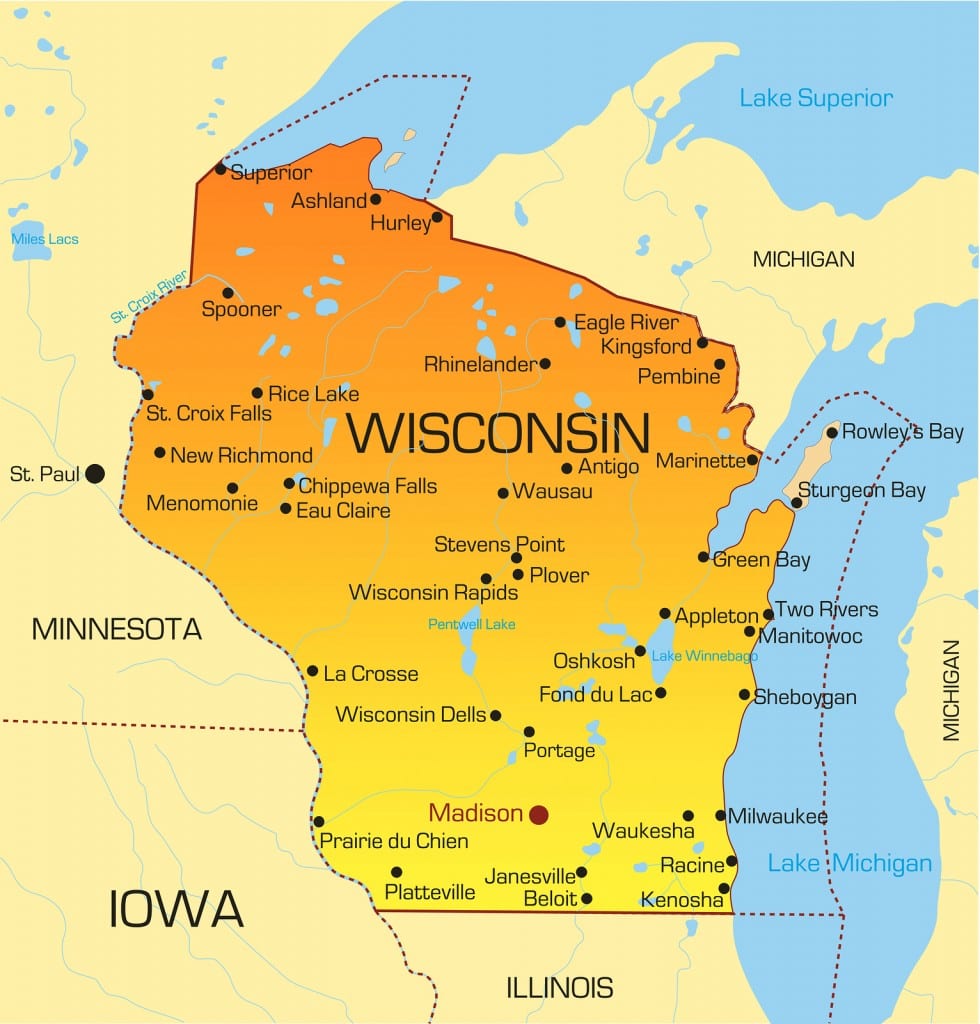 Like other states, Wisconsin adheres to the Omnibus Budget Reconciliation Act (OBRA '87), which helps to improve the quality of care in long-term health care facilities. Wisconsin's Department of Health Services, in accordance with the act, defines the training and evaluation standards for nursing assistants who work at licensed long-term care facilities and hospitals across the state. A defined curriculum sets the standards for nursing assistant knowledge and skills, and a competency evaluation program ensures prospective nurse aides understand and uphold the standards for executing their duties on the job.
CNA Classes in Wisconsin:
Certification Requirements
Wisconsin nurse aides must complete a state-accredited training program and pass the state competency exam before providing care to patients at licensed care facilities. CNA classes equip students with the essential knowledge and skills to pass the state competency exam and succeed on the job. Graduates of approved programs must apply for and pass the exams within one year of graduation – failure to complete the process within one year means you'll have to complete another training program before you're eligible for testing. While the Department of Health requires new nurse aides to acquire appropriate education, there are instances where they'll waive the training requirements – out-of-state CNAs and nursing students are some examples.
Prerequisites to Training
There are no minimum education requirements for entering a nurse aide training program according to the Wisconsin Department of Health. However, many training providers request a high school diploma from prospective students as a requirement for enrollment. Students with a high school diploma – or those with an eighth-grade reading and comprehension ability – have greater success with the course workload and state exam. Following are some other requirements for nurse aide training.
High school diploma or GED equivalent
Nurse aide students should be at least 18 years old
Criminal background check and fingerprint report
No prior convictions, felony, or reports of misconduct
Must provide proof of citizenship or legal residency
Recent TB test report
Report of a recent physical exam
Proof of immunization
Wisconsin's Certified Nurse Aide Training Requirements
The Wisconsin Department of Health Services regulates nurse aide training programs. They designed the course curriculum and set guidelines for the number of training hours. Wisconsin nurse aides must complete a full 120 hours in the classroom, lab, and clinical setting. The state takes an active role in monitoring training providers and students. Therefore, tardiness or absenteeism during training could jeopardize your chances of graduation from the course.
A crucial aspect of the program comes in the delivery of practical training in the form of the clinical experience. The department of health stipulates a minimum 32 hours for clinical hands-on experience. During this time, students work under the supervision of a Registered Nurse providing direct care to patients at licensed facilities. Before moving on to the clinical component of the program, students must cover at least 16 hours of classroom training in preparation for the realities of providing patient care.
Training program deliver essential knowledge skills such as personal care techniques, basic nursing principles, oral and written communication, infection control, emergency response, safety, fire training, HIPPA laws, transferring patients, rehabilitation and restorative techniques, patients' rights and caring for patients with Alzheimer's diseases and related dementias.
Cost of Training
Wisconsin is home to several affordable CNA classes – if you do your research, you might unearth opportunities for free training. The average cost of paid programs in the state is $800. Classes at community colleges and universities run for 6 to12 weeks and may cost upwards of $1,500. There are several government agencies and local organizations that sponsor programs in an effort to make CNA training more affordable.
Always start small in your search for an affordable program. Seek out medical facilities and vocational schools as a first resource. Nursing homes often sponsor free training several times a year to recruit new nurse aides. The local chapter of the American Red Cross is another valuable resource for affordable training. Ask your employer to sponsor the training if you're employed at a licensed nursing home. If all else fails, you can request financial aid or use the option for prorated reimbursement of your training and state testing if you're employed as a CNA within 12 months of certification.
Nurse Aide Testing
Only graduates of an accredited nurse aide training program can apply for the state evaluation. Like the training, the competency exam, administered by Pearson Vue, comprises of two components: a written/oral exam and a manual skills evaluation. Your training provider may assist with the application for testing. If you're scheduling the test on your own, you'll need to download and fill out the application and submit it with the applicable fees to Pearson Vue.
First-time candidates must pass both components of the evaluation within one year of graduating from a training program. The writen exam contains 70 multiple-choice questions. If you have difficulty reading English, you can request the oral exam in lieu of the written one. All requests for oral exams must be made at the time of application. The oral exam contains 60 multiple-choice questions and 10 reading comprehension questions.
The skills evaluation tests your nurse aide skills through your performance of five random tasks – handwashing will always be included as part of the skills test. You must complete all five skills in the allotted 30 minutes. Once you've passed the written exam and all five skills, your name will be listed on the state nurse aide registry.
Note: You can work at healthcare facilities for up to 120 days while you pursue training and testing. However, if you fail a component of the exam (written or skills), you can no longer perform nurse aide duties until you pass the exams.
Certification Costs
Testing fees are as follows:
Written and skills exam – $115
Oral and skills exam – $115
Written retest – $45
Skills evaluation only – $70
Oral retest – $45
First-time testers must pay for both the written and skills exam.
On exam day, you must walk with the following:
Confirmation letter
Two forms of current previously signed IDs
Two number 2 pencils and an eraser
Watch with a second hand
Arrive 30 minutes before the scheduled start time
Out-of-State CNAs
If you're an out-of-state CNA, Wisconsin may grant reciprocity if you're able to meet the state's training requirements.
Your certification at the out-of-state registry must be in good standing and active
Submit to a criminal background check in Wisconsin
Download the application, complete the first section and have the registry in your home state complete the final section (part II)
Submit proof of at least 120 hours of training including 32 clinical hours
If you've completed less than 120 hours of training, The department will accept proof of 2088 hours of paid employment over the last two years
Renewal
In accordance with federal laws, nurse aides must provide proof of nursing-related services for pay under the supervision of a registered nurse. Certification remains valid for two years, and on the renewal form, you must detail your employment history – most recent. Failure to report your employment history could jeopardize your status on the registry. Apply for renewal 3 to 4 weeks before your license expires as it takes two weeks to process renewals.
Contact the Registry: 
Wisconsin Nurse Aide Registry 
Wisconsin Department of Health Services – Division of Quality Assurance
Office of Caregiver Quality
P.O. Box 2969, Madison, WI 53701
Phone: (608) 261-8319
Fax: (608) 264-6340
Email: [email protected]
Pearson Vue
Phone: (877) 329-8760
State Approved CNA Programs in Wisconsin
Altoona, WI Freestanding CNA programs:
American Red Cross-Western Wisconsin Chapter
3728 Spooner Ave, Altoona, WI 54720
(715) 235-3700
Appleton, WI Colleges and Universities offering CNA programs:
Fox Valley Technical College
Po Box 2277, Appleton, WI 54912
(920) 735-5774
Beaver Dam, WI Colleges and Universities offering CNA programs:
Moraine Park Technical College
700 Gould St, Beaver Dam, WI 53916
(920) 887-1441
Blair, WI Nursing Homes and Hospitals offering CNA programs:
Grand View Care Center
Po Box 27, Blair, WI 54616
(608) 989-2511
Boyceville, WI Freestanding CNA programs:
CNA Professional Services, LLP
1198th Street, Boyceville, WI 54725
(715) 643-4068
Campbellsport, WI Freestanding CNA programs:
Wisconsin CNA Training Center
Po Box 425, Campbellsport, WI 53010
(920) 979-4428
Chippewa Falls, WI Nursing Homes and Hospitals offering CNA programs:
Wissota Health-Regional Vent Center
2815 County Highway I, Chippewa Falls, WI 54729
(715) 720-9341
Cleveland, WI Colleges and Universities offering CNA programs:
Lakeshore Technical College
1290 North Ave, Cleveland, WI 53015
(920) 693-1226
Eau Claire, WI Colleges and Universities offering CNA programs:
Chippewa Valley Technical College
620 W Clairemont Ave, Eau Claire, WI 54701
(715) 833-6421
Eau Claire, WI Nursing Homes and Hospitals offering CNA programs:
Dove Healthcare – West Eau Claire
1405 Truax Blvd., Eau Claire, WI  54703
(715) 552.1030
Grace Lutheran Foundation
Po Box 287, Eau Claire, WI 54702
(715) 832-3003
Elkhorn, WI Colleges and Universities offering CNA programs:
Gateway Technical College-Elkhorn
400 County Rd H, Elkhorn, WI 53121
(262) 741-8304
Fennimore, WI Colleges and Universities offering CNA programs:
Southwest Wisconsin Technical College
1800 Bronson Blvd, Fennimore, WI 53809
(608) 822-3362
Fond Du Lac, WI Colleges and Universities offering CNA programs:
Clarity Care University of Wisconsin Fond Du Lac
400 University Drive, Fond Du Lac, WI 54935
(920) 929-1153
Fond Du Lac, WI Freestanding CNA programs:
Touchstone Learning Center
Po Box 547, Fond Du Lac, WI 54936
(920) 922-7242
Green Bay, WI Freestanding CNA programs:
American Red Cross-Lakeland Chapter
2131 Deckner Ave, Green Bay, WI 54308
(715) 271-9914
Green Bay, WI Colleges and Universities offering CNA programs:
Northeast Wisconsin Technical College
Po Box 19042, Green Bay, WI 54307
(920) 498-7141
Hayward, WI Colleges and Universities offering CNA programs:
Lac Courte Oreilles Ojibwe Community College
13466 W Trepania Rd, Hayward, WI 54843
(715) 634-4790
Hurley, WI Nursing Homes and Hospitals offering CNA programs:
Villa Maria Health-Rehab Center
300 Villa Drive, Hurley, WI 54534
(715) 561-3200
Janesville, WI Colleges and Universities offering CNA programs:
Blackhawk Technical College
Po Box 5009, Janesville, WI 53547
(608) 757-7699
Juneau, WI Nursing Homes and Hospitals offering CNA programs:
Clearview Long Term Care And Rehab
199 Home Rd, Juneau, WI 53039
(920) 386-3400
Kenosha, WI Colleges and Universities offering CNA programs:
Gateway Technical College-Kenosha
3520 30th Ave, Kenosha, WI 53144
(262) 564-2374
King, WI Nursing Homes and Hospitals offering CNA programs:
Wisconsin Veterans Home Ainsworth Hall
N2665 County Rd Qq, King, WI 54946
(715) 258-1668
La Crosse, WI Nursing Homes and Hospitals offering CNA programs:
Gundersen Lutheran Medical Foundation Inc
1900 South Ave, La Crosse, WI 54601
(608) 775-4329
La Crosse, WI Colleges and Universities offering CNA programs:
Western Technical College
400 7th St N, Lacrosse, WI 54602
(608) 789-6105
Madison, WI Nursing Homes and Hospitals offering CNA programs:
Central Wisconsin Center For The Developmentally Disabled
317 Knutson Dr, Madison, WI 53704
(608) 301-1810
Mendota Mental Health Institute
301 Troy Dr, Madison, WI 53704
(608) 301-1366
Neway Directions
6400 Gisholt Dr Ste102, Madison, WI 53713
(608) 221-1920
Madison, WI Colleges and Universities offering CNA programs:
Madison Area Technical College
211 N Carroll St, Madison, WI 53703
(608) 258-2479
Manitowoc, WI Nursing Homes and Hospitals offering CNA programs:
St Mary's At Felician Village
1635 South 21st St, Manitowoc, WI 54220
(920) 684-7171
Manitowoc, WI Colleges and Universities offering CNA programs:
University of Wisconsin Manitowoc
705 Viebahn Street, Manitowoc, WI 54220
(920) 683-4702
Marshfield, WI Nursing Homes and Hospitals offering CNA programs:
Clarity Care Marshfield
2000 West 5th St, Marshfield, WI 54449
(715) 389-6540
Menomonee Falls, WI Nursing Homes and Hospitals offering CNA programs:
Linden Grove
W180 N8071 Town Hall Rd, Menomonee Falls, WI 53051
(262) 797-4600
Milwaukee, WI Nursing Homes and Hospitals offering CNA programs:
Amber House, Inc
7414 W Hampton Ave, Milwaukee, WI 53218
(414) 393-9922
Milwaukee, WI Freestanding CNA programs:
C Ross Educational Center
7905 W Appleton Ave Ste 202, Milwaukee, WI 53218
(414) 438-9390
Community Healthcare Educational Center
5140 N. Teutonia Ave, Milwaukee, WI 53209
(414) 578-3132
Milwaukee, WI Colleges and Universities offering CNA programs:
Milwaukee Area Technical College
700 W State St, Milwaukee, WI 53233
(414) 297-8569
Mount Horeb, WI Nursing Homes and Hospitals offering CNA programs:
Ingleside Nursing Home
407 N 8th St, Mount Horeb, WI 53572
(608) 437-5511
Mukwonago, WI Nursing Homes and Hospitals offering CNA programs:
Linden Grove-Mukwonago
837 County Rd Nn E, Mukwonago, WI 53149
(262) 797-4600
Neenah, WI Freestanding offering CNA programs:
Wisconsin CNA Training Center LLC
1091 Jacobsen Road, Neenah, WI 54956
(920) 979-4428
New Berlin, WI Nursing Homes and Hospitals offering CNA programs:
Linden Grove-New Berlin
13755 W Fieldpointe Dr, New Berlin, WI 53151
(262) 797-4600
Oshkosh, WI Freestanding CNA programs:
American Red Cross-Oshkosh
515 S. Washburn Street, Oshkosh, WI 54904
(715) 271-9914
Oshkosh, WI Nursing Homes and Hospitals offering CNA programs:
Aurora Medical Center-Oshkosh
855 N West Haven Dr, Oshkosh, WI 54904
(920) 456-7494
Clarity Care
424 Washington Ave, Oshkosh, WI 54901
(920) 236-6560
Park Falls, WI Nursing Homes and Hospitals offering CNA programs:
Care Aide Program
250 Lawrence Ave, Park Falls, WI 54552
(715) 762-2449
Pewaukee, WI Colleges and Universities offering CNA programs:
Waukesha County Technical College
800 Main St #219, Pewaukee, WI 53072
(262) 691-5585
Racine, WI Colleges and Universities offering CNA programs:
Gateway Technical College-Racine
1001 S Main St, Racine, WI 53403
(262) 619-6688
Rhinelander, WI Colleges and Universities offering CNA programs:
Nicolet Area Technical College
Po Box 518, Rhinelander, WI 54501
(715) 365-4910
Shell Lake, WI Colleges and Universities offering CNA programs:
Wisconsin Indianhead Technical College
505 Pine Ridge Drive, Shell Lake, WI 54871
(800) 243-9482
Sister Bay, WI Nursing Homes and Hospitals offering CNA programs:
Good Samaritan-Scandia Village
10560 Applewood Road, Sister Bay, WI 54234
(920) 854-2317
Spring Valley, WI Freestanding CNA programs:
Spring Valley CNA Training Program
5830 Westland Dr, Spring Valley, WI 54767
(715) 778-5545
Union Grove, WI Nursing Homes and Hospitals offering CNA programs:
Southern Wisconsin Center For The Developmentally Disabled
21425 Spring St, Union Grove, WI 53182
(262) 878-2411
Waukesha, WI Nursing Homes and Hospitals offering CNA programs:
Linden Grove-Waukesha
425 N University Dr, Waukesha, WI 53188
(262) 797-4600
Waukesha, WI Colleges and Universities offering CNA programs:
Waukesha County Technical College-Blackboard
800 Main St #219, Waukesha, WI 53072
(262) 691-5243
Waunakee, WI Nursing Homes and Hospitals offering CNA programs:
Waunakee Manor Health Care Center
801 Klein Dr, Waunakee, WI 53597
(608) 849-5016
Waupaca, WI Freestanding CNA programs:
American Red Cross- Waupaca
418 School Street, Waupaca, WI 54981
(715) 258-5055
Wausau, WI Colleges and Universities offering CNA programs:
Northcentral Technical College
1000 Campus Dr, Wausau, WI 54401
(715) 803-1338
Wauwatosa, WI Nursing Homes and Hospitals offering CNA programs:
Quality Healthcare Options, Inc
7425 Harwood Ave, Wauwatosa, WI 53213
(414) 475-7337
Whitehall, WI Nursing Homes and Hospitals offering CNA programs:
Trempealeau County Health Care Center
W20298 State Rd 121, Whitehall, WI 54773
(715) 538-4312
Winnebago, WI Nursing Homes and Hospitals offering CNA programs:
Winnebago Mental Health Institute
Po Box 9, Winnebago, WI 54985
(920) 235-4910
Wisconsin Rapids, WI Colleges and Universities offering CNA programs:
Mid-State Technical College
500 32nd St N, Wisconsin Rapids, WI 54494
(715) 422-5318