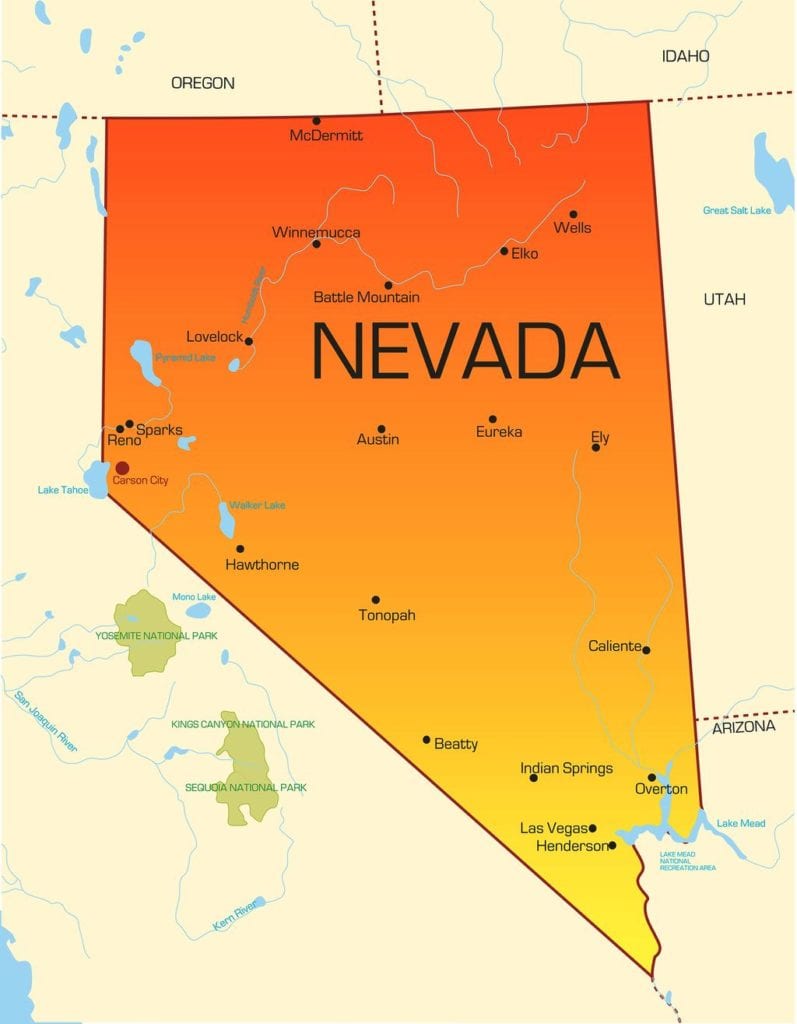 Looking for a fast and simple way to get into the healthcare industry? Consider becoming a Certified Nursing Assistant (CNA). According to U.S. Department of Labor estimates, the demands for CNAs will grow by 21 – 35 % in the next decade as the population ages. The job prospects for Nevada CNAs is better than many. There's a shortage of qualified and dedicated nurse assistants, and the salary is great – at least better than most. Nevada stands as the fourth highest paying states when it comes to a nurse assistant's salary. As a nurse's assistant, you'll provide basic care to senior or incapacitated patients in hospitals, nursing homes and assisted living facilities. Nevada State Board of Nursing approved programs will help you acquire the skills you need to monitor vital signs, assist patients with daily living, and respond appropriately during emergencies. 
CNA Classes in Nevada:
Certification Requirements
Nursing homes, hospitals, long-term care facilities, and clinics offer rewarding jobs with competitive salaries for Nevada's CNAs. However, if you must work beyond the initial four months that the state allows, you must train and take the state certification exam for inclusion on the nurse aide registry. Nurse assistants in licensed facilities must understand the roles and responsibilities of this entry-level position. They must demonstrate respect for patients' rights and independence and provide safety and compassionate care. The only way to a accomplish this is through proper training. Every employer at licensed facilities must ensure employees have the necessary training evidenced by a listing on the state's nurse aide registry.
If you're an out-of-state CNAs, nursing student, foreign nurse or military personnel, you can apply for state certification through the Board of Nursing. The board will determine whether you need to re-train and test before certification as a Nevada CNA.
Prerequisites to Training
Can you enroll in Nevada's nurse assistant training program with no high school diploma? Yes, you can! Whether you should depends on your future goals. As much as 30 percents of CNAs continue to work in the entry-level position throughout their careers, but many more decide to pursue additional education – whether they planned it that way or not. If you decide to apply for nursing school, not having a high school diploma or GED could impede your progress. Your training experience as a CNA will enhance your application, but you'll also need to provide a copy of your high school transcript. Nevada CNAs are paid well for their services, but those with the best salaries often have a high school education somewhere in their background.
Following are some other prerequisites to training:
Reading and comprehension skills
High school diploma (depends on the training provider)
Be at least 17 years old
Criminal background check with no disqualifying offenses
MMR, Varicella, Hepatitis B immunization
Negative TB and drug tests
Physical exam
Physical ability to lift up to 40 pounds without assistance
Nevada Certified Nurse Aide Training Requirements
Nevada's nurse assistant training curriculum comprises of 18 units, which requires a minimum 75 hours to complete. State-accredited training providers must facilitate a minimum of 60 hours in the classroom and lab. The time spent in the classroom introduces students to the world of healthcare from a nurse assistant's point of view. They also develop the basic competencies required for their roles as nurse assistants before putting their skills to work in a clinical setting.
Before moving on to the clinical rotation in an off-site facility, OBRA requires all trainees to complete at least 16 hours of training covering essential topics such as communication and interpersonal skills, controlling infections, safety and emergency procedures, residents' rights and residents' independence. Throughout the clinical rotation, you'll spend at least 15 hours providing direct care to residents under a nurse's supervision. Instructors will emphasize special procedures for tending to the needs of residents with chronic illness. At the end of your classroom sessions and clinical rotation, you'll be prepared for success on the state's certification exam.
Cost of CNA Training Nevada
The cost of tuition depends on the training institution. Classes at community college are among the most expensive. Although the tuition may seem reasonable, you should ask about additional costs, such as registration fees, student fees, graduation costs, parking, library fees and other needless costs. For-profit programs are also expensive, so you should avoid them whenever possible. The upside with for-profit programs is the entry requirements, which are more flexible than most.
In general, Nevada's nurse aide training program can cost upwards of $800 for 75 hours of classroom and clinical instruction. Apart from tuition, you must budget for books, uniform, course materials, state certification, background check, medical exam and immunization. If you need training on a tight budget, you can look into training at career centers, Employment Opportunity schools, and nursing homes. Nursing facilities sponsor training programs several times a year to train and recruit new employees. Keep close contact with the nursing home's staff and administrator, and you'll be first to know when the next round of training begins.
Nurse Aide Testing
Nevada's State Board of Nursing has contracted with Prometric to develop and administer the state's nurse aide competency exam. To take the exam, you must submit your proof of completing a state-approved training along with the $50 application fee. The state board will review the application for testing and notify Prometric of your eligibility to take the test – generally takes three weeks. You must pass the competency exam within one year of the application approval.
The nurse competency test comprises of two parts; the written (knowledge) test and the skills test. The written test comprises of 60 multiple-choice questions administered over the computer. The 90-minute test evaluates your nurse aide knowledge and skills. There's an oral option available if you have a reading disability or if English is your second language. You must request the oral option at the time of application. The timed clinical test evaluates your performance of five skills – Handwashing, Indirect Care and three others issued at random. The duration of the clinical skills test is 31 to 40 minutes, depending on the skills assigned. You must pass both the skills and knowledge test (within three attempts) in order to pass the competency exam.
Exam Costs
Skills and written (oral) exam – $120
Skills retake – $90
Written or oral retake – $30
Walk with the following items on exam day:
Arrive at least 30 minutes before the exam
Two non-expired forms of identification
Uniform scrubs and flat, non-skid, closed-toe shoes for the skills exam
Out-of-State CNAs
If you're moving to Nevada from another state, you can complete the application for endorsement to transfer your license. Submit the following to the Board of Nursing:
Completed application form with application and fingerprinting fees.
Your active out-of-state license with the expiration date.
Certificate from your nurse assistant training.
Proof of 8 hours of employment – pay stub, W-2 form or letter from employer are all acceptable.
Endorsement form from your old state.
Completed fingerprint card.
Renewal
Your CNA license is valid for two years. You can renew your certification if you:
Provided at least 40 hours of nurse assistant service in any US state for compensation within the past two years.
Completed at least 24 hours of continuing education units within the renewal period.
If you do not meet the requirements for renewal, you must retrain and take the state exam for reinstatement on the registry.
Contact the Registry:
Nevada State Board of Nursing
Las Vegas Office
4220 S. Maryland Pkwy., Building B, Suite 300
Las Vegas, NV 89119-7533
(702) 486-5800
(888) 590-6726 (toll free)
(702) 486-5803 – Fax
Reno Office
5011 Meadowood Mall Way, Suite 300
Reno, NV 89502-6547
(775) 687-7700
(888) 590-6726 (toll free)
(775) 687-7707   – Fax
(775) 687-7729  – Compliance Department Fax line
nursingboard@nsbn.state.nv.us
State Approved CNA Training Programs in Nevada
Battle Mountain, NV High Schools offering CNA programs:
Battle Mountain High School
625 Weaver Avenue, Box 1300, Battle Mountain, NV 89820
(775) 635-2886
Caliente, NV Nursing Homes and Hospitals offering CNA programs:
Grover C. Dils Medical Center
700 North Spring Street, P.O. Box 1010, Caliente, Nevada 89008
(702) 726-3171
Carson City, NV Nursing Homes and Hospitals offering CNA programs:
Mountain View Health-Rehab
201 Koontz Lane, Carson City, NV 89701
(775) 883-3622
Carson City, NV Colleges and Universities offering CNA programs:
Western Nevada College
2201 West College Parkway, Carson City, NV 89703
(775) 445-3000
Dayton, NV High Schools offering CNA programs:
Dayton High School
335 Old Dayton Valley Road, Dayton, NV 89403
(775) 246-6240
Elko, NV Colleges and Universities offering CNA programs:
Great Basin College
1500 College Parkway, Elko, Nevada 89801
(775) 753-2216
Ely, NV High Schools offering CNA programs:
White Pine County High School
1800 Bobcat Dr., Ely, NV 89301
(775) 289-4811
Hawthorne, NV Nursing Homes and Hospitals offering CNA programs:
Mount Grant General Hospital
200 South "A" Street, P.O. Box 1510, Hawthorne, Nevada 89415
(775) 945-2461
Las Vegas, NV Freestanding CNA programs:
A Progressive Healthcare Training Center
222 South Rainbow Blvd. Suite 202, Las Vegas, NV 89145
(702) 489-8999
East Career Technical Academy
6705 Vegas Valley Drive, Las Vegas, NV 89142
(702) 799-8888
Purrfect Nursing Services
1702 Western Avenue, Suite G, Las Vegas, Nevada 89102
(702) 385-3853
Royal Allied Health Institute
3620 N Rancho Drive # 111, Las Vegas, NV 89130
(702) 750-2266
SE Career-Technical Academy
5710 Mountain Vista Street, Las Vegas, NV 89120
(702) 799-7500
Las Vegas, NV Colleges and Universities offering CNA programs:
College of Southern Nevada
6375 W. Charleston Blvd., Las Vegas, NV 89146
(702) 651-5690
North Las Vegas, NV High Schools offering CNA programs:
Desert Rose Adult High School and Career Center
444 W. Brooks Ave., North Las Vegas, NV 89030
(702) 799-6240
Pahrump, NV Nursing Homes and Hospitals offering CNA programs:
Pahrump Health-Rehab
4501 NE Blagg Road, Pahrump, NV 89060
(775) 751-6600
Pahrump, NV High Schools offering CNA programs:
Pahrump Valley High School
501 E. Calvada Blvd, Pahrump, NV 89048
(775) 727-7737
Reno, NV Freestanding CNA programs:
Sierra Nevada Job Corps
14175 Mt. Charleston Street, Reno, NV 89506
(775) 972-5627
Reno, NV Colleges and Universities offering CNA programs:
Truckee Meadows Community College
7000 Dandini Boulevard, Reno, NV 89512
(775) 676-7115
Silver Springs, NV High Schools offering CNA programs:
Silver Stage High School
3755 W. Spruce St, Silver Springs, NV 89429
(775) 577-5071
Yerington, NV Nursing Homes and Hospitals offering CNA programs:
South Lyon Medical Center
213 South Whitacre Street, Yerington, NV 89447
(775) 463-2301
Yerington, NV High Schools offering CNA programs:
Yerington High School
114 Pearl Street, Yerington, NV 89447
(775) 463-6822