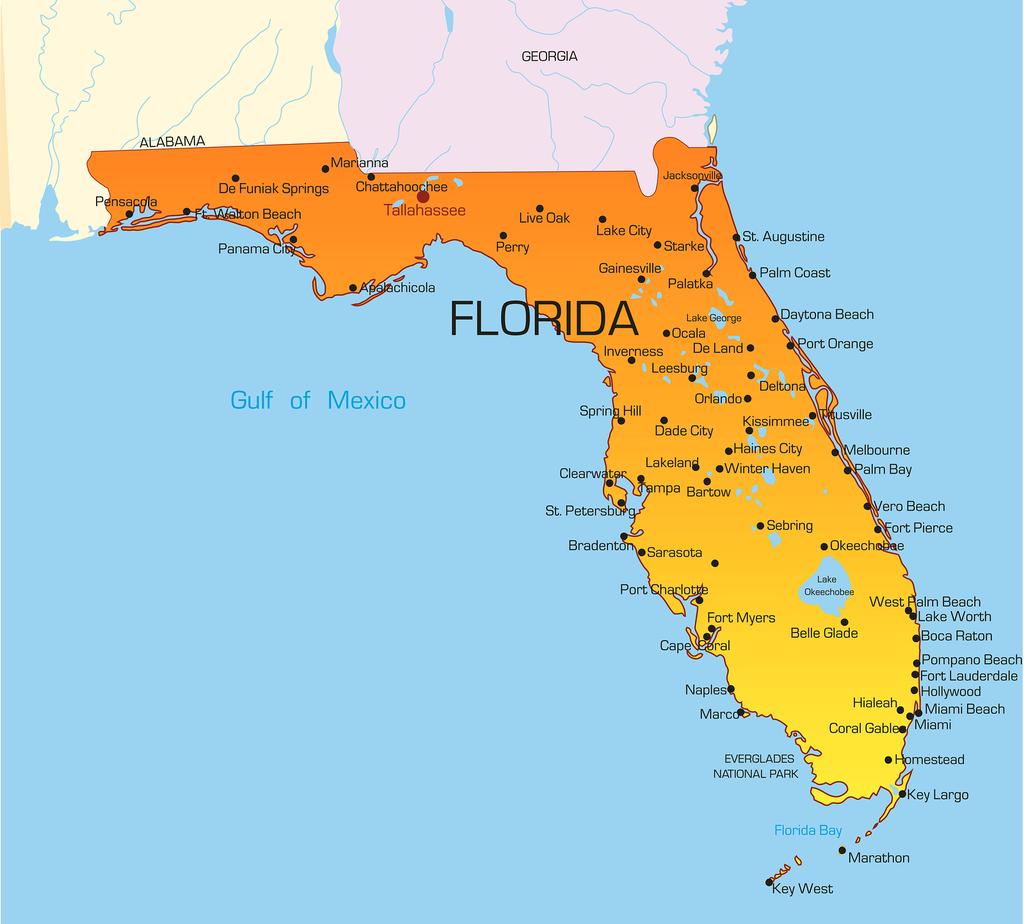 As the medical industry continues to expand, Certified Nursing Assistants serve on the front lines by providing quality patient care. According to the U.S. Bureau of Labor Statistics (BLS), the demand for nurse aides, attendants and orderlies will grow at a faster rate than other occupations, with a 5% increase in demand by the year 2031. In Florida, there's a huge demand for capable nurse aides to care for the needs of the rising elderly population. The medical industry has an urgent need for CNAs to provide services at long-term care facilities across the state. The Florida State Board of Nursing, in accordance with Florida Statute 456, mandates that all healthcare practitioners, including CNAs, receive proper training and certification as a prerequisite to employment. The board closely monitors the education, training, certification and discipline of all nurse aides.
CNA Classes in Florida:
Other cities in Florida: Please scroll down below or use CTRL+F (Command+F on Mac) to search this page.
Certification Requirements
There's an abundance of opportunities for ambitious CNAs at long-term care facilities, clinics and hospitals across Florida. As a prospective nurse aide, you need to obtain certification before you can legally provide direct care to patients and residents. There are several routes to acquire certification. One of the most common routes is to enroll in a formal training program before sitting the nurse aide competency exam administered by Prometrics. Formal CNA training is not required to gain eligibility to take the exam. However, if you fail the test on three (3) attempts, you will have to enroll in an approved program before trying again. Employers must verify a prospective employee's status on the registry before hire.
Note: The Florida Nursing Board makes provisions for nurse aides to work without certification for a maximum of four months while awaiting Florida certification. You may work without certification if:
You're currently enrolled in or completed a state-approved program
You're a certified nurse aide in active status in another state
You've passed the state exam and awaiting your certificate
Prerequisites to Training
Formal training is not a requirement taking the state nurse aide competency exam. However, if you decide to enroll in a program to prepare for the exam and your responsibilities as a CNA, you can enroll in one of the numerous programs across the state without too many restrictions. If you do not have a high school diploma or GED, you may have to take a pre-admission evaluation to demonstrate your reading and comprehension skills.
Others requirements:
Reading and comprehension skills
Be at least 17 years old
Background screening with no disqualifying offenses
Up-to-date immunization records
Negative TB and drug tests
Physical exam
Physical ability to lift up to 40 pounds without assistance
Florida's Certified Nurse Aide Training Requirements
Florida nurse aide training programs provide instruction through lectures and supervised clinical experiences at long term care facilities. Students receive instruction in essential areas like infection control basic patient care, communication, medical terminology, vital signs, safety measures, CPR, basic anatomy, patient transfers and charting. The training not only helps students prepare for the state exam but also equips them with the knowledge and skills to execute their duties on the job.
Florida state regulations require training providers to facilitate a minimum of 120 hours of combined classroom, lab and clinical training to nurse aide students. A total of 80 hours covers classroom instruction and hands-on lab, and the final 40 hours provides for supervised clinical experience where students work directly with residents. Students can apply for training at one of the many technical institutes, high schools, nursing homes, community colleges and private institutions around Florida.
Apart from pre-certification training, Florida also requires Certified Nurse Aides to complete 12 hours of in-service training every year. Training should cover areas such as domestic violence, blood borne pathogens, residents' rights, infection, medical error prevention and safety.
Cost of Training
There are over 175 state-approved nurse aide training programs in Florida. The cost of training is as varied as the providers themselves. However, the average cost of training is an affordable $850, making it a feasible option if you want to prepare for the state evaluation. Financial and employer-funded programs help to ease the burden of tuition for some families. Additionally, if you're employed at a nursing facility or begin working within 12 months of training, you might be eligible for reimbursement as directed by state regulations. Consult with your employer or your district Medicaid office for specific guidelines.
Nurse Aide Testing
The Florida Department of Health has assigned Prometric with responsibility of developing, administering and scoring the nurse aide evaluation in the state. Prometric administers the exam at several approved testing sites throughout Florida. You can review the current list of test sites and enter the code on your application for testing.
Prometric administers the written component of the test through its user-friendly computerized system. The exam comprises of 60 multiple choice questions, which evaluates your knowledge and skills. You'll have 90 minutes to complete all 60 questions.
The clinical skills test consists of five skills, which the computer assigns randomly. The time for your test depends on the complexity of the skills assigned. Three skills are assigned, and the last two skills test your hand washing and indirect care techniques. You must complete all five skills to pass the clinical component, and both the clinical and written components to qualify for certification.
Certification Costs
Testing fees are as follows:
Written and Clinical Skills Evaluation – $155 (Audio, English, Spanish)
Written Test – $35
Written Exam Audio – $35 (Spanish and English)
Clinical Skills Test – $120
Rescheduling Fee – $30
Exam Review – $25
On exam day, you must walk with the following:
Two forms of identification – one with your photo
Original social security card
Non-skid, closed-toe, flat shoes for the clinical evaluation
You may have to play the role of a resident actor for another candidate
CNA Certification by Exam Florida
Florida State does not require candidates for certification by exam to complete a state-approved training program before taking the exam. If you plan to challenge the exam, you must be 18 years of age or older and have a high school diploma or its equivalent. You must also pass the required background screening and meet one of the following requirements:
Has successfully completed an approved training program and achieve a minimum score of the written and skills-demonstration portions of a nursing assistant competency exam
Has achieved a minimum score on the nursing assistant competency exam – comprising of a written and skills-demonstration portion
Has completed the curriculum developed under the Enterprise Florida Jobs and Education Partnership Grant and achieved a minimum score on the nursing assistant competency examination consisting of a written portion and skills-demonstration portion
Note: If you fail the nurse aide competency on three attempts, you will not be eligible for reexamination unless you complete an approved training program
When applying for initial licensure, you must use a Livescan service provider to submit your fingerprints electronically to the Florida Department of Law Enforcement (FDLE) for conducting a search for any Florida and national criminal history records. The results will be returned to the Care Provider Background Screening Clearinghouse (Clearinghouse) and made available to the Department for consideration during the licensure process. The costs for conducting a criminal history background screening are your responsibility.
CNA Certification by Endorsement Florida
You may apply to become a Certified Nursing Assistant by Endorsement if you are currently certified in another state or territory of the United States or in the District of Columbia and listed on the certified nursing assistant registry in that jurisdiction.
Apply for endorsement as follows:
Submit a completed application to the Board of Nursing
Schedule and print an electronic fingerprint appointment
If you have ever been found guilty of or pled guilty or no contest/nolo contendere to any charge other than a minor traffic offense, you must list each offense on the application
Submit a copy of CNA license – in active status- for verification by the Board of Nursing
Provide any additional documents that the Board may request
Your name will be placed on the Registry if you meet all the requirements.
Renewing Your Florida CNA License
CNA certification remains valid for 2 years.
Licenses expire on May 31 of the two-year renewal cycle. You must provide proof of completing the required nursing-related services for monetary compensation within the last 24 consecutive months to renew your license and remain on the registry.
If you did not complete the required nursing-related services, you must reapply for licensure and comply with the current rules for a new license.
Your license will go delinquent if you do not renew by the stipulated deadline and null and void two years after the deadline. Should your license become null and void or if you voluntarily relinquish your CNA license, you must reapply for licensure and meet current requirements.
Options for Non-Renewal:
The following options are available if you decide against renewal:
Delinquent & Null/Void Status
No action is necessary. The license will go delinquent after the expiration date and Null or Void 2 years after the expiration date. Null or Void licenses cannot be reactivated.
Voluntarily Relinquish Your License
Submit a formal request in writing to the Board for relinquishment of the license. The license number will be discontinued and will not be eligible for reactivation.
Renewal Instructions
Complete the following steps to renew your license online:
Visit flhealthsource.gov and click the "Renew A License" button
Provide your Personal Identifying Information (PII) to log in
Confirm or update your MQA Services Account email address, then "Continue"
The "Renew My License" option will be available in the Dashboard if you are within the 90-renewal period
Proceed to renew your licensure using a credit or debit card to complete the transaction
You may print the renew application and complete and mail it in with a cashier's check or money order if you do not wish to renew online.
Mail the application and payment to:
Division of Medical Quality Assurance
P.O. Box 6320
Tallahassee, FL 32314-6320
The renewal process could take 7 to 10 business days for receiving a printed license in the mail.
Certificates of in-service hours should not be submitted to the Florida Board of Nursing.
Renewal Fees:
If renewing before your license expires, your fees will be:
Active to Active          $55.00 – for renewing before the license expires
Active to Active          $105.00 – for renewing after the license expires
Active to Active          $160.00 – for renewing 120 day Notified Delinquent
In-Service Training
A list of board approved In-Service Courses for CNAs is available on the Board's Website.
You must complete a minimum of 24 hours of in-service training each biennium. Some areas designated for in-service training include:
Bloodborne Pathogens, Infection Control
Domestic Violence
Medical Record Documentation and Legal Aspects Appropriate to Nursing Assistants
Resident Rights
Communication with cognitively impaired clients
CPR skills
Medical Error Prevention and Safety
Contact the Registry:
Certified Nursing Assistant Registry
Florida Board of Nursing
4052 Bald Cypress Way, BIN C13
Tallahassee, FL 32399
Phone: (850) 245-4125
Alt: (850)-245-4567
Arcadia, FL Freestanding CNA programs:
Desoto County Nursing Program
310 West Whidden Street, Arcadia, FL 34266
863-993-1333
Boca Raton, FL Technical Institutes offering CNA programs:
Palm Beach Health Care Academy
1700 N Dixie Hwy #150, Boca Raton, FL 33432
561-372-9484
Boynton Beach, FL Technical Institutes offering CNA programs:
South Tech Academy
1300 SW 30th Avenue, Boynton Beach, FL 33426
561-301-4926
Bradenton, FL Technical Institutes offering CNA programs:
Manatee Technical College – Main Campus
5603 34th Street West, Bradenton, FL 34210
941-752-8100
Bradenton, FL High Schools offering CNA programs:
Manatee High School
902 33rd St Ct W, Bradenton, FL 34205
941-714-7300
State College of Florida
5840 26th St. W., Bradenton, FL 34207
941-752-5000
Cape Coral, FL High Schools offering CNA programs:
Mariner High School
701 Chiquita Blvd N, Cape Coral, FL 33993, United States
239-772-3324
Cape Coral, FL Technical Institutes offering CNA programs:
Cape Coral Technical College
360 Santa Barbara Blvd N, Cape Coral, FL 33993
239-574-4440
Chiefland, FL High Schools offering CNA programs:
Ida S. Baker High School
3500 Agualinda Blvd, Cape Coral, FL 33914
239-458-6690
Clearwater, FL Freestanding CNA programs:
Ultimate Medical Academy-Clearwater
1255 Cleveland Street, Clearwater, FL 33756
727-298-8685
Coconut Creek, FL Technical Institutes offering CNA programs:
Atlantic Technical Center
4700 Coconut Creek Parkway, Coconut Creek, FL 33063
754-321-5156
Crystal River, FL Freestanding CNA programs:
Crystal River Health and Rehab
136 NE 12th Ave, Crystal River, FL 34429
352-795-5044
Daytona Beach, FL Colleges and Universities offering CNA programs:
Daytona State College
1200 West International Speedway, Daytona Beach, FL 32120
386-506-3726
Delray Beach, FL Freestanding CNA programs:
Cambridge College of Healthcare & Technology
5150 Linton Blvd STE 340, Delray Beach, FL 33484
561-381-4990
Alliance Training Center
14590 S Military Trail E6, Delray Beach, FL 33484
1 888-677-7769
Pine Ridge High School
926 Howland Blvd, Deltona, FL 32738
386-575-4195
Fort Lauderdale, FL High Schools offering CNA programs:
Sunrise High School
424 W Sunrise Blvd, Fort Lauderdale, FL 33311
954-446-9234
Fort Pierce, FL Colleges and Universities offering CNA programs:
Indian River State College
3209 Virginia Ave, Fort Pierce, FL 34981
772-462-7570
Indian River State College- R. Duke Nelson Human Development
3002 Avenue D, Fort Pierce, FL 34947
772-462-7570
Ft Myers, FL Freestanding CNA programs:
Horizon Healthcare Institute
3677 Central Avenue Suite 1, Ft Myers, FL 33901
239-839-0979
Fort Myers Technical College
3800 Michigan Ave, Fort Myers, FL 33916, United States
1 239-334-4544
Ft Pierce, FL Freestanding CNA programs:
EMS Safety & Healthcare Training Center
1905 S 25th St suite 105, Fort Pierce, FL 34947
772-742-8503
Gainesville, FL Colleges and Universities offering CNA programs:
Santa Fe College
3000 NW 83 Street W-201, Gainesville, FL 32606
352-395-5731
Greenacres, FL Freestanding CNA programs:
Medical Institute of Palm Beach
5821 Lake Worth Rd # B, Greenacres, FL 33463
561-964-5148
Hialeah, FL High Schools offering CNA programs:
Miami Lakes Educational Center High School
7977 West 12Th Avenue, Hialeah, FL 33014
305-823-1330
Hollywood, FL Technical Institutes offering CNA programs:
Sheridan Technical College
5400 Sheridan Street, Hollywood, FL 33021
754-321-5480
Homestead, FL High Schools offering CNA programs:
South Dade Magnet High School
28401 SW 167Th Avenue, Homestead, FL 33031
305-247-4244
Immokalee, FL Technical Institutes offering CNA programs:
Immokalee Technical College
508 North 9Th Street, Immokalee, FL 34142
239-377-4531
Jacksonville, FL Freestanding CNA programs:
First Coast CNA
3728 Philips Highway #13 Jacksonville, Fl 32207
(904)-778-5547
Lake City, FL High Schools offering CNA programs:
Columbia High School
469 Se Fighting Tiger Dr., Lake City, FL 32025
386-755-8080
Lake Worth, FL Colleges and Universities offering CNA programs:
Palm Beach State College
4200 Congress Avenue Ms#60, Lake Worth, FL 33461
561-868-3560
Lehigh Acres, FL High Schools offering CNA programs:
East Lee County High School
715 Thomas Sherwin Ave, Lehigh Acres, FL 33974
239-369-2932
Lehigh Acres, FL Freestanding CNA programs:
Institute of Health Careers
5624 8th St W #114, Lehigh Acres, FL 33971
239-303-4388
Live Oak, FL Technical Institutes offering CNA programs:
River Oak Technical College
415 Southwest Pinewood Drive, Live Oak, FL 32064
386-647-4200
Longwood, FL Freestanding CNA programs:
Aceso Institute of Health Professions
320 Crown Oak Centre Dr, Longwood, FL 32750
321-414-9430
Macclenny, FL Hospitals and Nursing Homes offering CNA programs:
North East Florida State Hospital
7487 FL-121, Macclenny, FL 32063
904-259-6211
Marianna, FL High Schools offering CNA programs:
Marianna High School
3546 Caverns Road, Marianna, FL 32446
850-482-9605
Miami, FL High Schools offering CNA programs:
American Senior High School
18350 NW 67Th Ave, Miami, FL 33015
305-557-3770
Robert Morgan Educational Center and Technical Center – PCT
18180 SW 122 Avenue, Miami, FL 33177
305-253-9920
Miami, FL Freestanding CNA programs:
FVI School of Nursing and Technology
7757 West Flagler Street Suite 220, Miami, Florida 33144
305-665-1911
International Training Careers
7360 SW 24Th Street #31, Miami, FL 33155
305-263-9696
Miami, FL Adult Education CNA programs:
Miami Jackson Senior High School
1751 NW 36Th Street, Miami, FL 33142
305-634-2621
Miami Northwestern Senior High
1100 NW 71St Street, Miami, FL 33150
305-836-0991
Miami, FL Technical Institutes offering CNA programs:
Florida Vocational Institute
6840 SW 40Th Street Suite 211A, Miami, FL 33155
305-665-1911
Robert Morgan Technical College
18180 SW 122nd Ave, Miami, FL 33177
305-253-9920
Genesis Vocational Institute
12859- SW 42Nd Street, Miami, FL 33175
786-473-9691
Miami Gardens, FL Freestanding CNA programs:
Nursing Unlimited, Inc.
17801 NW 2nd Ave Suite 237, Miami Gardens, FL 33169
305-651-1431
Naples, FL Freestanding CNA programs:
Lorenzo Walker Institute of Technology
3702 Estey Avenue, Naples, FL 34101
239-377-0900
New Port Richey, FL High Schools offering CNA programs:
Gulf High School
5355 School Road, New Port Richey, FL 34652
727-774-3300
James W. Mitchell High School
2323 Little Road, New Port Richey, FL 34655
727-774-9200
North Jacksonville, FL Freestanding CNA programs:
Affordable Training D/B/A Of Faye T. Eva
23 Jackson Avenue, North Jacksonville, FL 32220
904-378-0102
O Lakes, FL High Schools offering CNA programs:
Sunlake High School
3023 Sunlake Blvd Land,-Lakes, FL 34638
813-346-1000
Oakland Park, FL Freestanding CNA programs:
FTC Training Center
3451 North Andrews Ave, Oakland Park, Florida, 33309
(954) 656-1249
Ocala, FL Colleges and Universities offering CNA programs:
Marion Technical college
1014 SW 7th Rd, Ocala, FL 34471
(352) 671-7200
Okeechobee, FL Colleges and Universities offering CNA programs:
Indian River State College
2229 NW 9Th Avenue, Okeechobee, FL 34972
772-462-7570
Okeechobee, FL High Schools offering CNA programs:
Okeechobee High School
2800 Hwy 441 N, Okeechobee, FL 34972
863-462-5000
John Knox Village of Central FL – CNAP
698 Monastery Road, Orange City, FL 32763
386-775-0788
Orange Park, Universities and Colleges offering CNA programs:
St. Johns River State College
283 College Dr, Orange Park, FL 32065
904-276-6800
Orlando, FL Freestanding CNA programs:
Florida Healthcare Academy
5804-B Lake Underhill Rd, Orlando, FL 32807
407-275-5880
Orange Technical College
2900 W Oak Ridge Rd, Orlando, FL 32809, United States
407-251-6047
Palm Beach, FL Freestanding CNA programs:
Academy For Nursing and Health Occupation
5154 Okeechobee Blvd. Suite 201 West, Palm Beach, FL 33417
561-683-1400
Brevard Nursing Academy
1581 Robert J Conlan Blvd NE Suite 106, Palm Bay, FL 32905
321-914-3041
DOXA Academy
4670 Babcock St. NE., Palm Bay, FL 32905
321-425-3005
Palm Coast, FL Technical Institutes offering CNA programs:
Flagler Technical Institute-Corporate
1 Corporate Drive Suite 1B, Palm Coast, FL 32137
386-447-4345
Palm Harbor, FL High Schools offering CNA programs:
Palm Harbor University High School
1900 Omaha St., Palm Harbor, FL 34683
727-669-1131
Panama City, FL Nursing Homes offering CNA programs:
Clifford Chester Sims State Veteran's Nursing Home
4419 Tram Rd, Panama City, FL 32404
850-747-5401
Pinellas Park, FL Freestanding CNA programs:
Premier Nursing Academy
6477 102nd Ave N, Pinellas Park, FL 33782, United States
727-300-2464
Port Charlotte, FL Technical Institutes offering CNA programs:
Charlotte Technical College
18150 Murdock Circle, Port Charlotte, FL 33948
941-255-7500
Port Saint Lucie, FL High Schools offering CNA programs:
Treasure Coast High School
1000 Southwest Darwin Blvd. Port Saint Lucie, Port Saint Lucie, FL 34953
772-807-4300
Port Saint Lucie High School
1201 SE Jaguar Ln, Port St. Lucie, FL 34952, United States
772-337-6770
Saint Cloud, FL High Schools offering CNA programs:
St. Cloud High School
2000 Bulldog Lane, Saint Cloud, FL 34769
407-891-3100
Saint Mary, FL High Schools offering CNA programs:
Genuine Healthcare Institute, LLC
3880 5th Ave N, St. Petersburg, FL 33713
727-229-0015
Sarasota, FL Freestanding CNA programs:
Suncoast Technical College
4748 S Beneva Rd, Sarasota, FL 34233
941-924-1365
Sebring, FL Nursing Homes offering CNA programs:
The Palms of Sebring
725 S Pine St, Sebring, FL 33870, United States
863-385-0161
South Gulfport, FL High Schools offering CNA programs:
Boca Ciega High School
924 58Th Street, South Gulfport, FL 33707
727-893-2780
St Augustine, FL Nursing Homes offering CNA programs:
Clyde E. Lassen Nursing Home
4650 FL-16, St. Augustine, FL 32092,
904-940-2193
Stuart, FL Colleges and Universities offering CNA programs:
Indian River State College- Chastain Cam
2400 SE Salerno Road, Stuart, FL 34997
772-462-7570
Sumterville, FL Adult Education CNA programs:
Sumter Career and Adult Education
1425 C.R. 526A, Sumterville, FL 33585
352-793-5719
Sunrise, FL Freestanding CNA programs:
South Florida Healthcare Institute
7771 W Oakland Park Blvd Suite 205, Sunrise, FL 33351
800-816-3489
Tallahassee, FL Colleges and Universities offering CNA programs:
Tallahassee Community College
444 Appleyard Drive Tallahassee, FL 32304
(850) 201-6200
Tallahassee, FL Freestanding CNA programs:
Lively Technical Center
500 N. Appleyard Drive, Tallahassee, FL 32304
850-487-7648
Nurse Resource Training Center LLC
3471 N Monroe St Suite B, Tallahassee, FL 32303
850-792-6619
Aguilas International Medical Institute
2137 W. Dr. Martin Luther King Jr. Blvd, Tampa, FL 33607
813-871-2407
Tampa, FL Freestanding CNA programs:
Uplift Career Center, LLC
9270 Bay Plaza Blvd, Tampa, FL 33619
813-770-1807
Finlay Institute of Nursing
8011 N Himes Ave #1, Tampa, FL 33614
813-405-8190
Vero Beach, FL Colleges and Universities offering CNA programs:
Indian River State College- Mueller Camp
6155 College Lane, Vero Beach, FL 32966
772-462-7570
Wauchula, FL High Schools offering CNA programs:
Hardee Senior High School
830 Altman Road, Wauchula, FL 33873
863-773-3181
West Palm Beach, FL Freestanding programs:
Family Care Training Center
4047 Okeechobee Blvd #124, West Palm Beach, FL 33409
561-242-0150
West Palm Beach, FL Colleges and Universities offering CNA programs:
College of Health and Allied Development
1499 Forest Hill Blvd #106, West Palm Beach, FL 33406
561-270-7383