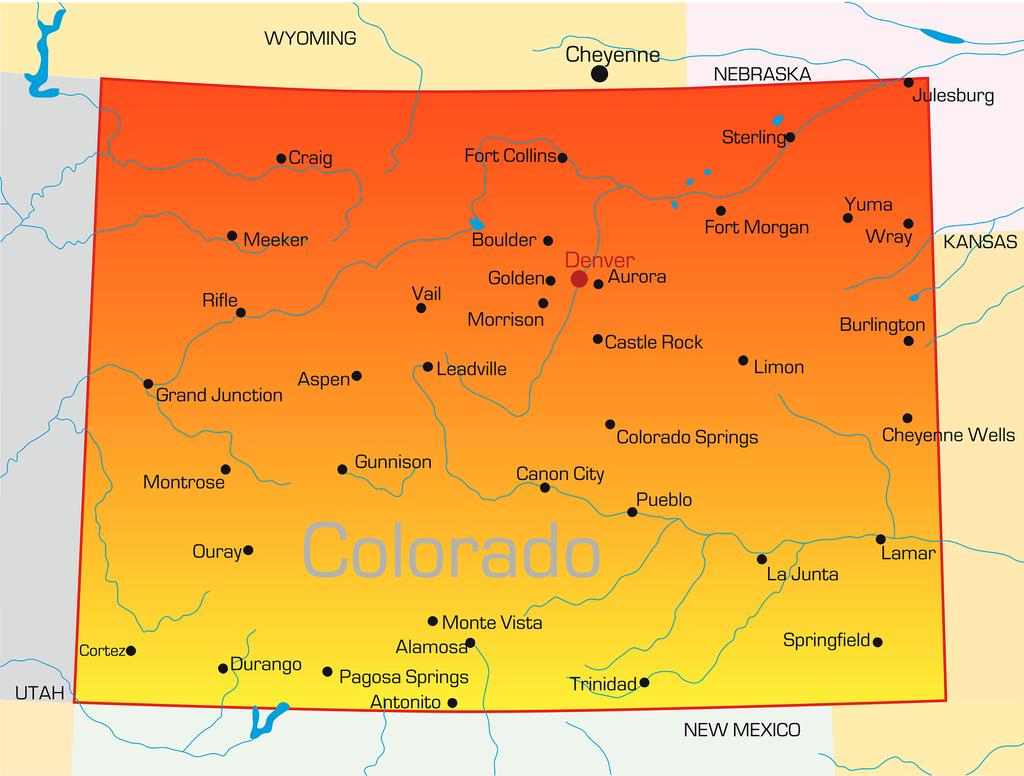 CNAs or Certified Nursing Assistants play a vital role in the healthcare industry. They provide basic care to patients and assist them in the daily activities they're unable to do themselves. The very nature of the job calls for individuals who are naturally compassionate and helpful towards others, especially towards seniors and disabled members in society. The nature of the work also demands regulations from state agencies. Colorado, in accordance with the Omnibus Budget Reconciliation Act (OBRA '87), takes an active role in the training, certification and monitoring of CNAs. The Department of Regulatory Agencies (DORA), with the help of the Board of Nursing and Pearson Vue, oversees the training and licensing of nurse aides.
CNA Classes in Colorado:
Other Colorado cities: Please scroll down below or use CTRL+F (Command+F on Mac) to search this page.
Certification Requirements
Colorado's mandatory Nurse Aide Practice Act prohibits uncertified nurse aides from providing direct care to patients. Prospective nurse aides can acquire certification by completing a state-accredited training program and passing both components of the state nurse aide competency exam. CNA classes prepare nurse aides for their demanding role on the job and should also give them the confidence to succeed at the state exam. Graduates of state-approved training programs are eligible to challenge the state exam. If you fall within any of the following categories, you may skip training:
Licensed Psychiatric Technicians who wish to practice as nurse aides
Nursing students who complete at least five (5) credits of nursing fundamentals
Foreign nurses
Colorado issues a temporary license giving students the opportunity to work while pursuing nurse aide training and testing. The temporary license remains valid for four months and gives nurse aides legal rights to practice in a nursing home or a home health agency.
Prerequisites to Training
Federal and state agencies do not stipulate educational requirements for nurse aides. However, they do require nurse aides to have clean backgrounds, free from felonies and misdemeanors, before working in the healthcare industry. Training providers may request a high school diploma before enrollment, or they might administer an entrance exam to determine your ability to complete the program. Training providers, in accordance with state requirements, must also perform background checks on students before placement in the clinical component of the training.
High school diploma (recommended)
Be at least 18 years old
Criminal background check and fingerprint report
Proof of citizenship or legal residency
Negative TB test report
Report of a recent physical exam
Proof of immunization
Colorado's Certified Nurse Aide Training Requirements
Colorado's state-accredited nurse aide training programs deliver 75 hours of combined lecture, lab and clinical experience in an approved setting. The curriculum adequately prepares graduates to sit the state exam and execute their duties on the job. Program facilitators use lectures, interactive discussions, audio-visual presentations, demonstrations and hands-on labs to present the course material. Upon completion of 59 hours of in-house training, students transfer to an approved facility to commence 16 hours clinical experience under the direction of a Registered Nurse instructor.
Both components of the training are equally critical, so students must commit to attending the entire program to get the benefits of 75 hours of training. The state does not recognize online training programs as these do not provide for the clinical aspect of nurse aide training.
In keeping with state guidelines, training providers may disqualify candidates who skip segments of the training. Essential topics for training include infection control, communication, patients' rights, patient transfers, medical terminology, observation and reporting, rehabilitative and restoration techniques, emergency procedures, HIPPA laws and managing patients with Alzheimer's disease and related dementias. Newly trained nurse aides must challenge and pass both components of the National Nurse Aide Assessment Program (NNAAP) examination within one year of graduation in order to obtain placement on the Colorado Nurse Aide Registry.
Cost of Training
Colorado nurse aide classes range from 3 weeks to a full semester in duration. Classes cost between $400 and $1,400 at community colleges, technical institutes, and private institutions. High school students may qualify for free training at their local schools. Several long-term care facilities offer free training and pay a small salary during the clinical portion of the program. They sponsor training on the provision that students commit to ongoing work at the facility after graduation. Acceptance into these free programs is on a first-come, first-served basis, so you may want to consider alternative ways to fund your training.
Tuition payment plans and financial aid are two tools that make training more affordable. If you work at a long-term care facility, your employer should sponsor your training and testing. Finally, federal laws make provision for pro-rated reimbursement of nurse aides' training and testing as long as you obtain employment at Medicare-funded facilities within 12 months of certification.
Nurse Aide Testing
Pearson Vue administers the National Nurse Aide Assessment Program (NNAAP) examination and manages Colorado's Nurse Aide Registry. You must fill out the Certification by Examination application and pass both components of the exam within two years of application. If you fail the exam on the third attempt, you'll have to enroll in another nurse aide training program.
The exam has two segments; both of which you must pass to qualify for the nurse aide registry. The written exam contains 70 multiple choice questions, which you must complete in 90 minutes. There's an oral option that you can select if you have difficulty reading English. The oral exam comprises of 60 multiple-choice questions and 10 questions to test your reading and comprehension skills – make sure you request the oral option when you submit the application for testing.
The second aspect of the exam involves the skills evaluation. The set-up is similar to an actual caregiving situation, and you'll have to demonstrate your nurse aide skills. The evaluator will assign 5 skills; Hand-washing, a measurement skill and three other randomly selected skills. You'll have 25 minutes to demonstrate the skills, and you must pass all five in order receive a passing grade.
Certification Costs
Testing fees are as follows:
Written and skills exam – $ 123
Oral and skills exam (English) – $123
Oral and skills exam (Spanish) – $123
Written retest – $45
Oral retest (English) – $45
Oral retest (Spanish) – $45
Skills retest – $78
First-time testers must pay for both the written and skills exam.
On exam day, you must walk with the following:
Two forms of current previously signed IDs
Two number 2 pencils and an eraser
Watch with a second hand
Arrive 30 minutes before the scheduled start time
Out-of-State CNAs
Out of state CNAs can apply for certification in Colorado through reciprocity. Before you apply for transfer of certification, you must ensure your license in your home state is in active status. Review the list of required documents for certification by endorsement. Then, register an online account at the Colorado Division of Professions and Occupations Online Services for faster processing of your application.
Renewal
Nurse aide certifications expire on January 31 of even-numbered years. You must renew your license before this period to continue practicing as a nurse aide. If you receive your first-time certification within 120 days of the upcoming expiration date, your license will be good until the subsequent expiration.
Contact the Registry: 
Colorado Nurse Aide Registry 
Colorado Board of Nursing
1560 Broadway, Suite 1350, Denver, CO 80202
Phone: (303) 894-2430
State Approved CNA Training Programs in Colorado
Alamosa, CO CNA programs:
Trinidad State Junior College
1011 Main St, Alamosa, CO 81101
(719)-589-7000
Aurora, CO CNA programs:
Pickens Technical College
500 Airport Blvd., Aurora, CO 80011
(303)-344-4910
APL Medical Academy
10730 E Bethany Dr. Ste 355 Aurora, CO 80014
(303) 752-0000
Accent Learning Systems
2620 S Parker Rd, Ste, Aurora CO 80014
(303) 696-7664
Tenderhearts PC
10190 Montview Blvd, Aurora CO 80010
(303) 364-2022
Bright Beginnings Nursing Assistant School
2600 S Parker Rd Bldg 1 Ste 211 Aurora, CO 80012
(720) 775-2849
Boulder, CO CNA programs:
Boulder Technical Education Center
6600 Arapahoe Rd, Boulder, CO 80303
(720)-561-5588
Brighton, CO CNA programs:
Brighton High School
270 South 8th Avenue, Brighton, CO 80601
(303)-655-4126
Burlington, CO CNA programs:
Morgan Community College
340 S. 14th Street, Burlington, CO 80807
(719)-346-9300
Canon City, CO CNA programs:
Pueblo Community College-Fremont Campus
51320-Highway 50, Canon City, CO 81212
(719)-296-6117
Centennial, CO CNA programs:
South Denver School of Nursing Arts
7853-Arapahoe Ct, Centennial, CO 80112
(303)-945-4203
Littleton Public Schools Health Sciences Technology
7300 S Clemont Dr, Centennial CO 80122
(303) 347-4124
Colorado Springs, CO CNA programs:
Avanza Training
2598 Palmer Park Boulevard Colorado Springs, CO 80909
719-362-7711
Beo Nurse Aide Training Program
1442 Hancock Ave, Colorado Springs, CO 80903
(719)-385-0200
CollegeAmerica
3645 Citadel Dr, Colorado Springs, CO 80909
(719)-622-36004
Pikes Peak Community College
5675 S. Academy Blvd, Colorado Springs, CO 80906
(719)-502-3034
Pikes Peak Community College
11195 Hwy 83, Colorado Springs, CO 80919
(719)-502-3339
Cortez, CO CNA programs:
Unlimited Learning
640 East 2nd Street, Cortez, CO 81321
(970)-565-1601
Craig, CO CNA programs:
Colorado Northwestern Community College
2801 West 9th Street, Craig, CO 81625
(970)-824-1104
Sandrock Ridge Care and Rehab
943 W 8th Drive Craig, CO 81625
(970) 826-4100
Delta, CO CNA programs:
Delta Montrose Technical College
1976 U.S. Highway 50, Delta, CO 81416
(970)-874-6519
Denver, CO CNA programs:
College America
1385 South Colorado Blvd. 5th floor, Denver, CO 80222
(303)-300-8740
Community College of Denver
1070 Alton Way Building 849, Denver, CO 80230
(303)-365-8394
Emily Griffith Technical College
1250 Welton St., Denver, CO 80204
(720)-423-4700
Fred N. Thomas Career Education Center Middle College
2650 Elliot, Denver, CO 80211
(720)-423-6630
Community Health Institute
4705 Paris Street #100, Denver, CO 80239
(303)-307-8855
New Beginning Nursing Assistant Program
6795-Tennessee Ave, Ste 210, Denver, CO 80224
(303)-333-2748
PIMA Medical Institute
7475 Dakin Street, Suite 100, Denver, CO 80221
(303)-426-1800
St. Joseph Hospital Foundation
1835 Franklin Street, Denver, CO 80218
(303)-837-7435
St. Lukes Ministry
915 E. 9th Ave, Denver, CO 80218
(720)-937-7023
Eads, CO CNA programs:
Weisbrod Memorial County Hospital and Nursing Home
PO Box 817, Eads, CO 81036
(719)-438-5401
Edwards, CO CNA programs:
Colorado Mountain College
150 Miller Ranch Road, Edwards, CO 81632
(970)-569-2900
Estes Park, CO CNA programs:
Innovage Home Care North, formerly Caring Hands, Inc.
1191 Woodstock Driver, Unit C, Estes Park, CO 80517
(970)-586-3118
Falcon, CO CNA programs:
Pikes Peak Community College
255 Lambert Rd, Falcon, CO 80831
(719)-495-1149
Florence, CO CNA programs:
Florence High School
2006 Highway 67, Florence, CO 81226
(719)-784-6414
Fort Morgan, CO CNA programs:
Morgan Community College
920 Barlow Rd, Fort Morgan, CO 80701
(970)-542-3100
Frisco, CO CNA programs:
Summit High School Health Sciences
PO Box 7, Frisco, CO 80443
(970)-368-1187
Grand Junction, CO CNA programs:
Larchwood Inns
2845 N. 15th St., Grand Junction, CO 81506
(970)-245-0022
Western Colorado Area Health Education Center
744 Horizon St, Ste 220, Grand Junction, CO 81506
(970)-434-5474
Western Colorado Community College
2508 Blickmann, Grand Junction, CO 81505
(970)-255-2600
Greeley, CO CNA programs:
Aims Community College
5401 West 20th St, Greeley, CO 80632
(970)-330-8008
Aims Community College
2040 Clubhouse Drive, Greeley, CO 80632
(970)-330-8008
Fairacres Manor
1700 18th Ave, Greeley, CO 80631
(970)-353-3370
Gunnison, CO CNA programs:
Senior Living Community at Gunnison Valley Health
1500 W. Tomichi Ave, Gunnison, CO 81230
(970)-641-0702
Lakewood, CO CNA programs:
Red Rocks Community College
13300 W. 6th Ave., Lakewood, CO 80228
(303)-914-6081
Lamar, CO CNA programs:
Lamar Community College
2401 S. Main St, Lamar, CO 81052
(719)-336-6642
Limon, CO CNA programs:
Morgan Community College
940 2nd St, Limon, CO 80828
(719)-775-8873
Littleton, CO CNA programs:
Arapahoe Community College
5900 S. Santa Fe Dr. A2325, Littleton, CO 80160
(303)-797-5962
Longmont, CO CNA programs:
Career Development Center
1200 S. Sunset St., Longmont, CO 80501
(303)-772-3333
C.A.R.E Training Applewood Health Care
1800 Stroh Pl Longmont, CO 80501
(303) 776-6081
Front Range Community College
2121 Miller Dr, Longmont, CO 80501
(303)-678-3891
Life Care Center of Longmont
2451 Pratt St., Longmont, CO 80501
(303)-776-5000
Loveland, CO CNA programs:
Aims Community College
104 E. 4th Street, Loveland, CO 80537
(970)-339-6281
Front Range Community College
800 South Taft, Loveland, CO 80537
(970)-613-7580
Mancos, CO CNA programs:
Southwest Colorado Community College
33057 Highway 160, Mancos, CO 81328
(970)-564-6207
Pagosa Springs, CO CNA programs:
Pine Ridge
119 Bastille Dr Pagosa Springs, CO 81147
(970)-731-4330
Pueblo, CO CNA programs:
IntelliTec College
3673 Parker Blvd, Pueblo, CO 81008
(719) 542-3181
Pueblo Community College
900 W. Orman Ave., Pueblo, CO 81004
(719)-549-3295
Rifle, CO CNA programs:
Colorado Mountain College
3695 Airport Road, Rifle, CO 81650
(970)-625-1871
Colorado State Veterans Nursing Home
851 East 5th St., Rifle, CO 81650
(970)-625-0842
Springfield, CO CNA programs:
Southeast Colorado Hospital
373 E. 10th St, Springfield, CO 81073
(719)-523-4501
Steamboat Springs, CO CNA programs:
Colorado Mountain College
330 Bob Adams Dr., Steamboat Springs, CO 80487
(970)-870-4527
Colorado Senior Residence
2855 Owl Hoot Trail, Steamboat Springs, CO 80487
(970) 457-4881
Sterling, CO CNA programs:
Devonshire Acres Ltd
1330 N. Sidney Ave., Sterling, CO 80751
(970)-522-4888
Sterling, CO CNA programs:
Northeastern Junior College
100 College Avenue, Sterling, CO 80751
(970)-351-6701
Thornton, CO CNA programs:
Bollman Technical Education Center
9451 N. Washington St., Thornton, CO 80229
(720)-972-5845
New Directions
2501 E 104th Ave, Thornton, CO 80233
(720) 550-9090
Walsenburg, CO CNA programs:
Spanish Peaks NATP
23500 US Hwy 160, Walsenburg, CO 81089
(719)-738-5211
Westminster, CO CNA programs:
Agape Angelicum School of Nursing Arts, Inc.
5005 81st Pl Westminster, CO 80031
(720)-470-6563
Ann Rose School of Nursing Arts, Inc.
7280 Irving Suite B205, Westminster, CO 80030
(303)-650-2994
Front Range Community College
3645 W. 112th Ave., Westminster, CO 80031
(303)-404-5261
Westminster High School Health Studies
6993 Raleigh Street, Westminster, CO 80030
(303)-428-9541
Wray, CO CNA programs:
Morgan Community College
32415 Highway 34, Wray, CO 80758
(970)-332-5755
Save