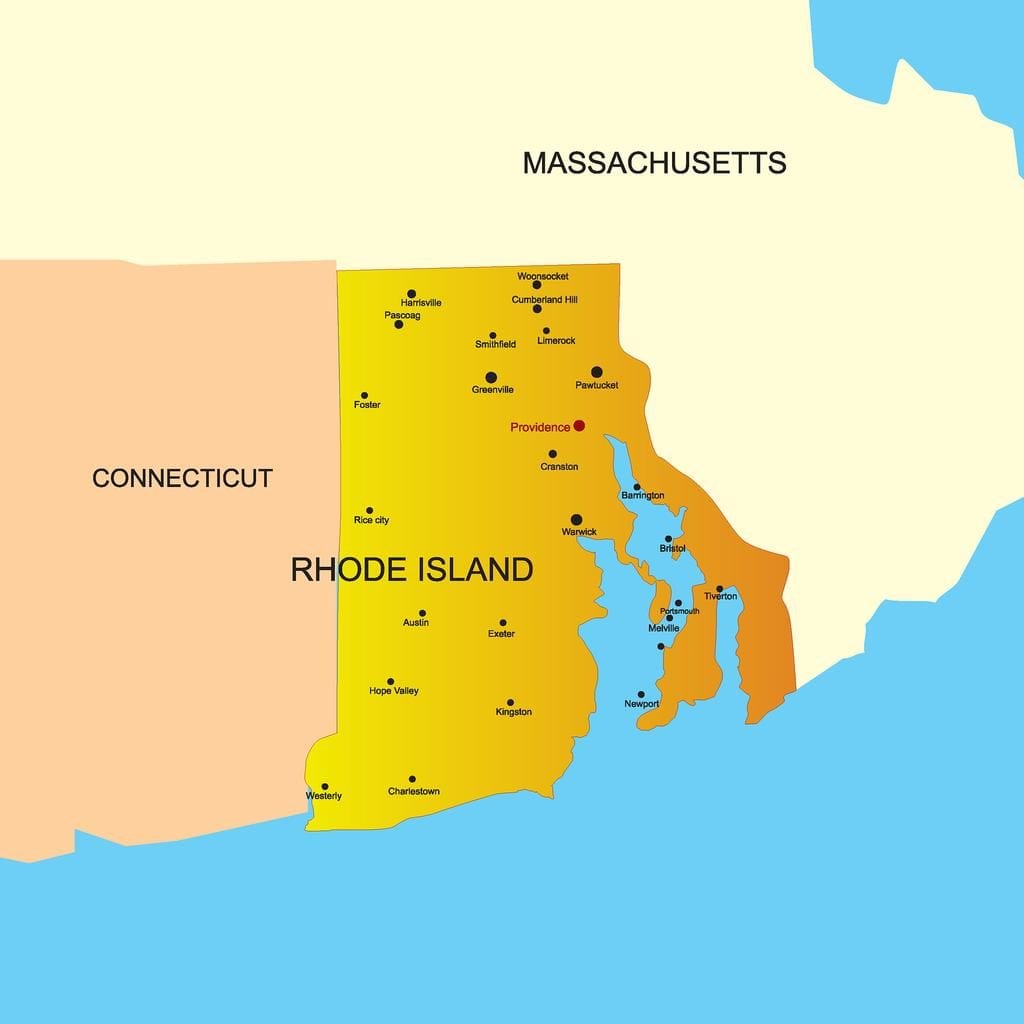 Rhode Island has an enormous demand for certified nursing assistants. These paraprofessionals are an essential part of the health care team providing direct care and assistance to seniors, disabled and sick patients and residents. Since nurse aides are a vital part of the healthcare team, state and federal guidelines require prospective candidates to follow a specific educational path to reduce incidents, increase safety and prevent abuse. If you're naturally compassionate and caring, you can use your skills to care for those who are unable to care for themselves. The Rhode Island Department of Health requires nurse aides to complete an approved training program and pass the state nurse aide evaluation before taking up employment at licensed health facilities.
CNA Classes in Rhode Island:
Certification Requirements –
Rhode Island nursing assistants work in various healthcare environments including physician's offices, nursing homes, mental health hospitals, long term care facilities, hospitals, home health agencies and private homes. In order to meet the demands of these exacting healthcare settings, you must gain the knowledge and skills available through state-approved nurse aide training programs. The state will then test your knowledge and evaluate your skills via the competency evaluation. Nurse aides who pass both the written and skill components receive their license to work and a listing on the Rhode Island Nurse Aide Registry.
Prerequisites to Training
High school students interested in entering the medical industry as nurse aides should take courses in history, biology, computer literacy, English, medical assisting and health occupations. There are no prerequisite education requirements for enrolling in state-approved nurse aide programs. However, employers may look favorably on prospective employees who present a high school diploma or GED. Also, most CNAs choose to advance their careers by moving on registered nursing or serving as mentors, supervisor or trainers to new CNAs. Therefore, it pays to have a high school diploma. Following are some requirements for admittance into nurse aide classes.
Pass the training program's entrance evaluation if you don't have a high school diploma
Be at least 18 years old
Criminal background clearance
Up-to-date immunization records
Negative TB and drug tests
Physical exam report prepared by a physician
Rhode Island's Certified Nurse Aide Training Requirements
Rhode Island nurse aides need to obtain a license as a requirement for working at licensed healthcare institutions. Any training program you attend, must be accredited by the state, or you may not qualify to take the state licensing exam. Training programs offer 100 hours of combined instruction, lab and clinical training according to the Rhode Island Department of Health's curriculum. Nurse aide training helps students prepare for success on the state evaluation and equip them with the knowledge and skills required to provide direct care to patients. Program graduates should know how to respect patients and residents' rights, understand medical terminology, practice infection control techniques, maintain a safe working environment, respond appropriately to emergencies, practice basic nursing skills, demonstrate sound principles of observation and documentation, provide exceptional patient care and use effective communication at all times.
Training lasts for 3 to 4 weeks for full-time classes and 4 to 6 weeks for part-time students. Many nursing homes in the state sponsor training several times a year. Other training providers include community colleges, hospitals, vocational schools, high schools, employment opportunity centers and medical education private programs. The Red Cross also facilitates affordable training so contact your local chapter. Online classes are convenient and provide basic knowledge, but they're not accredited, so avoid those at all costs.
Cost of Training
Cost of training depends on the location and school. Training programs at community colleges cost more than those offered at other providers. In Rhode Island, there are numerous Medical Education schools, which cost slightly less than the programs offered at community colleges. Lower cost programs are available through the Red Cross, at nursing homes and Employment Opportunity Centers. Some high schools offer free training, but they're usually available for students only. Average cost of training in Rhode Island is $600 for a 4-week training program. Always ask about the costs apart from tuition; these include supplies, textbooks and uniform. If you obtain employment within 12 months of graduation, you can request reimbursement for the cost of training and testing.
Nurse Aide Testing
Once you've completed an approved training program, your training provider will schedule a date for your competency evaluation with Pearson Vue – the administrating body for the state exam. The exam tests your knowledge and competency skills, and you must pass both components in order to obtain your license. The two-part test consists of a written examination and skills evaluation both administered on the same day.
The written component of the exam consists of 70 multiple-choice questions, which you must complete in two hours. If you have difficulty reading English, you can request the oral exam when you submit your application for testing. Note: you cannot request the oral option on the actual day of the test. The test center provides the headphones and cassette player for the two-part test. The first part of the oral exam comprises of 60 multiple choice questions, and the second part has 10 multiple choice questions designed to evaluate your ability to speak a minimum amount of English. You must score well on both segments in order to pass the oral exam.
The skills evaluation tests your skills in a mock-healthcare setting. The center provides all the equipment to perform the assigned tasks, and you must complete all 5 skills within the allotted time. The testing center selects 4 skills at random and will ask you to demonstrate your hand washing techniques (for the fifth skill).
Check the student handbook for samples of the written exam and a list of skills you may be asked to perform.
Certification Costs
Testing fees are as follows:
Written and Skills Evaluation – $99
Oral and Skills Evaluation – $99
Written Exam re-tests – $30
Oral Exam re-tests – $30
Skills Evaluation re-tests – $69
On exam day, you must walk with the following:
Two forms of identification – one should have a recent photo
Original social security card
Non-skid, flat shoes with closed-toes – required for the clinical skills evaluation
Three No. 2 pencils and an eraser
A watch with a second hand
If you fail the evaluation after your first attempt, you can retest up to two times. If you fail in your third attempt, you must attend a training program before you're allowed to retest.
Out-of-State CNAs
Out-of-state CNAs can obtain a license to work in Rhode Island through reciprocity. Use the following steps to transfer your license:
Visit the Department of Health and download the application form
Submit proof of your certification. The training in your home state must cover at least 100 hours of training. For programs fewer than 100 hours, you can submit proof of full-time employment as a CNA for at least three months
Your former employer in the home state should fill out the employment verification on the application and send the completed document to the registry in Rhode Island
Apply for a criminal background check at the RI office of the Attorney General
Get the application notarized and submit it with a passport sized photo and the $40 transfer fee to the registry
Transfers take 4-8 weeks to process.
Renewal
Your CNA license remains valid for two years after issue. The registry will mail your renewal notice 60 days before your license expires. Fill out the renewal form and obtain a signature from an official at a licensed facility indicating that you worked for compensation within the 24 months of your licensure. Work at non-licensed facilities will not qualify for license renewal. Also, your license must be in active status for the employment period verified by your employer.
Contact the Registry:
Rhode Island Nurse Aide Registry
Rhode Island Department of Health Professionals
3 Capitol Hill, Room 105, Providence, RI 02908
Phone: (401) 222-5888
Fax: (401) 222-3352
State Approved CNA Programs in Rhode Island
Bristol County
Bristol, RI Nursing Homes and Hospitals offering CNA programs:
Silver Creek Manor CNA Training Program
7 Creek Lane, Bristol, RI 02809
Phone: (401) 253-3000
Warren, RI Nursing Homes and Hospitals offering CNA programs:
Grace Barker Nursing Center
54 Barker Avenue, Warren, Rhode Island 02885
Phone: (401) 245-9100
Kent County
Coventry, RI High Schools offering CNA programs:
Regional Career Center CNA Training Course at Coventry High School
40 Reservoir Road, Coventry, Rhode Island 02816
Phone: (401) 822-9499
Coventry, RI Nursing Homes and Hospitals offering CNA programs:
Alpine Nursing Home
557 Weaver Hill Road, Coventry, RI 02816
Phone: (401) 397-5001
East Greenwich, RI Nursing Homes and Hospitals offering CNA programs:
Saint Elizabeth Home in East Greenwich
One St. Elizabeth Way, East Greenwich, RI 02818
Phone: (401) 471-6060
Warwick, RI Adult Education CNA programs:
Warwick Adult Learning Center Nursing Assistant Class
575 Centerville Road, Building 5, Warwick, RI 02886
Phone: (401) 734-3156
Warwick Career and Technical Center Health Occupation Program
575 Centerville Road, Warwick, Rhode Island 02886
Phone: (401) 734-3150
Warwick, RI Nursing Homes and Hospitals offering CNA programs:
Brentwood Nursing Home CNA Program
4000 Post Road, Warwick, Rhode Island 02886
Phone: (401) 884-8020
Newport County
Jamestown, RI Nursing Homes and Hospitals offering CNA programs:
Consistent Care Corporation CNA Training Class
37 Clarkes Village, Jamestown, RI 02835
Phone: (401) 423-1060
Middletown, RI Nursing Homes and Hospitals offering CNA programs:
Grand Islander Genesis Health Care
333 Green End Avenue, Middletown, Rhode Island 02842
Phone: (401) 849-7100
Newport, RI High Schools offering CNA programs:
Newport Area Career and Technical Center
15 Wickham Road, Newport, Rhode Island 02840
Phone: (401) 849-3608
Newport, RI Adult Education CNA programs:
Aquidneck Island Adult Learning Center Nursing Assistant Program
435 Broadway, Newport, RI 02840
Phone: (401) 847-7171
Providence County
Cranston, RI Nursing Homes and Hospitals offering CNA programs:
Phoenix Home Care, Inc.
227 Phoenix Avenue, Cranston, Rhode Island 02920
Phone: (401) 943-6230
Cranston Alternate Education Programs
4 Sharpe Drive, Cranston, RI 02920
Phone: (401) 270-8166
Hope Nursing Home Care, LLC
628 Park Avenue, Cranston, Rhode Island 02910
Phone: (401) 886-5642
Cumberland, RI Nursing Homes and Hospitals offering CNA programs:
Ocean State Nursing Services, Inc.
3929 Mendon Road, Cumberland, Rhode Island 02864
Phone: (401) 405-3810
East Providence, RI Freestanding CNA programs:
Bastien Academy Nursing Assistant Program
120 Amaral Street, East Providence, Rhode Island 02915
Phone: (401) 369-9174
East Providence, RI Nursing Homes and Hospitals offering CNA programs:
Waterview Villa Nursing and Rehabilitation Center
1275 South Broadway, East Providence, RI 02914
Phone: (401) 438-7020
Access Healthcare, Inc.
702 Warren Avenue, East Providence, Rhode Island 02914
Phone: (401) 438-4747
East Providence, RI High Schools offering CNA programs:
East Providence Career and Technical Center
1998 Pawtucket Avenue, East Providence, Rhode Island 02914
Phone: (401) 435-7815
Exeter, RI Freestanding CNA programs:
Exeter Job Corps Academy
162 Main Street, Exeter, Rhode Island 02822
Phone: (401) 268-6000
Lincoln, RI High Schools offering CNA programs:
William M. Davies Jr. Career and Technical High School
50 Jenckes Hill Road, Lincoln, RI 02865
Phone: (401) 728-1500
CCRI Center for Workforce and Community Education
1762 Louisquisset Pike, Lincoln, RI 02865
Phone: (401) 333-7070
Manville, RI Nursing Homes and Hospitals offering CNA programs:
Holiday Retirement Home, Inc. Nurse Aide Program
30 Sayles Hill Road, Manville, Rhode Island 02838
Phone: (401) 765-1440
North Providence, RI Nursing Homes and Hospitals offering CNA programs:
Golden Crest Nursing Center CNA Training Program
100 Smithfield Road, North Providence, RI 02904
Phone: (401) 353-1710
North Smithfield, RI Nursing Homes and Hospitals offering CNA programs:
St. Antoine Residence
10 Rhodes Avenue, North Smithfield, RI 02896
Phone: (401) 767-3500
Pascoag, RI Nursing Homes and Hospitals offering CNA programs:
Overlook Nursing and Rehabilitation Center
14 Rock Avenue, Pascoag, Rhode Island 02859
Phone: (401) 568-2549
Pine Grove Health Center
999 South Main Street, Pascoag, Rhode Island 02859
Phone: (401) 568-3091
Pawtucket, RI Freestanding CNA programs:
People in Partnerships
200 Main Street, Pawtucket, Rhode Island 02860
Phone: (401) 727-8002
Nursing Placement, Inc.
334 East Avenue, Pawtucket, RI 02860
Phone: (401) 728-6500
Providence, RI Nursing Homes and Hospitals offering CNA programs:
Berkshire Place in Providence
455 Douglas Avenue, Providence, RI 02908
Phone: (401) 553-8600
Steere House Nursing and Rehabilitation Center
100 Borden Street, Providence, Rhode Island 02903
Phone: (401) 454-7970
Homefront Health Care
725 Branch Avenue, Suite 214, Providence, RI 02904
Phone: (401) 751-3152
Crossroads Rhode Island
160 Broad Street, Providence, Rhode Island 02903
Phone: (401) 521-2255
Tockwotton Home
75 East Street, Providence, RI 02903
Phone: (401) 272-5280
Providence, RI Freestanding CNA programs:
International School for Health Careers
297 Elmwood Avenue, Providence, Rhode Island 02907
Phone: (401) 467-8420
Comprehensive Educational Services, Inc.
807 Broad Street, Room 300-309 MB 21, Providence, RI 02907
Phone: (401) 369-8458
Health Care Connections Nursing Services, Inc. – Riverside
425 Willet Avenue, Riverside, RI 02915
Phone: (401) 437-3515
Woonsocket, RI Nursing Homes and Hospitals offering CNA programs:
The Friendly Home, Inc.
303 Rhodes Avenue, Woonsocket, RI 02895
Phone: (401) 769-7220
Oakland Grove Health Care Center
560 Cumberland Hill Road, Woonsocket, RI 02895
Phone: (401) 769-0800
Woonsocket, RI Freestanding CNA programs:
Woonsocket Area Career and Technical Center
400 Aylsworth Avenue, Woonsocket, Rhode Island 02895
Phone: (401) 767-4662
Homestead Group Nurse Aide Training Class
80 Fabien Street, Woonsocket, RI 02895
Phone: (401) 768-3600
Washington County
Narragansett, RI Nursing Homes and Hospitals offering CNA programs:
South County Quality Care
14 Woodruff Avenue, Suite 7, Narragansett, RI 02882
Phone: (401) 789-8443
North Kingstown, RI Nursing Homes and Hospitals offering CNA programs:
Scalabrini Villa
860 North Quidnessett Road, North Kingstown, RI 02852
Phone: (401) 884-1802
Peace Dale, RI Nursing Homes and Hospitals offering CNA programs:
Scallop Shell Nursing and Rehabilitation Center, Inc.
981 Kingstown Road, Peace Dale, Rhode Island 02879
Phone: (401) 789-3006
Westerly, RI Nursing Homes and Hospitals offering CNA programs:
Westerly Health Center
280 High Street, Westerly, RI 02891
Phone: (401) 348-0020
Wood River Junction, RI High Schools offering CNA programs:
Chariho Career and Technical Center
459 Switch Road, Wood River Junction, RI 02894
Phone: (401) 364-6869
Wood River Junction, RI Adult Education CNA programs:
Chariho Adult Education VTA – Wood River Junction
459 Switch Road, Wood River Junction, Rhode Island 02894
Phone: (401) 364-3260