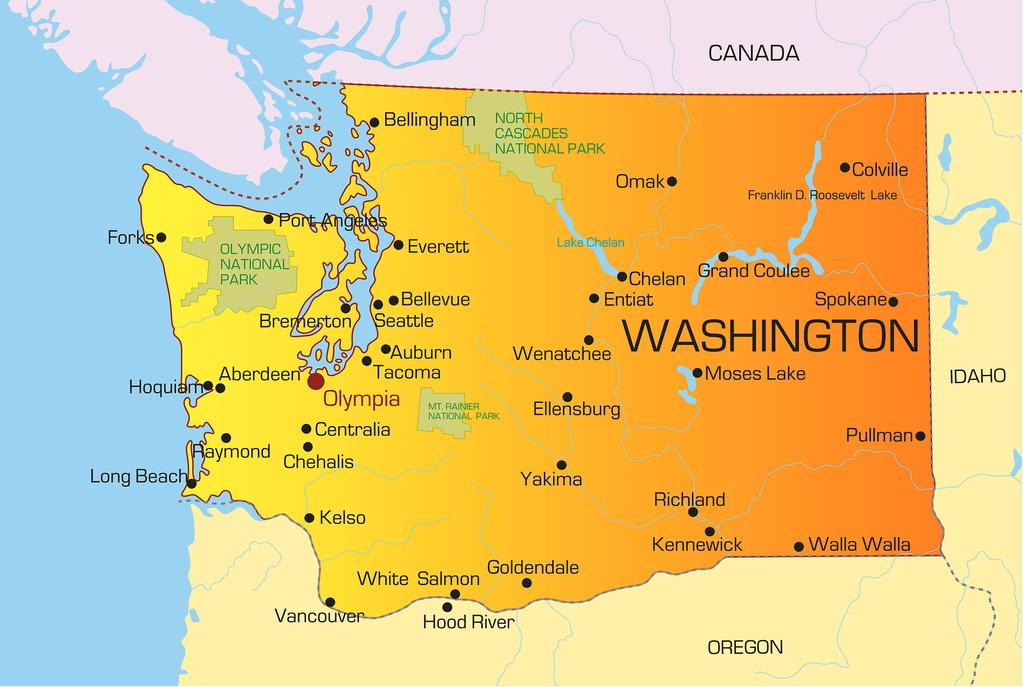 Advances in modern technology have a positive impact on almost every area of our lives. One of the most visible benefits of modern technology is in the area of health care. Life-expectancy is at its highest, and with it comes an increased demand for long-term care. If you're thinking of starting a new career, it's a good time to become a CNA and provide patient care services in an industry that's expected to grow by 20% in the next five years. With just a few weeks of training, you'll acquire the qualifications needed to start earning an income while you further your education to become an RN or LPN. Washington State Department of Health oversees the training, testing and certification of nurse assistants and maintenance of the state registry.
CNA Classes in Washington:
Other Washington cities: Please scroll down below or use CTRL+F (Command+F on Mac) to search this page.
Certification Requirements
State-certified nursing homes and long-term care providers bear the responsibility of upholding state laws as it relates to patient care. Any employee providing resident care (apart from licensed nursing staff), must complete a DOH approved nurse aide training program as well as other applicable requirements – no criminal records, good physical health, etc.
Student nurse assistants must complete training and competency requirements within four months of hire. Students must also complete the prerequisite 16 hours of training in communication skills, resident independence and rights, and safety and emergency procedures before any direct contact with residents at the facility. In its simplest form, you must have the skills to provide care, as evidenced from state certification before you begin work as a nurse assistant. While the state allows an initial period to work while training, you must complete the requirements within 4 months of employment.
Student and graduate nurses, military nurse assistants and lapsed nurse assistants can submit official transcripts of training or proof of employment to the State Aging and Disability Services Administration (ADSA) to request permission to challenge the competency exam without training. The ADSA will reply with the exam application if the request is approved.
Prerequisites to Training
If you're considering entering the medical industry as a nurse assistant, you should take courses in biology, anatomy, computer literacy, English and medical assisting while in high school. A number of Washington's state-approved programs is targeted to high school students, who can enroll in a training program and enter the workforce right out of school. Other adults can enroll in most programs without a high school diploma or GED. However, a GED or diploma offers distinct advantages, such and higher pay rates, jobs at the best facilities and opportunities for further education.
Following are some other prerequisites to training:
Must be 18 years or older
Washington state background check
Valid state-issued ID card
Proof of negative TB test
Physical capability to stand for hours and lift up a minimum of 40 pounds
Basic reading, writing and comprehension skills
Varicella, Hep B, MMR vaccines
100% attendance and class participation
Washington Certified Nurse Aide Training Requirements
Prospective nurse aides must complete a minimum 85 hours of training at a state-accredited training provider in order to take the state certification. Training comprises of classroom, lab and clinical hours to prepare students for the state certification exam in preparation for employment at long term care facilities. Instructors use various techniques, such as lectures and demonstrations, to impart knowledge in the classroom sessions. Instruction must cover at least 7 hours of HIV/AIDS training in addition to safety and emergency, vital signs, observation, reporting, nursing principles, personal care, nutrition, death and dying.
The clinical component of the training presents further opportunities for students to put their knowledge to work. The rotation takes place at an off-site skilled nursing facility where students work directly with residents, assisting with grooming, feeding and other activities of daily living. Like the real-world setting, students work in teams and answer to their licensed nurse supervisor. The duration of the classes varies from 3 to 6 weeks, depending on the schedule. At the end of training, graduates are eligible to take the state's nurse aide competency exam.
Cost of CNA Training Washington
Nursing homes, hospitals, and high schools account for more than 60 percent of Washington's state-approved nurse aide training. For this reason, there are numerous opportunities for free training if you're willing to do some research. If you're currently employed at a certified nursing home, your employment must, by law, cover the cost your training and testing. Similarly, a prospective employer must reimburse your expenses if you begin working within 12 months of training. To qualify for the pro-rated reimbursement, you must present your receipts along with proof that you paid through your personal funds.
Elsewhere, at Washington's colleges and private institutions, you can expect to pay up to $1,350 for nurse assistant training. Additional expenses include textbooks, workbooks, scrubs, criminal background check, immunization, state certification and supplies. There are very few avenues of financial aid for training. However, many schools offer interest-free, flexible payment plans to assist students with the costs.
Nurse Aide Testing
Pearson Vue is a recognized administrator of the nurse aide competency exam in Washington. There are two parts to the exam; a written (or oral) exam and the skills evaluation, both of which are administered on the same day. You must pass both exams to qualify for inclusion on the nurse aide registry.
The written test contains 70 multiple-choice questions written in English. There's an oral option available for candidates who may have difficulty reading English. The oral exam contains 60 multiple choice questions on the subject matter as well as 10 reading comprehension questions to test candidates' understanding of common English words.
The skills evaluation takes place in a mock-clinical setting. You'll have to demonstrate your nurse assistant skills through your performance of 5 tasks; hand washing and 4 other tasks selected at random. The nurse evaluator will rate your performance based on your attention to the critical steps required for each skill. If you fail the skills or written exam, you can retest up to two times. A list of the skills and sample questions for the written test is available in the candidate handbook.
Certification Costs (New fees 9/1/18)

Written and skills exam – $124
Oral and skills exam – $124
Written retest – $44
Skills retest – $80
Oral retest – $44
Walk with the following items on exam day:
Arrive 20 to 30 minutes before the exam
Two forms of signature –bearing ID – one with a current photo
Social security number
Three No. 2 pencils and eraser
Watch with a second hand
Longman's Dictionary of American English (if you need one)
Wear scrubs and flat, non-skid, closed-toe shoes for the skills exam
Out-of-State CNAs
Out-of-state CNAs can transfer to Washington's registry through interstate endorsement.
Download and fill out the application for interstate endorsement
Submit the application fee
Provide documents to verify personal information; social security, drivers license, etc.
Your caregiver employment history
Copies of your out-of-state certification
Attestation of your AIDS training
The registry will disapprove your request if there are findings of abuse or neglect on your record.
Renewal
You must renew your certification on or before your birthday every year. The renewal fee is $53. There are no requirements for continuing education. However, you must ensure the registry receives updates of your employment and changes to your name and address.
Contact the Registry: 
Washington State Nurse Aide Registry
Washington Aging & Long-Term Support Administration
Residential Care Services Division
PO Box 45600, Olympia, WA 98504-5600
Phone: (360) 725-2570
State Approved CNA Training Programs in Washington State
Aberdeen, WA CNA programs:
Grays Harbor College
1620 Edward P Smith Drive, Aberdeen, WA 98520
360-538-4148
Twin Harbors Branch Skills Center
410 North N Street, Aberdeen, WA 98520
360-538-2038
Auburn, WA CNA programs:
Green River Community College
12401 Se 320th St, Auburn, WA 98092
253-833-9111
Bainbridge Island, WA CNA programs:
Bainbridge Island Health and Rehabilitation Center
835 Madison Ave N, Bainbridge Island, WA 98110
206-842-4765
Bellevue, WA CNA programs:
A-Plus Nurses Assistant Training School
10619 NE 8th St, Bellevue, WA 98009
206-722-5100
Evergreen Nursing School
16326 SE 15th St, Bellevue, WA 98008
425-449-8229
Bellevue College
3000 Landerholm Circle SE, Bellevue, WA 98007
425-564-5604
Sammamish High School
100 140th Avenue Se, Bellevue, WA 98005
425-456-7617
Bellingham, WA CNA programs:
Alderwood Park Convalescent Center
2726 Alderwood Ave., Bellingham, WA 98225
360-733-2322
Bellingham Technical College
3028 Lindberg Avenue, Bellingham, WA 98225
360-752-7000
Avamere Bellingham Healthcare
1200 Birchwood Ave, Bellingham, WA 98225
360-734-9295
Whatcom Community College
237 W Kellogg Rd, Bellingham, WA 98226
360-383-3550
Avamere St Francis
3121 Squalicum Parkway, Bellingham, WA 98225
360-734-6760
Blaine, WA CNA programs:
Stafholt Good Samaritan Center
456 C St, Blaine, WA 98230
360-332-8733
Bremerton, WA CNA programs:
West Sound Vocational Skills Center
101 National Avenue N, Bremerton, WA 98312
360-473-0550
Olympic College
1600 Chester Ave, Bremerton, WA 98346
360-475-7764
Brewster, WA CNA programs:
Harmony House Health Care Center
100 River Plaza, P.O. Box 829, Brewster, WA 98812
509-689-2546
Burien, WA CNA programs:
DT&T NA Training School
148 SW 153rd St, Suite 201, Burien, WA 98166
206-439-6715
Puget Sound Skills Center
18010 8th S, Burien, WA 98148
206-631-7326
Centralia, WA CNA programs:
Centralia College
600 E Locust St, Centralia, WA 98531
360-753-3433
Chehalis, WA CNA programs:
Career in Caregiving
1570 Bishop Road, Chehalis, WA 98532
360-748-3112
Chewelah, WA CNA programs:
Providence St. Joseph's Hospital
500 E. Webster Avenue, Chewelah, WA 99109
509-685-5455
Colville, WA CNA programs:
Pinewood Terrace Nursing Center
P.O. Box 559, Colville, WA 99114
509-684-2573
Buena Vista Healthcare
151 Buena Vista Drive, Colville, WA 99114
509-684-4539
Colfax, WA CNA programs:
Whitman Health and Rehabilitation Nursing Assistant Training Program
1150 West Fairview Street, Colfax, WA 99111
509-397-4603
Davenport, WA CNA programs:
Lincoln Hospital
10 Nichols Street, Davenport, WA 99122
509-725-7101
Dayton, WA CNA programs
Columbia County Health System
1012 South 3rd Street, Dayton, WA 99328
509-382-8349
Des Moines, WA CNA programs:
Highline Community College
2400 S. 240th St, Des Moines, WA 98198
206-878-3710
Kamanga CNA Training
22659 Pacific Highway South, Ste 301, Des Moines, WA 98198
206-271-1946
Excel Health Careers Training
22659 Pacific Highway South, Ste 301, Des Moines, WA 98198
206-271-1946
Ellensburg, WA CNA programs:
Royal Vista Care Center
1506 Radio Road, Ellensburg, WA 98926
509-925-1404
Prestige Care Post Acute & Rehabilitation Center
1050 East Mountain View, Ellensburg, WA 98926
503-330-4112
Enumclaw, WA CNA programs:
Enumclaw Health and Rehabilitation Center
2323 Jensen St, Enumclaw, WA 98022-3605
360-825-4351
Everett, WA CNA programs:
Bethany At Pacific
916 Pacific Avenue, Everett, WA 98201
425-259-5508
Everett Community College
2000 Tower St, Everett, WA 98201
425-388-9468
Medprep Vocational Training Center
1830 Broadway, Everett, WA 98201
425-257-9888
NAC Essential Prep
2937 Broadway, Everett, WA 98201
425-252-3239
Sno-Isle Tech Skills Center
9001 Airport Road, Everett, WA 98204
425-348-2227
Bethany At Pacific
916 Pacific Avenue, Everett, WA 98201
425-259-5508
Sunrise Services
7003 Evergreen Way, Everett, WA 98203
425-212-4210
Federal Way, WA CNA programs:
Divine CNA Training
1707 S. 341st Place, Unit D, Federal Way, WA 98023
253-874-0174
Crystal Point CNA Training School
32105 1st. Avenue South, STE B2, Federal Way, WA 98003
253-874-0516
Divine CNA Training
1707 S. 341st Place, Unit D, Federal Way, WA 98023
253-874-0174
Health Professionals Institute
33305 1St Way South, Suite B-207, Federal Way, WA 98003
253-252-3956
Forks, WA CNA programs:
Forks Community Hospital District No. 1
530 Bogachiel WAy, Forks, WA 98331
360-374-6271
Gig Harbor, WA CNA programs:
Cottesmore of Life Care
2909 14th Avenue Nw, Gig Harbor, WA 98335
253-851-5433
Issaquah, WA CNA programs:
Issaquah Health and Rehabilitation NAC Training Program
805 Front Street, Issaquah, WA 98027
425-392-1271
Kennewick, WA CNA programs:
Regency Canyon Lakes Restorative-Rehab Center
2702 South Ely St, Kennewick, WA 99337
509-582-5900
Tri-Tech Skills Center
5929 W Metaline Ave, Kennewick, WA 99336
509-222-7300
Columbia Safety Training Center
418 North Kellogg Street, STE-A, Kennewick, WA 99336
509-820-3883
Legacy Training Services
404 N Conway St, Kennewick, WA 99336-3047
509-783-4680
Kent, WA Freestanding CNA programs:
Blossom Nursing Assistant Training Program
24860 Pacific Hwy S., #102, Kent, WA 98032
253-945-8232
Health Professionals Institute
18000 72nd Ave. South, Suite 160, Kent, WA 98032
206-462-6603
Seni Nursing Assistant Training Center
24700 Military Rd South, #105, Kent, WA 98032
206-214-7232
Renton Technical College at Kentlake – Kentlake High School
21401 SE Falcon Way, Kent, WA 98042
425-235-5728
Kirkland, WA CNA programs:
Lake Washington Institute of Technology
11605 132nd Avenue Ne, Kirkland, WA 98034
425-739-8244
WaNIC
11605 132nd Ave Ne #A108, Kirkland, WA 98034
425-739-8400
Lakewood, WA CNA programs:
Clover Park Technical College
4500 Steilacom Blvd Sw, Bldg 14, Lakewood, WA 98499
253-589-5885
College of Medical Training
9100 Bridgeport Way SW, Lakewood, WA 98499
253-566-8282
Priority Instructional Center
11013 Bridgeport Way, Lakewood, WA 98499
253-512-0313
Blossom Nursing Assistant Training
8730 S. Tacoma Way, Unit 102, Lakewood, WA 98499
206-228-9990
ProCare Academy of Washington – Lakewood
9116 Gravelly Lk Dr Sw, Lakewood, WA 98499
888-960-2553
Longview, WA CNA programs:
Care Careers Academy
872 15th Ave, Longview, WA 98632
360-636-1000
CNA School of Longview/Health Education Center
5612 Ocean Beach Hwy, Suite 110, Longview, WA 98632
360-425-7770
Frontier Rehabilitation
1500 3rd Avenue, Longview, WA 98632
360-423-8800
Kelso School District
1405 Delaware St-Sjmc, Longview, WA 98632
360-414-2848
Lower Columbia College
1600 Maple Street, P.O. Box 3010, Longview, WA 98632
360-442-2865
Lynden, WA CNA programs:
Christian Health Care Center
855 Aaron Drive, Lynden, WA 98264
360-354-4434
Lynnwood, WA CNA programs:
Brightstar Nursing Assistant Training Institute
5031 168th SW, Suite 150, Lynnwood, WA 98087
425-772-9182
Caregiver Tech
18421 Hwy 99, Ste C, Lynnwood, WA 98037
425-775-2676
Edmonds Community College
20000 68th Avenue W, Lynwood, WA 98036
425-640-1712
Edmonds Community College-Catch
20000 68th Ave W, Lynnwood, WA 98036
425-640-1691
Marysville, WA CNA programs:
Med Smart Academy
1410 7th Street, Suite C-2, Marysville, WA 98270
425-737-1605
Monroe, WA CNA programs:
Regency Care Center at Monroe
1355 W Main St, Monroe, WA 98272
360-794-4011
Moses Lake, WA CNA programs:
Big Bend Community College
7662 Chanute Street Ne, Moses Lake, WA 98837
509-793-2130
Columbia Basin Job Corps
6739 24th Street NE, Moses Lake, WA 98837
509-762-2341
Lakeridge Solana Alzheimer's Care Center
817 E Plum St, Moses Lake, WA 98837-1870
509-765-7835
Mountlake Terrace, WA CNA programs:
Edmonds-Mountlake Terrace High School
21801 44th Ave West, Mountlake Terrace, WA 98043
425-431-7120
Mount Vernon, WA CNA programs:
Northwest Career And Technical Academy
2205 W. Campus Place, Mount Vernon, WA 98273
360-848-0706
Skagit Valley College: Main Campus
2405 E College WAy, Mt. Vernon, WA 98273
360-416-7600
Sunrise Services
1908 Riverside Drive, Mt. Vernon, WA 98273
360-755-3801
Newport, WA CNA programs:
Newport High School
1400 5th St, Newport, WA 99156
509-447-3567
River Mountain Training Center
608 2nd Ave, Newport, WA 99156
509-447-9358
Oak Harbor, WA CNA programs:
Skagit Valley College, Whidbey Island Campus
1900 SE Pioneer Way, Oak Harbor, WA 98277
360-679-5323
Odessa, WA CNA programs:
Odessa Memorial Hospital
P.O. Box 368, Odessa, WA 99159
509-982-2611
Olympia, WA CNA programs:
Simmons And Holliday
2103 Harrison Ave, Olympia, WA 98502
360-350-0037
South Puget Sound Community College
2011 Mottman Road SW, Olympia, WA 98512
360-596-5298
Puget Skilled Nursing
4001 Capital Mall Dr SW, Olympia, WA 98502
618-792-8877
ProCare Academy of Washington – Olympia
3825 Martin Way, Suite 106, Olympia, WA 98506
888-960-2553
Omak, WA CNA programs:
Wentachee Valley College-Omak Campus
P.O. Box 2058, Omak, WA 98841
509-442-7952
Othello, WA CNA programs:
Avalon Care Center-Othello LLC
495 North 13th Street, Othello, WA 99344
509-488-9609
Pasco, WA CNA programs:
Columbia Basin College
2600-20th Avenue, Pasco, WA 99301
509-544-8300
Avalon Pasco Nursing Assistant Training Program
2004 North 22nd Ave, Pasco, WA 99301
509-547-8811
Pomeroy, WA CNA programs:
Garfield County Hospital District
66 N 6th Street, Pomeroy, WA 99347
509-843-1591
Port Angeles, WA CNA programs:
North Olympic Peninsula Skill Center
304 E. Park Avenue, Port Angeles, WA 98362
360-565-1566
Peninsula College
1502 E. Lauridsen Blvd., Port Angeles, WA 98362
360-417-6381
Port Orchard, WA CNA programs:
Care Plus Home Health, Inc
1950 Pottery Rd #17a, Port Orchard, WA 98366
253-373-8016
Life Care Center of Port Orchard
2031 Pottery Avenue, Port Orchard, WA 98366
360-876-8035
Ridgemont Terrace
2051 Pottery Avenue, Port Orchard, WA 98366
360-876-4461
South Kitsap School District
425 Mitchell Ave, Port Orchard, WA 98366
360-874-5683
Stafford Healthcare at Ridgemont
2051 Pottery Avenue, Port Orchard, WA 98366
360-876-4461
Poulsbo, WA CNA programs:
Martha-Mary Health And Rehab
19160 Front St NE, Poulsbo, WA 98370
360-779-7500
Prosser, WA CNA programs:
Aging and Long Term Care of Eastern Washington – Prosser
125 North Wamba Road, Prosser, WA 99350
509-458-2509
Puyallup, WA CNA programs:
Life Care Center of Puyallup
511 10th Avenue Southeast, Puyallup, WA 98372
253-845-7566
Pierce College
1601 39th Avenue Se, Puyallup, WA 98374
253-840-8355
Pierce County Skills Center
16117 Canyon Road East, Puyallup, WA 98375
253-683-5998
Redmond, WA CNA programs:
Redmond Care and Rehabilitation Center
7900 Willow Road NE, Redmond, WA 98052
425-885-0808
Renton, WA CNA programs:
Renton Technical College
3000 Ne 4th Street, Renton, WA 98056-4195
425-235-2299
Republic, WA CNA programs:
Ferry County Memorial Hospital
36 Klondike Road, Republic, WA 99166
509-775-3333
Ritzville, WA CNA programs:
Life Care Center of Ritzville
506 S. Jackson, Ritzville, WA 99169
509-659-1600
Seattle, WA CNA programs:
Avamere Queen Anne Healthcare
2717 Dexter Ave N, Seattle, WA 98109
206-284-7012
American Healthcare CNA School
6951 Martin Luther King Jr Way S, Suite 201, Seattle, WA 98118
206-838-4094
A-Plus Nurses Assistant Training School
6951 Martin Luther King Jr WAy S., Suite 201, Seattle, WA 98118
206-723-5100
Divine CNA Training-Northgate
11740 Aurora Avenue, Seattle, WA 98133
206-724-0830
Kindred Healthcare Corporation
914 6th Ave-#402, Seattle, WA 98109
206-217-9419
Seni Nursing Assistant Training-Seattle
3220 Rainier Avenue S, Seattle, WA 98144
206-725-8515
Sound Vocational Institute
105 14th Avenue, Seattle, WA 98122
253-471-0900
South Seattle Community College
6000 16th Avenue S.W., Seattle, WA 98106-1499
206-768-6414
Seattle Central Community College
1701 Broadway, Seattle, WA 98122
206-934-4347
North Seattle Community College
9600 College WAy North, Seattle, WA 98103
206-934-6067
Seattle Skills Center- Medical Careers
3000 California Ave Sw, Room #230 / Skill Center, Seattle, WA 98106
206-252-0730
Selah, WA CNA programs:
Yakima Valley School
609 Speyers Rd, Selah, WA 98942
509-698-1299
Sequim, WA CNA programs:
Sequim Health-Rehabilitation
650 W Hemlock St, Sequim, WA 98382
360-582-2400
Shelton, WA CNA programs:
Olympic College
937 Alpine Way, Shelton, WA 98584
360-475-7764
Shoreline, WA CNA programs:
Nursing Assistant Training Institute
18336 Aurora Ave. N. #102, Shoreline, WA 98133
206-546-1120
Shoreline Community College
16101 Greenwood Ave North, Shoreline, WA 98133
206-546-4743
Snohomish, WA CNA programs:
Delta Rehabilitation Center
1705 Terrace Ave, Snohomish, WA 98290
360-568-2168
Spokane, WA CNA programs:
American Institute of Medical Careers
4000 E. Boone, Suite 200, Spokane, WA 99202
509-535-1383
CNA Schools NW
1817 E. Springfield Ave, Spokane, WA 99202
509-534-1698
Health Care Training Center
112 N. University, Suite 102, Spokane, WA 99216
509-893-1776
N.W. Pathways Nac Training Center
4105 W. Kathleen Ave, Spokane, WA 99208
509-496-2550
Newtech Skills Center
4141 N Regal Street, Spokane, WA 99207
509-354-7418
Avalon Care Center At Northpointe
9827 North Nevada, Spokane, WA 99218
509-468-7000
Manor Care Health Services
6025 N. Assembly, Spokane, WA 99205
509-326-8282
Providence St. Joseph Care Center
17 East 8th Avenue, Spokane, WA 99202
509-474-5678
Spokane Community College-Spokane Campus
1810 N Greene Street (Ms2090), Spokane, WA 99217
509-533-8151
Franklin Hills Skilled Nursing
1140 North Mullan Avenue, Room 102, Spokane, WA 99208
208-610-1661
North Central Care Center
1812 N. Wall, Spokane, WA 99205
509-328-6030
Prestige Care Brighton Court Assisted Living Center
1308 N Vercler Rd, Spokane, WA 99216
503-330-4112
Rockwood Retirement Nursing Assistant Training Program
2903 East 25th Ave, Spokane, WA 99223
509-536-6650
Aging and Long Term Care of Eastern Washington (Opportunities for Industrialization Center)
1222 N Post St, Spokane, WA 99201
509-458-2509
Aging and Long Term Care of Eastern Washington
1222 N Post Street, Spokane, WA 99201
509-458-2509
New Chapters In Healthcare Education
320 W Spofford Ave, Spokane, WA 99205-4750
509-847-5202
Sunnyside, WA Freestanding CNA programs:
Yakima Valley Tech Skills-Sunnyside
437 Barnard Blvd, Sunnyside, WA 98944
509-930-2708
Tacoma, WA CNA programs:
Orchard Park Care Center
4755 S 48th St, Tacoma, WA 98409
253-475-4611
Prestige Care Tacoma Nursing & Rehabilitation Center
1202 South 96th Street, Tacoma, WA 98444
503-330-4112
Tacoma Community College
6501 S 19th St, Tacoma, WA 98466
253-566-5020
Tacoma Community College-Multicare
124 Tacoma Ave South, Tacoma, WA 98402
253-566-5018
Bates Technical College
1101 South Yakima Avenue, Tacoma, WA 98405
253-680-7327
Excel Health Care Careers Training
1612 S Mildred Suite A, Tacoma, WA 98465
253-426-5000
Tonasket, WA CNA programs:
North Valley Hospital/Nursing Home
203 S. Western Ave., Tonasket, WA 98855
509-486-2151
North Valley Extended Care NVEC Blended Learning
203 S Western Ave, Tonasket, WA 98855-8803
509-486-2151
Tukwila, WA CNA programs:
Nursing Assistant Training School
625 Strander Blvd.Suite B, Tukwila, WA 98188
206-575-2010
Royal College Of Medical Training
1035 Andover Park West, Suite 210, Tukwila, WA 98188
206-575-7961
Tumwater, WA CNA programs:
New Market Vocational Skills Center
7299 New Market Street, Tumwater, WA 98501
360-570-4434
Vancouver, WA CNA programs:
Clark College
1933 Fort Vancouver WAy, Ms Ctc 245, Vancouver, WA 98663
360-992-6116
Clark County Career Development Center
9120 Ne Vancouver Mall LP, Ste 120, Vancouver, WA 98675
360-574-1535
Clark County Skills Center
12200 Ne 28th Street, Vancouver, WA 98682
360-604-1050
Henrietta Lacks Health and Bioscience High School
P.O. Box 8910, Vancouver, WA 98668
360-604-6340
CNA Training School of Nursing
5317 Ne St. St Johns Road, Suite F, Vancouver, WA 98661
360-546-0098
Northwest NAC Training
11606 Ne 66th St., Ste #103, Vancouver, WA 98604
360-882-0101
Walla Walla, WA CNA programs:
Park Manor
1710 Plaza Way, Walla Walla, WA 99362
509-529-4218
Walla Walla Community College
500 Tausick Way, Walla Walla, WA 99362
509-527-4462
Sea Tech Skills Center
525 Campus Loop Drive, Walla Walla, WA 99362
509-526-2000
Washington Odd Fellows Home
534 Boyer Ave, Walla Walla, WA 99362-2047
509-525-6463
Wenatchee, WA CNA programs:
Wenatchee High School
1101 Millerdale, Wenatchee, WA 98801
509-663-8117
Wenatchee Valley College
1300 5th Street, Wenatchee, WA 98801
509-682-6662
Wenatchee Valley College Fast Track
1300 5th Street, Wenatchee, WA 98801
509-682-6662
Woodinville, WA CNA programs:
North Shore School Dist.-Health Occupations Program
19619 136th Ave Ne, Woodinville, WA 98072
425-408-7444
Woodland, WA Nursing Homes and Hospitals offering CNA programs:
Woodland Convalescent Center
310 4th St, Woodland, WA 98674
360-225-9443
Yakima, WA CNA programs:
Hillcrest at Summitview
3801 Summitview Avenue, Yakima, WA 98902
509-966-5247
Willow Springs Care
4007 Tieton Drive, Yakima, WA 98908
509-966-4500
Yakima Valley Community College
16th & Nob Hill Boulevard, PO Box 22520, Yakima, WA 98907
509-574-4902
Yakima Valley Technical Skills Center
1120 South 18th St., Yakima, WA 98901
509-573-5522
Crescent Health Care
505 N 40th Ave, Yakima, WA 98908
509-248-4446
Landmark Care Center
710 North 39th Avenue, Yakima, WA 98902
509-248-4102