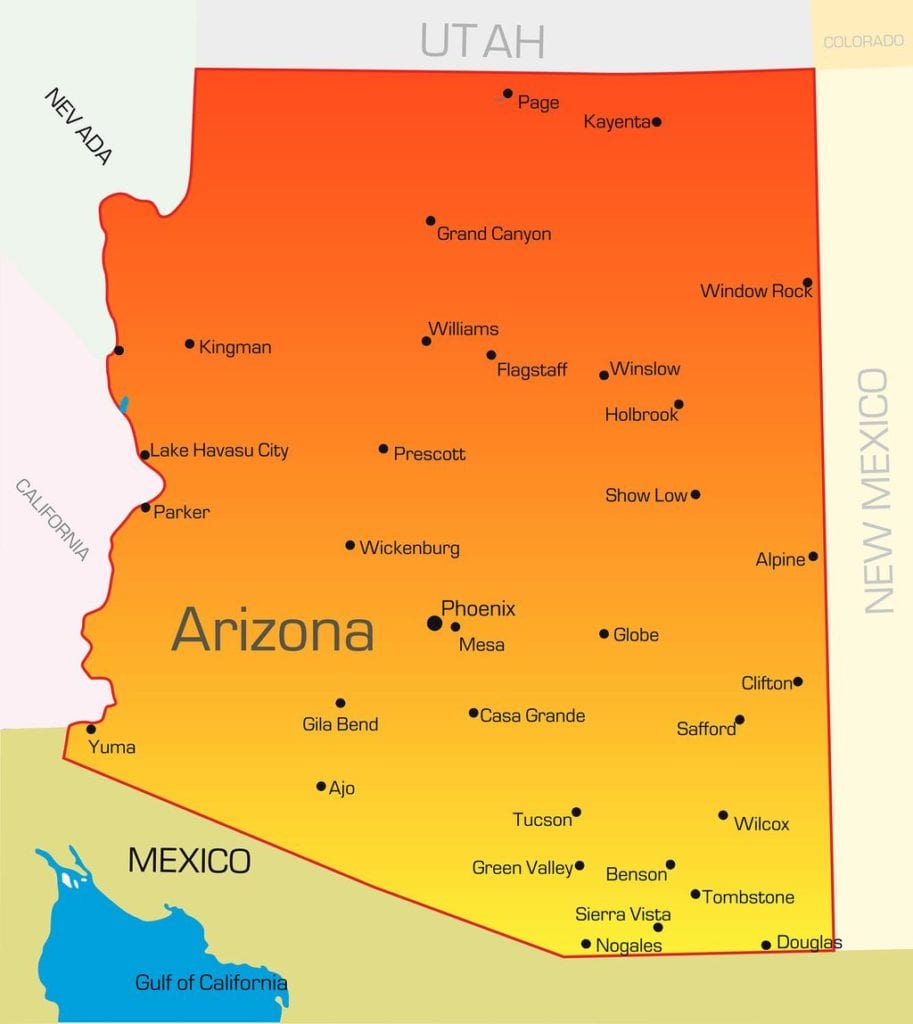 Arizona long term care facilities serve diverse needs providing rehabilitative care, acute care, and convalescent services to a growing number of baby boomers. As the state's senior population explodes, nursing homes face the alarming reality of finding caregivers to provide the type of care that is not available elsewhere. Certified Nurse Aides work under the direct supervision of Registered Nurses performing the tasks traditionally provided by family members. They feed, bathe and dress patients, take vital signs, assist with medical procedures, serve meals, make beds, respond to calls for aid and observe a patient's condition. To maintain the quality of care and protect residents and patients, the Arizona State Board of Nursing monitors CNAs within the state – including training and certification.
CNA Classes in Arizona:
Other cities in Arizona: Please scroll down below or use CTRL+F (Command+F on Mac) to search this page.
CNA/LNA Certification Requirements
Update: In 2014, the Arizona Board of Nursing proposed two levels of nursing assistant:
Certified Nursing Assistant (CNA): defined as an individual who successfully completes a state-approved CNA course and pass the manual skills and written exams to be added to the Arizona CNA Registry. Confirmed allegations of abuse, neglect, or misappropriation of property/theft will be reported to the Office of Inspector General (OIG) and added to registry.
Licensed Nursing Assistant (LNA): identified as an individual who completes the educational and examination requirements of a CNA, but submits an application, fingerprints, and fees to the Board. The profession is regulated with broader jurisdiction, including action for professional conduct. LNAs will be added to the registry use the LNA credential.
The change to this new model is guided by a need for a self-sustaining model for CNAs. Federal law prohibits the collection of fees from CNAs for criminal background checks and full Board jurisdiction for professional conduct. To this end, there will be no fees for initial certification and renewal for nursing assistants. LNAs will complete the same educational and examination requirements as a CNA but will be subject to fees for initial licensure, fingerprinting, and renewal. Initial licensure will cost $50, fingerprinting costs $50, and renewal costs $50.
CNAs certified by the Arizona State Board of Nursing before July 1, 2016 will have the option to convert to LNA status through the use of the Conversion Application and the accompanying fee of $50. This conversion process may affect the year of renewal as the Board considers conversion as a renewal of certification.
There are a lot of opportunities for certified nurse aides in Arizona. If you're interested in entering the field of medicine in this entry-level position, you'll need to complete a state-accredited nurse aide training program and pass the nurse aide competency exam. Once you pass the exam, the Board of Nursing will add you to the state's nurse aide registry. Training provides students with the knowledge and skills required to carry out their duties in long-term care, acute care and intermediate care settings. The training also helps students prepare for the state competency exam. All practicing CNAs within the state must be certified before providing direct care to patients. Training and testing form an integral part of the certification process, but the board of nursing may waive training for out-of-state CNAs and nursing students.
Prerequisites to Training
Most Arizona CNA training providers require students to possess a high school diploma or GED equivalent. While the state's nursing board does not specify a minimum age requirement, the Arizona Department of Health Services specifically states that CNAs must be at least 16 years in order to work at long-term care facilities. Training providers must verify students' citizenship or legal residency status before enrollment. Following is a list of some other training requirements.
High school diploma or GED equivalent (recommended)
Must be at least 16 years old
Fingerprint report and criminal background check
No record of active felony or unprofessional conduct
Proof of citizenship or legal residency
TB test report – not more than 6 months old
Physical exam and doctor's note of good health
Proof of immunization
Note: Criminal background checks are not required by the Arizona Board of Nursing for applicants applying for the limited CNA status. However, the clinical affiiliate may require candidates to complete a physical exam, obtain background clearance, and drug screen to participate in direct patient care activities.
Arizona's Certified Nurse Aide Training Requirements
Arizona Board of Nursing-accredited programs provide a minimum of 120 hours of training, which covers 80 classroom hours and 40 clinical externship hours. Programs should impart the essential skills to prepare students for certification and begin a new career in the healthcare industry. The Nursing Assistant Advisory Committee developed the curriculum that covers the scope of responsibilities that CNAs perform at long-term care facilities, assisted living centers, hospitals, home health agencies and acute care centers.
CNA classes are typically 3 to 6 weeks long. Teaching methods encompass strategies such as lectures, interactive discussions, hands-on labs, instructional videos, computer-aided technology and clinical experience. Curriculum covers the nurse assistant's role, personal care skills, anatomy, physiology, basic nursing skills, nutrition, hydration, residents' rights, foundation of patient care, rehabilitation services, chronic and acute conditions.
There are more than 60 approved training centers across the state including high schools, community colleges, nursing homes, hospitals, vocational schools and private education programs. Graduates of accredited programs are eligible to take the state competency evaluation and obtain a listing on the nurse aide registry.
Cost of Training
CNA classes in Arizona cost between $500 and $1,600. The classes at community colleges are by far the most expensive as they typically cover more than the state required 120 hours. Classes at community colleges typically include extra fees, which increase the cost of training. Classes at nursing homes, hospitals, and the American Red Cross are on the lower end of the scale as it relates to cost of training. Stand-alone program providers charge rates that are mid-way between the cost at community college and nursing homes and their advertised fees may include textbook, uniform, name badge and gait belt. Ask about financial aid, tuition payment plans and discounts to make payments manageable.
Remember that your employer must pay for training and testing if you're employed at a licensed facility or received an offer of employment. If you begin working within 12 months of training, you can apply for a pro-rated reimbursement of your tuition and testing expenses. Contact your local Medicaid office for more information.
Nurse Aide Testing
D&S Diversified Technologies, through a contractual agreement with the Arizona Board of Nursing, administers and manages the Nursing Assistant Competency and Evaluation Program. All candidates for testing must first complete a state-accredited training program or obtain a waiver from the Board of Nursing. Candidates must also register with the board as a prerequisite to testing.
Training providers normally manage the registration and exam scheduling for graduates. D&S Diversified Technologies will complete the registration for candidates who provide an education waiver from the nursing board. The competency evaluation comprises of two components: skills and knowledge tests.
The knowledge test contains 75 multiple-choice questions, which you must complete in 90 minutes. The test is a written exam. However, there is an oral option available, but you must request it at the time of application.
The skills test evaluates your nurse assistant skills. You'll have to demonstrate perineal care or bed pan and output along with three other skills selected at random. In order to pass the skills test, you must achieve a minimum of 80 percent on each task. If you fail the knowledge exam on three attempts, you must allow a period of 45 days before retesting.
Certification Costs
Testing fees are as follows:
Knowledge test or retest – $30
Oral test or retest – $40
Skills test or retest – $88
Overnight shipping – $39.50
Express service fee – $15
Reschedule – $35
Cancellation – $28
Test review fee – $25
On exam day, you must walk with the following:
Two forms of identification – one should have a recent photo
Two No. 2 pencils and eraser
Dress appropriately in closed-toe shoes for the clinical
Arrive 30 minutes before the scheduled start time
Note: There is no initial certification fee to be added as the limited CNA status on the registry. Candidates seeking LNA status, must submit a separate application to the Arizona Board of Nursing, pay the initial $50 application fee, and $50 for the fingerprint fee.
Out-of-State CNAs
If you're an out-of-state CNA, you may be eligible to transfer your certification to Arizona. You may select licensure as an LNA or limited CNA status.
Present proof of your active listing on your home state nurse aide registry
If you're not in active status, you may need to complete state-accredited training in Arizona
Submit proof of at least 160 hours of paid employment over the last two years
Submit information for a criminal background check
Fill out the application and submit it along with the transfer fee to the nursing board
For endorsement as a CNA the fee is $50 for processing the endorsement application. The fee for licensure as an LNA is $50 for the inital processing and $50 for the background check fee – $100 total.
Renewal
Arizona CNA certification is valid for two years. The state facilitates easy online renewal where you can submit the application. You can also print your new certification after your online renewal. Renewal is simple as long as you renew before your certificate expires. The renewal requirements vary by status on the Registry:
Renewal as a CNA
Complete 8 hours of work in the past 24 months
No renewal fee
May require a fee of $100 for fingerprint and change of CNA to LNA statis
Remember: CNAs are listed using the CNA credential on the registry. Complaints related to abuse, neglect and misappropriation of property will be investigated. Sustained complaints will be reported to the office of Inspector General.
Renewal as an LNA
Complete 160 hours of work in the past 24 months
Pay the $50 renewal fee
LNAs are listed using the LNA credential and are under full Board jurisdicaton. Unprofessional conduct will be available for public viewing.
Contact the Registry:
Arizona Nurse Aide Registry
4747 North 7th Street, Suite 200
Phoenix, Arizona 85014
Phone: (602) 889-5150
State Approved CNA Programs in Arizona
Apache Junction, AZ CNA programs
Central Arizona College-Apache Junction-Main
273 Old West Highway Apache Junction, AZ 85119
480-288-4017
Bullhead City, AZ CNA programs
Legacy Rehabilitation Care Center
2812 Silver Creek Rd., Bullhead City, AZ 86442
928-763-8700
Mohave Community College-Yuma-Main
3400 Highway 95, Bullhead City, AZ 86442
928-505-3378
The River Gardens Rehab-Care Center
2150 Silver Creek Rd., Bullhead City, AZ 86442
928-763-8700
Chandler, AZ CNA programs
Basha High School
5990 South Val Vista Drive, Chandler, AZ 85249
480-224-2314
Chandler High School
350 North AZ Avenue, Chandler, AZ 85225
480-812-7616
Perry High School
1919 East Queen Creek Rd, Chandler, AZ 85297
480-812-7616
Colorado City, AZ CNA programs
Mohave Community College
P-Box 980, Colorado City, AZ 86021
928-505-3378
Coolidge, AZ CNA programs
Central Arizona Valley Institute of Technology
1789 W. Coolidge Avenue, Coolidge, AZ 85128
520-423-2991
Cottonwood, AZ CNA programs
Mingus Union High School
1801 East Fir Street, Cottonwood, AZ 86326
928-634-7531
Haven of Cottonwood
197 S Willard St, Cottonwood, AZ 86326, United States
1 928-634-5548
Flagstaff, AZ CNA programs
Coconino Community College
2800 S. Lone Tree Rd., Flagstaff, AZ 86001
928-527-1222
College America Flagstaff
3012 Historic U.S. 66, Flagstaff, AZ 86004
928-213-6060
Fountain Hills, AZ CNA programs
Fountain Hills High School
16100 East Palisades Boulevard, Fountain Hills, AZ 85268
480-664-5591
Glendale, AZ CNA programs
Deer Valley High School
18424 North 51st Avenue Glendale, AZ 85308
623-845-4066
Glendale Community College
6000 W. Olive Ave., Glendale, AZ 85302
623-845-3264
K's Training and Learning Center
8751 N 51st Ave # 106 #106, Glendale, AZ 85302
602-350-5154
Senior Care Consultants
19420 N 59th Ave # B247, Glendale, AZ 85308
623-214-6652
Cactus High School
6330 W Greenway Rd, Glendale, AZ 85306
623-412-5000
Globe, AZ CNA programs
Gila Community College- Eastern Arizona College
8274 Six Shooter Canyon Rd., Globe, AZ 85502
520-428-3151
Kingman, AZ CNA programs
Lingenfelter Center
1099 Sunrise Avenue, Kingman, AZ 86401
928-718-4852
Lake Havasu City, AZ CNA programs
Lake Hills Inn
2781 Osborn Dr, Lake Havasu City, AZ 86406
928-505-5552
Mesa, AZ CNA programs
Arizona Medical Training Institute
1530 North Country Club Drive #11 Mesa, AZ 85201
480-835-7679
EVIT Adult Evening NA Training Program
1601 West Main Street, Mesa, AZ 85201
480-461-4094
Pima Medical Institute-Main St., Mesa-Main
4905 E. Broadway Blvd., Mesa, AZ 85709
480-644-0267
Mesa Community College
1833 West Southern, Mesa, AZ 85202
480-461-7106
Sun Valley High School
1143 South Lindsay Road Mesa, AZ 85204
480-497-4800
East Valley Medical College
205 E Southern Ave, Mesa, AZ 85210, United States
480-776-0070
Western Career Training
1833 W Main St #138, Mesa, AZ 85201
480-404-7484
Nogales, AZ CNA programs
Pierson Vocational High School
451 North Arroyo Boulevard Nogales, AZ 85621
520-325-8470
Page, AZ CNA programs
Coconino Community College
475 S. Lake Powell Blvd, Page, AZ 86040
928-645-3987
Parker, AZ CNA programs
Arizona Western College La Paz Campus
601 W. 11th Street, Parker, AZ 85344
928-669-2214
Payson, AZ CNA programs
Gila Community College
201 North Mud Springs Rd., Payson, AZ 85547
520-474-2224
Peoria, AZ CNA programs
Medstar Academy
14100 North 83rd Avenue Peoria, AZ 85381
623-773-9000
Sunrise Mountain High School
21200 N 83rd Ave, Peoria, AZ 85382
623-487-5125
Phoenix, AZ CNA programs
Accord Healthcare Institute
6049 North 43rd Avenue Phoenix, AZ 85019
602-714-3439
Phoenix Job Corps Center
518 South 3rd Street Phoenix, AZ 85004
602-254-5921
Providence Training Institute
9189-59th Ave-2, Phoenix, AZ 85302
602-606-8879
Glendale Union High School District
7650 North 43rd Avenue, Phoenix, AZ 85301
623-915-8900
Metro Tech High School
1900 West Thomas Road Phoenix, AZ 85015
602-764-8000
Paradise Valley Community College
18401 N 32nd St, Phoenix, AZ 85032
602-787-6500
Brookline College
2445 W. Dunlap Avenue, Phoenix, AZ 85021
602-589-1313
College America Phoenix
9801-Metro Pkwy E, Phoenix, AZ 85051
602-589-9860
Star Canyon School of Nursing
8900 N Central Ave #104a, Phoenix, AZ 85020
602-943-1337
GateWay Community College
108 N 40th St, Phoenix, AZ 85034, United States
602-286-8000
Maricopa Skills Center
1245 E Buckeye Rd, Phoenix, AZ 85034
602-238-4300
Prescott, AZ CNA programs
Good Samaritan Society-Prescott Village
1030 Scott Dr., Prescott, AZ 86301
928-778-2450
Yavapai Community College
1000 East Sheldon Street Prescott, AZ 86301
928-776-2247
Bradshaw Mountain High School West
6000 East Long Look Drive Prescott Valley, AZ 86314
928-759-4100
The Meadows of Northern Arizona
809 Gail Gardner Way, Prescott, AZ 86305, United States
928-778-3570
Prescott Valley, AZ CNA programs
High Desert Delivery
8671 Spouse Dr, Prescott Valley, AZ 86314, United States
1 928-775-6284
Rio Rico, AZ CNA programs
Rio Rico High School
1374 West Frontage Road Rio Rico, AZ 85648
520-325-4870
Sacaton, AZ CNA programs
Caring House
510 S Ocotillo Dr, Sacaton, AZ 85147
520-562-7400
Scottsdale, AZ CNA programs
Saguaro High School
6250 N. 82nd Street, Scottsdale, AZ 85250
480-484-7100
Scottsdale Community College
9000 East Chaparral Road Scottsdale, AZ 85256
480-423-6000
Thunderbird Adventist Academy
7410 E Sutton Dr, Scottsdale, AZ 85260, United States
480-948-3300
Sedona, AZ CNA programs
Kachina Point
505 Jacks Canyon Rd, Sedona, AZ 86351
928-284-1000
Sierra Vista, AZ CNA programs
Cochise College-Sierra Vista Campus
901 North Colombo Avenue-Sierra Vista, AZ 85635
520-515-0500
Horizon Health Care Institute –
Not currently accepting students
555-Wilcox Dr-B Sierra Vista, Sierra Vista, AZ 85635
520-439-9551
Sun City, AZ CNA programs
Simpson School of Nursing
10147 Grand Ave, Sun City, AZ 85351, United States
1 623-533-3204
Tempe, AZ CNA programs
Valley Vocational Academy
1845 East Broadway Road #114, Tempe, AZ 85282
480-247-9388
Thatcher, AZ CNA programs
Eastern Arizona College-Thatcher Campus
615 North Stadium Avenue, Thatcher, AZ 85552
928-428-8396
Tucson, AZ CNA programs
Caregiver Training Institute-Tucson-Main
1940-Silverlake Road, Tucson, AZ 85713
520-325-4870
Fred G. Acosta Job Corps
901 South Campbell Avenue Tucson, AZ 85719
520-792-3015
Pima Community College
4905 E. Broadway Blvd., Tucson, AZ 85709
520-206-5140
Tucson College
5151 East Broadway Boulevard #155 Tucson, AZ 85711
520-296-3261
Pima County Joint Technical Education District
2855 West Master Pieces Drive Tucson, AZ 85741
520-352-5833
Mountain View Care Center
1313 W Magee Rd, Tucson, AZ 85704, United States
520-797-2600
Show Low, AZ CNA programs
Northland Pioneer College
1001 W Deuce of Clubs, Show Low, AZ
(800) 266-7845
Yuma, AZ CNA programs
Arizona Western College
P.O. Box 929, Yuma, AZ 85366
928-344-7554
Kofa High School
3100 S. Avenue A, Yuma, AZ 85364
928-502-5400
Regional Center for Border Health, Inc.
214 W. Main Street, Yuma, AZ 85350
928-627-9222