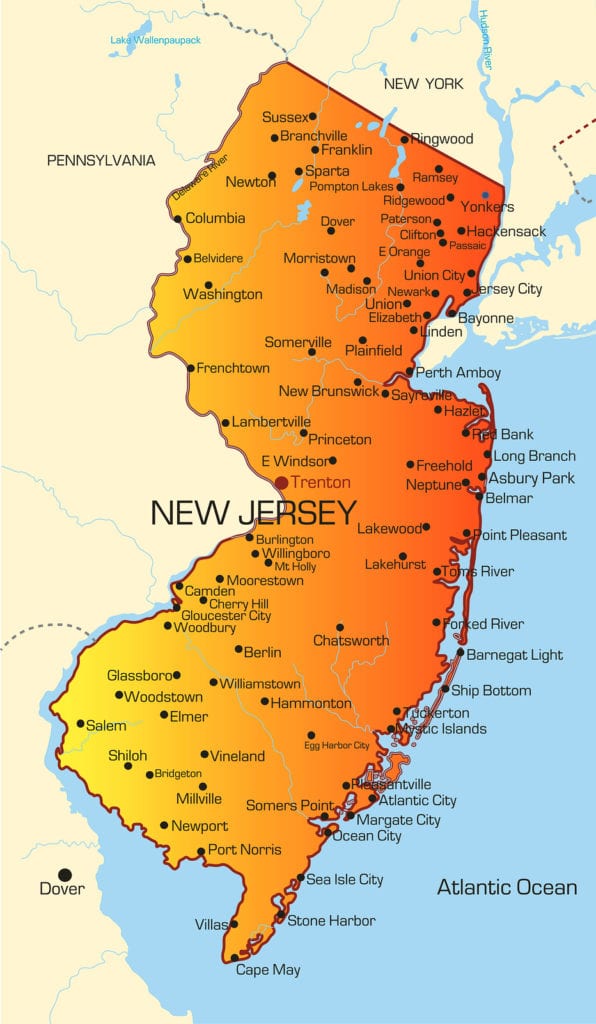 Due to OBRA-87 regulations (Omnibus Reconciliation Act), New Jersey is one of the many states that established a Nurse Aide Training and Competency Evaluation Program (NATCEP) curriculum for all nurse aides. Aspiring nurse aides within the state must complete formal long-term care training followed by the Competency Evaluation Program (CEP) to obtain state certification. They must take those steps prior to taking up employment as entry-level nurse aides at assisted-living and long-term care facilities.
More than just meeting state requirements, nurse aide training and the competency evaluation program give individuals the basic knowledge and skills required to execute their duties on the job. Nurse aides and personal care assistants must ensure that a program meets the New Jersey Department of Health's (NJDOH) requirements before enrolling.
CNA Classes in New Jersey:
Other cities in New Jersey: Please scroll down below or use CTRL+F (Command+F on Mac) to search this page.
Certification Requirements
The Department of Health and Senior Services serves as the governing body for the Nurse Aide Registry in New Jersey. Employers at long-term care and assisted-living facilities must visit the Department of Health's registry in order to confirm a candidate's status before extending an offer of employment. The registry maintains current data on CNAs status as well as their background verification, address, certification, health check and employment history. Current CNAs can use the information listed below to contact the registry for renewals and duplicate licenses. Out-of-state CNAs must contact the registry to initiate a request to transfer their licenses.
Prerequisites to Training
Nurse Aide Training Providers use different criteria for admitting candidates into their nurse aide training programs. Candidates must be at least 18 years, possess a high school diploma or GED equivalent. Providers may administer an entry evaluation in order to determine a candidate's mental and physical ability to meet the program's requirements.
Note: Nursing students, graduate nurses and foreign nurses can skip formal training once they provide evidence of successful completion in nursing fundamentals. These candidates can proceed to the written and skills exams. Out-of-state nurses who do not meet the requirements for equivalency can also skip training and apply for the state competency exam. Individuals who earn training as a nurse aide in the military or as home-health aides may also apply for exemption from formal training.
Other prerequisites include:
Criminal background check (fingerprint method)
Be at least 18 years old
Physical exam
Proof of immunization
Negative TB test
High school diploma (recommended)
Current Healthcare Provider CPR card.
New Jersey' Certified Nurse Aide Training Requirements
NATCEP training programs cover at least 90 hours of training including 50 hours in the classroom and 40 clinical hours at a licensed long-term care facility within the state. Nurse aides working at acute care hospitals do not need certification. However, only licensed CNAs can work in the hospital's long-term care unit – if there's one available at the hospital. Candidates can contact the Board of Nursing at (973) 504-6430 to find out more about specific requirements.
Training programs last for 4 to 8 weeks and may have flexible hours to accommodate students' schedules. Areas of study include food and nutrition, patient transfers, recording keeping, observation and charting, medical terminology, physiology and anatomy, personal care, communication, residents' rights and ethics. Course graduates are eligible to take the state's nurse aide competency exam, within 24 months, in order to receive certification. A list of approved training programs is provided below.
Cost of Training
Nurse aide training providers charge $800 to $1,600 for the 90-hour training. Free or low-cost training may be available at Educational Opportunity Centers and other locations across the state. Some employers provide free training for prospective candidates, and in some cases, you may qualify for reimbursement of your training costs. Apart from the cost of tuition, you should allocate funds for textbooks, uniform, supplies, and the state testing fee.
Nurse Aide Testing
The New Jersey NNAAP, administered by Pearson Vue, serves as the next step towards earning nurse aide certification. The evaluation consists of two parts: the Skills test and the Written (or Oral) test. Candidates must take the Skills Evaluation first. After successfully passing the skills test, you can proceed to the Written (or Oral) test. In order to obtain a listing on the state registry, you must pass both the Written and Skills component of the NNAAP.
For the Skills evaluation, you'll have to perform five (5) nurse aide skills selected at random. The evaluator will rate and assign a score based on your performance. You must pass the five assigned skills in order to proceed to the Written Evaluation.
Both the Written and Oral components are administered electronically on a computer. You should give advanced notice if you prefer the Oral option. The Written exam comprises of 70 multiple choice questions, which you must complete within two hours. Administrators will review your scores and provide your official scores before you leave the testing site.
Certification Costs
First-time Testing Fees:
Skills Evaluation and Written Exam – $76
Skills Evaluation and Oral Exam (English) – $86
Skills Evaluation and Oral Exam (Spanish) – $86
Retest Fees:
Written retest only – $56
Skills retest only – $20
English Oral Exam only – $66
Spanish Oral Exam only – $66
On exam day, you must walk with the following:
Two forms of identification – one with your photo
Your confirmation number
Your passing Skills evaluation report
Three No. 2 pencils and eraser
Failing score report (if you're retesting)
Out-of-State CNAs
As an out-of-state CNA, you could apply for Nurse Aide Certification through equivalency or reciprocity if you:
Request the out-of-state Registry to forward appropriate documentation to the New Jersey Nurse Aide Registry. The registry should confirm that you've successfully completed a training and competency evaluation program that is equivalent to the one offered in NJ.
Have no criminal convictions. The out-of-state registry should have no documented reports of neglect, abuse, or misappropriation of resident property.
You must also consent to a criminal background check, which includes a criminal background investigation and fingerprinting taken via live scan.
To request an application for Reciprocity, contact PSI toll-free at 1-877-774-4243.
Renewal
New Jersey requires CNAs to renew their licenses and complete fingerprinting every two years. The PSI mails out the renewal application 45 days prior to your license's expiration.
In order to obtain recertification, you must:
Have an existing nurse aide certificate
Provide proof of employment of at least seven paid hours of work within the 2-year period
Have a certificate in active status – revoked or suspended licenses will result in denied applications for renewal
Pass a criminal history check and fingerprinting before your existing certificate expires.
Contact the Registry
Certification Program
PO Box 358
Trenton, NJ 08625-0358
Nationwide Toll-Free Number: 866-561-5914
Fax: 609-633-9087
Email: ltc@doh.state.nj.us
Registry managed by New Jersey Nurse Aide Registry PSI
3525 Quakerbridge Road, Suite 1000
Hamilton Township, New Jersey 08619
Phone: 1-877-774-4243
State approved CNA programs:
Atlantic City, NJ CNA programs:
Atlantic Cape Community College
1535 Bacharach Boulevard, Atlantic City, New Jersey 08401
Phone: (609) 343-4863
Bridgeton, NJ CNA programs:
PRN Training Center, LLC
60 Lebanon Road, Bridgeton, NJ 08302
Phone: (856) 459-3222
Linwood, NJ CNA programs:
Karing with Kindness
700 New Road, Linwood, NJ 08221
Phone: (609) 601-2150
Pleasantville, NJ CNA programs:
Academy of Healthcare Excellence
927 N. Main St. Pleasantville, NJ 08232
Phone: (856) 213-6756
Northfield, NJ CNA programs:
Allied Health Training Institute
1750 Zion Road, Suite 106, Northfield, NJ 08225
Phone: (609) 241-8486
West Atlantic City, NJ CNA programs:
Prism Career Institute
8025 Black Horse Pike, Suite 250, West Atlantic City, NJ 08232
Phone: (609) 407-7476
Bergen County CNA Programs
Hackensack, NJ CNA programs:
Bergen Home Care and Nursing –
136 Essex Street, Hackensack, New Jersey 07666
Phone: (201) 342-3402
Paramus, NJ CNA programs:
Bergen Community College
400 Paramus Road, Paramus, NJ 07652
Phone: (201) 447-7164
Lincoln Technical Institute
240 Bergen Town Center, Paramus, NJ 07652
Phone: (201) 845-6868
Wyckoff, NJ CNA programs:
Christian Health Care Center
301 Sicomac Ave. Wyckoff, NJ 07481
201-848-5200
Burlington County CNA Programs
Bordentown, NJ CNA programs:
Moe Shea Corporation
Three 3rd Street, Suite 202, Bordentown, NJ 08505
Phone: (609) 324-9911
Burlington, NJ CNA programs:
Genesis Burlington Woods
115 Sunset Rd, Burlington, NJ 08016
Phone: (732) 677-8823
Merit Training Institute
2501 Burlington-Mt Holly Rd, Burlington NJ 08016
(609) 386-6400
Maple Shade, NJ CNA programs:
American Training Center
794 Forklanding Rd, Maple Shade NJ 08052
Phone: (856) 417-6882
Westampton, NJ CNA programs:
Burlington County Institute of Technology
695 Woodlane Road, Westampton, New Jersey 08060
Phone: (609) 267-4226
Camden County CNA Programs
Atco, NJ CNA programs:
Angels of Mercy Nursing Skills School
505A White Horse Pike, Atco NJ 08004
Phone: (856) 809-6012
Blackwood, NJ CNA programs:
Camden County College
207 College Drive, Blackwood, NJ 08012
Phone: (856) 968-1296
Camden, NJ CNA programs:
A1 Allied Health Training Institute
231 Market Street, Camden, New Jersey 08102
Phone: (856) 203-3526
Broadway Vocational Technical School
442 South Broadway, Camden, New Jersey 08103
Phone: (856) 365-1707
Camden County College
200 North Broadway, Suite 228, Camden, NJ 08102
Phone: (856) 968-1296
Cherry, NJ CNA programs:
Prism Career Institute
3 Executive Campus, Suite 280, Cherry Hill, NJ 08002
Phone: (856) 317-0100
Pennsauken, NJ CNA programs:
Camden County Technical School
6008 Browning Road, Pennsauken, NJ 08109
Phone: (856) 663-1040
Prep Institute, Inc.
6500 Madison Avenue, Suite 13, Pennsauken, NJ 08109
Phone: (856) 910-7650
Sicklerville, NJ CNA programs:
Camden County Technical School Allied Health Program
343 Berlin Cross Keys Road, Sicklerville, NJ 08081
Phone: (856) 767-7000
Voorhees, NJ CNA programs:
Brooks Alternative Technical School
701 Cooper Road, Suite 11, Voorhees, NJ 08043
Phone: (856) 282-3371
Cape May County CNA Programs
Court House, NJ CNA programs:
PRN Training Center
4 Moore Rd, Cape May Court House, New Jersey 08302
Phone: (856) 459-3222
North Cape May, NJ CNA programs:
Cape Training Center
3305 Bayshore Road Suite 3, North Cape May, New Jersey 08204
Phone: (609) 435-5358
Cumberland County CNA Programs
Bridgeton, NJ CNA programs:
Cumberland County Technical Educational Center
601 Bridgeton Avenue, Bridgeton, NJ 08302
Phone: (856) 451-9000
PRN Training Center
60 Lebanon Road, Bridgeton, New Jersey 08302
Phone: (856) 459-3222
Millville, NJ CNA programs:
Medical Consultants Instructional Training Center
207 Bogden Boulevard, Millville, NJ 08332
Phone: (856) 457-9551
Vineland, NJ CNA programs:
Touchstone Institute
313 West Landis Avenue, Vineland, NJ 08360
Phone: (856) 457-6100
Essex County
East Orange, NJ CNA programs:
4 Tees Healthcare Training School
70 Long Street, East Orange, NJ 07017
Phone: (973) 444-6512
Best Care Training Institute
68 South Harrison Street, East Orange, New Jersey 07018
Phone: (973) 673-3900
Divine Tec Institute
60 Evergreen Place, Suite 501, East Orange, NJ 07018
Phone: (973) 395-9501
Nurses Vue Careertek Training Institute
134 Evergreen Place, East Orange, NJ 07018
Phone: (973) 678-6886
Exodus Training and Employment
134 Evergreen Place, East Orange NJ 07018
Phone: (908) 656-1275
Irvington, NJ CNA programs:
C and C Nurse Aide Training School
1068 Clinton Avenue, Suite 201, Irvington, NJ 07111
Phone: (973) 373-6667
Unique Medical Training Center
1230 Springfield Avenue, Irvington, NJ 07111
Phone: (973) 371-0012
Maplewood, NJ CNA programs:
ALFA Health Care Training Institute
1691 Springfield Avenue, Maplewood, NJ 07040
Phone: (917) 806-6710
Newark, NJ CNA programs:
Academy of Training and Employment
936 Broad Street, Suite 1, Newark, NJ 07102
Phone: (973) 733-2727
Catholic Charities of ARCH of Newark
321 Central Avenue, Newark, NJ 07103
Phone: (973) 596-4100
Divine Medical Services
15 William Street, Newark, NJ 07102
Phone: (973) 621-2200
Essex County College
303 University Avenue, Newark, NJ 07102
Phone: (973) 877-3220
Essex County Vocational Technical Schools
91 West Market Street, Newark, NJ 07103
Phone: (973) 412-2294
Samuel Morris Career Institute of New Jersey
701-703 McCarter Highway, Suite 201, Newark, NJ 07102
Phone: (973) 648-8000
Gloucester County CNA Programs
Sewell, NJ CNA programs:
Rowan College at Gloucester County
1492 Tanyard Rd, Sewell, New Jersey 08080
Phone: (856) 415-2216
Hudson County CNA Programs
Jersey City, NJ CNA programs:
Hudson County Community College
870 Bergen Avenue, Jersey City, New Jersey 07306
Phone: (201) 360-4284
The Institute for Health Education
600 Pavonia Avenue, Suite 1, Jersey City, NJ 07306
Phone: (201) 217-1113
Secaucus, NJ CNA programs:
Academy of Training and Employment
595 County Ave Secaucus, NJ 07094
Phone: (973) 733-2727
Union City, NJ CNA programs:
Workforce Advantage
3608 Bergenline Avenue, Union City, NJ 07087
Phone: (201) 865-1199
Hunterdon County CNA Programs
Flemington, NJ CNA programs:
Hunterdon County Polytech
8 Bartels Corner Road, Suite 2, Flemington, NJ 08822
Phone: (908) 788-1119
Mercer County CNA Programs
Lawrenceville, NJ CNA programs:
Fortis Institute Nurse Aide Training Program
2572 Brunswick Pike, Suite 100, Lawrenceville, New Jersey 08648
Phone: (609) 512-2560
Trenton, NJ CNA programs:
Berkel Training Institute
320 West State Street, Trenton, NJ 08618
Phone: (609) 392-1855
Mercer Med Tech
1418 South Broad Street, Trenton NJ 08610
(609) 712-5499
New Life Healthcare Academy
827 East State Street, Trenton NJ 08609
(609) 638-1169
West Windsor, NJ CNA programs:
Mercer County Community College
1200 Old Trenton Road, West Windsor, NJ 08550
Phone: (609) 570-3241
Middlesex County CNA Programs
Edison, NJ CNA programs:
Middlesex County College
2600 Woodbridge Ave West Hall, Edison NJ 08818
Phone: (732) 548-6000
Iselin, NJ CNA programs:
Param Institute of Education
200 Middlesex Essex Tpk, Suite #105, Iselin, NJ 08830
Phone: (732) 404-1415
Lincoln Tech Institute
675 Route One South Iselin NJ 08830
Phone: (732) 548-8798
North Brunswick, NJ CNA programs:
Impetus Systems and Careers
850 Route 1, North Brunswick, NJ 08902
Phone: (732) 246-4555
Excel Career Training
97 Bayard St New Brunswick, NJ 08901
(732) 828-8100
Perth Amboy, NJ CNA programs:
Universal Training Institute, Inc
174 Jefferson Street, Perth Amboy, NJ 08861
Phone: (732) 826-0155
Monmouth County CNA Programs
Eatontown, NJ CNA programs:
Genesis Jersey Shore
3 Industrial Way East Eatontown, NJ 07724
Phone: (732) 677-8823
Nursesvue Career Tech Institute
1 Main St, Eatontown, NJ 07724
Phone: (201) 618-3706
Lincroft, NJ CNA programs:
Brookdale Community College
765 Newman Springs Road, Lincroft, NJ 07738
Phone: (732) 842-1900
Matawan, NJ CNA programs:
New Era Health Care Training
92 Main Street Matawan NJ 07747
Phone: (732) 441-2273
Neptune, NJ CNA programs:
LTC Career Training
444 Neptune Boulevard, Neptune, New Jersey 07753
Phone: (732) 988-1700
Morris County CNA Programs
Dover, NJ CNA programs:
Ace Healthcare Training Institute Inc. CNA Training Course
8 South Morris Street, Dover, NJ 07801
Phone: (973) 366-7171
Berkeley College
1 West Blackwell Street, Dover NJ 07801
Phone: (973) 366-6700
Randolph, NJ CNA programs:
County College of Morris
214 Center Grove Rd, Randolph NJ 07869
Phone: (973) 328-5187
Succasunna, NJ CNA programs:
Merry Heart Health Care Center
200 Route 10 West Succasunna NJ 07876
Phone: (973) 584-4000
Ocean County CNA Programs
Beachwood, NJ CNA programs:
Karing with Kindness
245 Atlantic City Boulevard, Beachwood, NJ 08722
Phone: (732) 341-4500
Lakewood, NJ CNA programs:
LTC Career Training
700 Rt. 70, Lakewood, New Jersey 08701
Phone: (732) 364-9600
NR Training School
1200 River Ave, Lakewood NJ 08701
Phone: (732) 886-0096
Manahawkin, NJ CNA programs:
Genesis Southern Ocean Center
1361 Route 72 Manahawkin, New Jersey 08050
Phone: (732) 677-8823
Toms River, NJ CNA programs:
Ocean County Vocational Technical School
1299 Old Freehold Road, Toms River NJ 08753
(732) 473-3100
Passaic County CNA Programs
Haskill, NJ CNA programs:
Wanaque Center
1433 Ringwood Ave Haskill NJ 07420
Phone: (973) 839-2119
Paterson, NJ CNA programs:
AMG Medical Institute Nursing Assistant Course
175 Market Street, 4th Floor, Paterson, NJ 07505
Phone: (973) 278-0500
Branford Institute Nurse Aide Training Program
302 Main Street, Paterson, NJ 07505
Phone: (908) 352-1004
Anderson Health Institute
305 Broadway Patterson NJ 07501
Phone: (973) 684-5024
ATC Academy
680 Broadway Paterson NJ 07514
Phone: (973) 714-3370
Workforce Advantage
1433 Ringwood Ave Haskill NJ 07420
Phone: (908) 342-1073
Wayne, NJ CNA programs:
Passaic County Technical Institute
45 Reinhardt Road, Wayne, NJ 07470
Phone: (973) 389-4100
Fortis Institute
201 Willowbrook Boulevard, Wayne, NJ 07470
Phone: (201) 532-6995
Salem County CNA Programs
Woodstown, NJ CNA programs:
Salem County Vocational Technical School
890 Route 45, Woodstown, NJ 08098
Phone: (856) 769-0101 x 346
Somerset County CNA Programs
Somerset, NJ CNA programs:
Maries Allied Health and Technical Institute
863 Hamilton Street, Somerset, New Jersey 08873
Phone: (732) 565-0898
Somerville, NJ CNA programs:
Fellowship Academy
1 E. High St, Somerville NJ 08876
Phone: (908) 580-9425
Raritan Valley Community College
PO Box 3300 Somerville NJ 08876
Phone: (908) 526-1200
Sussex County CNA Programs
Newton, NJ CNA programs:
Homestead Rehabilitation
129 Morris Turnpike Newton NJ 07860
Phone: (973) 948-5400
Union County CNA Programs
Elizabeth, NJ CNA programs:
Admiral William Halsey Health and Public Safety Academy
641 South Street Elizabeth NJ 07202
Phone: (908) 436-6600
B&M Career Center
214 Commerce Place, Elizabeth, New Jersey 07201
Phone: (908) 355-9315
Branford Institute Nurse Aide Course
570 North Broad Street, Elizabeth, NJ 07208
Phone: (908) 352-1004
E & S Academy
40 Parker Road Elizabeth NJ 07208
Phone: (908) 866-6662
Workforce Advantage
49 Broad Street, Elizabeth, New Jersey 07201
Phone: (908) 355-2288
Union, NJ CNA programs:
Ace Healthcare Training Institute Nurse Aide Training
930 Stuyvesant Avenue, Union, NJ 07083
Phone: (908) 851-2700
Healthcare Training Institute
1969 Morris Avenue, Union, New Jersey 07083
Phone: (908) 851-7711
Health Promotions Information
979 Lehigh Avenue, Union, New Jersey 07083
Phone: (908) 687-0808
Humane Concepts Healthcare School
1767 Morris Avenue, Union, NJ 07083
Phone: (908) 688-8184
Warren County CNA Programs
Stewartville, NJ CNA programs:
JKB Education Resources, Inc.
800 Fanning Mill Road, Stewartsville, NJ 08886
Phone: (917) 763-8124
Phillipsburg, NJ CNA programs:
Warren County Community College
445 Marshall Street Phillipsburg, NJ 08865
Phone: (908) 835-2333
Phillipsburg Center
843 Wilbur Ave Phillipsburg NJ 08865
Phone: (908) 454-2627