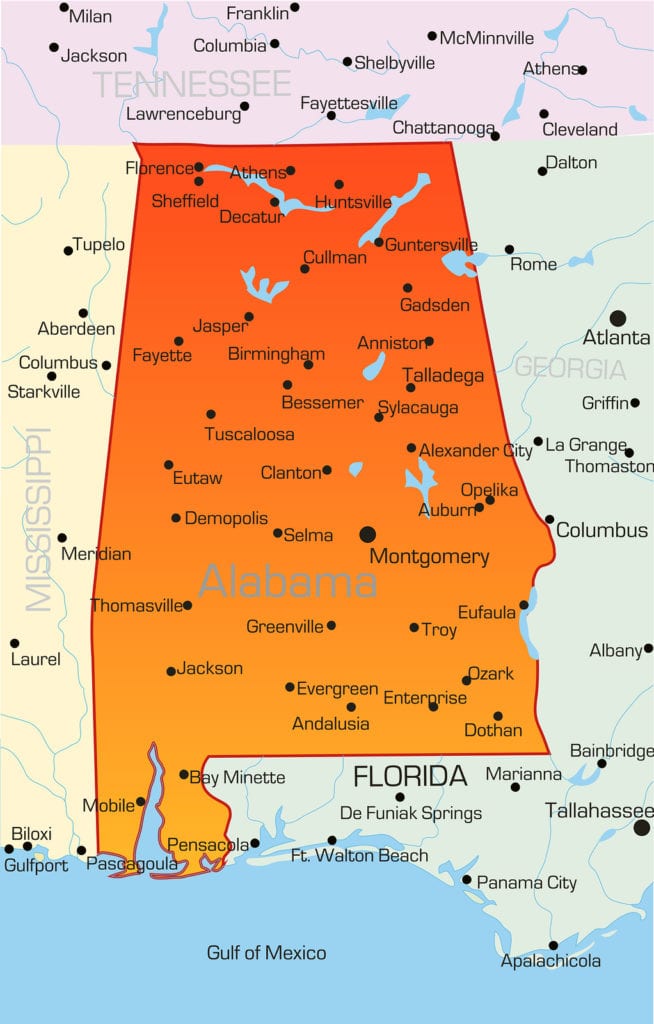 Reporting a growing need for healthcare workers, the Bureau of Labor Statistics predicts an estimated 20 percent increase in employment demands for CNAs by the year 2020. Rapid growth in the elderly population across the United States weighs heavily on the healthcare industry – as nursing homes, hospitals and home healthcare agencies struggle to source staff to meet demands for service. As a CNA, you'll have the extraordinary opportunity to enhance the lives of your patients. State-approved training programs will impart the knowledge and skills you need to support nurses and other members of the medical staff with every aspect of patient care. Even more important is the opportunity to learn the skills and start a rewarding career in just four weeks. Following are some guidelines, based on Alabama Department of Health information, for training and licensure within the state.
CNA Classes in Alabama:
Certification Requirements
Before serving as a nursing assistant in any Alabama nursing home, you must obtain certification from the state. This requirement, set forth by federal authorities, ensures that you have the required skills and techniques to care for residents' needs. While the Alabama Nurse Aide Registry has strict guidelines for the training, certification, and hiring of nurse aides, there are provisions for a nursing facility to retain your services as a nurse aide for a period of four months.
If you're not yet certified, you can provide services as a nurse aide for four months if:
You're currently enrolled in or graduated from a state-accredited training program
You're in active status on another state's registry – there should be no findings of abuse or neglect on your records
You've passed the state exam and awaiting placement on the registry.
You must fulfill the requirements for certification within the four-month period to continue working. Nursing facilities and other employers must contact the registry prior to hiring a new nurse aide to verify that the prospective employee has met federal competency requirements. The registry check will also reveal any reports of abuse, mistreatment, neglect or misappropriation of resident property.
Prerequisites to Training
Trade schools, community colleges, high schools and nursing homes offer short-term training programs across Alabama. Every training provider has its own requirements for entry, which can include a high school diploma in some cases. The complexity of the course content calls for good reading and comprehension skills. Therefore, if you don't have a high school diploma, the school may administer an exam to evaluate your math, writing and reading skills. After you complete training, a high school diploma will affect your ability to get the best jobs and your plans for further study.
Following are some other prerequisites to training:
16 years or older (parental consent required)
High school diploma or GED (recommended)
A two-step TB skin test
Background check
CPR card
Alabama Certified Nurse Aide Training Requirements
Nurse aides perform more than 85 percent of residents' hands-on care. Alabama's approved training programs, comprising of a minimum 120 hours, teach students how to relate to patients and employ measures to preserve their privacy, dignity and independence. The instruction takes two forms: classroom and lab in-house training followed by supervised clinical experience at an approved nursing facility. Course content covers vital areas, such as infection control, basic anatomy, CPR, vital signs, safety measures, nutrition and medical terminology. Following classroom training, students must serve a minimum 40 hours of clinical experience where they put their skills to work under the nurse instructor's supervision. A few CNA training providers include exam preparation and additional clinical hours where students benefit from rotations at home health agencies, hospitals and hospices.
Upon completion of nurse aide training, you're eligible to challenge the state's nurse aide competency exam for placement on the nurse aide registry.
Cost of CNA Training Alabama
The average cost of nurse aide tuition in Alabama is $800. Other expenses, such as textbooks, scrubs, non-skid shoes, gait belt, pressure cuff, state certification, fees and other miscellaneous costs can increase your total spending to $1,200. Community colleges and nursing homes are the primary training providers in the state. If you're strapped for cash, you should approach local nursing facilities in your area to get on the waiting list for the next class. Nurse aide training at these institutions is often free or low-cost as administrators sponsor training to recruit new employees.
Financial aid may not be available due to the short-term nature of the course. However, the school may have a flexible payment plan in place for students. You can also check your local chapter of the American Red Cross, Adult Education Centers and Job Corps for free training. If all else fails, you can contact your local Medicaid office to find out about reimbursement of your costs if you obtain employment within 12 months of certification.
Nurse Aide Testing
Pearson Vue, through a contract with Alabama's Department of Health, develops, scores and reports the results of the nurse aide competency exam to the nurse aide registry. If you're a first-time tester, you should download the application for registration by examination form, and submit it to Pearson Vue with the applicable fees. As a first-time tester, you must apply to take both components of the exam on the same day. You have three attempts over the course of 24 months to succeed at the evaluation.
The two-part nurse aide evaluation consists of a written (or oral) exam and a skills evaluation, which tests your readiness to work. The oral option is available to students who have difficulty reading English – there are English and Spanish options available for the oral option. If you plan to take the oral exam, you must request it at the time of application.
The written exam contains 70 multiple-choice questions written in English. The oral exam contains 60 multiple-choice questions and 10 reading comprehension questions. Sample questions are available in the Candidate Handbook.
For the skills evaluation, you'll have 25 minutes to demonstrate your competency by your performance of five randomly selected skills. You must perform all five skills according to standards in order to pass the skills exam. The candidate handbook provides a list of the skills you should be familiar with.
Certification Costs
Written and skills exam – $100
English Oral and skills exam – $120
Spanish Oral and Skills exam – $120
Written retest – $40
English Oral retest – $60
Spanish Oral retest – $60
Skills retest – $60
Oral retest – $60
Walk with the following items on exam day:
Check in at least 30 minutes before the exam
Two forms of proper ID (Driver's license, signed social security card, credit card are some examples of acceptable form of ID)
Three sharpened No. 2 pencils and eraser
Watch with a second hand
Uniform scrubs and flat, non-skid, closed-toe shoes for the skills exam
Out-of-State CNAs
The Omnibus Budget Reconciliation Act of 1987 governs CNA certification across the nation. Similarities in training requirements make it easy to move from one state to another. If you're certified and in good standing on another state's registry, you can get on Alabama's registry in two ways:
Apply for employment at a nursing home in Alabama and transfer your license once you're hired;
Complete state-accredited training and pass the nurse aide competency evaluation.
Note: If there are findings of abuse or neglect on your record, the registry will deny your transfer request.
Renewal
Once listed on the Alabama Nurse Aide Registry, you must renew your certification through the Alabama Department of Public Health to remain active. Renewal requires at least 8 hours of practice for every 24-month period. The practice must be for monetary compensation as volunteer work does not count. Practice at a private home, assisted living facility, or physician's office also does not count.
Inform the registry if your address or name changes, so you'll receive updates – e.g. the renewal form – when the registry sends them out.
Contact the Registry:
Alabama Certified Nurse Aide Registry
Alabama Department of Public Health
Division of Health Care Facilities
The RSA Tower, Suite 710
201 Monroe Street
Montgomery, AL 36104
Phone: (334) 206-5169
State Approved CNA Programs in Alabama
Anniston, AL CNA programs:
NHC Place Aniston
1335 Greenbrier Rd., Anniston, AL 36207
(256) 835-3959
Attalla, AL CNA programs:
Oak Landing Assisted Living Facilities
616 Gaines Street, Attalla, AL 35954
(256) 538-6252
Bay Minette, AL CNA programs:
Faulkner State Community College -Bay Minette
1900 Highway 31 South, Bay Minette, AL 36507
(251) 580-2100
Bessemer, AL CNA programs:
Lawson State Community College- Bessemer
1100 Ninth Avenue NW, Bessemer, AL 35022
(205) 925-2515
Oaks on Parkwood Assisted Living Facility -Bessemer
2651 Laurel Oak Drive, Bessemer, AL 35022
(205) 497-4520
Birmingham, AL CNA programs:
Lawson State Community College
3060 Wilson Rd SW, Birmingham, AL 35221
(205) 925-2515
Carrolton, AL CNA programs:
Bevill State Community College
491 Tuscaloosa Ave, Carrolton, AL 35447
(205) 367-8860
Cullman, AL CNA programs:
Morningside of Cullman
2021 Dahlke Drive, Cullman, AL 35058
(256) 737-1088
Daphne, AL CNA programs:
Catherine Place
27440 County Road 13, Daphne, AL 36526
(251) 626-9000
Dothan, AL CNA programs:
Wesley Manor Methodist Home
718 Honeysuckle Rd., Dothan, AL 36305
(334) 792-0921
Evergreen, AL CNA programs:
Reid State Technical College
P.O. Box 588, Evergreen, AL 36401
(251) 578-1313
Fairhope, AL CNA programs:
Caroll Place Assisted Living
50 Spring Run Road, Fairhope, AL 36532
(251) 928-5555
The Huntingdon at Homestead Village
108 Homestead Village, Fairhope, AL 36532
(251) 929-0275
Fayette, AL CNA programs:
Morningside of Fayette
404 25th Street, Fayette, AL 35555
(205) 932-4003
Foley, AL CNA programs:
Liveoak Village, LLC
2300 North Cedar Street, Foley, AL 36535
(251) 943-6733
Fort Payne, AL CNA programs:
Wills Creek Village
1050 Airport Road West, Fort Payne, AL 35968
(256) 845-3002
Gadsden, AL CNA programs:
Gadsden State Community College-Division of Health Sciences
P.O. Box 227, Gadsden, AL 35902
(256) 549-8200
Glencoe, AL CNA programs:
Meadowood Retirement Village
509 Pineview Ave., Glencoe, AL 35905
(256) 492-0935
Hanceville, AL CNA programs:
Victorian Manor
105 Michelle Street NW, Hanceville, AL 35077
(877) 878-8309
Hartford, AL CNA programs:
Hartford Retirement Village
#5 Highway 52 East, Hartford, AL 36344
(334) 588-2306
Huntsville, AL CNA programs:
American Red Cross-Madison/Marshall County Chapter
1101 Washington Street, NW, Huntsville, AL 35801-5417
(256) 536-0084
Calhoun Community College-Nursing Department
102 Wynn Dr NW, Huntsville, AL 35805
(256) 890-4747
Mobile, AL CNA programs:
Clinton L. Johnson Center
151 S. Claiborne Street, Mobile, AL 36602
(251) 470-8603
Montgomery, AL CNA programs:
Easter Seals Central Alabama
2125 E. South Boulevard, Montgomery, AL 36116
(334) 288-0240 Ext. 229
South University
5355 Vaughn Rd, Montgomery, AL 36116
(888) 204-9613
Muscle Shoals, AL CNA programs:
Northwest-Shoals Community College
800 George Wallace Blvd., Muscle Shoals, AL 35661
(256) 331-5200
Wellington Place of the Shoals
2904 South Wilson Dam Road, Muscles Shoals, AL 35661
(855) 308-0665
North Huntsville, AL CNA programs:
J. F. Drake State Technical College
3421 Meridian Street, North Huntsville, AL 35810-7439
(888) 413-7253
Oneonta, AL CNA programs:
Magnolia House
100 Forth Ave. West, Oneonta, AL 35121
(205) 625-5550
Olive Home Inc
1100 2nd Avenue East, Oneonta, AL 35121
(205) 625-3190
Opelika, AL CNA programs:
Southern Union State Community College
701 Railroad Ave, Opelika, AL 36801
(256) 395-2211
Phenix City, AL CNA programs:
Chattahoochee Valley Community College-Phenix City
2602 College Drive, Phenix City, AL 36869
(334) 291-4900
Rainbow City, AL CNA programs:
Regal Place at Regency Pointe
510 East Grande Ave., Rainbow City, AL 35906
(256) 442-1856
Rainsville, AL CNA programs:
Northeast Alabama Community College
P.O. Box 159, Rainsville, AL 35986
(256) 228-6001
Selma, AL CNA programs:
Vaughan Place Senior Living
1300 Old Orrville Rd., Selma, AL 36701
(334) 875-1225
Sheffield, AL CNA programs:
Morningside of Sheffield
413 Cox Blvd., Sheffield, AL 35660
(256) 381-1058
Spanish Fort, AL CNA programs:
Westminster Village
500 Spanish Fort Blvd., Spanish Fort, AL 36527
(251) 626-2900
Tuscaloosa, AL CNA programs:
Shelton State Community College
9500 Old Greensboro Rd, Tuscaloosa, AL 35405
(205) 391-2211