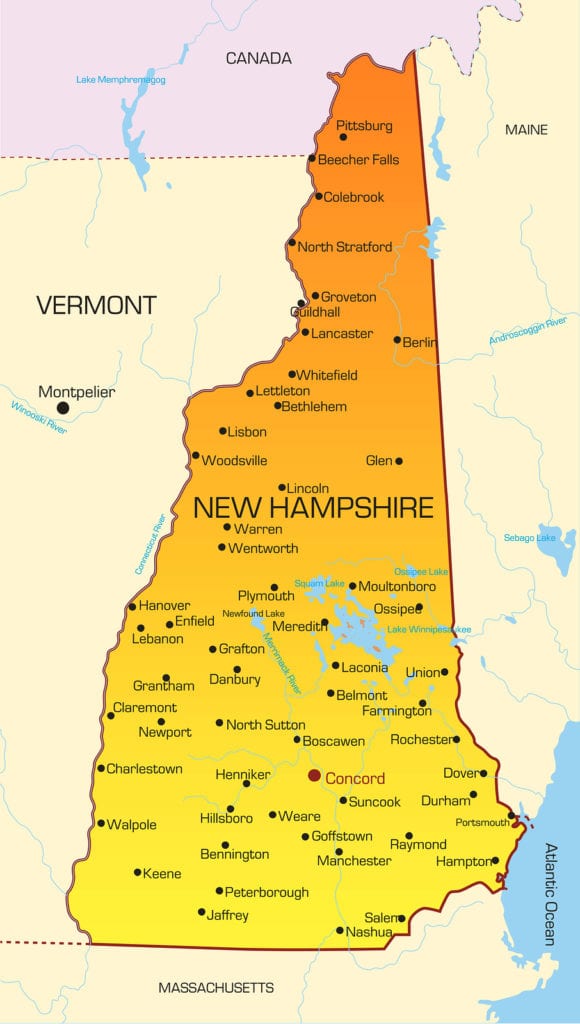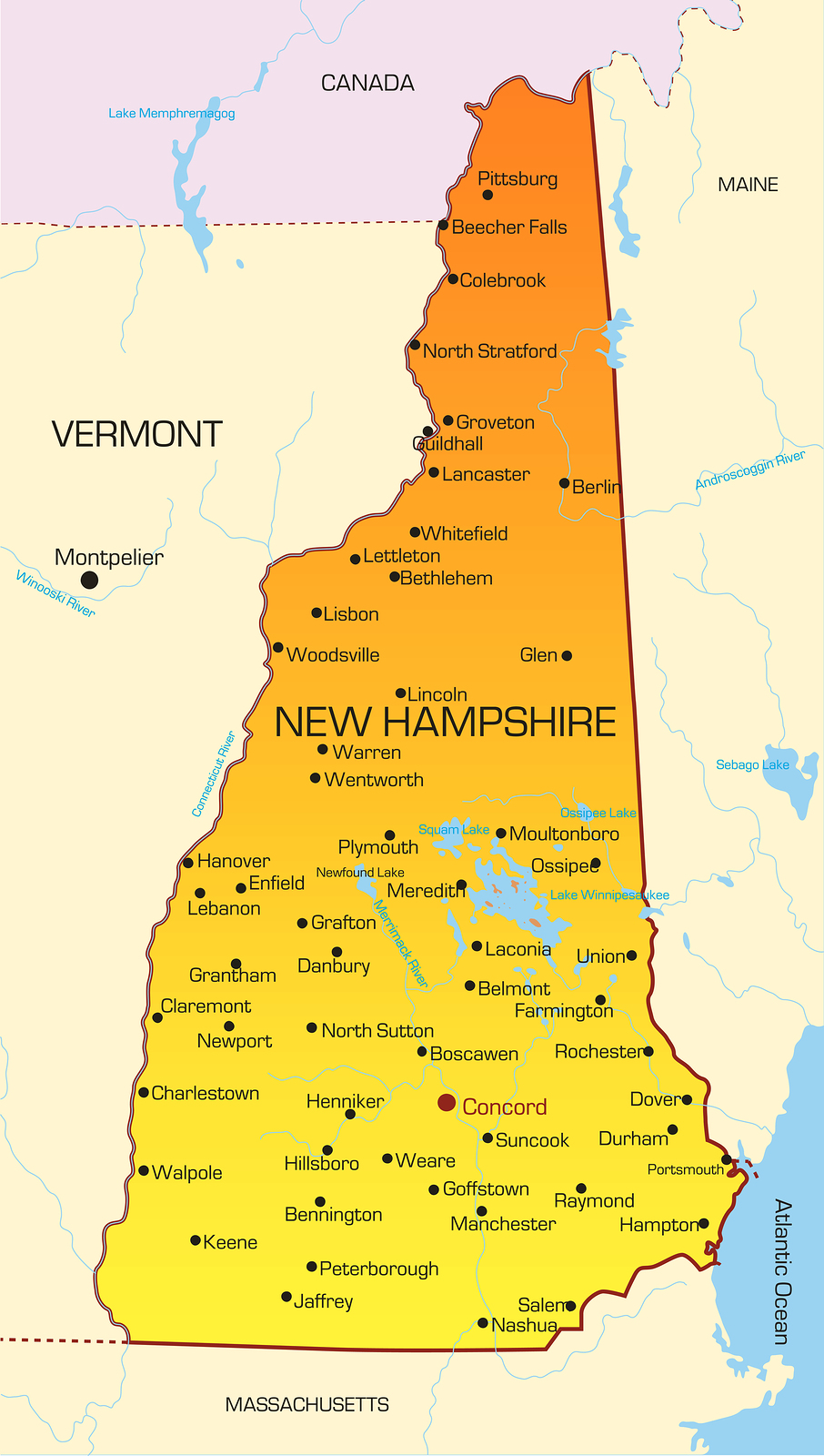 CNAs, or Licensed Nursing Assistants (LNAs) as they're called in New Hampshire, work as an extension of licensed nurses in long term care facilities, hospitals, clinics and community health centers. They provide the most basic level of care to patients in these facilities, handling small or strenuous tasks that nurses may not have the time to complete. On a typical shift, an LNA might transport patients, make beds, deliver lab samples, feed patients, change bedpans and record vital signs. Since they spend most of their time in the company of patients, they are usually first to spot something amiss, and will report concerns to nurses and other senior members of the health care team. New Hampshire's Board of Nursing oversees the training, testing and certification of nursing assistants for inclusion on the Nurse Aide Registry.
CNA Classes in New Hampshire:
Certification Requirements
New Hampshire's mandatory licensing law requires all individuals to obtain a license to practice as nursing assistants. Whether volunteering or providing direct care or non-direct care activities at licensed facilities, you must complete the required training as a first step to state certification. State-sanctioned training programs help students develop essential abilities to execute their duties and empathize with patients in the health care setting.
Administrators at Medicaid-funded and other state-licensed facilities must check prospective employees'standing on the state registry before hire. They must also update an employee's status if there are charges of abuse, neglect or misappropriation of residents' property during the employee's tenure at the facility. In short, the registry is central to the hire and releasing of LNAs, and it is an employer's responsibility to work with the registry to maintain quality care for patients.
If you're a nursing student, licensed nurse, foreign nurse or military-trained personnel, you can apply directly to the Board of Nursing for written approval to skip training. With Board approval, you can take the state certification exam for inclusion on the nurse aide registry.
Prerequisites to Training
Nurse assistants should naturally have a compassionate nature as they must provide emotional support and companionship to bedridden patients. More than just holding patients' hands, nurse assistants groom, bathe and feed patients, make beds and clean bedpans. The promise of countless opportunities and easy entry into the medical field attract hundreds of hopefuls, but few are really prepared for the rigors of this job.
Informal orientation sessions at training institutes give prospective candidates some insight into the roles and responsibilities of nurse assistants. They also provide an overview of the training, which will help determine if nurse assisting is right for you.
Following are some other prerequisites to training:
16 years of age or older
High school diploma is not required for most LNA programs
Passing grade on the pre-entrance exam
Free from any felony convictions
Valid CPR for Healthcare Provider card
Valid government-issued ID card
A negative Tuberculin skin test (not older than 10 months)
MMR, chicken pox, and Hepatitis B immunity
Liability insurance
New Hampshire Certified Nurse Aide Training Requirements
NH's state-sanctioned training programs prepare students for state licensure and employment as LNAs. Facilitators must provide at least 75 hours of classroom and clinical education. Students learn in the classroom in a number of ways, including lectures, hands-on participation, interactive discussion, and videos. At some point, after at least 16 hours of classroom and lab instruction, students transfer to a clinical setting where they care for patients in a licensed facility.
Graduates of nurse assistant training programs can assist patients with the activities of daily living, communicate effectively with members of the health care team, document findings related to the patients' health, and function as an effective team member. They also understand the legal and moral principles of patient care and know how to abide by them. The knowledge and abilities gained in the program will also help graduates succeed on the state competency exam for inclusion on the registry.
Cost of CNA Training New Hampshire
Training at NH's state-accredited colleges, private institutes, and the American Red Cross costs an average of $1,200. The cost includes tuition and textbook but does not account for scrubs, shoes and gait belt required for the clinical component of the training. Students will also need to budget for liability insurance, state certification fee, immunization, background check fee, physical exam and TB test.
Due to the nature of the training, nursing assistant programs do not qualify for traditional forms of financial aid. However, you should check with a financial aid officer to seek funding in the form of grants or scholarships. Free training may be available at nursing homes such as Golden View Healthcare and Cedarcrest – subject to the nursing homes' terms and conditions. The American Red Cross may also provide grants to low-income individuals.
If you pay for training and testing, you may be eligible for reimbursement of your costs. Download and fill out the reimbursement form and attach all related receipts. In order to qualify, you must complete training at a state-approved program, pay for the training with your personal funds, and obtain employment at the Department of Health and Human Services (DHHS) licensed nursing home within 12 months of certification.
Nurse Aide Testing
New Hampshire's Board of Nursing has three approved competency testing agencies: Pearson Vue, Excel Testing, and the American Red Cross. There are two parts to the competency exam; the skills evaluation and the written test. The written exam contains 70 multiple-choice questions written in English. Candidates have 120 minutes to complete all questions. If you have difficulty reading English, you can request the oral exam at the time of application. The oral exam contains 60 multiple choice test questions and 10 multiple choice questions that test your understanding of common English words.
The skills exam rates your performance of five (5) skills. One of the skills will be Handwashing, and the remaining four will be assigned at random from the list of nursing assistant skills. You can find a list of skills along with the critical steps in the candidate handbook. If you're unsuccessful in either part of the exam, you can schedule a re-test (up to two re-tests). If you fail the exam on all three attempts, you must retake a training program in order to take the exam once again.
Certification Costs
Skills and written test – $105.00
Skills and oral test – $120.00
Skills retest – $65.00
Written retest – $40
Oral test – $55.00
Reschedule fee – $30
Walk with the following items on exam day:
Check in at least 20 minutes before the exam
State application
Valid photo ID
Social security card
2 pencils and eraser
Watch with a second hand
Wear scrubs and non-skid, closed-toe shoes for the skills exam
Out-of-State CNAs
If you hold an active CNA license in another state, you can apply for inclusion on the NH Registry through endorsement.
Obtain fingerprint and criminal background check
Download and fill out the application for endorsement
Provide copies of the nurse assistant training and certification
Provide proof of at least 200 hours of nurse assistant service within two years prior to the application.
The registry will not approve your application if there are findings of abuse, neglect or misappropriation of resident property on your records.
Renewal
Submit your application to renew your CNA license before the expiration date:
Provide proof of at least 200 hours of nursing assistant related activities for compensation. You must complete the work under the supervision of a licensed nurse at an approved facility.
Provide proof of at least 12 hours of continuing education.
Contact the Registry:
New Hampshire Nurse Aide Registry
New Hampshire Board of Nursing
21 South Fruit Street, Suite 16, Concord, NH 03301
Phone: (603) 271-6282 or (603) 271-2323
License Verification: (603) 271-6599
Fax: (603) 271-6605
State Approved CNA/LNA Training Programs in New Hampshire:
Berlin, NH Colleges and Universities offering CNA programs:
White Mountain Community College
2020 Riverside Drive, Berlin, NH 03570
(603) 752-1113
Boscawen, NH Nursing Homes and Hospitals offering CNA programs:
Merrimack County Nursing Home
325 Daniel Webster Highway, Boscawen, NH 03303
(603) 796-2165
Brentwood, NH Nursing Homes and Hospitals offering CNA programs:
Rockingham County Nursing Home
117 North Road, Brentwood, NH 03833
(603) 679-5335
Bristol, NH Freestanding CNA programs:
Clinical Career Training
PO Box 19, Bristol, NH 03222
(603) 744-6766
Claremont, NH Colleges and Universities offering CNA programs:
River Valley Community College
1 College Drive, Claremont, NH 03743
(603) 542-7744
Concord, NH Freestanding CNA programs:
American Red Cross Granite Chapter
2 Maitland Street, Concord, NH 03301
(603) 225-6697
Concord, NH Nursing Homes and Hospitals offering CNA programs:
NH Health Care Association
125 Airport Road, Concord, NH 03301
(603) 226-4900
Derry
Health and Minds, LLC Healthcare Training
1 Oleson Road, Derry, NH 03038
(603) 437-0058
Dover, NH Nursing Homes and Hospitals offering CNA programs:
Riverside Rest Home
276 County Farm Road, Dover, NH 03820
(603) 742-1348
Goffstown, NH Freestanding CNA programs:
Med Pro Educational Services LLC
PO Box 118, Goffstown, NH 03045
(603) 660-9040
Keene, NH Freestanding CNA programs:
American Red Cross Regional Medical Careers Training
83 Court Street,Keene, NH 03431
(603) 352-3210
Laconia, NH Colleges and Universities offering CNA programs:
Lakes Region Community College
Rt 106, Prescott Hill, Laconia, NH 03246
(603) 524-3207
Lebanon, NH Nursing Homes and Hospitals offering CNA programs:
Lebanon Center Genesis
24 Old Etna Road Lebanon NH 03766
(603) 279-8111
Manchester, NH Freestanding CNA programs:
LNA Health Careers, LLC
22 Concord St 3rd FL, Manchester, NH 03101
(603) 647-2174
Manchester, NH Freestanding CNA programs:
Salter School of Nursing and Allied Health
670 North Commercial St, Suite 403, Manchester, NH 03101
(603) 622-8400
Meredith, NH Nursing Homes and Hospitals offering CNA programs:
Golden View Health Care
19 NH Route 104, Meredith, NH 03253
(603) 622-8400
Nashua, NH Freestanding CNA programs:
St Joseph School of Nursing
5 Woodward Avenue, Nashua, NH 03060
(603) 594-2567
Ossipee, NH Nursing Homes and Hospitals offering CNA programs:
Mountain View Community
10 County Farm Road, Ossipee, NH 03864
(603) 539-7511
Portsmouth, NH Nursing Homes and Hospitals offering CNA programs:
Edgewood Center
928 South Street, Portsmouth, NH 03801
(603) 436-0099
West Stewartstown, NH Nursing Homes and Hospitals offering CNA programs:
Coos County Nursing Hospital
PO Box 10, West Stewartstown, NH 03801
(603) 246-3321