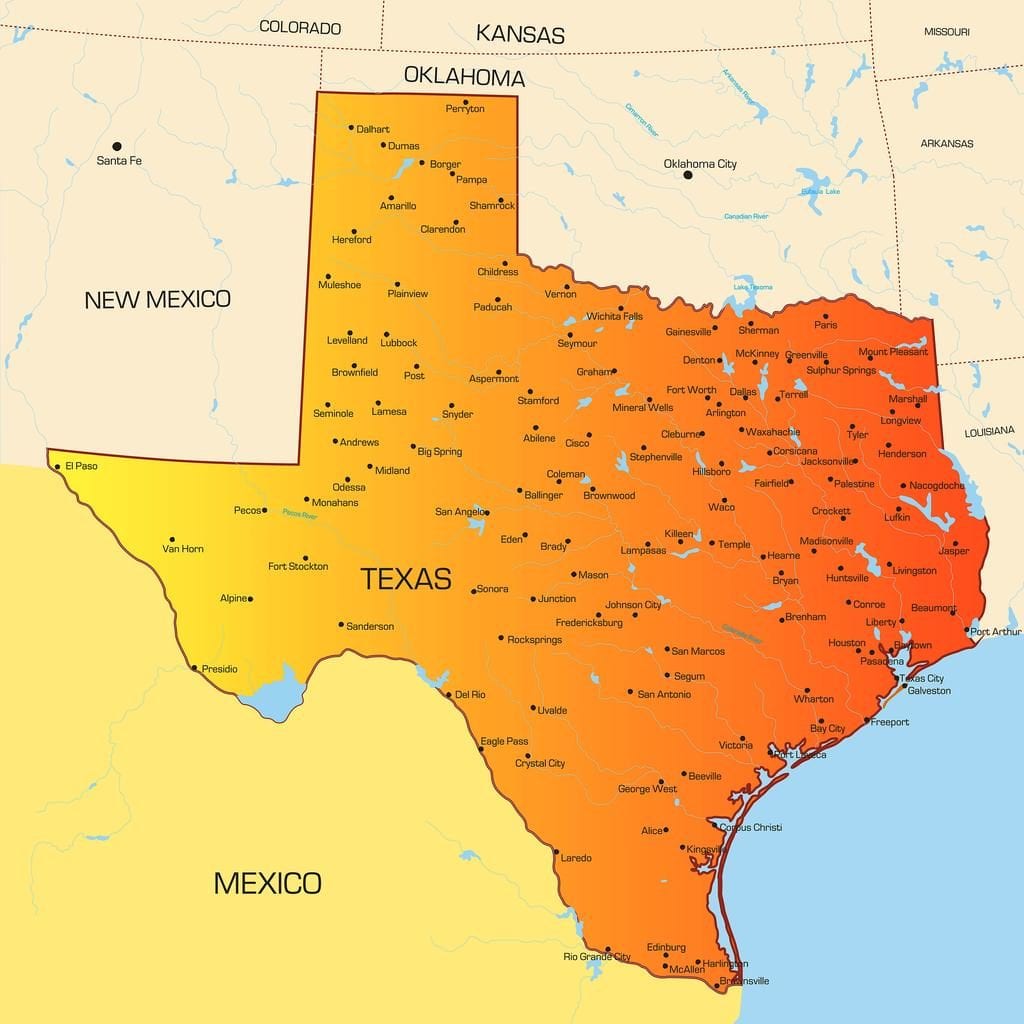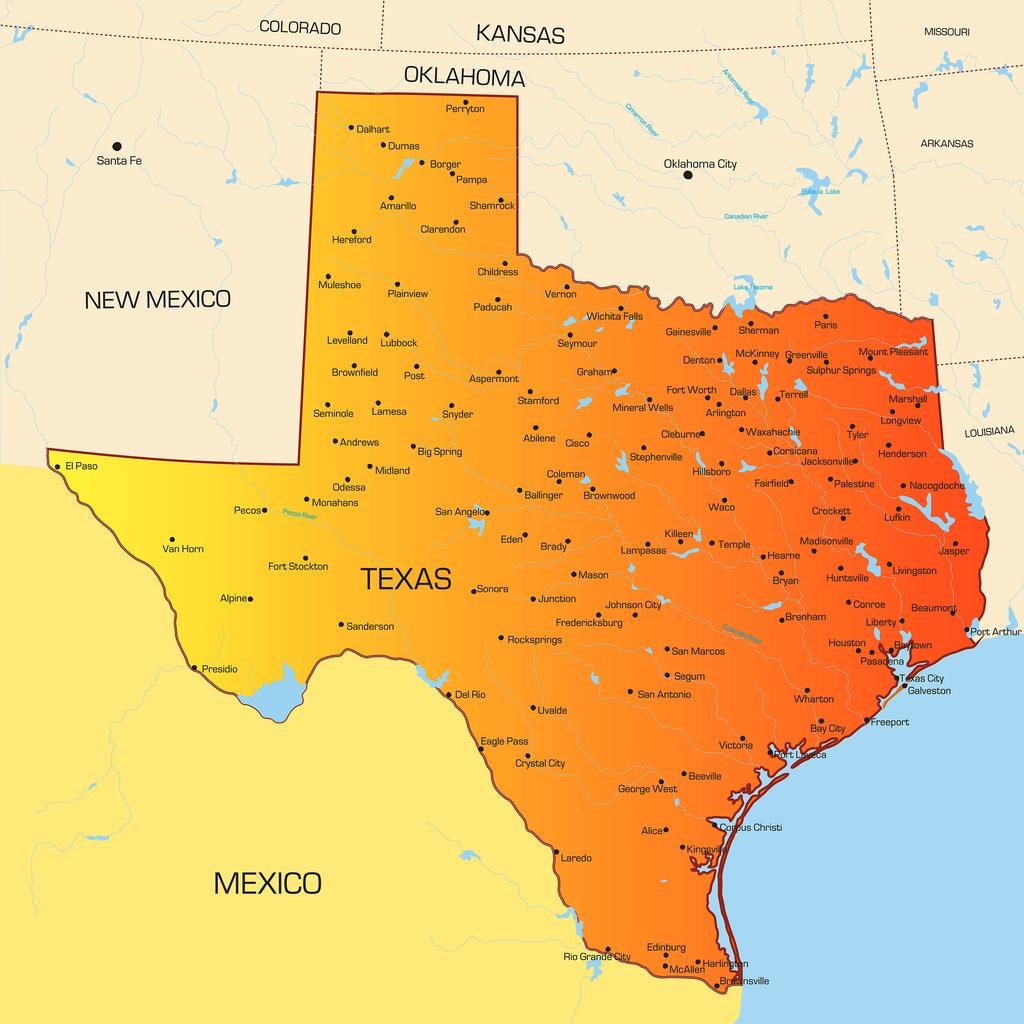 Certified nurse aides are the unsung heroes in the world of patient care. They might possibly be the most under-appreciated part of the patient care team, and nurses recognize and feel their value only when they're absent. Nurse assisting is not for everyone: It's a career path most suited to those interested in caring for and interacting with senior, disabled, or hospitalized patients. Due to the weight of responsibilities nurse aides provide in direct health care, the Texas Department of Aging and Disability Services in accordance with federal requirements, set specific guidelines for nurse aides within the state. You should be familiar with those guidelines if you plan to provide patient care services as a CNA.
CNA Classes in Texas
Other cities in Texas: Please scroll down below or use CTRL+F (Command+F on Mac) to search this page.
Certification Requirements
The Texas Department of Aging and Disability Services (DADS) governs the nurse aide curriculum and nurse aide training programs. The Nurse Aide Registry, under the administration of DADS, maintains a record of nurse aides who are certified to provide care at licensed long-term care facilities. All nurse aides must apply for and graduate from a DADS-approved nurse aide training program and pass the state's nurse aide competency exam in order to obtain certification for employment. You can work temporarily, for a period of four months, without certification while attending school or waiting for placement on the registry. Employers normally ask candidates to present proof of licensing. However, it's also crucial that they search the registry to ensure the certified nurse aide is in "active" status.
Prerequisites to Training
Federal regulation and state rules do not impose minimum educational requirements for nurse aide candidates. Therefore, you don't need a high school diploma for entry into approved training programs. Although there are no minimum requirements, you should be able to read and comprehend to complete the coursework and pass the state evaluation.
You must complete a training program to gain eligibility to take the nurse aide exam. An exemption from training is available if you:
Completed nurse aide training in another state
Completed military training that is comparable to the state's curriculum for civilians. The military training should be at least 100 hours.
Completed an accredited RN or LVN program – without receiving your license.
Enrolled in an accredited nursing program and can demonstrate basic nursing skills.
Other prerequisites include:
Current, clean background as evidenced by a criminal background check (fingerprint method)
Be at least 18 years old
Doctor's report giving you a clean bill of health
Proof of immunization
Negative TB test
Current Healthcare Provider CPR card 
Texas' Certified Nurse Aide Training Requirements
State-approved training programs provide students with the essential knowledge and skills to pass the state exam and execute their responsibilities on the job. DADS curriculum specifies 75 training hours including 51 hours for classroom instruction and 24 hours designated for clinical experience. During the clinical, students can put their classroom instruction into action and demonstrate their skills under the supervision of a Registered Nurse. By the end of the training, you should be able to perform advanced CPR techniques, maintain a clean environment, communicate effectively with team members and patients, attend to residents' daily need, provide bedside care, transfer patients, respect the patients' rights and independence while maintaining a safe environment.
Training programs generally last for 2 to 6 weeks depending on the provider's schedule. Texas is home to more than 400 training programs, and many of them are available at nursing homes, high schools, community colleges, and vocational institutes. After completing the training, you're eligible to sit for the nurse aide assessment administered by Prometric.
Note: Graduates from approved training programs only are eligible to sit the state's assessment. Refer to the list below before enrolling in a nurse aide training program.
Cost of Training
Nurse aide training in Texas is free if you ask an employer or prospective employer to sponsor the cost of training. Several nursing homes sponsor training several times a year as part of their recruitment drive. Some may even offer paid training for students. High school students may also qualify for free training at various outlets. Other training providers may charge $650 to $1,800 for tuition. Advertised training costs do not include expenses for books, uniforms and other supplies so ask about those costs before enrolling. If you receive employment at a Medicare/Medicaid-funded nursing facility within 12 months of certification, you can apply for reimbursement for the cost of tuition and testing.
Nurse Aide Testing
The Prometric administered nurse aide exam comprises of two parts: the written (or oral) examination and the skills evaluation. Administrators administer both components on the same day, and you must pass both in order to receive state certification.
The Written Test will be administered on a computer at the test site or via remote proctoring. You will use a computer mouse to select answers. An opportunity will be given to answer several practice questions before the test to make sure you know how to use the computer. The test consists of 60 multiple choice questions that evaluate your nurse aide knowledge skills. The duration of the test is 90 minutes.
The Written test can be taken in Oral form. During the Oral test, you will hear the questions read to you while reading and answering questions on the computer. If you will like to take the Oral test, you must select this option on the application form. You cannot make this request on the day of testing.
The Oral test has an additional section of the exam besides the multiple choice knowledge portion of the test. The Reading Comprehension test has approximately 15 questions used to determine if the candidate has the reading skills a nurse aide who works in a nursing facility needs. You must pass both the Reading Comprehension and the Oral test sections on the same day to pass the Oral test.
The written/oral exams are administered in four different types of locations. The specific option available to you as a candidate will appear in the TX Nurse Aide portal for selecting and scheduling:
Computer-Based Testing (CBT) locations – open multiple days/week to candidates from any profession.
Regional Testing Sites – open to nurse aide candidates from any training program
In-Facility Testing (IFT) sites – open to nurse aide candidates with pre-
approval from the site
Live Remote Proctoring – available to any candidate with the requiredcomputer, internet, and space requirements (testing at home, school,).
Certification Costs
First-time Testing Fees:
Written and Clinical Skills – $125
Oral English/Spanish and Clinical Skills (includes Reading Comprehension Exam) – $135
Lapsed/Other Candidate
Written and Clinical Skills – $125
Oral English/Spanish and Clinical Skills (includes Reading Comprehension Exam) – $135
Re-tester
Written Test ONLY – $35
Oral Test ONLY (Oral includes Reading Comprehension Exam) – $45
Clinical Skills Test ONLY – $90
On exam day, you must walk with the following:
Authorization to Test (ATT) Letter. Present the original letter sent to you by Prometric via email
Government-Issued Photo Identification with Signature. This must be a current (non-expired) ID and must have both a photography and a signature
A second form of identification with Photo Identification. The name on the second ID must match the Primary ID and must include a picture of the candidate that matches their current state. Acceptable forms of secondary ID include school ID card, facility ID card, library card
After you successfully pass the Competency Evaluation Program – both the Clinical Skills Test and the Written/Oral Test – you will be placed on the Texas Nurse Aide Registry. Your Nurse Aide Registry Certificate is valid for two years from the time of issue.
If you fail either the skills or the written/oral examination, you may re-test twice. If you don't pass after three attempts, you must go through the training again before being allowed to take the test again.
Out-of-State CNAs
If you're certified out-of-state, you can transfer your certification to Texas through reciprocity using the following steps:
Submission of a completed 5505-NAR form – signed and dated
Copy of a current state-issued photo ID
Copy of social security card
Texas Department of Public Safety criminal history check for all legal names ever had (either Fingerprint Cards with results or Name Based completed online for all last names ever used)
If you do not have an expiration date in the state you are active in, you must also complete and submit Form 5506-NAR, Employment Verification. The form must be completed by your most recent employer (within the last two years)
The registry requires 2-4 weeks for processing the application once submitted.
CNA Renewal Texas
Texas certification does not expire. However, you must contact the registry once every two years to provide proof of employment in order to maintain your active status on the registry.
Contact the Registry:
Texas Department of Aging and Disability Services
Nurse Aide Registry
Mail Code E-414,
P.O. Box 149030
Austin, TX 78714-9030
Phone: 512-438-2050
Fax: 512-438-2052
Texas Department of Aging and Disability Services
Professional Credentialing Enforcement
Nurse Aide Enforcement Unit
Mail Code E-302,
P.O. Box 149030
Austin, TX 78714-9030
Phone: 512-438-5495
Fax: 512-438-4285
State Approved CNA Programs in Texas:
Abilene
Abilene, TX High Schools offering CNA programs:
Abilene ISD
2442 Cedar Street (P. O. Box 16135)
Abilene, Texas 79601
Director: Kimberly Turnbull
(325) 794-4120
Abilene, TX Colleges and Universities offering CNA programs:
Cisco College
717 E Industrial Blvd
Abilene, Texas 79602
Director: Pearl Merritt
(325) 794-4411
Abilene Christian University
1755 Campus Court
Abilene, Texas 79699
Director: Christina Lee
(325) 674-2081
Abilene, TX Nursing Homes and Hospitals offering CNA programs:
Coronado Nursing Center, LP
1751 N. 15th
Abilene, Texas 79603
Director: Gretchen McClain
(325) 673-8892
Hendrick Medical Center
1900 Pine St
Abilene, Texas 79601
Director: Jodi Schultz
(325) 670-2424
Willow Springs NATP
4934 S 7th Street
Abilene, Texas 79605
Director: Alice Barrera
(325) 692-2172
3202 S. Willis St
Abilene, Texas 79605
Director: Sonia West
(325) 692-6145
Abilene, TX Freestanding CNA programs:
Patty Hanks Shelton School of Nursing
2149 Hickory St.
Abilene, Texas 79601
Director: Barbara Stafford
(325) 671-2399
Bright Stars of the Future
1201 Clarks Dr.
Abilene, Texas 79602
Director: Reann Top
(325) 670-9293
Alice
Alice, TX Nursing Homes and Hospitals offering CNA programs:
Meridian Care of Alice
219 N. King St
Alice, Texas 78332
Director: Valerie Lerma
(361) 664-4366
Retama Manor Alice
606 Coyote Trail
Alice, Texas 78332
Director: Myra Torrez
(361) 664-5479
The Premier of Alice
800 Coyote Trail
Alice, Texas 78332
Director: Angelica Lerma
(361) 666-3800
Allen
Allen, TX High Schools offering CNA programs:
Lovejoy High School
2550 Bending Branch Way
Allen, Texas 75013
Director: Andrea LeDuff Fields
(972) 548-6679
Alvarado
Alvarado, TX Nursing Homes and Hospitals offering CNA programs:
Alvarado Meadows
101 N. Parkway
Alvarado, Texas 76009
Director: Nicole Crawson
(817) 790-3304
Alpine, TX High Schools offering CNA programs:
Alpine High School Nurse Aide Training
300 E. Hendryx
Alvin, Texas 79830
Director: Angela Juett
(432) 837-7710
Alvin
Alvin, TX Colleges and Universities offering CNA programs:
Alvin Community College Nurse Aide Training
3110 Mustang Rd (ATTN: Diane Ives)
Alvin, Texas 77511
Director: Diane Ives
(281) 756-3952
Amarillo
Amarillo, TX Colleges and Universities offering CNA programs:
Amarillo College-Center For Continuing Health Care
6222 W. 9th (PO Box 447)
Amarillo, Texas 79178
Director: Kimberly Crowley
(806) 354-6085
Gateway to Health Careers
301 S Polk, Ste 740
Amarillo, Texas 79101
Director: Jean Whitehead
(806) 337-1700
Amarillo, TX Nursing Homes and Hospitals offering CNA programs:
Hillside Heights Rehabilitation Suites
6650 S Soncy Road
Amarillo, Texas 79119
Director: Belinda Summerford
(806) 457-6700
Heritage Convalescent Center
1009 Clyde St
Amarillo, Texas 79106
Director: Kara Jimenez
(806) 352-5295
Ware Living Center
400 W 14th St
Amarillo, Texas 79101
Director: Susan Speed
(806) 337-4000
The Arbors Nurse Aide Training Program
1910 Medi Park Dr
Amarillo, Texas 79106
Director: Angeline Reinart
(806) 457-4700
Andrews
Andrews, TX Nursing Homes and Hospitals offering CNA programs:
Permian Regional Medical Center NATP
720 Hospital Dr
Andrews, Texas 79714
Director: Marisa Guevara
(432) 523-2200
Andrews, TX Colleges and Universities offering CNA programs:
Odessa College/Andrews Center
201 W University
Andrews, Texas 79764
Director: Wendy Walker
(432) 365-6539
Angleton
Angleton, TX Nursing Homes and Hospitals offering CNA programs:
Country Village Care
721 W Mulberry
Angleton, Texas 77515
Director: Lori Delgado
(979) 849-8281
Angleton, TX High Schools offering CNA programs:
Angleton ISD
1 Campus Dr.
Angleton, Texas 77515
Director: Regina Mills
(979) 864-8001
Anson
Anson, TX Nursing Homes and Hospitals offering CNA programs:
Valley View Care Center
101 Liberty Ln
Anson, Texas 79501
Director: Christin Yanez
(325) 823-2141
Arlington
Arlington, TX Freestanding CNA programs:
Forever Evolving Institute: Nurse Aide Program
101 E. Randol Mill Rd, Ste 201
Arlington, Texas 76011
Director: Michelle Graham
(682) 583-1969
Performance Career Institute
110 W. Randol Mill Road, #106
Arlington, Texas 76011
Director: Rochelle Steans
(817) 323-0456
School for Allied Health Professionals
1615 W Abram Street, Ste 110
Arlington, Texas 76013
Director: Heidi Garcia
(817) 846-7590
Tony G Rice Health Careers Academy LLC
2630 E Lamar Blvd Ste 101
Arlington, Texas 76006
Director: Michelle Graham
(434) 688-6638
Springpack Healthcare Institute
1144 A West Pioneer Pkwy
Arlington, Texas 76013
Director: Blessing Akpom
(817) 460-2000
Aspermont
Aspermont, TX Nursing Homes and Hospitals offering CNA programs:
Gibson Care Center Aspermont – PL 105-15
931 N. Broadway
Aspermont, Texas 79502
Director: Julie King
(940) 989-3526
Athens
Athens, TX Nursing Homes and Hospitals offering CNA programs:
Park Highlands
711 Lucas Dr
Athens, Texas 75751
Director: Sonja Good-McGlaun
(903) 675-8538
South Place Nursing Center
150 Gibson Rd
Athens, Texas 75751
Director: Anita Fuqua
(903) 677-5864
Athens, TX Colleges and Universities offering CNA programs:
Trinity Valley Comm College/Terrell Campus
100 Cardinal Dr.
Athens, Texas 75751
Director: Janith Fritz
(903) 675-6212
Trinity Valley Community College
100 Cardinal Dr. Continuing Ed. Dept.
Athens, Texas 75751
Director: Janith Fritz
(903) 675-6212
Trinity Valley Community College Kaufman/CE
100 Cardinal Drive
Athens, Texas 75751
Director: Janith Fritz
(903) 675-9212
Trinity Valley Community College/Athens ISD
100 Cardinal Dr
Athens, Texas 75751
Director: Janith Fritz
(903) 675-6212
Trinity Valley Community College/Brownsboro ISD
100 Cardinal Dr
Athens, Texas 75751
Director: Janith Fritz
(903) 675-6212
Trinity Valley Community College/Canton
100 Cardinal Dr
Athens, Texas 75751
Director: Janith Fritz
(903) 675-6212
Trinity Valley Community College/Cross Roads ISD
100 Cardinal Dr
Athens, Texas 75751
Director: Janith Fritz
(903) 675-6212
Trinity Valley Community College/Edgewood ISD
100 Cardinal Dr
Athens, Texas 75751
Director: Janith Fritz
(903) 675-6212
Trinity Valley Community College/Eustace ISD
100 Cardinal Drive
Athens, Texas 75751
Director: Janith Fritz
(903) 675-6212
Trinity Valley Community College/Forney High Schoo
100 Cardinal Dr
Athens, Texas 75751
Director: Janith Fritz
(903) 675-6212
Trinity Valley Community College/Frankston ISD
100 Cardinal Dr
Athens, Texas 75751
Director: Janith Fritz
(903) 675-6212
Trinity Valley Community College/Kemp ISD
100 Cardinal Drive
Athens, Texas 75751
Director: Janith Fritz
(903) 675-6212
Trinity Valley Community College/Mabank ISD
100 Cardinal Drive
Athens, Texas 75751
Director: Janith Fritz
(903) 675-6212
Trinity Valley Community College/Malakoff ISD
100 Cardinal Dr
Athens, Texas 75751
Director: Janith Fritz
(903) 675-6212
Trinity Valley Community College/North Forney High
100 Cardinal Dr
Athens, Texas 75751
Director: Janth Fritz
(903) 675-6212
Trinity Valley Community College/Palestine
100 Cardinal Dr
Athens, Texas 75751
Director: Janith Fritz
(903) 675-6212
Trinity Valley Community College/Palestine ISD
100 Cardinal Drive
Athens, Texas 75751
Director: Janith Fritz
(903) 675-6212
Trinity Valley Community College/PREP Center
100 Cardinal Dr
Athens, Texas 75751
Director: Janith Fritz
(903) 675-6212
Trinity Valley Community College/Scurry-Rosser ISD
100 Cardinal Dr
Athens, Texas 75751
Director: Janith Fritz
(903) 675-6212
Trinity Valley Community College/Terrell ISD
100 Cardinal Dr
Athens, Texas 75751
Director: Janith Fritz
(903) 675-6212
Atlanta
Atlanta, TX High Schools offering CNA programs:
Atlanta High School Dual-Credit
705 Rabbit Blvd (c/o Tammy Lummus)
Atlanta, Texas 75551
Director: Charoltte Mularski
(903) 796-4411
Atlanta, TX Nursing Homes and Hospitals offering CNA programs:
Golden Villa Nurse Aide Training Program
1104 South William
Atlanta, Texas 75551
Director: Charlotte Mularski
(903) 796-0290
Rose Haven Retreat
200 Live Oak St
Atlanta, Texas 75551
Director: Verna Burkeen
(903) 796-4127
Austin
Austin, TX High Schools offering CNA programs:
Akins High School
10701 South First (ATTN: Debra Johnson)
Austin, Texas 78748
Director: Debra Johnson
(512) 841-9900
Austin, TX Colleges and Universities offering CNA programs:
Austin Community College – Highland Business Cente
5930 Middle Fiskville Rd
Austin, Texas 78752
Director: Wendy Pickard
(512) 223-7000
Austin Community College- Eastview Campus
5930 Middle Fiskville Rd (ATTN: Health Professions Institute)
Austin, Texas 78752
Director: Wendy Pickard
(512) 223-7271
Austin Community College-Round Rock/Georgetown
5930 Middle Fiskville Rd ATTN: Health Professions Institute/Elizabeth Huss
Austin, Texas 78752
Director: Wendy Pickard
(512) 223-7271
Career Point College
9001 N IH 35, Ste 105
Austin, Texas 78753
Director: Joanna Ellison
(512) 617-2212
Austin, TX Freestanding CNA programs:
Buckner Education Center
11110 Tom Adams Dr.
Austin, Texas 78753
Director: Julie Stepien
(512) 836-1515
Central Texas Nurse Network, Inc
313 E. Rundberg Ln, Ste. 208
Austin, Texas 78753
Director: Veronique Johnson
(512) 836-3442
EZE Learning Center for Healthcare Professionals
9411 Parkfield Drive, Suite #310
Austin, Texas 78758
Director: Innocent Onuoha
(512) 719-3007
Goodwill Careers Academy
1817 E. 6th Street
Austin, Texas 78702
Director: Judy Ferguson
(512) 499-0481
Nurse Aide Training of Austin
5555 N. Lamar, L-145
Austin, Texas 78750
Director: Ruby Pecot
(512) 422-4481
Texas Acceptance School of Healthcare Professions
1508 Dessau Ridge Ln, Ste 705
Austin, Texas 78754
Director: Laura Honomichl
(512) 670-9295
Austin, TX High Schools offering CNA programs:
Lake Travis High School
607 RR 620 North
Austin, Texas 78734
Director: Rebecca Paschal
(512) 533-5940
Lanier High School Nurse Aide Training Program
1201 Payton Gin Rd
Austin, Texas 78758
Director: Wendy Pickard
(512) 414-2514
Mc Neil High School
5720 Mc Neil Drive (c/o Lynn Matthews)
Austin, Texas 78729
Director: Lynn Matthews
(512) 464-6332
Austin, TX Nursing Homes and Hospitals offering CNA programs:
Rosy Health Care Services Inc
3724 Airport Blvd
Austin, Texas 78722
Director: Anita Kelly
(512) 251-7555
Westminster Manor Nurse Aide Training Program
4200 Jackson Ave
Austin, Texas 78731
Director: Karen Rockwood
(512) 454-2140
Azle
Azle, TX Nursing Homes and Hospitals offering CNA programs:
Azle Manor Health Care LLLP
721 Dunaway Ln
Azle, Texas 76020
Director: Janice Geisler
(817) 444-2536
Bandera
Bandera, TX Nursing Homes and Hospitals offering CNA programs:
Bandera Rehabilitation and Healthcare Center
222 FM 1077
Bandera, Texas 78003
Director: Kathy Lovett Irvine
(830) 796-4077
Bay City
Bay City, TX HHS offering CNA programs:
Bay City High School
4521 Avenue F
Bay City, Texas 77414
Director: Vickie Piwonka
(979) 245-7369
Bay City, TX Freestanding CNA programs:
Common Sense Nurse Aide Training
700 12th St
Bay City, Texas 77414
Director: Norma McInnis Grays
(979) 245-7800
Bay City, TX Nursing Homes and Hospitals offering CNA programs:
Matagorda House Healthcare Center
700 12th Street
Bay City, Texas 77414
Director: Kathy Lovett Irvine
(979) 245-7800
Matagorda Nursing & Rehab
4521 Avenue F
Bay City, Texas 77414
Director: Vickie Piwonka
(979) 245-7369
Baytown
Baytown, TX High Schools offering CNA programs:
GCC ISD Certified Nurse Aide Program
300 W. Baker
Baytown, Texas 77522
Director: Vickie Knox
(281) 773-4665
Baytown, TX Colleges and Universities offering CNA programs:
Lee College Continuing Ed – Baytown
511 S Whiting
Baytown, Texas 77520-0818
Director: Lennette Beagnyam
(281) 425-6544
Beaumont
Beaumont, TX Nursing Homes and Hospitals offering CNA programs:
Caring Hearts
440 N. 18th Street, Ste 8
Beaumont, Texas 77707
Director: Lawana Walker
(409) 833-7062
Christus St Elizabeth Hospital
2830 Calder Ave.
Beaumont, Texas 77702
Director: Patricia Naymik
(409) 899-7190
Clairmont Beaumont
1020 South 23rd Street
Beaumont, Texas 77360
Director: Kathy Lovett Irvine
(409) 842-9700
PHP The Oaks at Beaumont
4195 Milam
Beaumont, Texas 77707
Director: Angela Rainey
(409) 842-4550
The Oaks at Beaumont PL 105-15
4195 Milam
Beaumont, Texas 77707
Director: Kathy Lovett Irvine
(409) 842-6004
Beaumont, TX Freestanding CNA programs:
Lamar Institute of Technology
802 East Lavaca
Beaumont, Texas 77705
Director: Tonia Johnson
(409) 839-2008
Lamar Institute of Technology/Central Medical Magn
802 East Lavaca
Beaumont, Texas 77702
Director: Tonia Johnson
(409) 839-2008
Beaumont, TX Colleges and Universities offering CNA programs:
Vista College/Beaumont
3871 Stagg Dr, Ste 194
Beaumont, Texas 77701
Director: Priscilla Landry
(409) 291-4900
Beeville
Beeville, TX Colleges and Universities offering CNA programs:
Coastal Bend College – Academy High School Kingsvi
3800 Charco Rd
Beeville, Texas 78363
Director: Loana Benedit
(361) 354-2574
Coastal Bend College – King High School Kingsville
3800 Charco Rd
Beeville, Texas 78102
Director: Loana Hernandez
(361) 354-2254
Coastal Bend College – Pleasanton Campus
3800 Charco Road
Beeville, Texas 78102
Director: Loana Hernandez
(361) 354-2574
Coastal Bend College Alice Campus
3800 Charco Rd
Beeville, Texas 78102
Director: Loana Hernandez
(361) 354-2579
Coastal Bend College Alice High School
3800 Charco Road
Beeville, Texas 78102
Director: Loana Hernandez
(361) 354-2574
Coastal Bend College Beeville Campus
3800 Charco Rd.
Beeville, Texas 78102
Director: Loana Hernandez
(361) 354-2574
Coastal Bend College Beeville ISD Campus
3800 Charco Rd
Beeville, Texas 78102
Director: Loana Benedit
(361) 354-2549
Coastal Bend College Bishop
3800 Charco Rd
Beeville, Texas 78102
Director: Loana Hernandez
(361) 354-2549
Coastal Bend College Falfurrias Community
3800 Charco Rd
Beeville, Texas 78102
Director: Loana Hernandez
(361) 354-2574
Coastal Bend College Falfurrias High School
3800 Charco Rd
Beeville, Texas 78102
Director: Loana Hernandez
(361) 354-2574
Coastal Bend College Goliad High School
3800 Charco Rd
Beeville, Texas 78102
Director: Loana Hernandez
(361) 354-2574
Coastal Bend College Kingsville Campus
3800 Charco Road
Beeville, Texas 78102
Director: Loana Hernandez
(361) 354-2574
Coastal Bend College Pleasanton High School Campus
3800 Charco Road
Beeville, Texas 78102
Director: Loana Hernandez
(361) 354-2544
Coastal Bend College Riviera High School
3800 Charco Rd
Beeville, Texas 78102
Director: Loana Hernandez
(361) 354-2549
Coastal Bend College San Diego High School
3800 Charco Rd
Beeville, Texas 78102
Director: Loana Hernandez
(361) 354-2544
Coastal Bend College Skidmore High School
3800 Charco Road
Beeville, Texas 78102
Director: Loana Hernandez
(361) 354-2549
Beeville, TX Nursing Homes and Hospitals offering CNA programs:
Hacienda Oaks Nursing and Rehab
4713 US Business 1818
Beeville, Texas 78102
Director: Kathy Lovett Irvine
(361) 358-5612
Wooldridge – Beeville Nursing and Rehab
600 South Hillside Dr.
Beeville, Texas 78102
Director: Kathy Lovett Irvine
(361) 358-8880
Belton
Belton, TX Nursing Homes and Hospitals offering CNA programs:
Park Place Manor
810 E. 13th Avenue
Belton, Texas 76513
Director: Catherine Faught
(254) 939-1876
Bertram
Bertram, TX Nursing Homes and Hospitals offering CNA programs:
Bertram Nursing & Rehab C.N.A. Course
540 Hwy 29 East (PO Box 1615)
Bertram, Texas 78605
Director: Helga Bouchereau
(512) 355-2116
Big Lake
Big Lake, TX Nursing Homes and Hospitals offering CNA programs:
Reagan County Care Center Nurse Aide Training Prog
805 N. Main Ave
Big Lake, Texas 76932
Director: Dayna Wade
(325) 884-2561
Big Spring
Big Spring, TX Colleges and Universities offering CNA programs:
Howard College – Garden City High Campus
1001 Birdwell Ln
Big Spring, Texas 79720
Director: Vanessa Arista
(432) 264-5070
Howard College – Lamesa High School
1001 Birdwell Lane
Big Spring, Texas 79720
Director: Vanessa Arista
(432) 264-5067
Howard College – Stanton High School Campus
1001 Birdwell Lane
Big Spring, Texas 79720
Director: Vanessa Arista
(432) 264-5070
Howard College – Westbrook High School Campus
1001 Birdwell Lane
Big Spring, Texas 79720
Director: Vanessa Arista
(432) 264-5070
Howard College-Big Spring Campus
1001 Birdwell Ln
Big Spring, Texas 79720
Director: Vanessa Arista
(432) 265-5070
Howard College-Coahoma Campus
1001 Birdwell Ln
Big Spring, Texas 79720
Director: Vanessa Arista
(432) 265-5070
Howard College-Forsan Campus
1001 Birdwell Ln
Big Spring, Texas 79720
Director: Vanessa Arista
(432) 265-5070
Howard College-Loraine High School Campus
1001 Birdwell Ln
Big Spring, Texas 79720
Director: Vanessa Arista
(432) 264-5070
Howard Jr. College
1001 Birdwell Ln.
Big Spring, Texas 79720
Director: Vanessa Arista
(432) 264-5070
Boerne
Boerne, TX Nursing Homes and Hospitals offering CNA programs:
Cibolo Creek, Rehabilitation Health Living
1440 River Road
Boerne, Texas 78006
Director: Christina Marshall
(830) 816-5095
Riverview Nursing & Rehab
1102 River Rd
Boerne, Texas 78006
Director: Delia Martinez
(830) 249-2799
Town and Country Manor LP
625 N. Main Street
Boerne, Texas 78006
Director: Betty Wallace
(830) 249-3085
Booker
Booker, TX Nursing Homes and Hospitals offering CNA programs:
Twin Oaks Manor
112 Pioneer
Booker, Texas 79005
Director: Joel Camacho
(806) 658-9786
Borger
Borger, TX Nursing Homes and Hospitals offering CNA programs:
Caprock Nursing & Rehabilitation
900 College Avenue
Borger, Texas 79007
Director: Theresa Mason
(806) 274-9600
Borger, TX Colleges and Universities offering CNA programs:
Frank Phillips College
1301 Roosevelt
Borger, Texas 79008
Director: Peggy Quinn
(806) 457-4200
Bovina
Bovina, TX High Schools offering CNA programs:
Bovina High School CNA Program
500 Halsell St. (PO Box 70)
Bovina, Texas 79009
Director: Rachel Avalos
(806) 251-1336
Bowie
Bowie, TX Nursing Homes and Hospitals offering CNA programs:
Advanced Rehabilitation and Healthcare Bowie
700 W. US Hwy 287 South
Bowie, Texas 76230
Director: Kathleen Doty
(940) 872-2283
Brady
Brady, TX Nursing Homes and Hospitals offering CNA programs:
Brady West Rehab & Nursing
2210 Menard Way
Brady, Texas 76825-7432
Director: Kathleen Doty
(325) 597-2906
Breckenridge
Breckenridge, TX Colleges and Universities offering CNA programs:
TSTC Breckenridge CNA Program
307 N. Breckenridge Ave
Breckenridge, Texas 76424
Director: Trisha Otts
(254) 559-7746
Brenham
Brenham, TX High Schools offering CNA programs:
BHS Health Science Practicum
525 A.H. Ehrig Drive
Brenham, Texas 77833
Director: Karen Winkelmann
(979) 277-3810
Brenham, TX Freestanding CNA programs:
PHM Training Center
1301 S. Market St.
Brenham, Texas 77833
Director: Carol Stewart
(832) 704-7441
Bridge City
Bridge City, TX High Schools offering CNA programs:
Bridge City High School
2690 Texas Ave
Bridge City, Texas 77611
Director: Robin Peveto
(409) 735-1653
Bridgeport
Bridgeport, TX Colleges and Universities offering CNA programs:
Weatherford College – Wise County
5180 US Hwy 380
Bridgeport, Texas 76426
Director: Eloise Broughton
(940) 626-3263
Brownsville
Brownsville, TX Colleges and Universities offering CNA programs:
Kaplan College/Brownsville Campus
1900 N. Expressway, Ste 100
Brownsville, Texas 78521
Director: Magaly Caballero
(956) 547-8200
South Texas Vo-Tech/Brownsville
2144 Central Blvd
Brownsville, Texas 78520
Director: Patricia Wilson
(956) 554-3515
Texas Southmost College
80 Fort Brown
Brownsville, Texas 78521
Director: Sonia Cunningham
(956) 295-3703
Brownwood
Brownwood, TX High Schools offering CNA programs:
Brownwood High School Health Science Technology
2100 Slayden
Brownwood, Texas 76801
Director: Helen Lacy
(325) 646-9549
Brownwood, TX Nursing Homes and Hospitals offering CNA programs:
CARE Nursing and Rehabilitation
200 CR 616
Brownwood, Texas 76802
Director: Susan Ruiz
(325) 646-5521
Songbird Lodge Nurse Aide Training Program
2500 Songbird Circle
Brownwood, Texas 76801
Director: Pam Martin
(325) 646-4750
Bryan
Bryan, TX Colleges and Universities offering CNA programs:
Blinn College – Schulenburg
301 Post Office St. (P.O. Box 6030)
Bryan, Texas 77805
Director: Carolyn Reese
(979) 209-7565
Blinn College – Schulenburg High School
PO Box 6030 (2423 Blinn Blvd)
Bryan, Texas 77805
Director: Cindy Kalina
(979) 209-7547
Blinn College Workforce Education – Sealy Campus
301 Post Office St (PO Box 6030)
Bryan, Texas 77805
Director: Carolyn Reese
(979) 209-7205
Blinn College Workforce Education/Giddings Campus
301 Post Office St
Bryan, Texas 77802
Director: Carolyn Reese
(979) 209-7565
Blinn College, Workforce Education – Brenham
PO Box 6030 (301 Post Office Street)
Bryan, Texas 77805
Director: Carolyn Reese
(979) 209-7565
Blinn College, Workforce Education, Health Science
301 Post Office St.
Bryan, Texas 77802
Director: Carolyn Reese
(979) 209-7565
Blinn College, Workforce Education, Hearne Center
301 Post Office Street (PO Box 6030)
Bryan, Texas 77805
Director: Carolyn Reese
(979) 209-7565
Blinn College, Workforce Education,Navasota Center
301 Post Office St.
Bryan, Texas 77805
Director: Carolyn Reese
(979) 209-7565
Blinn College/Bryan
301 Post Office Street (PO Box 6030)
Bryan, Texas 77801
Director: Carolyn Reese
(979) 209-7565
Bryan, TX High Schools offering CNA programs:
Hammond-Oliver High School/Blinn College
3450 Campus Drive
Bryan, Texas 77802
Director: Erin Wright
(979) 209-2670
Bryan, TX Freestanding CNA programs:
Lampstand Nurse Aide Training Program
2001 E. 29th St.
Bryan, Texas 77802
Director: Ramona Jones
(979) 822-6611
Buna
Buna, TX High Schools offering CNA programs:
Buna High School/Buna ISD
177 FM 253 (PO Box 1087)
Buna, Texas 77612
Director: Jonan Menard
(409) 994-4811
Burnet
Burnet, TX High Schools offering CNA programs:
Burnet High School
1000 The Green Mile
Burnet, Texas 78611
Director: Sharon Massey
(512) 756-6193
Caldwell
Caldwell, TX High Schools offering CNA programs:
Caldwell High School Certified Nurse Aide Program
203 North Gray Street
Caldwell, Texas 77836
Director: Mary Lohse
(979) 567-9000
Camp Wood
Camp Wood, TX Nursing Homes and Hospitals offering CNA programs:
Cedar Hills Geriatric Center
PO Box 830 (710 Hwy 55)
Camp Wood, Texas 78833
Director: Brittany Newton
(830) 597-5445
Canutillo
Canutillo, TX Freestanding CNA programs:
Sun City School of Nursing
7073 Doniphan Dr, Ste A
Canutillo, Texas 79835
Director: Faye Sanders
(915) 503-0990
Carrizo Springs
Carrizo Springs, TX Nursing Homes and Hospitals offering CNA programs:
Carrizo Springs Nursing and Rehabilitation
506 S 7th Street
Carrizo Springs, Texas 78834
Director: Faustina Velasquez
(830) 876-5011
Carrollton
Carrollton, TX High Schools offering CNA programs:
L. Turner High School
1600 S. Josey Ln
Carrollton, Texas 75006
Director: Cindy Bryant
(972) 968-5400
Castroville
Castroville, TX Nursing Homes and Hospitals offering CNA programs:
Medina Valley Health and Rehabilitation Center
913 Hwy 90 West
Castroville, Texas 78009
Director: Courtney Moos
(830) 931-2900
Cedar Hill
Cedar Hill, TX Freestanding CNA programs:
C & M Home Health & Nurse Aide Academy
101 Kenya Street #114
Cedar Hill, Texas 75104
Director: Kay Carrington
(972) 293-3515
Cedar Park
Cedar Park, TX Colleges and Universities offering CNA programs:
Austin Community College – Cypress Creek Campus
1555 Cypress Creek Road
Cedar Park, Texas 78613
Director: Wendy Pickard
(512) 259-9933
Cedar Park, TX High Schools offering CNA programs:
Cedar Park High School
2150 Cypress Creek Rd
Cedar Park, Texas 78613
Director: Tami Beall
(512) 570-1200
Cedar Park, TX Nursing Homes and Hospitals offering CNA programs:
New Hope Manor Inc
1623 West New Hope Dr
Cedar Park, Texas 78613
Director: Pat Ward
(512) 259-3999
Sagebrook Health Center Nurse Aide Training Program
901 Discovery Blvd,
Cedar Park, Texas 78613
Director: Billie Breeden
(512) 259-9993
Center
Center, TX Colleges and Universities offering CNA programs:
Panola College Continuing Education
678 Roughrider
Center, Texas 75935
Director: Judy Lee
(936) 591-9075
Panola College Continuing Education/Center H. S.
678 Roughrider Dr
Center, Texas 75935
Director: Judy Lee
(936) 591-9075
Panola College-Marshall
678 Rough Rider Dr
Center, Texas 75935
Director: Judy Lee
(936) 591-9075
Shelby College Center/Panola College
678 Rough Rider Dr
Center, Texas 75935
Director: Judy Lee
(936) 591-9075
Claude
Claude, TX Nursing Homes and Hospitals offering CNA programs:
Palo Duro Nursing Home
405 S. Collins St.
Claude, Texas 79019
Director: Janet Wolbach
(806) 226-5121
Cleburne
Cleburne, TX High Schools offering CNA programs:
Cleburne High School
1501 Harwin Dr
Cleburne, Texas 76033
Director: Robin Gosdin
(817) 202-1266
Cleburne, TX Nursing Homes and Hospitals offering CNA programs:
Heritage Trails N.A. Program
301 Lincoln Park
Cleburne, Texas 76033
Director: Scottie Sanders
(817) 558-8999
Cleburne, TX Colleges and Universities offering CNA programs:
Hill College Johnson County Campus – Ridgeview
2112 Mayfield Pkwy
Cleburne, Texas 76033
Director: Darla Dye
(817) 760-5920
Clifton
Clifton, TX Nursing Homes and Hospitals offering CNA programs:
Clifton Nursing & Rehabilitation
1000 FM 3220
Clifton, Texas 76634
Director: Ann Schuricht
(254) 675-2828
Goodall Witcher Hospital Authority dba Sunset Home
1800 West 9th (P. O. Box 71)
Clifton, Texas 76634
Director: Sandra Van Zandt
(254) 675-8637
Clyde
Clyde, TX High Schools offering CNA programs:
Clyde High School Nurse Aide Program
500 Hays Rd
Clyde, Texas 79510
Director: Heather Archer
(325) 893-2161
Clyde, TX Nursing Homes and Hospitals offering CNA programs:
Clyde Nursing Center
806 Stephens Street
Clyde, Texas 79510-4554
Director: Kathleen Doty
(325) 893-4288
Coldspring
Coldspring, TX High Schools offering CNA programs:
Coldspring High School
Highway 150 (PO Box 39) ATTN: Susan Caraballo
Coldspring, Texas 77331
Director: Susan Caraballo
(936) 653-1140
Coleman
Coleman, TX Colleges and Universities offering CNA programs:
Coleman County Medical Center (CCMC)
310 S. Pecos
Coleman, Texas 76834
Director: Melissa Ereman
(325) 625-2135
College Station
College Station, TX High Schools offering CNA programs:
A & M Consolidated High School
1801 Harvey Mitchell PKWY
College Station, Texas 77840
Director: Rhonda Osgood
(979) 764-5500
College Station, TX Colleges and Universities offering CNA programs:
Vista College – College Station
2704 Texas Ave, Ste 2
College Station, Texas 77840
Director: Coletter Good
(979) 703-1306
Columbus
Columbus, TX Freestanding CNA programs:
Genesis Education and Training – PL 105-15
300 North Street
Columbus, Texas 78934
Director: Erica Washington
(979) 282-2225
Conroe
Conroe, TX Colleges and Universities offering CNA programs:
Lone Star College – Montgomery (Conroe Center)
777 Conroe Park North Dr.
Conroe, Texas 77303
Director: Elizabeth Maloney
(936) 521-4500
Converse
Converse, TX High Schools offering CNA programs:
Judson High School /Autumn Winds Retirement
9142 FM 78
Converse, Texas 78109
Director: Lindsay Leppo
(210) 945-1100
Coppell
Coppell, TX High Schools offering CNA programs:
Coppell I.S.D. Health Services Program – C.N.A.
185 West Parkway Blvd
Coppell, Texas 75019
Director: Debra Johnson
(214) 496-6100
Copperas Cove
Copperas Cove, TX High Schools offering CNA programs:
Copperas Cove High School
400 S. 25th Street
Copperas Cove, Texas 76522
Director: Sandra Perry
(254) 547-2534
Corinth
Corinth, TX Colleges and Universities offering CNA programs:
North Central Texas College-Corinth
1525 West California Street
Corinth, Texas 76240
Director: Jo Ellen Fisher
(940) 668-4272
Corpus Christi
Corpus Christi, TX Colleges and Universities offering CNA programs:
Del Mar College
101 Baldwin Ave.
Corpus Christi, Texas 78404
Director: Katherine McClendon
(361) 698-1392
Kaplan College, Corpus Christi
1620 South Padre Island Dr, Ste 600
Corpus Christi, Texas 78416
Director: Glorytess Romano
(361) 852-2900
Corpus Christ, TX Nursing Homes and Hospitals offering CNA programs:
San Rafael Nursing and Rehabilitation Center
3050 Sunnybrook Rd
Corpus Christi, Texas 78415
Director: Kathy Lovett Irvine
(361) 853-9981
Senior Care Centers-Corpus Christi
202 Fortune Dr.
Corpus Christi, Texas 78405
Director: Adel Castillo
(361) 289-0889
Windsor Nursing and Rehabilitation Center of Corpu
3030 Fig Street
Corpus Christi, Texas 78404
Director: Jesusa Oviedo
(361) 888-5619
Wooldridge Place Nursing Center
7352 Wooldridge Rd
Corpus Christi, Texas 78414
Director: Beverly Hafley
(361) 991-9633
Corpus Christi, TX Vocational Schools offering CNA programs:
South Texas Vo-Tech/Corpus Christi
2000 South Padre Island Dr
Corpus Christi, Texas 78416
Director: Patricia Wilson
(361) 232-5057
Corrigan
Corrigan, TX Nursing Homes and Hospitals offering CNA programs:
Corrigan LTC & Rehab
300 Hyde
Corrigan, Texas 75939
Director: Lori Cantrell
(936) 398-2220
Corsicana
Corsicana, TX High Schools offering CNA programs:
Corsicana ISD C.N.A. Program
3701 W Hwy 22
Corsicana, Texas 75110
Director: Laurinda Abbie
(903) 874-8211
Corsicana, TX Nursing Homes and Hospitals offering CNA programs:
Heritage Oaks Nursing Asst Prg
3002 W 2nd Ave
Corsicana, Texas 75110
Director: Sabrina Settle
(903) 872-5130
Cottonwood Shores
Cottonwood Shores, TX Freestanding CNA programs:
Hill Country Health Careers
4005 Hwy 2147, Ste D
Cottonwood Shores, Texas 78657
Director: Mavon Tidwell
(830) 613-9732
Cotulla
Cotulla, TX Nursing Homes and Hospitals offering CNA programs:
Las Palmas Nurse Aide Program
369 Mars Drive
Cotulla, Texas 78014
Director: Juanita Rodriguez
(830) 879-4483
Crane
Crane, TX High Schools offering CNA programs:
Crane High School
511 W 8th Street (ATTN: Karen Bates)
Crane, Texas 79731
Director: Karen Bates
(432) 558-1058
Crocket
Crocket, TX Nursing Homes and Hospitals offering CNA programs:
Garden of Gethsemane Center/Housing Authority
PO Box 1409 (160 George Briggs)
Crocket, Texas 75835
Director: M. Dianne Smith
(832) 382-1549
Crockett
Crockett, TX Nursing Homes and Hospitals offering CNA programs:
Whitehall Nursing Center Training Program
1116 Loop 304 East (PO Box 998)
Crockett, Texas 75835
Director: M. Dianne Smith
(936) 544-2163
Crowell
Crowell, TX Nursing Homes and Hospitals offering CNA programs:
Crowell Nursing Center
200 South Ave B (PO Box 670)
Crowell, Texas 79227
Director: Brenda Allen
(940) 684-1511
Cuero
Cuero, TX Nursing Homes and Hospitals offering CNA programs:
Cuero Nursing & Rehabilitation Center
1310 E Broadway
Cuero, Texas 77954
Director: Cynthia Strait
(361) 275-9133
Mission Nursing & Rehab
1010 E. McArthur
Cuero, Texas 77954
Director: Latosha DuBose
(361) 277-6133
Whispering Oaks Manor
105 Hospital Dr
Cuero, Texas 77954
Director: Karen Lanfair
(361) 275-3421
Cypress
Cypress, TX Colleges and Universities offering CNA programs:
Lone Star College – Cy Fair
9191 Barker Cypress Rd
Cypress, Texas 77433
Director: Elizabeth Maloney
(281) 290-2883
Daingerfield
Daingerfield, TX Nursing Homes and Hospitals offering CNA programs:
Windsor Place
507 E. Watson Blvd
Daingerfield, Texas 75638
Director: Susan Cherry
(903) 645-3915
Dalhart
Dalhart, TX Nursing Homes and Hospitals offering CNA programs:
Coon Memorial Home
210 Texas Blvd
Dalhart, Texas 79022
Director: Susan McCutchan
(806) 244-8555
Dalhart, TX High Schools offering CNA programs:
Dalhart High School
2100 Spirit Trl
Dalhart, Texas 79022
Director: Toni Broom
(806) 244-7300
Dallas
Dallas, TX Freestanding CNA programs:
Advanced Healthcare Career Institute
11615 Forest Central Dr. #108
Dallas, Texas 75243
Director: Phoebe Muotoh
(972) 330-3734
Allen Texas Nursing Institute Inc
12225 Greenville Ave, Ste 700
Dallas, Texas 75243
Director: Chidi Obuta
(469) 441-2387
Alliance Career Institute
9304 Forest Ln, Ste 107
Dallas, Texas 75243
Director: Roland Ehioghae
(214) 575-4774
Astar Health Training Center
8035 R L Thornton Frwy, Ste 404
Dallas, Texas 75228
Director: Grace Muruthi
(214) 623-7433
Bailey's Nurse Aide Academy
3107 West Camp Wisdom, Ste 200
Dallas, Texas 75237
Director: Elicia Shipman
(214) 337-0222
Bash Career Institute
9888 Ferguson Rd #163
Dallas, Texas 75228
Director: Tawakalitu Dere
(469) 237-5163
BHC Training Center
3505 S. Buckner Rd
Dallas, Texas 75227
Director: Monnie Williams
(214) 381-1815
Companion Training Center
10925 Estate Lane Ste. 240
Dallas, Texas 75238
Director: Christian Ewelike
(972) 310-6070
Cornerstone Career Institute
9696 Skillman St, #225
Dallas, Texas 75243
Director: Okey Okea
(214) 779-0070
Dallas Career Institute
8499 Greenville Avenue, # 200
Dallas, Texas 75231
Director: Adolphus Aganigbo
(214) 691-0555
Dallas Nurse Aide Training Academy Inc
4650 S. Hampton Rd, #101
Dallas, TX 75232
Director: Paulette Potter
(214) 774-9737
Edgemere Elite Academy
8502 Edgemere St.
Dallas, Texas 75225
Director: Misty Miller
(214) 615-7045
Savannah Career Institute
10945 Estate Ln, E-105
Dallas, Texas 75238
Director: Olajuwon Akinola
(214) 791-3600
Texas Career Institute
3302 N. Buckner Blvd., Suite 116
Dallas, Texas 75228-5600
Director: Florence Kroma
(214) 275-9600
Vinepress Training Center
9550 Forest Lane, Suite 114
Dallas, Texas 75243
Director: Justina Ekezie
(214) 874-8647
Genesis Career Institute
9550 Forest Lane, Suite 604
Dallas, Texas 75243
Director: Kelechi Ogbuehi
(214) 660-9382
i Med Health Training Center
7441 Marvin D. Love Frwy, #401
Dallas, Texas 75237
Director: Marlene Gray
(972) 808-7976
Precious Health Training Center
12225 Greenville Ave, Ste 480
Dallas, Texas 75243
Director: Marykutty Varghese
(214) 349-5973
Ideal Nursing Institute
10935 Estate Ln, Ste S-111
Dallas, Texas 75238
Director: Shenola Fox-Hamilton
(214) 341-1113
Dallas, TX Nursing Homes and Hospitals offering CNA programs:
Agape
10501 North Central Expressway, Ste. 308
Dallas, Texas 75231
Director: Carolyn Perry
(214) 295-2962
Cephas Center for Health Sciences
4563 South Westmoreland Rd
Dallas, Texas 75237
Director: Geoffrey Ndungu
(469) 828-1931
Clinical Inc., LLC DBA Jobs Unlimited, LLC
3662 Camp Wisdom Road #2028
Dallas, Texas 75237
Director: Jean Bayless
(214) 809-5497
Dallas, TX Colleges and Universities offering CNA programs:
Eastfield College Certified Nurse's Aide Program
802 S. Buckner Blvd (ATTN: Schneil Dunn, Program Director)
Dallas, Texas 75217
Director: Shenola Fox-Hamilton
(972) 860-7077
El Centro College
801 Main St.
Dallas, Texas 75202
Director: Catherine Henon
(214) 860-2236
El Centro College – Irving
801 Main Street
Dallas, Texas 75202
Director: Catherine Henon
(214) 860-2236
El Centro College – Sharing Life
801 Main Street
Dallas, Texas 75202
Director: Catherine Henon
(214) 860-2236
Kaplan College – Dallas Campus Nursing Assistant P
12005 Ford Road, Suite 100
Dallas, Texas 75234
Director: Alexandria Garza
(972) 481-7400
Mountain View College – Dallas County Community Co
4849 W. Illinois Ave
Dallas, Texas 75211
Director: Ruth Barnes
(972) 860-5652
Mountain View College/Texas Health Resources Unive
4849 W. Illinois Ave
Dallas, Texas 75211
Director: Ruth Barnes
(214) 860-3630
Decatur
Decatur, TX Nursing Homes and Hospitals offering CNA programs:
Senior Care Health & Rehab Decatur
701 W. Bennett Rd
Decatur, Texas 76234
Director: Paulette Burden
(940) 626-2800
DeKalb
DeKalb, TX High Schools offering CNA programs:
DeKalb High School
101 Maple
DeKalb, Texas 75559
Director: Melinda Garner
(903) 667-2566
DeKalb, TX Nursing Homes and Hospitals offering CNA programs:
Sunny Acres Greenlaw
12520 FM 1840
DeKalb, Texas 75559
Director: Angela Finton
(903) 667-2572
Del Rio
Del Rio, TX High Schools offering CNA programs:
San Felipe Del Rio CISD Nurse Aide Program
100 Memorial Dr
Del Rio, Texas 78842
Director: Laura Guerrero
(830) 778-4367
Del Rio, TX Nursing Homes and Hospitals offering CNA programs:
Val Verde Nurse Aide Training Program
1003 S Main St (PO Box 420247)
Del Rio, Texas 78842-0247
Director: Judy Alexaits
(830) 775-2639
DeLeon
DeLeon, TX Nursing Homes and Hospitals offering CNA programs:
DeLeon Nursing & Rehabilitation
809 E. Navarro Ave
DeLeon, Texas 76444
Director: Tiffany Torres
(254) 893-2075
Denison
Denison, TX Colleges and Universities offering CNA programs:
Grayson County College
6101 Grayson Dr
Denison, Texas 75020
Director: Shirley Greenway
(903) 463-8765
Denison, TX Nursing Homes and Hospitals offering CNA programs:
The Terrace at Denison C.N.A. Program
1300 Memorial Dr
Denison, Texas 75020
Director: Nancy Freeman
(903) 465-7442
Denton
Denton, TX Freestanding CNA programs:
North Texas Nursing and Career Institute
512 North Elm Street
Denton, Texas 76201
Director: Ann Funck
(940) 387-3301
Denton, TX Nursing Homes and Hospitals offering CNA programs:
The Vintage Health Care Center
205 N Bonnie Brae
Denton, Texas 76201
Director: Kathy Anderson
(940) 384-1500
Dimmitt
Dimmitt, TX Nursing Homes and Hospitals offering CNA programs:
Castro County Nursing and Rehabilitation NAT Program
1621 Butler Blvd
Dimmitt, Texas 79027
Director: Araseli Castillo
(806) 647-3117
Dumas
Dumas, TX Colleges and Universities offering CNA programs:
Amarillo College Moore County Campus
1220 East First Street
Dumas, Texas 79029
Director: Robert Bates
(806) 934-7220
Dumas, TX High Schools offering CNA programs:
Dumas High School
300 South Klein (PO Box 695)
Dumas, Texas 79029
Director: Robert Bates
(806) 935-4151
Dumas, TX Nursing Homes and Hospitals offering CNA programs:
Great Plains Nursing and Rehabilitation
315 E. 19th
Dumas, Texas 79029
Director: Maria Chacon
(806) 935-4143
Duncanville
Duncanville, TX Freestanding CNA programs:
Credence Institute LLC
203 E. Camp Wisdom Rd, Ste A
Duncanville, Texas 75116
Director: Aloysius Jingwa
(469) 286-0662
Eagle Pass
Eagle Pass, TX Nursing Homes and Hospitals offering CNA programs:
Maverick Nursing and Rehabilitation Center C.N.A.
3106 Bob Rogers
Eagle Pass, Texas 78852
Director: Rolando Perez
(830) 757-8566
Eastland
Eastland, TX Nursing Homes and Hospitals offering CNA programs:
Valley View Healthcare Center
700 S Ostrom
Eastland, Texas 76448
Director: Alice Barrera
(254) 629-1779
Edcouch
Edcouch, TX High Schools offering CNA programs:
Edcouch Elsa ISD NA-Program
301 N. Yellow Jacket Dr
Edcouch, Texas 78538
Director: Alex Cabrera
(956) 867-0505
Edinburg
Edinburg, TX Freestanding CNA programs:
Ignite School of Health & Science-N.A. Program Bro
4705 S Sugar Rd, Ste B
Edinburg, Texas 78539
Director: Alex Cabrera
(956) 393-2227
El Campo
El Campo, TX Nursing Homes and Hospitals offering CNA programs:
Garden Villa Health Care Center
106 Del Norte Dr.
El Campo, Texas 77437
Director: Deborah St. Clair
(979) 543-6762
El Paso
El Paso, TX Freestanding CNA programs:
Academy School of Careers
9001 Cashew, Ste 100
El Paso, Texas 79907
Director: Philomena Wilkinson
(915) 533-4100
ACE Nursing Education Services
6500 Boeing, Ste L208
El Paso, Texas 79925
Director: Rachel Lozano
(915) 244-3955
Aurora Health and Educational Institute
4209 Hookheath
El Paso, Texas 79922
Director: Aurora Castro
(915) 443-5734
Bell Institute of Occupational Studies
10950 Pellicano, Ste. C-1
El Paso, Texas 79935
Director: Nancy Griego
(915) 592-2467
Center For Career & Tech Ed./El Paso ISD
1170 Walnut St
El Paso, Texas 79930
Director: Claire Jacobs
(915) 230-2240
Cultural Technical Institute – Nursing Assistant
1421 N. Lee Trevino, Ste B2
El Paso, Texas 79936
Director: Aron Silva
(915) 849-1274
Emerald Nursing School
4936 Hondo Pass
El Paso, Texas 79904
Director: Tomas Serna
(915) 751-3378
Excel Learning Center
1605 George Dieter, Bldg 100
El Paso, Texas 79936
Director: Federico Hernandez
(915) 590-5415
El Paso, TX High Schools offering CNA programs:
Canutillo High School
6675 South Desert Blvd
El Paso, Texas 79932
Director: Maria Aquilina
(915) 877-7800
Silva Health Magnet High School
121 Val Verde St
El Paso, Texas 79905
Director: Denise Galvez
(915) 496-8100
El Paso, TX Colleges and Universities offering CNA programs:
El Paso Community College-Site 1
100 W Rio Grande
El Paso, Texas 79902
Director: Paula Mitchell
(915) 831-4029
El Paso Community College-Site 2
100 W Rio Grande
El Paso, Texas 79902
Director: Paula Mitchell
(915) 831-4029
International Business College – Cromo
5700 Cromo
El Paso, Texas 79912
Director: Jon Kersey
(915) 842-0422
International Business College – N. Zaragosa
1155 N. Zaragosa
El Paso, Texas 79907
Director: Jon Kersey
(915) 842-0422
Eldorado
Eldorado, TX Colleges and Universities offering CNA programs:
Howard College-Eldorado High School
205 Field Street
Eldorado, Texas 76936
Director: Donna Rutledge
(325) 853-2549
Elgin
Elgin, TX Nursing Homes and Hospitals offering CNA programs:
Elgin Nursing and Rehabilitation Center C N A Trai
1373 North Avenue C
Elgin, Texas 78621
Director: Centennia Fry
(512) 285-2457
Ennis
Ennis, TX Nursing Homes and Hospitals offering CNA programs:
Ennis Care Center CNA Program
1260 S. Hall
Ennis, Texas 75119
Director: Sharon Wolfe
(972) 875-9051
Fairfield
Fairfield, TX High Schools offering CNA programs:
Fairfield High School/Fairfield ISD
631 Post Oak Rd
Fairfield, Texas 75840
Director: Kim Nicholas
(903) 389-4177
Fairfield, TX Nursing Homes and Hospitals offering CNA programs:
Fairfield Nursing and Rehabilitation Center
420 Moody St
Fairfield, Texas 75840
Director: Maria Defoor
(903) 389-1236
Fairfield, TX Freestanding CNA programs:
Fairview Nurse Aide Training
601 E. Reunion
Fairfield, Texas 75840
Director: Cathy Henderson
(903) 389-4121
Falfurrias
Falfurrias, TX Nursing Homes and Hospitals offering CNA programs:
Falfurrias Nursing and Rehabilitation, LP
1301 South Terrell
Falfurrias, Texas 78355
Director: Yesenia Longoria
(361) 325-3658
Farmers Branch
Farmers Branch, TX Colleges and Universities offering CNA programs:
Brookhaven College
3939 Valley View Ln (ATTN: Continuing Education)
Farmers Branch, Texas 75244-4997
Director: Shenola Fox-Hamilton
(972) 860-4775
Farmersville
Farmersville, TX Colleges and Universities offering CNA programs:
Hinton Home Inc
205 Beech St
Farmersville, Texas 75442
Director: Martha Rader
(972) 784-6191
Farwell
Farwell, TX Freestanding CNA programs:
Farwell Nurse Aide Training Program
Box 890 (305 5th Street)
Farwell, Texas 79325
Director: Janice Brown
(806) 481-9027
Floresville
Floresville, TX Nursing Homes and Hospitals offering CNA programs:
Floresville Residence And Rehabilitation Center
1811 6th Street
Floresville, Texas 78114
Director: Helen Giesalhart
(830) 393-2561
Frank M. Tejeda Texas State Veterans Home
200 Veterans Dr
Floresville, Texas 78114
Director: Kathy Lovett Irvine
(830) 216-9456
Regency Manor Nursing & Rehab
1615 11th Street
Floresville, Texas 78114
Director: Nina McDonald
(830) 216-7090
Fort Stockton
Fort Stockton, TX Freestanding CNA programs:
Fort Stockton Nursing Operations, LLC
501 N. Sycamore Street
Fort Stockton, Texas 79735
Director: Tonya Maples
(432) 336-7631
Fort Worth
Fort Worth, TX High Schools offering CNA programs:
Eagle Mountain – Saginaw ISD CNA Program
5501 Marine Creek Parkway
Fort Worth, Texas 76179
Director: Cynthia Sommer
(817) 306-1925
OD Wyatt High School
2400 E. Seminary Dr (ATTN: Felicia Payne)
Fort Worth, Texas 76119
Director: Felicia Payne
(817) 815-8000
Fort Worth, TX Nursing Homes and Hospitals offering CNA programs:
Fort Worth Housing Authority Nurses Aide Training
1201 E. 13th Street
Fort Worth, Texas 76102
Director: Pamela Roberson
(817) 333-3524
Immaculate Grace Healthcare Institute, LLC
6715 Meadowbrook Dr.
Fort Worth, Texas 76112
Director: Appolonia Wana
(817) 200-7112
Fort Worth, TX Freestanding CNA programs:
North Texas Institute for Career Development
PO Box 15520 (4005 Campus Drive)
Fort Worth, Texas 76119-0520
Director: Pamela Collins
(817) 332-7866
Roham Medical Careers, LLP
8650 Meadowbrook Blvd. Suite 116
Fort Worth, Texas 76120
Director: Debra Cunningham
(817) 795-3782
Springpack Healthcare Institute, LLC – #2
6263 McCart Ave. Suite 202
Fort Worth, Texas 76133
Director: Blessing Akpom
(817) 294-1991
Stone Academy
3516 Williams Road
Fort Worth, Texas 76116
Director: Cynthia Edwards
(817) 691-9790
Stone Academy Nurse Aide Program
6421 Camp Bowie, Suite 100
Fort Worth, Texas 76116
Director: Cynthia Edwards
(817) 691-9790
Fort Worth, TX Colleges and Universities offering CNA programs:
Tarrant County College Certified Nurse Aide Training
300 Trinity Campus Circle
Fort Worth, Texas 76102
Director: Susan Cramer
(817) 515-1104
Fredericksburg
Fredericksburg, TX Nursing Homes and Hospitals offering CNA programs:
Fredericksburg Nursing & Rehab LP
1117 S. Adams
Fredericksburg, Texas 78624
Director: Linda Selp
(830) 997-4364
Knopp Healthcare & Rehab. Center, Inc
1208 N Llano Street
Fredericksburg, Texas 78624
Director: Terry Henderson
(830) 997-3704
Windcrest Nursing and Rehab
210 W. Windcrest
Fredericksburg, Texas 78624
Director: Cari Uland
(830) 997-7422
Friendswood
Friendswood, TX Nursing Homes and Hospitals offering CNA programs:
Friendship Haven Healthcare & Rehabilitation
1500 Sunset Dr
Friendswood, Texas 77546
Director: Roberta Jo Cloyd
(281) 992-4300
Friendswood, TX Freestanding CNA programs:
Texas School of Business – Friendswood Campus
3208 FM 528
Friendswood, Texas 77546
Director: Schekesia Meadough
(281) 993-3300
Friona
Friona, TX Nursing Homes and Hospitals offering CNA programs:
Parmer Medical Center C.N.A. Program
1307 Cleveland
Friona, Texas 79035
Director: Carmen Putman
(806) 250-2754
Frisco
Frisco, TX High Schools offering CNA programs:
Frisco ISD
9889 Wade Blvd
Frisco, Texas 75035
Director: Sally Weatherly
(469) 633-6780
Ft Worth
Ft Worth, TX Freestanding CNA programs:
Universal Health Svcs School of Vocational & Nurse
1208 Country Club Ln
Ft Worth, Texas 76112
Director: Kathy Walls
(817) 451-1404
Ft. Stockton
Ft. Stockton, TX Freestanding CNA programs:
William Regional Technical Training Center Midland
1309 West IH-10 (WRTTC/Midland College)
Ft. Stockton, Texas 79735
Director: Laura Lannom
(432) 336-7882
Gainesville
Gainesville, TX Nursing Homes and Hospitals offering CNA programs:
Gainesville Convalescent Center
1900 O'Neal Street
Gainesville, Texas 76240
Director: Sherry Presson
(940) 665-2826
Gainesville, TX Colleges and Universities offering CNA programs:
North Central Texas College
1525 W California Street
Gainesville, Texas 76240
Director: Jo Ellen Fisher
(940) 668-4272
North Central Texas College – Bowie
1525 W. California St
Gainesville, Texas 76240
Director: Jo Ellen Fisher
(940) 668-4272
North Central Texas College/Graham Education & Wor
1525 West California
Gainesville, Texas 76240
Director: Jo Ellen Fisher
(940) 498-6272
Galveston
Galveston, TX Colleges and Universities offering CNA programs:
Galveston College
4015 Avenue Q (M-140)
Galveston, Texas 77550
Director: Jacinta Urps
(409) 944-1496
Galveston, TX Freestanding CNA programs:
Health Initiatives Learning Center
5301 Broadway Street #2
Galveston, Texas 77551
Director: Linda Dailey
(409) 741-3992
Ganado
Ganado, TX Nursing Homes and Hospitals offering CNA programs:
Ganado Nursing & Rehabilitation Ctr NATP
107 East Rogers
Ganado, Texas 77962
Director: Marceline Newman
(361) 771-3315
Garland
Garland, TX Freestanding CNA programs:
B & M Career Institute
2439 Goldfinch Ln
Garland, Texas 75042
Director: Amber Wampler
(214) 859-4936
Bah Career Training
2433 Goldfinch Ln
Garland, Texas 75042
Director: Victorine Tenya
(972) 272-5820
E. Global Health Education Network Inc.
2121 Northwest Hwy #106
Garland, Texas 75041
Director: Shenola Fox-Hamilton
(972) 698-7792
Centric Nursing Institute
1301 Northwest Highway Suite 205
Garland, Texas 75041
Director: Florence Eriken
(214) 556-7766
Metromed Nursing Institute
4750 N. Jupiter Rd, Ste 211
Garland, Texas 75044
Director: Priscilla Madu
(972) 495-5629
Garrison
Garrison, TX High Schools offering CNA programs:
Garrison High School
459 N. US Hwy 59
Garrison, Texas 75946
Director: Stephani Curbow
(936) 347-7030
Garrison, TX Nursing Homes and Hospitals offering CNA programs:
Garrison Nursing Home
333 N. FM 95
Garrison, Texas 75946
Director: Stephani Curbow
(936) 347-2234
Gatesville
Gatesville, TX Freestanding CNA programs:
A Med Ed School of Nurse Aide Training
4620 FM 1783
Gatesville, Texas 76528
Director: Samantha Shinn
(254) 223-2062
George West
George, TX Nursing Homes and Hospitals offering CNA programs:
Live Oak Nursing Center
2951 Hwy 281
George West, Texas 78022
Director: Christy Magouirk
(361) 449-2532
Georgetown
Georgetown, TX Freestanding CNA programs:
East View Nurse Aide Certification Program
603 Lakeway Dr
Georgetown, Texas 78628
Director: Wendy Pickard
(512) 943-5000
Georgetown, TX High Schools offering CNA programs:
The Georgetown High School Nurse Aide Training Pro
2211 North Austin Avenue
Georgetown, Texas 78626
Director: Wendy Pickard
(512) 943-5000
Gilmer
Gilmer, TX Nursing Homes and Hospitals offering CNA programs:
Upshur Manor Nurse Aide Training
623 Hwy 155 North
Gilmer, Texas 75644
Director: Beverly Anderson
(972) 797-2143
Gladewater
Gladewater, TX High Schools offering CNA programs:
Union Grove High School Certified Nurses Assistant
11220 Union Grove Rd
Gladewater, Texas 75647
Director: Jodie Mayhan
(903) 845-5509
Golaid
Golaid, TX Nursing Homes and Hospitals offering CNA programs:
LaBahia Nursing & Rehabilitaiton LP
225 E. Ward Streeet
Golaid, Texas 77963
Director: Theresa Zick
(361) 645-8902
Goldthwaite
Goldthwaite, TX Freestanding CNA programs:
TB Nurse Aide Training
815 Fisher St.
Goldthwaite, Texas 76844
Director: Vicki Butterfras
(325) 451-0372
Gorman
Gorman, TX Nursing Homes and Hospitals offering CNA programs:
Homestead Nursing and Rehabilitation of Gorman
600 W Roosevelt
Gorman, Texas 76454
Director: Shannon Elrod
(254) 734-2202
Graham
Graham, TX Nursing Homes and Hospitals offering CNA programs:
Garden Terrace Health Care Center Nurse Aide Trai
1224 Corvadura
Graham, Texas 76450
Director: Vivian Brewer
(940) 549-4646
Granbury
Granbury, TX Nursing Homes and Hospitals offering CNA programs:
Granbury Villa Nursing & Rehab
2124 Paluxy Hwy
Granbury, Texas 76048
Director: Billy Willis
(817) 279-7600
Grand Prairie
Grand Prairie, TX Freestanding CNA programs:
Arlington Career Institute-Nursing Assistant Progr
901 Avenue K
Grand Prairie, Texas 75050
Director: Denise Johnson
(972) 647-1607
Fortis Institute
401 East Palace Pkwy, Ste 100
Grand Prairie, Texas 75052
Director: Vickie Dominquez
(972) 375-0006
Teamwork Services
307 East Pioneer Pkwy
Grand Prairie, Texas 75051
Director: Olugbemiga Adedoyin
(972) 642-5466
Groesbeck
Groesbeck, TX Nursing Homes and Hospitals offering CNA programs:
Groesbeck LTC Nursing & Rehab
607 Parkside Dr
Groesbeck, Texas 76642
Director: Kristi Smith
(254) 729-3245
Groves
Groves, TX Nursing Homes and Hospitals offering CNA programs:
Magnolia Manor
4400 Gulf Ave
Groves, Texas 77619
Director: Lydia Williams
(409) 962-5785
Hallettsville
Hallettsville, TX Nursing Homes and Hospitals offering CNA programs:
Hallettsville Rehabilitation and Nursing Center
825 W. Fairwinds
Hallettsville, Texas 77964
Director: Katherine Kornegay
(361) 798-3268
Stevens Nursing & Rehab Ctr of Hallettsville
106 Kahn St.
Hallettsville, Texas 77964
Director: Joyce Kocian
(361) 798-3606
Harlingen
Harlingen, TX Colleges and Universities offering CNA programs:
Texas State Tech. College
1902 North Loop 499
Harlingen, Texas 78550
Director: Jean Lashbrook
(956) 364-4797
Texas State Technical College/Harlingen H.S. South
1902 N. Loop 499
Harlingen, Texas 78550
Director: Jean Lashbrook
(956) 364-4797
Texas State Technical College/Harlingen High Schoo
1902 N. Loop 499
Harlingen, Texas 78550
Director: Jean Lashbrook
(956) 364-4797
Haskell
Haskell, TX Nursing Homes and Hospitals offering CNA programs:
Haskell Healthcare Center
1504 N. 1st Street
Haskell, Texas 79521
Director: Alice Barrera
(940) 864-8537
Hawkins
Hawkins, TX Freestanding CNA programs:
Progressive Learning Center – NATCEP
669 Francis St
Hawkins, Texas 75765
Director: Juliua Williams
(903) 374-4799
Helotes
Helotes, TX Freestanding CNA programs:
All About Medical Training
P.O. Box 301 (7126 Eckhert Rd, Suite 213, San Antonio)
Helotes, Texas 78023
Director: Aida Harrison
(210) 777-3915
Hemphill
Hemphill, TX Nursing Homes and Hospitals offering CNA programs:
Hemphill Care Center CNA Class
PO Box 1527 (2000 Worth Street)
Hemphill, Texas 75948
Director: Lisa Lane
(409) 787-3342
Henderson
Henderson, TX High Schools offering CNA programs:
Henderson High School C.N.A. Program
1900 Hwy 64 West
Henderson, Texas 75654
Director: Yvonne Redwine
(903) 655-5500
Henrietta
Henrietta, TX Nursing Homes and Hospitals offering CNA programs:
Grace Care Center of Henrietta
807 West Bois D'Arc (PO Box 587)
Henrietta, Texas 76365
Director: Eva Barbosa
(940) 538-4303
Hereford
Hereford, TX High Schools offering CNA programs:
Hereford High School-HST/C N A
703 Grand Street
Hereford, Texas 79045
Director: Yolanda Alaniz
(806) 363-7704
Hidalgo
Hidalgo, TX High Schools offering CNA programs:
Valley View ISD NA Program
600 N. Jackson Rd
Hidalgo, Texas 78557
Director: Alexandro Cabrera
(956) 867-0505
Hillsboro
Hillsboro, TX Colleges and Universities offering CNA programs:
Hill College/Hillsboro Campus
112 Lamar Dr
Hillsboro, Texas 76645
Director: Darla Dye
(817) 760-5820
Hillsboro, TX Nursing Homes and Hospitals offering CNA programs:
Town Hall Estates
300 Happy Lane
Hillsboro, Texas 76645
Director: June Garcia
(254) 582-8482
Hondo
Hondo, TX Nursing Homes and Hospitals offering CNA programs:
Community Care Center of Hondo
2001 Avenue E
Hondo, Texas 78861
Director: Pamela Nienaber
(830) 426-3087
Houston
Houston, TX Nursing Homes and Hospitals offering CNA programs:
Abundant Light of Almeda
6955 Almeda
Houston, Texas 77021
Director: Ginger Chapman
(832) 527-3322
Azni Health Institute
PO Box 24812 (12605 East Freeway Ste. #650 )
Houston, Texas 77229
Director: Rhonda Minix
(866) 249-2188
Holly Hall
2000 Holly Hall St.
Houston, Texas 77054
Director: Carol Klappenbach
(713) 799-9031
Houston, TX Freestanding CNA programs:
Academy of Exceptional Healthcare Training
8449 West Bellfort, Ste. 140
Houston, Texas 77071
Director: Venessa Lee
(713) 777-4262
Ace Training Institute
10101 Harwin, Suite #110
Houston, Texas 77036
Director: Stella Iyare
(713) 771-7737
AIM High Institute
2124 FM 1960 Rd. E
Houston, Texas 77073
Director: Paolo Bucal
(832) 850-0602
Allied School of Health (Southwest Campus)
6065 Hilcroft St, #603
Houston, Texas 77081
Director: Tina Iwegbu
(281) 816-5858
Alpha Medical Institute
9207 Country Creek, Ste 101
Houston, Texas 77036
Director: Dedra Davis-Johnson
(713) 777-3996
American Medical Institute
6902 Cook Road
Houston, Texas 77072
Director: Ify Emenaha
(713) 772-5300
Anew Learning Center
440 Ben Mar, #3344
Houston, Texas 77061
Director: Ann Pender-Ballard
(281) 656-4401
Assurance Academy, LLC
2600 Gessner, Ste 203
Houston, Texas 77080
Director: Tangie Smith-Bryant
( 28) 186-5853
Avalon Medical Career Academy
10101 Fondren Ste. 311
Houston, Texas 77096
Director: Gloria Wesley
(713) 272-6820
BC Houston Career Training Academy
2626 South Loop, Ste 670
Houston, Texas 77054
Director: Ollie Williams
(713) 636-2746
Bell Tech Career Institute, Inc.
12000 Richmond Ave, Ste.130
Houston, Texas 77082
Director: Kikelomo Bello
(281) 679-0541
Big 6 Medical Institute
14829 Bellaire Blvd
Houston, Texas 77083
Director: Sylvaline Ozuzu
(281) 757-6621
Blissful Touch Health Academy Inc
1880 South Dairy Ashford, Ste 210
Houston, Texas 77077
Director: Titilayo Salami
(832) 641-9812
Career School of Houston
9894 Bissonnet Street, Suite 470
Houston, Texas 77036
Director: Mgbechikwere Ogbonna
(713) 774-1022
Chancellor Healthcare Institute, Inc
9896 Bissonnet, #550
Houston, Texas 77036
Director: Jowanza Holley
(713) 981-7119
Elizabeth – Grace Institute
10333 Harwin Drive, Suite 600
Houston, Texas 77036
Director: Elizabeth Elechi
(832) 767-5979
Excel's Health Inst & Home Care Inc
9898 Bissonnet #380
Houston, Texas 77036
Director: Grace Okon
(713) 773-1701
Faith Health Training Institute
10814 S. Kirkwood
Houston, Texas 77099
Director: Nimota Olatayo
(281) 498-3200
Glorious Health Care Academy
6420 Hillcroft Ave, Suite 303
Houston, Texas 77081
Director: Veronica Ebie
(713) 789-9617
Gulf Coast Nursing Career Institute Inc
8876 Gulf Freeway, Ste 245
Houston, Texas 77017
Director: Mabel Aisueni
(713) 946-3377
Horizon Business Enterprises, LLC
9100 Southwest Freeway, Ste. 200
Houston, Texas 77074
Director: Helen Alvarado
(281) 888-3335
Immaculate Heart Health Institute
7400 Harwin Drive Suite #340
Houston, Texas 77036
Director: Catherine Bentley
(281) 769-5121
Launch Point CDC/Mayhorn – Sterlingshire
9002 Sterlingshire
Houston, Texas 77078
Director: Toni Powers
(800) 596-1250
Launch Point CDC/Mayhorn Almeda
6955 Almeda
Houston, Texas 77021
Director: Toni Powers
(281) 541-9776
Launch Point CDC/Mayhorn Homestead
9723 Homestead
Houston, Texas 77016
Director: Toni Powers
(281) 541-9776
Launch Point CDC/Mayhorn St Dominic Village
2409 Holcomb Blvd
Houston, Texas 77021
Director: Toni Powers
(281) 541-9776
MIKAVA INC. Training Center for Career Development
6160 South Loop East
Houston, Texas 77087
Director: Valerie Brannon
(713) 643-5986
Nursepreneur Global Educational Oasis, PLLC
7352 Senate Ave
Houston, Texas 77040
Director: Regena Johnson
(832) 508-9574
Texas School of Business, North Campus
711 East Airtex Dr
Houston, Texas 77073
Director: Schekesia Meadough
(281) 443-8900
Texas School of Technology
2640 Fountain View Drive, Ste 209
Houston, Texas 77057
Director: Grace Odusanya
(832) 367-7580
The Renaissance School of Excellence, Inc
4141 Southwest Fwy Ste. 510
Houston, Texas 77027
Director: Michael Graves
(713) 528-2097
The Vocational Nursing Institute Inc/Magnolia West
11201 Steeple Park Dr
Houston, Texas 77065
Director: Kimberley Kelly
(832) 237-2525
The Whale Christian Academy
1377 West Gulf Bank
Houston, Texas 77088
Director: Felicia Bradley
(832) 880-9398
Vocational Nursing Institute, Inc
11201 Steeple Park Dr
Houston, Texas 77065
Director: Kimberley Kelly
(832) 237-2525
Pima Medical Institute
10201 Katy Freeway
Houston, Texas 77024
Director: Kay Messer
(713) 778-0778
Pioneer School of Health
11224 Southwest Freeway #240
Houston, Texas 77031
Director: Bamidele Jokodola
(713) 270-1962
Professional Careers Institute
6666 Harwin, Ste #160
Houston, Texas 77036
Director: Barbara Jo Dunsta
(713) 783-3999
Professional Careers Institute – North Campus
16903 Red Oak Drive, Ste 175
Houston, Texas 77090
Director: Barbara Jo Dunstan
(713) 888-1074
Providence Vocational Inc
2703 Hwy 6 South, Ste 140
Houston, Texas 77082
Director: Adaure Ugwoebu
(281) 920-0344
Roxell Health Services
11511 Katy Fwy, Ste 330
Houston, Texas 77079
Director: Oyinade Charles
(281) 372-6640
Smithwood Medical Institute LLC
7100 Regency Square, Ste. 210
Houston, Texas 77036
Director: Berrilyn Smith
(713) 975-0971
Springville Academy Inc
16903 Red Oak Dr, Ste 278
Houston, Texas 77090
Director: Folasade Akinfemiwa
(281) 919-1624
Sterling Health Careers Inc/United Way Agency #4
9950 Westpark Dr, #604
Houston, Texas 77063
Director: Felicia Bradley
(713) 952-9955
Sterling Health Careers, Inc
9950 Westpark Dr, #604
Houston, Texas 77063
Director: Felicia Bradley
(713) 952-9955
Sterling Health Careers, Inc/United Way Agency
9950 Westpark Dr, #604
Houston, Texas 77063
Director: Felicia Bradley
(713) 952-9955
Sterling Health Careers, Inc/United Way Agency #2
9950 Westpark Dr, #604
Houston, Texas 77063
Director: Felicia Bradley
(713) 952-9955
Sterling Health Careers, Inc/United Way Agency #3
9950 Westpark Dr, #604
Houston, Texas 77063
Director: Felicia Bradley
(713) 952-9955
Taylor Medical Institute
8240 Antoine Dr, Ste 208
Houston, Texas 77088
Director: LaTonya Taylor
(281) 416-4063
Texas Health School, L.P.
11211 Katy Freeway, Ste. 170
Houston, Texas 77079
Director: Jacqueline Webb
(713) 932-9333
Texas Healthcare Institute INC
4654 HWY 6 North, Ste 207
Houston, Texas 77084
Director: Caroline Olamigoke
(281) 773-2235
Houston, TX Colleges and Universities offering CNA programs:
Fortis College
6220 Westpark, Ste 180
Houston, Texas 77057
Director: Vivian Bradley
(713) 266-6594
Houston College of Nursing
1000 FM 1960, Ste 105
Houston, Texas 77090
Director: Kapilli Manyama
(832) 512-5377
Houston Community College (96 Hours)
6815 Rustic
Houston, Texas 77081
Director: Betty Blount-Ashford
(713) 718-7027
Houston Community College Northeast
6815 Rustic
Houston, Texas 77087
Director: Betty Blount-Ashford
(713) 718-7027
Houston Community College Southwest/West Loop
6815 Rustic
Houston, Texas 77081
Director: Betty Ashford
(713) 718-7027
Houston Community College, Cinco Ranch
6815 Rustic
Houston, Texas 77087
Director: Betty Ashford
(713) 718-7027
Houston Community College/Alief Campus (96 hr)
6815 Rustic
Houston, Texas 77081
Director: Betty Blount-Ashford
(713) 718-8236
Houston Community College-Central College South Ca
6815 Rustic
Houston, Texas 77081
Director: Betty Ashford
(713) 718-7027
Lone Star College – North Harris
2700 WW Thorne Dr
Houston, Texas 77073
Director: Elizabeth Maloney
(281) 290-2883
Nursing Bridges College
8700 Commerce Park Dr, Ste 255
Houston, Texas 77036
Director: Anna Itaman
(281) 856-0405
Houston, TX Nursing Homes and Hospitals offering CNA programs:
Park Manor of South Belt
11902 Resource Pkwy
Houston, Texas 77089
Director: Tina Cook
(281) 922-6802
Humble
Humble, TX High Schools offering CNA programs:
CATE Center/Humble ISD
9155 Will Clayton Pkwy
Humble, Texas 77338
Director: Gail Burleson
(281) 641-7951
Humble, TX Freestanding CNA programs:
KBBR Inc
5950 Sam Houston Parkway East, #401
Humble, Texas 77396
Director: Crystal Nwaboh
(281) 441-1571
Serenity Health Services LLC
5338 FM 1960 Road East
Humble, Texas 77346
Director: Sereatha Mason
(855) 473-7689
Huntington
Huntington, TX Nursing Homes and Hospitals offering CNA programs:
Huntington Healthcare & Rehabilitation
220 E. Ash Streeet
Huntington, Texas 75949
Director: Deanna Lazarine
(936) 876-2273
Huntsville
Huntsville, TX Nursing Homes and Hospitals offering CNA programs:
Huntsville Healthcare Center
2628 Milam
Huntsville, Texas 77340
Director: Kathy Lovett Irvine
(936) 293-8062
Huntsville, TX High Schools offering CNA programs:
Huntsville High School
441 FM 2821 East
Huntsville, Texas 77320
Director: Joreen Waddell
(936) 435-6100
Sam Houston State University – Office Of Cont. Ed.
1806 Avenue J (Box 2477)
Huntsville, Texas 77341
Director: Colleen Franklin
(936) 294-4568
Irving
Irving, TX Freestanding offering CNA programs:
CTK Healthcare and Career Institute
3455 N. Beltline Road, Ste. 203
Irving, Texas 75062
Director: Bisharjana Kafle
(214) 441-3556
Jacksonville
Jacksonville, TX Nursing Homes and Hospitals offering CNA programs:
Changing Lives Ministries Nurse's Aide Training Pr
1520 E. Rusk
Jacksonville, Texas 75766
Director: Beverly Walker
(903) 284-6259
Jayton
Jayton, TX Freestanding offering CNA programs:
Kent County Nurse Aide Training
1443 North Main Street
Jayton, Texas 79528
Director: Gayle Long
(806) 237-3036
Jewett
Jewett, TX Freestanding offering CNA programs:
Leon County Nurse Aide Program
12168 Highway 79 West
Jewett, Texas 75846
Director: Talara Cox
(903) 626-1404
Johnson City
Johnson City, TX Nursing Homes and Hospitals offering CNA programs:
LBJ Medical Center
P.O. Box 415 (206 Haley Road)
Johnson City, Texas 78636
Director: Frances Zuercher
(830) 868-4093
Joshua
Joshua, TX High Schools offering CNA programs:
Joshua Independent School District-Joshua High Sch
909 South Broadway
Joshua, Texas 76058
Director: Cynthia Campbell
(817) 426-7500
Junction
Junction, TX Nursing Homes and Hospitals offering CNA programs:
Hill Country Care Center
111 Hospital Dr
Junction, Texas 76849
Director: Steve McKee
(325) 446-3351
Karnes City
Karnes City, TX Nursing Homes and Hospitals offering CNA programs:
Bluebonnet Nursing and Rehabilitation, LP
696 FM 99
Karnes City, Texas 78118
Director: Dawn Miller
(830) 780-3944
Kaufman
Kaufman, TX Colleges and Universities offering CNA programs:
Trinity Valley Community College/Kaufman
800 Ed Hall Drive
Kaufman, Texas 75142
Director: Donna Pringle
(972) 932-4309
Keller
Keller, TX Freestanding offering CNA programs:
Keller CNA Program
9450 Ray White Rd
Keller, Texas 76244
Director: Monica Haverkamp
(817) 744-2146
Kenedy
Kenedy, TX Nursing Homes and Hospitals offering CNA programs:
John Paul II Nursing Home
209 S. Third St.
Kenedy, Texas 78119
Director: Shelly Gorzell
(830) 583-9841
Kenedy Health and Rehabilitation
PO Box E (7882 HWY 181 S)
Kenedy, Texas 78119
Director: Priscilla Sanchez
(830) 583-9101
Kerrville
Kerrville, TX Nursing Homes and Hospitals offering CNA programs:
Hill Country Nurse Aide Prg
1213 Water St
Kerrville, Texas 78028
Director: Francis Vadnais
(830) 896-2411
South Texas Veterans Health Care System L C KD
3600 Memorial Blvd
Kerrville, Texas 78028
Director: Patricia Wolters
(830) 792-2510
Killeen
Killen, TX Freestanding CNA programs:
CB Nurse Aide Training – LCHEC
2501 S. WS Young Dr, Ste 413
Killeen, Texas 76542
Director: Sandra Kinabrew
(254) 628-2433
Elite Nurse Aide Training
2501 S WS Young Dr, Ste 308
Killeen, Texas 76543
Director: Samantha Shinn
(254) 628-2433
First Response Medical Training, LLC
2904 Trimmier Rd, Ste 2
Killeen, Texas 76549
Director: Andrea Walker
(254) 247-0460
Graham's Nurse Aide Training Center
810 North W.S. Young, Ste 107
Killeen, Texas 76543
Director: Ketlye Graham
(254) 213-4741
KISD Career Center
1320 Stagecoach Rd
Killeen, Texas 76542
Director: Rebecca Hammontree
(254) 336-3800
Pro Med Career Institute – Nurse Aide Program
701 West Elms Rd, #250
Killeen, Texas 76542
Director: Martha McGuire
(254) 200-7277
Killen, TX Colleges and Universities offering CNA programs:
Central Texas College
6200 W Central Tx Expressway (Building 155 Rooms A122 & A103)
Killeen, Texas 76540
Director: Elizabeth Hoff
(254) 526-1586
Vista College/Killeen
1001 S. Fort Hood St
Killeen, Texas 76541
Director: Colette Good
(254) 432-5680
Kingsville
Kingsville, TX High Schools offering CNA programs:
Coastal Bend College/Premont High School
1814 S. Brahma Blvd
Kingsville, Texas 78363
Director: Loana Hernandez
(361) 354-2579
Kingsville, TX Nursing Homes and Hospitals offering CNA programs:
Kingsville Nursing and Rehabilitation Center
3130 S. Brahma Blvd
Kingsville, Texas 78363
Director: Lisa Falcon
(361) 592-8700
Kleberg County Nursing and Rehabilitation
316 General Cavazos
Kingsville, Texas 78363
Director: Martha Kennedy
(361) 592-9366
Kingwood
Kingwood, TX Colleges and Universities offering CNA programs:
Lone Star College-Kingwood NATP
20000 Kingwood Dr
Kingwood, Texas 77339-3801
Director: Elizabeth Maloney
(281) 312-1540
Kirbyville
Kirbyville, TX High Schools offering CNA programs:
Kirbyville High School Nurse Aide Program
100 Wildcat Dr
Kirbyville, Texas 75956
Director: Pamela Walker
(409) 423-7500
La Feria
La Feria, TX High Schools offering CNA programs:
La Feria High School Nursing Assistant Program
901 N. Canal Street
La Feria, Texas 78559
Director: Rebecca Ramirez
(956) 797-8370
La Joya
La Joya, TX High Schools offering CNA programs:
La Joya ISD Nurse Assistant Program
603 N. College Dr.,
La Joya, Texas 78560
Director: Alex Cabrera
(956) 519-4031
La Vernia
La Vernia, TX Nursing Homes and Hospitals offering CNA programs:
Country Care Manor
2736 FM 775
La Vernia, Texas 78121
Director: Kathy Lovett Irvine
(830) 779-2355
Lake Jackson
Lake Jackson, TX Colleges and Universities offering CNA programs:
Brazosport College Community Education
500 College Drive
Lake Jackson, Texas 77566
Director: Regina Mills
(979) 230-3600
Brazosport College/AISD Program
500 College Dr (Sadler Bldg, RM 100V)
Lake Jackson, Texas 77566
Director: Regina Mills
(979) 230-3636
Lamesa
Lamesa, TX Colleges and Universities offering CNA programs:
Howard College – Lamesa Campus
1001 Birdwell Lane
Lamesa, Texas 79720
Director: Vanessa Arista
(432) 265-5070
Lampasas
Lampasas, TX Colleges and Universities offering CNA programs:
Lampasas County Higher Education Center (LCHEC)
PO Box 184 (208 East Ave B)
Lampasas, Texas 76550
Director: Kimberly Kuklies
(512) 556-8266
Lampasas, TX High Schools offering CNA programs:
Lampasas High School
2716 S Hwy 281
Lampasas, Texas 76550
Director: Kimberly Kuklies
(512) 564-2374
Lancaster
Lancaster, TX Colleges and Universities offering CNA programs:
Cedar Valley College
3030 North Dallas Ave
Lancaster, Texas 75134
Director: Elizabeth Greenlee
(972) 860-2995
Laredo
Laredo, TX Colleges and Universities offering CNA programs:
Kaplan College – Laredo/Nurse Aide Training
6410 McPherson Rd
Laredo, Texas 78041
Director: Barbara Rutledge
(956) 717-5909
Laredo Community College
W. End Washington St.
Laredo, Texas 78040
Director: Hilda Cavazos
(956) 721-5255
Laredo, TX Freestanding offering CNA programs:
Laredo Job Corps
1701 Island St
Laredo, Texas 78041
Director: Elbert Terry
(956) 727-5147
South Texas Training Center – Laredo
1220 Malinche Ave. Suite B
Laredo, Texas 78043
Director: Hilda Silva
(956) 727-4909
League City
League City, TX Nursing Homes and Hospitals offering CNA programs:
Baywind Village
411 Alabama
League City, Texas 77573
Director: Ramona McAninch
(281) 332-9588
Levelland
Levelland, TX Colleges and Universities offering CNA programs:
South Plains College/Denver City
1401 S College Ave, Box 6
Levelland, Texas 79336
Director: Brenda Baker
(806) 894-9611
South Plains College/Levelland
1401 S College Ave
Levelland, Texas 79336
Director: Brenda Baker
(806) 716-2341
Levelland, TX High Schools offering CNA programs:
Tahoka High School
1401 South College Ave, Box 6
Levelland, Texas 79336
Director: Karen Moore
(806) 716-2340
Lewisville
Lewisville, TX Freestanding offering CNA programs:
Bethesda Career Institute
860 Hebron Pkwy, Ste. 1201
Lewisville, Texas 75057
Director: Kehinde Amosun
(972) 459-9999
Liberty
Liberty, TX Nursing Homes and Hospitals offering CNA programs:
Liberty Health Care Center Nurse Aide Training Pro
1206 N. Travis
Liberty, Texas 77575
Director: Shelia Shook
(936) 336-7247
Magnolia Place Health Care, LLP
1620 Magnolia St.
Liberty, Texas 77575
Director: Gretchen Dagle
(936) 336-8844
Lindale
Lindale, TX Colleges and Universities offering CNA programs:
Colonial Nursing & Rehab Nurse Aide Competency Pro
508 Pierce St
Lindale, Texas 75771
Director: Catherine Greenlaw
(903) 882-6169
Lindale, TX High Schools offering CNA programs:
Lindale High School
920 East Hubbard
Lindale, Texas 75771
Director: Emily Weesner
(903) 881-4050
Linden
Linden, TX High Schools offering CNA programs:
Linden-Kildare CISD Nurse Aide Training Program
205 Kildare Rd
Linden, Texas 75563
Director: Kristina LeJeune
(903) 756-5314
Littlefield
Littlefield, TX Colleges and Universities offering CNA programs:
Littlefield Nursing & Rehabilitation
1241 W. Marshall Howard Blvd
Littlefield, Texas 79339
Director: Victoria Forsberg
(806) 385-6600
Livingston
Livingston, TX Nursing Homes and Hospitals offering CNA programs:
Abundant Light of Colita
1309 Colita
Livingston, Texas 77351
Director: Sharon Odom
(832) 527-3322
Pine Ridge Health Care L.L.P.
P.O. Box 750 (1620 US 59 North)
Livingston, Texas 77351
Director: Shara McDonald
(936) 327-5415
The Abundant Light of Livingston
301 Hwy 59 Loop, Ste E
Livingston, Texas 77351
Director: Hope Eaton
(832) 527-3322
Lockhart
Lockhart, TX Nursing Homes and Hospitals offering CNA programs:
Chisolm Trail
107 N. Medina
Lockhart, Texas 78644
Director: Octaviana Flores
(512) 398-5213
Lockhart, TX High Schools offering CNA programs:
Lockhart ISD
906 Center St
Lockhart, Texas 78644
Director: April Wheeler
(512) 433-9335
Lolita
Lolita, TX Freestanding CNA programs:
LifeSource Educational Services LLC, Nurse Aide Pr
741 Walnut St. (P.O. Box 534)
Lolita, Texas 77971
Director: Yvonne Felkins
(361) 649-7567
Longview
Longview, TX Nursing Homes and Hospitals offering CNA programs:
Clairmont Longview, LLC
3201 N. 4th Street
Longview, Texas 75605
Director: Rashonda Galey
(903) 236-4291
Longview, TX Colleges and Universities offering CNA programs:
Kilgore College-Longview Center
300 S. High St
Longview, Texas 75601
Director: Barbara Brush
(903) 753-2642
Vista College – Longview
1905 W. Loop 281 Suite 21
Longview, Texas 75604
Director: Colette Good
(903) 704-0544
Lubbock
Lubbock, TX Freestanding CNA programs:
Destiny Staffing Career Center, LLC
2402 52nd Street, Ste 1A
Lubbock, Texas 79412
Director: Della Showers
(806) 748-1666
Proud and Professional Nurse Aide Training
3331 70th Street, Ste E
Lubbock, Texas 79413
Director: Sheri Johnson
(806) 445-7859
Three Star Nurse Aide Training
P.O. Box 12322 (6308 Iola St. Ste. 103)
Lubbock, Texas 79424
Director: Tracy Shaw
(806) 747-4102
Lubbock, TX Nursing Homes and Hospitals offering CNA programs:
Heritage Oaks Nursing and Rehab
5301 University
Lubbock, Texas 79410
Director: Theresa Beyer
(806) 789-9853
Mi Casita Nursing & Rehab
2400 Quacker Ave
Lubbock, Texas 79410
Director: Brenda Baker
(806) 792-2831
Lubbock, TX Colleges and Universities offering CNA programs:
Kaplan College
1421 9th Street
Lubbock, Texas 79401
Director: Angela Hall
(806) 765-7051
South Plains College/Plainview
3201 Ave. Q
Lubbock, Texas 79411
Director: Diana Compton
(806) 716-4681
South Plains College/Reese Center
3201 Ave Q
Lubbock, Texas 79411
Director: Diana Compton
(806) 716-4681
Vista College – Lubbock
4620 50th Street, Suite 14
Lubbock, Texas 79414
Director: Cathy Johnson
(806) 785-2100
Lubbock, TX High Schools offering CNA programs:
Lubbock I. S. D.
3201 Ave Q
Lubbock, Texas 79411
Director: Catherine Dewbre
(806) 766-6651
Lufkin
Lufkin, TX Colleges and Universities offering CNA programs:
Angelina College
3500 S. First Street (PO Box 1768)
Lufkin, Texas 75904
Director: Sandra Patterson
(936) 633-5377
Angelina College Career & Technical Center
3500 South First Street
Lufkin, Texas 75902
Director: Sandra Patterson
(936) 633-5377
Angelina College Grapeland High School
3500 South First St.
Lufkin, Texas 75904
Director: Sandra Patterson
(936) 633-5377
Angelina College Jasper Higher Education Center
3500 S. First St. (PO Box 1768)
Lufkin, Texas 75902-1768
Director: Sandra Patterson
(936) 633-5377
Angelina College/Big Sandy High School
3500 South First Street
Lufkin, Texas 75902
Director: Sandra Patterson
(936) 633-5377
Angelina College/Central High School
3500 South First Street
Lufkin, Texas 75902
Director: Sandra Patterson
(936) 633-5377
Angelina College/Christian Women Job Corp/RHNC
PO Box 1768 (3500 S. First Street)
Lufkin, Texas 75964
Director: Sandra Paterson
(936) 633-5377
Angelina College/Corrigan-Camden High School
3500 South First Street
Lufkin, Texas 75902
Director: Sandra Patterson
(936) 633-5377
Angelina College/Dogwood Trails Manor
3500 South First Street
Lufkin, Texas 75902
Director: Sandra Patterson
(936) 633-5377
Angelina College/Hudson High School
3500 South First Street
Lufkin, Texas 75902
Director: Sandra Patterson
(936) 633-5377
Angelina College/Huntington High School/Huntington
3500 South First Street
Lufkin, Texas 75902
Director: Sandra Patterson
(936) 633-5377
Angelina College/Livingston HS
3500 South 1st Street (P.O. Box 1768)
Lufkin, Texas 75902-1768
Director: Sandra Patterson
(936) 633-5377
Angelina College/Lufkin High School
3500 South First St
Lufkin, Texas 75902
Director: Sandra Patterson
(936) 633-5377
Angelina College/Mosiac Center
3500 South First Street
Lufkin, Texas 75904
Director: Sandra Patterson
(936) 633-5377
Angelina College/Nacogdoches High School
3500 South First St (PO Box 1768)
Lufkin, Texas 75902
Director: Sandra Patterson
(936) 633-5377
Angelina College/Nacogdoches Technical Training Ce
3500 South First Street
Lufkin, Texas 75902
Director: Sandra Patterson
(936) 633-5377
Angelina College/Newton High School
3500 South First Street
Lufkin, Texas 75902
Director: Sandra Patterson
(936) 633-5377
Angelina College/Polk County Center
3500 South First Street
Lufkin, Texas 75902
Director: Sandra Patterson
(936) 633-5377
Angelina College/Sabine Area Career Center
3500 S. First Street
Lufkin, Texas 75902
Director: Sandra Patterson
(936) 639-1301
Angelina College/San Augustine High School
3500 South First Street
Lufkin, Texas 75902
Director: Sandra Patterson
(936) 633-5377
Angelina College/Twin Lakes Care Center
3500 South First Street
Lufkin, Texas 75902
Director: Sandra Patterson
(936) 633-5377
Angelina College/Wells High School
3500 South First Street
Lufkin, Texas 75976
Director: Sandra Patterson
(936) 633-5377
Angelina College/Woden High School
3500 South First Street
Lufkin, Texas 75902
Director: Sandra Patterson
(936) 633-5377
Luling
Luling, TX Nursing Homes and Hospitals offering CNA programs:
Luling Nursing Operations, LLC dba Magnolia Living
1105 N. Magnolia
Luling, Texas 78648
Director: Joe Ann Ariyo
(830) 875-5606
Madisonville
Madisonville, TX Adult Education offering CNA programs:
Madisonville Adult Education/ Madisonville NH
PO Box 879 (901 C West Trinity St)
Madisonville, Texas 77864
Director: Martha Hedricks
(936) 349-8003
Madisonville, TX Nursing Homes and Hospitals offering CNA programs:
Madisonville Care Center
411 E Collard
Madisonville, Texas 77864
Director: Elena Kourcheva
(936) 348-2735
Mansfield
Mansfield, TX Freestanding CNA programs:
Ben Barber Career and Technology Academy
1120 West Debbie Ln
Mansfield, Texas 76063
Director: Larry Bailey
(817) 299-1900
Lighthouse Career Academy
2090 FM 157, Ste 200
Mansfield, Texas 76063
Director: Nona Porche
(817) 473-4442
Marble Falls
Marble Falls, TX High Schools offering CNA programs:
Marble Falls Independent School District
2101 Mustang Dr
Marble Falls, Texas 78654
Director: Mavon Tidwell
(830) 693-4375
Mc Allen
Mc Allen, TX Colleges and Universities offering CNA programs:
South Texas College
P.O. Box 9701 (1101 East Vermont)
Mc Allen, Texas 78502
Director: Sharon Rice
(956) 872-3049
McAllen
McAllen, TX Colleges and Universities offering CNA programs:
Kaplan College, McAllen Campus
1500 S. Jackson Ave
McAllen, Texas 78503
Director: Barbara Rutledge
(956) 664-4300
McAllen, TX Freestanding CNA programs:
New Start School
709 N. Main Street
McAllen, Texas 78501
Director: Gabriel Tamayo
(956) 682-5695
South Texas Vo-Tech/McAllen
2400 Daffodil Avenue
McAllen, Texas 78501
Director: Patricia Wilson
(956) 631-1107
McKinney
McKinney, TX Colleges and Universities offering CNA programs:
Collin County Community College Nurse Aide Training
2200 West University Drive (Allied Health)
McKinney, Texas 75071
Director: Mika Pierce
(972) 841-8804
McKinney, TX High Schools offering CNA programs:
McKinney ISD Magnet
2550 Wilmeth Rd.
McKinney, Texas 75071
Director: Tina Basinger
(469) 302-4385
McKinney, TX Freestanding CNA programs:
North Texas Job Corps Center
1701 N Church St
McKinney, Texas 75069
Director: Imafidon Osagie
(972) 547-7889
McLean
McLean, TX Nursing Homes and Hospitals offering CNA programs:
McLean Care Center
605 W 7th (P.O Box 780)
McLean, Texas 79057
Director: Wilma Crawford
(806) 779-2469
Memphis
Memphis, TX Nursing Homes and Hospitals offering CNA programs:
Memphis Convalescent Center
1415 N 18th Street
Memphis, Texas 79245
Director: Crystal Fuston
(806) 259-3566
Menard
Menard, TX Nursing Homes and Hospitals offering CNA programs:
Menard Manor
PO Box 608 (100 Gay Street)
Menard, Texas 76859
Director: Louise Whitson
(325) 396-4515
Mercedes
Mercedes, TX High Schools offering CNA programs:
South Texas High School For Hlth Professionals
700 Med High Dr
Mercedes, Texas 78570
Director: Patricia Cooke
(956) 565-2237
Midland
Midland, TX Freestanding CNA programs:
Nurse Aide for Health Care Organization I
3200 W. Cuthbert
Midland, Texas 79701
Director: Wendy Wood-Collins
(432) 681-6354
Nurse Aide for Health Care Organization I – Mabee
3200 W. Cuthbert
Midland, Texas 79701
Director: Wendy Wood-Collins
(432) 681-6303
Nurse Aide for Healthcare Organization III-Sim
3200 W. Cuthbert
Midland, Texas 79701
Director: Wendy Wood-Collins
(432) 681-6364
Midland, TX Nursing Homes and Hospitals offering CNA programs:
Rockwood Manor
2000 North Main Street
Midland, Texas 79705
Director: Wanda City
(432) 686-1898
Mission
Mission, TX Freestanding CNA programs:
Careers Unlimited, LLC
202 E. Expressway 83 Ste. F
Mission, Texas 78577
Director: Javier Reyes
(956) 215-1293
Mission, TX High Schools offering CNA programs:
Mission High School Nurse Aide Training Program
1802 Cleo Dawson St.
Mission, Texas 78572
Director: Patricia Giovannelli
(956) 323-5700
Veterans Memorial High School
700 E. 2 Mile Road
Mission, Texas 78572
Director: Pauline Pawlik
(956) 323-5758
Mission, TX Nursing Homes and Hospitals offering CNA programs:
Mission Nursing and Rehabilitation Center NAT
1013 S Bryan Rd
Mission, Texas 78572
Director: Clarence Suelto
(956) 580-2100
Monahans
Monahans, TX Nursing Homes and Hospitals offering CNA programs:
Monahans Nursing Operations LLC
1200 West 15th Street
Monahans, Texas 79756
Director: Veronica Aguirre
(432) 943-2741
Moulton
Moulton, TX Nursing Homes and Hospitals offering CNA programs:
Shady Oak Nursing & Rehabilitation Center
101 S. Lancaster (Drawer D)
Moulton, Texas 77975
Director: Sandra Plant
(361) 596-7373
Mount Pleasant
Mount Pleasant, TX Colleges and Universities offering CNA programs:
Northeast Texas Community College/Ore City High Sc
2886 FM 1735
Mount Pleasant, Texas 75455
Director: Donna Butler
(903) 434-8187
Mt. Pleasant
Mt. Pleasant, TX High Schools offering CNA programs:
MPHS C.N.A. Program
PO Box 1117 (2110 N. Edwards)
Mt. Pleasant, Texas 75455
Director: Kristi Houchin
(903) 575-2081
Mt. Pleasant, TX Colleges and Universities offering CNA programs:
Northeast Texas Community College
2886 FM 1735 Chapel Hill Rd
Mt. Pleasant, Texas 75455
Director: Donna Butler
(903) 434-8134
Mt. Vernon
Mt. Vernon, TX Nursing Homes and Hospitals offering CNA programs:
Mission Manor Nurse Aide Training Program
501 Yates Street
Mt. Vernon, Texas 75457
Director: Pam Williams
(903) 537-4424
Muleshoe
Muleshoe, TX High Schools offering CNA programs:
Muleshoe High School C.N.A. Class
514 West Avenue G
Muleshoe, Texas 79347
Director: Brenda Baker
(806) 272-7303
Muleshoe, TX Nursing Homes and Hospitals offering CNA programs:
Park View Nursing Care Center Nurse Aide Training
1100 West Ave J
Muleshoe, Texas 79347
Director: Yolanda Mendoza
(806) 272-7578
Navasota
Navasota, TX Nursing Homes and Hospitals offering CNA programs:
Golden Creek Healthcare and Rehabilitation Center
2100 Dove Crossing Lane
Navasota, Texas 77868
Director: Janice Jordan
(936) 825-4043
Nederland
Nederland, TX High Schools offering CNA programs:
Nederland High School
220 N. 17th Street
Nederland, Texas 77627
Director: Tina Hood
(409) 724-2391
New Boston
New Boston, TX High Schools offering CNA programs:
New Boston High School
#1 Lion Dr
New Boston, Texas 75570
Director: Patrice Grider
(903) 628-6551
New Braunfels
New Braunfels, TX Nursing Homes and Hospitals offering CNA programs:
Colonial Manor Care Center
821 US Hwy 81 west
New Braunfels, Texas 78130
Director: Debra Masters
(830) 625-7526
Eden Hill Communities
631 Lakeview Blvd
New Braunfels, Texas 78130
Director: Sherry Boggs
(830) 625-6291
Kirkwood Manor Nursing Center
2590 Loop 337 N.
New Braunfels, Texas 78130
Director: Angela Aston
(830) 620-0509
New Braunfels, TX High Schools offering CNA programs:
New Braunfels ISD Nurse Aide Training
2551 N. Loop 337
New Braunfels, Texas 78130
Director: Meredith Patterson
(830) 627-6175
Odessa
Odessa, TX Colleges and Universities offering CNA programs:
Odessa College/Kermit Branch
201 W. University
Odessa, Texas 79764
Director: Marsha Thomas
(432) 335-6539
Odessa College/Monahans High School
201 W. University
Odessa, Texas 79764
Director: Marsha Thomas
(432) 335-6539
Odessa College/Pecos Branch
201 W. University
Odessa, Texas 79764
Director: Marsha Thomas
(432) 335-6539
Odessa College/Presidio Branch
201 W. University Ave
Odessa, Texas 79764
Director: Marsha Thomas
(432) 335-6539
Odessa College-Cont. Ed.
201 W University
Odessa, Texas 79764
Director: Marsha Thomas
(432) 335-6539
Odessa, TX Nursing Homes and Hospitals offering CNA programs:
Sienna Nursing and Rehabilitation Center
2510 W. 8th
Odessa, Texas 79763
Director: Alton Morris
(432) 333-4511
Olton
Olton, TX Nursing Homes and Hospitals offering CNA programs:
Runningwater Draw Care Center
800 W. 13th St.
Olton, Texas 79064
Director: Cynthia Gerber
(806) 285-2677
Orange
Orange, TX Colleges and Universities offering CNA programs:
Lamar State College-Orange
410 Front St
Orange, Texas 77630
Director: Terri Procella
(409) 882-3979
Orange, TX Nursing Homes and Hospitals offering CNA programs:
Orange Villa Nursing and Rehabilitation, LP
510 N. 3rd Street
Orange, Texas 77630-5808
Director: Sara Longron
() 409-8868
Ozona
Ozona, TX Nursing Homes and Hospitals offering CNA programs:
Crockett County Care Center Nurse Aide Training
103 N. Ave H. (PO Box 640)
Ozona, Texas 76943
Director: Paula Hester
(325) 392-2671
Palestine
Palestine, TX Freestanding CNA programs:
NATCEP at Cartmell – PL 105-15
2212 W. Reagan
Palestine, Texas 75801
Director: Patsy Lucas
(903) 727-8500
Palestine, TX Nursing Homes and Hospitals offering CNA programs:
Trucare Living Palestine
2265 S. Sycamore
Palestine, Texas 75801
Director: Wanda Lambright
(903) 723-2592
Pampa
Pampa, TX Colleges and Universities offering CNA programs:
Clarendon College – Childress CNA Program
1601 W. Kentucky
Pampa, Texas 79065
Director: Kory Dunn
(806) 665-8801
Clarendon College – Clarendon CNA Program
1601 W. Kentucky
Pampa, Texas 79065
Director: Kory Dunn
(806) 655-8801
Clarendon College – Pampa Center
1601 W. Kentucky
Pampa, TX 79065
Director: Kory Dunn
(806) 665-8801
Panhandle
Panhandle, TX High Schools offering CNA programs:
Panhandle High School
PO Box 1030 (106 W. 11th Street)
Panhandle, Texas 79068
Director: Angela Clay
(806) 537-3851
Paris
Paris, TX Colleges and Universities offering CNA programs:
Paris Jr College – SS1
2400 Clarksville Street (ATTN:Marcia Putnam)
Paris, Texas 75460
Director: Kristi Shultz
(903) 782-0445
Paris Jr College/75 Hr
2400 Clarksville St
Paris, Texas 75460
Director: Kristi Shultz
(903) 782-0445
Paris Jr College/Greenville
2400 Clarksville St
Paris, Texas 75460
Director: Kristi Shultz
(903) 782-0445
Paris Junior College – SS2
2400 Clarksville Street (ATTN: Kristi Shultz)
Paris, Texas 75460
Director: Kristi Shultz
(903) 782-0445
Pasadena
Pasadena, TX Nursing Homes and Hospitals offering CNA programs:
Aides For Home Health Care Services
4008 Vista Rd., 108 – Bldg C
Pasadena, Texas 77504
Director: Nancy Fontenot-Sparks
(713) 910-7575
Pasadena, TX Colleges and Universities offering CNA programs:
San Jacinto College Central
8060 Spencer Hwy
Pasadena, Texas 77505
Director: Judith Yonley
(281) 542-2059
San Jacinto College North
8060 Spencer Hwy
Pasadena, Texas 77505
Director: Judith Yonley
(281) 542-2088
San Jacinto College South
8060 Spencer Hwy. Suite T207 ATTN: Mary Smith-Hill
Pasadena, Texas 77505
Director: Judith Yonley
(281) 542-2059
Pearland
Pearland, TX Nursing Homes and Hospitals offering CNA programs:
RC Health Services
1801 Country Place Pkwy, Ste 107
Pearland, Texas 77584
Director: Robert Chambers
(281) 416-5939
Tuscany Village
2750 Miller Ranch Rd
Pearland, Texas 77584
Director: Cristina Cervantes
(713) 770-5300
Pearland, TX Colleges and Universities offering CNA programs:
Robert Turner College and Career High School-C.N.A
4717 Bailey Rd
Pearland, Texas 77581
Director: Kimberly Svatek
(281) 727-1602
Pearsall
Pearsall, TX Nursing Homes and Hospitals offering CNA programs:
Pearsall Nursing and Rehab (C.N.A. Course)
169 Medical Drive
Pearsall, Texas 78061
Director: Paula Musquez
(830) 334-3371
Pecos
Pecos, TX High Schools offering CNA programs:
Pecos High School/Pecos-Barstow-Toyah ISD
1201 S Park
Pecos, Texas 79772
Director: Teresa Talamantes
(432) 447-7400
Perryton
Perryton, TX Colleges and Universities offering CNA programs:
Frank Phillips College – Perryton
2314 South Jefferson Street
Perryton, Texas 79070
Director: Sarah Wilson
(806) 648-1450
Perryton, TX Nursing Homes and Hospitals offering CNA programs:
Senior Village NA Training
3101 South Main
Perryton, Texas 79070
Director: Stephanie Bates
(806) 435-5403
Pflugerville
Pflugerville, TX Nursing Homes and Hospitals offering CNA programs:
DeRamos Medical Training Center
114 Blue Flax Ln.
Pflugerville, Texas 78660
Director: Norma Elemento
(512) 803-8459
Pharr
Pharr, TX Vocational Schools offering CNA programs:
Claudy Vocational Institute
946 West Nolana, Ste D
Pharr, Texas 78577
Director: Marie-Claude Charles
(956) 207-9425
Pharr, TX Freestanding offering CNA programs:
RGV Careers An Institute for Higher Learning
1200 W. Polk Ave, Ste P & Q
Pharr, Texas 78577
Director: Francina Atkins
(956) 781-6800
South Texas Nursing Academy
200 E. Expressway 83, Ste J-1
Pharr, Texas 78577
Director: Alex Cabrera
(956) 781-6100
South Texas Training Center
213 E. Ferguson
Pharr, Texas 78577
Director: Hilda Silva
(956) 782-7100
Pharrr, TX Colleges and Universities offering CNA programs:
South Texas College at Valley View
9701 S. Jackson Rd
Pharr, Texas 78577
Director: Cynthia Curtiss
(956) 843-9222
Pilot Point
Pilot Point, TX Nursing Homes and Hospitals offering CNA programs:
Countryside Nursing and Rehabilitation
1700 W Washington Street
Pilot Point, Texas 76258
Director: Leslie Carlson
(940) 686-5556
Pilot Point Care Center
208 N. Prairie
Pilot Point, Texas 76258
Director: Brooxie Irlbeck
(940) 686-5507
Plainview
Plainview, TX High Schools offering CNA programs:
Plainview High School
1501 Quincy Street
Plainview, Texas 79072
Director: Donna Stanfield
(806) 296-3346
Plano
Plano, TX Freestanding offering CNA programs:
Brightside Institute Nurse Aide Training Program
1301 West Parker Rd, Ste 104
Plano, Texas 75023
Director: Nishath Khan
(972) 302-3639
Sira Career Training
2115 Teakwood, Ste 100
Plano, Texas 75075
Director: Bernard Hernandez
(972) 758-8700
Superior Medical Training, Inc
4800 Preston Park Blvd (C/O Kimberly Head)
Plano, Texas 75093
Director: Rosalie Wood
(214) 636-9336
Plano, TX High Schools offering CNA programs:
Plano West Senior High School #1
5601 W Parker Rd
Plano, Texas 75093
Director: Sherry McLaughlin
(469) 752-9688
PSHS – Plano Senior High School
2200 Independence Pkwy
Plano, Texas 75075
Director: Susan Dollar
(469) 752-9300
Pleasanton
Pleasanton, TX Nursing Homes and Hospitals offering CNA programs:
The Heights of Atascosa
1855 W. Goodwin
Pleasanton, Texas 78064
Director: Kathy Lovett Irvine
(830) 281-8202
Point
Point, TX Nursing Homes and Hospitals offering CNA programs:
Community Seeds – Nurse Aide Training
PO Box 335 (602 College St, Lone Oak)
Point, Texas 75472
Director: Patricia Calk
(903) 634-5673
Port Arthur
Port Arthur, TX Freestanding offering CNA programs:
Program Of Health Excellence
2700 Gulfway Dr.
Port Arthur, Texas 77640
Director: Willie Elmore
(409) 543-9690
Port Arthur, TX Colleges and Universities offering CNA programs:
Lamar State College-Port Arthur
1701 Proctor St
Port Arthur, Texas 77640
Director: Eursula Davis
(409) 984-6356
Port Arthur, TX High Schools offering CNA programs:
Memorial High School
3501 S/SGT. Lucian Adams Drive
Port Arthur, Texas 77642
Director: Willie Elmore
(409) 984-4250
Port Lavaca
Port Lavaca, TX Nursing Homes and Hospitals offering CNA programs:
Port Lavaca Nursing and Rehabilitation Center
524 Village Rd
Port Lavaca, Texas 77979
Director: Darlene Tristan
(361) 552-3741
Port Neches
Port Neches, TX High Schools offering CNA programs:
Port Neches-Groves High School
1401 Merriman (ATTN: Sherry Fontenot)
Port Neches, Texas 77651
Director: Sherrie Fontenot
(409) 729-7644
Portland
Portland, TX Nursing Homes and Hospitals offering CNA programs:
Trisun Coastal Palms
221 Cedar Dr
Portland, Texas 78374
Director: Lacy Shirley
(361) 643-1888
Post
Post, TX Nursing Homes and Hospitals offering CNA programs:
Golden Plains Care Center
605 W. 7th
Post, Texas 79356
Director: Betty Winebrinner
(806) 495-2848
Premont
Premont, TX Nursing Homes and Hospitals offering CNA programs:
Premont Rehab & Nursing Center
431 N. W. 3rd Street (P.O. Drawer Q)
Premont, Texas 78375
Director: Judy Palacios
(361) 348-3553
Princeton
Princeton, TX High Schools offering CNA programs:
Princeton High School NAT
301 N. 5th Street
Princeton, Texas 75407
Director: Jeannine Murray
(469) 952-5400
Progreso
Progreso, TX High Schools offering CNA programs:
Progreso Independent School District
700 Business FM 1015
Progreso, Texas 78579
Director: Julio Rios, Jr
(956) 565-4142
Prosper
Prosper, TX High Schools offering CNA programs:
Prosper High School
301 Eagle Dr.
Prosper, Texas 75078
Director: Maribeth Thomas
(469) 219-2180
Queen City
Queen City, TX High Schools offering CNA programs:
Queen City ISD
#1 Bulldog Dr
Queen City, Texas 75572
Director: Kimberly Dickey
(903) 796-8259
Ranger
Ranger, TX Nursing Homes and Hospitals offering CNA programs:
Ranger Care Center
460 W. Main St.
Ranger, Texas 76470
Director: Nancy Harris
(254) 647-3111
Refugio
Refugio, TX Nursing Homes and Hospitals offering CNA programs:
Mission Ridge Rehabilitation and Nursing Center LP
401 Swift Street
Refugio, Texas 78377
Director: Monica Blackwood-Flores
(361) 526-9223
Richardson
Richardson, TX Freestanding CNA programs:
Texas School of Nurse Assistants
2683 Orchid Dr
Richardson, Texas 75082
Director: Joy Mall
(972) 497-9038
Richmond
Richmond, TX Freestanding CNA programs:
Cambridge Academy
1106 Golf View
Richmond, Texas 77469
Director: Salesha Jones
(281) 344-9191
Richmond, TX Colleges and Universities offering CNA programs:
Wharton County Junior College
5333 FM 1640
Richmond, Texas 77469
Director: Portia Smith
(281) 239-1511
Wharton County Junior College – Bay City
5333 FM 1640
Richmond, Texas 77469
Director: Portia Smith
(281) 239-1511
Wharton County Junior College/Sugar Land
5333 FM 1640
Richmond, Texas 77469
Director: Portia Smith
(281) 239-1511
Rio Grande City
Rio Grande, TX High Schools offering CNA programs:
Rio Grande City ISD – NA Program
6884 E. US Hwy 83
Rio Grande City, Texas 78582
Director: Alexandro Cabrera
(956) 867-0505
Rio Grande, TX Colleges and Universities offering CNA programs:
South Texas College-Starr County Campus
142 FM 3167
Rio Grande City, Texas 78582
Director: Sharon Rice
(956) 872-3109
Rising Star
Rising Star, TX Nursing Homes and Hospitals offering CNA programs:
Rising Star Nursing Center
411 South Miller
Rising Star, Texas 76471
Director: Cynthia Ferguson
(254) 643-6700
Robstown
Robstown, TX Nursing Homes and Hospitals offering CNA programs:
Retama Manor – Robstown
603 E. Ave J
Robstown, Texas 78380
Director: Kathleen Lopez
(361) 387-1568
Rockport
Rockport, TX Nursing Homes and Hospitals offering CNA programs:
Oakcrest Certified Nurses Aide Program
1902 FM 3036
Rockport, Texas 78326
Director: Cynthia Habluetzel
(361) 729-9971
Rockport Coastal Care Center
1004 S. Young
Rockport, Texas 78382
Director: Andrea Nguyen
(361) 729-1228
Rosebud
Rosebud, TX Nursing Homes and Hospitals offering CNA programs:
Heritage House Nursing and Rehabilitation
407 North College
Rosebud, Texas 76570
Director: Teresa Garcia
(254) 583-7904
Heritage House Nursing and Rehabilitation
PO Box 656 (407 North College)
Rosebud, Texas 76570
Director: Teresa Garcia
(254) 583-7904
Round Rock
Round Rock, TX High Schools offering CNA programs:
Cedar Ridge High School Nurse Aide Training Program
1311 Round Rock Ave
Round Rock, Texas 78681
Director: Wendy Pickard
(512) 464-5000
Healthcare Career Center
1200 East Palm Valley Suite 1212
Round Rock, Texas 78664
Director: Sandra Widro
(512) 246-6877
Round Rock ISD/Stony Point High School
1311 Round Rock Aveune
Round Rock, Texas 78681
Director: Wendy Pickard
(512) 464-5000
Rowlett
Rowlett, TX Freestanding CNA programs:
Healing Hands Training Center, LLC
2006 Benedict Ct.
Rowlett, Texas 75088
Director: Gigi Mathew
(972) 412-7953
San Angelo
San Angelo, TX Nursing Homes and Hospitals offering CNA programs:
Baptist Memorials Center
902 N Main St
San Angelo, Texas 76903
Director: Marianne Simpson
(325) 655-7391
San Angelo, TX Colleges and Universities offering CNA programs:
Howard College
3501 N. US Hwy 67
San Angelo, Texas 76905
Director: Donna Rutledge
(325) 481-8300
Howard College/Lake View High School
3501 North US HWY 67
San Angelo, Texas 76905
Director: Donna Rutledge
(325) 481-8305
San Angelo, TX Colleges and Universities offering CNA programs:
Regency House Nurse Aide Training Program
3745 Summer Crest Dr
San Angelo, Texas 76901
Director: Charlotte Matschek
(325) 942-7700
San Antonio
San Antonio, TX Nursing Homes and Hospitals offering CNA programs:
Westover LTC Nurse Aide Program
9922 State HWY 51
San Antonio, Texas 78251
Director: Lailey Sczepanik
(210) 546-2273
Windsor Mission Oaks
3030 S. Roosevelt Ave
San Antonio, Texas 78214
Director: Christopher Diaz
(210) 924-8151
Air Force Villages
4949 Ravenswood
San Antonio, Texas 78227
Director: Janette Muecke
(210) 568-5159
Stone Oak Care Center
505 Madison Oak Dr
San Antonio, Texas 78258
Director: Daniel Nixon
(210) 481-9000
Normandy Terrace Healthcare & Rehabilitation Center
841 Rice Road
San Antonio, Texas 78220
Director: Bobbie Ford
(210) 648-0101
Meridian Care at Grayson Square
815 E Grayson St
San Antonio, Texas 78208
Director: Aljie (Marie) Oden
(210) 226-8181
San Antonio, TX Colleges and Universities offering CNA programs:
Career Point College
4522 Fredericksburg Road Suite A22
San Antonio, Texas 78201
Director: Joanna Ellison
(210) 732-3000
Kaplan College/San Antonio – Ingram
6441 NW Loop 410
San Antonio, Texas 78238
Director: Alexandria Garza
(210) 348-4500
Palo Alto College @ Floresville I.S.D.
1400 W. Villaret
San Antonio, Texas 78224
Director: Carmen Choumont
(210) 486-3406
Palo Alto College C.N.A. Program at Kerrville ISD
1400 W. Villaret
San Antonio, Texas 78224
Director: Carmen Choumont
(210) 486-3406
Palo Alto College C.N.A. Program in Kerrville
1400 Villaret
San Antonio, Texas 78224
Director: Carmen Choumont
(210) 486-3406
Palo Alto College Continuing Education at Frank M.
1400 W. Villaret
San Antonio, Texas 78224
Director: Carmen Choumont
(210) 486-3406
Palo Alto College Continuing Education at Southwest
1400 W. Villaret
San Antonio, Texas 78224
Director: Carmen Choumont
(210) 486-3406
Palo Alto College, Continuing Education NATP
1400 W Villaret
San Antonio, Texas 78224
Director: Carmen Choumont
(210) 486-3406
Quest College
5430 Fredericksburg Rd, Ste. 310
San Antonio, Texas 78229
Director: Edwina Lewis King
(210) 366-2701
St Phillips College/Central Texas Technology Ctr
1801 Martin Luther King Dr
San Antonio, Texas 78203
Director: Bridgett Sterling
(210) 486-2400
St Phillip's College/San Antonio/Cont. Ed.
1801 Martin Luther King Drive
San Antonio, Texas 78203
Director: Bridgett Sterling
(210) 486-2400
San Antonio College Department of Nursing Education
1300 San Pedro Ave
San Antonio, Texas 78212
Director: Stella Cirlos
(210) 486-0412
San Antonio, TX Freestanding offering CNA programs:
Center for Excellence
8100 Roughrider Dr, Ste 103
San Antonio, Texas 78239
Director: Lynnet Bulambo
(210) 900-0729
MB Merit Institute
5152 Fredericksburg, Ste 210
San Antonio, Texas 78229
Director: Ne'Oneashia Ford
(210) 683-1051
Excel Learning Center – San Antonio
3201 Cherry Ridge, Ste B200
San Antonio, Texas 78230
Director: Olivia Mendez
(210) 522-8000
Excel Learning Center San Antonio South
111 Rayburn Drive, Suite 101
San Antonio, Texas 78221
Director: Olivia Mendez
(210) 922-1700
San Antonio Institute of Trades Nurse Assistant Pr
5020 Old Seguin Rd, Ste 6
San Antonio, Texas 78219
Director: Alejandro Cabrera
(210) 858-6508
Savant Achievement Center, Inc – Wurzbach
6151 N. W. Loop 410, Suite 101
San Antonio, Texas 78238
Director: Deborah Rodgers
(210) 682-0600
South Texas Veterans Healthcare System L C. ALMD
7400 Merton Minter Blvd (Education Department 14A)
San Antonio, Texas 78229
Director: Patricia Wolters
(210) 617-5109
Texas Nurse Aide Training Course
2003 W. Hutchins Place
San Antonio, Texas 78224
Director: Charmaine Buckley
(210) 927-0800
The Healthcare Institute
1822 Fredericksburg Rd
San Antonio, Texas 78201
Director: Judy Ferguson
(210) 692-3262
West Avenue Nurse Aide Academy, Inc
3333 West Ave, Ste #15
San Antonio, Texas 78213
Director: Margaret Brown
(210) 320-2239
San Antonio, TX High Schools offering CNA programs:
East Central High School
7173 FM 1628
San Antonio, Texas 78263
Director: Jeanette Pollock
(210) 289-0483
Get 2 Ten Vocational Academy
9100 IH 10 W, #205
San Antonio, Texas 78230
Director: Jared Carter
(210) 928-3900
Good Careers Academy
12332 IH 10 West
San Antonio, Texas 78230
Director: Darlene Seesengood
(210) 924-8581
Good Careers Academy-Commerce
12332 IH 10 West
San Antonio, Texas 78230
Director: Darlene Seesengood
(210) 924-8581
Health Professions High School at Edison
701 Santa Monica
San Antonio, Texas 78212
Director: No PD
(210) 733-9147
San Benito
San Benito, TX High Schools offering CNA programs:
San Benito High School Nursing Assistant Program
450 S. Oscar Williams Rd
San Benito, Texas 78586
Director: Rebecca Ramirez
(956) 361-6574
San Benito, TX Freestanding CNA programs:
South Texas Training Center – San Benito
1901 West HWY 77
San Benito, Texas 78586
Director: Hilda Silva
(956) 399-9698
San Marcos
San Marcos, TX Freestanding CNA programs:
Gary Job Corps Community
P. O. Box 967 (2800 Airport Blvd., Hwy. 21)
San Marcos, Texas 78666
Director: Lois Wilson
(512) 396-6561
Health Training Services, LLC
3700 State Highway 123, Ste. 3
San Marcos, Texas 78666
Director: Kathryn Catlett
(512) 754-9647
Health Training Services, LLC – Housing Authority
102 Wonder World Dr, Ste 304 (PMB 132)
San Marcos, Texas 78666
Director: Kathryn Catlett
(512) 754-9646
Health Training Services, LLC Eden Hill Communitie
3700 State Highway 123, Ste. 3,
San Marcos, Texas 78666
Director: Gail Zavala
(512) 754-9647
Health Training Services, LLC-Sundance
3700 N. State Hwy 123, Ste 3
San Marcos, Texas 78130
Director: Kathryn Catlett
(512) 754-9647
San Marcos, TX High Schools offering CNA programs:
San Marcos High School
2601 Rattler Rd
San Marcos, Texas 78666
Director: Dyanna Eastwood
(512) 393-6899
Schulenburg
Schulenburg, TX Nursing Homes and Hospitals offering CNA programs:
Schulenburg Regency Nursing Center
111 College St.
Schulenburg, Texas 78956
Director: Diana Mikesky
(979) 743-6537
Seabrook
Seabrook, TX Nursing Homes and Hospitals offering CNA programs:
Active Nursing Assistant Training of Clear Lake
2511-B Nasa Rd, Ste 102
Seabrook, Texas 77586
Director: Brenda Manning
(832) 265-2824
Sealy
Sealy, TX Freestanding offering CNA programs:
Colonial Belle Nurse Aide Training – Sealy
1401 Eagle Lake Rd
Sealy, Texas 77474
Director: Sue Lange
(979) 885-2191
Seguin
Seguin, TX Nursing Homes and Hospitals offering CNA programs:
Hacienda Oaks
1637 N. King Street
Seguin, Texas 78155
Director: Tracy Morin
(830) 379-3784
Nesbit LRC
1215 Ashby
Seguin, Texas 78155
Director: Lucy Nesbit
(830) 379-1606
Seguin, TX High Schools offering CNA programs:
Seguin High School
815 Lamar Street (ATTN: R. Willoughbhy)
Seguin, Texas 78155
Director: Mary Richter
(830) 372-5770
Seminole
Seminole, TX Nursing Homes and Hospitals offering CNA programs:
Memorial Health Care
212 NW 10th St
Seminole, Texas 79360
Director: Veronica Granger
(432) 758-4870
Seymour
Seymour, TX Nursing Homes and Hospitals offering CNA programs:
Seymour Rehab & Healthcare
1110 Westview Dr
Seymour, Texas 76380
Director: Kathleen Doty
(940) 889-3176
Sherman
Sherman, TX Nursing Homes and Hospitals offering CNA programs:
Sherman Healthcare Center
817 W. Center St
Sherman, Texas 75090
Director: Teresa Okinda
(903) 893-6348
Shiner
Shiner, TX Nursing Homes and Hospitals offering CNA programs:
Shiner Nursing & Rehabilitation Center
1213 N Ave B
Shiner, Texas 77984
Director: Dorothy Heller
(361) 594-3353
Silsbee
Silsbee, TX High Schools offering CNA programs:
Silsbee High School C.N.A. Program
1575 Hwy 96 North
Silsbee, Texas 77656
Director: Rheala Middleton
(409) 980-7800
Silsbee, TX Nursing Homes and Hospitals offering CNA programs:
Silsbee Oaks Healthcare LLP NATP-PL 105-15
920 East Ave. L
Silsbee, Texas 77656
Director: Rena Droddy
(409) 385-5571
Slaton
Slaton, TX Nursing Homes and Hospitals offering CNA programs:
Slaton Care Center
630 South 19th Street
Slaton, Texas 79364
Director: Vicky Denman
(806) 828-6268
Snyder
Snyder, TX Nursing Homes and Hospitals offering CNA programs:
Snyder Health Care Center Nurse Aide Training Prog
5311 Big Spring HWY
Snyder, Texas 79549-6347
Director: Rita Doggett
(325) 573-6332
Snyder Oaks Care Center – PL 105-15
210 37the Street
Snyder, Texas 79549
Director: Kathy Lovett Irvine
(325) 573-9733
Sonora
Sonora, TX High Schools offering CNA programs:
Sonora I.S.D.
807 S. Concho
Sonora, Texas 76950
Director: Ada Castilleja
(325) 387-6940
Splendora
Splendora, TX High Schools offering CNA programs:
Splendora High School – SISD
23747 FM 2090 W
Splendora, Texas 77372
Director: Christine Smikal
(281) 689-8008
Spring
Spring, TX High Schools offering CNA programs:
Carl Wunsche HS CNA Program
900 Wunsche Loop
Spring, Texas 77373
Director: D'hania Miller
(281) 891-7650
Klein Collins High School
20811 Ella Blvd
Spring, Texas 77388
Director: Joan Mooney
(832) 484-5500
Klein Oak High School
22603 Northcrest Drive
Spring, Texas 77389
Director: Joan Mooney
(832) 484-4969
Stamford
Stamford, TX Nursing Homes and Hospitals offering CNA programs:
Community Care Center of Stamford
1003 Columbia Street
Stamford, Texas 79553
Director: Nancy Kenyon
(325) 773-3671
Stephenville
Stephenville, TX Colleges and Universities offering CNA programs:
Ranger College Erath County
1835 W. Lingleville Rd
Stephenville, Texas 76401
Director: Patty Davis
(254) 965-8875
Ranger College/Brown County
1835 W. Lingleville Rd,
Stephenville, Texas 76401
Director: Patty Davis
(254) 965-8875
Stephenville, TX Nursing Homes and Hospitals offering CNA programs:
Senior Care of Stephenville
2601 NW Loop
Stephenville, Texas 76401
Director: Donna Boucher
(254) 968-4649
Stephenville Nursing and Rehab – Nurse Aide Traini
2311 W. Washington St.
Stephenville, Texas 76401
Director: Patricia Rodriguez
(254) 968-3313
Sterling City
Sterling City, TX Nursing Homes and Hospitals offering CNA programs:
Sterling County Nursing Home CNA Training Program
309 5th Street (PO Box 46)
Sterling City, Texas 76951
Director: Rachel Hinderliter
(325) 378-2134
Stockdale
Stockdale, TX Nursing Homes and Hospitals offering CNA programs:
Stockdale Residence and Rehabilitation Center
300 Salmon St
Stockdale, Texas 78160
Director: Lupe Barrera
(830) 996-3721
Sugar Land
Sugar Land, TX Freestanding CNA programs:
Consolidated Nurse Aide Training Institute, Inc
140 Eldridge Rd, Ste G
Sugar Land, Texas 77478
Director: Jincy Jacob
(832) 766-0929
Sulphur Springs
Sulphur Springs, TX Nursing Homes and Hospitals offering CNA programs:
Rock Creek Health and Rehabilitaiton
1414 College Street
Sulphur Springs, Texas 75482-3431
Director: Danita Murphy
(903) 439-0107
Sweetwater
Sweetwater, TX Nursing Homes and Hospitals offering CNA programs:
Nolan Nursing and Rehabilitation,LP
705 N. E. Georgia Ave (PO Box 1369)
Sweetwater, Texas 79556
Director: Annis Collins
(325) 235-5417
Sweetwater Healthcare Center Nurse Aide Training
1600 Josephine St.
Sweetwater, Texas 79556
Director: Valerie Pruitt
(325) 236-6653
TSTC West Texas C N A Program
300 Homer K Taylor
Sweetwater, Texas 79556
Director: Trisha Otts
(325) 236-8234
Tatum
Tatum, TX High Schools offering CNA programs:
Tatum High School
600 Crystal Farms Rd. (PO Box 808)
Tatum, Texas 75691
Director: Dorothy Boone
(903) 947-6486
Temple
Temple, TX Colleges and Universities offering CNA programs:
Temple College
2600 S. First St (ATTN: Gracie Conner)
Temple, Texas 76504
Director: Patricia Morgan
(254) 298-8623
Temple, TX High Schools offering CNA programs:
Temple High School
415 North 31st Street
Temple, Texas 76504-2426
Director: Jeanne Smith
(254) 215-7069
Temple, TX Nursing Homes and Hospitals offering CNA programs:
TLC West
1700 Marlandwood Rd
Temple, Texas 76502
Director: Tracey Neal
(254) 716-4893
Terrell
Terrell, TX Nursing Homes and Hospitals offering CNA programs:
Terrell Healthcare Center Nurse Aide Training Program
204 West Nash Street
Terrell, Texas 75160
Director: Janice Jordan
(972) 563-7668
Windsor Care Center
250 W. British Flying School Blvd
Terrell, Texas 75160
Director: Shielda Hunter
(972) 551-0122
Texarkana
Texarkana, TX Nursing Homes and Hospitals offering CNA programs:
Christus St Michael Health System
2600 St Michael Dr (Clinical Education Dept)
Texarkana, Texas 75503
Director: Marshanna Lewis
(903) 614-1000
Texarkana, TX Colleges and Universities offering CNA programs:
Texarkana College
2500 N Robison Rd
Texarkana, Texas 75599
Director: Arthalia Hardy
(903) 832-3384
Texarkana College – Dual Credit
2500 North Robison Rd (C/O Cheryl Waloshin)
Texarkana, Texas 75599
Director: Cheryl Waloshin
(903) 823-3401
TFCI Institute of Technology
620 West 4th Street (P.O. Box 7558)
Texarkana, Texas 75501
Director: Jena Howell
(903) 792-1301
Texas City
Texas City, TX Nursing Homes and Hospitals offering CNA programs:
Bay Oaks Health Care Center
424 N. Tarpey Rd
Texas City, Texas 77591-3199
Director: Dana Brown
(409) 938-8431
Texas City, TX Colleges and Universities offering CNA programs:
College Of The Mainland
1200 Amburn Rd
Texas City, Texas 77591
Director: Romana McAninch
(409) 933-8512
Three Rivers
Three River, TX Nursing Homes and Hospitals offering CNA programs:
Three Rivers Nursing Home CNA Program
1717 45th Street
Three Rivers, Texas 78071
Director: Tracy Graves
(361) 786-2256
Tomball
Tomball, TX Colleges and Universities offering CNA programs:
Lone Star College – Tomball
30555 Tomball Parkway
Tomball, Texas 77375
Director: Elizabeth Maloney
(281) 290-2883
Tomball, TX High Schools offering CNA programs:
Tomball High School
30330 Quinn Rd
Tomball, Texas 77375
Director: Christina McElvogue
(281) 357-3220
Trophy Club
Trophy Club, TX Freestanding CNA programs:
Global Health Science Institute
2800 Highway 114 Frontage Road Ste. 310
Trophy Club, Texas 76262
Director: Carmen Santiago
(817) 649-8100
Tyler
Tyler, TX High Schools offering CNA programs:
Robert E Lee High School
411 E S E Loop 323
Tyler, Texas 75701
Director: Geneva Pinckney Morgan
(903) 262-2686
Tyler, TX Colleges and Universities offering CNA programs:
Tyler Junior College Continuing Studies-West Campu
1530 SSW Loop 323
Tyler, Texas 75701
Director: Charlotte Devereux
(903) 510-2968
Tyler Junior College Nurse Aide Training-TJC Linda
1530 SSW Loop 323
Tyler, Texas 75701
Director: Charolette Devereaux
(903) 510-2941
Tyler Junior College Nurse Aide Training-TJC Rusk
1530 SSW Loop 323
Tyler, Texas 75701
Director: Charlotte Devereaux
(903) 510-2941
Uvalde
Uvalde, TX Nursing Homes and Hospitals offering CNA programs:
Amistad Nursing and Rehab
200 Riverside Dr
Uvalde, Texas 78801
Director: Clarissa Gonzalez
(830) 278-5641
Uvalde, TX Colleges and Universities offering CNA programs:
Southwest Texas Junior College – Crystal City
2401 Garner Field Road
Uvalde, Texas 78801
Director: Belinda Jimenez
(830) 278-4401
Southwest Texas Junior College – Del Rio
2401 Garner Field Rd
Uvalde, Texas 78801
Director: Belinda Jimenez
(830) 278-4401
Southwest Texas Junior College – Dilley High Schoo
2401 Garner Field Rd
Uvalde, Texas 78801
Director: Belinda Jimenez
(830) 278-4401
Southwest Texas Junior College – Eagle Pass ISD
2401 Garner Field Road
Uvalde, Texas 78801
Director: Belinda Jimenez
(830) 278-4401
Southwest Texas Junior College – Uvalde
2401 Garner Field Rd
Uvalde, Texas 78801
Director: Belinda Jimenez
(830) 278-4401
Southwest Texas Junior College-Crystal City H. S.
2401 Garner Field Rd
Uvalde, Texas 78801
Director: Belinda Jimenez
(830) 278-4401
Southwest Texas Junior College-Uvalde High School
2401 Garner Field Rd
Uvalde, Texas 78801
Director: Belinda Jimenez
(830) 278-4401
Southwest TX Jr College/Eagle Pass
2401 Garner Field Road
Uvalde, Texas 78801
Director: Minerva Rankin
(830) 278-4401
Van
Van, TX High Schools offering CNA programs:
Van Independent School District – CNA
985 North Maple
Van, Texas 75790
Director: Mary Ann Garrett
(903) 963-8623
Vernon
Vernon, TX Nursing Homes and Hospitals offering CNA programs:
Advanced Rehab and Healthcare of Vernon
4401 College Dr
Vernon, Texas 76384
Director: Kathleen Doty
(940) 552-9316
Victoria
Victoria, TX Nursing Homes and Hospitals offering CNA programs:
Twin Pines Nursing Home
3301 E Mockingbird Ln
Victoria, Texas 77904
Director: Lori Andel
(361) 573-3201
Victoria Residence and Rehabilitation
114 Medical Dr
Victoria, Texas 77904
Director: Brenda Flowers
(361) 576-6128
Victoria, TX Colleges and Universities offering CNA programs:
Victoria College – Bloomington High School
2200 E. Red River
Victoria, Texas 77901
Director: Marilyn Powell
(361) 572-6446
Victoria College – Cuero
2200 E. Red River
Victoria, Texas 77901
Director: Marilyn Powell
(361) 572-6446
Victoria College – Cuero High School
2200 E. Red River
Victoria, Texas 77091
Director: Marilyn Powell
(361) 572-6446
Victoria College – Edna High School
220 E Red River
Victoria, Texas 77901
Director: Marilyn Powell
(361) 572-6446
Victoria College – Hallettsville
2200 E. Red River
Victoria, Texas 77901
Director: Marilyn Powell
(361) 572-6446
Victoria College – Industrial
2200 E. Red River St.
Victoria, Texas 77901
Director: Marilyn Powell
(361) 572-6446
Victoria College – Port Lavaca
2200 E. Red River St.
Victoria, Texas 77901
Director: Marilyn Powell
(361) 572-6446
Victoria College – Refugio High School
2200 E. Red River St
Victoria, Texas 77901
Director: Marilyn Powell
(361) 526-2344
Victoria College – Victoria High School
2200 E. Red River
Victoria, Texas 77901
Director: Marilyn Powell
(361) 572-6446
Victoria College – Yoakum High School
2200 E Red River
Victoria, Texas 77901
Director: Marilyn Powell
(361) 572-6446
Victoria College-Gonzales
2200 E Red River
Victoria, Texas 77901
Director: Marilyn Powell
(361) 572-6446
Victoria College-Gonzales High School
2200 E. Red River St
Victoria, Texas 77901
Director: Marilyn Powell
(361) 572-6446
Victoria College-Victoria
2200 E. Red River
Victoria, Texas 77901
Director: Marilyn Powell
(361) 572-6446
Vidor
Vidor, TX Nursing Homes and Hospitals offering CNA programs:
Oakwood Manor Nursing Home
225 S Main
Vidor, Texas 77662
Director: Teresa Cryer
(409) 769-3692
Vidor, TX High Schools offering CNA programs:
Vidor High School-HOE
500 Orange St.
Vidor, Texas 77662
Director: Suzanne Haley
(409) 951-8930
Waco
Waco, TX Colleges and Universities offering CNA programs:
McLennan Comm. College Cont. Ed.
1400 College Dr.
Waco, Texas 76708
Director: Joyce Sims
(254) 299-8150
McLennan Community College/LaVega High School
1400 College Drive
Waco, Texas 76708
Director: Joyce Sims
(254) 299-8150
McLennan Community College/Marlin ISD
1400 College Dr
Waco, Texas 76661
Director: Joyce Sims
(254) 299-8150
McLennan Community College/Midway High School
1400 College Dr
Waco, Texas 76708
Director: Joyce Sims
(254) 299-8150
McLennan Community College/University High School
1400 College Dr
Waco, Texas 76708
Director: Joyce Sims
(254) 299-8150
McLennan Community College/Waco High School
1400 College Drive
Waco, Texas 76708
Director: Joyce Sims
(254) 299-8150
Waco, TX Nursing Homes and Hospitals offering CNA programs:
Woodland Springs Nursing Center, Inc.
1010 Dallas Street
Waco, Texas 76704
Director: Angela Walker
(254) 752-9774
Waller
Waller, TX High Schools offering CNA programs:
Waller High School
20950 Field Store Rd., Room 114
Waller, Texas 77484
Director: Linda Mills
(936) 372-3654
Waxahachie
Waxahachie, TX Colleges and Universities offering CNA programs:
Groesbeck – Navarro College
1900 John Adams Dr
Waxahachie, Texas 75165
Director: Amanda Farmer
(972) 923-6440
Navarro College – Corsicana High School
1900 John Arden Dr
Waxahachie, Texas 75165
Director: Amanda Farmer
(972) 923-6440
Navarro College – Waxahachie
1900 John Arden Drive
Waxahachie, Texas 75165
Director: Amanda Farmer
(972) 923-6440
Navarro College Corsicana
1900 John Arden Dr
Waxahachie, Texas 75165
Director: Amanda Farmer
(972) 923-6440
Weatherford
Weatherford, TX Colleges and Universities offering CNA programs:
Weatherford College
225 College Park Dr.
Weatherford, Texas 76088
Director: Eloise Broughton
(817) 598-6409
Weatherford College-Granbury
225 College Park Drive
Weatherford, Texas 76088
Director: Eloise Broughton
(817) 598-6409
Webster
Webster, TX High Schools offering CNA programs:
Clear View High School
400 South Walnut
Webster, Texas 77598
Director: Wanda Herfarth
(281) 284-1505
Weirmar
Weirmar, TX Nursing Homes and Hospitals offering CNA programs:
Parkview Manor Nursing and Rehabilitation
206 North Smith St
Weirmar, Texas 78962
Director: Nichol Johnson
(979) 725-8564
Weslaco
Weslaco, TX Freestanding CNA programs:
Nightingale School of Nursing
3001 North Westgate Dr
Weslaco, TX 78596
Director: Homero Tijerina
(956) 684-7575
South Texas Vo-Tech/Weslaco
2419 E Haggar Ave
Weslaco, Texas 78596
Director: Patricia Wilson
(956) 969-1564
Valley Grande Institute for Academic Studies
345 S. Texas Blvd
Weslaco, Texas 78596
Director: Olma Weaver
(956) 973-1945
Weslaco, TX High Schools offering CNA programs:
Weslaco ISD – CNA Program
3601 N. Mile 5 1/2 West
Weslaco, Texas 78596
Director: Lucia Portillo
(956) 969-6703
West Columbia
West Columbia, TX High Schools offering CNA programs:
Columbia Brazoria Independent School District
PO Box 158 (520 S. 16th Street)
West Columbia, Texas 77486
Director: Patricia Azlin
(979) 345-5147
Wharton
Wharton, TX Freestanding CNA programs:
Genesis Education And Training
1506 N. Alabama Rd. Suite F
Wharton, Texas 77488
Director: Erica Washington
(979) 282-2225
Wheeler
Wheeler, TX Nursing Homes and Hospitals offering CNA programs:
Wheeler Nursing & Rehab, LP
1000 S. Kiowa (PO Box 525)
Wheeler, Texas 79096
Director: Donna Cox
(806) 826-3505
Whitehouse
Whitehouse, TX Nursing Homes and Hospitals offering CNA programs:
Oakbrook Health Care Center
107 Stacy
Whitehouse, Texas 75791
Director: Rhodora Valentin
(903) 839-5050
Whitehouse, TX High Schools offering CNA programs:
Whitehouse High School Nurse Aide Program
901 East Main
Whitehouse, Texas 75791
Director: Jennifer Bundy
(903) 839-5576
Whitesboro
Whitesboro, TX Nursing Homes and Hospitals offering CNA programs:
Whitesboro Health and Rehabilitation
1204 Sherman
Whitesboro, Texas 76273
Director: Jodi Hamilton
(903) 564-7900
Whitney
Whitney, TX Nursing Homes and Hospitals offering CNA programs:
Town Hall Estates
101 San Marcus St. (PO Box 1830)
Whitney, Texas 76692
Director: Susan Hafer
(254) 694-2233
Wichita Falls
Wichita Falls, TX High Schools offering CNA programs:
Hirschi I B Magnet High School
3106 Borton Ave
Wichita Falls, Texas 76306
Director: Carl Bishop
(940) 235-1070
Wichita Falls, TX Nursing Homes and Hospitals offering CNA programs:
Monterey Care Center
3101 10th Street
Wichita Falls, Texas 76309
Director: Kathleen Doty
(940) 766-0281
Wichita Falls, TX Colleges and Universities offering CNA programs:
Vernon College
4105 Maplewood Ave.
Wichita Falls, Texas 76308
Director: Sherrie Denham
(940) 696-8752
Vernon College/City View High School
4105 Maplewood Ave.
Wichita Falls, Texas 76308
Director: Sherrie Denham
(940) 696-8752
Vernon College/Hirschi High School
4105 Maplewood Ave
Wichita Falls, Texas 76308
Director: Sherrie Denham
(940) 696-8752
Vernon College/Holliday, TX
4105 Maplewood Ave
Wichita Falls, Texas 76308
Director: Sherrie Denham
(940) 696-8752
Vernon College/Iowa Park High School
4105 Maplewood Ave.
Wichita Falls, Texas 76308
Director: Sherrie Denham
(940) 696-8752
Vernon College/Paducah High School
4105 Maplewood Ave
Wichita Falls, Texas 76308
Director: Sherrie Denham
(940) 696-8752
Vernon College/Quanah High School
415 Maplewood Ave
Wichita Falls, Texas 76308
Director: Sherrie Denham
(940) 696-8752
Vernon College/Vernon High School
4105 Maplewood Ave
Wichita Falls, Texas 76908
Director: Sherrie Denham
(940) 696-8752
Vernon College/Vocational Center at Haskell
4105 Maplewood Ave
Wichita Falls, Texas 76308
Director: Sherrie Denham
(940) 696-8752
Vernon Reg Jr Coll/Burkburnett High School
4105 Maplewood Ave.
Wichita Falls, Texas 76308
Director: Sherrie Denham
(940) 696-8752
Winnie
Winnie, TX Nursing Homes and Hospitals offering CNA programs:
Arboretum Of Winnie
1215 Hwy 124
Winnie, Texas 77665
Director: Paje Sonnier
(409) 296-8200
Wolfforth
Wolfforth, TX High Schools offering CNA programs:
Frenship ISD – Frenship High School
902 N. Dowden Road
Wolfforth, Texas 79382
Director: Brenda Baker
(806) 866-4440
Woodville
Woodville, TX High Schools offering CNA programs:
Woodville High School
505 North Charlton
Woodville, Texas 75979
Director: Angela Hollingsworth
(409) 283-3714
Wylie
Wylie, TX High Schools offering CNA programs:
Wylie ISD C.N.A. Program
951 S. Ballard
Wylie, Texas 75098
Director: Rosalie Wood
(972) 429-3064
Yoakum
Yoakum, TX Nursing Homes and Hospitals offering CNA programs:
Stevens Health Care & Rehab Center
204 Walter St
Yoakum, Texas 77995
Director: Sherry Hermes
(361) 293-3544
Yoakum Nursing & Rehab
1300 Carl Ramert
Yoakum, Texas 77995
Director: Andrea Strait
(361) 293-2801
Yorktown
Yorktown, TX Nursing Homes and Hospitals offering CNA programs:
Yorktown Manor
670 W Fourth
Yorktown, Texas 78164
Director: Gretchen Horny
(361) 564-2275