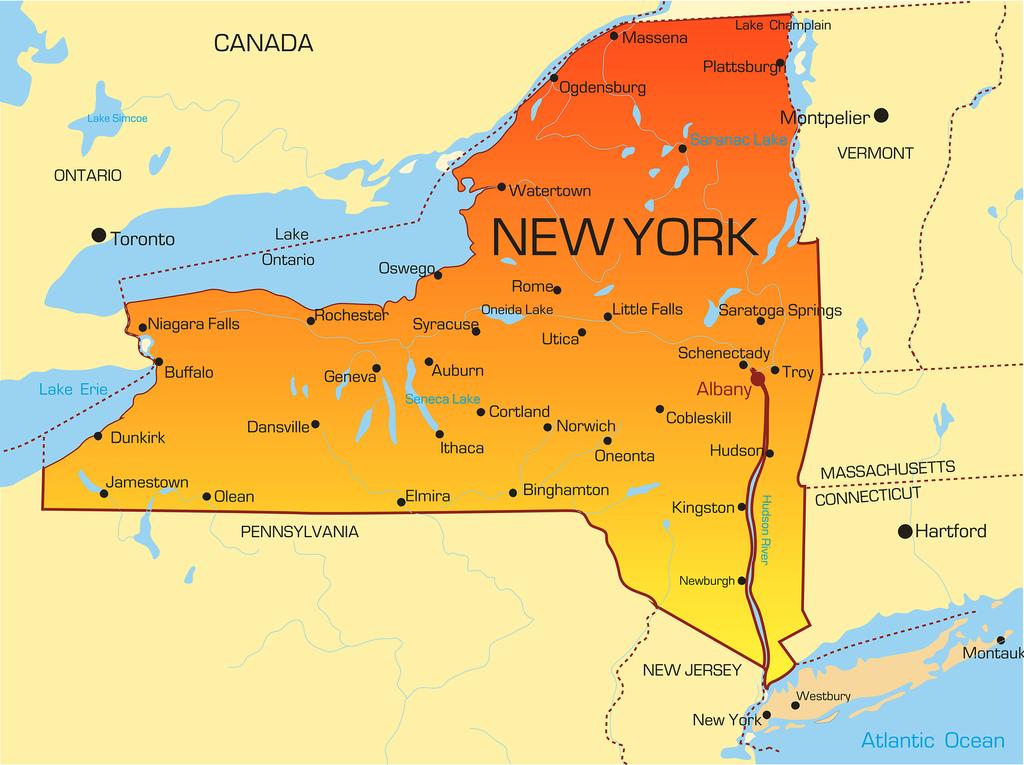 The state of New York requires all prospective nurse aides to complete a state-approved Nurse Aide Training Program (NATP) and pass the Competency Evaluation Program (CEP) as a prerequisite to employment at licensed facilities and nursing homes. Upon completion of formal training, the nurse aide candidate can apply to challenge the state exam to earn CNA certification and listing on the Nursing Home Nurse Aide Registry. The New York State Department of Health regulates the certification and education of nurse aide within the state. According to Allied Health World, NY CNAs earn slightly more than the national average with annual salaries between $24,000 and $37,000. And with over 350 medical institutions across the state, there's no better time to enter the field as an entry-level nurse aide.
CNA Training Classes in New York:
Other cities in New York: Please scroll down below or use CTRL+F (Command+F on Mac) to search this page.
Certification Requirements
New York federal and state guidelines mandate that nurse aides obtain state certification as a prerequisite to employment. As such, the New York State Nursing Home Nurse Aide Registry maintains an accurate record of all certified nurse aides in the state, so employers can verify a nurse aide's status before employment. The registry maintains a database of nurse aides' status, training, address, employment history and any reports of abuse or neglect.
Prerequisites to Training
There are no federal and state guidelines governing educational prerequisites for enrolling in a formal nurse aide training program. However, due to the nature of the coursework, most providers will expect applicants to demonstrate a minimum eight-grade reading and comprehension skills. High school graduates ultimately earn more than non-graduates, and they're more likely to advance to other careers within the medical industry.
Other requirements:
High school diploma (recommended)
Be at least 18 years old
Negative TB skin test and drug test
Up-to-date immunization records
Pass a criminal background check (live scan fingerprint)
Physical ability to lift at least 40 pounds unassisted.
New York's Certified Nurse Aide Training Requirements
Student nurse aides must attend and graduate from a state-approved training program comprising of at least 100 hours. The training program should follow the guidelines of the state's curriculum developed by a joint effort between the NY Department and Health and NY State Education Department. The curriculum outlines 70 hours of classroom and lab training plus 30 hours of clinical experience to ensure nurse aides receive the essential knowledge and skills to execute their duties on the job while protecting residents' health, independence and wellbeing. Areas of studies include physiology, infection control, patients' rights, anatomy, feeding, personal care, communication, observation and charting. The training prepares students for the certification exam, which they can challenge upon successful completion of the training program.
There are several colleges, universities and adult education programs across the state that received state-accreditation to provide CNA training. The state does not recognize online programs, and you may not qualify to take the state evaluation if you graduate from a non-accredited program. Refer to the list of programs below to ensure you enroll in a program recognized by the New York Department of Health.
Cost of Training
Nurse Aide Training in New York costs between $1200 and $2,500. There are also numerous opportunities for free nurse aide training across the state in places such as Buffalo, Brooklyn and Manhattan. Due to high demands for skilled nurse aides, many nursing facilities sponsor free training inclusive of materials, books and supplies. Always account for the costs of supplies, uniform and other expenses when comparing the costs of paid programs.
Nurse Aide Testing
The state's competency evaluation, administered by Prometric, is the next step towards obtaining nurse aide certification in New York. As a prospective CNA, you must pass both the clinical skills performance evaluation and the written nurse aide competency exam within 24 months of completing the nurse aide training program.
The clinical component requires students to successfully execute five nurse aide skills, selected at random by the nurse aide evaluator. The written portion comprises of 60 multiple choice questions to complete in 2 hours. An oral exam option is available if you have a reading disability or speak another language. Submit your request for the oral option before the scheduled exam. Check the student handbook to review Prometric's skills checklist with common mistakes in order to increase your chances of passing the exam. You can also review the list of approved testing sites to find a convenient location in your area.
Certification Costs
Prometric accepts payment in the form of cashier's check, money order, credit card or nursing facility check. Testing fees are as follows:
$115 – Clinical Skills/written examination (first time)
$135 – Clinical Skills/oral examination (first time)
$68 – Clinical Skills/retesting only
$57 – Written Test/retesting only
$67 – Oral Test/retesting only
$50 – Reciprocity and New York State RNs and LPNs
$40 – Recertification (to be paid by employer)
$15 – Duplicate certificate
$15 – Duplicate score report
On exam day, you must walk with the following:
Two forms of identification – one with your photo
Non-skid, closed-toe, flat shoes for the clinical evaluation
A watch with a second hand
Admission letter if you're taking the exam at a regional test site.
If you fail the evaluation, you'll have to reregister with Prometric to retake the exam.
Out-of-State CNAs
Out-of-state CNAs can obtain a license to work in New York through reciprocity. If you're a nurse aide listed on another state's registry, you can apply for licensing in New York using the following process:
Visit Prometric online and download the application form
Submit the completed form with copies of your current nurse aide certificates
Pay appropriate fees
You may need to provide proof of employment if your home state does not keep a record of expiration dates on the state registry
A supervisor must sign your proof of employment letter, and it must demonstrate evidence that you've worked more than seven hours in the past 24 months.
Renewal
Your listing on the registry remains valid for two years, and you could renew your license if you worked for seven paid hours within the 2-year period. Ask your employer to fill out the renewal application and submit it with the renewal fee. If you did not work within the period, you'd need to apply to Prometric to retake the skills and written evaluations.
Contact the Registry: 
Prometric
NY Nurse Aide
7941 Corporate Dr.
Nottingham MD 21236
Phone: 800.805.9128
New York State Department of Health
Bureau of Professional Credentialing
875 Central Avenue
Albany, New York 12206
Phone: (518) 408-1297
Fax: (518) 408-1632
E-mail: profcred@health.state.ny.us
State Approved CNA Training Programs:
Central Region
Binghamton, NY Colleges and Universities offering CNA programs:
Broome Community College
P.O. Box 1017, Binghamton, NY 13902
(607) 778-5060
Syracuse, NY Colleges and Universities offering CNA programs:
SUNY Syracuse EOC
100 New Street, Syracuse, NY 13202
(315) 472-0130
Utica, NY Colleges and Universities offering CNA programs:
Mohawk Valley Community College
1101 Sherman Drive, Utica, NY 13501
(315) 792-5375
Genesee Valley Region
Corning, NY Colleges and Universities offering CNA programs:
Corning Community College
1 Academic Drive, Corning, NY 14830-3297
(607) 962-9241
Corning Community College Business Development Center
24 Denison Parkway West, Corning, NY 14830
(607) 962-9241
Geneva, NY Colleges and Universities offering CNA programs:
Finger Lakes Health College of Nursing (RN Students Only)
196 North Street, Geneva, NY 14456
(315) 787-4039
Marion S. Whelan School of Practical Nursing
196 North Street, Geneva, NY 14456
(315) 787-4003
Newark, NY Colleges and Universities offering CNA programs:
Finger Lakes Community College
1100 Technology Parkway, Newark, NY 14513
(585) 785-1662
Rochester, NY Colleges and Universities offering CNA programs:
Rochester Educational Opportunity Center
161 Chestnut Street, Rochester, NY 14604
(585) 232-2730
Long Island Region
Brentwood, NY Colleges and Universities offering CNA programs:
Long Island EOC Farmingdale State College – Brentwood Campus
1090A Suffolk Avenue, Brentwood, NY 11717
(631) 434-3740
East Setauket, NY Colleges and Universities offering CNA programs:
University Hospital at SUNY Stony Brook Department of Clinical Education
14 Technology Drive, Suite 1, East Setauket, NY 11733
(631) 444-4319
Famingdale, NY Colleges and Universities offering CNA programs:
Long Island EOC Farmingdale State College – Hooper Hall
2350 Broadhollow Road, Farmingdale, NY 11731
(631) 420-2280
Hempstead, NY Colleges and Universities offering CNA programs:
Long Island EOC Farmingdale State College – Hempstead Campus
269 Fulton Avenue, Hempstead, NY 11550
(516) 489-8705
Metropolitan Region
Brooklyn, NY Colleges and Universities offering CNA programs:
ASA College
81 Willoughby Street, Brooklyn, NY 11201
(877) 470-9638
Kingsborough Community College
2001 Oriental Boulevard, Brooklyn, NY 11235
(718) 368-5052
Medgar Evers College- Adult & Continuing Education
1650 Bedford Avenue, Brooklyn NY, 11225
(718) 804-8846
NYC College of Technology Division of Continuing Ed
25 Chapel Street, Brooklyn, NY 11201
(718) 552-1180
Bronx, NY Colleges and Universities offering CNA programs:
Hostos Community College, Department of Continuing Education
K 560 Exterior Street, Bronx, NY 10451
(914) 793-5882
Hostos Community College/ Lehman College Continuing Education
2501 Grand Concourse, Bronx, NY 10468
(914) 793-5882
Jamaica, NY Colleges and Universities offering CNA programs:
York College
94-20 Guy R. Brewer Boulevard, Jamaica NY 11451
(718) 262-2790
Long Island City, NY Colleges and Universities offering CNA programs:
Fiorello H. LaGuardia Community College
31-10 Thomson Avenue, Long Island City, NY 11101
(718) 482-5351
New York, NY Colleges and Universities offering CNA programs:
City College of New York Continuing & Professional Studies
160 Convent Ave, Shepard Hall 2, New York, NY 10031
(914) 843-7983
Hostos Community College
5030 Broadway, New York, NY 10034
(914) 793-5882
Mandl School College of Allied Health Nurse Aide Program
254 West 54th Street, New York, NY 10019
(212) 247-3434
Manhattan EOC – New York
163 West 125th Street, New York, NY 10027
(212) 961-4320
Mid-Hudson Region
Ossining, NY Colleges and Universities offering CNA programs:
Westchester Community College CNA Program – Ossining Extension Site
22 Rockledge Ave., Ossining, New York 10562
(914) 606-7400
Spring Valley, NY Colleges and Universities offering CNA programs:
Westchester EOC
16 East Church Street, Spring Valley, NY 10977
(914) 606-7646
Yonkers, NY Colleges and Universities offering CNA programs:
Cochran School of Nursing Andrus Pavilions St. John's Riverside Hospital
967 North Broadway, Yonkers, NY 10701
(914) 964-4283
Westchester EOC Nurse Aide Program
26 South Broadway, Yonkers, NY 10701
(914) 606-7646
Northeastern Region
Albany, NY Colleges and Universities offering CNA programs:
Capital District EOC
30 North Russell Rd, Albany, NY 12206
(518) 273-1900
Schenectady County Community College
NYS Department of Labor-One Stop
175 Central Ave, 3rd Flr, Albany, NY
(518) 621-4007
Schenectady County Community College
220 Green Street 2nd Floor, Albany, NY 12202
(518) 621-4007
Johnstown, NY Colleges and Universities offering CNA programs:
Fulton-Montgomery Community College C.N.A. Class – Johnstown
Route 67, Johnstown, NY 12095
(518) 762-4651 x306
Schenectady, NY Colleges and Universities offering CNA programs:
Schenectady County Community College- Center City Campus
433 State Street 2R, Schenectady, NY 12305
(518) 621-4007
Troy, NY Colleges and Universities offering CNA programs:
Capital District EOC – Troy
145 Congress Street, Troy, New York 12180
(518) 273-1900
Utica, NY Colleges and Universities offering CNA programs:
Mohawk Valley Community College
Center for Corporate & Community Education
1101 Sherman Drive, Utica, NY 13501
(315) 792-5305
Western Region
Buffalo, NY Colleges and Universities offering CNA programs:
Buffalo EOC
465 Washington Street, Buffalo, NY 14203
(716) 849-6737
Sanborn, NY Colleges and Universities offering CNA programs:
Niagara County Community College
3111 Saunders Settlement Road, Sanborn NY 14132
(716) 731-3271