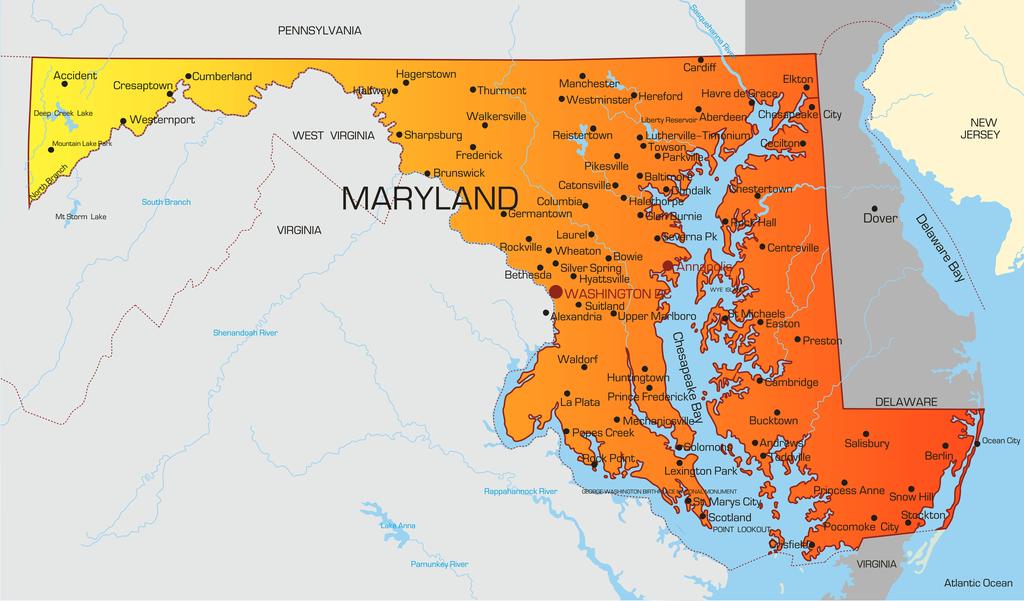 Nursing assistants in Maryland must obtain certification in order to work. Since CNA certification is the basic level of certification, prospective nurse aides must obtain this certification before or in conjunction with programs in specialty areas – such as geriatric nursing and medicine aides.
Maryland is one of few states that support progressive programs for new CNAs. When taken, these specialty programs give CNAs advanced skills and increase their income earning potential. Federal law permits these additional certifications, and once completed, they're listed on the CNA certification card.
CNA Classes in Maryland:
Additional Certifications Permitted In Maryland
(All listed on the CNA certification card and below)
Geriatric Nursing Assistant (GNA)
If you're a certified nurse aide and work in the care of older adults at a licensed facility, you must obtain GNA certification. The Susquehanna Red Cross administers the exam and passes on the names of successful examinees to the Maryland Board of Nursing Board.
Home Health Aide (HHA)
According to the demands of Federal law, all CNAs must obtain HHA certification in order to work in a licensed home health agency.
Certified Medicine Aide (CMA)
In order administer medication to patients at a comprehensive care facility, you must obtain CMA certification. However, unlike other courses where you can simply study for an additional certification, you must meet extra requirements before enrolling in an approved CMA program. First, you must earn your GNA certification. Then, work for one year before completing a minimum 60-hour medicine aide training.
Dialysis Technician
If you plan to work at dialyses units in Maryland, you must complete the CNA-DT program at any Board of Maryland-accredited institution.
Prerequisites to Training
Before enrolling in a state-approved CNA training program, you must meet the following prerequisites:
Be at least 18 years old
A high school diploma is not necessary, but it is recommended. Some institutes will administer a reading, math and English proficiency tests as part of the application process.
Other Requirements
Due to the nature of the work involved, you must meet the following requirements before enrolling in an approved program:
Consent to and pass a criminal history records check using the fingerprint method.
Undergo a full physical screening including checks for contagious diseases
Provide proof of immunizations.
CNA Training Program Requirements
The state mandated minimum for Maryland training programs is 100 hours for CNA training alone. Many schools offer GNA or HHA in conjunction with the basic certification, so training usually exceed 100 hours. The contact hours include allocations for classroom lectures, lab time, and clinical experience at an off-site facility. All programs must allocate a minimum 40 hours for the clinical component of the program.
Training is available through several colleges and universities, high schools, technical colleges, hospitals, nursing homes and other freestanding programs. It is critical that you refer to the Maryland Board of Nursing's list of approved programs before enrollment in any course as you will not receive credit for non-recognized training. The Board updates the list as new programs are added, and older ones lapse.
Cost of Training
The cost of training ranges between $600 and $2000 for tuition alone. A few programs include the cost of textbooks and uniform in the cost of the program. Free training may be available at nursing homes and hospitals in exchange for employment after graduation. However, this option involves long waiting lists and intense screening during application. At accredited institutions, you might be able to fund the cost of tuition with the help of scholarships, loans and grants.
Certification Costs
The CNA certification costs $20 initially. Thereafter, the cost is $40 for every 2 years.
Renewal of CNA Certification
Your CNA certification is valid for a 2-year period following the date of the first renewal. Additional certifications like the GNA, HHA and MA all depend on the CNA certification and expire when the CNA license expires. The cost of renewing a license is $40 for a two-year period.
Out-of-State CNAs
If you're an out-of-state CNA hoping to work in Maryland, you must meet the Board's requirements to become eligible for certification.
You must have a current and active license in the previous state and be in good standing with the state's Nurse Aide registry
There should be no evidence of abuse or neglect on your current license
If you're not listed on the state registry, you must complete a board-approved training program with 100 hours of training.
Contact the Registry
Maryland Nurse Aide Registry
Maryland Board of Nursing
4140 Patterson Avenue, Baltimore, MD 21215
Phone: (410) 585-1900
Fax: (410) 585-8042
Website: http://www.mbon.org/main.php?v=norm&p=0&c=main.html
Navigate to CNA Programs in your city (alphabetically listed):
Cumberland, MD Colleges and Universities offering CNA programs
Cumberland, MD Nursing Homes offering CNA programs: