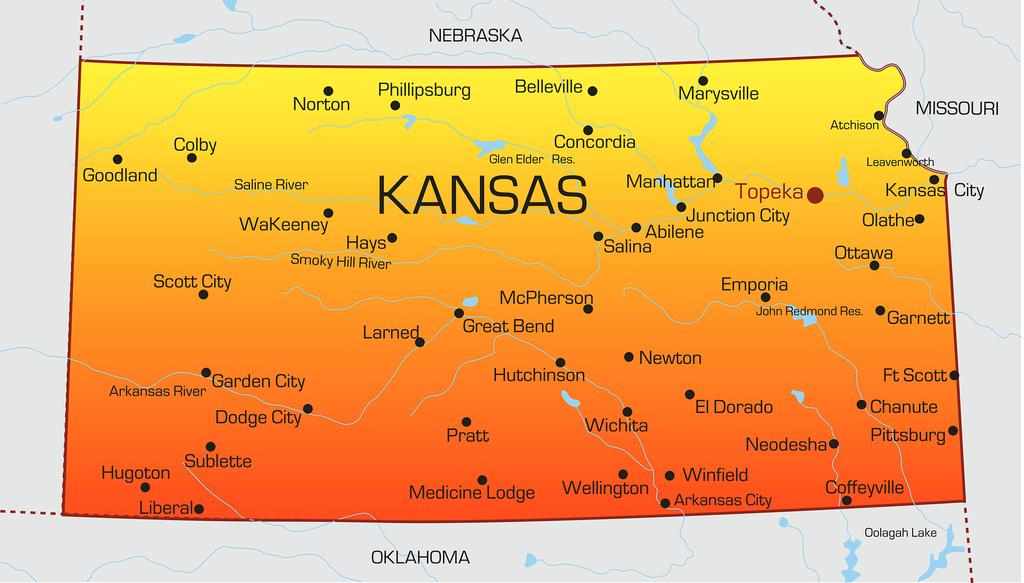 The Kansas Department of Health and Environment (KDHE) oversees the credentialing and certification of nurse aides within the state. Federal legislation mandates that all nurse aides employed at Medicaid and Medicare funded facilities obtain certification through state approved Nurse Aide Training and Competency Evaluation Program (NATP). State-approved training providers within the state must adhere to the KDHE-developed curriculum and prepare nurse aides for entry-level employment with a minimum 90 hours of training including hours for clinical on-the-job experience. There are several training options for prospective nurse aides in Kansas as several colleges, vocational schools, stand-alone facilities and high schools all offer approved training.
CNA Classes in Kansas:
Certification Requirements
Before applying for employment as a nurse aide at hospitals, nursing homes, home health agencies and long-term care facilities, you must complete formal nurse aide training and take the competency exam to obtain a license to work within the state. The Kansas Nurse Aide Registry maintains an active listing of all Certified Nurse Aides and ensures all CNAs meet the state's minimum requirements before adding them to the registry. It's crucial that you maintain correct information on the registry as prospective employers must check your status before they hire you to work at a licensed facility.
Prerequisites to Training
Most programs offered at colleges, universities and vocational schools require applicants to provide a high school diploma or GED upon enrollment. Some facilities may accommodate non-high school graduates if they pass the admissions reading and comprehension evaluation. As a prospective nurse aide, you must also provide proof of a clean medical history, which shows that you're not susceptible to certain diseases – this is necessary as you'll have to work with patients or residents at hospitals and nursing homes.
Note: If you're a Register Nurse or Licensed Practitioner Nurse in Kansas or another state, you can apply for exemption from formal nurse aide training. Nurse aides with experience in the military can also apply for exemption. The Department of Health may also consider applications for exemption from student nurses who have completed at least 45 hours of clinical experience at a state-recognized nursing degree program.
Other prerequisites include:
Criminal background check (Live scan fingerprint method)
Be at least 18 years old
Physical exam
Proof of immunization
Negative TB test
High School Diploma or GED
Pass a drug test 
Kansas' Certified Nurse Aide Training Requirements
The Department of Health is very specific about training for nurse aides in the state. Therefore, it is crucial that you enroll in a state-approved program if you plan to apply for the state's competency evaluation. There are several online training providers, but these are not recognized programs as they make no provisions for the clinical component of the training. All students must complete the full 90-hours of training, including 45 hours for clinical experience. The remaining instruction hours cover classroom lectures and hands-on labs. Clinical experience, conducted at a licensed facility, must be completed under the supervision of a Registered Nurse and give students the opportunity to practice caring for residents.
Training programs last for 3 to 10 weeks based on the provider's schedules. Coursework includes essential topics such patients' rights, ethics, communication, personal care skills, transfers, observation, nutrition, charting, anatomy, caring for persons with special needs and medical terminology. Upon successful completion of the program, you can apply to the Health Occupations Credentialing, KDADS to challenge the state competency exam.
Cost of Training
Several state-funded programs offer free CNA training for qualifying persons. Nursing homes and hospitals may also sponsor free training several times a year in order to recruit new employees. Paid programs cost between $500 to $1,500 training. The cost of tuition will not cover expenses for textbooks, uniform and other supplies. Federal regulations mandate that employers cover the cost of training and testing for employees. If you secure employment at an approved Medicare or Medicaid-funded facility within 12 months of licensure, you can apply for reimbursement for the full cost of training and testing.
Nurse Aide Testing
You can apply to the Health Occupations Credentialing department at KDADS to take the nurse aide competency exam after graduating from an approved program. The department administers the Written and Skills evaluations at more than 32 testing sites across the state.
The exams test the nurse-aide's ability to perform the essential skills required to execute responsibilities on the job. The nurse aide must also demonstrate knowledge of basic nursing principles as well as the legal requirements that govern activities at nursing homes and hospitals as it relates to patient care. You must achieve a score of 75% and above in order to pass the test and obtain a listing on the state registry.
Certification Costs
The fee for testing is $20. You must arrive on time. If you arrive late, you'll have to pay an additional $20 to have the test rescheduled for another day.
On exam day, you must walk with the following:
Two forms of identification – one with your photo
Social security number
Official transcript from the state-approved nurse aide training program.
For questions related to scheduling and testing contact KDADS using the following information:
Health Occupations Credentialing, KDADS
612 S KANSAS AVE
Topeka KS 66603 – 3404
Phone: 785-296-1240
Out-of-State CNAs
Since Kansas practices reciprocity with some states, you may be able to transfer your license from another state to practice in Kansas. First, you'll need to contact the Department of Health to find out if they practice reciprocity with your home state.
Download the Interstate Application Form from KDADS' website
Contact the registry in your home state to check your current status
Complete the application form and submit it with the $20 fee for review
Once approved, the department will send your approval to test in the mail
Arrive at the test site on time with two forms of ID and social security number
Pass with test with a score of 75% and above, and your name will be transferred to the Kansas Nurse Aide Registry.
Renewal
Once approved, your certification remains valid for two years. The Kansas Department of Health will send out a renewal form 45 days before your license expires. Fill out the form in collaboration with your employer and submit to the department along with the $20 renewal fee. You must submit the application one month before your license expires to give the department time to process the application. In order to qualify for renewal, you must submit proof of at least 8 hours of paid employment during the 2-year period.
Contact the Registry
Kansas Nurse Aide Registry
Curtis State Office Building
1000 SW Jackson
Topeka, Kansas 66612
Phone:(785) 296-1500
Fax:(785) 368-6368
State approved CNA Programs in Kansas:
Butler County
Andover, KS Colleges and Universities offering CNA programs:
Butler County Community College of Andover
21st N Andover Rd, Andover KS 67002
Phone: (316) 733-0071
Cherokee County
Columbus, KS Colleges and Universities offering CNA programs:
Coffeyville Community College
509 West Elm Street, Columbus, Kansas 66725
Phone: (620) 429-3896
Cloud County
Concordia, KS Colleges and Universities offering CNA programs:
Cloud County Community College Allied Health
P O Box 1002, Concordia KS 66901
Phone: (785) 243-1435
Cowley County
Winfield, KS Colleges and Universities offering CNA programs:
Cowley County Community College
1406 East 8th Avenue, Winfield, KS 67156
Phone: (620) 441-6582
Crawford County
Fort Scott, KS Colleges and Universities offering CNA programs:
Fort Scott Community College
2108 South Hoton Street, Fort Scott, Kansas 66701
Phone: (620) 768-2908
Pittsburg, KS Nursing Homes and Hospitals offering CNA programs:
Medicalodges
2520 South Rouse Street, Pittsburg, KS 66762
Phone: (620) 231-0300
Douglas County
Lawrence, KS Vocational Schools offering CNA programs:
Trinity Career Institute Lawrence
1942 Massachusetts, Lawrence KS 66046
Phone: (785) 331-2025
Franklin County
Chanute, KS Colleges and Universities offering CNA programs:
Neosho County Community College
800 West 14th Street, Chanute, KS 66720
Phone: (620) 431-2820
Ottawa, KS Colleges and Universities offering CNA programs:
Neosho County Community College
226 South Beech St., Ottawa, Kansas 66067
Phone: (785) 242-2067
Grant County
Ulysses, KS Nursing Homes and Hospitals offering CNA programs:
Western Prairie Care Home
300 East Maize Avenue, Box 966, Ulysses, KS 67880
Phone: (620) 356-3331
Greenwood County
Fredonia, KS Nursing Homes and Hospitals offering CNA programs:
Golden Living Center
240 North 19th Street, Fredonia, Kansas 66736
Phone: (620) 378-4163
Harper County
Anthony, KS Nursing Homes and Hospitals offering CNA programs:
Anthony Community Care Center
212 North 5th Avenue, Anthony, KS 67003
Phone: (620) 842-5187
Harvey County
Newton, KS Nursing Homes and Hospitals offering CNA programs:
Newton Medical Center
600 Medical Center Dr, Newton KS 67114
Phone: (316) 283-2700
Jefferson County
Highland, KS Colleges and Universities offering CNA programs:
Highland Community College
P.O. Box 68, Highland, Kansas 66035
Phone: (785) 442-3236
Valley Falls, KS High Schools offering CNA programs:
Valley Falls Middle School
700 Oak Street, Valley Falls, KS 66088
Phone: (785) 945-3229
Johnson County
Lenexa, KS Colleges and Universities offering CNA programs:
Kansas College Of Nursing Lenexa
7721 Quivera Rd, Lenexa KS 66216
Phone: (913) 248-2838
Brown Mackie College Lenexa
9705 Lenexa Dr., Lenexa KS 66215
Phone: (913) 768-1900
Kearny County
Lakin, KS Colleges and Universities offering CNA programs:
Kearny County Hospital LTCU
607 Court PL, Lakin KS 67860
Phone: (620) 355-7836
Overland Park, KS Colleges and Universities offering CNA programs:
Midwestern College Overland Park
9545 W 87th St, Overland Park KS 66212
Phone: (913) 385-2144
National American University
10310 Mastin, Overland Park KS 66212
Phone: (913) 205-3943
Miami County
Paola, KS Colleges and Universities offering CNA programs:
Ft. Scott Community College
501 South Hospital Drive, Suite 300, Paola, KS 66071
Phone: (913) 294-4178
Norton County
Norton, KS Nursing Homes and Hospitals offering CNA programs:
Andbe Home
201 W Crane St, Norton KS 67654
Phone: (785) 877-2601
Osage County
Burlingame, KS Colleges and Universities offering CNA programs:
Allen County Community College – Burlingame Campus
100 Bloomquist Drive, Burlingame, KS 66413
Phone: (785) 654-2416
Iola, KS Colleges and Universities offering CNA programs:
Allen County Community College
1801 North Cottonwood Street, Iola, KS 66749
Phone: (620) 365-5116
New Strawn, KS Colleges and Universities offering CNA programs:
Allen County Community College
139 North 1st Terrace, New Strawn, KS 66839
Phone: (620) 364-1367
Pottawatomie County
Westmoreland, KS Nursing Homes offering CNA programs:
Community Hospital Onaga LTCU
206 Grand Ave, St Marys KS 66536
Phone: (785) 437-2286
Westy Community Care Home
105 North Highway 99, Westmoreland, KS 66549
Phone: (785) 457-2801
Pratt County
Pratt, KS Colleges and Universities offering CNA programs:
Pratt Community College
348 Northeast SR 61, Pratt, Kansas 67124
Phone: (620) 672-5641
Riley County
Manhattan, KS Freestanding CNA programs:
Kansas College Of Nursing Manhattan
1125 Westport Dr, Manhattan KS 66502
(913) 248-2838
Saline County
Salina, KS Vocational Schools offering CNA programs:
Salina Area Technical College
2562 Centennial Road, Salina, KS 67401
Phone: (785) 309-3100
Scott County
Garden City, KS Colleges and Universities offering CNA programs:
Garden City Community College
801 Campus Dr., Garden City, KS 67846
Phone: (620) 276-7611
Sedgwick County
Hutchinson, KS Colleges and Universities offering CNA programs:
Hutchinson Community College
815 N Walnut, Hutchinson KS 67501
Phone: (620) 665-4948
Wichita, KS Vocational Schools offering CNA programs:
Wichita Area Technical College
4501 E 47th St South, Wichita KS 67210
Phone: (316) 677-1500
Bethel House Training Institute
3825 E Harry, Wichita KS 67208
Phone: (316) 771-7315
Wichita, KS Colleges and Universities offering CNA programs:
Midwestern College
7607 E Harry, Wichita KS 67207
Phone: (316) 684-5122
Wichita, KS High Schools offering CNA programs:
Campus High School USD216
2100 W 55 St South, Wichita KS 67217
Phone: (620) 426-8516 
Wichita, Freestanding CNA programs:
Allied Health Career Training LLC
2622 W Central B112, Wichita KS 67203
Phone: (316) 854-3892
Wecareonline
4601 E Douglas Ste 119, Wichita KS 67218
Phone: (888) 932-2501
Shawnee County
Topeka, KS Colleges and Universities offering CNA programs:
Washburn Tech
5724 Huntoon Street, Topeka, KS 66604
Phone: (785) 228-6392
Bryan University
1527 SW Fairlawn Rd, Topeka KS 66604
Phone: (785) 272-0889
Sumner County
Mulvane, KS Colleges and Universities offering CNA programs:
Bloomenshine Cowley Community College Outreach Campus
430 East Main Street, Mulvane, KS 67110
Phone: (620) 221-3392
Winfield, KS Colleges and Universities offering CNA programs:
Cowley County Community College
1406 East 8th Avenue, Winfield, Kansas 67156
Phone: (620) 441-6582
Wilson County
Independence, KS Colleges and Universities offering CNA programs:
Independence Community College
P.O. Box 708, Independence, Kansas 67301
Phone: (620) 332-5498
Neodesha, KS Nursing Homes and Hospitals offering CNA programs:
Grace Baptist Church – Neodesha
1317 North 7th Street, Neodesha, KS 66757
Phone: (620) 325-3636
Wyandotte County
Kansas City, KS Colleges and Universities offering CNA programs:
Kansas City KS Community College
7250 State Ave Kansas City KS 66112
Phone: (913) 288-7465
Kansas City, KS Nursing Homes and Hospitals offering CNA programs:
Medicalodges Post-Acute Care Center
6500 Greeley Ave, Kansas City KS 66104
Phone: (913) 334-0200
Delores Homes Training Center
6613 Parallel Pkwy, Kansas City KS 66102
Phone: (913) 299-9534