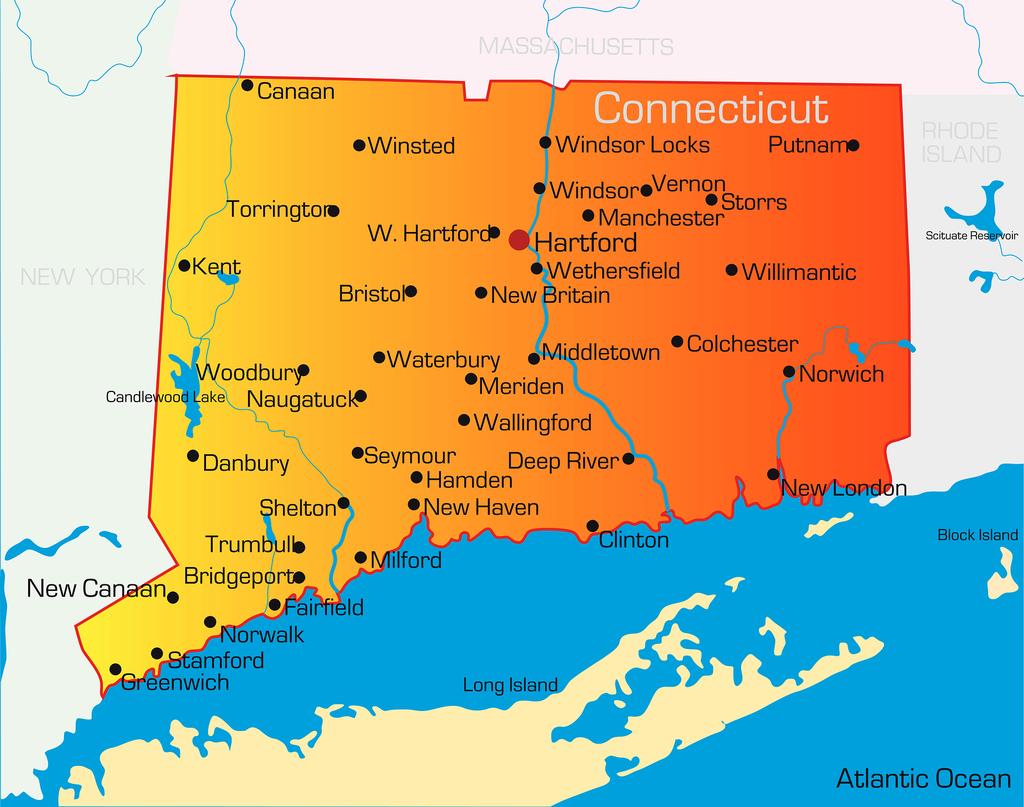 The Connecticut medical industry has a growing need for CNAs at long-term healthcare facilities. The OBRA 1987 requires every state to maintain a nurse aide training program, competency evaluation and national nurse aide registry to improve the quality of care offered at healthcare facilities. The Connecticut Department of Health enforces the guidelines of the act and monitors training programs as outlined in the Federal Code of Regulations (CFR Title 42, volume 3, part 483). The Health Department also certifies all nurse aides who complete an approved training program and list them on the registry after they successfully complete the state evaluation.
Prometric, through a contract with the Connecticut Department of Public Health, develops and manages the Nurse Aide Competency Exam and keeps an up-to-date record of nurse aides on the registry.
CNA Classes in Connecticut:
Certification Requirements
In order to work legally as a Certified Nurse Aide in Connecticut, you must complete a state-approved training program and pass the state evaluation exam to get listed on the Nurse Aide Registry. These basic requirements ensure nurse aides have the skills they need to perform their duties at long-term care facilities. Employers must verify the nurse aide's listing on the state registry before extending an offer of employment.
Prerequisites to Training
Every training program has different requirements for accepting new students. While there's no specific requirement from the state regarding the completion of high school, many intensive programs enroll high school graduates only. Others may administer reading and comprehension exams to ensure students can meet the demands of the program.
New nurse aides must successfully complete training before challenging the state evaluation. However, you can skip training if you've completed at least 100 hours in an accredited nursing degree program. Out of state CNAs, and those with expired licenses, can also skip the training and take the exam. Other prerequisites include:
Criminal History Record Information (fingerprint method)
Be at least 18 years old
Physical exam
Proof of immunization of tetanus, measles, rubella, and mumps.
Negative TB test
High school diploma (recommended).
Connecticut's Certified Nurse Aide Training Requirements
Nurse assistant training providers must adhere to state guidelines and provide at least 100 hours of training, including 24 hours of clinical experience. State guidelines mandate that students complete at least 16 hours of training in resident rights, safety procedures, disease prevention, emergency procedures, communication and interpersonal skills before they're able to work with patients. During the clinical and lab components of the training, instructors teach students the 25 skills required to excel in their role as certified nurse aides.
You must take and pass the state nurse aide evaluation within 24 months of completing an approved training in order to obtain certification. Check the list below  for state-approved nurse aide training programs.
Cost of Training
Nurse aide training across Connecticut can cost as little as $400 or as much as $4500 depending on the provider. The programs' cost may or may not include the cost of textbooks, uniform, supplies and the Prometric-administered state evaluation fee. Free training may be available to low-income families through public funding. Your employer must cover the cost of training and exam if you're employed at a long-term healthcare facility.
Nurse Aide Testing
Graduates of a state-approved nurse aide training program can register to sit the state evaluation for nurse aides. The Nurse Aide Exam comprises of the Clinical Skills test and a Written test. First-time candidates must register for both components. The exact procedure depends on the eligibility route. The nursing home or training facility will schedule your exam if the site offers in-facility testing. Otherwise, you can contact Prometric directly to arrange for testing at a regional test site. Prometric accepts credit cards, money order and certified checks only.
The written exam contains 60 multiple choice questions, which you must complete in 90 minutes. For the clinical exam, the computer will assign three tasks, and you will be scored on those three assignments in addition to two additional skills – Hand washing and Indirect Care.
The duration of the skills components ranges from 30 to 40 minutes depending on the tasks assigned. Students who demonstrate competency when performing the skills will pass the exam.
Certification Costs
The testing fee varies. See the fee schedule below:
$118 – Clinical Skills and Written Examination (first time)
$128 – Clinical Skills and Oral Examination (first time)
$73 – Clinical Skills Retest
$45 – Written Retest
$55 – Oral Retest
$15 – Duplicate certificate
25 – Rescheduling fee
On exam day, you must walk with the following:
Two forms of identification – one should have your picture
Three No. 2 pencils
An eraser
A watch with a second hand
Your social security number
Prometric recommends that your wear scrubs and flat, non-skid, closed-toe shoes to the exam.
Out-of-State CNAs
If you're an out-of-state active CNA in good standing on a registry in another state, you can apply for a listing on Connecticut's Nurse Aide Registry. Prometric manages the application for reciprocity, so download the application from their website to process your application for the Connecticut nurse aide evaluation. You'll need
A completed application
Copy of your current certificate or letter of verification
Verification of your good standing
Reciprocity fee
Renewal
The certification period is valid for 24 months, so you must recertify your license every two years. Recertification will not affect the actual certificate (just the status at the registry), which does not have an expiration date.
Contact the Registry
Prometric
7941 Corporate Drive
Nottingham, MD 21236
Phone: 866.499.7485
Fax: 800.813.6670
www.prometric.com/NurseAide/CT
Connecticut Department of Public Health
410 Capitol Avenue
MS 12MQA
P.O. Box 340308
Hartford, CT 06134-0308
Phone: 860.509.7596
www.ct.gov/dph
State Approved CNA Programs in Connecticut
Ansonia, CT CNA programs:
Emmett O'Brien Technical High School
141 Prindle Ave. Ansonia, CT 06401
(203) 702-1280
Bethel, CT CNA programs:
American Red Cross – Bethel
7 Park Lawn Dr, Bethel, CT 06801-1041
(203) 702-1280
Bethel Health And Rehabilitation Center LLC
13 Park Lawn Dr, Bethel, CT 06801-1043
(203) 830-4180
Branford, CT CNA programs:
CSC Enterprises Inc.
189 Alps Rd, Branford, CT 06405-4771
(203) 481-6221
Bridgeport, CT CNA programs:
St. Vincent's College
2800 Main St, Bridgeport, CT 06606-4201
(800) 873-1013
American Red Cross – Bridgeport
1057 Broad St Fl 3, Bridgeport, CT 06604-4219
(203) 338-0951
Training Direct, LLC
3885 Main St, Bridgeport, CT 06606-2814
(203) 372-8842
Bullard Havens Regional Vocational Technical School
500 Palisade Ave, Bridgeport, CT 06010-0000
(203) 579-6496
Valley Medical Institute
4637 Main St, Bridgeport, CT 06606-1838
(203) 378-2210
Warren Harding High School
1734 Central Ave, Bridgeport, CT 06610-2763
(203) 275-2761
Housatonic Community College
900 Lafayette Blvd, Bridgeport, CT 06604-0000
Bristol, CT CNA programs:
Sheriden Woods Health Care Center Inc.
321 Stonecrest Drive, Bristol, CT 06010-0000
(860)583-1827
Canaan, CT CNA programs:
The Robert C. Geer Memorial Hospital
Incorporated 99 S Canaan Rd, Canaan, CT 06018-2502
(860) 824-3832
Chester, CT CNA programs:
Chesterfields Ltd.
132 Main St, Chester, CT 06412-1340
(860) 526-5363
Aaron Manor Inc
3 S Wig Hill Rd, Chester, CT 06412-1106
(860) 526-5316
Colchester, CT CNA programs:
Health Resources of Colchester Inc.
59 Harrington CT, Colchester, CT 06415-1207
(860) 537-2339
Collinsville, CT CNA programs:
New Horizons Inc.
102 Dyer Ave, Collinsville, CT 06019-3236
(860) 693-7777
Danbury, CT CNA programs:
Danbury High School
43 Clapboard Ridge Rd, Danbury, CT, 06811-4529
Harris School of Business
155 Main St Ste 302, Danbury, CT 06810-7844
(203) 797-1461
Naugatuck Valley Community College – Danbury Branch
183 Main St, Danbury, CT 06810-7805
(203) 797-9361
Danielson, CT CNA programs:
Quinebaug Valley Community College
742 Upper Maple St, Danielson CT 06239-1436
(860) 412-7300
Derby, CT CNA programs:
Griffin Hospital
130 Division Street, Derby, CT 06418-0000
(203)735-7421
East Hartford, CT CNA programs:
East Hartford High School
869 Forbes St, East Hartford, CT, 06118-1958
(860) 622-5312
Stone Academy – East Hartford
745 Burnside Ave, East Hartford, CT 06108-2705
American Red Cross – East Hartford
111 Founders Plz Fl 10, East Hartford, CT 06108-3212
(860) 761-0249
East Haven, CT CNA programs:
East Haven High School
35 Wheelbarrow Ln, East Haven, CT 06513-2003
(203) 468-3254
Enfield, CT CNA programs:
Enfield Adult Education
1564 Enfield St, Enfield, CT 06082-5568
(860) 763-7032
Fairfield, CT CNA programs:
Jewish Home For The Elderly Of Fairfield County Inc.
175 Jefferson St, Fairfield, CT 06825-1078
(203) 365-6400
Farmington, CT CNA programs:
Macdougall Correctional Institution
UCHC/CMHA, Farmington, CT 06030
Tunxis Community College
271 Scott Swamp Road, Farmington, CT 06030
(860) 773-1300
Granby, CT CNA programs:
Meadowbrook Center Inc.
350 Salmon Brook St, Granby, CT 06035-1842
(860) 653-9888
Groton, CT CNA programs:
Odd Fellows Home of Connecticut Inc.
235 Lestertown Rd, Groton, CT 06340-2828
(860) 445-7478
Robert E. Fitch High School
101 Groton Long Point Rd, Groton, CT 06340-4861
(860) 449-4624 4624
Hamden, CT CNA programs:
Hamden High School
2040 Dixwell Ave, Hamden, CT 06514-2404
(203) 407-2040
Eli Whitney Regional Vocational Technical School
71 Jones Rd, Hamden, CT 06514-4602
(203) 397-4031 387
Hartford, CT CNA programs:
Capital Community College
950 Main Street, Hartford, CT 06103-0000
(860) 906-5142
Saint Martin's Episcopal Church
290 Cornwall St, Hartford, CT 06112-1427
(860) 242-0318
Jewett City, CT CNA programs:
Griswold High School
267 Slater Ave, Jewett City, CT 06351-2533
(860) 376-7640
Kensington, CT CNA programs:
Ledgecrest Health Care Center Inc.
154 Kensington Rd, Kensington, CT 06037-2602
(860) 828-0583
Kent, CT CNA programs:
The Kent Ltd.
46 Maple Street, Kent, CT 06757-0000
8609275368
Litchfield, CT CNA programs:
Foothills Adult and Continuing Education
355 Goshen Rd, Litchfield, CT, 06759-2404
(860) 567-0863
Manchester, CT CNA programs:
Manchester Community College
Po Box 1046, Manchester, CT, 06045-1046
(860) 512-2826
Meriden, CT CNA programs:
Maloney High School
121 Gravel St, Meriden, CT 06450-4611
(203) 238-2334
O.H. Platt High School
220 Coe Ave., Meriden, CT 06451-3812
203 235-7962
H.C. Wilcox Regional Vocational Technical School
298 Oregon Rd, Meriden, CT 06451-3721
(860) 807-2235
Middletown, CT CNA programs:
Athena Middlesex Llc
100 Randolph Road, Middletown, CT 06457-0000
(860)344-0353
Middlesex Community College
100 Training Hill Rd, Middletown, CT 06457-4829
(860) 343-5716
Milford, CT CNA programs:
Jonathan Law High School
20 Lansdale Ave, Milford, CT 06460-5111
(203) 783-3574
Joseph Foran High School
80 Foran Rd, Milford, CT 06460-7766
(203) 877-4418
City Of Milford Employment and Training
150 Gulf St, Milford, CT 06460-4815
(203) 783-3243
Mystic, CT CNA programs:
SSC Mystic Operating Company LLC
44 Maritime Dr, Mystic, CT 06355-1958
(860) 572-1700
New Britain, CT CNA programs:
EC Goodwin Regional Vocational Technical School
735 Slater Road, New Britain, CT 06053-0000
(860) 827-7736
New Britain High School
110 Mill St., New Britain, CT 06051
860 225-6351
New Haven, CT CNA programs:
Gateway Community College
20 Church St, New Haven, CT 06051-3413
(203) 285-2300
Hill Regional Career Magnet High School
140 Legion Ave, New Haven, CT 06519-5507
(203) 214-7878
Wilbur L. Cross High School
181 Mitchell Dr, New Haven, CT 06511-2515
(203) 946-7420
New Haven Adult Education
580 Ella T Grasso Blvd, New Haven CT 06519-1806
(203) 937-4375
Danae's Training Center
92 Arch St, New Haven, CT 06519-1511
(203) 773-5097
American Red Cross – New Haven
703 Whitney Ave, New Haven CT 06511-1367
(203) 787-672 X 277
New Haven Job Corps Center
455 Wintergreen Ave. New Haven CT 06515
203 397-3775
Hospital Of Saint Raphael
1450 Chapel Street, New Haven CT 06511-0000
2037893000
New London, CT CNA programs:
Kindred Nursing Centers East L.L.C.
78 Viets St, New London, CT 06320-3354
(860) 447-1416
New London Adult & Continuing Ed.
Shaw's Cove Three, New London, CT 06320-4950
860 437-2385
New London High School
493 Jefferson Ave., New London, CT 06320
860 437-6400
Educational Training of Wethersfield @ New London
88 Howard St, New London, CT 06320-4929
(860) 571-7666
Opportunities Industrialization Center of New London County Inc
106 Truman St, New London, CT 06320-5632
(860) 447-1731
New Milford, CT CNA programs:
New Milford High School
388 Danbury Rd Route 7, New Milford, CT 06776-4317
(860) 350-6647 X1163
New Milford High School Adult Ed.
388 Danbury Rd Route 7, New Milford, CT 06776-4317
(860) 350-6647 X1163
Candlewood New Milford LLC
30 Park Ln E, New Milford, CT 06776-2510
(860) 355-0971
Norwalk, CT CNA programs:
Norwalk Community College
188 Richards Ave, Norwalk CT 06854-1634
(203) 857-7122
Norwich, CT CNA programs:
Three Rivers Community College
574 New London Tpke, Norwich, CT 06360-6500
(860) 885-2319
Norwich Free Academy
90 Sachem St, Norwich, CT 06360-4240
(860) 886-1463 100
Norwich Technical High School
590 New London Tpke, Norwich, CT 06360-7044
860-859-5330
American Professional Training
1 American Way, Norwich, CT 06360-5634
(860) 886-1463
Plainville, CT CNA programs:
Apple Rehab Farmington Valley
269 Farmington Ave, Plainville, CT 06062-1335
(860) 747-1637
Plymouth, CT CNA programs:
Cook-Willow Convalescent Hospital Inc
81 Hillside Ave, Plymouth, CT 06782-2305
(860) 283-8208
Portland, CT CNA programs:
Portland Care And Rehab. Centre, Inc.
333 Main St, Portland, CT 06480-1561
(860) 342-0370
Sharon, CT CNA programs:
United Methodist Home Of Sharon Inc.
27 Hospital Hill Rd, Sharon, CT 06069-2095
(860) 364-1002
Shelton, CT CNA programs:
Lincoln Technical Institute
8 Progress Dr, Shelton, CT 06484-6219
(203) 929-0592
Simsbury, CT CNA programs:
Mclean Affiliates Inc.
75 Great Pond Rd, Simsbury, CT 06070-1980
(860) 658-3700
Somers, CT CNA programs:
Osborn Correctional Institution
335 Bilton Rd, Somers, CT 06071-1044
(860) 692-7643
Stafford Springs, CT CNA programs:
Johnson Evergreen Corporation
205 Chestnut Hill Rd Route 190, Stafford Springs, CT 06076-4005
(860) 684-6341
Stratford, CT CNA programs:
Lord Chamberlain Nursing & Rehabilitation Center
7003 Main St, Stratford, CT 06614-1393
(203) 375-5894
Stratford High School
45 N Parade St, Stratford, CT 06615-5822
(203) 385-4230
Torrington, CT CNA programs:
Oliver Wolcott Regional Vocational Technical School
75 Oliver St, Torrington, CT 06790-3859
(860) 496-5345
Wolcott Hall Nursing Center Inc.
215 Forest St, Torrington, CT 06790-4947
(860) 482-8554
Academy of Medical Training
339 Main St, Torrington CT 06790
(860) 618-7233
Uncasville, CT CNA programs:
Apple Rehab – Orchard Grove Specialty Care Center
5 Richard Brown Dr, Uncasville, CT 06382-1141
(860) 848-8466
Wallingford, CT CNA programs:
Wallingford Adult Education
37 Hall Ave, Wallingford, CT 06492-3549
(203) 294-3900
Wallingford Public Schools
70 Pond Hill Rd, Wallingford, CT 06492-4849
(203) 294-5350
Waterbury, CT CNA programs:
Sacred Heart High School
142 S Elm St, Waterbury, CT 06706-1116
(203) 753-1605
Crosby High School
300 Pierpont Rd, Waterbury, CT 06705-3905
(203) 574-8061
Kennedy High School
422 Highland Ave, Waterbury, CT 06708-3443
Wilby High School
460 Bucks Hill Rd, Waterbury, CT, 06704-1225
(203) 574-8100
W.F. Kaynor Technical High School Adult Ed.
43 Tompkins St, Waterbury, CT 06708-1416
(203) 596-4302 304
Naugatuck Valley Community College
750 Chase Pkwy, Waterbury, CT 06708-3011
(203) 575-8083
Waterbury Adult Education
28 E Clay St, Waterbury, CT, 06706-1216
(203) 574-8038
Academy Of Medical Training
521 Wolcott St, Waterbury, CT 06705-1240
(203) 721-7021
American Red Cross – Waterbury
228 Meadow St Fl 4, Waterbury, CT 06702-1807
(203) 568 1336
Stone Academy Waterbury
101 Pierpont Rd, Waterbury, CT 06705-3823
(203) 756-5500
Valley Medical Institute – Satellite Location
91 Schraffts Dr, Waterbury, CT 06705-3271
West Haven, CT CNA programs:
Stone Academy-West Haven
560 Saw Mill Rd, West Haven, CT 06516-4049
(203) 288-7474
CNA Preparatory School
255 Meloy Rd, West Haven, CT 06516-3001
(203) 214-1624
West Haven Adult Education
1 Mcdonough Plz, West Haven, CT 06516-5257
(203) 937-4375
West Haven High School
1 Mcdonough Plz, West Haven, CT 06516-5257
(203) 937-4360
Willimantic, CT CNA programs:
Windham Technical High School
210 Birch St, Willimantic, CT 06226-2108
(860) 456-3879
Windham, CT CNA programs:
St Joseph's Living Center Inc.
14 Club Rd, Windham, CT 06280-1000
(860) 456-1107
Winsted, CT CNA programs:
Northwestern Connecticut Community-Technical College
Park Place East, Winsted, CT 06098-0000
(860) 738-6453
Wolcott, CT CNA programs:
Wolcott High School
457 Bound Line Rd, Wolcott, CT 06716-2007
(203) 879-8164
Save