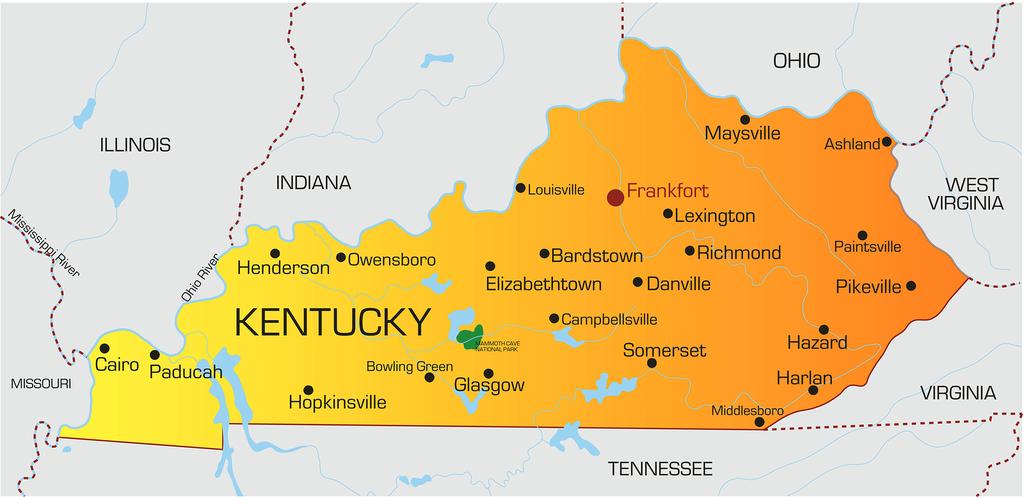 If you're looking to start a new career in the healthcare industry, and work with the aging and disabled population, you should consider becoming a Certified Nurse Assistants (CNA). Kentucky nurse assistants can complete training, evaluation and meet all the other requirements for employment in as little as four weeks. CNAs work primarily with elderly, physically, and mentally disabled members of the community, so it's critical that you have a desire to help others, specifically those who fall into these categories. You must be compassionate, patient, cheerful, and hard-working to stay positive in the face of a demanding job. The Kentucky Cabinet for Health and Family Services has strict regulations for patient treatment, independence, rights, and confidentiality. Nurse aide training programs help student understand the regulations governing proper care for residents and patients.
CNA Classes in Kentucky:
Certification Requirements
All nurse aides employed at Medicare/Medicaid certified facilities and licensed nursing homes must comply with the state's regulations for training, testing and certification before providing direct care services. Training and subsequent testing ensure nurse aides have the tools and abilities to maintain the quality of patient care at long term care facilities and nursing homes. Employers place their license at risk when they hire nurse aides without verifying their status on the nurse aide registry. For this reason, they must check the registry and report all acts of abuse, neglect and misdemeanor as they occur.
Kentucky permits non-certified nurse aides to provide patient care for a period of 120 days (4 months) while they complete training and certification. Nurse aide students must complete all requirements for training, testing and certification during the non-renewable 120-day period.
Foreign nurses, military trained nurse assistants, and out-of-state CNAs may skip training with special permission from the Cabinet of Health and Family Services. You'll need to provide supporting documents to validate your claims of training and employment.
Prerequisites to Training
You can still enroll in many nurse assistant programs if you don't have a high school diploma. Many institutions will approve your request for admission, but they will require proof of an eighth-grade education, at minimum, to ensure you can keep up with the coursework. Some schools administer an entrance exam or request ACT or SAT scores in lieu of the high school diploma. Keep in mind that it is in your best interest to have a high school diploma if you plan to pursue further education. For this reason, it wouldn't hurt to take the GED test at some point in your training.
Following are some other prerequisites to training:
Be at least 18 years of age
Ability to speak and understand English
Some schools require a high school diploma or GED equivalent
Pass a criminal background check – Live scan method
Valid ID and social security card
Bill of good health
Negative TB test or chest x-ray
Up-to-date immunization
Kentucky Certified Nurse Aide Training Requirements
Nurse assistant students, who complete training through state-approved providers, are eligible to sit the state certification exam for inclusion on the state registry. Home-study courses, online training and distance education programs are not recognized by the state, so your application for testing will be denied if you use these training options. Kentucky's state-approved programs provide at least 75 hours of instruction, including a minimum 16 hours of supervised clinical practical. Supervised practical training gives students an opportunity to demonstrate their knowledge through hands-on care under the direct supervision of a licensed nurse. The clinical practical will take place in a laboratory or clinical setting – depending on the training provider.
Classroom sessions prepare students for the clinical practical. Over a period of two to three weeks (59+ contact hours), instructors prepare students for their hands-on role through lectures, demonstrations, discussions and presentations. Students learn the role of a nurse assistant, vital sign measurements, communication and interpersonal skills, nursing basics, infection control, patients' rights, CPR, safety and emergency, mental health, death and dying. In general, students can complete a 75-hour training program in just three weeks. Graduates are eligible to take the state certification exam.
Cost of CNA Training Kentucky
Nurse aide training in Kentucky costs an average of $520, not including the costs for textbooks, scrubs and state certification. Due to the short-term nature of nurse assistant programs, financial aid may not be an option. However, you should consult with the school's financial aid department to discuss options for grants and scholarships. Your local Medicare/Medicaid office may also know of grants that will assist with tuition costs.
Nursing homes in Kentucky may sponsor free training to qualified applicants. Check with a local home in your area to find out more about the terms and conditions for sponsorship, prerequisites, and upcoming training schedules. In general, these facilities sponsor training programs to recruit new employees. They cover the cost of tuition, course materials, scrubs, state certification and may even pay a stipend for the clinical rotation. The American Red Cross in Louisville also provides scholarship opportunities to low-income individuals.
Nurse Aide Testing
The Kentucky Community and Technical College System (KCTCS) is responsible for coordinating and administering the state's two-part written (or oral) and skills exam. The content of the exam reflects the content included on the state-approved curriculum. If you have difficulty reading English, you can request the oral exam option when you submit your application for testing. The skill exam tests your performance of 5 skills randomly selected from a pool of evaluation items. The written test contains 75 multiple choice questions; you must achieve at least 70% in order to pass the test.
In the skills test, you must perform all five tasks with 70% accuracy to pass the skills exam. For the critical steps, you must perform at 100% accuracy. If you're employed at the time of testing, you'll have three chances to take and pass the test within the initial 4-month employment period.
If you're unemployed, you'll have three chances to take the test over a 12-month period. If you pass the test, KCTCS will forward your name to the nurse aide registry within 30 days.
Walk with the following items on exam day:
Arrive on time (late arrival is considered a no-show)
Walk with your confirmation letter. You must be on the official roster to take the exam
Two forms of valid, unexpired ID (social security card included)
Uniform scrubs and flat, non-skid, closed-toe shoes for the skills exam
Out-of-State CNAs
You can apply for reciprocity in Kentucky if your name is listed on another state's registry. The registry will need your correct name, social security number, the date of inclusion on the registry and other documented findings, such as your employment history. Your application for reciprocity will be denied if your status is inactive on the old registry.
Renewal
The registry will renew your registration at least once every 2 years if you meet the following requirements:
You must complete at least 12 hours of ongoing staff development
You must work at least 8 hours for compensation within the 2-year period.
Contact the Registry:
Nurse Aide Registry
Kentucky Board of Nursing
312 Whittington Parkway, Suite 300
Louisville, KY 40222
Phone: (502) 429-3347
Toll-free: (888) 530-1919
Fax: (502) 429-3336
State Approved CNA Training Programs in Kentucky
Ashland, KY Colleges and Universities offering CNA programs:
Ashland Community and Technology College
4818 Roberts Drive, Ashland, KY 41102
(606)-326-2000
Elizabethtown, KY Colleges and Universities offering CNA programs:
Elizabethtown Community and Technology College
620 College Street Road, Elizabethtown, KY 42701
(270) 706-8464
Glasgow, KY Colleges and Universities offering CNA programs:
Bowling Green Technical College-Glasgow
129 State Avenue, Glasgow, KY 42141
(270) 901-1000
Hazard, KY Colleges and Universities offering CNA programs:
Hazard Community and Technology College
101 Vo-Tech Drive, Hazard, KY 41701
(606) 436-5721
Henderson, KY Colleges and Universities offering CNA programs:
Henderson Community College
2660 South Green Street, Henderson, KY 42420
(270) 827-1867
Lexington, KY Colleges and Universities offering CNA programs:
Bluegrass Community and Technology College
164 Opportunity Way, Lexington, KY 40511
(859) 246-6200
University of Kentucky
315 College of Nursing Building
Lexington, KY 40536-0232
(859) 323-5108
Lexington, KY Freestanding CNA programs:
Emergency Medical Training Professionals, LLC
1141 Red Mile Road | Suite 101, Lexington, KY 40504
(859) 327-EMTP (3687)
KY Health Training
343 Waller Av. Suite 204, Lexington, KY 40504
859-963-2901
Louisville, KY Colleges and Universities offering CNA programs:
Jefferson Community College
109 East Broadway, Louisville, KY 40202
(502) 213-5333
(855) 2GO-JCTC
Spalding University
845 South Third St., Louisville, Kentucky 40203
(502) 585-9911
(502) 585-7111
Louisville, KY Freestanding CNA programs:
Health Education Center
10508 Nanka Rd., Louisville, KY 40272
(502) 510-1363
Kentucky Health Care Training Institute
7400 New LaGrange Road, Suite 103, Louisville, KY 40222
(502) 426-3338
(502) 426-3337
Right Choice Health Care Training Institute
2301 Hurstbourne, Village Dr., Ste. 200, Louisville, KY 40299
(502) 974-2541
Wisdom and Health Institution
3920 Bardstown, Road, Suite 2, Louisville, KY 40218
(502) 491- 0492
Trilogy Health Services – Work With Purpose
303 N. Hurstbourne Parkway, Suite 200, Louisville, KY 40222
Louisville, KY Hospitals and Nursing Homes offering CNA programs:
Golden Living Center
4229 Bardstown Road St#204 Louisville, KY
(502) 671-2379
Right At Home
221 Executive Park, Louisville, KY 40207
502-897-0580
Madisonville, KY Colleges and Universities offering CNA programs:
Madisonville Community College
750 North Laffoon Street, Madisonville, KY 42431
(270) 821-2250
Paducah, KY Colleges and Universities offering CNA programs:
West Kentucky Community and Technical College
4810 Alben Barkley Drive, Paducah, KY 42002
(270) 554-9200
Pineville, KY Colleges and Universities offering CNA programs:
Southeast Kentucky Community and Technology College
3300 South Hwy 25 East, Pineville, KY 40977
(606) 589-2145
St. Catharine, KY Colleges and Universities offering CNA programs:
St. Catharine College
2735 Bardstown Rd., St. Catharine, KY 40061
(859) 336-5082