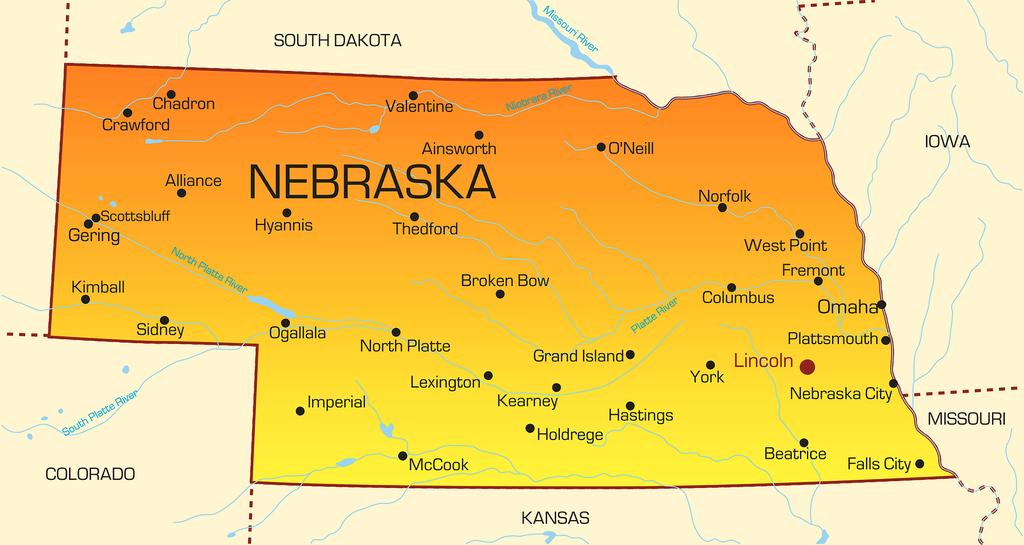 Certified Nursing Assistants play a critical role on a health care team. They perform essential duties under the direction of a licensed nurse and other supervisory staff at hospitals and other health care facilities. Their constant contact with patients places them in a unique position as they may be the first to know when something goes awry. Specialized training and testing, as outlined by Nebraska's Department of Health and Human Services, equip prospective nurse aides with the abilities to carry out their roles in medical institutions and long term care settings. In order to ensure easy access to training resources, the Department of Health has more than 25 approved training providers across the state. After completing training, graduates are eligible to take the state exam for inclusion on the state's nurse aide registry.
CNA Classes in Nebraska:
Certification Requirements
Nurse assistants who work in Medicare/Medicaid certified facilities and licensed nursing homes (not funded by Medicare or Medicaid) must successfully complete an approved nurse aide training program and competency evaluation. Training and evaluation prepare the nurse assistant for state licensure and placement on the registry. General nurse assistants, employed outside of these facilities, do not require placement on the registry prior to employment. However, if they meet the registry's requirements, they can request inclusion.
Employers must verify a nurse assistant's status on the registry before hire. The state, in accordance with federal guidelines, gives nurse aides the option to work for the period of 120 days (4 months) while pursuing training. During that non-renewable grace period, the student nurse aide must successfully complete all training and testing.
Military trained nurse assistants and foreign nurses may skip training and testing with written consent from the Department of Health. They must send a cover letter requesting direct placement on the registry along with supporting documentation and proof of Abuse In-service training. The department will review the request and determine whether the applicants needs to take the exam for placement on the registry.
Prerequisites to Training
Nebraska has strict requirements pertaining to nursing assistants' age, language, and criminal background. However, they are no educational requirements outside of the required nurse aide training. For this reason, it's left up to training providers to stipulate the requirements for enrollment. While many institutions give preference to applicants with a high school diploma, many others will approve your application without a high school transcript if you pass a pre-enrollment evaluation. It is in your best interest to have a high school diploma if you plan to enroll in further studies to advance your career beyond that of a CNA.
Following are some other prerequisites to training:
Be at least 18 years of age
Can speak and understand English
High school diploma or GED equivalent (depends on the training provider)
No criminal convictions (especially acts or behavior that violates moral standards)
State identification and social security card
A physical exam
Negative TB test or chest x-ray
Immunization (MMR, Varicella, Hepatitis B, Meningitis)
Nebraska Certified Nurse Aide Training Requirements
Nebraska's state-accredited training providers must facilitate at least 75-instructional hours in their programs. Students spend at least 59 hours in the classroom/lab setting where experienced instructors cover topics that prepare them to provide patient care services according to the state's standards. Key areas of study infection control, communication and interpersonal relationships, bedside care, safety and emergency, nursing principles, mental health, anatomy and physiology, death and dying. The clinical rotation, comprising of at least 16 hours of training, is another critical aspect of the curriculum. Students are afforded the opportunity to care for patients in an approved facility, which lets them put their skills to work. During the clinical rotation, students work in small teams under the supervision of a licensed nurse.
Graduates of state-accredited programs are eligible to sit the state's certification exam for placement on the registry. Keep in mind that the department will not approve an application for testing from graduates of non-accredited programs. Nebraska's 75-hour training requirements mean students can complete training in as little as two weeks full-time or four weeks part-time. Some providers facilitate training beyond the required 75-hours, which can extend the duration of training.
Cost of CNA Training Nebraska
There are several nursing homes approved to provide nurse assistant training in Nebraska. Check with these facilities if you need options for free CNA training. Nursing homes offer comprehensive training programs with numerous opportunities to provide hands-on care. You'll also benefit from completely free tuition, uniform, supplies, a stipend (in some homes), and the possibility of employment immediately following certification. The downside is the long waiting lists that fill up between programs.
If you have the means to pay for training, you can choose from several standard to fast-track training options in the state. Paid programs, on average, cost $550 plus the cost of textbooks, uniform, supplies and state certification. You should also budget funds for immunization, TB test, criminal background check and registration fees.
If you're employed at a medical institution, you can ask your employer to sponsor training. You can file for a pro-rated reimbursement of your training and certification costs if you begin working as a CNA within 12 months of certification.
Nurse Aide Testing
After completing your nurse aide training, you can register for the state certification exam through Nebraska Health Care Learning Center or the Providence Health Care Institute. There are several testing centers across the state, so you can choose a location that is most convenient. The test comprises of a written and clinical skills exam. You have up to three attempts to pass both components of the evaluation for placement on the registry.
If you pass the test, the testing center will forward your grades to the registry for entry. It can take up to 30 days after testing for your name to be included on the registry. However, you can use the 120-day provision to begin working while you wait for the update. Remember, passing the exam is only part the requirements for entry. You must be at least 16 years and pass a criminal background check for inclusion on the nurse aide registry.
Below you'll find contact information for Nebraska's testing agencies:
Nebraska Health Care Learning Center
1200 Libra Drive, Suite 100
Lincoln, Nebraska 68512
Phone: (402) 435-3551
Nebraska Health Care Learning Center
Providence Health Care Institute
4600 Valley Road, Suite 401
Lincoln, Nebraska 68510
Phone: (402) 326-2792
www.providencehealthcareer.com
Exam Costs
Written exam – $20
Skills evaluation – $32
Walk with the following items on exam day:
Arrive at least 30 minutes before the exam
Two forms of official ID
Test approval letter
Two No. 2 pencils and eraser
Uniform scrubs and flat, non-skid, closed-toe shoes for the skills exam
Out-of-State CNAs
If you're moving to Nebraska from another state, you must complete the application for endorsement and get on Nebraska's registry before you're eligible for employment. The process for endorsement takes approximately two weeks as long you provide all the necessary documents.
Submit the completed application for endorsement
Iowa residents must submit proof of training
Complete one hour of in-service abuse reporting
Take the state certification exam if you did not work or training in the past 24 months
Include copies of all relevant documents to expedite the process.
Renewal
Your status on the registry remains active as long as you maintain employment. If you cease working as a nurse aide for 24 months or more, your listing will lapse. There are no in-service or continuing education requirements for maintaining your active status.
Contact the Registry:
Nebraska Department of Health and Human
Division of Public Health
Licensure Unit
Nursing and Nursing Support
PO Box 94986
Lincoln, NE 68509-4986
For the Nurse Aide Registry
Nancy Stava
(402) 471-0537
(402) 471-1066 Fax
E-mail: nancy.stava@nebraska.gov
State Approved CNA Training Programs in Nebraska:
Ashland, NE Nursing Homes and Hospitals offering CNA programs:
Ashland Care Center
1700 Furnas Street, Ashland, NE 68003
402-944-7031
Atkinson, NE Nursing Homes and Hospitals offering CNA programs:
Good Samaritan Society-Atkinson
409 East Neely Street, Atkinson, NE 68713
402-925-2875
Chadron, NE Freestanding CNA programs:
Pine Ridge Job Corps
15710 Highway 385, Chadron, NE 69337
308-432-8664
Columbus, NE Colleges and Universities offering CNA programs:
Central Community College
4500 63rd Street, Columbus, NE 68602
402-562-1451
Fremont, NE Colleges and Universities offering CNA programs:
Midland University
900 North Clarkson Street, Fremont, NE 68025
402-941-6286
Gering, NE Nursing Homes and Hospitals offering CNA programs:
Heritage Estates
2325 Lodge Dr, Gering, NE 69341
308-436-5007
Grand Island, NE Colleges and Universities offering CNA programs:
Central Community College
3134 U.S. Highway 34, Grand Island, NE 68602
308-398-7440
Grand Island, NE Nursing Homes and Hospitals offering CNA programs:
Grand Island Veterans Home
2300 West Ctal Avenue, Grand Island, NE 68803
308-385-6252
Hastings, NE Colleges and Universities offering CNA programs:
Central Community College
550 Technical Blvd, Hastings, NE 68602
402-461-2441
Hebron, NE Nursing Homes and Hospitals offering CNA programs:
Blue Valley Lutheran Care Home
220 Park Avenue, Hebron, NE 68370
402-768-3930
Kearney, NE Colleges and Universities offering CNA programs:
Central Community College
3519 2nd Avenue Ste A, Kearney, NE 68602
308-338-4000
Kimball, NE Nursing Homes and Hospitals offering CNA programs:
Kimball County Manor
810 East 7th Street, Kimball, NE 69145
308-235-4693
Lexington, NE Colleges and Universities offering CNA programs:
Central Community College
1501 Plum Creek Parkway, Lexington, NE 68602
308-324-5936
Lincoln, NE Colleges and Universities offering CNA programs:
BryanLGH College of Health Sciences
5035 Everett Street, Lincoln, NE 68506
402-481-3802
Southeast Community College
8800 O St, Lincoln, NE 68520
402-437-2707
Union College
3800 South 48th Street, Lincoln, NE 68506
402-486-2524
Lincoln, NE Nursing Homes and Hospitals offering CNA programs:
Nebraska Health Care Association
3900 NW 12th St Suite, Lincoln, NE 68521
402-435-3551
Providence Health Career Institute, LLC
4600 Valley Road #410, Lincoln, NE 68510
402-326-2792
Mccook, NE Colleges and Universities offering CNA programs:
Willow Mid-Plains Community College
1205 East Third Street, McCook, NE 69001
308-345-8164
Mccool Junction, NE High Schools offering CNA programs:
McCool Junction School
209 South Second Street, P.O. Box 122, McCool Junction, NE 68401
402-724-2231
Milford, NE Nursing Homes and Hospitals offering CNA programs:
Crestview Care Center
1100 1st Street, Milford, NE 68405
402-761-2261
Newman Grove, NE Nursing Homes and Hospitals offering CNA programs:
Mid-Nebraska Lutheran Home
109 North 2nd Street, Newman Grove, NE 68758
402-447-6203
Norfolk, NE Colleges and Universities offering CNA programs:
Northeast Nebraska Community College
801 East Benjamin Avenue, Norfolk, NE 68701
402-844-7335
North Platte, NE Nursing Homes and Hospitals offering CNA programs:
Linden Court
4000 West Philip Avenue, North Platte, NE 69101
308-532-5774
North Platte, NE Colleges and Universities offering CNA programs:
Mid-Plains Community College
601 West State Farm Road, North Platte, NE 69101
308-345-8164
Omaha, NE Nursing Homes and Hospitals offering CNA programs:
Caregiver's Support Services
3610 Dodge Street, Omaha, NE 68131
402-502-1764
Freedom In Home Services, LLC
13820 Manderson Circle, Omaha, NE 68164
402-934-2224
Omaha Area Health Education Center (AHEC)
5017 Leavenworth Street, Omaha, NE 68106
402-502-1207
Quality Living
6404 N 70th Plaza, Omaha, NE 68104
402-573-3700
Omaha, NE Colleges and Universities offering CNA programs:
Metro Community College
PO Box 3777, Omaha, NE 68103
402-738-4791
Nebraska Methodist College
720 North 87th Street, Omaha, NE 68114
402-354-7078
Omaha, NE High Schools offering CNA programs:
Omaha Public Schools Career Center
3230 Burt Street, Omaha, NE 68131
402-557-3700
Omaha, NE Freestanding CNA programs:
Quality CNA/CMA LLC
5437 North 103rd Street, Omaha, NE 68134
402-609-9583
Ponca, NE Nursing Homes and Hospitals offering CNA programs:
Elms Health Care Center
410 Ball Park Road, Ponca, NE 68770
402-755-2233
Ralston, NE High Schools offering CNA programs:
Ralston High School
8989 Park Drive, Ralston, NE 68127
402-898-3590
Scottsbluff, NE Colleges and Universities offering CNA programs:
Western Nebraska Community College
1102 West 42nd Street, Scottsbluff, NE 69361
308-635-6705
Tecumseh, NE High Schools offering CNA programs:
Johnson County Central High School
358 North 6th Street, Tecumseh, NE 68450
402-335-3328
York, NE Nursing Homes and Hospitals offering CNA programs:
York General Hearthstone
2600 North Lincoln Avenue, York, NE 68467
402-362-4333