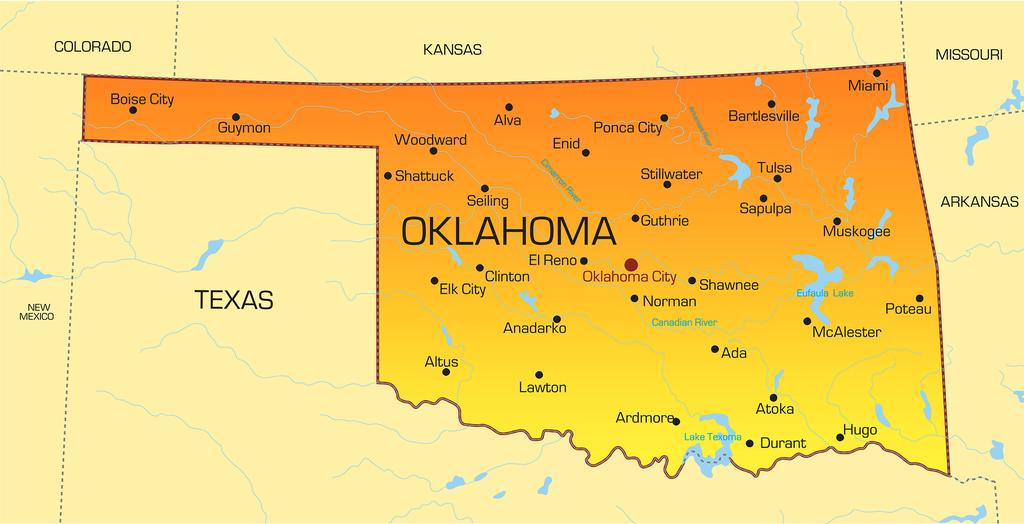 Certified nursing assistants (CNAs) undergo training to assist nurses with the delivery of patient care. Some of their primary duties include dressing, feeding, toileting and bathing patients. CNAs spend a great deal of time with the patients – more than other members of the health care team. Through their continued care and attention, they'll likely form close connections with the residents in extended care facilities. According to state laws, prospective CNAs must complete an approved training program and acquire state approval to provide direct care services. The Oklahoma State Department of Health approves/disapproves training programs, nurse aide testing, maintains a registry of active nurses and keeps record of CNAs found guilty of abuse.
CNA Classes in Oklahoma:
Certification Requirements
Nursing assistants cannot work in licensed long term care facilities and nursing homes for more than 120 days (4 months) without state certification. Nurse aide training and competency testing are both requirements that every prospective nurse aide must complete for inclusion on the state registry. State-sanctioned training programs prepare students for the state competency exam and their role as direct care workers. Employers at state-certified facilities must verify a prospective employee's status on the registry before extending an offer of employment. Employers are also obligated to work with the registry by reporting all instances of abuse or neglect.
If you work at a long-term care facility without certification, under the provision of the 4-month period, you must complete the state-required training and pass the competency exam for certification in order to continue providing nurse assistant services. Nursing students, foreign nurses, and military-trained personnel can apply to the Department of Health for exemption from training (with supporting documents) and proceed directly to the competency exam.
Prerequisites to Training
Prospective nurse assistants must complete state-approved training as a prerequisite to taking the state competency exam. Oklahoma's nurse aide training providers all have different requirements for enrollment. While many schools do not expressly require a high school diploma, they will administer an entrance exam to test the reading and comprehension skills of all applicants. The list below provides some general requirements for entry. For specific requirements, you should attend the school's information session.
Following are some other prerequisites to training:
Must be 18 years or older
OSBI background check
Valid state-issued ID card
Physical Exam and TB Clearance (current within 1 year)
Physical capability to stand for hours and lift up a minimum of 40 pounds
Basic math, reading and English writing skills
Varicella, Hep B, MMR vaccines
Liability insurance
Oklahoma Certified Nurse Aide Training Requirements
Oklahoma's Department of Health approved training programs must facilitate at least 120 hours of instruction, including classroom, lab and at least 16 hours of clinical training. During classroom training, Registered Nurse instructors cover essential topics, such as the roles and responsibilities of nurse assistants, personal care, basic nursing skills, feeding and nutrition, and communication skills to prepare students for the state exam. Students also learn how to respect patients' rights, contain infections, safety and emergency procedures, patient mobility and how to cope with death and dying.
The clinical rotation is a critical component of the program, and like the classroom and lab sessions, students must commit to 100 percent attendance in order to graduate. The clinical practicum usually takes place at an off-site licensed facility where students assist residents with personal care activities under the supervision of a licensed nurse instructor. Over the course of the 120-hour training, students should practice all 26 skills and learn the essential steps in preparation for the skills evaluation. Training programs typically run from 3 to 4 weeks – there might be fast-tracked options available. Nurse aide graduates are eligible to take the state competency exam for placement on the registry.
Cost of CNA Training Oklahoma
Oklahoma's intensive nurse aide training programs cost an average of $1050. Most school's advertised costs do not include the cost of textbooks, scrubs, medical tools, CPR, liability insurance, state certification, background check, and immunization. For this reason, it's important that you inquire about associated costs before enrolling in a program. Unfortunately, traditional sources of financial aid will not cover nurse aide training. However, training is free if you're employed or receive an offer of employment within 12 months of certification – when your employer reimburses your costs. To qualify for reimbursement, you'll need to retain your receipts detailing your payments made from your personal funds. Only graduates of state-approved programs will qualify for pro-rated reimbursement made by certified nursing facilities.
Nurse Aide Testing
Oklahoma has approved Prometric and Health & Professional Certifications to administer and score the state's nurse aide competency. The two-part exam comprises of a multiple-choice knowledge test and skills evaluation. The written test contains 55 multiple-choice questions and is 90 minutes long. Questions test your knowledge from 12 categories, including safety, communication, data collection, mental health, care impaired, infection control, personal care and others. You will take the test on a computer – you do not need computer experience to take the Written Test.
The Written (Knowledge) Test may be taken in an oral form. During the Oral Test, you will hear the questions read to you while reading and answering questions on the computer. You may replay questions as many times as needed. The Oral Test is helpful for candidates who have difficulty reading or for those who consider English their second language. You must notify the test proctor at least 30 days before the preferred test date if you would like to take the oral test. The request cannot be made on the day of testing.
The clinical skills test evaluates your nurse assistant skills. A computer will assign the skills you will need to perform and the time you are scheduled for testing. You will be scored on five skills. While performing three assigned skills, you will be scored on two additional skills – Handwashing and Indirect Care. Indirect Care is care related to resident rights and preferences, communication with the resident, resident safety, comfort and needs, and infection control. Clinical Skills test ranges from 31 minutes to 40 minutes based on the skills you are asked to perform. You must pass all five skills to pass the Clinical Skills Test.
Walk with the following items on exam day:
Arrive 30 minutes before the exam
Signed, non-expired, photo ID and a second signature ID
Watch with a second hand
Wear scrubs and flat, non-skid, closed-toe shoes for the skills exam
Exam fees:
Written exam: $25
Written (Oral): $20
Clinical: $30
Out-of-State CNAs
If you're an out-of-state CNA, you can transfer your license to Oklahoma through reciprocity.
Download and fill out the digital reciprocity application
Provide copies of your certification from the old state, proof of training and employment.
Note: If there are findings of abuse or neglect on your record, the registry will deny your application for transfer. There is no charge for LTC reciprocity.
Renewal
You may renew your Long-Term Care Nurse Aide recertification up to six (6) months in advance by submitting a digital application.
Applications without fees can be emailed to the Nurse Aide and Nontechnical Services Worker Registry team.
The Nurse Aide Registry (NAR) does not mail certification cards, but you can print your verification of certification on the website.
Renewal requires that you work at least eight (8) hours during the two (2) year timeframe of your certification. If you do not have this documentation, you may use at least eight (8) hours of work proof worked up to two (2) years after your expiration date.
If you do not have the required eight (8) hours of work proof, or your certification has expired by more than two (2) years, you must retest to obtain certification again.
To apply to retest for your LTC nurse aide certification, you must complete a LTC Retest Application and mail to the Nurse Aide Registry. Upon approval, NAR will send you an approval letter via mail. Once you have your approval letter, you can contact any career technology center to schedule your retest. You only have one chance to pass the test. If you do not pass, you must retrain for your certification. The retest application is only valid for LTC certifications.
For all other types of certification renewals, you must use the ODH 717 – Recertification Application and mail to the NAR. These include: home health aide, LTC aide, residential care aide, developmental direct care aide, adult day care aide, feeding assistant, certified medication aide, or advanced certified medication aide.
Contact the Registry:
Oklahoma State Department of Health
Nurse Aide Registry
PO Box 268816
Oklahoma City, OK 73126-8816
Oklahoma State Department of Health
123 Robert S. Kerr Ave.
Oklahoma City, OK
Phone: 405.426.8150
Fax: 405.900.7572
Email: NAR@health.ok.gov
State Approved CNA Training Programs in Oklahoma
Ada, OK Freestanding CNA programs:
McCall's Communities for Life Enrichment
13546 CR 3600, Ada, OK 74820
(580) 272-6626
Ada, OK High Schools offering CNA programs:
Pontotoc Technology-HS
601-33rd St, Ada, OK 74820
(580) 310-2224
Afton, OK High Schools offering CNA programs:
Northeast Technology
19901 S. Hwy 69, Afton, OK 74331
(918) 540-1111
Altus, OK Freestanding CNA programs:
Southwest Technology
711 W. Tamarack Rd, Altus, OK 73521
(580) 477-2250
Alva, OK Freestanding CNA programs:
Northwest Technology
1801 S. 11th St, Alva, OK 73717
(580) 327-0344
Antlers, OK Freestanding CNA programs:
Kiamichi Technology
405 Southwest O St, Antlers, OK 74745
(580) 298-6354
Ardmore, OK Nursing Homes and Hospitals offering CNA programs:
Elmbrook Home
1811 9th Ave Northwest, Ardmore, OK 73401
(580) 223-3303
Lakeland Manor
604 Lake Murray Dr, Ardmore, OK 73401
(580) 223-4501
Ardmore, OK Freestanding CNA programs:
Southern Oklahoma Technology
2610 Sam Noble Pkwy, Ardmore, OK 73401
(580) 223-2070
Atoka, OK Freestanding CNA programs:
Kiamichi Technology
1301 W. Liberty Rd, Atoka, OK 74745
(580) 889-7321
Bartlesville, OK High Schools offering CNA programs:
Tri County Technology-HS
6101 SE Nowata Rd, Bartlesville, OK 74006
(918) 331-3200
Beggs, OK Nursing Homes and Hospitals offering CNA programs:
Country Lane
306 W. 7th, Beggs, OK 74421
(918) 267-3362
Billings, OK Nursing Homes and Hospitals offering CNA programs:
Billings Fairchild Center
Hwy 15, Billings, OK 74630
(580) 725-3543
Bluejacket, OK Nursing Homes and Hospitals offering CNA programs:
Jeanie's Residential Care
408 NE Center, Bluejacket, OK 74333
(918) 784-2359
Broken Arrow, OK Freestanding offering CNA programs:
Gatesway Foundation Inc
1217 E. College St, Broken Arrow, OK 74012
(918) 259-1445
Broken Arrow, OK Nursing Homes and Hospitals offering CNA programs:
OSU-OKC Senior Suites, Healthcare
3501 W. Washington St, Broken Arrow, OK 74012
(918) 250-5405
Broken Arrow, OK Freestanding CNA programs:
Tulsa Technology
4000 W. Florence, Broken Arrow, OK 74145
(405) 334-2038
Wings Health Care Training
124 S. Elm Place, Broken Arrow, OK 74012
(918) 251-3322
Chandler, OK Nursing Homes and Hospitals offering CNA programs:
Chandler Nursing Center
601 E. 1st St, Chandler, OK 74834
(405) 258-1131
Chickasha, OK Freestanding CNA programs:
Canadian Valley Technology
1401 W. Michigan Ave, Chickasha, OK 73099
(405) 224-7220
Choctaw, OK Freestanding CNA programs:
Eastern Oklahoma County Technology
4601 N. Choctaw Rd, Choctaw, OK 73020
(405) 390-9591
Claremore, OK Freestanding CNA programs:
Northeast Technology
1901 N. Hwy 88, Claremore, OK 74331
(405) 334-2038
Claremore, OK Nursing Homes and Hospitals offering CNA programs:
Oklahoma Veterans Center-Claremore
3001 W. Blue Starr Dr, Claremore, OK 74017
(918) 342-5432
Emerald Care Center
2800 N Hickory, Claremore, OK 74017
918-341-4365
Clinton, OK Nursing Homes and Hospitals offering CNA programs:
Oklahoma Veterans Center-Clinton
1901 S. 4th St, Clinton, OK 73601
(580) 331-2200
Del City, OK Nursing Homes and Hospitals offering CNA programs:
Reliant Living Centers of Oklahoma, Inc.
3317 SE 18Th St., Del City, OK 73115
(405) 677-0502
Drumright, OK High Schools CNA programs:
Central Technology
3 CT Circle, Drumright, OK 74030
(918) 352-2551
Duncan, OK Nursing Homes and Hospitals offering CNA programs:
Duncan Community Residence
1510 W. Main, Duncan, OK 73534
(580) 255-3926
Duncan, OK Freestanding CNA programs:
Red River Technology
3300 W. Bois D' Arc, Duncan, OK 73534
(580) 255-2903
Durant, OK Freestanding CNA programs:
Kiamichi Technology
810 Waldron Dr, Durant, OK 74745
(580) 924-7081
Durant, OK Nursing Homes and Hospitals offering CNA programs:
Patchwork Angels
1420 E. Hwy 70, Durant, OK 74701
(580) 931-0444
El Reno, OK Freestanding CNA programs:
Canadian Valley Technology
6505 E. Hwy 66, El Reno, OK 73099
(405) 262-2629
Elk City, OK Nursing Homes and Hospitals offering CNA programs:
OSU-OKC Elk City Nursing Center
301 North Garrett, Elk City, OK 73644
(580) 225-2811
Enid, OK Nursing Homes and Hospitals offering CNA programs:
Autry Technology Center
1201 W. Willow, Enid, OK 73703
(580) 242-2750
Enid, OK Freestanding CNA programs:
Northern Oklahoma Resource Center
2600 E. Willow St., Enid, OK 73701
(580) 237-1027
Enid, OK Nursing Homes and Hospitals offering CNA programs:
OSU-OKC Greenbrier Nursing Home
1119 E Owen K Garriott Rd, Enid, OK 73701
(580) 233-0121
Veterans Acres Residential Care
2911 N. Grand Ave, Enid, OK 73701
(580) 242-3811
Fairfax, OK Nursing Homes and Hospitals offering CNA programs:
Fairfax Manor
701 W. Harrison Ave., Fairfax, OK 74637
(918) 642-3234
Fairview, OK Freestanding CNA programs:
Northwest Technology
801 Tech Dr, Fairview, OK 73717
(405) 227-3708
Northwest Technology
801 Vo-Tech Dr, Fairview, OK 73717
(580) 327-0344
Fort Cobb, OK Freestanding CNA programs:
Caddo Kiowa Technology
N 7th St & Fast Runner Rd, Fort Cobb, OK 73038
(405) 218-4466
Frederick, OK Freestanding CNA programs:
Great Plains Technology
2001 E. Gladstone Ave, Frederick, OK 73542
(580) 335-5525
Guthrie, OK Nursing Homes and Hospitals offering CNA programs:
Golden Age Nursing Home of Guthrie
419 E. Oklahoma Ave., Guthrie, OK 73044
(405) 282-0144
Westview Living Center
1900 W. Harrison Ave., Guthrie, OK 73044
(405) 282-0205
Guthrie, OK Freestanding CNA programs:
Guthrie Job Corps Center
3106 W. University Ave., Guthrie, OK 73044
(405) 282 9558
Guymon, OK Nursing Homes and Hospitals offering CNA programs:
Dr WF-Mada Dunaway Manor Nursing Home
1401 N. Lelia St., Guymon, OK 73942
(580) 338-3186
Hartshorne, OK Nursing Homes and Hospitals offering CNA programs:
Dow Residential Care
1515 Penn Ave, Hartshorne, OK 74547
(918) 297-2485
Henryetta, OK Freestanding CNA programs:
The Reach Corporation
1201 W. Trudgeon St., Henryetta, OK 74437
(918) 650-9393
Hugo, OK Freestanding CNA programs:
Kiamichi Technology
107 S. 15th St, Hugo, OK 74745
(580) 326-6491
Idabel, OK Freestanding CNA programs:
Kiamichi Technology
3205 NE Lincoln Rd, Idabel, OK 74745
(580) 286-7555
Indiahoma,OK Freestanding CNA programs:
Treasure Lake Job Corps
1111 Indiahoma Road, Indiahoma, OK 73552
(580) 246-3203
Kansas,OK Freestanding CNA programs:
Northeast Technology
450 N. Hwy 59, Kansas, OK 74331
(918) 868-3535
Kingston, OK Freestanding CNA programs:
Family Care Center of Kingston
710 Hwy 32, Kingston, OK 73439
580-564-2216
Lawton, OK Freestanding CNA programs:
Great Plains Technology
4500 SW Lee Blvd, Lawton, OK 73542
(580) 250-5501
Broadway Living Center
301 W Broadway, Lexington, OK 73051
(405)-527-6519
Madill, OK Nursing Homes and Hospitals offering CNA programs:
SCG Red River Management
105 North 5th Ave, Madill, OK 73446
(580) 916-2270
Marietta, OK Nursing Homes and Hospitals offering CNA programs:
Marietta Residential Care Facility
200 Wanda St, Marietta, OK 73448
(580) 276-3323
Mcalester,OK Freestanding CNA programs:
Kiamichi Technology
301 Kiamichi Dr, McAlester, OK 74745
(918) 426-0940
Midwest City,OK Freestanding CNA programs:
Mid-Del Technology
1621 Maple Dr., Midwest City, OK 73110
(405) 739-1713
Muskogee, OK Colleges and Universities offering CNA programs:
Connors State College
201 Court St, Muskogee, OK 74469
(918) 684-0436
Muskogee, OK Freestanding CNA programs:
Indian Ctal Technology
2403 N. 41st St E, Muskogee, OK 74955
(918) 687-6383
Muskogee, OK Nursing Homes and Hospitals offering CNA programs:
Parkview Residential Care
811 Gibson St, Muskogee, OK 74401
(918) 682-4131
Norman, OK Nursing Homes and Hospitals offering CNA programs:
High Cedar Residential Care
18601 Cedar Lane, Norman, OK 73068
(405) 447-2532
Jensen's Harvest Home
17364 St Hwy 9, Norman, OK 73072
(405) 387-5057
Norman, OK Freestanding CNA programs:
Moore Norman Technology
4701 12th Ave NW, Norman, OK 73070
(405) 364-5763
Nowata, OK Nursing Homes and Hospitals offering CNA programs:
Hays House
312 S. Mississippi St., Nowata, OK 74084
(918) 273-2002
Okarche, OK Nursing Homes and Hospitals offering CNA programs:
Center of Family Love
635 W. Texas Ave., Okarche, OK 73762
(405) 263-4658
Oklahoma City, OK Freestanding CNA programs:
CNA Training Academy
3824 N. Meridian Ave Ste., Oklahoma City, OK 73105
(405) 315-1357
Focused Now
1920 N MacAurthur Suite 212, Oklahoma City, OK 73142
405-301-9614
Francis Tuttle Technology
12777 N. Rockwell Ave., Oklahoma City, OK 73142
(405) 717-4270
Francis Tuttle Technology
3500 NW 150th St, Oklahoma City, OK 73142
(405) 334-2038
Francis Tuttle Technology
7301 W. Reno Ave, Oklahoma City, OK 73142
(405) 717-4344
Full Term CNA Training Center
5400 NW 23rd St Ste 100, Oklahoma City, OK 73127
(405) 525-2328
HH Deeming-OSDH
1000 NE 10th St, Oklahoma City, OK 73117
(405) 271-4085
Metro Technology
1700 Staton Dr, Oklahoma City, OK 73115
(405) 424-8989
Metro Technology
1720 Springlake Dr, Oklahoma City, OK 73115
(405) 334-2038
Metro Technology
4901 S. Bryant Ave., Oklahoma City, OK 73115
(405) 605-4770
Moore Norman Technology
13301 S. Pennsylvania Ave, Oklahoma City, OK 73070
(405) 364-5763
Oklahoma City
Morris Career Center
3504 N. Classen Blvd, Oklahoma City, OK 73118
(405) 249-1934
OSU-OKC Oklahoma City
900 N. Portland Ave., Oklahoma City, OK 73107
(405) 945-9145
Upscale CNA Program
2245 NW 39, Oklahoma City, OK 73112
(405) 524-1081
Bridges Health
4360 Will Rogers Pkwy Oklahoma City, OK
(405)-943-1144
Oklahoma City, Colleges and Universities offering CNA programs:
Grace College
4350 Will Rogers Pkwy Ste, Oklahoma City, OK 73108
(405) 640-4436
Oklahoma City, OK Nursing Homes and Hospitals offering CNA programs:
Neighbor Care Pharmacy
4141 Highline Blvd Ste 100, Oklahoma City, OK 73108
(405) 619-2900
Oklahoma Assisted Living Association
1217 Marlboro Lane, Oklahoma City, OK 73116
(405) 843-2410
Oklahoma Association of Health Care Providers
200 NE 28th St, Oklahoma City, OK 73105
(405) 524-8338
Daily Living Centers
3000 North Rockwell, Oklahoma City, OK 73008
(405) 949-1197
Shadow Nursing Inc
4801 N. Classen Blvd Ste 141, Oklahoma City, OK 73118
(405) 824-1378
Southwest Health Care Training Center
963 SW 107th Room 2019, Oklahoma City, OK 73170
(405) 616-2144
Okmulgee, OK Freestanding CNA programs:
Green Country Technology
1100 N. Loop 56, Okmulgee, OK 74447
(918) 758-0840
Okmulgee, OK Nursing Homes and Hospitals offering CNA programs:
Okmulgee Terrace Nursing Home
720 N. Miami St, Okmulgee, OK 74447
(918) 756-3556
Omega, OK Freestanding CNA programs:
Chisholm Trail Technology
283 Highway 33, Omega, OK 73764
(405) 729-8324
Owasso, OK Nursing Homes and Hospitals offering CNA programs:
Mimosa Manor Assisted Living
7410-127th-Ave, Owasso, OK 74055
(918) 272-2281
Pauls Valley, OK Freestanding CNA programs:
Southern Oklahoma Resource Center
3210 S. Chickasaw St, Pauls Valley, OK 73075
(405) 238-8296
Ponca City, OK Freestanding CNA programs:
Pioneer Technology
2101 N. Ash St, Ponca City, OK 74601
(580) 762-8336
Poteau, OK Freestanding CNA programs:
Kiamichi Technology
1509 S. McKenna Ave., Poteau, OK 74745
(918) 647-4525
Southeast-OK AHEC
1507 S. McKenna Ave., Poteau, OK 74953
(918) 647-8611
Pryor, OK Freestanding CNA programs:
Northeast Technology
6195 W. Hwy 20, Pryor, OK 74331
(918) 825-5555
Redbird, OK Nursing Homes and Hospitals offering CNA programs:
New Beginnings Residential Care Home
214 S. 4th St, Redbird, OK 74458
(918) 483-1425
Sallisaw, OK Nursing Homes and Hospitals offering CNA programs:
Don Mentzer Community Mental Health Center
103 Wheeler Ave, Sallisaw, OK 74955
(918) 775-7751
Oklahoma Nursing Homes, Inc
210 E. Choctaw Ave., Sallisaw, OK 74955
(918) 775-5712
OSU-OKC Sequoyah Manor
615 E. Redwood Ave., Sallisaw, OK 74955
(918) 775-4881
Sallisaw, OK Freestanding CNA programs:
Indian Ctal Technology
HC 61 Box 12, Sallisaw, OK 74955
(918) 775-9119
Sapulpa, OK Freestanding CNA programs:
Central Technology Center
1720 S. Main St., Sapulpa, OK 74030
(918) 227-0331
Seminole, OK Freestanding CNA programs:
Gordon Cooper Technology
800 N. Harvey, Seminole, OK 74804
(405) 273-7493
Seminole, OK Colleges and Universities offering CNA programs:
Seminole State College
2701 Boren Blvd, Seminole, OK 74868
(405) 382-9230
Shattuck, OK Nursing Homes and Hospitals offering CNA programs:
Shattuck Nursing Center
201 N. Alfalfa St., Shattuck, OK 73858
(580) 938-2501
Shawnee, OK Freestanding CNA programs:
Gordon Cooper Technology
One John-Bruton Blvd, Shawnee, OK 74804
(405) 273-7493
Cohesive Training Academy
816 E Federal Street, Shawnee, OK 74804
(405)- 942-8896
Spiro, OK Freestanding CNA programs:
Kiamichi Technology
610 SW 3rd St, Spiro, OK 74745
(405) 334-2038
Stigler, OK Freestanding CNA programs:
Kiamichi Technology
1410 Old Military Rd, Stigler, OK 74745
(918) 967-2493
Stillwater, OK Nursing Homes and Hospitals offering CNA programs:
Gatesway West
3014 S. Main St., Stillwater, OK 74074
(405) 743-3015
Stillwater, OK Freestanding CNA programs:
Meridian Technology
1312 S. Sangre Rd, Stillwater, OK 74074
(405) 377-3333
Indian Ctal Technology
Rt-Box 3320, Stilwell, OK 74955
(918) 696-3111
Stroud, OK Nursing Homes and Hospitals offering CNA programs:
Stroud Health Care Center-South
721 W. Olive, Stroud, OK 74079
(918) 968-2075
Tahlequah, OK Freestanding CNA programs:
Indian Ctal Technology
240 VoTech Rd, Tahlequah, OK 74955
(918) 456-2594
Talking Leaves Job Corps
5700 Bald Hill Rd, Tahlequah, OK 74464
(918) 456-9959
Talihina, OK Freestanding CNA programs:
Kiamichi Technology
Hwy 63A and Vo-Tech Dr, Talihina, OK 74745
(918) 567-2264
Kiamichi Technology Center
13739 SE 202 Road, Talihina, OK 74571
(918) 567-2264
Tonkawa, OK Colleges and Universities offering CNA programs:
Northern Oklahoma College
1220 E. Grand Ave., Tonkawa, OK 74653
(580) 628-6209
Tulsa, OK Nursing Homes and Hospitals offering CNA programs:
Angel House Residential Assisted Living
10018 E. 29TH St, Tulsa, OK 74129
(918) 664-1215
Comprehensive Community Rehabilitation
7146 S. Braden, Suite 500, Tulsa, Oklahoma 74136
(918) 488-6165
ProCare Homes
8177 S. Harvard Ave., Ste 310, Tulsa, OK 74137
(918) 492-8420
Interim HealthCare of Tulsa
2828 E. 51st St, Tulsa, OK 74105
(918) 749-9933
Tulsa, OK Freestanding CNA programs:
DeBon, Theresa J., RN
3507 E. Easton St, Tulsa, OK 74115
(918) 834-7027
DeBon's CNA Academy, LLC
1523 C. S. Harvard Ave, Tulsa, OK 74112
(918) 745-1202
OSU Health Training Center
1601 S. Main St., Tulsa, OK 74119
(918) 592-1991
OSU Health Training Center
2502 E. 71st St, Tulsa, OK 74119
(918) 663-9293
Prepared-Care
124 N. Greenwood Ave, Ste C, Tulsa, OK 74120
(918) 794-6380
Tulsa Job Corps Center
1133 N. Lewis Ave, Tulsa, OK 74110
(918) 585-9111
Tulsa Technology
3350 S. Memorial Dr, Tulsa, OK 74145
(918) 428-2261
Tulsa Technology
3850 N. Peoria, Tulsa, OK 74145
(405) 334-2038
Tulsa, OK High Schools offering CNA programs:
Tulsa Technology-HS
3420 S. Memorial Dr, Tulsa, OK 74145
(918) 828-1003
Tulsa, OK College and Universities offering CNA programs:
Tulsa Community College
909 S. Boston Ave, Tulsa, OK 74119
(918) 595-8944
Vici, OK Nursing Homes and Hospitals offering CNA programs:
Town of Vici Nursing Home
619 Speck, Vici, OK 73859
(580) 995-4216
Vinita, OK Nursing Homes and Hospitals offering CNA programs:
Craig General Hospital
735 N. Foreman St, Vinita, OK 74301
(918) 256-7551
Home of Hope, Inc
900 Hope Ave, Vinita, OK 74301
(918) 256-7825
Miller Cozy Home Inc
203 N. Gunter, Vinita, OK 74301
(918) 256-3796
Warner, OK Colleges and Universities CNA programs:
Connors State College
Rt-Box 1000, Warner, OK 74469
(918) 463-2931
Wayne, OK Freestanding CNA programs:
Mid-America Technology
P.O. Box H, Wayne, OK 73095
(405) 449-3391
Weleetka
Eidetik of Weleetka
122 E. 10th, Weleetka, OK 74880
(405) 786-2401
Welling, OK Nursing Homes and Hospitals offering CNA programs:
Sugar Mountain Retreat Inc
Rt1, Box 772, Welling, OK 74471
(918) 456-1010
Wetumka, OK Nursing Homes and Hospitals offering CNA programs:
Pioneer Nursing Home
620 S. Alabama St., Wetumka, OK 74883
(405) 452-3271
Wetumka, OK High Schools offering CNA programs:
Wes Watkins Technology-HS
7892 Hwy 9, Wetumka, OK 74883
(405) 452-5500
Wewoka, OK Nursing Homes and Hospitals offering CNA programs:
Oakridge Home
East 7th St. & Compton, Wewoka, OK 74884
(405) 257-5800
Woodward, OK Freestanding CNA programs:
High Plains Technology
3921 34th St, Woodward, OK 73801
(580) 477-2532
Yale, OK Nursing Homes and Hospitals offering CNA programs:
TLC Residential Care
219 S. B St, Yale, OK 74085
(918) 387-2856
Yukon, OK Freestanding CNA programs:
Canadian Valley Technology
1701 S. Czech Hall Rd, Yukon, OK 73099
(405) 422-2342