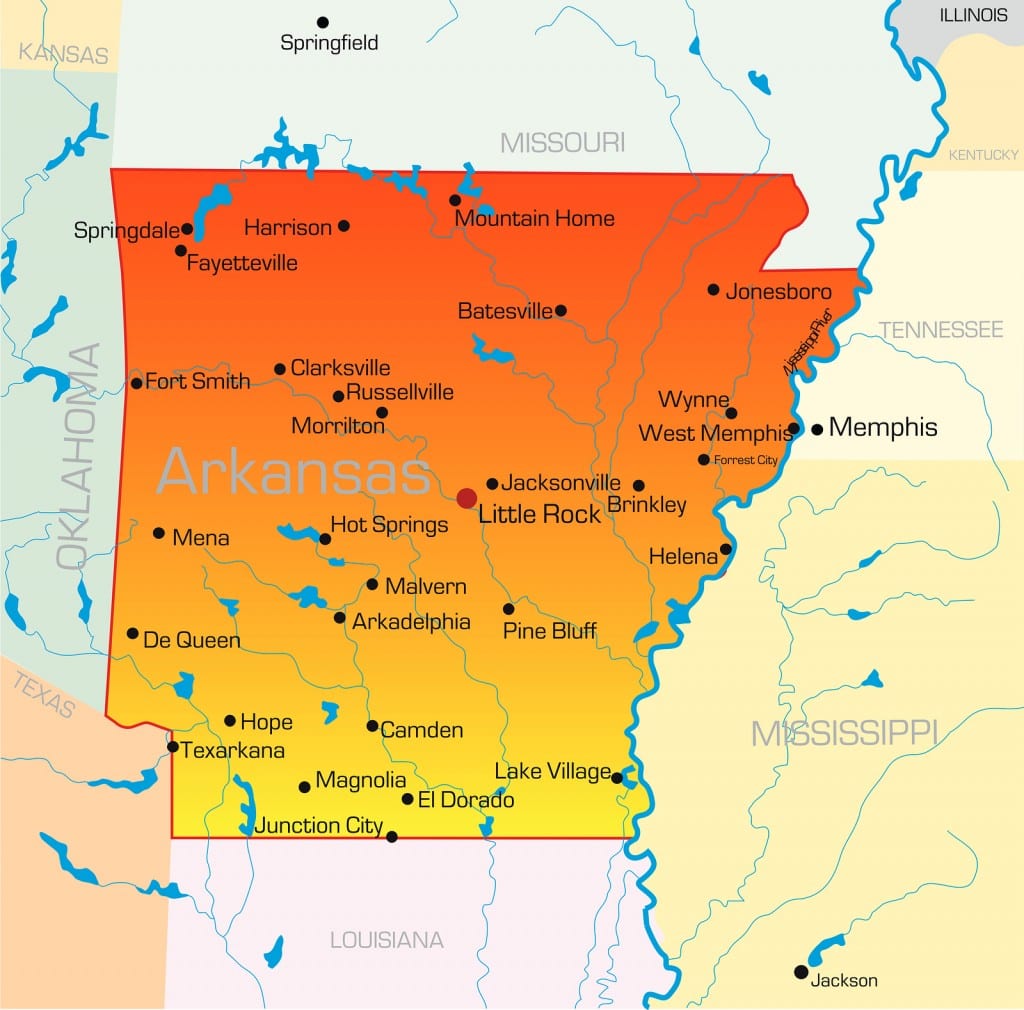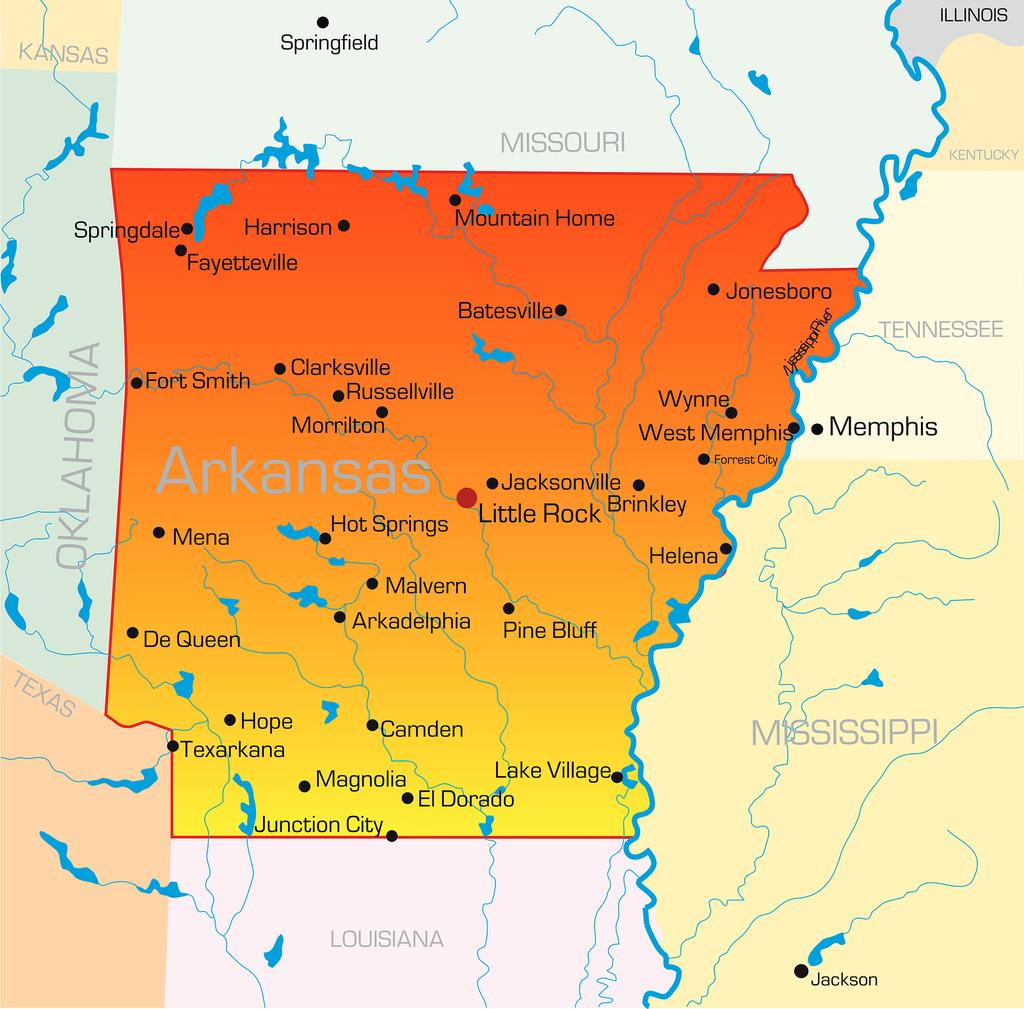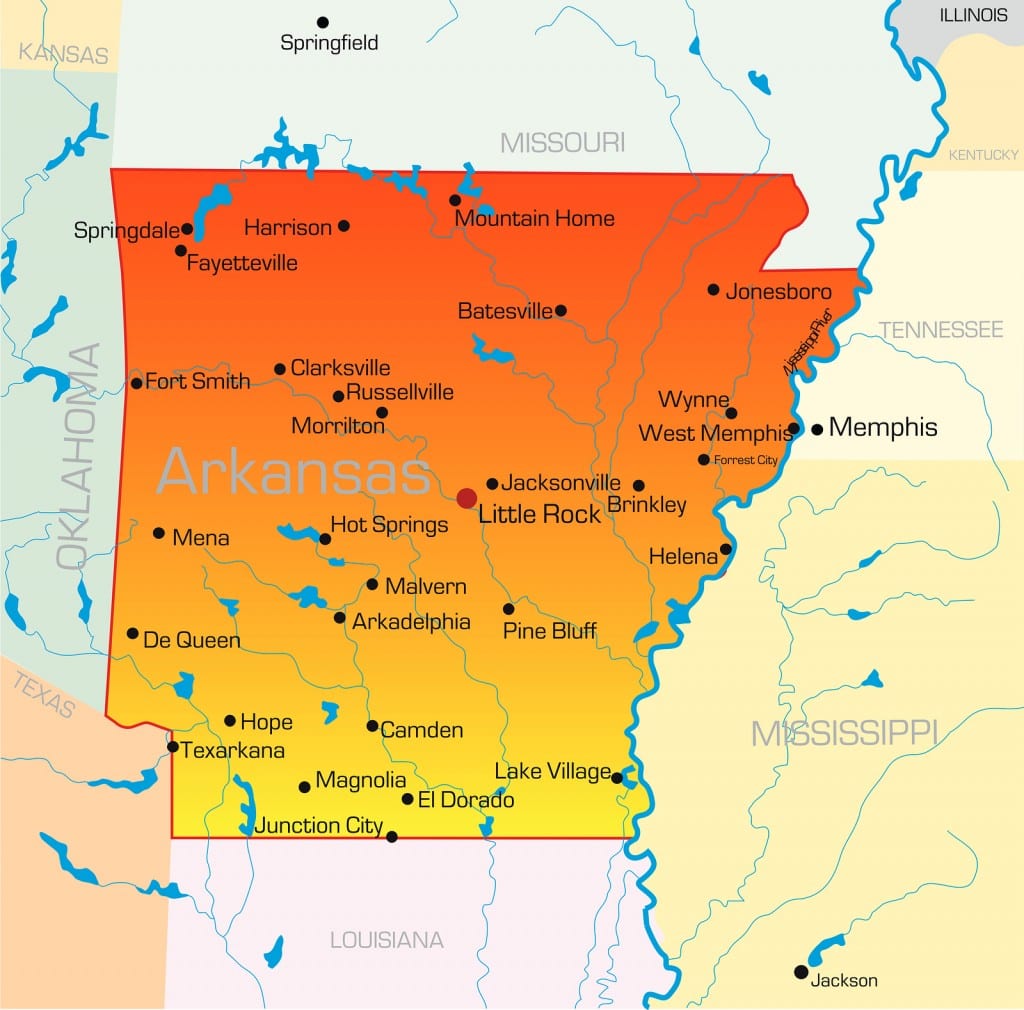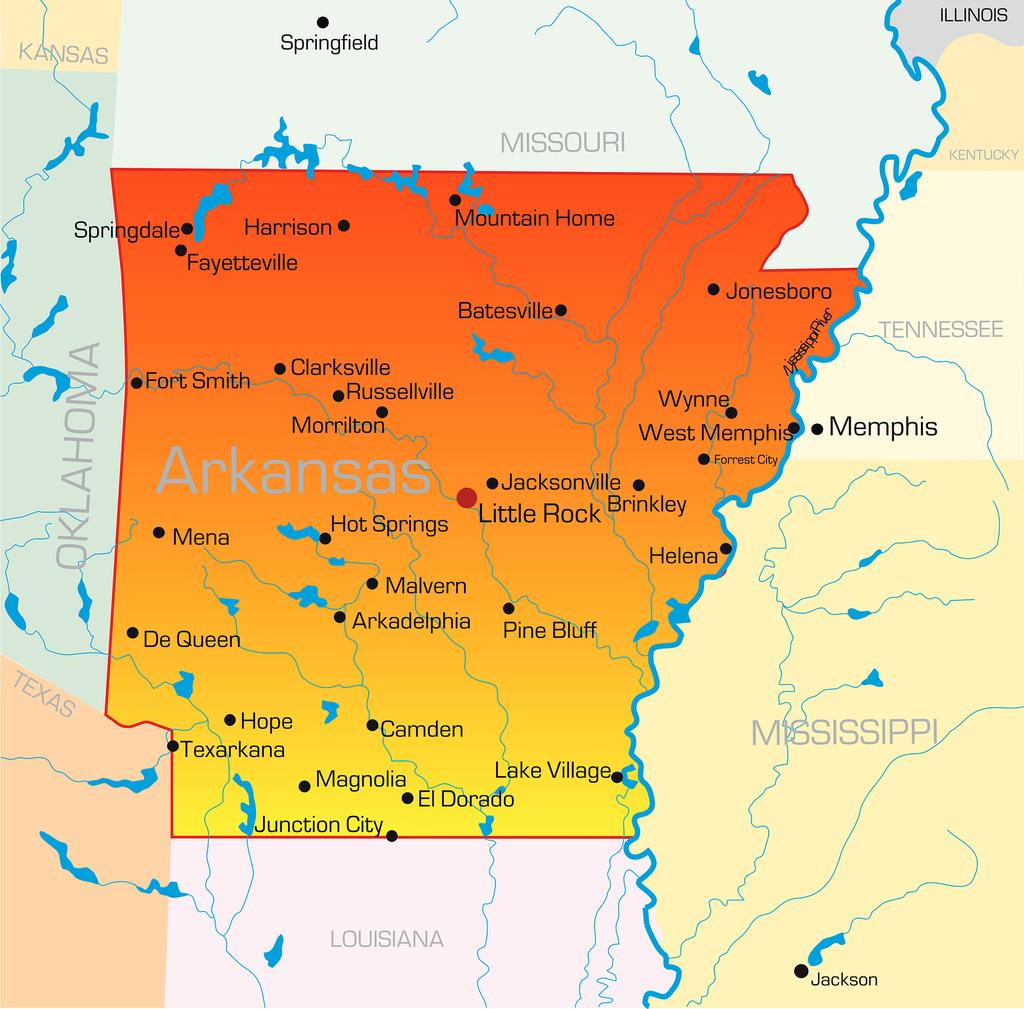 As the population ages, there's a greater demand for certified nurse aides to care for seniors and the disabled at long-term care facilities. There are more than 2.5 million seniors living in licensed nursing homes and residential care facilities across the nation. According to the National Network of Career Nursing Assistants, senior care facilities have a continuous challenge of finding committed staff. The high rate of turnovers for nurse aides is due to misguided expectations and career advancement opportunities. While the majority of nurse aides move on to other careers in the industry, 28 percent stay five years or more and 15 percent spend more than 10 years working as CNAs.
CNA Classes in Arkansas:
Certification Requirements
Like other states, Arkansas' Department of Health and Human Services adopts and promulgates federal requirements for nursing assistant training and competency programs. In keeping with federal guidelines, nurse aides cannot volunteer or work for compensation in licensed long-term care facilities without proper certification and listing on the state registry. The state's department of health has an established curriculum for training and testing of nurse aides. State approved training providers must emphasize basic nursing procedures, communication and relationship building and respect and sensitivity to residents' rights, independences and needs during training.
Employers also have a responsibility to verify the status of all prospective employees at the nurse aide registry. Nurses aides must complete a formal training program before challenging the nurse aide competency evaluation for placement on the registry. The department of health makes special provisions for nursing students, foreign nurses and military-trained CNAs to skip formal training once they provide relevant documents.
Long-term care facilities may hire non-certified nurse aide students for a period of 4 months (120 days) while they pursue training and competency evaluation. The 120-day allowance is not renewable.
Prerequisites to Training
There are no federal regulations or state rules guiding minimum education requirements for nurse aides. Therefore, you can still enroll in most certified nurse aide programs if you don't have a high school diploma. Keep in mind that training providers have their own requirements for admission, which might include passing an admissions exam or presenting transcripts of your high school education. If you plan to advance to other positions in the health care industry, you will need a high school diploma. CNAs in Arkansas earn a median annual salary of $24,010; relatively small by today's standards. A high school diploma provides a stepping stone to other career paths and a higher salary.
You should meet the following requirements for admissions into CNA programs:
Possess a sound ability to read and understand
Some schools require a high school diploma
Must be at least 18 years old
Criminal background check (Live scan method)
Physical exam
Negative TB test
Up-to-date immunization
Arkansas Certified Nurse Aide Training Requirements
Arkansas nurse aide training programs should instill in students the attitudes and behaviors that promote the emotional and physical health of residents. Programs consist of a combination of classroom and clinical instruction over the course of 90 hours. Throughout the duration of the theoretical training, students acquire knowledge of basic nursing principles, infection control, anatomy and physiology, safety and emergency procedures, residents' rights, observation and reporting.
Skills training takes place in both the classroom, lab and at an approved long term care facility. Part I of the program (the first 16 hours) serve as an orientation where instructors impart knowledge via lectures and live demonstrations to prepare students for training at a long term care facility. Students cannot participate in patient care nor have direct contact with patients until they complete this part of the course. The remaining 74 hours includes 58 hours of lectures and lab and 16 hours of supervised practical training. Upon completion of the program, the graduate will receive a certificate of completion and can proceed to the state competency exam.
The state will deny an application for testing to anyone who did not complete a program accredited by the state. The department of health does not recognize online CNA classes.
Cost of Training
The average cost of CNA training in Arkansas is $800. Tuition varies according to the institution. For instance, CNA classes at colleges and universities have the highest advertised tuition costs. College programs are a good option if you plan to further your career as course credits may be transferable into degree programs.
Nursing homes often offer CNA training at no charge. The National Network of Career Nursing Assistants advises prospective nurse aides to contact local nursing homes for free training opportunities. Workforce programs represent another way to secure free or low-cost CNA classes. Contact the local social services or elder care services agencies to find out more about funding. If you begin working at a Medicare/Medicaid funded agency within 12 months of certification, you should contact your local Medicaid office to arrange prorated reimbursement of your expenses.
Nurse Aide Testing
Prometric administers the nurse aide competency exam and manages the nurse aide registry in Arkansas. The two-part exam tests nurse aides' readiness to provide care to residents at long term care facilities. Candidates must pass both components of the exam in order to obtain placement on the registry.
The written test contains 60 multiple-choice questions to test nurse aides knowledge and skills. Students have 90 minutes to complete all 60 questions. There is an oral option for candidates who have difficulty reading English. Candidates will listen to the questions on a headset connected to a CD player and respond to them on a printed test booklet. If you choose the oral option, you must place the request at the time of application.
The timed clinical evaluation comprises of 5 skills: Handwashing and indirect care and the other three that the computer issues at random. The time for completing the skills varies from 30 to 40 minutes based on the skills assigned. You must pass all five skills in order to pass the skills exam. Prometric will add you to the state's registry if you pass both written and skills exams.
If you fail one component of the exam, you can retest up to three times. Thereafter, you'll have to complete another 90 hours of training before you're eligible to take the exam again.
Certification Costs 
Written and skills exam – $75
Written retest – $20
Oral retest – $20
Walk with the following items on exam day:
Two forms of government-issued IDs
Three no. 2 pencils
Eraser
Non-skid footwear
Watch with second hand
Uniform scrubs for the clinical (recommended)
Out-of-State CNAs
The Office of Long Term Care processes applications for transfer of CNA licenses. Here are the steps for transferring your license:
Contact the OLTC to get approval for nurse aide testing
The department will need copies of your transcript, your certificate and IDs
Once the office grants approval, they will send you an approval letter
Fill out the application for testing with Prometric and provide the approval letter to schedule your exam 
Renewal
Certified Nurse Aides must re-certify every two years. Arkansas no longer charges a fee for renewals.
Download the application form online if you did not receive a form in the mail
You need to provide proof of at least 8 consecutive hours of paid employment within the last 24 months – acceptable proof of employment includes pay stub or payroll printout
Provide copies of supporting documents if your name or address changes
Ask your employer to fill out of employment information (most recent)
Contact the Registry:
Arkansas Nurse Aide Registry
AR Department of Human Services
Office of Long-term Care
PO Box 8059, Slot S405
Little Rock, AR 72203-8059
Automated Line: 501-682-8484
Direct Line: 501-682-1807
Fax: 501-682-8551
Registry Managed by:
Prometric
AR Nurse Aide
7941 Corporate Dr.
Nottingham, MD 21236
Phone: 800.818.8917
State Approved CNA Training Programs in Arkansas
Arkadelphia, AR CNA programs:
Clark County Community Education
3021 Twin Rivers Dr.
Arkadelphia, AR 71923
(870) 246-6337
Ash Flat, AR CNA programs:
Ash Flat Healthcare and Rehabilitation Center
66 Ozbirn Lane
Ash Flat, AR 72513
(870) 994-2341
Batesville, AR CNA programs:
AHEC- North Central
1215 Sidney Street, Ste 201
Batesville, AR 72503
(870) 698-1023
University of AR Community College- Batesville
PO Box 3350
Batesville, AR 72503
(870) 612-2141
Bentonville, AR CNA programs:
Northwest AR Community College – Bentonville
One College Dr.
Bentonville, AR 72736
(479) 986-6790
Blytheville, AR CNA programs:
AR Northeeastern College
PO Box 1109
Blytheville, AR 72316
(870) 762-1109
Camden, AR CNA programs:
SAU Tech
PO Box 3499
Camden, AR 71701
(870) 574-4585
Clinton, AR CNA programs:
Ozark Health Foundation
PO Box 206
Clinton, AR 72031
(501) 745-9536
Conway, AR CNA programs:
Conway High School
2300 Prince St.
Conway, AR 72032
(501) 450-4888
Crossett, AR CNA programs:
Crossett High School
111 Greenbrair Circle
Crossett, AR 71635
(870) 364-2625
UAM College of Technology – Crossett
1326 Highway 52 West
Crossett, AR 71635
(870) 364-6414
De Queen, AR CNA programs:
Cossatot Community College of U of A
PO Box 960
De Queen, AR 71832
(870) 584-4471
DeWitt, AR CNA programs:
Phillips Community College
1210 Ricebelt Ave
DeWitt, AR 72042
(870) 946-3506
El Dorado, AR CNA programs:
South Arkansas Communtiy College
300 South West Ave.
El Dorado, AR 71730
(870) 862-8131
Forrest City, AR CNA programs:
Crowley's Ridge Technical Center
PO Box 925
Forrest City, AR 72335
(479) 633-5411
Fort Smith, AR CNA programs:
PRN Medical Services
4500 Rogers Ave.
Fort Smith, AR 72903
(479) 785-9222
University of AR at Fort Smith
PO Box 3649
Fort Smith, AR 72913
(479) 788-7843
Schmieding- Fort Smith
512 S 16th St
Fort Smith, AR 72901
(479) 424-0053
Harrison, AR CNA programs:
AHEC-NW at Harrison
1515 Pioneer Drive
Harrison, AR 72601
(870) 391-3140
Hope, AR CNA programs:
UACC – Hope
2500 South Main
Hope, AR 71802
(870) 722-8224
Hot Springs, AR CNA programs:
AR Career Training Insitute-HSRC
PO Box 1358
Hot Springs, AR 71902
(501) 701-6612
National Park Community College
101 College Dr.
Hot Springs, AR 71913
(501) 760-4160
Jacksonville, AR CNA programs:
AANA- (Cabot, Des Arc, Heber Springs, Lonoke, MsCrory, Melborne, Pulaski County, Searcy, and Star City)
PO Box 727
Jacksonville, AR 72076
(501) 982-0655
Jonesboro, AR CNA programs:
NEA Career and Technical Center
1727 S. Main
Jonesboro, AR 72401
(870) 933-5891
Little Rock, AR CNA programs:
Dr. Emma K Rhodes Education Center
1917 Wright Ave.
Little Rock, AR 72202
(501) 372-5490
Little Rock Job Corps Center
6900 Scott hamilton Rd.
Little Rock, AR 72206
(501) 618-2500
Medlinc, Inc.
1501 N. University
Little Rock, AR 72205
(501) 492-7200
Magnolia, AR CNA programs:
Compassion CNA Training School
PO Box 1734
Magnolia, AR 71753
(870) 235-1414
Malvern, AR CNA programs:
PHCTA – Malvern
625 E. Page St.
Malvern, AR 72104
(501) 337-9155
Melbourne, AR CNA programs:
Ozark Technical College
218 College Dr.
Melbourne, AR 72556
(870) 368-7371
Mena, AR CNA programs:
Rich Mountain Community College
1100 College Dr.
Mena, AR 71953
(479) 394-7622
Rich Mountain Nursing and Rehab Center
306 Hornbeck
Mena, AR 71953
(479) 394-3511
Monticello, AR CNA program:
Monticello Workforce Training Center
PO Box 1890
Monticello, AR 71655
(870) 367-7882
Morrilton, AR CNA programs:
UACCM Nursing Assistant Training Program
1537 University Blvd.
Morrilton, AR 72110
(501) 977-2152
Mountain Home, AR CNA programs:
ASU-Mountain Home
1600 South College
Mountain Home, AR 72653
(870) 508-6154
Mountain View, AR CNA programs:
Mt. View High School Career Center
210 Killian St.
Mountain View, AR 72560
(870) 269-7750
Newport, AR CNA programs:
Arkansas State University-Newport
7648 Victory Blvd.
Newport, AR 72112
(870) 512-7818
North Little Rock, AR CNA programs:
North Little Rock High School -West NATP
101 W. 22nd St.
North Little Rock, AR 72114
(501) 771-8100
Ozark, AR CNA programs:
Arkansas Tech University-Ozark
1700 Helberg Lane
Ozark, AR 72949
(479) 667-2117
Paragould, AR CNA programs:
RSB Nursing Assistant Training Program
9001 Highway 358
Paragould, AR 72401
(870) 926-9496
AR Northeastern College-Paragould
PO Box 458
Paragould, AR 72450
(479) 239-3200
Perryville, AR CNA programs:
Perry County CNA Training Center
1321 Scenic Drive
Perryville, AR 72126
(501) 889-2400
Pine Bluff, AR CNA programs:
Davis Life Care Center
6810 South Hazel St.
Pine Bluff, AR 71603
(870)541-0342
Olympic Healthcare
3077 West 28th St.
Pine Bluff, AR 71603
(870) 536-7060
Southeast Arkansas College
1900 Hazel St.
Pine Bluff, AR 72603
(870) 534-5929
Pocahontas, AR CNA programs:
Black River Technical College
PO Box 468
Pocahontas, AR 72455
(870) 892-4565
Prescott, AR CNA programs:
Hillcrest Community Education
1421 W. 2nd St. North
Prescott, AR 71857
(870) 887-3811
Rogers, AR CNA programs:
AR Career Training of the Ozarks
Pope and Sebastian Counties
299 South 24th St
Rogers, AR 72758-1101
(479) 616-6138
Royal, AR Freestanding CNA programs:
Ouachita Job Corp
570 Job Corp Rd.
Royal, AR 71968
(501) 767-2707
Russellville, AR CNA programs:
River Valley NATP – OLA
610 Patterson Ln.
Russellville, AR 72802
(479) 858-2290
Stella Manor Nursing and Rehab Center
400 North Vancouver
Russellville, AR 72801
(479) 968-4141
Searcy, AR CNA programs:
ASU-Beebe CNA Program
3214 East Race St.
Searcy, AR 72143
(501) 278-3189
White County Medical Center
3214 East Race St.
Searcy, AR 72143
(501) 380-4668
Siloam Springs, AR CNA programs:
Northwest AR Community College
1500 West Jefferson
Siloam Springs, AR 72761
(479) 524-5134
Springdale, AR CNA programs:
Petra Allied Health – Hot Springs, Fort Smith, Springdale
PO Box 6611
Springdale, AR 72766
(501) 627-1906
Texarkana, AR Nursing Homes and Hospitals offering CNA programs:
Texarkana Nursing Academy
718 East 5th St.
Texarkana, AR 71854
(870) 772-6860
Texarkana AR Career and Tech Center
1200 Jefferson Street
Texarkana, AR 71854
(870) 772-3662
Walnut Ridge, AR CNA programs:
Walnut Ridge Nursing and Rehabilitation Center
1500 West Main St.
Walnut Ridge, AR 72476
(870) 886-9022
West Memphis, AR CNA programs:
Mid-South Community College
2000 W. Broadway
West Memphis, AR 72301
(870) 733-6722
White Hall, AR CNA programs:
White Hall Nursing and Rehab Center
PO Box 20819
White Hall, AR 71612
(870) 247-0800
Wayne, AR CNA programs:
St. Cross Health Care Ed. LLC
324 Commercial
Wynne, AR 72396
(870) 588-5772
Sisters Education
PO Box 1127
Wynne, AR 72396
(870) 238-7941
Save
Save
Get Your Degree!
Find schools and get information on the program that's right for you.
Powered by Campus Explorer