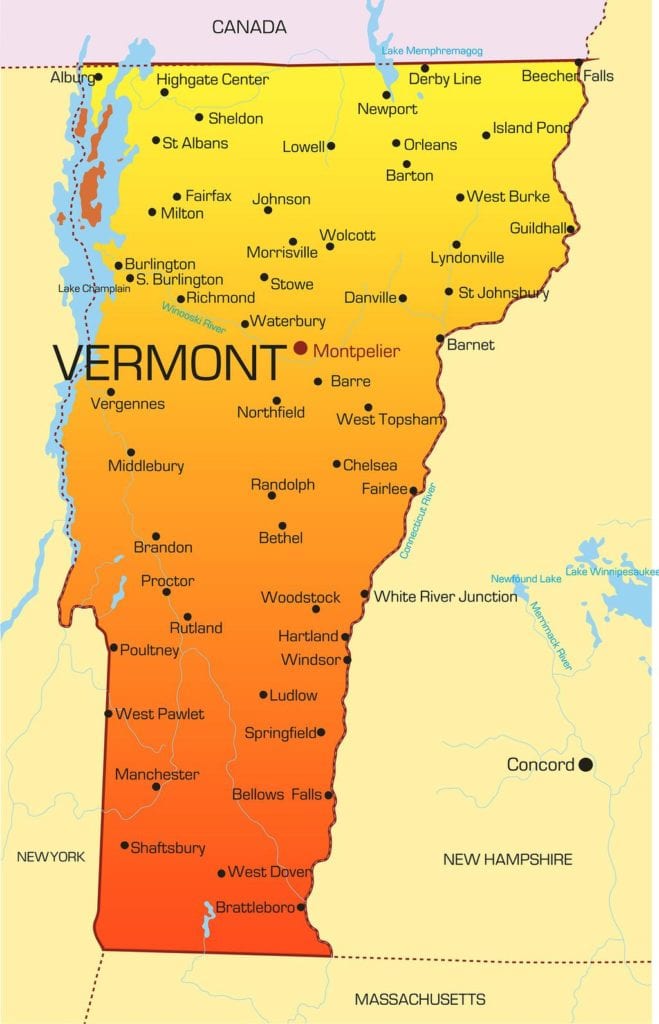 Certified nurse assistants provide personal care to residents in long term care facilities. They don't treat patients directly, but their constant interactions with patients place them in a unique position to identify and report concerns to doctors and nurses. If you plan to enter the healthcare industry as a CNA (or LNA as they're called in Vermont), you need to obtain proper training. State-accredited institutions, such as colleges, nursing homes, and the American Red Cross, provide intensive training to prepare graduates for success in this entry-level position. Hands-on training is a crucial aspect of most programs as it prepares students for the state certification exam. The Vermont State Board of Nursing regulates the practice of nursing assistants in the state. They approve nurse aide training programs, provide licenses to those who pass the state competency exam and oversee the operation of the nurse aide registry.
CNA Classes in Vermont:
Certification Requirements
Certified nursing homes and long term care facilities cannot hire an individual to provide direct care services for more than 120 days (4 months) unless the individual is in active status on the nurse aide registry and demonstrates competency in the provision of nursing related services.
Training provides prospective nurse aides with the education needed to pass the state certification exam and execute their roles as a part of the health care team. Employers have a legal responsibility to ensure all members of staff, who provide direct care services as LNAs, are in active status on the registry.
Vermont, in accordance with federal regulations, lets nurse assistants work for a period of 4 months, without a license while pursuing training and state certification. The 4-month period is non-renewable, so you must successfully pass the state exam during this initial period. Nursing students (enrolled in state-approved programs), foreign nurses, and military-trained personnel can apply directly to the Board for exemption from training and take the state certification exam for placement on the registry.
Prerequisites to Training
A high school diploma is not required to enroll in most LNA training programs. However, the training institution reserves the right to request a copy of your high school transcript or GED equivalent. Many schools will administer a pre-enrollment exam before admission to evaluate your reading, comprehension, and basic math skills. A mandatory information session, conducted before classes commence, presents an overview of the training, requirements, and expectations for graduation.
Some other prerequisites:
Must be 16 or older
High School diploma or GED is not required
Attend the mandatory information session
No records of arrest, crimes, or assault of any kind
Valid state-issued ID card
Two-step tuberculin skin test (TST)
Varicella, MMR and Hepatitis B vaccines
Physical exam
Vermont Certified Nurse Aide Training Requirements
Vermont's Board of Nursing approved training programs provide at least 75 hours of training divided into classroom and hands-on lab and work in a clinical setting. LNA students acquire the education and skills that teach them how to care for residents of nursing homes, hospitals and assisted living facilities. The goal of any training program is to teach students how to care for residents without compromising their independence and quality of life. The classroom curriculum covers nutrition, the role of the nurse assistant, communication, patient rights, anatomy, medical terminology, controlling infections, safety and emergency, patient mobility, caring for patients with special needs, death and dying.
After completing the classroom and hands-on lab requirements, or at some point after the first 16 hours of classes, students complete a clinical rotation at a licensed nursing facility. This rotation gives students a chance to put their skills to work and operate in a team under a nurse's supervision. Training programs are generally 3 to 4 weeks long though there might options for two-week fast-track training. Program graduates are eligible to take the state exam for placement on the registry.
Cost of CNA Training Vermont
Nurse assistant training is free if you're employed at a nursing home – in such an instance, your employee must pay for your training and state certification. Even if you're not currently employed in a healthcare setting, you can qualify for reimbursement for the cost of training if you acquire a job as an LNA within 12 months of training. Note: to qualify for the prorated reimbursement, you must enroll in a state-approved program and present your receipt paid for with your personal funds. Only licensed facilities are required, by law, to reimburse expenses.
The tuition at Vermont's colleges, universities, and private institutions costs an average of $650. Other expenses, such as uniform, shoes, gait belt, registration, books, materials, and state certification fees could push your total cost to $1100. There are few options for financial aid due to the short-term nature of nurse aide training. However, you should check with a financial aid officer to discuss options for grants and scholarships. You should also check with rehabilitation facilities in your local area to find out about opportunities for sponsored training.
Nurse Aide Testing
Pearson Vue administers the two-part nurse aide competency evaluation to Vermont's candidates. First-time testers must take both components of the exam, written (or oral) and skills evaluation, on the same day. Candidates have up to two years after training or three attempts to pass the exam for placement on the registry. The written exam contains 70 multiple-choice questions written in English. If you have difficulty reading English, you can request the oral exam at the time of application. The oral exam contains 60 multiple-choice questions and 10 reading comprehension questions to test your understanding of common English words. The duration of the written exam is 2 hours.
The 30-minute skills evaluation tests your performance of 5 nurse assistant skills; handwashing and 4 others selected at random. You must perform the critical steps in each skill in order to pass the exam. An example of the written test and a list of skills along with the critical steps are available in the candidate handbook. You must pass both the written and skills evaluation to qualify for inclusion on the nurse aide registry.
Certification Costs 
Written and skills exam – $130
Oral and skills exam – $130
Spanish oral exam and skills evaluation – $98
Written retest – $35
Skills retest – $95
Oral retest – $33
Application fee – $20
Walk with the following items on exam day:
Check in at least 30 minutes before the exam
Two forms of official ID
Three sharpened No. 2 pencils
Eraser
Watch with a second hand
Wear uniform and closed-toe shoes for the skills evaluation
Out-of-State CNAs
If you wish to transfer your license to Vermont, you must complete an application for endorsement.
Download and fill out the application for endorsement
Pay the application fee of $20
Provide copies of your initial CNA license
Ask your old registry to complete the applicable parts of the application and submit directly to Vermont's registry
Provide a copy of your ID and a 2×2 photo
Note: If there are findings of abuse or neglect on your record, the registry will deny your application for transfer.
Renewal
The registry will mail a notice to renew your license six weeks prior to the expiration date. It is crucial that you maintain an accurate address at the registry to receive notices.
Download and fill out the application for LNA renewal
Submit evidence of at least 400 hours (50 days) of work for compensation
Submit documents with the $45 renewal fee
Contact the Registry:
Vermont Nurse Aide Registry
Vermont State Board of Nursing
Heritage Building, 81 River Street, Montpelier, VT 05609
Phone: (802) 828-2819
Alt: (802) 828-2453
State Approved CNA Training Programs in Vermont
Barton, VT LNA programs:
Maple Lane and Retirement Homes
60 Maple Lane, Barton, VT 05822
802-754-8575
Barre, VT LNA programs:
Berlin Health-Rehab Center
98 Hospitality Drive, Barre, VT 05641
802-229-0308
Central Vermont Career Center
155 Ayers Street, Barre VT 05641
802-476-6237
Tender Loving Homecare
15 Ayers Street, Barre VT 05641
802-622-1112
Bennington, VT LNA programs:
Vermont Veterans Home
325 North Main Street, Bennington, VT 05201
802-447-6467
Southwest Vermont Career Development Center
321 Park Street, Bennington VT 05201
802-447-3596
Southwest Vermont Healthcare
100 Hospital Drive Bennington, VT 05201
802-447-5067
Bradford, VT LNA programs:
River Bend Career and Technical Center (Adult)
36 Oxbow Drive, Bradford, VT 05033
802-222-5212
River Bend Career and Technical Center (Day)
35 Oxbow Drive, Bradford, VT 05033
802-222-5212
Burlington, VT LNA programs:
Burlington Health-Rehab
300 Pearl Street, Burlington, VT 05401
802-658-4200
Birchwood Terrace
43 Starr Farm Road, Burlington VT 05408
802-863-6384
University of Vermont Medical Center
111 Colchester Avenue, Burlington, VT 05401
802-847-0000
Vermont Med Ed
82 Pearl St, Burlington, VT 05401
802-349-8635
Colchester, VT LNA programs:
Visiting Nurse Assoc. of Chittenden-Grand Isle Counties
1110 Prim Road, Colchester, VT 05446
802-658-1900
Concord, VT LNA programs:
American Red Cross
2 Maitland St., Concord, VT 03301
603-225-6697
Enosburg Falls, VT LNA programs:
Cold Hollow Career Center (Day)
P.O. Box 530, Enosburg Falls, VT 05450
802-933-4003 (ext. 24)
Essex Junction, VT LNA programs:
Center for Technology, Essex
3 Educational Drive, Essex Junction, VT 05452
802-878-5559
Hyde Park, VT LNA programs:
Green Mountain Technology-Career Center
738 VT Route 15 West, Hyde Park, VT 05655
802-888-4447
Ludlow, VT LNA programs:
Gill Odd Fellows Home
8 gill Terrace, Ludlow, VT 05149
802-228-6860
Lyndon Center, VT LNA programs:
Lyndon Institute Technical Education (Day)
P.O. Box 127, Lyndon Center, VT 05850
802-626-6152
Lyndonville, VT LNA programs:
Pines Rehabilitation-Health
601 Red Village Rd., Lyndonville, VT 05851
802-626-3361
Middlebury, VT LNA programs:
Patricia A. Hannaford Career Center
51 Charles Avenue, Middlebury, VT 05753
802-382-1042
Vermont Med Ed
340 Porter Drive, Middlebury, VT 05753
802-349-8635
Morrisville, VT LNA programs:
The Manor
577 Washington Hwy., Morrisville, VT 05661
802-888-8700
Newport, VT LNA programs:
North Country Career Center
209 Veterans Ave, Newport, VT 05855
802-334-5469
Randolph, VT LNA programs:
Randolph Technical Career Center
17 Forest Street, Randolph, VT 05060
802-728-9595
Rutland, VT LNA programs:
Genesis Eldercare/Mountain View
9 Haywood Ave, Rutland, VT 05701
802-775-0007
Rutland Health and Rehab Center
46 Nichols St. Rutland, VT 05701
802-775-2941
Stafford Technical Center (Day)
8 Stratton Road, Rutland, VT 05701
802-770-1033
Shelburne, VT LNA programs:
Vermont Med Ed
200 Wake Robin Drive, Shelburne, VT 05482
802-349-8635
South Burlington, VT LNA programs:
TLC Nursing
1550 Williston Rd, South Burlington, VT 05403
802-318-4916
Springfield, VT LNA programs:
River Valley Technical Center
307 South St., Springfield, VT 05156
802-885-8300
Springfield Health and Rehab Center
105 Chester Rd, Springfield VT 05156
802-885-5741
St. Albans, VT LNA programs:
Northwest Technical Center
71 South Main St., St. Albans, VT 05478
802-527-6405
Franklin County Rehab
110 Fairfax Road, St. Albans City, VT 05478
(802) 752-1600
St Albans Health & Rehab
596 Sheldon Rd, St Albans, VT 05478
802-524-6534
White River Junction, VT LNA programs:
Hartford Area Career-Technology Center
1 Gifford Road, White River Jct., VT 05001
802-295-8630
Winooski, VT LNA programs:
Our Lady of Providence
47 W. Spring Street, Winooski, VT 05404
802-655-3768