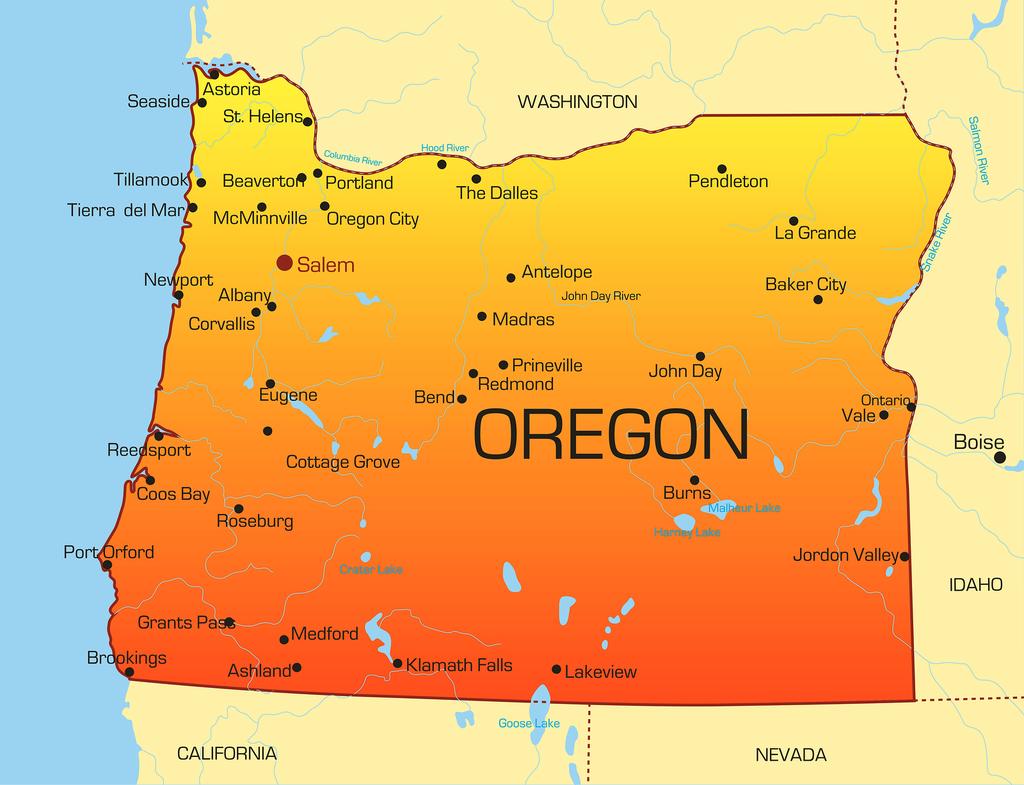 Nurse aides provide personal care to patients and residents in hospitals, hospices, assisted living facilities, community-based long-term care facilities, and correctional institutions. They perform duties such as feeding, bathing, bowel and bladder care, vital signs, transferring, positioning, and post-mortem care under the direction of a Registered Nurse. Their constant contact with patients places them in a vital role in the healthcare team. It is for this reason the federal government enforces strict guidelines for the training and certification of nurse aides across the nation. The Oregon State Board of Nursing (OSBN) governs the training and certification of nurse aides and manages the state's nurse aide registry. The OSBN recognizes CNA I certification and offers CNA II certification for nurse aides who would like to perform advanced procedures.
CNA Classes in Oregon:
Certification Requirements
A new nurse aide in Oregon may work at a licensed facility, if the employer is willing, for a period of four months. During that time, the nurse aide must complete a state-approved training program, pass the state nurse aide competency, and meet all the other requirements for certification to continue working as a Certified Nursing Assistant after the initial 4-month grace period. Nurse assistants in training may only perform those tasks for which they're trained to perform. It is the employer's responsibility to verify a prospective employee's status with the registry before extending an offer of employment.
If you've completed nurse aide training and testing successfully, you can contact the OSBN to obtain approval to work while you await placement on the Registry. Out of state CNAs, nursing students, military-trained CNAs, and foreign nurses can apply for testing as a prerequisite for placement on the state registry.
Prerequisites to Training
Some people let their compassionate nature and desire to help those in need guide them into a CNA career. However, a greater majority, including high school dropouts, students, and out-of-work adults, choose this career path due to the non-existent barriers to entry. While a high school diploma provides a distinct advantage with training schools and employers, you don't need to have one in order to train at Oregon's institutions. High school students are more likely to earn the best wages and advance to other careers in the healthcare industry. If you don't have a high school diploma or GED, some schools (colleges) may administer an entry-level assessment, such as the TABE, before granting admission to the program.
Following are some other prerequisites to training:
16 years or older
High school diploma or GED (recommended)
Fingerprinting, immunization, and a drug screen may be required for clinical placement.
Oregon Certified Nurse Aide Training Requirements
The OSBN requires nurse aide students to complete a minimum of 80 hours of classroom and 75 hours of clinical training for CNA I certification. Based on the 155 required contact hours, students can complete the training in four to ten weeks – depending on schedules. The state-designed curriculum emphasizes the care and safety of geriatric patients and also enforces respect for patients' individual rights. Apart from the federal guidelines for geriatric care, the OSBN's curriculum covers content related to the care and safety of other age groups.
Some critical areas of study include human physiology, anatomy, medical terminology, basic nursing principles, nutrition, vital signs, infection control and patient safety. Graduating from a state-accredited training program does not imply automatic state certification – students must first pass the state's written and skills exam with a grade of 75 percent or more to obtain a listing on the registry. See the list of state-accredited programs below.
Cost of CNA Training Oregon
Community colleges and private institutions account for more than 75 percent of the programs approved by the OSBN. The cost of training at these institutions is approximately $1000, but there will be associated costs such as reading tests, lab fee, textbook, CPR certification, uniform, certification fee and other costs. Unlike other states, Oregon has several approved online programs, which have variable costs.
Financial aid is generally not available due to the short-term nature of nurse aide classes. However, there may be other sources of state funding in the form of grants and relief for low-income families. Many community colleges and training programs offer flexible payment plans to help students manage the cost of training.
Nursing homes and long-term care facilities account for the other 25 percent of approved training providers. Check those in your local area to find out about opportunities for free training. Note: Long-term care facilities and similar institutes provide free training to prospective employees, so understand the implications before you accept the free training.
If you're already employed at a licensed nursing facility, your employer, by law, should pay for your training and certification. Similarly, if you obtain employment within 12 months of certification, you can submit your receipts to your employer for a prorated reimbursement of your expenses.
Nurse Aide Testing
The OSBN has approved Headmaster, LLP to administer and score the nurse aide competency exam. If you train at an approved testing center, your instructor will submit the application for testing. Otherwise, you can request an application from the testing service or download it from the Board's website. Along with the completed CNA1 Certification by Examination Application, the board will need:
Training program certificate of completion
Non-refundable CNA1 certification fee
Non-refundable fingerprint-based criminal background check fee
The knowledge exam is available in written or oral format. If you want to take the oral option, you must request it at the time of application and submit the extra fee. Oregon gives nurse aides the option of written or computerized tests. Computerized tests allow for faster (same day) scoring. First-time testers must take the written and skills test on the same day.
The written test comprises of 80 multiple choice questions, which candidates must complete in 90 minutes or less.The test evaluates students' knowledge in specific areas, including communication, infection control, patient safety, disease process, basic nursing skills, mental health, personal care, client rights and care for impaired persons. Sample questions are available in the Candidate Handbook. The passing grade for the knowledge exam is 73 percent.
The skills test evaluates your nursing skills. You'll have to perform one of the four mandatory tasks:
Perineal Care with Hand Washing
Bed Pan and Output with Hand Washing
Catheter Care with Handwashing
Gown and Gloves, Emptying a Urinary Drainage Bag with Hand Washing
Another two or three tasks will be selected at random from the Skills List – found in your course textbook or the Candidate Handbook. You must obtain a minimum 80% on each task without missing any of the key steps to pass the exam. The maximum time to complete the assigned tasks is 45 minutes.
If you fail one or both components, you can retest up to two times over a period of two years. After that, you'll need to retrain before taking the test again.
Certification Costs
Written and skills initial exam – $106
Reactivation by exam – (knowledge and skills tests) – $106
Oral skills exam – $35 (additional)
Knowledge retest – $25
Skills retest – $45
Knowledge and skills retest – $70
Walk with the following items on exam day:
Exam confirmation letter
Two valid pieces of ID (one must contain a current photo)
Two sharpened no. 2 pencils and eraser
Watch with a second hand
Uniform scrubs and flat, non-skid, closed-toe shoes for the clinical
Out-of-State CNAs
Out-of-state CNAs can transfer their certification to Oregon by way of endorsement if they're in active status with their home state. Following are the requirements for endorsement:
You must provide proof of completing a training program, according to OBRA standards
Provide proof of at least 400 hours of paid employment as a CNA under the supervision of a nurse
Complete a criminal background check
Verification from the nurse aide registry in your home state (if your licensed is expired, you won't be eligible for endorsement)
Submit the endorsement application along with the required documents.
Renewal
The CNA certification is valid for two years and expires at midnight the day before your birthday – on even-numbered years if you were born in an even-numbered year or odd-numbered years if you were born in an odd-numbered year. The OSBN will send out the renewal notice 6 to 8 weeks before the license expires, so make sure you maintain a current address at the registry. The fee for renewal is $60.
Following are the renewal requirements:
Provide proof of at least 400 hours of work for compensation over the two-year period
Perform OSBN's authorized duties under the supervision of a licensed or Registered Nurse.
Contact the Registry
Oregon State Board of Nursing
17938 SW Upper Boones Ferry Rd.
Portland, Oregon 97224-7012
Email: oregon.bn.info@state.or.us
Phone: 971-673-0685
Fax: 971-673-0684
State Approved CNA Programs in Oregon:
Albany, OR CNA programs:
Linn Benton Community College
6500 SW Pacific Blvd, Albany, OR 97321
(541) 917-4514
Astoria, OR CNA programs:
Clatsop Community College
1651 Lexington Avenue, Astoria, OR 97103
(503) 338-2436
Baker City, OR CNA Programs:
Baker Technical Institute
2500 E Street Baker City, OR 97814
(541) 524-2651
Beaverton, OR CNA Programs:
VanPelt Healthcare Workshops and Tutoring LLC
21225 SW Tualatin Valley Hwy Beaverton, OR 97003
(971) 205-2410
Bellevue, OR CNA programs:
Regency Pacific
3326 160th Ave SE Ste 120, Bellevue, WA 98008
541-610-2428
Bend, OR CNA programs:
Central Oregon Community College
2600 NW College Way, Bend, OR 97701
(541) 383-7285
Central Point, OR CNA programs:
Pacific Healthcare Training
512 Manzanita, Central Point, OR 97502
(541) 941-6642
Coos Bay, OR CNA programs:
Life Care of Coos Bay
2890 Ocean Blvd, Coos Bay, OR 97420
(541) 267-5433
Oregon Online NA Program
1988 Newmark Ave, Coos Bay, OR 97420
(541) 888-1501
Southwestern Oregon Community College
1988 Newmark Ave Coos Bay, OR 97420
(541) 888-7298
Dallas, OR CNA programs:
Dallas Retirement Village Healthcare Center
377 NW Jasper St, Dallas, OR 97338
(503) 623-5581
Eugene, OR CNA programs:
Lane Community College Eugene
1059 Willamette St, Eugene, OR 97401
(541) 463-5252
Day 2 Care
195 Silver Lane, Eugene, OR 97404
(541) 688-4262
Gresham, OR CNA programs:
Mt Hood Community College
26000 SE Stark St, Gresham, OR 97030
(503) 491-7235
Happy Valley, OR CNA Programs:
Clackamad Nursing Assistant Training
11875 SE 129th Avenue, Happy Valley OR 97086
(503) 709-6560
Junction City, OR CNA programs:
Holy Cross Nursing Assistant Ed
275 Greenwood St, Junction City, OR 97448
(541) 998-1572
Keizer, OR CNA Programs:
Sherwood Park Nursing and Rehab Online
4062 Arleta Ave NE Keizer, OR 97303
(503) 390-2271
Klamath Falls, OR CNA programs:
Klamath Community College
7390 S 6th St, Klamath Falls, OR 97603
(541) 880-2271
Lakeview, OR CNA programs:
Lakeview Gardens
700 South J St, Lakeview, OR 97630
(541) 947-7306
Milwaukie, OR CNA programs:
Clackamas Community College
7738 SE Harmony Rd, Milwaukie, OR 97222
(503) 594-0663
Marquis Companies
4560 SE International Way Ste 100, Milwaukie, OR 97222
(971) 206-5200
Mount Angel, OR CNA programs:
Providence Benedictine Nursing Center
540 S Main St, Mount Angel, OR 97362
(503) 845-2733
Newport, OR CNA programs:
Oregon Coast Community College
400 SE College Way, Newport, OR 97366
(541) 867-8548
North Bend, OR CNA programs:
Baycrest Village
3959 Sheridan Ave, North Bend, OR 97459
(541) 756-4151
Ontario, OR CNA programs:
Treasure Valley Community College
650 College Blvd, Ontario, OR 97914
(541) 881-5000
Pendleton, OR CNA programs:
Blue Mountain Community College
2411 NW Carden, PO Box 100, Pendleton, OR 97801
(541) 278-5878
Portland, OR CNA programs:
Caregiver Training Institute, LLC (Online training available)
13909 SE Stark St, Portland, OR 97233
(503) 257-0117
West Hills Health and Rehabilitation Center
5701 SW Multnomah Blvd, Portland OR 97219
(503) 244-1107
Holgate Community Training Program
3320 SE Holgate Blvd, Portland, OR 97202
(503) 915-7905
Portland Community College
1626 SE Water Ave, Portland, OR 97214
(503) 731-6640
Roseburg, OR CNA programs:
Umpqua Community College
1140 Umpqua College Rd, Roseburg, OR 97470
(541) 440-4600 EXT4613
Salem, OR CNA programs:
Chemeketa Community College
4000 Lancaster Drive Ne, Salem, OR 97309
(503) 399-5058
Springfield, OR CNA programs:
Pinnacle Healthcare Inc
1007 Gateway Loop Ste A, Springfield, OR 97477
(541) 284-7095
Sublimity, OR CNA programs:
Marian Estates
390 Church St, Sublimity, OR 97385
(503) 769-3499
The Dalles, OR CNA programs:
Columbia Gorge Community College
400 E Scenic Dr, The Dalles, OR 97058
(541) 506-6000 Ext 6165
Troutdale, OR CNA Programs:
Springdale Job Corps Center (limited to high school students)
31224 E Historic Columbia River Hw, Troutdale OR 97060
(503) 695-2245
Vancouver, OR CNA programs:
Prestige Care Inc
7700 NE Parkway Drive Suite 300, Vancouver, WA 98682
(360) 735-7155
Wheeler, OR CNA programs:
Nehalem Valley Care Center
280 Rowe Street, Wheeler, OR 97147
(503) 333-2191
White City, OR CNA programs:
Rogue Community College
7800 Pacific Ave, White City, OR 97503
(541) 245-7936
Wilsonville, OR CNA programs:
Avamere Health Services
25117 SW Parkway Ave Ste F, Wilsonville, OR 97070
(503) 570-3405