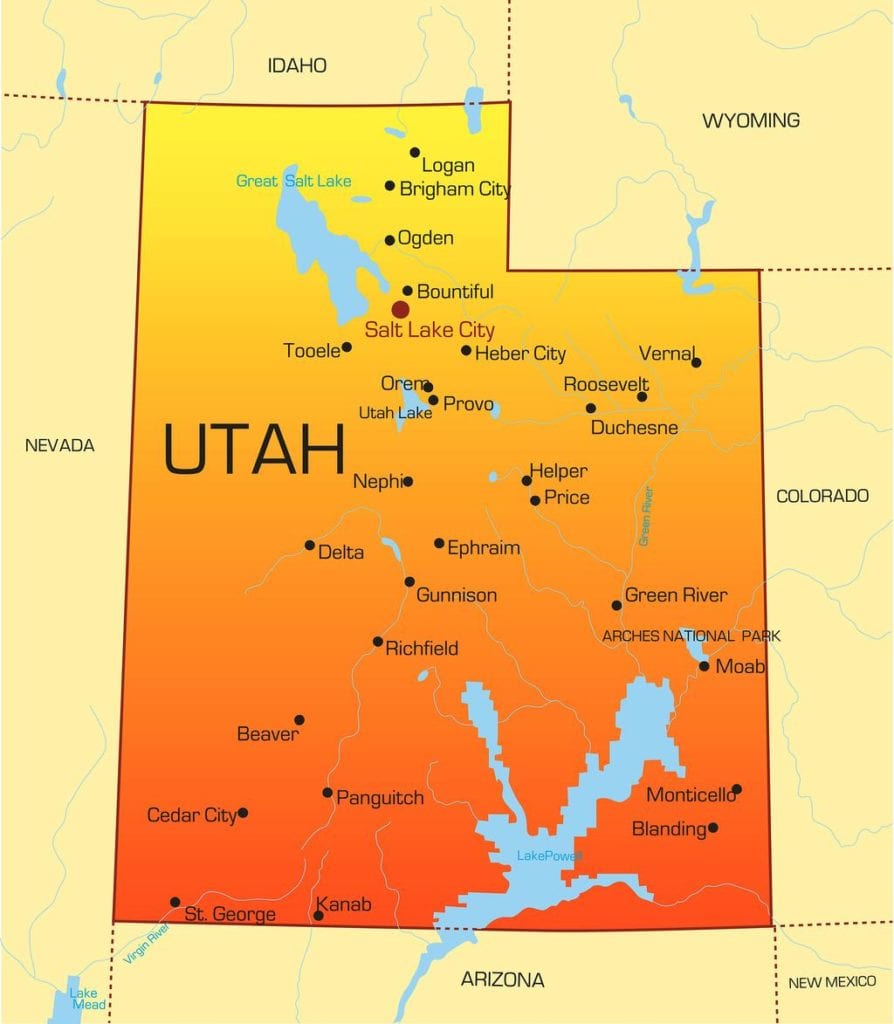 With an expected 21 to 35 percent growth in demands for CNAs over the next decade, the job outlook for nursing aides is a bright one. The projected growth, as reported by the US Bureau of Labor Statistics, is due to the rise in the senior population, which will call for a greater emphasis on long term care and rehabilitation. Nursing homes and long term care facilities in Utah, and in other parts of the US, will need capable staff to care for seniors with chronic illnesses and disabilities. Many CNAs advance to other careers within the industry, resulting in a high rate of turnover in this entry-level position. As a result, nursing home directors face the continuous challenge of replacing former employees. The Utah Nurse Aide Registry oversees the training and certification of nurse aides and maintains an up-to-date record of CNAs in the state.
CNA Classes in Utah:
Certification Requirements
Utah Certified Nurse Aides are those individuals who successfully complete the state's Nursing Assistant Training and Competency Evaluation Program (NATCEP). After graduating from an appropriate program, they take and pass the state examinations and secure placement on the UNAR. Only state certified nurse aides can work at hospitals, nursing homes, home health agencies and assisted living facilities to provide direct care to patients under the supervision of a Registered Nurse. While the registry may waive training under some circumstances (nursing students and out-of-state CNAs), all nurse aides must have an active status on the registry as a prerequisite to employment at licensed healthcare facilities.
Note: UNAR permits nurse aides to work in licensed facilities without certification for a period of 120 days while pursuing training and testing.
Prerequisites to Training
Training requirements depends on the school. As far as state and federal regulations go, there are no educational requirements for entry into state-approved programs. Some training providers facilitate pre-enrollment orientation and testing to evaluate students' ability to complete the program successfully. Nurse assisting is an entry-level position in the medical industry; therefore, many CNAs advance to other careers. A high school diploma not only gives CNAs the impetus to move forward, but they can also command higher salaries than non-high school graduates.
High school diploma is not necessary, but you must demonstrate good reading and comprehension skills
Utah nurse aides should be at least 16
Pass a criminal background screening
Provide proof of immunization
Negative TB and drug tests
Physical exam
Utah's Certified Nurse Aide Training Requirements
The Omnibus Reconciliation Act of 1987 (OBRA) has strict training and evaluation guidelines for CNAs employed at long term care facilities. The Utah Nurse Aide Registry, in accordance with OBRA's guidelines, requires nurse aides to pass a nurse competency evaluation after completion of a state-accredited training program. Training prepares students to take the certification exam. Additionally, many schools require students to obtain CNA certification as a prerequisite to entry into RN and LPN programs.
On the job, CNAs provide hands-on care to residents by taking vital signs, dressing residents, changing bed linens, observing and reporting, and assisting with personal hygiene. Training providers prepare students for those and other tasks through 80 hours of training. Classes may involve video presentations, interactive discussions and hands-on lab followed by live demonstrations and opportunities to work directly with residents during the clinical component of the program.
Expect training to last 3 to 6 weeks based on the school and the schedule. With more than 50 approved training centers, you can sign up for training at nursing homes, high schools, community colleges and private medical education programs. Training is valid for one year; you must complete testing within one year of your training, or you'll have to complete another program.
Cost of Training
The type of school largely determines the cost of training. Fees for tuition at community colleges are among the highest as there may be other fees attached to the cost of attending – lab fees, caution fees, student registration, park, administration and library fees among others. For free or low-cost training, you can investigate private programs or those offered by nursing homes and state-funded employment programs. The average cost of nurse aide training in Utah is $400 for tuition only. As a student, you'll have to allocate funds for books, uniform and supplies such as a watch with a second hand, gait belt, closed-toe shoes and stethoscope. If you're employed or received an offer of employment before training, your employer must cover the cost of tuition and textbooks. If you receive an offer of employment after you complete training, you may qualify for a pro-rated reimbursement of your training and textbook costs.
Nurse Aide Testing
The nurse aide evaluation measures a nurse aide's skills in two ways: through the written test and skills evaluation. A Registered Nurse Skills Examiner administers the skills evaluation. You'll have to demonstrate vital signs and hand washing skills, plus five other skills selected at random, within the allotted time of 20-40 minutes. The written exam comprises of 100 multiple choice questions administered through a computer equipped with audio – use of audio is optional. Candidates with disabilities can request a written exam before testing day. You must pass the written exam with a minimum 75 percent, and pass both skills and written components to get on the nurse aide registry.
The registry will mail your results within 8 to 10 business days.
Certification Costs
Testing fees are as follows:
Written and Skills Evaluation – 75
Written Exam re-tests – $35
Skills Evaluation re-tests – $40
On exam day, you must walk with the following:
Two forms of identification – one should have a recent photo
Skills and written test vouchers
Appropriate clothing including scrubs and closed-toe shoes
You can attempt the exam up to three times. If you fail on three attempts, you'll have to complete another 80 hours of training before retesting.
Out-of-State CNAs
If you're an out-of-state CNA, you may be eligible to transfer your certification to Utah.
Download the application form on the nurse aide registry site
Fill out the application and submit it with the $10 application fee
The training program in your home state must be equivalent to Utah's training requirements
Your listing on the out-of-state registry must be in active status
Felonies and reports of abuse, misbehavior or neglect will disqualify your request for transfer
Renewal
Certificate renewal is every two years. To qualify for renewal, you'll need to provide proof of at least 200 hours of nursing related duties at a licensed facility performed under the supervision of a licensed nurse. The registry recognizes paid hours only – voluntary or private work will not qualify for renewal. There's no cost for renewal as long as you complete the renewal before your certificate expires. The registry mails a renewal notice, to the last known address, 45 days before the license expires. It's your responsibility to inform the registry of address changes to ensure you receive all notices.
Note: If your license expires, you'll need to pay for vouchers to retest, or retrain if you wait more than one year before renewing your license.
Contact the Registry:
Utah Nurse Aide Registry
Utah Health Technology Certification Center
550 East 300 South, Kaysville, UT 84037
Phone: (801) 547-9947
Fax: (801) 593-2400
State Approved CNA Programs in Utah
American Fork, UT Hospitals and Nursing Homes offering CNA programs:
Heritage Care Center
350 East 300 North, American Fork, UT 84003
Phone: (801) 756-5293
Blanding, UT Hospitals and Nursing Homes offering CNA programs:
Four Corners Care Center
818 North 400 West, Blanding, UT 84511
Phone: (435) 678-2251
Blanding, UT Colleges and Universities offering CNA programs:
College of Eastern Utah – San Juan
639 West 100 South, Blanding, Utah 84511
Phone: (435) 613-5000
Bountiful, UT Freestanding CNA programs:
Nursing Education Center
328 East North Canyon Road, Bountiful, Utah 84010
Phone: (801) 296-8284
Cedar City, UT Hospitals and Nursing Homes offering CNA programs:
Kolob Reg Care and Rehabilitation
411 West 1325 North, Cedar City, UT 84721
Phone: (435) 586-6481
Cedar City, UT Colleges and Universities offering CNA programs:
Southwest Applied Technology College
510 West 800 South, Cedar City, UT 84720
Phone: (435) 586-2899
Ferron, UT Hospitals and Nursing Homes offering CNA programs:
Emery County Nursing Home
455 West Mill Rd., Ferron, UT 84523
Phone:(435) 384-3384
Hurricane, UT Hospitals and Nursing Homes offering CNA programs:
Hurricane Rehabilitation Center
416 North State Street, Hurricane, UT 84737
Phone: (435) 635-9833
Kanab, UT Hospitals and Nursing Homes offering CNA programs:
Kane County Hospital
355 North Main Street, Kanab Utah 84741
Phone: (435) 644-5811
Kaysville, UT Colleges and Universities offering CNA programs:
Davis Applied Technology College
550 East 300 South, Kaysville, Utah 84037
Phone: (801) 593-2500
Lehi, UT Freestanding CNA programs:
Orchard CNA Training Center
3495 West Haven Cove, Lehi, Utah 84043
Phone: 801.358.2102
Logan, UT Colleges and Universities offering CNA programs:
Bridgerland Applied Technology College
1301 North 600 West, Logan, UT 84321
Phone: (435) 753-6780
Stevens-Henager College
755 South Main, Logan, UT 84321
Phone: (801) 392-1471
Midvale, UT Freestanding CNA programs:
Elite Training Nursing Assistant Program
7677 South Main, Midvale, Utah 84047
Phone: (801) 440-1487
Murray, UT Colleges and Universities offering CNA programs:
Stevens-Henager College
383 West Vine St., Murray, Utah 84123
Phone: (801) 392-1471
Murray, UT High Schools offering CNA programs:
Murray High School
5440 South State St, Murray, UT 84107
Phone: (801) 264-7460
Nephi, UT Hospitals and Nursing Homes offering CNA programs:
Central Valley Medical Center
54 West 1500 North, Nephi, UT 84648
Phone: (435) 623-3000
Ogden, UT Colleges and Universities offering CNA programs:
Weber State University
3901 University Circle, Ogden, Utah 84408
Phone: (801) 626-6000
Ogden Weber Applied Technology College
200 North Washington Blvd, Ogden, UT 84404
Phone: (801) 627-8300
Stevens-Henager College
P.O. Box 9428, Ogden, UT 84409
Phone: (801) 392-1471
Ogden, UT High Schools offering CNA programs:
Ogden High School
2828 Harrison Blvd, Ogden, UT 84403
Phone: (801) 737-8700
Orem, UT Colleges and Universities offering CNA programs:
Stevens-Henager College – Provo Campus
1476 South Sandhill Rd., Orem, Utah 84057
Phone:(801) 373-0285
Mountainland Applied Technology College
987 South Geneva Rd, Orem, Utah 84058
Phone: (801) 863-6282
Orem, UT Freestanding CNA programs:
Cole Holland Training Center
1215 South 1680 West, Orem, Utah 84058
Phone: (801) 759-5164
Pleasant View, UT High Schools offering CNA programs:
Weber High School
430 Weber High Drive, Pleasant View, UT 84414
Phone: (801) 476-3700
Price, UT Hospitals and Nursing Homes offering CNA programs:
Parkdale Care Center
250 East 600 North, Price, UT 84501
Phone: (435) 637-2621
Price, UT Colleges and Universities offering CNA programs:
College of Eastern Utah
451 East 400 North, Price, UT 84501
Phone: (435) 613-5000
Provo, UT Colleges and Universities offering CNA programs:
Provo College
1450 West 820 North, Provo, UT 84601
Phone: (877) 777-5886
Provo, UT Hospitals and Nursing Homes offering CNA programs:
Trinity Mission Health
1053 West 1020 South, Provo, Utah 84601
Phone: (801) 373-2630
Utah Valley Regional Medical Center
1134 North 500 West, Provo, UT 84603
Phone: (801) 357-7850
Richfield, UT Colleges and Universities offering CNA programs:
Snow College
800 West 200 South, Richfield, Utah 84701
Phone: (435) 283-7000
Richfield, UT Hospitals and Nursing Homes offering CNA programs:
Richfield Care Center
83 East 1100 North, Richfield, Utah 84701
Phone: (435) 896-5374
Roosevelt, UT Colleges and Universities offering CNA programs:
Uintah Basin Applied Technology College
1100 East Lagoon St., Roosevelt, UT 84066
Phone: (435) 722-4523
Roy, UT Hospitals and Nursing Homes offering CNA programs:
Heritage Park Care Center
2700 West 5600 South, Roy, Utah 84067
Phone: (801) 825-9731
Salt Lake City, UT Hospitals and Nursing Homes offering CNA programs:
Avalon Health Care
255 East 400 South, Salt Lake City, Utah 84111
Federal Heights Rehabilitation and Nursing
41 South 900 East, Salt Lake City, Utah 84102
Phone: (801) 532-3539
Sunrise Senior Living
76 South 500 East, Salt Lake City, UT 84102
Phone: 801-424-2200
Salt Lake City, UT Colleges and Universities offering CNA programs:
Salt Lake Community College
1575 South State Street, Salt Lake City, Utah 84115
Phone: (801) 957-7522
Tooele Applied Technology Colleges
3760 South Highland Drive, Salt Lake City, UT 84106
Phone: (435) 248-1800
Salt Lake City, UT Technical Institutes offering CNA programs:
Granite Technical Institute
2500 South State St., Salt Lake City, Utah 84115
Phone:(385) 646-4350
South Ogden, UT Hospitals and Nursing Homes offering CNA programs:
HCA Manorcare South Ogden
5540 South 1050 East, South Ogden, UT 84405
Phone:(801) 479-8455
Mountain View Rehabilitation
5865 South Wasatch Drive, South Ogden, Utah 84403
Phone: (801) 479-8510
South Ogden, UT High Schools offering CNA programs:
Bonneville High School
251 East 4800 South, South Ogden, Utah 84405
Phone: (801) 452-4050
Springville, UT Hospitals and Nursing Homes offering CNA programs:
Art City Nursing and Rehabilitation
321 East 800 South, Springville, UT 84663
Phone: (801) 489-9461
Springville, UT High Schools offering CNA programs:
Oakridge School
780 South 1350 East, Springville, Utah 84663
Phone: (801) 491-2165
St. George, UT Hospitals and Nursing Homes offering CNA programs:
Kolob Care and Rehabilitation
178 South 1200 East, St. George, Utah 84790
Phone:(435) 688-1207
St. George, UT Colleges and Universities offering CNA programs:
Dixie College
225 South 700 East, St. George, UT 84770
Phone: (435) 652-7500
St. George, UT Freestanding CNA programs:
Ridgeview CNA Program
2419 East 750 North Circle St. George, Utah 84790
Phone: 435.634.0710
West Valley City, UT Freestanding CNA programs:
Cole Holland Training Center
2355 South Technology Drive, Suite B, West Valley City, UT 84119
Phone: (801) 759-5164
West Valley, UT Freestanding CNA programs:
An Act of Caring
1918 West 4100 South, West Valley, Utah 84119
Phone: 801-598-8370
West Jordan, UT Freestanding CNA programs:
ccCNA Certified Nursing Assistant
6271 South 3655 West, Suite 9B, West Jordan, Utah 84084
Phone: (801) 599-4780