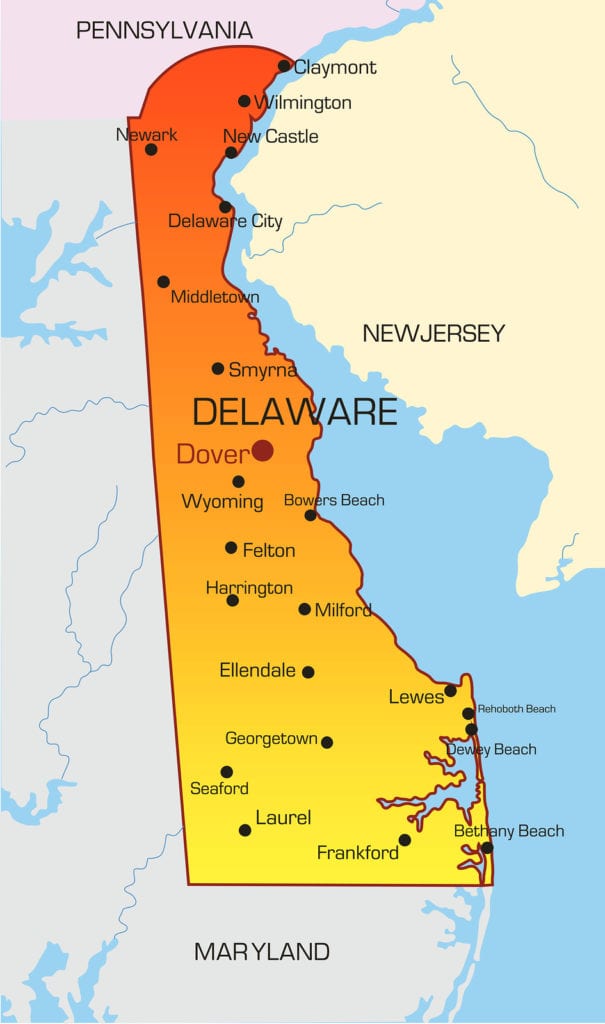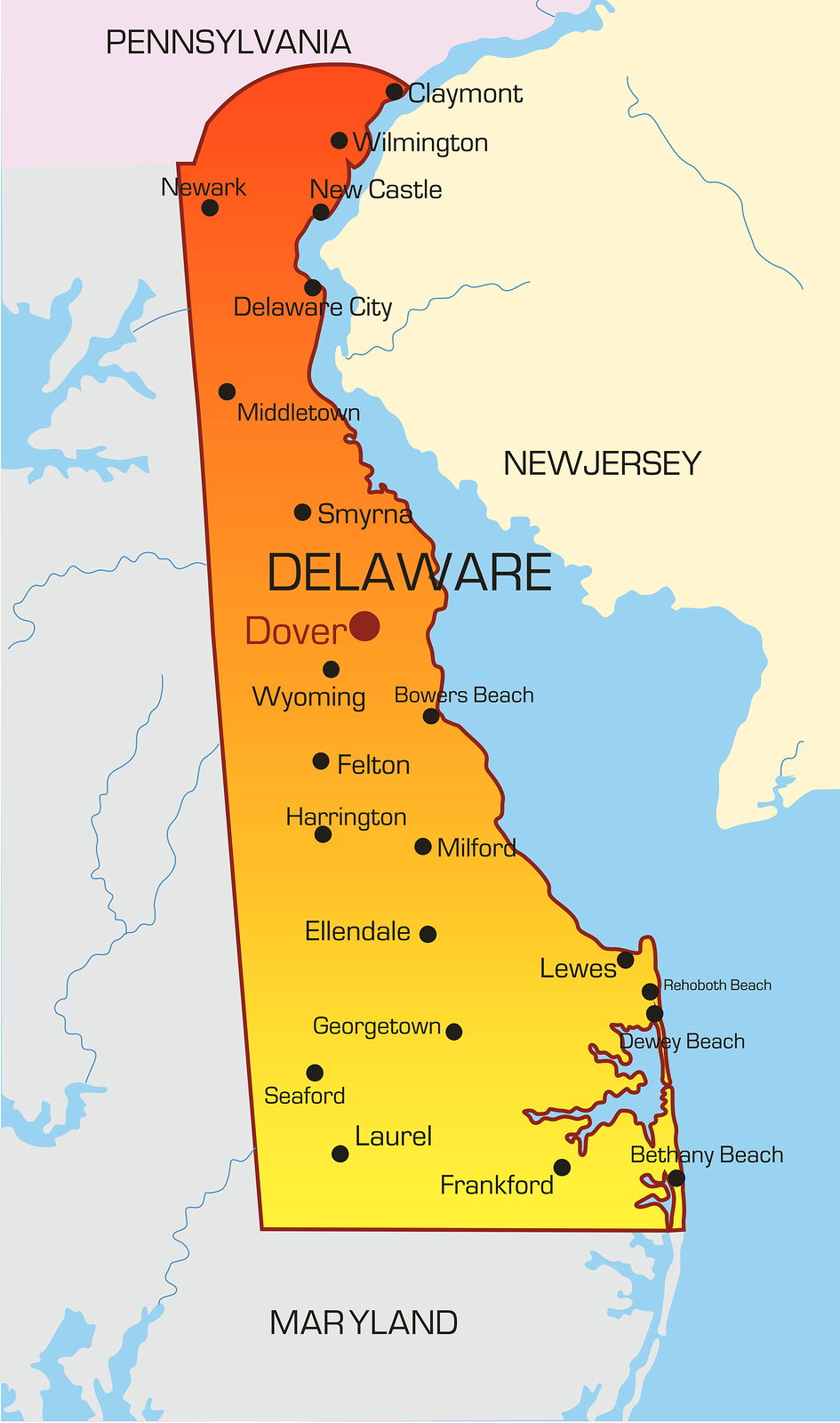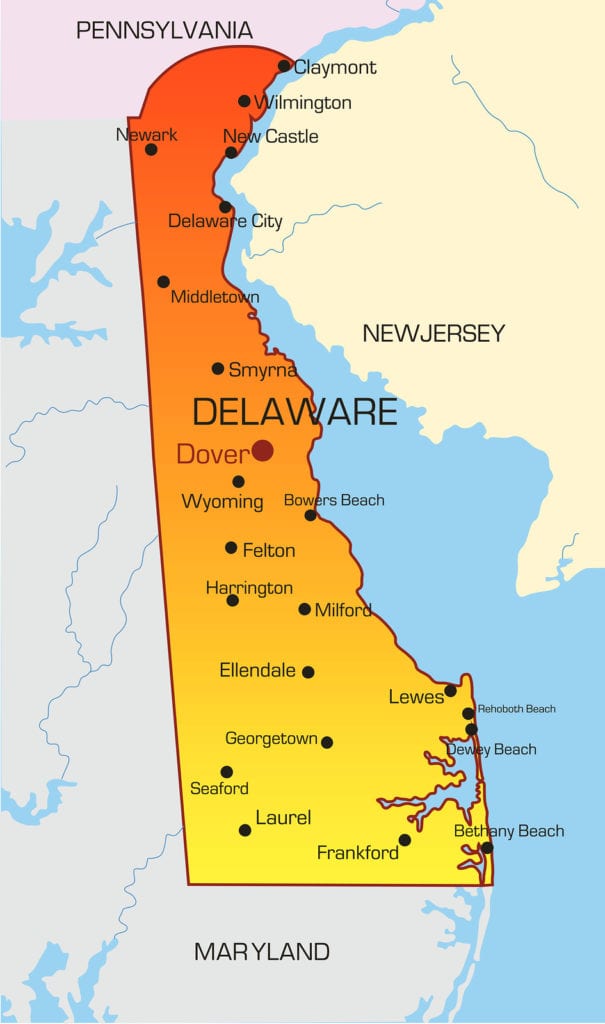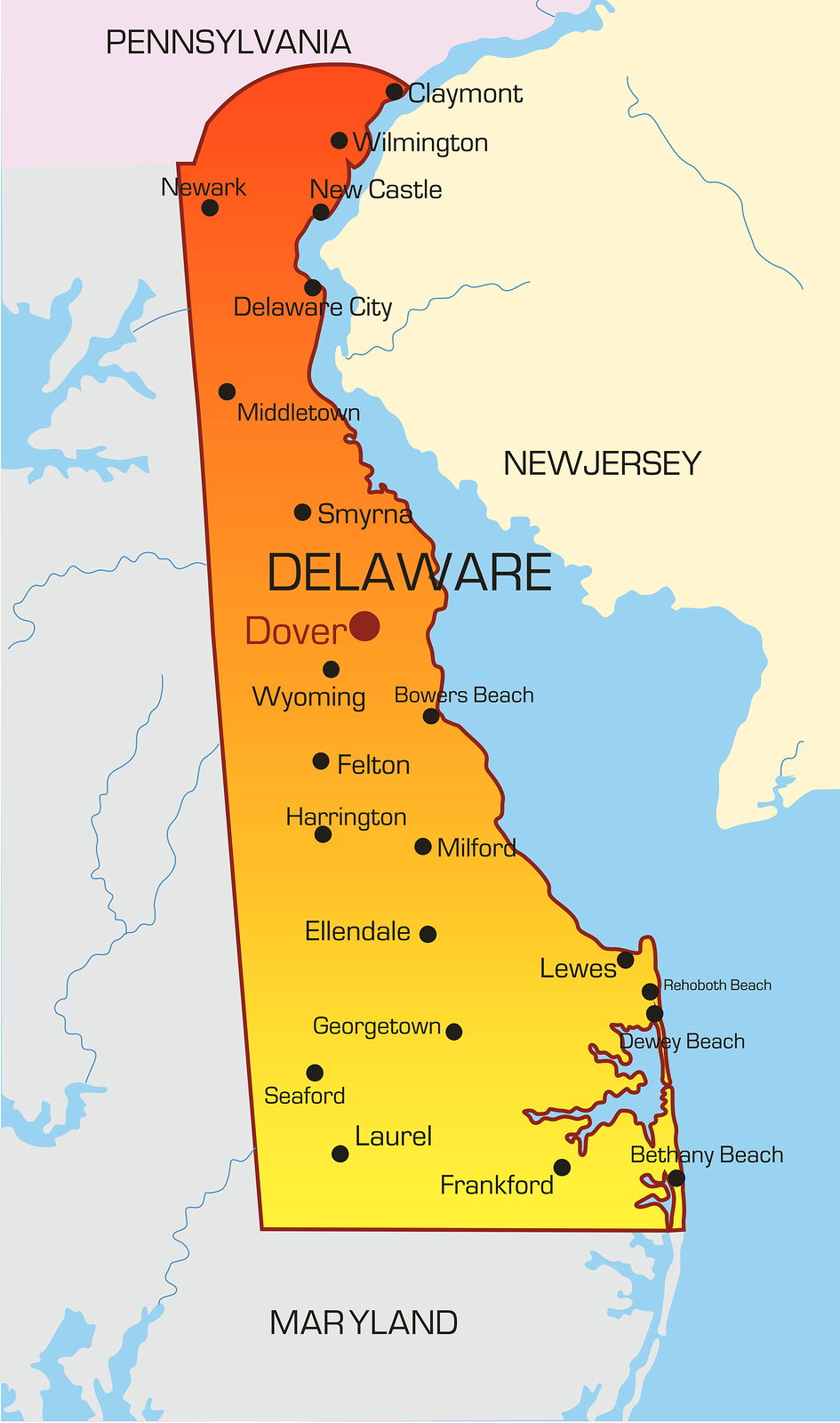 The rising elderly population contributes to the increasing demands for certified nursing assistants. Delaware, like other states, has its own standards for nurse aide training and certification. While federal government guidelines stipulate 75 hours of training as a prerequisite to nurse aide testing, Delaware requires twice as much training for nurse aide students before they're eligible to challenge the state's nurse aide competency exam. After completing such an intensive training program, as much as 59 percent of Delaware's CNAs advance to other careers in the healthcare industry. In doing so, they can double or triple their CNA salary and take a more active role in patient care.
CNA Classes in Delaware
Certification Requirements
The Division of Long Term Care Residents Protection is the authoritative body that manages CNA training and testing and the Delaware Nurse Aide Registry.
State laws and regulations require all prospective CNAs to attend a state-accredited training program and pass the state nurse aide evaluation to work as a CNA in a nursing home. Upon successful completion of training and testing, the DLTCRP will place your name on the CNA Registry. Skilled nursing facilities and other healthcare employers, in accordance with state laws, can only hire CNAs who are in good standing in the state registry.
Nursing students, military-trained CNAs, foreign nurses and out-of-state CNAs can, in some cases, skip formal training. The DLTCRP will review each case and decide whether the individual needs formal training before proceeding to the state exam or skip training and testing altogether.
If you're enrolled in an approved training program, you may apply for employment and work for a period of 4 months (120 days) at long-term care facilities while you train and/or await testing. During that time, you can only execute tasks for which you've trained.
Prerequisites to Training
Federal and state regulations make it easy to enter the health care industry as a Certified Nurse Aide. The low barriers to entry means anyone can train, take the exam and get certified without having a high school diploma. Bear in mind that each training provider will have its own entry requirements, which may include passing an admissions test for anyone who does not have a high school diploma. Many nurse aides move on to other positions of responsibility within the industry. Many of these other career paths require further education. Therefore, having a high school diploma is advantageous, not only to secure better wages as a CNA, but also to gain entry into degree programs.
The following are general requirements for entry into CNA classes in Delaware:
You should be 16 years or older
Proof of high school graduation or GED (Recommended)
Present evidence of immunizations, including hepatitis B vaccine series
Report from a full physical
Drug and TB screening
Criminal background check and fingerprinting (previous convictions could result in disqualification from training)
Delaware Certified Nurse Aide Training Requirements
To obtain placement on the Delaware CNA registry and work as a certified nursing assistant, you need to complete a program accredited by the Delaware Division of Long Term Care Residents Protection and pass a competency exam. CNA training is 150 hours and comprises of both classroom and training components. In-class training is 75 instruction hours, which covers essential topics such as physiology, medical terminology, infection control, nutrition, safety and emergency, anatomy, personal care, patients' rights, law and ethics and basic nursing principles. Instructors also emphasize the emotional, mental and physical states of both the patients and their loved ones.
Experienced medical professionals conduct the classroom and lab training, teaching students all they need to provide quality, direct care to the patients and residents in assisted living facilities. The clinical practicum covers 75 hours of hands-on, skills training at an approved facility. Students work with one another under the supervision of the Registered Nurse instructor to care for patients. Attendance to both classroom and clinical instruction is essential for graduating from the course. Prometric, the state-approved testing facilitator, will only accept applications for testing from graduates of state-accredited programs.
Cost of Training
Nursing assistant courses at Delaware's vocational schools, community colleges, and allied health schools usually range between $1,100 and $3,300. Always inquire about the associated costs when comparing programs. Some schools advertise fees that include all expenses. However, many others advertise the cost of tuition with the expectation that students will pay other costs, such as textbooks, scrubs, and supplies for the clinical experience.
Since CNA classes are short-term, there are very few options for financial assistance for students. However, some training providers offer assistance with textbooks and state certification costs. There might also be flexible payment plans for qualifying students.
Ask your employer to cover the costs if you're employed at a long-term care facility. Nursing homes and hospitals in your area might sponsor training, including the full cost of tuition, textbooks, and supplies. If an employer or potential employer sponsors training, it's possible they'll expect you to work at their facility for a predetermined period.
Nurse Aide Testing
The DLTCRP has contracted with Prometric to develop and administer the nurse aide competency exam and manage the nurse aide registry. The two-part exam determines nurse aides readiness to work. There are seven routes where prospective nurse aides can challenge the exam. Some of the common routes include graduates of state-accredited training programs, nurse aide students, lapsed CNAs, out of state CNAs, Registered Nurses, and Licensed Practical Nurses.
The first part of the test is the written test, which comprises of 60 multiple choice questions to complete in 90 minutes. Although the test is computerized, you don't need to be computer literate to take the test. Candidates can opt to take the written test in oral form – this option is perfect for someone who has difficulty reading English. You must request the oral option ahead of time.
The timed clinical skills evaluation ranges from 31 to 40 minutes based on the skills assigned. The computer assigns three skills at random and the final two skills test Handwashing and Indirect care. You must pass all five skills in order to receive a passing grade on the skills component.
First-time testers must complete both components of the test on the same day. Prometric will add you to the state's registry if you pass both written and skills exams.
If you fail one component of the exam, you can retest up to three times. Thereafter, you'll have to complete another 150 hours of training before you're eligible to take the exam again.
Certification Costs
Written and skills exam – $108
Oral and skills exam – $118
Oral retest – $50
Skills retest – $68
Written retest – $40
Rescheduling fee – $25
Appeals/Handscore – $25
Walk with the following items on exam day:
Admissions letter
Two valid pieces of ID (one must contain a current photo)
Uniform scrubs and flat, non-skid, closed-toe shoes for the clinical
Out-of-State CNAs
Delaware shares reciprocity with other states. You can apply for reciprocity if:
You have a current CNA certificate from another state. Maryland residents must also hold a current Geriatric Nursing Assistant certificate to qualify reciprocity
Have three months of providing direct care services for pay on a full-time basis or have at least 150 hours of nurse aide training
You're a CNA in good standing in your home state.
Download the application for reciprocity, fill it out and send the completed application with a copy of your photo ID and $30 (application fee) to the registry. Your employer or training provider must complete page two of the application verifying your employment or training.
Renewal
Your CNA license is valid for 2 years, and Prometric will send out your renewal notification 45 days prior to your license expiration. Renewal is free, but you'll have to pay $25 if you let the certification lapse. Following is the list of requirements for renewal:
Complete 24 hours of approved continuing education during the 2-year period
Perform a minimum 64 hours of direct care services for pay
If you fail to meet the above requirements, you'll need to retake the nurse aide evaluation to renew your license. If your address or name changes during the 24-month period, you must inform the registry and provide legal documents to support your name change.
Contact the Registry:
Delaware Nurse Aide Registry
Delaware Department of Health and Social Services, Division of Long Term Care
3 Mill Road, Suite 308, Wilmington, DE 19806
Phone: (302) 577-6666
License Verification: (302) 577-6666
Prometric
DE Nurse Aide
7941 Corporate Dr.
Nottingham, MD 21236
Phone: 866.664.9504
Delaware State CNA Programs:
Bear, DE CNA programs:
Bear Professional Institute
2500 Wrangle Hill Road, Suite 120, Bear, DE 19701
410-800-1466
Bridgeville, DE CNA programs:
Woodbridge High School
307 Laws Street, Bridgeville, DE 19933
302-232-3345
Dagsboro, DE CNA programs:
Indian River High School
29772 Armory Road, Dagsboro, DE 19973
302-732-1500
Dover, DE CNA programs:
Del Tech Terry
100 Campus Drive, Dover, DE 19901
302-857-1400
Dover High School
One Patrick Lynn Drive, Dover, DE 19904
302-672-1525
Georgetown, DE CNA programs:
Del Tech Georgetown
P.O. Box 610, Rt. 18, Georgetown, DE 19947
302-855-5988
Sussex Tech-Adult Education Division
17099 County Seat Highway, Georgetown, DE 19947
302-856-9035
Sussex Technical High School
P.O. Box 351, Georgetown, DE 19947
302-856-2543
Laurel, DE CNA programs:
Tri-State Technical
210 Laureltown, Laurel, DE 19956
443-523-8429
Lewes, DE CNA programs:
Beebe Healthcare
424 Savannah Road, Lewes, DE 19958
302-645-3251
Middletown, DE CNA programs:
St. Georges Technical High School
555 Hyetts Corner Road, Middletown, DE 19709
302-449-3600
Milford, DE CNA programs:
Milford Center
700 Marvel Road, Milford, DE 19963
410-494-8167
Newark, DE CNA programs:
Hodgson Vo-Tech High School (Day)
2575 Glasgow Avenue, Newark, DE 19702
302-834-0990
Newport, DE CNA programs:
Camtech, Inc.
240 N. James Street, Ste B2, Newport, DE 19804
302-998-8166
Seaford, DE CNA programs:
Camtech, Inc.
563 North Hall Street, Seaford, DE 19804
302-629-5603
Smyrna, DE CNA programs:
Hands Medical Healthcare Services, Inc
230 N. Union Street, Suite A, Smyrna, DE 19977
302-223-6779
Wilmington, DE CNA programs:
NCC Vo-Tech School District Adult Education Division
1703 School Lane, Wilmington, DE 19808
302-683-3651
Wilmington Job Corps Center
9 Vandever Avenue, Wilmington, DE 19802
302-230-2539
Del Tech-Wilmington Campus
333 Shipley Street, Wilmington, DE 19801
302-571-5300
Delaware Skill Center
13th and Clifford Brown Walk, Wilmington, DE 19801
302-654-5392
Delcastle Technical High School
1417 Newport Road, Wilmington, DE 19804
302-995-8099
Maggie Career Institute
102 Larch Circle, Suite 104, Wilmington, DE 19804
(302) 750- 4335
Howard High School of Technology (Day)
401-12th Street, Wilmington, DE 19801
302-571-5408
Conrad Schools of Science (High School)
210 Jackson Avenue, Wilmington, DE 19804
302-992-5545
Dawn Career Institute, Inc.
3700 Lancaster Pike, Ste. 105, Wilmington, DE 19805-1511
302-633-9075
Lee Training Institute
623 W. Newport Pike, Wilmington, DE 19804
302-507-1501
Woodside, DE CNA programs:
Poly Tech Adult Education
823 Walnut Shade Road, Woodside, DE 19980
302-697-4545
Poly Tech High School
P.O. Box 97, Woodside, DE 19980
302-697-3255
Get Your Degree!
Find schools and get information on the program that's right for you.
Powered by Campus Explorer