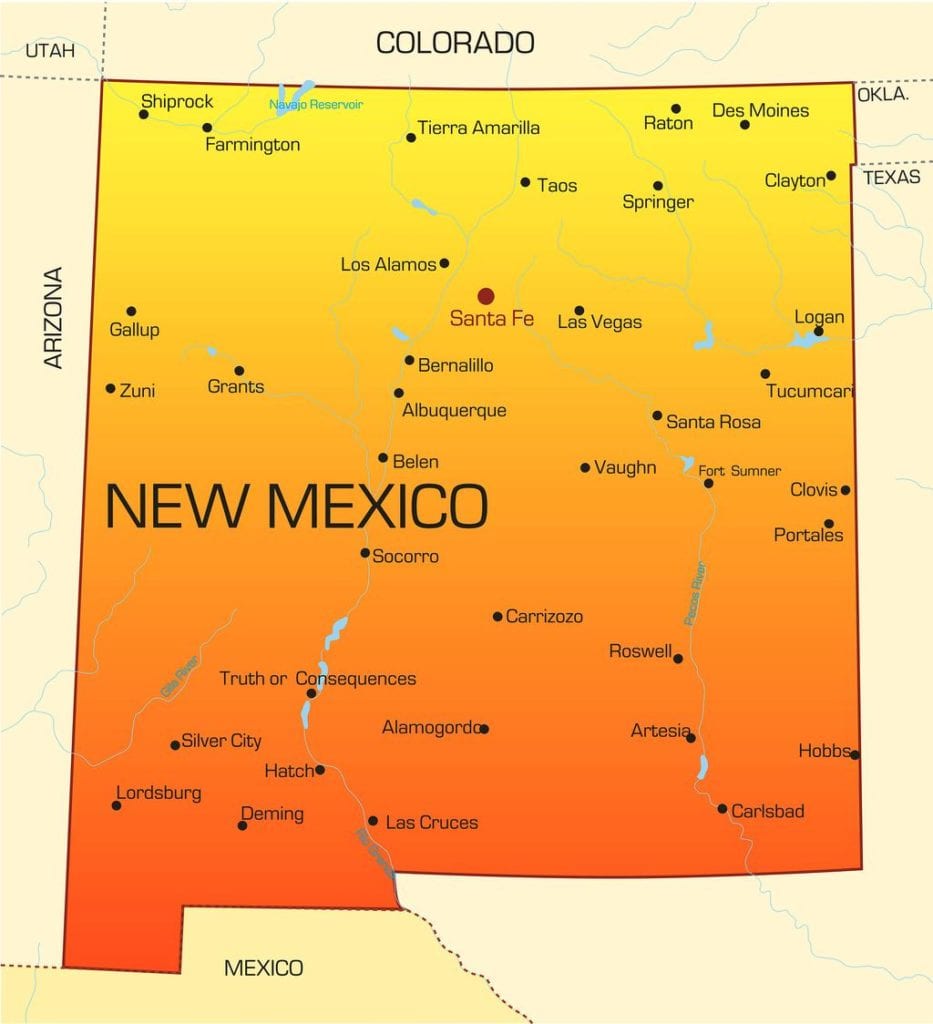 In nursing homes, hospitals and assisted living facilities, Certified Nurse Aides take responsibility for the day-to-day caregiving of patients and residents. They move residents into their wheelchairs, monitor their general health, assist with personal care and contribute to safe and quality care in the facilities where they work. Like other states, CNAs in New Mexico must receive training that prepares them to work with people with both chronic and acute health care needs. While the work is not easy, many people use this avenue to gain entry into the healthcare industry. New Mexico's Department of Health requires prospective nurse assistants to complete state-sanctioned training for certification and inclusion on the Nurse Aide Registry.
CNA Classes in New Mexico:
Certification Requirements
Federal and state rules require nurse assistants, who work in Medicaid-approved nursing facilities, to fulfill specific training and testing requirements to acquire certification before providing direct care services to residents. This requirement ensures that the quality of care extended to seniors, and disabled members of society is above board. In order to uphold federal and state requirements, employers at state-funded facilities must verify the criminal background and training of every prospective nurse assistant employee. New Mexico health care services employers must ensure new employees are in good standing on the state's Nurse Aide Registry.
Nurse aide students or graduates can work for an initial period of 120 days (4 months) while pursuing training, testing, and certification. If you work during that 4-month period prior to placement on the registry, you can only perform duties for which you've been trained. Military-trained nurse assistants, nursing students, foreign nurses, and out-of-state CNAs in expired status, can apply to the DOH for exemption from training and proceed directly to take the state competency exam for inclusion on the registry.
Prerequisites to Training
Every training provider stipulates its own requirements for enrollment. While the DOH would not exclude anyone based on educational background or lack of it, training providers may stipulate a high school diploma as a prerequisite to entry. The bulk of New Mexico's approved training providers are colleges and universities. Many of them stipulate a high school diploma, but there are a few that will accept a passing grade on an entry assessment. If you decide to study further to become an RN or LPN, a high school diploma will prove to be a valuable asset.
Following are some other prerequisites to training:
Be at least 18 years of age
High school diploma or GED equivalent (depends on the training provider)
Physical exam
Negative TB test or chest x-ray (less than 6 months)
Two forms of state ID
Up-to-date immunization
Current, clean background as evidenced by a criminal background check (fingerprint method)
Current Healthcare Provider CPR card
New Mexico Certified Nurse Aide Training Requirements
Nursing assistants must complete at least 75 hours of state-accredited training for certification. Training programs comprise of both classroom work and a clinical rotation where students get the chance to provide hands-on care by assisting with activities of daily living at long-term care facilities. Students must attend all 75 hours of training in order to qualify for the state competency exam. The state curriculum requires at least 59 hours in a classroom setting where students learn the roles and responsibilities of nurse assistants, vital signs, anatomy, physiology, safety and emergency, infection control, communication and interpersonal skills, observation and reporting, death and dying.
The final 16 hours cover the clinical rotation where students work in teams to provide care under the direction of a licensed nurse. The classroom and clinical training will prepare graduates for success on the state certification exam and immediate entry into the healthcare workforce.
Training programs run about $600 to $900, which is usually reimbursed by the student's first employer after certification.
Cost of CNA Training New Mexico
New Mexico's nurse assistant training programs cost $550 to $850 – a cost you can easily recover from your first employer after certification. You can also ask your current employer to sponsor the training if you work in a medical facility or nursing home. Due to the short-term nature of nurse assistant classes, there are very few options for financial aid available. However, you should take time to discuss options for funding with a financial aid advisor. Always budget funds for other expenses, such as books, scrubs, medical tools, background check, physical exam, TB test, immunization and state certification.
Nurse Aide Testing
Prometric is the governing body that administers New Mexico's nurse aide competency exam. Graduates of state-sanctioned training programs are eligible to test along with military-trained nurse aides, nursing students, licensed nurses, foreign nurses, and inactive CNAs (with DOH approval). After reviewing your application for testing, Prometric will issue an authorization to test letter, which you must bring to the testing center.
If you're employed or receive an offer of employment from a Medicaid-funded facility, the state of New Mexico will pay your fees for testing. Prometric issues the computerized test at several testing centers across the state. The knowledge-based component comprises of 60 multiple choice questions; you'll have 90 minutes to take the test. You can opt to take the written test in oral form if you have difficulty reading English. Apart from the 60 multiple choice questions, the oral test has 15 reading comprehension questions.
The timed clinical test ranges from 31 to 40 minutes based on the skills assigned. You'll have to perform 5 skills; Handwashing and Indirect Care plus three other skills assigned at random. If you fail one or both components of the competency exam, you can retest up to two times over a 4-month period.
Certification Costs
Written and skills exam – $105
Oral and skills exam – $115.50
Written retest – $38.85
Skills retest – $66.15
Oral retest – $49.35
Walk with the following items on exam day:
Arrive at least 30 minutes before the exam
Two forms of signature identification – one must contain your photo
Social security number
Authorization to test letter
Wear scrubs and closed-toed shoes for the skills exam
Out-of-State CNAs
If you're moving to New Mexico from another state, you can apply for reciprocity as long as your certification is still active and in good standing. The registry will need documentation of your training, certification, and listing on the registry. They will not approve the application if there are findings of abuse or neglect on your record.
Renewal
You can renew your license after the first two years if you:
Work at least 8 hours for compensation as a nurse aide during the 24-month certification period. You must complete the work under the supervision of a licensed nurse.
Download and fill out the employment verification form.
Your new certification will be for two years from your last reported date of employment.
Contact the Registry:
New Mexico Department of Health
Division of Health Improvement
Health Facility Licensing and Certification Bureau
2040 S. Pacheco Street, 2nd Floor, Room 413
Santa Fe, NM 87505
Phone: (505) 476-9040
Phone: (505) 827-1453
State Approved CNA Training Programs in New Mexico
Alamogordo, NM Nursing Homes and Hospitals offering CNA programs:
Betty Dare Good Samaritan Center
3101 N. Florida Avenue, Alamogordo, NM 88310
(575) 434-0038
Alamogordo, NM Colleges and Universities offering CNA programs:
New Mexico State University
2400 N. Scenic Drive, Alamogordo, NM 88311
(575) 439-3807
Albuquerque, NM High Schools offering CNA programs:
Albuquerque Public Schools
807 Mountain Road Ne, Albuquerque, NM 87102
(505) 243-3658
Albuquerque, NM Colleges and Universities offering CNA programs:
Central New Mexico Community College
525 Buena Vista Se, Albuquerque, NM 87106
(505) 224-3000
Albuquerque, NM Nursing Homes and Hospitals offering CNA programs:
Manzano Del Sol
5201 Roma Ne, Albuquerque, NM 87108
(505) 262-2311
Princeton Place
500 Louisiana Blvd Ne, Albuquerque, NM 87108
(505) 255-1717
Universal Care Home Health Agency Inc.
8015 Mountain Road Ne Suite 116b, Albuquerque, NM 87110
(505) 990-1958
Carlsbad, NM Nursing Homes and Hospitals offering CNA programs:
Lakeview Christian Home Health
1300 N. Canal Street, Carlsbad, NM 88220
(575) 887-3947
Carlsbad, NM Colleges and Universities offering CNA programs:
New Mexico State University-Carlsbad
1500 University Drive, Carlsbad, NM 88220
(575) 234-9200
Clovis, NM Colleges and Universities offering CNA programs:
Clovis Community College
417 Schepps Boulevard, Clovis, NM 88101
(575) 769-2811
Crownpoint, NM Colleges and Universities offering CNA programs:
Navajo Technical College
Po Box 849, Crownpoint, NM 87313
(505) 786-4100
Deming, NM High Schools offering CNA programs:
Deming High School
501 West Florida, Deming, NM 88030
(575) 546-2678
Espanola, NM Nursing Homes and Hospitals offering CNA programs:
Espanola Valley Nursing-Rehabilitation Center
720 Hacienda Street, Espanola, NM 87532
(505) 753-6769
Espanola, NM Colleges and Universities offering CNA programs:
Northern New Mexico Community College
921 Paseo De Onate, Espanola, NM 87532
(505) 747-2111
Farmington, NM Nursing Homes and Hospitals offering CNA programs:
Life Care Center Of Farmington
1101 West Murray Drive, Farmington, NM 87401
(505) 326-1600
Farmington, NM Colleges and Universities offering CNA programs:
San Juan College
4601 College Boulevard, Farmington, NM 87402
(505) 566-3496
Ft. Bayard, NM Nursing Homes and Hospitals offering CNA programs:
Fort Bayard Medical Center
PO Box 36219, Ft. Bayard, NM 88036
(505) 537-3303
Gallup, NM Colleges and Universities offering CNA programs:
University Of New Mexico-Gallup
200 College Road, Gallup, NM 87301
(505) 863-7593
Hobbs, NM Freestanding CNA programs:
Olive Leaf Institute School For Learning
2825 Dal Paso, Hobbs, NM 88240
(575) 392-7775
Las Cruces, NM Colleges and Universities offering CNA programs:
Dacc Gadsden Center
3400 South Espina Street, Las Cruces, NM 88003
(575) 527-7500
Dona Ana Branch Community College
3400 S. Espina, Las Cruces, NM 88003
(575) 527-7500
Las Vegas, NM Colleges and Universities offering CNA programs:
Luna Community College
366 Luna Drive, Las Vegas, NM 87701
(505) 454-2500
Las Vegas, NM Nursing Homes and Hospitals offering CNA programs:
Vida Encantada Rehab-Nursing
2301 Collins Drive, Las Vegas, NM 87701
(505) 425-9362
Los Lunas, NM Colleges and Universities offering CNA programs:
University Of New Mexico-Valencia Campus
280 La Entrada, Los Lunas, NM 87031
(505) 925-8611
Portales, NM Nursing Homes and Hospitals offering CNA programs:
Heartland Continuing Care Center
1604 West 18th Street, Portales, NM 88130
(505) 359-4719
Roosevelt General Hospital
PO Drawer 868, Portales, NM 88130
(575) 356.6652
Ranchos De Taos, NM Colleges and Universities offering CNA programs:
University Of New Mexico
1157 County Road 110, Ranchos De Taos, NM 87557
(505) 758-7648
Raton, NM Nursing Homes and Hospitals offering CNA programs:
Miner's Colfax Medical Center
900 South Sixth, Raton, NM 87740
(505) 445-2741
Raton Nursing And Rehabilitation Center
1660 Hospital Drive, Raton, NM 87740
(575) 445-2734
Roswell, NM Colleges and Universities offering CNA programs:
Eastern NM University
PO Box 6000, Roswell, NM 88202
(575) 524-2510
Roswell, NM Freestanding offering CNA programs:
Roswell Job Corps
57 G Street, Roswell, NM 88202
(575) 347-7468
Roswell, NM Nursing Homes and Hospitals offering CNA programs:
Sunset Villa Care Center
1515 S. Sunset Avenue, Roswell, NM 88203
(505) 623-7097
Ruidoso, NM Colleges and Universities offering CNA programs:
Eastern New Mexico University
709 Mechem Drive, Ruidoso, NM 88345
(800) 367-3668
Santa Fe, NM Nursing Homes and Hospitals offering CNA programs:
Santa Fe Care Center
635 Harkle Road, Santa Fe, NM 87505
(505) 982-2574
Santa Fe, NM Colleges and Universities offering CNA programs:
Santa Fe Community College
6401 Richard Avenue, Santa Fe, NM 87508
(505) 428-1323
Santa Teresa, NM Freestanding CNA programs:
Anamarc Education Institute
2660 Airport Road, Suite 780, Santa Teresa, NM 88008
(915) 351-8100
Emerald Nursing School
1074 Country Club, Suite B-3, Santa Teresa, NM 88008
(915) 751-3378
Silver City, NM Colleges and Universities offering CNA programs:
Western New Mexico University
PO Box 680, Silver City, NM 88062
(575) 574-5140
Socorro, NM Nursing Homes and Hospitals offering CNA programs:
Socorro Good Samaritan Village
PO Box 1279, Socorro, NM 87801
(575) 835-2724
Truth Or Consequences, NM Nursing Homes and Hospitals offering CNA programs:
Sierra Home Health And Hospice
1400 N. Silver, Truth Or Consequences, NM 87901
(575) 743-1100
Tucumcari, NM Nursing Homes and Hospitals offering CNA programs:
Dr. Dan C. Trigg Memorial Hospital
301 East Miel De Luna Avenue, Tucumcari, NM 88401
(575) 461-7000