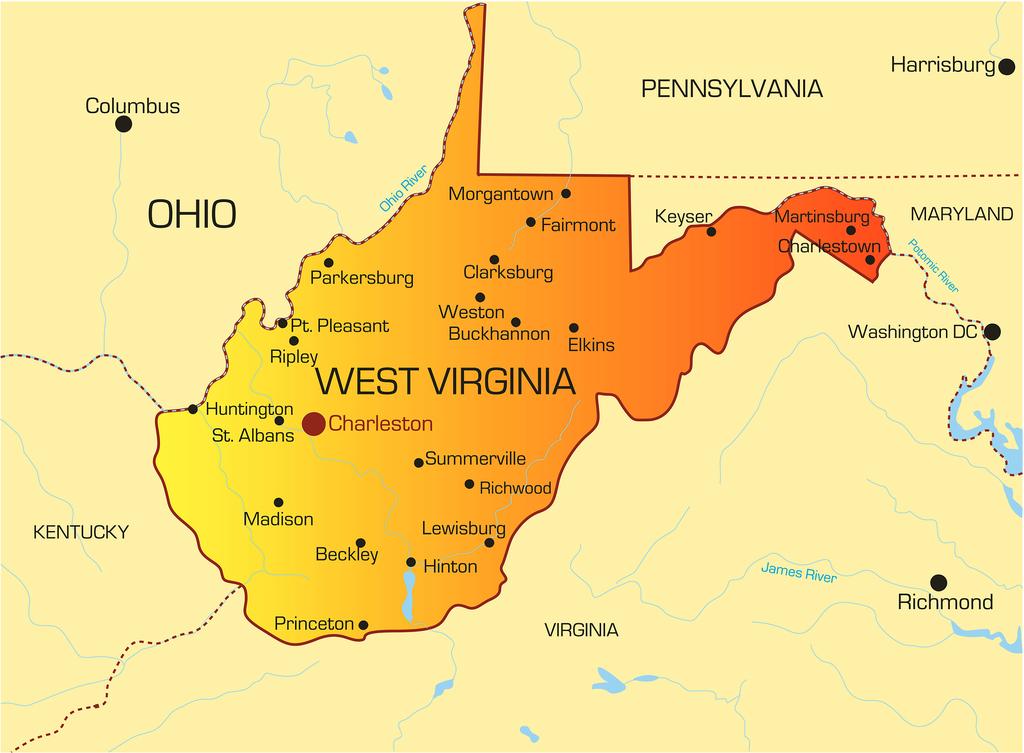 Certified Nursing Assistants (CNA) play a vital role in the lives of their patients by providing care under the direction of nurses and other licensed members of the health care team. They usually have more contact with patients than any other members of medical staff. Therefore, they're able to provide critical information to nurses, doctors, and administrators. Nurse aide training prepares students for their important role by imparting knowledge and real world skills they need to fulfill their responsibilities as part of the patient care team. In West Virginia, prospective nurses aides can complete the state-required training in less than two months. The West Virginia Department of Health and Human Resources oversees nurse aide training and certification and manages the Nurse Aide Registry.
CNA Classes in West Virginia:
Certification Requirements
Federal and state regulations specify that an individual cannot provide voluntary service or work for compensation as a nurse aide without certification from the state board. Employers must obtain verification from the nurse aide registry that the prospective employee has fulfilled the state's requirements.
According to federal guidelines, an employer can hire a nurse aide in training for a period of 4 months (120 days). During this period, the employee must actively pursue training and testing to obtain state certification. The nurse aide student can only perform tasks for which he/she has been trained. The 4-month allowance is not renewable.
Out-of-state CNAs in active status can apply for reciprocity to skip training and testing. CNAs in inactive or expired status, foreign nurses, military-trained nurse aides and students enrolled in nursing degree programs can apply for exemption from training and take the nurse aide competency evaluation to qualify for placement on the registry.
Prerequisites to Training
There are very few barriers to entry into CNA training programs. Federal guidelines do not stipulate minimum education requirements. However, some training providers (community colleges) may require applicants to present a high school diploma or GED for admissions. Other training providers within West Virginia accept applicants as long as they can demonstrate the ability to read and write, which is essential to master the content covered in the training. Since the state competency is a timed test, you must be comfortable reading and comprehending within time constraints. Note: A high school diploma is a valuable asset if you want to improve your pay rate and advance to other careers in healthcare.
Following are some other prerequisites to training:
18 years or older
High school diploma or GED (recommended)
Registered sex offenders or those who have committed a crime involving a child or incapacitated adult will not be eligible for certification. Clinical placement may require that you complete a drug screen, fingerprint, and a health exam.
West Virginia Certified Nurse Aide Training Requirements
Using a combination of classroom, practical experience and hands-on demonstration, West Virginia's state-accredited training providers facilitate a minimum of 120 hours of instruction according to state guidelines. Students spend 65 hours in the classroom where they learn basic nursing skills, nutrition, restorative care, infection control, communication skills, patients' rights, standards of care, observation and vital signs. The professional nurse instructors will also reinforce proper skills development in the classroom lab. The final 55 hours of the program will cover the supervised clinical practicum at an approved nursing facility.
As a nurse assistant student, you'll learn all the skills you need to pass the state exam and deliver exceptional care to your patients. State-approved programs cover all eight units required by the Nurse Aide Training and Competency Evaluation Program – all within 4 to 6 weeks. Upon completion of the training, you're eligible to challenge the state exam and become a vital part of a medical team, without spending years or months in school.
Cost of CNA Training West Virginia
Nurse aide training costs in West Virginia can be as little as $350 or as much as $1,500 depending on the training provider. Training at community colleges costs more than other training providers simply because additional costs, such as student fees, lab fees, parking costs, can elevate your final costs. If you plan to further your studies to advance your career, your training at a community college will be a valuable asset. For instance, you may be able to transfer your credits earned to a nursing degree program.
The Department of Health has more than 30 approved training programs at nursing homes, hospitals, and long term care facilities. These institutes are known to provide free or subsidized training to attract new employees. Therefore, they're an excellent choice if you're in need of free training. Take note: The waiting list for training may be extensive, so it's not a great solution if you need a fast-track training option.
When comparing program fees, remember that most advertised fees account for tuition only. Therefore, you'll need to budget for textbook, uniform, supplies, state certification, TB test, background check, immunization, and other costs.
Nurse Aide Testing
You're eligible to sit for West Virginia's nurse aide competency evaluation, administered by Professional Health Development, if:
You've completed an approved nurse aide training program within the last 24 months
You've allowed your registration to lapse within the last five years – you can challenge the exam after taking a refresher course
You're an out-of-state CNA. Note: West Virginia practices reciprocity with many states, so you might qualify for direct placement on the registry (without the exam)
You're a nursing student who has completed the fundamentals of nursing. Contact the registry to obtain permission for testing.
The competency evaluation comprises of both written and skills performance components. First-time testers must register for both components when filling out the application for testing.
The written portion of the exam contains 100 multiple choice questions, which you must complete within the allotted 2 hours. If you have trouble reading, you can apply for the oral option, which also contains 100 multiple choice questions.
The skills exam tests five nursing skills, initial steps and completion steps. The evaluator will select the skills at random, and you'll have 50 minutes to demonstrate. You must perform all five skills correctly in order to pass the exam.
You're given three opportunities to pass the evaluation. If you fail to pass after three attempts, you'll have to retake an approved program. PHD will mail your results within 10 business days after your exam date. If you pass the exam and meet the state's requirements (background check, physical exam, etc.), you'll obtain certification as a Long Term Care Aide in West Virginia.
Certification Costs
Written and skills exam – $125
Oral and skills exam – $160
Written retest – $55
Skills retest – $70
Oral retest – $105
CNA test completion certificate – $10
Walk with the following items on exam day:
Admission ticket
Two forms of ID (one must contain a current photo)
Three sharpened No. 2 pencils and eraser
Watch with a second hand (sharing of watches is not permitted)
Uniform scrubs and flat, non-skid, closed-toe shoes for the clinical
Pregnant or injured persons must submit a doctor's release to PHD prior to the scheduled exam
Out-of-State CNAs
If you're listed on another state's registry, you may qualify for inclusion on West Virginia's Nurse Aide Registry if your home state's certification requirements are similar to WV. Your acceptance by the registry depends on your current standing in your home state.
You must be listed in active status
You must submit proof of paid nurse aide employment within the past 24 months
Download and fill out the application for reciprocity and submit the required documents – pay stubs, certificates, background check, etc.
Renewal
The CNA certification is valid for two years. The Office of Health Facility Licensure and Certification will mail out the renewal form 45 days prior to your license expiration. It is important that you maintain accurate records at the registry to receive updates.
Following are the renewal requirements:
Download the application for renewal and fill it out accurately
Provide proof of at least eight hours nurse aide employment for compensation within the licensure period.
Submit the completed application to:
Office of Health Facility
Licensure & Certification
408 Leon Sullivan Way
Charleston, WV 25301
(304) 558-0050
(304) 558-2515 (fax)
Contact the Registry:
West Virginia Nurse Aide Registry
West Virginia Division of Health – Office of Health Facilities Licensure & Certification
1 Davis Square, Suite 101, Charleston, WV 25301-1799
Phone: (304) 558-0688
Fax: (304) 558-1442
State Approved CNA Programs in West Virginia
Beckley, WV CNA programs:
Harper Mills
100 Heartland Drive, Beckley, WV 25801-2655
(304) 256-1650
Jackie Withrow Hospital
105 S Eisenhower Drive, Beckley, WV 25801-4929
(304) 256-6600
Valley College – Beckley
120 New River Town Center, Suite C, Beckley, WV 25801
(304) 252-9547
Berkeley Springs, WV CNA Programs:
Matam Educational Foundation, Inc
456 Autumn Acres Road, Berkeley Springs, WV 25411
304 258-3673
Blue Ridge Community and Technical College
109 War Memorial Dr, Berkeley Springs, WV 25411
(304) 260-4380
Belmont, WV CNA programs:
Carehaven of Pleasants
506 Riverview Drive, Belmont, WV 26134
(304) 665-2065
Bluefield, WV CNA programs:
Community Action of South Eastern WV
307 Federal Street Suite 323, Bluefield, WV 24701-3044
304 324-8397
Bridgeport, WV CNA programs:
US Nursing Network
109 Tolley Drive, Bridgeport, WV 26330
304 623-5777
Buckhannon, WV CNA programs:
Holbrook Nursing Home
346 South Florida Street, Buckhannon, WV 26201
(304) 472-3280
Fred W. Eberle Technical Center
Route 5, Box 2, Buckhannon, WV 26201
304 472-1259
Cameron, WV CNA programs:
Cameron Nursing and Rehabilitation Center, LLC
Road 4 Box 20, Cameron, WV 26033
304 686-3318
Charleston, WV CNA programs:
Garnet Career Center
422 Dickinson Street, Charleston, WV 25301
304 348-6195
Charleston Job Corps Center
1000 Curtis Price Way, Charleston, WV 25311
(304) 925-3200
Valley Center
1000 Lincoln Drive, Charleston, WV 25309
(304) 768-4400
Charmco, WV CNA programs:
Greenbrier West High School
PO Box 325 One School House Road, Charmco, WV 25958
304 438-6191
Clarksburg, WV CNA programs:
Heartland of Clarksburg
100 Parkway Drive, Clarksburg, WV 26301
304 624-6401
Clarksburg Nursing And Rehabilitation Center
801 Davission Run Road, Clarksburg, WV 26301
(304) 624-6500
Health Consultants Plus
PO Box 1088, Clarksburg, WV 26302
(304) 782-3765
United Technical Center
Route 3 Box 43C, Clarksburg, WV 26301
304 326-7583
Cora, WV CNA programs:
Med-Care Training Center
1109 Holden Rd., Cora, WV 25614
304 239-3869
Craigsville, WV CNA programs:
Nicholas County Career-Technical Center
215 Milam Addition Road, Craigsville, WV 26205
304 742-5416
Daniels, WV CNA programs:
Raleigh Center
PO Box 741, 1631 Ritter Drive, Daniels, WV 25832
304 763-3051
Danville, WV CNA programs:
Boone Career-Technical Center
3505 Daniel Boone Parkway Suite B, Danville, WV 25053
304 369-4585
Dunbar, WV CNA programs:
Ben Franklin Career Center
500 28th Street, Dunbar, WV 25064
(304) 766-0369
Eleanor, WV CNA programs:
Putnam Career-Technical Center
300 Roosevelt Blvd, Eleanor, WV 25070
304 586-3494
Elkins, WV CNA programs:
Elkins Regional Convalescent Center
1175 Beverly Pike, Elkins, WV 26241
304 636-1391
Nella's Nursing Home, Inc.
200 Whitman Avenue, Elkins, WV 26241
304 636-2033
Randolph County Vo-Tech Center
200 Kennedy Drive, Elkins, WV 26241
304 636-9195
Fairmont, WV CNA programs:
Arbors at Fairmont
130 Kaufman Drive, Fairmont, WV 26554
304 363-5633
Pierpont Center
1543 Country Club Road, Fairmont, WV 26554
304 363-2273
Farmington, WV CNA programs:
Marion County Technical Center
Route 1, Box 100A, Farmington, WV 26571
304 986-3590
Follansbee, WV CNA programs:
Brightwood Center
840 Lee Road, Follansbee, WV 26037
304 527-1100
Franklin, WV CNA programs:
Pendleton Manor
68 Good Samaritan Drive, Franklin, WV 26807-0700
(304) 358-2322
Glasgow, WV CNA programs:
Golden Living- Glasgow
120 Melrose Drive, Glasgow, WV 25086
304 595-1155
Grafton, WV CNA programs:
Grafton City Hospital
500 Market Street, Grafton, WV 26354
304 265-0400
Taylor County Technical Center
115 Luby Street, Grafton, WV 26354
304 265-1050
Glen Dale, WV CNA programs:
John Marshall High School
1300 Wheeling Avenue, Glen Dale, WV 26038
(304) 843-4444
Glenville, WV CNA programs:
Glenville Center
111 Fairground Road, Glenville, WV 26351
(304) 462-5718
Hamlin, WV CNA programs:
Lincoln Nursing And Rehab Center
200 Monday Drive, Hamlin, WV 25523
(304) 824-3133
Harrisville, WV CNA programs:
Pineview Nursing-Rehabilitation Center
PO Box 200, 400 McKinley Street, Harrisville, WV 26362
304 643-2712
Hilltop, WV CNA programs:
Hilltop Center
Saddle Shop Road/PO Box 125, Hilltop, WV 25855
(304) 469-2966
Hinton, WV CNA programs:
Summers County High School
1 Bobcat Drive, Hinton, WV 25951
304 466-6040
Huntington, WV CNA programs:
Heritage Center
101 13th Street, Huntington, WV 25701
304 525-7622
Huntington Health-Rehabilitation
1720 17th Street, Huntington, WV 25701
304 529-6031
Hurricane, WV CNA programs:
Putnam Center
300 Seville Road, Hurricane, WV 25526-9206
(304) 757-6805
Keyser, WV CNA programs:
Mineral County Vo-Tech Center
600 Harley O. Staggers Drive, Keyser, WV 26726
304 788-4240
Kingwood, WV CNA programs:
Heartland of Preston County
300 Miller Road, Kingwood, WV 26537
304 329-3195
Preston Memorial Hospital
300 S Price Street, Kingwood, WV 26537
(304) 329-1400
Preston High School
400 Preston Drive, Kingwood, WV 26537
304 329-0400
Lakin, WV CNA programs:
Lakin Hospital
One Bateman Circle, Lakin, WV 25287
304 675-0860
Leroy, WV CNA programs:
Roane-Jackson Technical Center
4800 Spencer Road, Leroy, WV 25252
304 372-7335
Lewisburg, WV CNA programs:
Greenbrier East High School
1 Spartan lane, Lewisburg, WV 24901
304 647-6469
Lindside, WV CNA programs:
Monroe County Technical Center
Route 1 Box 97, Lindside, WV 24951
(304) 753-9971
Logan, WV CNA programs:
Logan Center
Po Box 540, Logan, WV 25601
(304) 752-2273
Trinity Health Care Services Of Logan
1000 West Park Ave, Logan, WV 25601-3155
(304) 752-8723
Marlinton, WV CNA programs:
Pocahontas Center-Genesis Health- Care
Route 1, Box 500, Marlinton, WV 24959
304 799-7375
Marmet, WV CNA programs:
Marmet Center-Genesis Health Care
1 Sutphin Drive, Marmet, WV 25315
304 949-1580
Martinsburg, WV CNA programs:
Care Haven Center
2720 Charles Town Road, Martinsburg, WV 25401
304 263-0933
Valley College-Martinsburg
287 Aikens Center, Martinsburg, WV 25404
(304) 263-0979
Madison Center
161 Bakers Ridge Road, Morgantown, WV 26508
(304) 285-0692
Morgantown, WV CNA programs:
Mapleshire Nursing And Rehabilitation
30 Vandervort Drive, Morgantown, WV 26505
(304) 285-3590
Genesis Regional Program
1369 Stewartstown Road, Morgantown, WV 26505
(304) 599-0395
Montgomery, WV CNA programs:
Bridgevalley Ctc-Montgomery Campus
619 2nd Avenue, Montgomery, WV 25136
(304) 734-6622
Montgomery General Elderly Care
PO Box 1010 Sixth Ave & Adams Street, Montgomery, WV 25316
304 442-2469
Moorefield, WV CNA programs:
Eastern WV Community-Technical College
PO Box 59, 316 Eastern Drive, Moorefield, WV 26836
304 434-8000
Eastern WV CTC-Grant County
316 Eastern Drive, Moorefield, WV 26836
304 434-8000
New Cumberlan, WV CNA programs:
John D. Rockefeller IV Vo-Tech Center
95 Rockyside Road, New Cumberlan, WV 26047
304 564-3337
New Martinsville, WV CNA programs:
WV Northern Community College
141 Main Street, New Martinsville, WV 26155
304 455-4684
Oak Hill, WV CNA programs:
Fayette Institute of Technology
300 West Oyler Avenue, Oak Hill, WV 25901
304 469-2911
Parkersburg, WV CNA programs:
Willows Center
723 Summers Street, Parkersburg, WV 26101
304 428-5573
Wood County Technical-Career Center
1515 Blizzard Drive, Parkersburg, WV 26101
304 420-9500
WVU-Parkersburg Campus
300 Campus Drive, Parkersburg, WV 26104
304 424-8385
Petersburg, WV CNA programs:
South Branch Career-Technical Center
401 Pierpont Street, Petersburg, WV 26847
304 257-1331
South Branch Technical Career Center-Helping Hands
401 Pierpont Street, Petersburg, WV 26847
304 530-4995
Philippi, WV CNA programs:
Barbour County Technical Education Center (adult)
25 Horseshoe Drive, Philippi, WV 26416
304 457-4807
Barbour County Vocational Center (High School)
Route 4 Box 268, 25 Horseshoe Drive, Philippi, WV 26416
304 457-4807
Pineville, WV CNA programs:
Wyoming County Career-Tech Center
HCR 72, Box 200, Pineville, WV 24874-9600
304 732-8050
Pineville, WV CNA programs:
Knights Enrichment
Hcr 62 Box 200, Pineville, WV 24874
(304) 732-8050
Point Pleasant, WV CNA programs:
Mason County Vocational Center
Route 1, Box 4A, Point Pleasant, WV 25550
304 675-3039
Princeton, WV CNA programs:
Mercer County Technical Education Center
1397 Stafford Drive, Princeton, WV 24740
304 425-9551
Princeton Health Care Center
315 Courthouse Road, Princeton, WV 24740
304 487-3458
Valley College-Princeton
617 Mercer Street, Princeton, WV 24740
(304) 425-2323
Rainelle, WV CNA programs:
Heartland of Rainelle
606 Pennyslvania Avenue, Rainelle, WV 25962
304 438-6127
Ravenswood, WV CNA programs:
Ravenswood-Genesis HealthCare
200 South Richie Avenue, Ravenswood, WV 26164
304 428-5573
Richwood, WV CNA programs:
Nicholas County Nursing and Rehabilitation Center
18 4th St, Richwood, WV 26261
304 846-2668
Romney, WV CNA programs:
Diversified Nurse Aid Program
HC 63 Box 1980 Rm 503, Romney, WV 26757
304 822-3979
Ronceverte, WV CNA programs:
Brier Rehabilitation and Nursing Center
601 Rocky Hill Rd, Ronceverte, WV 24970
304 645-7270
Saint Marys, WV CNA programs:
Mid-Ohio Valley Technical Institute
PO Box 29, Saint Marys, WV 26170
(304) 684-2464
Salem, WV CNA programs:
Salem Nursing-Rehabilitation Center
255 Sunbridge Drive, Salem WV 26426
304 782-3000
Sissonville, WV CNA programs:
Cedar Ridge Center
302 Cedar Ridge Road, Sissonville, WV 25320-9502
(304) 984-0046
Sistersville, WV CNA programs:
Sistersville Center
201 Wood St., Sistersville, WV 26175
304 652-1032
Spencer, WV CNA programs:
Miletree Center
825 Summit Street, Spencer, WV 25276
304 927-1007
South Charleston, WV CNA programs:
Bridgevalley Ctc-South Charleston Campus
2001 Union Carbide Drive, South Charleston, WV 25303
(304) 205-6603
Summersville, WV CNA programs:
New River Community And Technical Center
830 Northside Drive Suite 160, Summersville, WV 26651
(304) 883-2446
Sutton, WV CNA programs:
Braxton County High School
200 Jerry Burton Drive, Sutton, WV 26601
304 765-7331
Thomas, WV CNA programs:
Cortland Acres Nursing Home
HC 60 Box 98, Thomas, WV 26292
304 463-4181
Upper Glade, WV CNA programs:
Webster Co High School
One Highlander Drive, Upper Glade, WV 26266
304 226-5772
Wayne, WV CNA programs:
Wayne County Board of Education/Wayne High School
100 Pioneer Road, Wayne, WV 25570
304 272-5639
Weirton, WV CNA programs:
Weirton Geriatric Center
2525 Pennsylvania Avenue, Weirton, WV 26062
(304) 723-4300
Welch, WV CNA programs:
McDowell County Vocational Tech Center
#1 Stadium Drive, Welch, WV 24801
304 436-3488
Wellsburg, WV CNA programs:
Brooke High School
Road 3 Box 610, Bruin Drive, Wellsburg, WV 26070
304 527-1410
Wheeling, WV CNA programs:
Good Shepherd Nursing Home
159 Edgington Lane, Wheeling, WV 26003
304 242-1093
West Virginia Northern Community College
1704 Market Street, Wheeling, WV 26003
304 233-5900
Wheeling Park High School
1976 Park View Road, Wheeling, WV 26003
304 243-0400
Williamson, WV CNA programs:
Mingo Central High School
Rt. 2 Box 310, Williamson, WV 25661
304 235-3333
Tug Valley High School
555 Panther Avenue, Williamson, WV 25661
304 235-2266