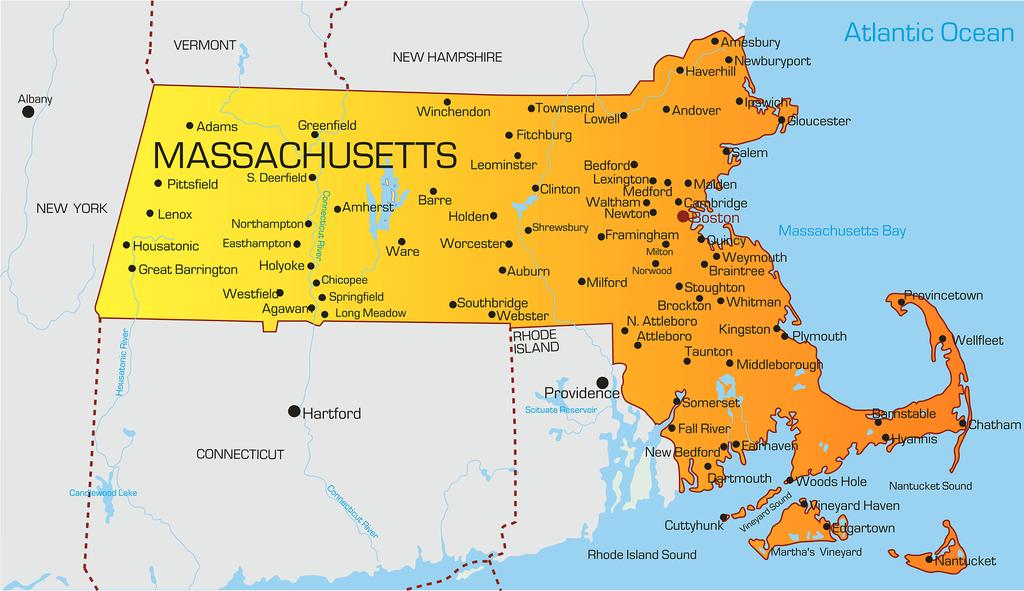 According to the U.S. Bureau of Labor Statistics, the state of Massachusetts employs approximately 43,800 certified nurse aides (CNAs). Like these professionals, prospective CNAs must obtain certification from the Massachusetts Department of Health after graduating from a state approved nurse aide training program.
Upon completion of a nurse aide training (NAT) program, graduates are eligible to take the Nurse Aide Competency Evaluation (NACE) managed by D&S Diversified Technologies LLP- Headmaster.
CNA Classes in Massachusetts:
Other cities in Mass.: Please scroll down below or use CTRL+F (Command+F on Mac) to search this page.
Certification Requirements
The Massachusetts Nurse Aide Registry keeps track of all certified nursing assistants within the state. Employers must verify the CNA's status before extending an offer of employment. The state mandates that nurse aides must obtain certification before taking up employment at a licensed healthcare facility. The registry maintains details of CNAs' background verification, address, training center, testing center, score cares, certification, health check as well as a record of nurse aide-related employment history. In addition to adding new CNAs, the registry also manages transfers, renewals, and requests for duplicate licenses.
Prerequisites to Training
Training requirements vary from one institute to another. The Massachusetts Health Department does not specifically require nurse aide candidates to possess a high school diploma. However, many approved programs across the state require applicants to present proof of graduating high-school or a GED equivalent. A few others will enroll students who demonstrate a minimum ninth-grade reading and comprehension ability.
Note: If you've covered 100 hours or more in a nursing degree program, you can skip the prerequisite NAT training. CNAs with a lapsed license, military personnel with CNA training, foreign nurses with proof of training, and out-of-state CNAs can also skip the prerequisite training before taking the exam.
Other prerequisites include:
Criminal background check (fingerprint method)
Be at least 18 years old
Physical exam
Proof of immunization
Negative TB test
High school diploma (recommended)
Attend the school's orientation session.
Current Healthcare Provider CPR card.
Nurse aide training providers across Massachusetts must provide a minimum 100 hours of training to nurse aide students. The stipulated minimum contact hours include 75 hours classroom training and 25 hours for a clinical externship. Most programs offer four to six weeks of flexible training to accommodate varying schedules.
During the training, instructors cover topics such as patient care skills, ethics, communications, physiology, medical terminology, nutrition, charting, observation skills, transfers and all the skills necessary to carry out duties at a long-term healthcare facility. At the end of the training, students are eligible to take the state nurse aide competency evaluation.
Graduates of an approved training program must take and pass the nurse aide evaluation within two years of completing the training. Check below for a list of approved nurse aide training providers.
Cost of Training
Massachusetts nurse aide training can cost anywhere from $800 to $2,300. In some cases, you may be able to obtain free training if you're resourceful and investigate sources of free funding. Start with your employer, especially if you work at a long-term healthcare facility. Nursing homes and hospitals also sponsor training from time to time, but keep in mind that there are extensive waiting lists for these programs. Whether you enroll in free or paid nurse aide training, you'll need to budget for textbooks, uniform, supplies, state testing fee and other supplies.
Nurse Aide Testing
Once you've successfully completed nurse aide training, you can register with Headmaster to take the nurse aide exam. Your initial registration information will be entered in D&SDT-Headmaster's TestMaster Universe (TMU) software. You must sign in to the TMU using your secure email or username and password to complete your demographic information. You may schedule your exam date online at the Massachusetts TMU page. Use your credit card or debit card to pay your testing fees when scheduling online. Your test confirmation will be sent via email or you may access it via text or by signing into your account.
The evaluation comprises of 60 multiple-choice questions and five clinical skills evaluation – issued at random. The written portion lasts for two hours, and the clinical evaluation will last no more than 30 minutes. Students must pass both components in order to obtain certification. You must have a score of 76% or better to pass the knowledge portion of the exam.
A Virtual Knowledge Exam Option is available. You must have an updated version of Google Chrome as your internet browser and a reliable internet connection. You must also have a smartphone to access the facetime app,
If you pass the exam, your name will be added to the Nurse Aide Registry, and you'll have the authorization to work as a CNA in the state of Massachusetts. If you fail the exam, you're allowed three more chances to pass the written component and two more chances to pass the clinical test. If you do not succeed within those allowances, you must retake the training program before reapplying to test again.
Certification Costs
Testing fees are as follows:
Knowledge Test or Knowledge Retakes 2nd, 3rd and 4th attempts – $40
Oral Knowledge Test or Retakes 2nd, 3rd, and 4th attempts            – $50
Skill Test or Retake 2nd and 3rd attempts                                            – $70
On exam day, you must walk with the following:
Two forms of identification – one with your photo
Three No. 2 pencils and eraser
A watch with a second hand
An actor for the clinical evaluation (The actor must be 18 years or older)
Toothbrush and comb for clinical
Wear full clinical attire for all in-person test events – including scrubs (top and bottom) and shoes. Long hair should be pulled back.
Arrive at your confirmed test site 20 minutes before the exam is scheduled to start. You will not be admitted to the exam if you do not arrive at the test site 20 minutes beforehand.
Out-of-State CNAs
You can apply for listing on Massachusetts' Nurse Aide Registry if you're an out-of-state CNA in active status and have never been certified in Massachusetts.
In order to be placed on the Massachusetts Nurse Aide Registry, complete the application and send to the Nurse Aide Registry of the state in which you are currently certified for verification. When the verified application is returned to you, mail the original completed reciprocity application to:
Massachusetts Department of Public Health
ATTN: MA Nurse Aide Registry Program
67 Forest Street, Marlborough, MA 01752
Completed applications must be submitted to the Massachusetts Registry Program within 30 days of completion of the verification from the other state's Nurse Aide Registry.
Headmaster will issue you a Massachusetts Certificate and Wallet Card within 15 days of its receipt of the completed application. If you do not receive your Massachusetts certificate within this time period, please contact Massachusetts Nurse Aide Registry staff at nars@mass.gov or 1-617-753-8144.
The states of California, Louisiana, Colorado, North Carolina, Missouri, Wisconsin, Virginia, North Dakota, Georgia and Tennessee no longer process written verification for Certified Nurse Aides. If you wish to complete Reciprocity from these states to Massachusetts, complete the Application Information and Current Registry Information sections of the application and return it to MA Nurse Aide Registry. MA Nurse Aide Registry will complete the verification process.
Renewal
The registry listing remains valid for two years, and you're eligible to renew your listing if you worked for an 8-hour period during the two years. To renew your certification, you must complete and submit the Massachusetts Nurse Aide Registry Renewal Form by main to the Massachusetts Nurse Aide Registry. If you did not work within the 24 months, you need to retake the written and skills evaluation in order to maintain your listing on the registry.
If your nurse aide certification has expired, you may be able to renew your certification through your work experience. To qualify, you must be currently employed as a nurse aide and have worked from before your certification expired to the present with no break in employment. If you are not currently employed or had a break in employment, you may need to retake the nurse aide certification test.
Nurse aides with misconduct restrictions on the Registry are not eligible for renewal.
Contact the Registry
Massachusetts Department of Health (DPH)
Division of Health Care Facility Licensure and
Certification – Nurse Aide Registry
67 Forest Street
Marlborough, MA 01752
Email: nars@mass.gov
Massachusetts Nurse Aide
Telephone: (617) 753-8144
For Testing:
D&S Diversified Technologies (D&SDT), LLP-
Headmaster, LLP
PO Box 6609
Helena, MT 59604
Email: massachusetts@hdmaster.com
Web Site: www.hdmaster.com
Phone #: (888) 401-0462
Phone #: (888) 401-0465
State Approved CNA Programs in Massachusetts
Agawam, MA Freestanding CNA programs:
Genesis Health Care Nurse Aide Program
61 Cooper St, Agawam, MA 01001
413-786-8000
Amesbury, MA Nursing Homes and Hospitals offering CNA programs:
Home Health Care Connection
120 Friend St, Amesbury, MA 01913
978-550-6916
Andover, MA High Schools offering CNA programs:
Greater Lawrence Technical School
57 River Rd, Andover, MA 01810
978-686-0194
Attleboro, MA Nursing Homes and Hospitals offering CNA programs:
Life Care Attleboro
42 Union St, Attleboro, MA 02703
508-222-5160
Attleboro, MA Freestanding CNA programs:
International Health Care Training and Services
21 Park St Suite 316, Attleboro, MA 02703
508-222-8710
Baldwinville, MA Freestanding CNA programs:
Templeton Development Center
212 Freighthead Rd, Baldwinville, MA 01436
978-407-5257
Billerica, MA High Schools offering CNA programs:
Shawsheen Valley Tech HS
100 Cook St, Billerica, MA 01821
78-667-2111
Blizzards Bay, MA Nursing Homes and Hospitals offering CNA programs:
Royal Cape Cod Nursing & Rehabilitation Center
8 Lewis Point Rd, Blizzards Bay, MA 02533
608-759-5752
Boston, MA Colleges and Universities offering CNA programs:
Roxbury Community College Corporate and Community Education
1234 Columbus Ave, Boston, MA 02120
617-933-7432
Boston, MA Nursing Homes and Hospitals offering CNA programs:
South Cove Manor Nursing Home
120 Shawmut Ave, Boston, MA 02118
617-423-0590
Bourne, MA Nursing Homes and Hospitals offering CNA programs:
Bourne Manor EFC
146 Mac Arthur Blvd, Bourne, MA 02532
508-759-8880
Bourne, MA High Schools offering CNA programs:
Upper Cape Cod Regional Vocational Tech School
220 Sandwich Rd, Bourne, MA 02532
508-759-7711
Braintree, MA Nursing Homes and Hospitals offering CNA programs:
John Scott House
233 Middle St, Braintree, MA 02184
781-843-1860
Brewster, MA Nursing Homes and Hospitals offering CNA programs:
Epoch Senior Healthcare Living Center
873 Harwich Rd, Brewster, MA 02631
508-896-7046
Pleasant Bay Nursing and Rehab Center
383 S Orleans Rd, Brewster, MA 02631
508-240-1969
Brockton, MA Adult Education Centers offering CNA programs:
Brockton Education Center For Adults
243 Court St, Brockton, MA 02302
508-559-9089
Brockton, MA High Schools offering CNA programs:
Brockton High School
470 Forest Ave, Brockton, MA 02301
508-580-7665
Brockton, MA Freestanding CNA programs:
K&K Healthcare Training Center
459 Prospect St, Brockton, MA 02301
508-584-2805
Burlington, MA Freestanding CNA programs:
Home and Health Care Training Center
99 Bedford St, Burlington, MA 01803
978-522-5130
Cambridge
Rindge School of Technical Arts
459 Broadway, Cambridge, MA 02139
617-349-6751
Canton, MA High Schools offering CNA programs:
Blue Hills Regional Technical High School
500 Randolph St, Canton, MA 02021
761-326-5800
Charlton, MA High Schools offering CNA programs:
Bay Path Regional Vocational Tech High School
57 Old Mugget Hill Road, Charlton, MA 01507
508-248-5971
Chelsea, MA Colleges and Universities offering CNA programs:
Bunker Hill Community College
175 Hawthorne St, Chelsea, MA 02150
517-228-2465
Danvers, MA Colleges and Universities offering CNA programs:
North Shore Community College
1 Ferncroft Rd, Danvers, MA 01923
978-236-1220
Dedham, MA Freestanding CNA programs:
PJB Medical Career Center
30 Eastbrook Rd, Dedham, MA 02028
617-908-1795
Devens, MA Job Corps Centers offering CNA programs:
Shriver Job Corps Center
270 Jackson Rd, Devens, MA 01432
978-772-7933
Dracut, MA Nursing Homes and Hospitals offering CNA programs:
3 Dimensions Health Services
1934 Lakeview Ave, Dracut, MA 01826
978-735-4451
Duxubury, MA Nursing Homes and Hospitals offering CNA programs:
Bay Path at Duxbury Nursing and Rehab Center
308 Kings Town Way, Duxubury, MA 02332
781-585-5561
East Sandwich, MA High Schools offering CNA programs:
Sandwich Community School
365 Quaker Meeting, East Sandwich, MA 02537
508-888-5300
Everett, MA Freestanding CNA programs:
A Better Tomorrow Services Health Training
153b Main Street, Everett, MA 02149
617-381-0300
Fall River, MA High Schools offering CNA programs:
BMC Durfee High School
380 Elsbree St, Fall River, MA 02720
508-875-8178
Fall River, MA Colleges and Universities offering CNA programs:
Bristol Community College
1082 Davol St, Fall River, MA 02720
508-678-2811
Fall River, MA Freestanding CNA programs:
Coastal Career Academy
288 Plymouth Ave, Fall River, MA 02720
508-998-0868
Health Care Training Services, Inc
657 Quarry St, Fall River, MA 02723
508-672-6800
Southcoast Center For Professional Development
101 Jeremiah Sullivan Dr, Fall River, MA 02721
508-675-0001
Fall River, MA High Schools offering CNA programs:
Diman Regional Voc. Technical HS
251 Stonehaven Rd, Fall River, MA 02723
508-678-2891
Falmouth, MA Freestanding CNA programs:
Cape Cod Healthcare Learning Institute
348-C Gifford St, Falmouth, MA 02640
508-771-1800
Fiskdale, MA High Schools offering CNA programs:
Tantasqua Regional HS
319 Brookfield Rd, Fiskdale, MA 01518
608-347-3045
Fitchburg, MA Vocational Centers offering CNA programs:
Montachusett Regional Vocational Tech. HS
1050 Westminster St, Fitchburg, MA 01420
978-345-9200
Framingham, MA High Schools offering CNA programs:
Joseph P. Keefe Technical HS
750 Winter St, Framingham, MA 01702
509-879-5400
Framingham, MA Colleges and Universities offering CNA programs:
Mass Bay Community College
19 Flagg Drive, Framingham, MA 01702
508-270-5928
Framingham, MA Freestanding CNA programs:
Metrowest Healthcare Academy
12 Irving St, Framingham, MA 01702
508-872-5973
Framingham, MA Nursing Homes and Hospitals offering CNA programs:
St. Patrick's Manor
883 Central Ave, Framingham, MA 01701
508-879-8000
Franklin, MA High Schools offering CNA programs:
Tri-County Region Vocational Tech High School
147 Pond St, Franklin, MA 02038
508-528-5400
Gardner, MA Colleges and Universities offering CNA programs:
Mt Wachusett Community College
444 Green St, Gardner, MA 01440
978-632-6600
Gloucester, MA Nursing Homes and Hospitals offering CNA programs:
Northeast Health System
292 Washington St, Gloucester, MA 01930
978-922-3000
Greenfield, MA Nursing Homes and Hospitals offering CNA programs:
Charlene Manor Extended Care Facility
130 Colrain Rd, Greenfield, MA 01301
413-774-3724
Greenfield, MA Colleges and Universities offering CNA programs:
Greenfield Community College
270 Main St, Greenfield, MA 01303
413-775-1609
Great Barrington, MA Nursing Homes and Hospitals offering CNA programs:
Timberlyn Heights Nursing and Rehab Center
320 Maple Ave, Great Barrington, MA 01230
413-528-2650
Hanover, MA High Schools offering CNA programs:
South Shore Vocational Tech HS
476 Webster St, Hanover, MA 02339
781-878-8822
Harwich, MA High Schools offering CNA programs:
Cape Cod Regional Tech HS
351 Pleasant Lake Ave, Harwich, MA 02645
508-432-4500
Harwich, MA Nursing Homes and Hospitals offering CNA programs:
Epoch Senior Healthcare of Harwich
111 Headwaters Drive, Harwich, MA 02645
508-430-1717
Haverhill, MA High Schools offering CNA programs:
Whittier Region Vocational Tech HS
115 Amesbury Line Rd, Haverhill, MA 01830
978-373-4101
Hingham, MA Nursing Homes and Hospitals offering CNA programs:
Harbor House
11 Condito Rd, Hingham, MA 02043
781-749-4774
Holyoke, MA Freestanding CNA programs:
CNS Academy For Healthcare Professionals
187-A High St, Holyoke, MA 01040
413-998-3175
Holyoke, MA High Schools offering CNA programs:
Dean Technical HS
1045 Main St, Holyoke, MA 01040
413-534-2071
Holyoke, MA Colleges and Universities offering CNA programs:
Holyoke Community College
303 Homestead Ave, Holyoke, MA 01040
413-538-7000
Holyoke, MA Freestanding CNA programs:
Holyoke Works Chamber of Commerce
100 Front Street, 4th Floor Holyoke, MA 01040
413-532-9476
Training Resources of America
225 High St, Holyoke, MA 01040
413-733-3151
Hyde Park, MA Freestanding CNA programs:
Boston Allied Health Training Center
891 Hyde Park Ave, Hyde Park, MA 02136
617-333-0195
Hyde Park, MA Nursing Homes and Hospitals offering CNA programs:
Youth and Family Enrichment Services
1234 Hyde Park Ave, Hyde Park, MA 02136
617-455-7309
Lawrence, MA Freestanding CNA programs:
Notre Dame Education Center
354 Merrimack St, Lawrence, MA 01843
978-682-6441
Lee, MA Nursing Homes and Hospitals offering CNA programs:
Berkshire Home Care
21 High St, Lee, MA 01238
413-528-6941
Leeds, MA Nursing Homes and Hospitals offering CNA programs:
Linda Manor Extended Care Facility
349 Haydenville Rd, Leeds, MA 01053
413-586-7700
Lenox, MA Nursing Homes and Hospitals offering CNA programs:
Providence Care Center
320 Pittsfield Rd, Lenox, MA 01240
413-637-2660
Leominster, MA High Schools offering CNA programs:
Leominster HS
122 Granite St, Leominster, MA 01453
978-534-7734
Lexington, MA High Schools offering CNA programs:
Minuteman Regional HS
758 Marrett Rd, Lexington, MA 02421
781-861-6500
Lowell, MA Nursing Homes and Hospitals offering CNA programs:
Commonwealth Nursing Services and Home Care Inc
40 Church St., Lowell, MA 01852
978-459-7771
Lowell, MA Colleges and Universities offering CNA programs:
Middlesex Community College
33 Kearney Square, Lowell, MA 01852
978-656-3416
Lynn, MA Vocational Schools offering CNA programs:
Lynn Vocational Technical Institute
80 Neptune Blvd, Lynn, MA 01902
781-477-7420
Lynn, MA Freestanding CNA programs:
Spectrum Healthcare Training Center Inc
441 Union St, Lynn, MA 01901
877-585-0866
Malden, MA Freestanding CNA programs:
Medical Professional Institute
388 Pleasant St, Malden, MA 92148
781-397-6822
Malden, MA Nursing Homes and Hospitals offering CNA programs:
Universal Health Care Center
27 Hunting St, Malden, MA 02148
617-571-4807
Marlborough, MA High Schools offering CNA programs:
Assabet Valley Regional Vocational School
215 Fitchburg St, Marlborough, MA 01752
508-485-9430
Mashpee, MA Nursing Homes and Hospitals offering CNA programs:
Harborside of Mashpee
161 Falmouth Rd, Mashpee, MA 02649
508-477-2490
Mattapan, MA Freestanding CNA programs:
Horizon Learning Connection
1601 Blue Hill Ave, Mattapan, MA 02126
517-296-2700
Medford, MA High Schools offering CNA programs:
Medford Vocational Technical HS
489 Winthrop St, Medford, MA 02155
781-393-2260
Middleton, MA High Schools offering CNA programs:
North Sore Technical School
30 Log Bridge Rd, Middleton, MA 01949
978-732-0001
New Bedford, MA High Schools offering CNA programs:
Greater New Bedford Region Vocational Tech HS
1211 Ashley Blvd, New Bedford, MA 02745
508-998-3321
New Bedford
New Bedford HS
230 Hathaway Blvd, New Bedford, MA 02740
508-997-4511
New Bedford, MA Freestanding CNA programs:
Lifestream Employment and Training Services
174 Union St., New Bedford, MA 02740
508-991-4603
North Grafton, MA Jobs Corps offering CNA programs:
Grafton Job Corps Career Academy
100 Pine St, North Grafton, MA 01536
508-887-7350
Northampton, MA High Schools offering CNA programs:
Smith Vocational HS
80 Locust St, Northampton, MA 01060
413-587-1414
Northbridge, MA Nursing Homes and Hospitals offering CNA programs:
Beaumont Rehab and Skilled Nursing Center
85 Beaumont Dr, Northbridge, MA 01534
508-234-9771
Oak Bluffs, MA Nursing Homes and Hospitals offering CNA programs:
Windemere Nursing & Rehab Center
One Hospital Rd, Oak Bluffs, MA, 02557
508-696-6465
Palmer, MA High Schools offering CNA programs:
Pathfinder Regional Vocational Tech HS
240 Sykes St, Palmer, MA 01069
413-283-9701
Peabody, MA Freestanding CNA programs:
Martins Training Center, LLC
22 Peabody Square, Peabody, MA 01960
978-977-0717
Pittsfield, MA Nursing Homes and Hospitals offering CNA programs:
Hillcrest Commons
169 Valentine Rd, Pittsfield, MA 01201
413-445-2399
Pittsfield, MA High Schools offering CNA programs:
Pittsfield HS
300 East St, Pittsfield, MA 01201
413-448-9763
Taconic Vocational Technical HS
96 Valentine Rd, Pittsfield, MA 01201
413-499-9599
Plymouth, MA High Schools offering CNA programs:
Plymouth North HS
41 Obery St, Plymouth, MA 02360
508-830-4400
Quincy, MA Nursing Homes and Hospitals offering CAN program:
Hancock Park Rehab & Nursing Center
164 Parkingway, Quincy, MA 02169
617-773-4222
Quincy, MA High Schools offering CNA programs:
North Quincy HS Careers & Technology
316 Hancock St, Quincy, MA 02170
617-984-6632
Quincy Public Schools
100 Coddington St, Quincy, MA 02169
617-984-8934
Randolph, MA Nursing Homes and Hospitals offering CNA programs:
Randolph Crossings Nursing Center
49 Thomas Patten Dr, Randolph, MA 02368
617-961-1160
Rochester, MA High Schools offering CNA programs:
Old Colony Regional Vocational Tech HS
476 North Ave, Rochester, MA 02770
508-763-8011
Roxbury, MA High Schools offering CNA programs:
Madison Park HS
75 Malcolm X Blvd, Roxbury, MA 02120
617-592-5693
Salem, MA Nursing Homes and Hospitals offering CNA programs:
Seraphic Springs Health Care
121 Loring Ave, Salem, MA 01970
800-777-3696
Somerville, MA High Schools offering CNA programs:
Somerville High School
51 Highland Ave, Somerville, MA 02143
617-625-6600
South Dennis, MA Nursing Homes and Hospitals offering CNA programs:
Eagle Pond Rehabilitation & Living Center
1 Love Lane, South Dennis, MA 02660
508-385-6034
South Easton, MA Vocational Schools offering CNA programs:
Southeastern Regional Vocational Tech School
260 Foundry St, South Easton, MA 02375
508-238-4371
Southbridge, MA Colleges and Universities offering CNA programs:
Quinsigamond Community College -Southbridge
5 Optical Drive, Southbridge, MA 01602
508-751-7921
Springfield, MA Colleges and Universities offering CNA programs:
Springfield Technical Community College
One Armory Square, Springfield, MA 01105
413-755-4225
Stoughton, MA Nursing Homes and Hospitals offering CNA programs:
Advantage Health Care Resources
1778 Washington St, Stoughton, MA 02072
781-436-5071
Taunton, MA High Schools offering CNA programs:
Bristol -Plymouth Regional Vocational Tech HS
940 County St, Taunton, MA 02780
508-823-5151
Turners Falls, MA Nursing Homes and Hospitals offering CNA programs:
Farren Care Center
340 Montague City Road, Turners Falls, MA 01376
413-774-3111
Turners Falls, MA Vocational Schools offering CNA programs:
Franklin County Technical School
82 Industrial Blvd., Turners Falls, MA 01376
413-863-8561
Tyngsboro, MA Vocational Schools offering CNA programs:
Greater Lowell Regional Vocational Tech School
250 Pawtucket Blvd, Tyngsboro, MA 01879
978-441-1870
West Barnstable, MA Colleges and Universities offering CNA programs:
Cape Cod Community College
2240 Iyannough Rd, West Barnstable, MA 02668
508-362-2131
West Springfield, MA Freestanding CNA programs:
Lower Pioneer Valley Career & Tech. Education Center
174 Brush Hill Ave, West Springfield, MA 01089
413-735-6336
West Yarmouth, MA Freestanding CNA programs:
Emerson's Nursing Assistant Training School
657 Route 28, West Yarmouth, MA 02673
508-815-4947
Wakefield, MA Vocational Schools offering CNA programs:
Northeast Metropolitan Regional Vocational School
100 Hemlock Rd, Wakefield, MA 01890
781-246-0810
Waltham, MA Freestanding CNA programs:
Medical Career Center, Inc
267 Moody St., Waltham, MA 02453
781-894-2516
Westborough , MA Nursing Homes and Hospitals offering CNA programs:
Beaumont Rehab & Skilled Nursing Center
3 Lyman St, Westborough, MA 01581
508-366-9933
Westfield, MA Nursing Homes and Hospitals offering CNA programs:
Lutheran Social Services of New England
24 Elm St, Westfield, MA 01085
413-582-6015
Westfield, MA High Schools offering CNA programs:
Westfield Vocational Technical HS
33 Smith Ave, Westfield, MA 01085
413-672-6633
Westford, MA High Schools offering CNA programs:
Nashoba Valley Technical HS
100 Littleton Rd, Westford, MA 01886
978-692-4711
Weymouth, MA Nursing Homes and Hospitals offering CNA programs:
Colonial Nursing and Rehabilitation Center
126 Broad St, Weymouth, MA 02188
781-337-3121
Weymouth, MA Freestanding CNA programs:
Community Action Programs
125 Broad St, Weymouth, MA 02188
781-337-3121
Weymouth, MA High Schools offering CNA programs:
Weymouth HS Allied Health
One Wildcat Way, Weymouth, MA 02190
781-337-7500
Woburn, MA Nursing Homes and Hospitals offering CNA programs:
Beyond Healthcare Agency
10 Tower Office Park, Woburn, MA 01801
978-930-9410
Winchester Hospital Community Health Institute
12 Alfred St, Woburn, MA 01801
781-756-4709
Worcester, MA Colleges and Universities offering CNA programs:
Quinsigamond Community College
670 West Boylston St, Worcester, MA 01606
508-854-2716
Worcester, MA Freestanding CNA programs:
The Fieldstone School
90 Madison St, Worcester, MA 01608
508-752-0778
Worcester, MA High Schools offering CNA programs:
Worcester Technical HS
1 Skyline Dr, Worcester, MA 01605
508-799-1965