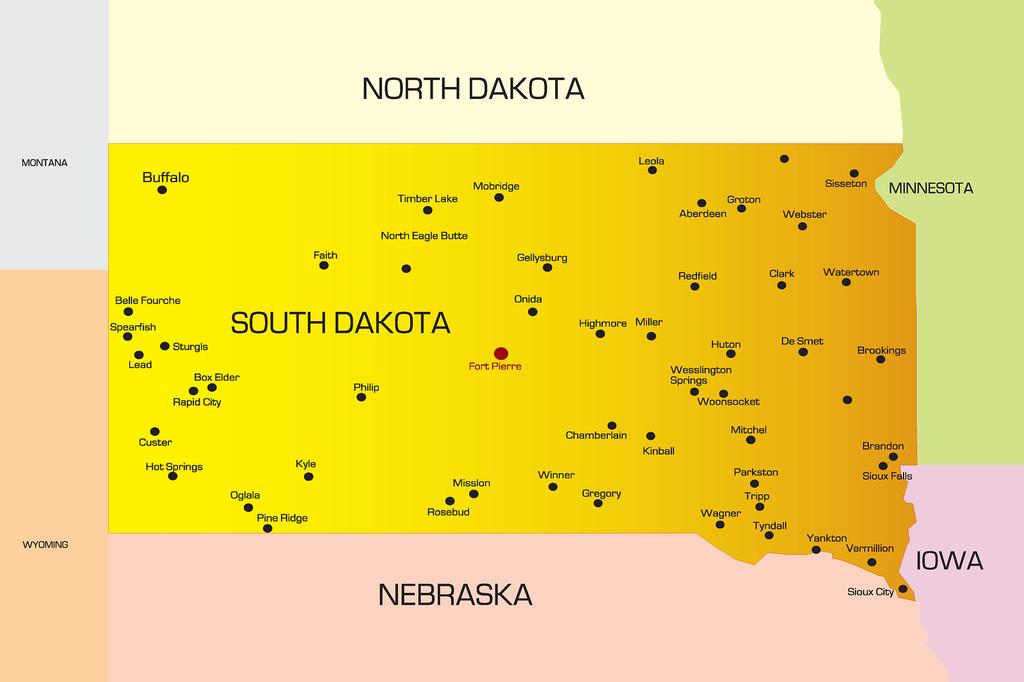 There's a huge challenge brewing in the healthcare sector: the growing senior population. In South Dakota, the significant increase in the senior population far exceeds the influx of healthcare workers needed to care for them. The Bureau of Labor Statistics expects the shortage of healthcare workers to get worse over the next decade. The shortage is especially evident in entry-level positions, such as orderlies and Certified Nursing Assistants. Even with burdensome shortages, South Dakota's Department of Health must uphold stringent training, testing and certification requirements for entry-level CNAs. The Department of Health along with the Board of Nursing ensure all prospective nurse aides receive appropriate training in order to safeguard public health. 
CNA Classes in South Dakota:
Certification Requirements
Under state and federal rules, prospective nurse assistants must complete a training and evaluation program and obtain placement on the state registry before working in long-term care. Training emphasizes the promotion of resident independence and support for quality of life, care, health, and safety. The overall goal is to improve the mental, physical, social and spiritual well-being of residents and reduce instances of abuse and neglect.
Employers at licensed facilities must obtain a copy of the Nurse Assistant Registry verification for all nurse aide employees – this applies to permanent, temporary or volunteer staff. Checks with the registry not only confirms the prospective employee's status, but also reveal findings of neglect, abuse, or misappropriation of resident property. According to federal provisions, long term care facilities can employ an individual for a period of 120 days while the individual is enrolled in the state-approved training program. The employee must complete the state's requirements for training and certification before the end of the non-renewable period.
In South Dakota, only nurse aide students, can apply for a waiver of the state's training requirements. You can apply for an exemption from training if you complete the fundamentals of nursing courses with a grade of C or higher. The training must be from an SD-approved nursing degree program.
Prerequisites to Training
A high school diploma, good physical and mental health, and a criminal-free background are the main prerequisites for entry into South Dakota's nurse aide training programs. Certified Nurse Assistants fill an entry-level position on the healthcare team, and the prerequisites are a reflection of this position, which provides easy entry into the competitive sector. While a high school diploma or GED is a common requirement for most schools, you can find schools that will enroll any student who can demonstrate competency in reading and comprehension. If you plan to advance to other positions in the industry, you should take the GED test as it will improve your chances of entry into degree programs.
Following are some other prerequisites to training:
At least 18 years of age
High School graduate or GED equivalent (recommended)
Pass the school's entrance assessment
No records of arrest, crimes, or assault of any kind
Valid CPR for Healthcare Provider card
Valid government-issued ID card
Physical Exam and TB Clearance (current within 1 year)
Immunization (MMR, Varicella, Hepatitis B, Meningitis)
South Dakota Certified Nurse Aide Training Requirements
As a prospective nurse aide, you must complete at least 75 hours of state-accredited training to acquire certification. The training involves classroom instruction, hands-on lab, and clinical rotation to prepare students for the two-part state certification exam. During the classroom component of the training, instructors cover the roles and responsibilities of nursing assistants, anatomy, physiology, vital signs, infection control, nutrition, personal care, mobility, medical terminology and other critical aspects of the state curriculum.
Throughout the short but intensive clinical rotation, students gain exposure to a real-world long term care environment and assist with the activities of daily living. They work in teams, under the direction of a licensed nurse, to assist residents with grooming, bathing, mobility, and prepping for medical exams. The duration of the training depends on the provider, but typically last for 3 to 4 weeks. After completing the full 75 hours of training, graduates are eligible to take the state exam for placement on the registry.
Cost of CNA Training South Dakota
More than 100 facilities in South Dakota offer state-approved nurse aide training. From nursing homes like Bowdle Nursing Home to colleges and private institutes like Oglala Lakota College and New Tec, Inc., you're sure to find a program that will suit your pace and, more importantly, your budget. Nurse aide training programs in the state cost an average of $450, significantly lower than the national average. The average cost is for tuition only and does not reflect other expenses, such as books, scrubs (for clinical), medical supplies, materials, and state certification. With those costs added, your final bill could be anywhere from $700 to $950. While the costs may seem insignificant, compared to the training costs for other careers, raising the funds could seem like an insurmountable task if you're unemployed.
Luckily, nursing homes and hospitals account for more than 60 percent of state-accredited programs. This increases your chances of qualifying for free training – if you search long and hard. Remember, nursing homes sponsor training to recruit new employees, so you'll benefit from immediate employment in addition to free training. By law, your employer must cover your cost of training and testing if you're employed at a licensed facility. If you use the paid route for nurse aide training, you can ask your future employer to pick up the tab as long as you begin working within 12 months of certification.
Nurse Aide Testing
South Dakota's nurse aide competency exam, administered by Headmaster, comprises of two components; a written or oral exam and a skills demonstration component. Candidates must successfully complete both components of the exam for inclusion on the state's registry. First-time testers must take both components of the online test.
The knowledge test comprises of 75 questions covering aspects of nine subject areas, including safety, communication skills, basic rights, roles and responsibilities, infection control, aging process, physical health and illness, basic nursing skills and more. Candidates must complete the test in the 90 allotted minutes and score at least 75% to pass the exam. There's an oral option that is available for candidates who have difficulty reading English. The request of for the oral test must be made at the time of the application.
The skills test assesses candidates' performance of hand washing and four randomly selected nurse aide skills. Candidates must complete the crucial steps for each skill and score at least 75% to pass the exam. The duration of the test is 30 minutes. The candidate handbook contains a full listing of skills and steps for each skill.
Certification Costs 
Oral knowledge test – $80.50
Knowledge test – $70.50
Skills test – $89.00
Walk with the following items on exam day:
Check in at least 20 minutes before the exam
Two forms of official ID
Test notification letter
Watch with a second hand
Uniform scrubs and flat, non-skid, closed-toe shoes for the skills exam
Out-of-State CNAs
Out-of-state CNAS can apply for inclusion on the South Dakota CNA Registry through endorsement:
Download and fill out the application for endorsement
Note: If there are findings of abuse or neglect on your record, the registry will deny your application for transfer.
Renewal
You can renew your CNA license up to 90 days prior to the 2-year expiration.
You must:
Provide proof of employment/volunteer hours and addresses
Relevant documents if you're updating your name and
There's no fee for renewing your license.
Contact the Registry:
South Dakota Board of Nursing
Stephanie Orth
4305 South Louise Avenue, Ste 201
Sioux Falls, SD 57105
1-605-642-1388
State Approved CNA Training Programs in South Dakota
Aberdeen, SD Nursing Homes and Hospitals offering CNA programs:
Avera Mother Joseph Manor
1002 N. Jay Street, Aberdeen, SD 57401
605-622-5850
Bethesda Home of Aberdeen
1224 South High Street, Aberdeen, SD 57401
605-225-7580
Manor Care Health Services
400 8th Avenue NW, Aberdeen, SD 57401
605-225-2550
Aberdeen, SD Freestanding CNA programs:
Hub Area Vocational Center
640 9th Avenue Southwest, Aberdeen, SD 57401
605-725-7800
Aberdeen, SD Colleges and Universities offering CNA programs:
Presentation College
1500 N. Main Street, Aberdeen, SD 57401
800-437-6060
Alcester, SD Nursing Homes and Hospitals offering CNA programs:
Morningside Care Center
101 Church St. P.O. Box 500, Alcester, SD 57001
605-934-2011
Arlington, SD Nursing Homes and Hospitals offering CNA programs:
Golden Living Center-Arlington
120 Care Center Road, Arlington, SD 57212
605-683-5796
Armour, SD Nursing Homes and Hospitals offering CNA programs:
Golden Living Center-Armour
106 Braddock, Armour, SD 57313
605-724-2911
Beresford, SD Nursing Homes and Hospitals offering CNA programs:
Bethesda of Beresford
606 West Cedar, Beresford, SD 57004
605-763-2050
Bowdle, SD Nursing Homes and Hospitals offering CNA programs:
Bowdle Nursing Home
8001 5th Street, Bowdle, SD 57428
605-285-6146
Bristol, SD Nursing Homes and Hospitals offering CNA programs:
Sun Dial Manor
410 Second Street, Bristol, SD 57219
605-492-3615
Bridgewater, SD Nursing Homes and Hospitals offering CNA programs:
Diamond Care Center
901 North Main Avenue, Bridgewater, SD 57319
605-729-2525
Britton, SD Nursing Homes and Hospitals offering CNA programs:
Wheatcrest Hills
1311 Vander Horck Street, Britton, SD 57430
605-448-2251
Brookings, SD Nursing Homes and Hospitals offering CNA programs:
Brookview Manor
300 22nd Avenue, Brookings, SD 57006
605-696-9000
United Living Community
405 1st Ave, Brookings, SD 57006
605-692-5351
Canistota, SD Nursing Homes and Hospitals offering CNA programs:
Good Samaritan Center-Canistota
700 Main St, Canistota, SD 57012
605-296-3442
Canton, SD Nursing Homes and Hospitals offering CNA programs:
Good Samaritan Society-Canton
1022 North Dakota Street, Canton, SD 57013
605-987-2696
Centerville, SD Nursing Homes and Hospitals offering CNA programs:
Good Samaritan Society-Centerville
4800 W. 57th St., Centerville, SD 57108
605-563-2251
Centerville Care and Rehab
500 Vermillion Street, Centerville, SD 57014
605-563-2251
Chamberlain, SD Nursing Homes and Hospitals offering CNA programs:
Sanford Mid-Dakota Care Center
300 South Byron Boulevard, Chamberlain, SD 57325
605-234-5511
Clark, SD Nursing Homes and Hospitals offering CNA programs:
Golden Living Center-Clark
201 8th Ave NW, Clark, SD 57225
605-532-3431
Clear Lake, SD Nursing Homes and Hospitals offering CNA programs:
Good Samaritan Society-Deuel County
913 Colonel Pete Street, Clear Lake, SD 57226
605-874-2159
Corsica, SD Nursing Homes and Hospitals offering CNA programs:
Good Samaritan Society-Corsica
455 North Dakota Avenue, Corsica, SD 57328
605-946-5467
Custer, SD Nursing Homes and Hospitals offering CNA programs:
Custer Regional Senior Care
1065 Montgomery Street, Custer, SD 57730
605-673-2237
Dell Rapids, SD Nursing Homes and Hospitals offering CNA programs:
Terrace Manor
1400 Thresher Drive, Dell Rapids, SD 57022
605-428-5478
Desmet, SD Nursing Homes and Hospitals offering CNA programs:
Good Samaritan Society-DeSmet
411 Calumet Ave, DeSmet, SD 57231
605-854-3327
Eagle Butte, SD Nursing Homes and Hospitals offering CNA programs:
Medicine Wheel Village
PO Box 590, Eagle Butte, SD 57625
605-964-8155
Elk Point, SD Nursing Homes and Hospitals offering CNA programs:
Prairie Estates Care Center
600 S. Franklin St., Elk Point, SD 57025
605-356-2622
Estelline, SD Nursing Homes and Hospitals offering CNA programs:
Estelline Nursing-Care Center
205 Fjerestad Ave E, Estelline, SD 57234
605-873-2278
Eureka, SD Nursing Homes and Hospitals offering CNA programs:
Avera Eureka Health Care Center
202 J Ave, Eureka, SD 57437
605-284-2145
Faulkton, SD Nursing Homes and Hospitals offering CNA programs:
Faulkton Healthcare Center
PO Box 100, Faulkton, SD 57438
605-598-6262
Flandreau, SD Nursing Homes and Hospitals offering CNA programs:
Riverview Health Services
611 East Second Ave, Flandreau, SD 57028
605-997-2481
Freeman, SD Nursing Homes and Hospitals offering CNA programs:
Oakview Terrace
510 East 8th St, Freeman, SD 57029
605-925-4000
Gettysburg, SD Nursing Homes and Hospitals offering CNA programs:
Avera Gettysburg Hospital
606 East Garfield Avenue, Gettysburg, SD 57442
605-765-2488
Gregory, SD Nursing Homes and Hospitals offering CNA programs:
Avera Rosebud Country Care Center
300 Park Ave, Gregory, SD 57533
605-835-8394
Highmore, SD Nursing Homes and Hospitals offering CNA programs:
Highmore Healthcare Center
410 8th Street SE, Highmore, SD 57345
605-852-2255
Hot Springs, SD Nursing Homes and Hospitals offering CNA programs:
South Dakota Veterans Home
2500 Minnekahta Avenue, Hot Springs, SD 57747
605-745-5127
Hot Springs, SD Nursing Homes and Hospitals offering CNA programs:
Fall River Health Services
1201 Hwy 71 South Hot Springs, SD 57747-8800
605-745-3159
Howard, SD Nursing Homes and Hospitals offering CNA programs:
Good Samaritan Society-Howard
300 West Hazel Avenue, Howard, SD 57349
605-772-4481
Huron, SD Nursing Homes and Hospitals offering CNA programs:
Sunquest Healthcare Center
1345 Michigan Avenue Southwest, Huron, SD 57350
605-352-8471
Irene, SD Nursing Homes and Hospitals offering CNA programs:
Sunset Manor Avera
129 East Clay Street, Irene, SD 57037
605-263-3318
Kadoka, SD Nursing Homes and Hospitals offering CNA programs:
Kadoka Nursing Home
605 Maple Street, Kadoka, SD 57543, United States
605- 837-2270
Lake Andes, SD Nursing Homes and Hospitals offering CNA programs:
Lake Andes Health Care Center
740 East Lake Street, Lake Andes, SD 57356
605-487-7674
Lake Norden, SD Nursing Homes and Hospitals offering CNA programs:
Golden Living Center-Lake Norden
803 Park Street, Lake Norden, SD 57248
605-785-3654
Lennox, SD Nursing Homes and Hospitals offering CNA programs:
Good Samaritan Center-Lennox
404 East 6th Avenue, Lennox, SD 57039
605-647-2251
Madison, SD Nursing Homes and Hospitals offering CNA programs:
Bethel Lutheran Home
1001 South Egan Avenue, Madison, SD 57042
605-256-4539
Golden Living Center-Madison
718 NE Eighth St., Madison, SD 57042
605-256-4531
Martin, SD Nursing Homes and Hospitals offering CNA programs:
Bennett County Hospital and Nursing Home
102 Major Allen, PO Box 70, Martin, SD 57551
605-685-6622
Marion, SD Nursing Homes and Hospitals offering CNA programs:
Tieszen Memorial Home Inc
312 East State Avenue, Marion, SD 57043
605-648-3384
Millbank, SD Nursing Homes and Hospitals offering CNA programs:
Golden Living Center-Millbank
1103 S. 2nd Street, Millbank, SD 57252
605-432-4556
Miller, SD Nursing Homes and Hospitals offering CNA programs:
Good Samaritan Society-Miller
421 East 4th Street, Miller, SD 57362
605-853-2701
Mission, SD HIGH SCHOOLS offering CNA programs:
Sioux Falls School District-CTE Academy
P.O. Box 105, Mission, SD 57555
605-856-8100
Mission, SD Colleges and Universities offering CNA programs:
Sinte Gleska University
101 Antelope Circle, Mission, SD 57555
605-856-8100
Mitchell, SD Nursing Homes and Hospitals offering CNA programs:
Avera Brady Health-Rehabilitation
525 N. Foster St, Mitchell, SD 57301
605-995-2000
Mobridge, SD Nursing Homes and Hospitals offering CNA programs:
Golden Living Center-Mobridge
1100 4th Avenue East, Mobridge, SD 57601
605-845-7201
Mobridge Regional Hospital
1401 10th Avenue West, Mobridge, SD 57601
605-845-3692
Nemo, SD Freestanding programs:
Boxelder Job Corps USDAFS
P.O. Box 110, 22023 Job Corps Place, Nemo, SD 57759-0110
605-348-3636
New Underwood, SD Nursing Homes and Hospitals offering CNA programs:
Good Samaritan Society-New Underwood
412 South Madison Avenue, New Underwood, SD 57761
605-754-6489
Parkston, SD Nursing Homes and Hospitals offering CNA programs:
Avera Bormann Manor
401 West Glynn Drive, Parkston, SD 57366
605-928-3311
Philip, SD Nursing Homes and Hospitals offering CNA programs:
Philip Health Services
503 West Pine Street, Philip, SD 57567
605-859-2511
Pierre, SD Nursing Homes and Hospitals offering CNA programs:
Golden Living Center-Pierre
950 East Park, Pierre, SD 57501
605-224-8628
Maryhouse Nursing Home
801 East Sioux Avenue, Pierre, SD 57501
605-224-3100
Pine Ridge, SD Colleges and Universities offering CNA programs:
Oglala Lakota College
127 Knollwood Drive, Pine Ridge, SD 57701
605-342-1513
Platte, SD Nursing Homes and Hospitals offering CNA programs:
Platte Care Center
601 E. 7th Street, Platte, SD 57369
605-337-3364
Rapid City, SD Nursing Homes and Hospitals offering CNA programs:
Golden Living Training Center
302 St Cloud St, Rapid City, SD 57701
605-343-4738
Comfort Keepers
910 5th St., Ste 103, Rapid City, SD 57701
605-679-6848
Regional Homecare and Hospice of the Hills
224 Elk Street, Rapid City, SD 57701
605-755-7710
Rapid City, SD Colleges and Universities offering CNA programs:
National American University
5301 U.S. 16, Rapid City, SD 57701
605-394-4800
Redfield, SD Nursing Homes and Hospitals offering CNA programs:
Golden Living Center
1015 3rd Street East, Redfield, SD 57469
605-472-2288
Eastern Star Home
126 West 12th Avenue, Redfield, SD 57469
605-472-2255
Rosholt, SD Nursing Homes and Hospitals offering CNA programs:
Rosholt Nursing Care Center
85 1st Avenue East-PO BOX 108, Rosholt, SD 57260
605-537-4272
Salem, SD Nursing Homes and Hospitals offering CNA programs:
Golden Living Center-Salem
500 Colonial Drive, Salem, SD 57058
605-425-2203
Scotland, SD Nursing Homes and Hospitals offering CNA programs:
Good Samaritan Society-Scotland
4800 W. 57th St., Scotland, SD 57108
605-583-2216
Selby, SD Nursing Homes and Hospitals offering CNA programs:
Good Samaritan Society-Selby
4861 Lincoln Avenue, Selby, Selby, SD 57472
605-649-7663
Sioux Falls, SD Nursing Homes and Hospitals offering CNA programs:
Avera Prince of Peace
4500 S. Prince of Peace Place, Sioux Falls, SD 57103
605-322-5600
Bethany Home Sioux Falls
1901 S Holly Avenue, Sioux Falls, SD 57105
605-338-2351
Interim HealthCare of Sioux Falls, SD
3626 South Southeastern Avenue, Sioux Falls, SD 57103
605-371-4253
Bethany Lutheran Home
1901 S. Holly Avenue, Sioux Falls, SD 57105
605-338-2351
Golden Living Center-Covington Heights
3900 S. Cathy Avenue, Sioux Falls, SD 57106
605-361-8822
Good Samaritan Sioux Falls
4800 W. 57th St., Sioux Falls, SD 57108
605-361-3311
LifeScape
1020 W. 18th Street, Sioux Falls, SD 57104
605-444-9700
Sioux Falls, SD Freestanding CNA programs:
NEW TEC, Inc
27074 Henry Place, Sioux Falls, SD 57108
605-336-5005
Sioux Falls Career and Technical Education Academy
4700 North Career Avenue, Sioux Falls, SD 57107
605-367-5504
Southeast Technical Institute
2320 N. Career Ave, Sioux Falls, SD 57107
605-367-7624
Sisseton, SD Colleges and Universities offering CNA programs:
Sisseton Wahpeton College
12572 BIA Highway 700, Sisseton, SD 57262
605-698-3966
Sisseton, SD Nursing Homes and Hospitals offering CNA programs:
Tekakwitha Living Center
6 Chestnut Street East, Sisseton, SD 57262
605-698-7693
Spearfish, SD Nursing Homes and Hospitals offering CNA programs:
David M Dorsett Health Care
1020 North 10th Street, Spearfish, SD 57783
605-642-2716
Sturgis, SD Nursing Homes and Hospitals offering CNA programs:
Sturgis Regional Senior Care
PO Box 6000, Sturgis, SD 57709
605-347-2536
Tripp, SD Nursing Homes and Hospitals offering CNA programs:
Good Samaritan Society-Tripp
300 North Dobson Street, Tripp, SD 57376
605-935-6101
Tyndall, SD Nursing Homes and Hospitals offering CNA programs:
Good Samaritan Society-Tyndall
2304 Laurel Street, Tyndall, SD 57066
605-589-3350
Avera  St  Michael's Hospital
410 West 16th Avenue, Tyndall, SD 57066
605-589-3341
Vermillion, SD Nursing Homes and Hospitals offering CNA programs:
Sanford Vermillion Care Center
125 South Walker Street, Vermillion, SD 57069
605-624-2611
Viborg, SD Nursing Homes and Hospitals offering CNA programs:
Pioneer Memorial Nursing Home
315 North Washington Street, Viborg, SD 57070
605-326-5161
Wagner, SD Nursing Homes and Hospitals offering CNA programs:
Good Samaritan Society-Wagner
515 South Dakota 46, Wagner, SD 57380
605-384-3661
Wakonda, SD Nursing Homes and Hospitals offering CNA programs:
Wakonda Heritage Manor
515 Ohio Street, Wakonda, SD 57073
605-267-2081
Watertown, SD Nursing Homes and Hospitals offering CNA programs:
Golden Living Center-Watertown
415 4th Ave. NE, Watertown, SD 57201
605-889-8431
Jenkins Living Center
215 South Maple Street, Watertown, SD 57201
605-886-5777
Watertown, SD Freestanding CNA programs:
Lake Area Technical Institute
1201 Arrow Avenue-PO Box 730, Watertown, SD 572011
605-882-5824
Webster, SD Nursing Homes and Hospitals offering CNA programs:
Bethesda Nursing Home
129 W. Highway 12, Webster, SD 57274
605-345-3331
Wessington Springs, SD Nursing Homes and Hospitals offering CNA programs:
Weskota Manor Avera Health
604 First Street NE, Wessington Springs, SD 57382
605-539-1201
White Lake, SD Nursing Homes and Hospitals offering CNA programs:
Aurora Brule Nursing Home
408 South Johnston Street, White Lake, SD 57383
605-249-2216
Wilmot, SD Nursing Homes and Hospitals offering CNA programs:
Wilmot Care Center
501 4th Street, Wilmot, SD 57279
605-938-4418
Winner, SD Nursing Homes and Hospitals offering CNA programs:
Winner Regional Healthcare Center
745 East 8th Street, Winner, SD 57580
605-842-7100
Woonsocket, SD Nursing Homes and Hospitals offering CNA programs:
Prairie View Care Center
600-Franklin, Woonsocket, SD 57025
605-356-2622
Yankton, SD Freestanding CNA programs:
Avera CNA Online Training Solutions
1000 West 4th Street, Suite 9, Yankton, SD 57078
(605) 668-8475
Yankton, SD Nursing Homes and Hospitals offering CNA programs:
Avera Sister James Care Center
1212 W 8th St, Yankton, SD 57078
605-665-9429
South Dakota Human Services Center
700 Governors Drive, Yankton, SD 57501
605-773-3165
Save