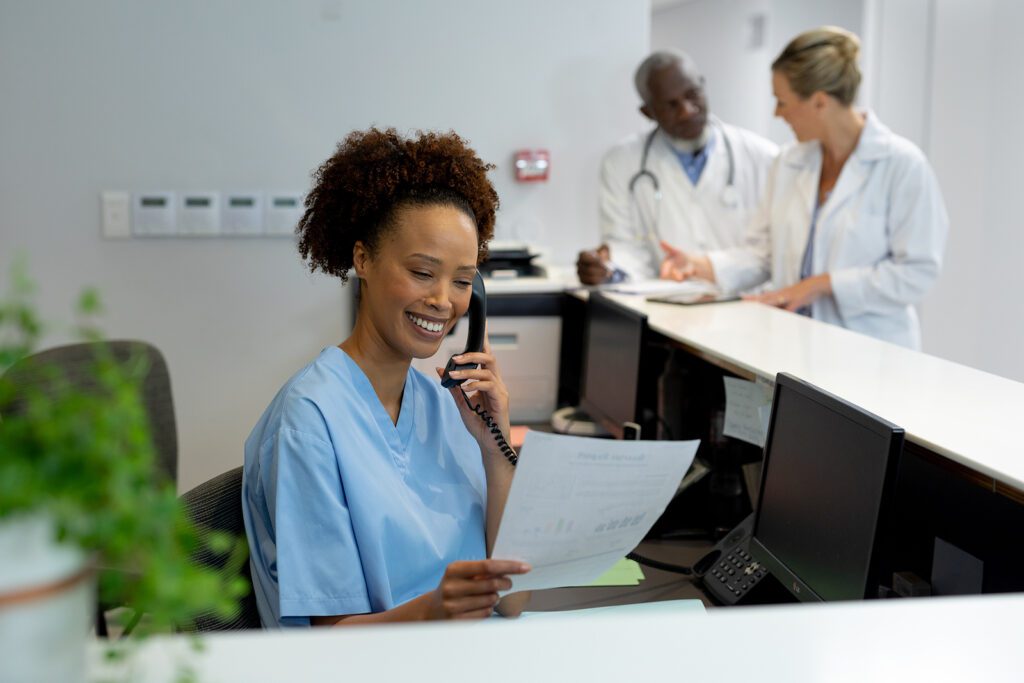 Certified nursing assistants may enroll in a CNA to LVN program to complete the requirements for licensure as a vocational nursing in California and function as critical members of the health care team. Nurse assisting provides for quick access to the health care industry. The training and certification required to practice as a CNA can be completed in as little as two weeks. CNAs have a vital role in patient care especially in long-term care facilities. However, the role has its limitations. To take a more active role in patient care, you can train to become a licensed vocational nurse and care for patients under the supervision of a registered nurse or physician.
Unitek College
Unitek College's Vocational Nursing program is diverse and comprehensive. Certified nursing assistants may enroll in the program to meet the educational licensure requirements in California. The Vocational Nursing Prerequisite Course (VN PRQ) must be completed before admission to the program. The VN PRQ is designed to identify at-risk students who may not succeed in the Diploma program. It comprises of 80 hours of instruction that must be completed in two weeks. The vocational nursing program consists of 1620 instructional clock hours – 660 hours of didactic/theory and 960 hours of supervised lab/clinical instruction. During the lab sessions, students will work in patient care stations that simulate hospital settings. Equipment includes IV poles, blood pressure cuffs, enteral feeding pump, scales, and pediatric and adult mannequins. Course topics include nursing fundamentals, introduction to pharmacology, medical-surgical nursing, maternal and newborn nursing, pediatric nursing, and professional development. Graduates will be eligible to sit for the NCLEX-PN licensure exam. They can also apply to complete the Associate of Science in Vocational Nursing offered at Unitek. Full-time students complete the requirements in 12 months. The duration of the part-time schedule is 17 months.
Admission criteria:
Complete the VN PRQ courses with a score of 75% or higher. Must be completed within 12 months prior to the start of the VN program
Attend a career planning session and admissions interview
Provide proof of completion of the 12th-grade level or GED equivalent
Take and pass the Scholastic Level Exam with a minimum score of 17
Must have a clear background to continue in the program
Attend an interview with the Program Director or Designee and obtain a passing score
Complete a satisfactory physical exam including immunizations and TB test within three months of the program start date
Must be at least 18 years of age before the start of the clinical rotations
Must have a current and valid CPR for Healthcare Providers certification to become the clinical rotations
The program cost of $32,352 includes tuition, textbooks, registration fee, supplies, lab fee, program fees, STRF, and technology fees. The prerequisite courses cost an additional $1,656.
Carrington College California
Certified nursing assistants may enroll in the vocational nursing program at Carrington College and obtain the educational preparation to take the licensure exam to become a licensed vocational nurse. The key focus of the program is to prepare students to implement the nursing process in the provision of care for patients in various clinical settings and apply critical thinking, collaboration, communication, and professionalism in practice. The curriculum will cover a total of 1560 contact hours – 6060 in the classroom, 338 in the lab, and 616 hours for the clinical rotations. Students will cover a total of 54 semester credit hours at the close of the program. Course topics include anatomy and physiology, foundations of nursing, mental health nursing care, medical surgical nursing, health data collection, concepts in clinical pharmacology, introduction to maternity and pediatric nursing, and NCLEX-PN review. Graduates will receive a Certificate of Completion and will demonstrate the academic preparedness to take the NCLEX-PN exam for licensure as a vocational nurse. The duration of the program is 48 weeks.
Admission criteria:
Apply for admission to Carrington College
Take and pass the Wonderlic SLE with a minimum score of 15
Attend an interview with an enrollment services representative
Provide evidence of good physical and mental health as determined by a medical exam before enrollment
Submit to a background check and pass a drug screen
Take and pass the ATI TEAS admission assessment with a combined score 53%. There is a fee to test. A second attempt is allowed seven days following the first attempt
Submit two letters of recommendation from former employers or professors
Prior CNA education will be evaluated for transfer credit eligibility – CNAs must meet with the Dean of Nursing
Submit transcripts of all college coursework – transfer coursework must have been completed within the previous five years
Provide proof of immunization – hepatitis B, MMR, varicella, Tdap, TB test, and influenza
The program cost of $38,251 includes tuition, iPad, ebooks, textbooks, uniform, STRF, and supplies.
Website: https://carrington.edu/
Address: 5883 Rue Ferrari, Suite 125, San Jose CA 95138
Phone: (408) 337-3534
NCLEX-PN Pass Rate: 88%
Mission College
Certified nursing assistants may transfer into the vocational nursing certificate program at Mission College upon evaluation of their previous education and experience. The vocational nursing program comprises of classroom theory (approximately 10 to 12 hours per week) and clinical rotations (approximately 16 hours per week). Course topics include patient nursing care fundamentals, medical surgical nursing, cognitive disabilities, pharmacology, fundamental skills, nursing process and communication, care of the geriatric patient, general psychology, care of the obstetrical and neonatal patient, human nutrition, nutrition and disease, care of the pediatric patient, leadership and professional practice, and human growth and development. Students must achieve a score of 75% or higher on all core courses and a C or better on all other courses to graduate from the program. Graduates will be eligible to apply to take the NCLEX-PN to become a licensed vocational nurse. The duration of the program is 3 semesters.
Admission criteria:
Submit a completed and signed application for admission by the stipulated deadline
Provide proof of high school completion or equivalent or GED certification
Provide proof of work experience to receive credit for work experience in the health care field – a letter from employer stating years of employment or recent payroll receipt confirming current employment
Attend a mandatory in-person orientation
Complete the health requirements – physical exam, 2 step TB test, current Tdap booster, and COVID-19 vaccination
Complete a background check and urine drug screen prior to the clinical experience
Must be able to perform the essential requirements of the program
Submit a copy of CNA certification
Tuition costs $46 per unit for resident students.
Website: https://missioncollege.edu/
Address: 3000 Mission College Blvd, Santa Clara, CA 95054-1897
Phone: (408)855-5007
NCLEX-PN Pass Rate: 100%