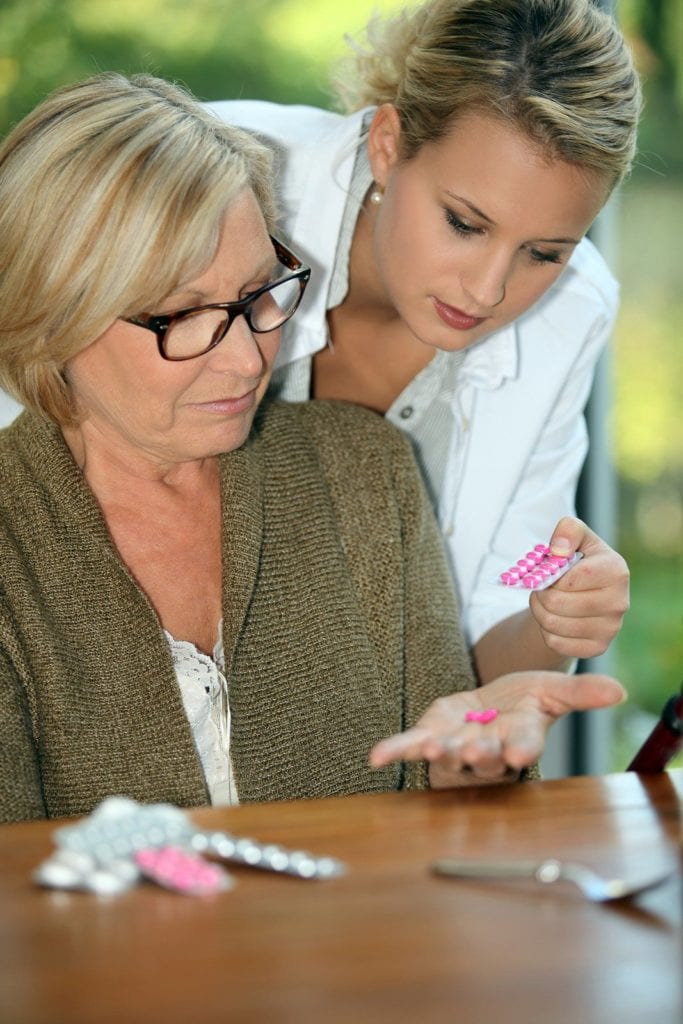 A certified nursing assistant is a licensed professional who provides primary care for patients. In Washington, as in most other states, a prospective CNA must complete an accredited training program and pass the state certification exam. Certification is necessary for employment in long-term care facilities and other health care settings. A CNA's role and responsibilities vary by the setting and the type of patient under care. Common duties include personal care, such as bathing, dressing, grooming, transferring patients between their beds and wheeling chair, and making the beds. CNAs also have an active role at mealtimes as they feed patients who cannot feed themselves and make a note of any changes in the patients' appetites to report to a licensed nurse or physician. CNA training programs equip students with the skills to take vital signs, such as blood pressure, temperature, respiration, and pulse and provide limited treatments under the supervision of a licensed nurse. Since CNAs spend more time interacting with patients than licensed nurses, they are better prepared to spot changes in a patient's behavior or mood and report any concerns to a responsible member of staff. Following is a summary of the requirements for enrolling in a state-approved nurse aide program in Burien.
DT&T NA Training School
The nursing assistant program at DT&T is approved by the Washington Department of Health and DSHS/Adult and Aging Service. It is licensed by the WA state Workforce Training and Education Board. The training prepares students for employment in a healthcare facility where they would assist residents under the direct supervision of a licensed nurse. It also helps prospective nurses meet the requirements for nursing school. Students who successfully complete the program are eligible to sit for the State/OBRA testing to become a Certified Nursing Assistant. DT&T offers morning and evening classes. Morning classes meet Tuesdays, Wednesdays, and Thursdays from 9:00 am to 1:00 pm. Evening classes meet Mondays, Wednesdays, and Fridays from 5:00 pm to 9:00 pm. Students are taught by dedicated and experienced instructors, receive personalized instruction, and participate in a clinical experience at a local skilled nursing facility. The training costs $550 and includes books, CPR, registration, and 7 hours HIV/AIDS training.
Puget Sound Skills Center
The nursing assistant program at Puget Sound Skills Center covers the Washington State approved curriculum in one year. Graduates are prepared to pass the Nursing Assistant Certification Exam. Upon receiving state certification, they can work as direct care professionals in acute and long-term care facilities. A certificate from the program also grants students the eligibility to apply for Allied Health programs at many state colleges. The curriculum covers medical terminology, fundamentals of patient care, anatomy and physiology, vital signs, personal hygiene, range of motion and various career opportunities for nursing assistants. Apart from certification as a nursing assistant, students will also earn certification in HIV, Blood borne Pathogens, and CPR/BLS for healthcare providers. The program offers 7 credits at Highline College. Tuition is free. However, students are responsible for the program-related fees, such as uniforms, supplies, and other clinical expenses.
Address: 18010 8th Avenue South, Burien, WA 98148
Phone: (206) 631-7300
Nursing Assistant Training School
Nursing Assistant Training   School provides and educational opportunity for nursing assistant students to learn about patient care. Students develop the skills to become a productive member of a health care team while maintaining high ethical standards. Students learn the role and responsibilities of a nursing assistant, communication skills and interpersonal relationships, basic restorative care, safety and emergency procedures, care of the cognitively impaired, personal care skills, resident rights and independence, infection control, and 7 hour HIV/AIDS. Applicants must earn a passing grade on the entrance exam, be able to lift at least 50 pounds, pass a background test, and provide photo identification and social security number. To complete the program, students must attend all classes, complete the clinical requirements, pass all class exams with a minimum score of 80 percent, and pass the state competency exam, which is available at NATS. Day classes meet Wednesdays through Fridays from 9:00 am to 1:30 pm for 5 weeks. An accelerated training option is also available for students who want to complete the training in 3 weeks. Classes meet Monday through Friday from 9:00 am to 3:00 pm. The total cost of the training is $600 including tuition, CPR, First Aid, textbooks, and 7hr HIV/AIDS.
Website: http://natschool.org/
Address: 699 Strander Blvd, Suite C, Tukwila WA. 98188
Phone: (206) 575-2010
Fax: (206) 575-2033
Cell: (206) 799-4988