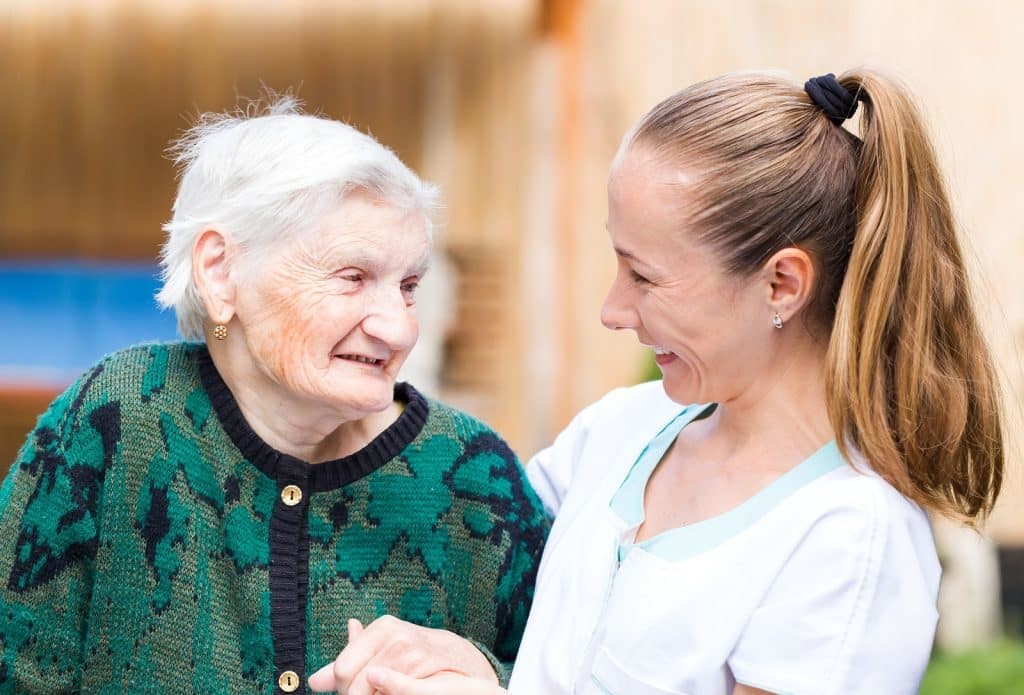 Healthcare is a growing industry with numerous opportunities. Certified nurse assisting provides opportunities for immediate employment, options for growth with continued education, and the satisfaction of caring for those who are ill, injured, disabled, or handicapped. CNAs work under the supervision of a licensed practical nurse or registered nurse, assisting patients or residents of a long-term care facility with the activities of daily living. Duties include bed making, measuring vital signs, grooming, and assisting doctors and nurses with medical procedures. Since CNAs work closely with patients, they are usually the ones to offer emotional and social support and share vital information on patients' conditions to nurses, physicians, and other members of the medical team.
Neway Directions
The nursing assistant program at Neway Directions is available on a full-time or part-time evening schedule. Full-time students meet eight hours from Monday through Friday for three weeks. Part-time students meet four hours from Monday through Friday for 6 weeks. Applicants must submit a completed application and sign the tuition agreement, complete a criminal background check and 2 step PPD, submit proof of birth date and citizenship, and read the rules page. Enrollment is limited to 14 students per class. Students must make a non-refundable down-payment to reserve a spot. Graduates of the program are eligible to take the state exam for Wisconsin certification. Tuition for the program is $975.00 – $437.50 is due two weeks before training and the remainder is due on or before the start of class.
Madison Area Technical College
The 3-credit, 120-hour nursing assistant program at MATC is offered in the fall, summer, and spring semesters. There are several schedules available; each class admits 8 students only. The Wisconsin Department of Health Services approved program prepares students for employment as a nursing assistant. The curriculum comprises of classroom and clinical instruction, which covers basic nursing, communication, personal care, infection control, client rights, care for clients with dementia, observation and reporting, and the role of the nursing assistant. The supervised clinical experience allows students the opportunity to provide direct care under the direction of a licensed nurse. After completing the program requirements, graduates will be eligible to take the written and skills certification test to work in hospitals, hospices, nursing homes, and home health agencies. Applicants must be 16 years or older, complete a background check, health screen, and meet the reading requirements. Reading requirements include Compass Reading 60+, Asset Reading 35+, ACT 13+ or a transcript of college level English with a grade C or better. Tuition for the program is $458.85. Financial aid is not available.
Ingleside Manor
Ingleside Manor has approval from the Wisconsin Department of Health to conduct the nursing assistant certificate program, which prepares students for the state certification exam and employment as a Certified Nursing Assistant. The class includes instruction in the classroom and clinical site to prepare students for direct patient care. The Earn and Learn class is offered on an as-needed basis. Graduates are eligible to take the state exam and interview for CNA positions at Ingleside. Students will be paid throughout the training. Interested persons must submit a completed application and complete the Background Information Disclosure Form and the Health Screen form.
Waukesha County Technical College
The 3-credit nursing assistant diploma program at WCTC equips students with the proficiency to care for patients and residents through lectures, hands-on practice in a simulated lab, and skill demonstration. After gaining the skill competency in the classroom, students will complete the training at a nursing facility or hospital where they provide patient care under the supervision of a licensed nurse. Program graduates are eligible to take the Nurse Aide Competency Exam administered by the American Red Cross. Applicants must be 16 years or older by the first day of class and complete a 2-step TB test, and provide proof of flu vaccination, and risk insurance. Students must attend all scheduled classes and be on time as attendance is monitored by the State of Wisconsin. Make-up sessions are not available. Tuition for the program is $445.95 plus expenses for fees, insurance, the TB skin test, textbook, workbook, DVD, royal blue scrub top and pants, and clinical supplies.