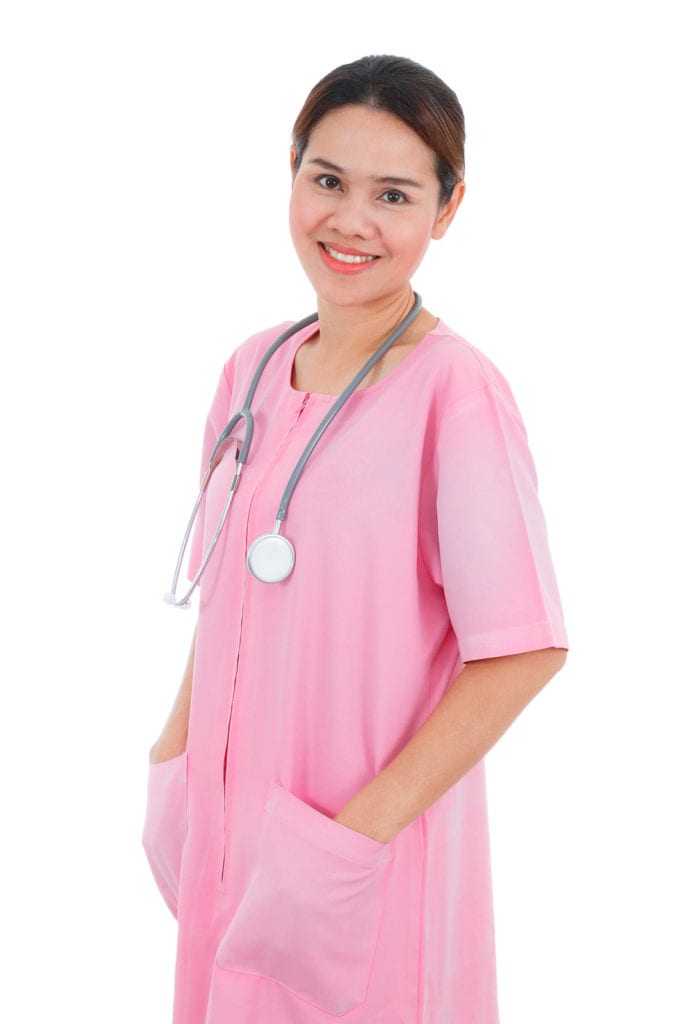 Certified Nursing Assistant programs provide the first step to a career as a nursing assistant. In the role, you'll care for and assist senior clients in a variety of health care settings, including hospitals, long-term care facilities, physicians' offices, and client homes. Your responsibilities and duties revolve around the performance of direct personal care. These will include but are not limited to protecting residents' privacy, dignity, rights, and independence, promoting safety, compliance with employer policies, answering call lights, maintaining a clean environment, and assisting with the activities of daily living. Nurse assistants perform these tasks under the direction of a licensed nurse or doctor. There are limitations to the duties that a CNA can perform. State law prohibits CNAs from performing specific procedures, such as administering medications and setting up IVs.
As a nurse's assistant, you are one of the most important members of the patient care team. You'll spend more time with residents than any other professional. This will enable you to form friendships and closely interact with residents, advocate on their behalf, and communicate their needs to senior staff members. You'll be the first line of defense when there's a threat to residents' health or well-being. These will include spotting signs of infection or changes in their physical or mental state.
According to the United States Bureau of Labor Statistics, the demand for CNAs will rise in proportion to the growth of the elderly population. The average annual salary for CNAs in South Dakota is $24,960.
College of Health Careers
The Nursing Assistant Program at the College of Health Careers operates with the approval of the Arizona State Board of Nursing. The curriculum covers 153 hours of classroom theory, hands-on lab, and supervised clinical experiences. It is designed to be completed in 6 weeks and prepares students for certification as a nursing assistant. After certification, graduates will be able to assist residents with the activities of daily living under the direction of a licensed practical nurse or registered nurse. Their role and responsibilities will be commensurate with the Nurse Practice Act for Arizona. Course topics include the role and responsibility of a nursing assistant, medical terminology, infection control, vital signs, communication and interpersonal relationships, mental health concepts, personal hygiene, safety and emergency procedures, hospice care, and Alzheimer's care. In addition to classroom topics, students will also participate in a supervised clinical experience where they will observe, assist, and demonstrate the principles of direct patient care under the supervision of a licensed instructor. The clinical component covers 65 hours in a long-term care facility.
Admission criteria:
Have a high school diploma or GED
Be 18 years or older
Demonstrate a minimum eighth-grade reading and comprehension ability
Have no criminal history
Pass a drug screen
Take the TABE and score 8.0 or more
Demonstrate ability to participate in the classroom, lab, and clinical activities
Pass an Arizona State background and fingerprint check
The total cost of attendance is $3,045 and includes tuition, registration, books, uniform, supplies, and certification exam.
Address: 950 E. Main Street, Building A, Somerton, AZ 85350
Phone: (928) 315-7600
Fax: (928) 627-1013
Arizona Western College
Arizona Western College's Nursing Assistant Program has full approval from the Arizona State Board of Nursing (AZBN). It prepares students for success on the state examination to become a Certified Nursing Assistant. Those who pass the exam will be eligible to practice in an entry-level nurse aide position in acute and long-term care facilities. The five-credit course is designed to be completed in 8 weeks. In the classroom, students will learn anatomy and physiology, medical terminology, vital signs, infection control, blood-borne diseases, the role and responsibility of the nurse aide, law and ethics, patient independence, patient rights, communication, patient safety, nutrition and feeding, and personal hygiene. Hands-on experiences in a simulation lab will give students the opportunity to build clinical skills in a controlled environment before providing patient care in a real-world setting under the direction of a licensed instructor. Persons interested in enrolling in the program must attend a free information session to learn about the requirements and expectations from students. They must provide documentation of eligibility for MAT 121.
Admission criteria:
A high school diploma or GED
Have an Arizona DPS Fingerprint Clearance Card for Volunteer Health Science Student and Clinical Assistant
Have a reading score of 80 or above on the Computerized Placement Test
Hold a Healthcare Provider or Professional Rescuer (CPR) certification
Tuition costs $410 for residents. The lab fee is $220 and includes the certification test fee. Other costs include uniform ($40), textbook and workbook ($120), CPR card ( $35), TB screening ($10), and gait belt ($20).
Address: 2020 S Ave 8 E, Yuma, AZ 85365
Phone: (928) 317-6000