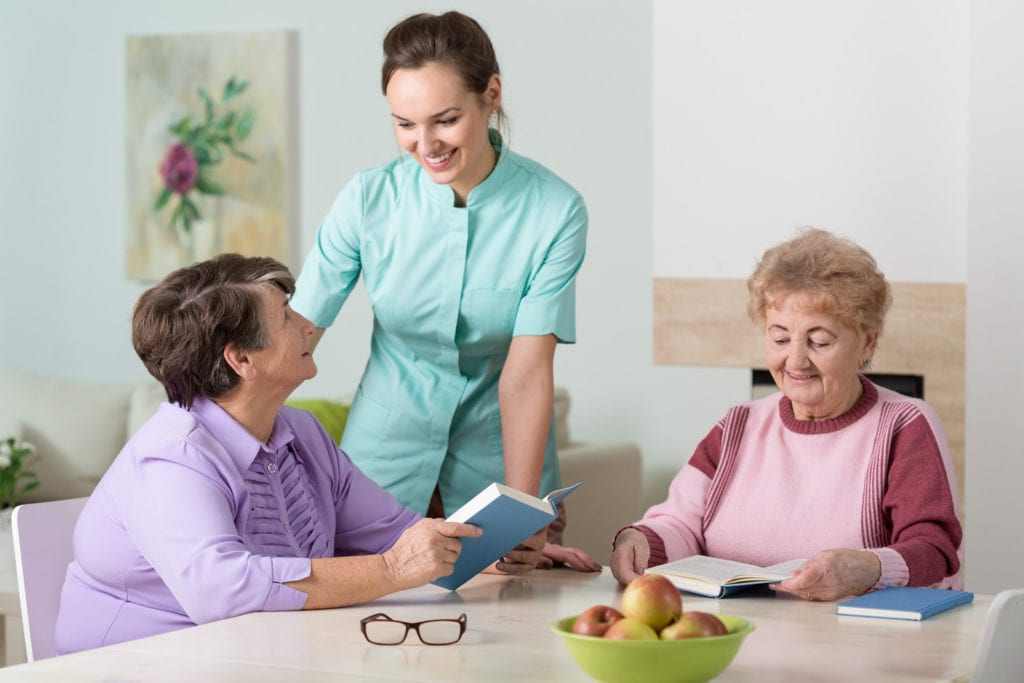 Certified Nursing Assisting is a dynamic profession that is both challenging and rewarding. CNAs are creative professionals, using new concepts and solutions, and innovative interventions to ensure the welfare and comfort of the patients they serve. They are actively involved in the administration of direct patient care as they help patients with their personal hygiene needs, deliver meals, and take vital signs, such as temperature and blood pressure. CNAs spend more time with patients than other members of the healthcare team, so they're usually the first ones to recognize problems or concerns. In California, prospective nursing assistants must receive formal training and pass the state Nursing Assistant Competency Evaluation, which comprises of a written and skills test. Training is available at community colleges, technical schools, high schools, nursing homes, and hospitals. Apart from essential nursing skills, students learn how to deal with patients from different cultures and ethnic backgrounds and communicate effectively with patients and members of the patient-care team.
Pasadena City College
The Certified Nursing Assistant program at Pasadena City College equips students with the basic principles to function as entry-level CNAs in a medical setting. Students learn the role of the certified nurse assistant, the basic principles of nursing, medical terminology, basic anatomy, ethics, communication and interpersonal skills, and principles of personal care. During the clinical experience, students observe and provide direct care to patients and assist other healthcare professionals in long-term care and skilled nursing facilities. Prospective students must submit a completed application and official transcripts to the Health Sciences Division Office and attend a mandatory orientation, which will be held before the course commences. Applicants must also obtain AHA CPR certification, complete the health requirements and a background check, and take the Accuplacer Reading Comprehension Test to demonstrate their reading abilities. Classes meet from Mondays from 8 am to 4 pm on the school's campus and Tuesday to Thursday from 6:30 am to 4:00 pm at a medical facility to complete the clinical requirements. The program runs for 6 weeks and covers 162 classroom and clinical hours.
El Monte-Rosemead Adult School
Rosemead Adult School's Nursing Assistant program is a 9-week course that prepares students for the state certification exam. Part-time students complete the program in 18 weeks. In accordance with California State laws, applicants to the program must obtain health clearance, including a medical history and physical and TB skin test and criminal clearance before enrollment. Applicants must also demonstrate their proficiency in the English language by passing the CASAS reading test with an eighth-grade level or above. Pregnant students must obtain a physician's clearance to attend classes. The curriculum comprises of 50 theory hours and 100 hours of clinical instruction according to California's requirements. Students learn basic nursing principles, the role and function of nursing assistants, laws and ethics, feeding and nutrition, communication and interpersonal skills, infection control, medical terminology, anatomy and physiology, vital signs, personal hygiene, and death and dying. Credits earned may be transferred to a licensed vocational nursing program.
Allied Medical and Health Services
The Nurse Assistant course at Allied Medical and Health Services is designed to equip students with the essential knowledge and clinical skills to assist nursing staff in acute care and long-term care settings. Upon successful completion of the program, graduates will be eligible to take the State Competency Exam, which comprises of a Written and Skills component. Graduates can also transfer credits towards an LVN or RN program. Applicants must be 16 years or older, possess a high school diploma, complete a livescan for a criminal history check, and obtain CPR certification and medical clearance. The 152-hour course comprises of classroom instruction and supervised clinical experiences in long-term and acute care facilities. The school offers a weekend-only schedule, targeted to working individuals. Classes meet Saturdays from 7:00 am to 3:00 pm and Sundays from 9:00 am to 4:00 pm for three months.
St Jude Nursing School
St. Jude Nursing School offers students experienced instructors, small class sizes, convenient class schedules, job placement assistance, review classes, bilingual classes, and 95 percent passing rate on the CNA test. The state-approved nursing assistant course prepares students for the State of California Nursing Assistant Competency Evaluation. Over five weeks, (150 hours) of training prepares graduates to function in their role as a CNA working under the direction of a licensed practical nurse or registered nurse. In the classroom, instructors introduce students to the role and responsibility of a nursing assistant and equip them with the basic skills and competencies to provide safe and patient-centered care. During the clinical practicum, which takes place at contracted training facilities, students will practice measuring and recording vital signs, collecting patient data, CPR, and first aid, and prepping patients for physical exams. Morning, evening, and weekend schedules are available for students' convenience. Classes are available in English and Spanish. The registration fee is $99.
The American Red Cross
The American Red Cross prepares nursing assistant students for an entry-level career. The program teaches students the theory and practical skills to start a career in a fast-growing industry and alleviate the shortage of direct-care nursing professionals in California. With more than two decades of instruction in nurse assisting, the American Red Cross is a solid choice for prospective CNAs. Students participating in the program learn how to provide basic care, such as bathing, dress, feeding and monitoring patients. The practice measuring vital signs, transferring patients, and other practical skills in the lab before executing those activities under the supervision of a licensed nurse instructor in long-term care facilities. Applicants must be at least 16 years, attend an orientation and pass the assessment exam, and present evidence of negative TB or Chest x-ray. A criminal background check, state ID and social security number, and uniform for the clinical practicum at some other enrollment requirements. Tuition for the program is $1,300. Grants may be available to qualifying students.