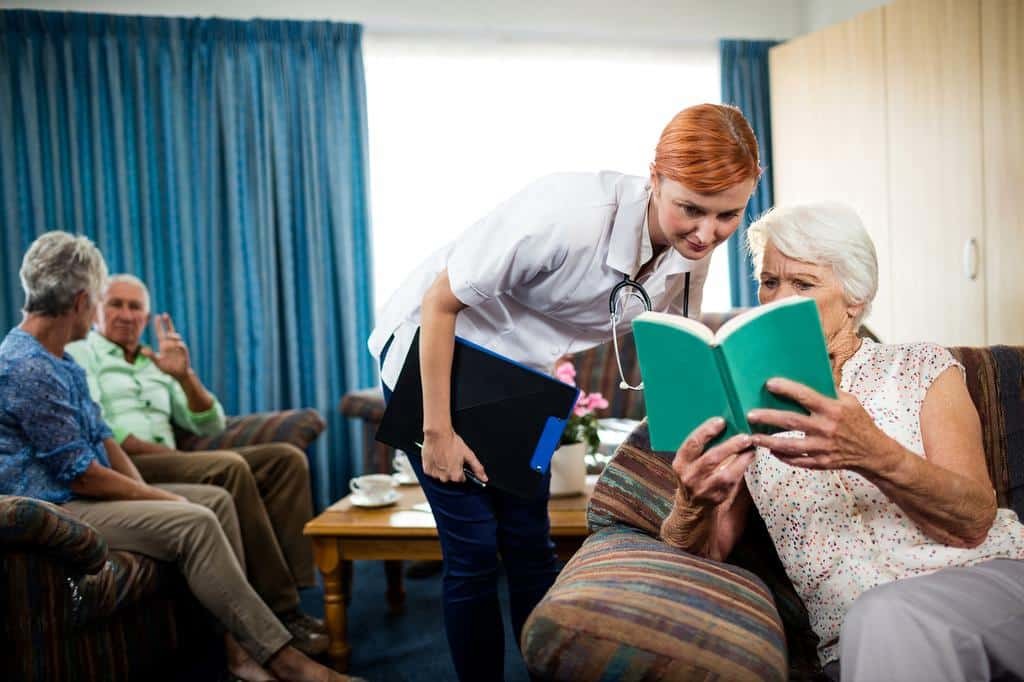 For many people, becoming a Certified Nurse Assistant is a first step to starting a career in the field of nursing. CNAs work under the supervision of a licensed nurse to assist patients with basic care. Their duties include measuring vital signs, moving patients off and onto their beds, bathing and dressing patients, serving meals and feeding patients, setting up medical equipment, monitoring patient's conditions, answering call lights, toileting, and assisting with rehabilitative treatments. CNAs usually work in a hospital, nursing home, patient home, or long-term care facility. Their close interactions with patients can support the development of strong bonds, which can make an otherwise tedious job very rewarding.
Training Direct, Danbury
The Nurse Aide program at Training Direct prepares students for an entry-level position as a Certified Nurse Assistant in a healthcare facility. Experienced instructors provide opportunities for students to gain the basic knowledge and practical experience to safely and competently care for patients. The program meets the Connecticut Department of Health Services guidelines for nurse aide training and graduates are eligible to take the competency exam for state certification. Day, evening, and weekend classes are available. The curriculum is divided into on-site instruction (55 hours) and clinical experience (45 hours). Topics covered include infection control, effective communication, patients' rights, role of the nurse aide, introduction to human anatomy, end of life care, patient care procedures, basic restorative services, responding to patients needs and behaviors, care for the cognitively impaired, patient privacy and confidentiality, and safety and emergency procedures. During the clinical experience, students will be exposed to different patient populations, types of medical equipment, and learn to work with different professionals in the health care industry.
Nantucket Valley Community College
Nantucket Valley Community College is home to the oldest and most respected CNA program in Connecticut. The 120-hour program prepares students for success in the state competency exam and entry-level employment as a certified nurse assistant. Students will participate in classroom discussions and lectures, develop new skills in a simulated lab, and practice their new skills in a clinical setting. Experienced registered nurse instructors will facilitate learning throughout the entire process. The State of Connecticut Nurse Aide Competency Exam is conveniently administered on site. Applicants must undergo a health screening, and provide documentation (in the form of a completed NVCC CNA Health Form) of up-to-date immunizations. A criminal background check will be conducted for all students entering the program. Criminal convictions may hamper the student's ability to participate in the clinical experience and secure employment. Applicants must be at least 16 years old to enter the program. Persons under 18 years must provide a parental/guardian waiver form. Tuition for the program is $1,500 and includes the state competency test and course textbook and workbook. Students must purchase dark blue, v-neck scrub tops and pants and white shoes for the classroom and clinical meetings. A payment plan is available.
Academy of Medical Training
The nursing assistant classes at the Academy of Medical Training cover a broad range of topics to prepare students for the state competency exam and a career as a CNA. The curriculum features 60 hours in the classroom/simulated lab and 40 hours in a clinical setting and covers proper body mechanics, infection control, catheter care, dealing with dementia, and abuse and neglect. At the conclusion of the program, students who receive a passing grade will obtain a certificate of completion from Academy of Medical Training and will be allowed to sign up for the state exam. Applicants must be 16 years or older with valid identification. Students under 18 years must provide documentation of parental consent to enroll. A completed AMT supplied physical form must be completed indicating that the student had a physical exam within the last year and a negative PPD result – not older than 3 months. Students cannot attend classes without the physical exam and PPD form completed. Tuition for the program is $1,200.
Danbury High School
Students in 11 and 12 grades can take the Advanced Health Care and BioSciences courses along with the Nursing Assistant Internship and Human Anatomy and Physiology to prepare for a college-related major and/or take the state competency exam for nursing assistants to practice as a CNA in Connecticut. The program covers infection control, patient rights, legal and ethic issues, medical record documentation, issues in health care, common chronic and acute conditions, cultural diversity, health insurance, health care across lifespan, and medical terminology, and other essential topics. During the clinical externship, students participate in clinical rotations at a nearby health facility where they put their skills to practice in a real-world setting. The clinical internship will include at least 60 hours of supervised work at Bethel Health Care or Danbury Hospital.