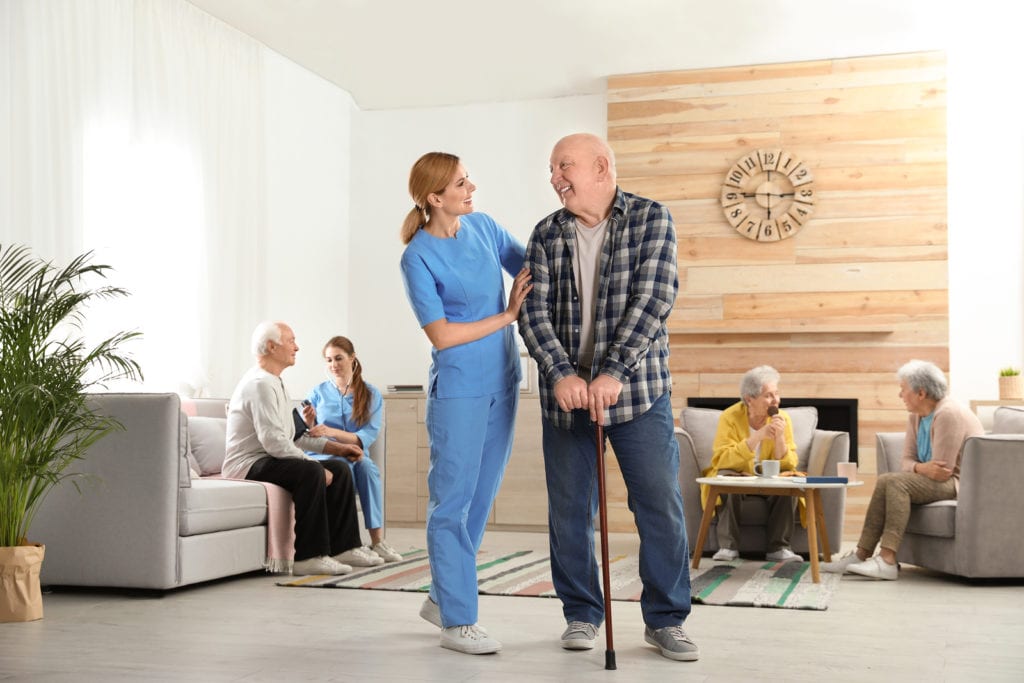 CNAs, also known as certified nursing assistants, are needed in a large part to care for the aging baby boomer population in long-term care facilities. Their responsibilities include personal care such as bathing, dressing, and feeding patients, measuring and recording vitals, observing patients' and reporting information to nurses, and assisting nurses with restorative treatments. This entry-level position is ideal for those who are interested in becoming a licensed practical or registration. Enrolling in a nursing program is competitive, and experience and education as a healthcare worker could provide an advantage in the admission process.
According to the US Bureau of Labor Statistics, the job outlook for CNAs will increase 9 percent from 2018 to 2028, a rate that is faster than the average for all occupations. The median salary was $29,640 in 2019. The location, place of work, and experience will influence the rate of pay.
Northeast Medical Institute- Stamford Campus
The CNA program at Northeast Medical Institute prepares adults to meet the Connecticut Department of Public Health and Department of Higher Education requirements for CNAs education. CNA requirements. The program includes classroom theory and a clinical segment to apply the theoretical principles. It covers 102 clock hours include 42 hours in the classroom, 27 hours in the lab, and 33 hours at a skilled nursing facility. Areas of study include fundamental nursing skills, personal care skills, basic restorative services, care of cognitively impaired residents, mental health, and social skills, nutrition, residents rights, basic life support CPR, and communication. Students must complete 100% of the clinical hours. NMI is an approved Prometric test site so students will have the advantage of testing in the same spot they learned and taking the test in a familiar environment. Another advantage is the scheduling of the nurse aide test, which can be taken in as little as 5 business days after completing the course. The day program meets from Monday through Friday from 8:00 am to 5:00 pm for 2.5 weeks. The evening program meets Monday through Friday from 5:00 pm to 10:00 pm for 4.5 weeks.
Admission criteria:
Provide documentation of being 16 years or older
Submit a negative PPD or chest x-ray. Must be completed before the clinical segment
Pay the non-refundable registration fee and make arrangements to pay tuition
Pass a background check
Submit a signed enrollment agreement
Must be able to speak, read, and understand English
Provide proof of influenza vaccine – between the months of October and April
Tuition for the program is $1,150. Enrollment fees, supplies, books, insurance, and background check are additional.
Website: https://northeastmedicalinstitute.com/
Address: 29 Bank St Stamford, CT 06901
Phone: (203) 391-6766
Email: admin@northeastmedicalinstitute.com
Jewish Senior Services
Jewish Senior Services routinely sponsor a Certified Nursing Assistant (CNA) Training Program for qualified candidates.  The state-approved program covers the essential skills needed to provide direct care to residents in long-term care. Students will be required to complete a total of 108 hours of classroom theory and practical experiences. The duration of the program is 8 weeks. Classes meet Monday through Wednesday from 4:00 pm to 8:30 pm.
Admission criteria:
Letter of recommendation from Supervisor and non-related personal reference – for JSS employees only
Letter of interest on why JSS should sponsor the applicant
Submit a completed JSS Employment Application
Letter of reference from a non-related person
Attend an interview with a JSS representative
Pass a criminal background check and drug screen
Obtain a negative TB test
Must have a valid CT driver's license
Must be available to attend the course for 8 weeks and meet the attendance and punctuality standards
Must agree to work at JSS as a full-time employee for one year after certification
Selected candidates will receive free tuition, free books, and offer of employment to work in a long-term or short-term position. Candidates must purchase white scrubs, white shoes, and a watch with a second hand.
Website: https://www.jseniors.org/careers/training/cna-program/
Address: 4200 Park Ave, Bridgeport, CT 06604
Phone: (203) 365-6400
Excel Academy
The CNA training program at Excel Academy motivates students to provide safe and quality care to residents and patients. The curriculum will cover 110 hours of theory and practical experiences at an off-site location. Students will be required to complete 64 contact hours in the classroom and 46 hours of real-world training in an approved nursing facility. Graduates will be eligible to take the state certification exam to become a Certified Nursing Assistant and deliver the highest quality care in acute and long-term care facilities. Daytime, evening, and weekend schedules are available.
Admission criteria:
Must be 18 years of age or older
Must be proficient in verbal and written English
Attend an interview with an Admissions Representative
Submit a completed application for admission and other required documents
Must submit a completed physical exam report indicating the absence of communicable diseases
Must complete a negative TB test or chest x-ray
Pay the non-refundable registration fee of $200
Tuition for the program is $900. Books, uniforms, and fees cost an additional $300.
Website: https://www.excelacademyconn.com
Address: 482 Summer St, Stamford, CT 06901
Phone: 203-691-7989
American Institute of Healthcare & Technology
The certified nursing assistant training at the American Institute of Healthcare & Technology is designed for students who want to pursue a career in healthcare. The curriculum covers 150 hours of theory and hands-on work in medical terminology, patient care, transferring patients, basic nursing skills, and work ethics. Students will be prepared to take the Connecticut Nurse Aide Exam conveniently offered at AIHT. Those who successfully pass the exam will qualify for entry-level employment at long-term care facilities.
Admission criteria:
Must have a high school diploma or GED
Submit a completed enrollment application with the non-refundable registration fee
Provide a copy of valid photo ID
Submit a signed preliminary self-disclosed personal criminal background information
Submit a signed general self-disclosed medical health information form.
The cost of tuition, books, registration, and supplies is $1,475.
Website: https://aiht.edu/certified-nurse-assistant/
Address: 480 Lordship Blvd, Stratford, CT 06615
Phone: (203) 870 8400
Fax: (203) 803 4800,
E-mail: contact@aiht.edu