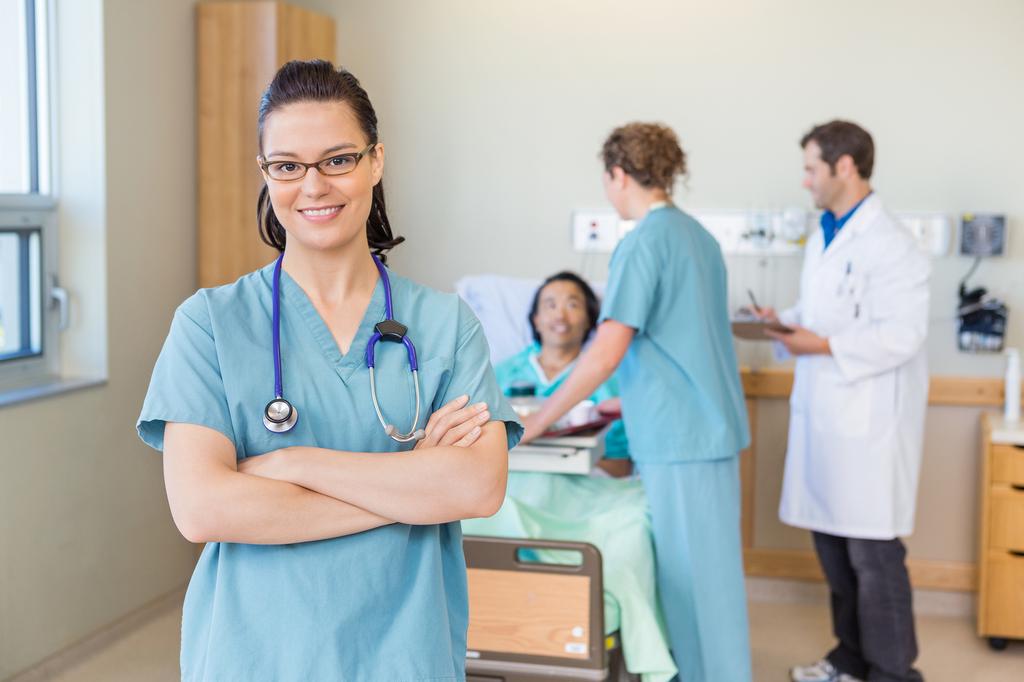 Clinical training is critical to your success as a Certified Nurse Aide. It is also a mandatory part of CNA classes in most states, comprising 16 to 100 hours of the total training. The training at a long-term care center or other approved facility provides an outlet for nurse aide students to put their conceptual knowledge into practice. Students work directly under the supervision of a Registered Nurse instructor and sometimes get the opportunity to shadow Certified Nurse Aides during the training. Without this opportunity to provide direct care in a real-world environment, you won't have the training required to pass the skills component of your state's nurse aide competency evaluation. Apart from providing the environment for hands-on learning, clinical experiences should reinforce patient safety and comfort, the importance of infection control and respect for patients' rights.
The CNA Clinical and Its Importance
Apart from being a state requirement, the nurse aide clinical is critical to your success on the nurse aide competency exam. Students perform basic duties under supervision and have opportunities to observe practical applications of classroom theory. They learn general bedside care and interact with patients. You should ask a lot of questions, offer to help where needed, and take notes whenever possible. If you do not have any previous healthcare experience, the clinical rotations will serve as your introduction to the patient care. It will confirm, to some extent, whether healthcare is a good fit for you. It will also serve to round out your education more than lab skills, presentations, or scenarios covered in the program ever will.
Duration of the Training
The 1987 Nursing Home Reform Act mandates that all prospective CNAs receive a minimum of 75 hours of classroom and clinical training. Federal regulations require training programs to include a minimum 16 hours of clinical "hands-on" experience as part a of the training. More than half the states designed CNA training programs that exceed the minimum federal training requirements, reflecting the state boards' belief that students require more training to meet the complexities of providing direct care. Therefore, it's possible that your clinical training could cover as much as 100 hours in your state.
Prerequisites for Clinical Training
Nursing homes, hospices, and other approved training facilities have strict guidelines for employees and trainees as a way to ensure resident safety. In order to comply with the facility's guidelines, the training provider will outline several prerequisites for entry into the clinical practicum. The requirements vary by state and facility, but the following list covers a few general requirements:
Criminal background checks: The training provider will initiate the background check prior to the first day of classes in order to receive the results before the clinical training begins. Felony convictions could disqualify you from nurse aide training.
Drug screening: Along with the background check, the nursing home and school will require a ten-panel drug screen.
Immunization records: You'll need to provide a copy of your immunization records. Note: If you don't have all the appropriate immunizations, you should start early as it can take up to six months to complete a series of immunizations. Some of the shots you'll need are Rubella/ Measles (MMR), Varicella (Chickenpox), Hepatitis B Series, Tdap (Tetanus, diphtheria, pertussis).
CPR Card: Your CPR training must be one designed specifically for the Healthcare Provider or Professional. The certification must be valid throughout the entire clinical practicum.
TB Test: The PPD screening is a two-step process that you'll need to complete before the clinical practicum.
Liability insurance: Normally purchased as a group.
Physical exam: A report showing you're in good physical and mental health.
Supplies: In order to maintain a professional appearance while on the "job," you'll need to wear scrubs and closed-toed shoes (rubber soles). You'll also need to purchase a watch with a second hand, stethoscope, gait belt and blood pressure cuff.
Putting Your Skills to Practice
The training facilitates hands-on interactions with patients. You need to be mentally prepared for the job as you'll encounter residents with varying degrees of disability depending on where you work. For instance, some patients may have off-putting ailments. Others may have mental illnesses or disfiguring conditions. If you train at a hospice, you might have to work with patients who are nearing death. Sadly, no amount of mental preparation will leave you unaffected by the sight and scent of the patients at many long-term care facilities. Fortunately, your training and compassion will help you to shake off the sadness (and/or repulsion) of the environment, so you can provide the best care possible.
During your first week, the RN instructor will either assign you to a team or a CNA to shadow. After demonstrating the basic skills during the first week, the instructor will assign you to a patient or two where you'll practice basic tasks like infection control, making beds and feeding the patients. Later on, you'll have the opportunity to practice patient transfers and bathing patients.
One common complaint among 90 percent of nurse aide students is the revelation that CNAs in the training facilities use shortcuts instead of following the prescribed steps. Note, in real-world scenarios, the CNAs have to care for several patients at once. As a trainee, you must follow the prescribed procedures in preparation for the skills exam where shortcuts are not acceptable.
One crucial aspect of the clinical experience is to prepare for the skills component of the state exam. Use the opportunity to practice all the skills that the exam requires – there might be 21 to 30 skills depending on your state's curriculum. While you can practice during the labs or review videos online, the real-world environment is the best place to gain experience.
Schedule
Classroom sessions may be scheduled as daytime, evening, or weekends. They may be full-time or part-time. Whatever the schedule of the classroom sessions, clinical schedules may not be as structured. Most programs include clinical schedules that commence early in the morning or late at night. Weekend shifts may also be expected. Shifts may be 8 to 12 hours' long to mimic the actual shifts you can expect as a working CNA. These rotations are an introduction to long shifts and round-the-clock care. Be prepared for them before you enroll in a nurse aide program since full attendance is expected.
How to Excel in the Clinicals
As we will discuss later on, the nurse aide clinical can potentially lead to immediate employment after certification. Employers may evaluate your performance and make an offer of employment. While your first goal is to impress the nurse instructor/clinical coordinator to obtain a passing grade, your professionalism may also impress future employers. Below are some basic things you can do to stand out.
Arrive on time for all your shifts and be prepared
Be respectful to all persons – from the janitor to fellow students you must show respect
Dress professionally – make sure your uniforms and shoes are always neat and clean
Take notes – it may not always be possible to carry your notepad, but wherever you can, make notes for future reference
Ask questions if you don't understand
Pay attention to non-verbal cues – patient care involves a lot of non-verbal communication
Collaborate with the group – patient care requires a lot of collaboration with members of the interdisciplinary team. Your introduction to patient care and eventual success in the field will start with your readiness to work closely with your team members
Pay attention during lectures and lab sessions – your success during the clinical is determined in part by the information you gathered during lectures and labs
Practice proper hand hygiene to reduce the spread of infection
Keep a positive attitude – even when you don't feel like it, stay positive and confident in your ability to care for others
Mental and Physical Preparation
Proper physical and mental preparation will aid success during the clinical rotation. There are a few things you can do to support physical and mental well-being.
Diet and rest. Rest when you're not working and eat a balanced diet. Your off days might appear to be a great time to catch up on your other commitments, but remember to take time out to rest and prepare for another tiresome shift. Lay off the junk and eat balanced meals inclusive of fruits and vegetables.
Be on time.  Arrive on time or even earlier than your scheduled shift to unwind and mentally prepare for the day. Take this time to meet with your shift supervisor to ask questions and gain insight into the day's plans.
Communicate. Communication is an essential part of success anywhere, but it is critical on the health care team. Your ability to listen attentively, ask questions, and follow directions will prevent a lot of potential problems.
Keep your cool. There will arise situations that will get the best of you. Whatever they are, remember the greater cause is to care for patients. Take deep breaths, walk away for a time out, or ask for help if you feel overwhelmed and don't know what to do.
Exercise. Physical strength will alleviate many complications associated with long hours on your feet, bending, and lifting and moving patients. Certified nursing assistants and nurses are prone to job-related injuries, especially back-related incidents. Take time to exercise to build strength and condition and reduce your risk of injuries on the job.
Challenges
CNA rotations are no walk in the park. Balancing studies with the demands of patient care can be daunting. Your first shift, if you are new to healthcare, may be more than you expected. Patient care is not as glamorous as it might appear in the movies. Time management is essential. From balancing your other commitments to arriving on time for your shift, you must manage your time wisely.
The shift work also requires some skill, and the establishment of the work/life balance takes time. Get your family members on board to share responsibilities where possible. This will ease some of the burdens and pave the way for success in the program.
Standing for long hours is a challenge for many. More than just standing, the clinicals and the actual job require constant movement and activities. Lifting and bending are some other physically challenging aspects of patient care. The mental challenges are also present. Striving to keep your cool, maintain a professional demeanor, and accept correction when reproved are all part and parcel of your role as a nurse aide.
Another challenge you might not expect is that of uncooperative patients. The training will cover some of the mechanisms for getting patients to corporate while respecting their rights to refuse treatment. Effective communication and a willingness to learn, following instructions, and collaborate with the team for the best interest of the patient will not remove all the challenges but will certainly make the tasks more satisfying.
Making the Grade
Your success and eventual completion of the nurse aide program is determined by the classroom, lab, and clinical components. This means that the nurse evaluator will assess and assign a grade for your participation during the clinical rotations. The method of assessment will vary slightly by programs, but will generally include the way you provided care, use of the clinical skills, extent of participation, and completion of assignments. Other things to look for are your communication methods, collaboration with the team, attendance and punctuality, dress, and preparedness.
Compensation
Students are not paid for clinicals conducted as part of a nurse aide program. They are a necessary part of your skills training and education required for certification and employment, and you should view it as such. You are not to expect compensation in any way, even from patients and their families.
Potential for Future Employment
Your success on the clinical experience will determine your success as a nurse aide, since the skills and your overall attitude to working with a team will transition into the workplace when you obtain employment. Your performance and final score can translate to solid opportunity at the clinical partner. Many nurse aides are hired by the healthcare facility at which they completed the clinical externship when they demonstrate the skills and qualities that employers need.
Final Thoughts
Clinical practicum takes you into the actual health care setting where you'll practice your skills with helpful guidance from your instructors. You'll also have the chance to meet a network of health care professionals including Registered Nurses, Licensed Practical Nurses, and other Certified Nursing Assistants. While the training is not a social time, it will present opportunities to meet peers and learn more about nursing and your future goals. Use the time wisely to learn all you can, and remember, 100 percent attendance to clinical training is critical to your success.