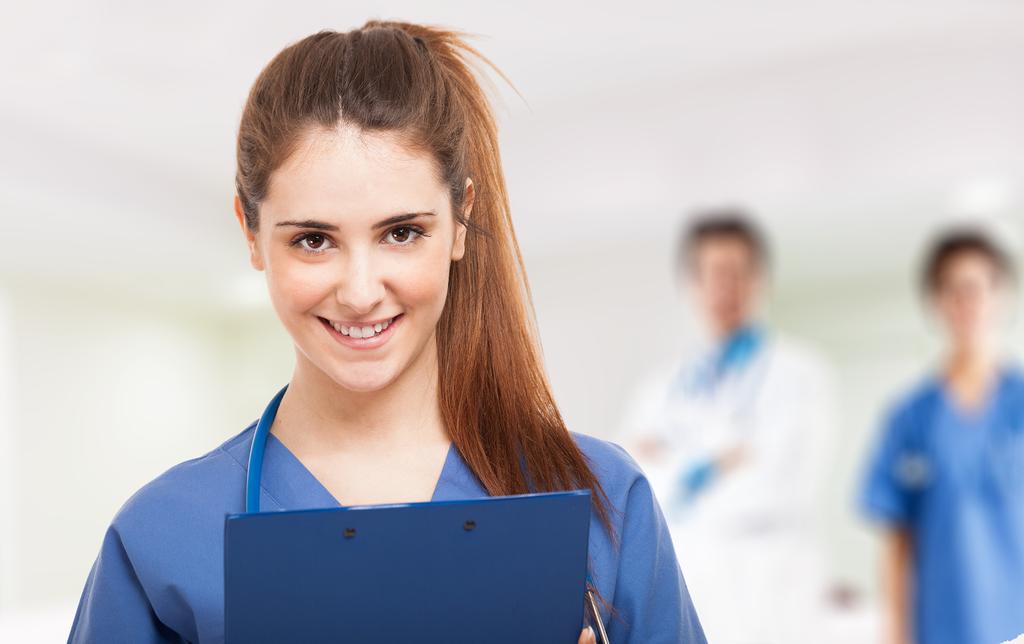 The Kansas Department of Health and Environment (KDHE) issues certification for all nurse aides employed within the state. The KDHE maintains a regularly updated list of approved schools with accompanying location and dates of upcoming courses. Prospective nurse aides must enroll in a program that offers a minimum 90 clock hours, which includes classroom and clinical training. CNA classes vary in length and complexity. Fast-tracked programs cover the curriculum in just three weeks while longer and in-depth programs extend to six months and more. Review the list of state-approved training centers below as a first step to your career as a certified nursing aide.
Allied Health Career Training
Allied Health Career Training offers small class sizes, experienced instructions, and fast-track training all for one affordable price. Classroom training takes place at Allied's training center. Students then move on to hand-picked nursing homes to get the best practical training possible. The training covers a total of 90 hours – 45 hours for theory, 20 hours skills lab, and 25 hours clinical. Students will learn basic nursing skills, such as taking vital signs and assisting residents with tasks such as dressing, bathing, eating, and walking. Each class cycle is limited to 20 persons. The duration of the program is four weeks.
Admission criteria:
Applicants under 18 years old must obtain parental consent
Provide proof of influenza vaccination during flu season
Must be able to provide a current, government-issued photo identification card (driver's license, passport, etc.)
Must have no prohibitory offenses
The Kansas Board of Regents approved nurse aide training costs only $669 and includes tuition, stethoscope, gait belt, t-shirt, tote bag, and state exam fee. The school's administration promises money back to students who fail the state exam.
Website: http://www.alliedhealthcareertraining.com
Address: 1217 W Douglas Ave, Wichita, KS 67213
Phone: (316) 854.3892
Email: info@alliedhealthcareertraining.com 
Bethel House Training Institute
The CNA course at Bethel House Training Institute equips students with all the skills required to excel on the job. Experienced instructors teach students how to take vital signs, assist residents with personal care and hygiene, nutrition, mobility, and keeping up to date medical records. The 90-hour training meets all the guidelines set forth by the Kansas State Department of Health and includes classroom, lab, and clinical training at a nearby healthcare facility. Bethel House's instructors emphasize excellence in caregiving and all graduates are eligible to sit the Kansas State Nurse Aide Exam to become certified. Designed with busy adults in mind, Bethel House's nurse aide training extends for 20 days- for the day and evening class options. Weekend classes meet for 7 weeks or 14-class days.
Admission criteria:
Applicants under 18 years old must obtain parental consent
Provide proof of influenza vaccination during fu season
Must be able to provide a current, government-issued photo identification card (driver's license, passport, etc.)
Must have no prohibitory offenses
The all-inclusive fee of $650 includes tuition, scrub set, TB test, textbooks, state exam fee and supplies.
Website: https://www.bethelhousetraining.com/
Address: 15 S Glendale, Wichita, KS 67218
Phone: (316) 771-7316
Fax: (316) 771-7319
Email: bethelhouse1@cox.net
Wichita Area Technical College
The 5 credit hours nurse aide training program at WATC prepares students to excel as caregivers in long-term healthcare facilities while working under the supervision of licensed nurses. Coursework includes classroom instruction, laboratory assignments and clinical training. The curriculum follows the Kansas State Department of Health and Environment guidelines, so graduates are eligible to take the state nurse certification exam after perfect attendance and a minimum 75% passing grade. There are currently two available class schedules: a 5-week daytime class and 3-month evening class.
Admission criteria:
Complete and submit a WSU Tech application
Take the ACCUPLACER Reading assessment with a minimum score of 56
Provide documentation of negative TB test – the test result must include student's name, date of birth, date given, mm reading, results interpretation, and date read
Provide documentation of social security – a social security card or a printed social security number with a signed social security card, pay stub, driver's license, or Kansas or school ID
Be 16 years or older by the start of clinicals
Attend all class days and clinicals
Pay tuition and fees
Tuition costs $857 and includes one set of scrubs, WSU Tech patch, gait belt, and state testing fees. Textbooks are the students' responsibility. WATC is accredited by the Higher Learning Commission. However, financial aid is not available for this course.
Website: https://wsutech.edu/short-term-health/
Address: Old Town, 213 M. Mead Wichita, KS 67202
Phone: (316) 677-9400
Butler Community College
The comprehensive CNA program at Butler Community College prepares students to take the exam developed by the Kansas Department for Aging and Disability Services (KDADS). The classes offered in a personalized setting serves as the formula for the 95 percent pass rate on the state certification exam. The program covers a total 104 clock hours including classroom lecture, learning in the skills lab, and clinical experience in a nursing home. Students have the option to continue their education in the Patient Care Pathways program. Students must complete the course with a grade C or able to be eligible to take the exam. Classes meet primarily on the weekdays, but may require meeting on Saturdays or Sundays.
Admission criteria:
Take and pass the ASSET exam
Submit a copy of social security card
Copy of the TB skin test or chest x-ray current not older than one year
Submit a completed copy of Health Record (Physical and TB Form
In addition to tuition, students will need to purchase purple scrub shirt and slacks or skirt, shoes, and textbooks. Other supplies include TB skin test, physical examination, and lab fees. The fee for the state exam fee will be collected with the tuition.
Website: https://www.butlercc.edu/
Address: 901 S Haverhill Rd, El Dorado, KS 67042
Phone: 316-321-2222
Cowley College
The nursing assistant program at Cowley College includes classroom lectures and clinical practice in a community long-term facility. The program will give students the knowledge and marketability to work in long-term care facilities. The curriculum will cover 90 hours of theory and hands-on practice. Traditional classroom and hybrid courses are available – depends on the campus. Course units include Working in an Adult Care Home, Basic Communication Skills, Communicating with the Confused Resident, Principles of Body Mechanics – Lifting and Moving the Resident, Safe Use of Mechanical Devices Promoting Restraint-Free Environment, Infection Prevention and Control, Basic Nursing Care The Resident's Unit, Observing and Measuring Vital Signs, Safety, Cleanliness and Grooming, Nutrition and Fluids, Elimination, Basic Human Needs, and Caring for the Dying Resident. Graduates are eligible to take the state exam to be added to the Nurse Aide Registry.
Admission criteria:
Take a reading level test during enrollment
Copy of driver's license and social security card
Complete the immunization requirements for the clinical experience
Submit to a criminal background check – the non-refundable fee will be assessed upon enrollment
Must meet or exceed minimum reading score of 224 according to the ACCUACER Next Gen Reading test or ACT Reading score of 16 or higher
High school vocational students must have a minimum GPA of 2.0 and be at least 16 years old
In addition to tuition, students must purchase gait belts, stethoscope, scrubs, and textbook. The payment of $120, which includes the state exam fee, liability insurance, and application fee must be paid at enrollment.
Website: https://www.cowley.edu/index.html
Address: 125 S. 2nd St, PO Box 1147, Arkansas City, KS 67005
Phone: 620.441.5303
Email: admissions@cowley.edu
We Care Online, LLC
The Nurse Aide program at We Care Online prepares students for entry-level employment in a nursing home, hospital, assisted living facility and other health care setting. The program comprises of 90 clock hours of instruction – 45 hours in the classroom and 45 hours of clinical experiences in a long-term care setting. The duration of the course is 4 weeks.
Admission criteria:
There are no prerequisites for the program
Applicants must be able to lift up to 50 lbs unassisted
Students must purchase textbooks and uniform for the program
Tuition for the program is $630 and includes the KDADS application fee. Students must budget extra for the KDADS testing site fee and registration fee.
Website: http://wecareonlineclasses.com/courses2/kansas/certified-nurse-aide-kansas/
Address: 4601 E Douglas Ste 112, Wichita, KS 67218
Toll Free: 888-932-2501
Fax: 888-932-2501