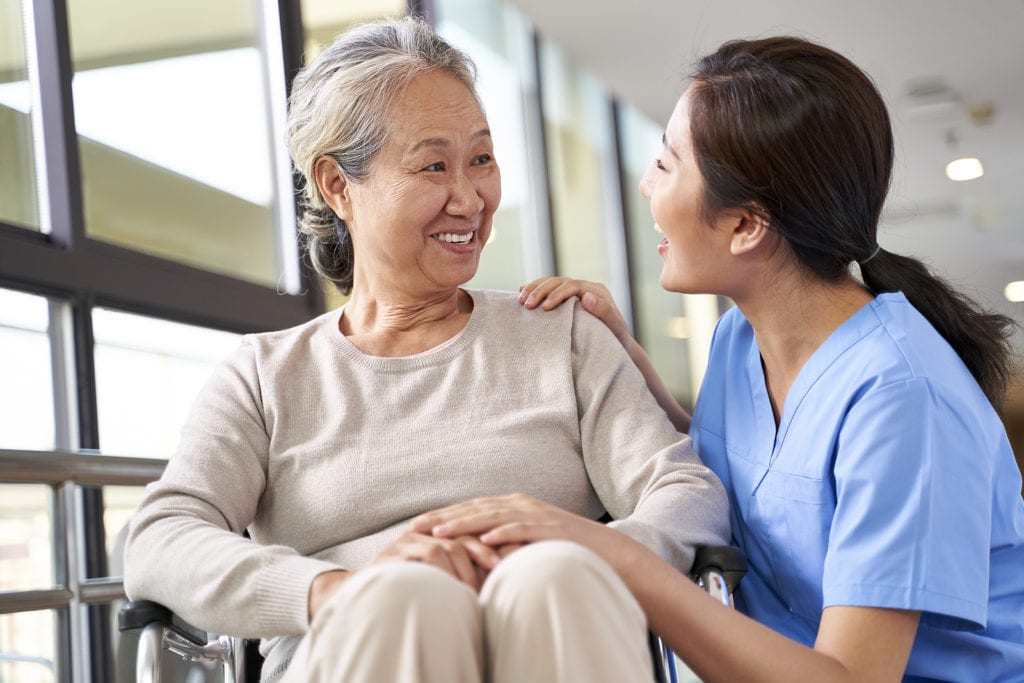 Do you love to comfort people in need and make a positive impact on their lives at the time when they need it most? One resourceful way to put your talent to the right use is to enter the healthcare industry as a nursing assistant. CNAs assist clients with the activities of daily living and provide companionship and personal care under the direction of a licensed nurse. Kansas State and Federal laws require certification and will certify and list CNAs on the Kansas Nurse Aide Registry after candidates complete an approved Nurse Aide class and pass the written and skills components of the certification exam.
CNAs typically work with seniors in long-term care. However, there are opportunities to work with children and adults who are injured or disabled. They work in adult day care facilities, hospice centers, nursing homes, home health, and hospitals. Wherever you choose to work, you must be a familiar, comforting presence for the patient and their family as you meet their physical and emotional needs. The health care team will also depend on your observational skills to monitor patients and transmit your concerns to the interdisciplinary health care team.
Johnson County Community College
Johnson County Community College enrolls a new cycle of CNA students every semester. The class is delivered in traditional and hybrid forms where the lectures are conducted online followed by face-to-face clinical sessions. The state-approved program has a minimum hour requirement that students must complete to graduate. The lab and clinical sessions are mandatory and require face-to-face interactions. The clinical component of the program will require student participation at a local skilled nursing facility. Graduates will be prepared to take the Kansas State CNA exam that is scheduled at the end of the course. Various class schedules are offered including four-week, eight-week, and 16-week options. Classes are offered in the morning, afternoon, evening, and some weekends.
Admission criteria:
Must have completed Composition I (ENGL 121) with a C or better, or have a score of 243 or higher on the ACCUPLACER reading test
Submit a negative 2-step TB skin test or chest x-ray report completed within the last year
Must have a legible copy of a social security card
Must be able to support 50 lbs and stand, kneel, or crouch as needed
Must pass a background check and drug screen
An influenza vaccine may be required by the clinical site
Must have current CPR for Health Care Providers certification card
Tuition costs $94 per credit for Johnson County residents and $112 for Kansas County residents. Books, supplies, and fees must be added to the total program cost.
Address: 12345 College Blvd, Overland Park, KS 66210
Phone: 913-469-8500
Kansas College of Nursing
The nurse aide course at Kansas College of Nursing follows the guidelines of the Kansas State Department of Health and Environment so graduates will be eligible to take the  Kansas State Certified Nurse Aide examination. The curriculum covers 90 clock hours of lectures, skills lab, and clinical experiences in an approved nursing facility. The hybrid format of the program requires face-to-face participation for the skills lab and clinical activities and the lectures are delivered online. Course topics include basic nursing skills, body structure and function, infection management, measuring vital signs, positioning and turning, communication skills, feeding and nutrition, observation and reporting, Alzheimer's care, emergency procedures, mental health, and hospice care. Day, evening, and weekend schedules are offered.
Admission criteria:
Must be at least 16 years of age
Pay the required deposit of $400 upon registration
Must be able to push and pull at least 50 lbs
Must have a valid driver's license or state ID and social security card
Provide a negative TB skin test (completed within 6 months of the program start date) or chest x-ray (completed within 5 years)
Submit to a background check – conducted on the first day of class
The cost of the program is $790. Students will also need to purchase textbook, gait belt, and navy-blue scrubs.
Address: 7721 Quivira Rd., Lenexa KS 66216
Phone: 913-248-2838
Alt Phone: 316-516-3359
Fax: 913-248-2808
Mid America Nursing
The Nursing Aide training program at Mid-America Nursing & Allied-Health Institute is both flexible and comprehensive. The curriculum includes 90 clock hours of theory and practical activities that will give students the confidence to care for patients under the direction of a licensed nurse. Learning topics include care of residents' space, nutrition and diet, patient safety, communication skills in the healthcare setting, taking vital signs, mobility assistance, body mechanics, human anatomy, and assisting patients with the activities of daily living. Graduates will receive a Certificate of Completion and will be ready to take the state exam. Various class schedules are available – the accelerated class is 2 weeks, the hybrid course if 4 weeks, the weekend class is 6 weeks, and the evening class is 6 weeks.
Admission criteria:
Must be 16 years or older – individuals under 18 must obtain parental approval
Must have a valid state ID and social security card
Provide a current CPR/BLS for Health Care Provider (AHA) card
Obtain a negative TB test – chest x-ray or skin test
Complete the admission package
Deposit $100 to hold a seat in the class
Tuition for the program is $825. It includes the state exam fee, textbook, and lab supplies.  Students are responsible for purchasing scrubs, CPR certification, and uniforms. Financial aid is available through Kansas Workforce KHPOP or MO Full Employment Council (FEC) for eligible students.
Olathe Advanced Technical Center
The Healthcare Science I program offered at Olathe Advanced Technical Center includes CNA training along with pre-health care, medical terminology, and anatomy and physiology. The program is open to high school students enrolled in grades 11 to 12. Students will learn the prevention, diagnosis, and treatment of disease, illness, injury, and other physical and mental impairments and the role and responsibility of the nurse aide as part of the health care team.
Admission criteria:
Must be in the 11th or 12th grade
Obtain written parental consent
Clinical sites may require a background check, TB clearance, and immunization
A valid CPR/BLS for Health Care Provider (AHA) card
Tuition is free but students may need to purchase uniforms, textbooks, and supplies.
Address: 611 N. Nelson, Olathe, KS 66061
Phone: 913-780-7026
Fax: 913-780-8239
Neyang School of Nursing
The CNA curriculum combines classroom lectures with practical hands-on activities to provide students with the skills to care for patients in long-term care facilities. The first part of the program includes 45 clock hours of lectures and classroom discussions that set a foundation in health. The final 45 hours is dedicated to hands-on practical activities in the lab and supervised patient care in a clinical setting. Areas of studies include body mechanics, infection control, dementia, depression, patient safety, catheter care, medical terminology, personal care, abuse and neglect, basic nursing skills, and patients' rights and independence.
Admission criteria:
Must be 16 years of age or older
Complete and pass the preadmission test
Submit a completed application for admission and application fee of $20
Sign an enrollment agreement
Provide proof of a negative TB skin test completed within the last 6 months or chest x-ray completed within the last three years
Tuition for the program is $695. Fees cost $60 and books cost an additional $50.
Address: 189 S Rogers Road, suite1624, Olathe, KS 66062
Phone: 913-815-3286
Alt: 913-244-7319
Fax: 913-815-3286
Fort Scott Community College
The Geriatric Certified Nurse Aide course at FSCC adheres to state and federal guidelines for nurse aides. The training is delivered in two parts. The first part comprises of lecture and lab covering basic nursing skills. The second part comprises of lecture and clinical experience where students will develop skills in a simulated lab followed by the performance of direct patient care in an approved adult care home. All activities will be directed by a licensed nurse. Course topics include communication, infection prevention, nutrition and fluids, measuring and recording vital signs, maintaining and restoring mobility, transfer and discharge, end-of-life care, dementia and problem behaviors, and physical changes accompanying aging. The program is 5 credit hours.
Admission criteria:
Must be at least 16 years old
Submit a negative TB skin test or chest x-ray
Submit documentation of influenza vaccine
Tuition costs $102 per credit hour for Bourbon County residents.