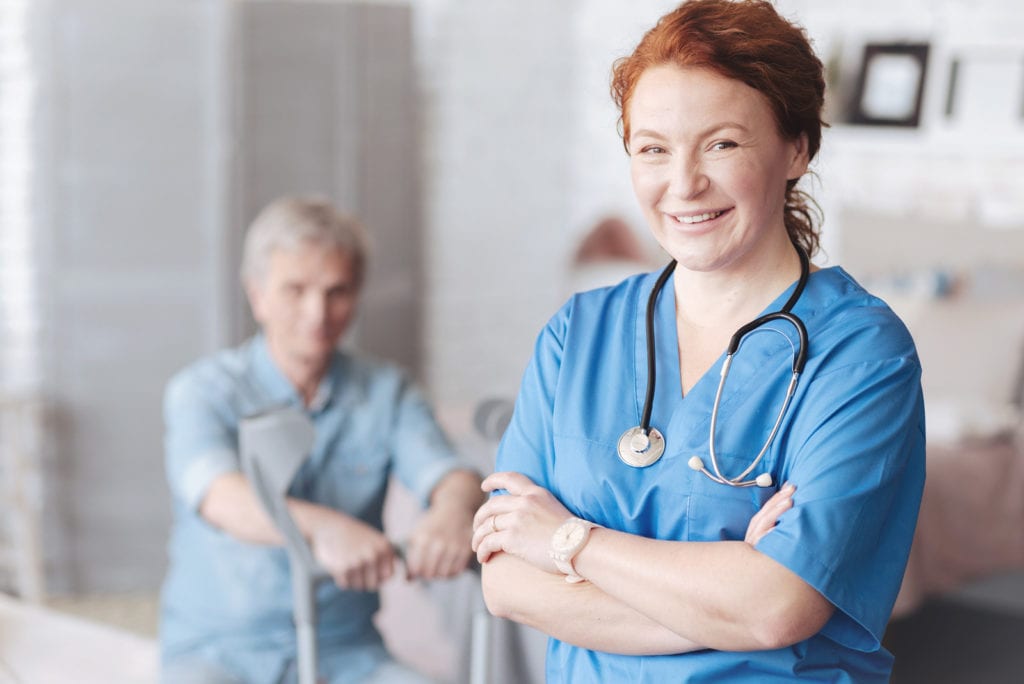 CNAs provide basic patient care under the supervision of a licensed nurse. They measure vital signs, set up medical equip, observe patients and report any concerns, make beds, and ensure patients are well-groomed and fed. Some of the personal care tasks that CNAs assist patients with include bathing, dressing, shaving, mouth care, and toileting. CNAs have a primary role in the bedside care and support of patients. Apart from personal grooming, they assist patients with standing, sitting, and walking, and turning bedridden patients to prevent the development of bedsores. CNA programs prepare students with the knowledge and skills to assume these and other tasks. The clinical component of the program emphasizes the development of skills such as measuring and recording patient weight, measuring urinary output, measuring blood pressure, and taking respiration and pulse.
A vital part of the CNA's responsibilities is to provide emotional support to patients and their families. CNAs spend the most time with residents; the bonding and camaraderie with patients can be one of the most rewarding aspects of the job. The time that they spend with patients places CNAs in a position to spot changes in the patients' condition. Observation is an essential quality that CNAs must have as it could mean the difference between life and death. Just as in the case of nurses and other healthcare professionals, CNAs can make timely interventions and save patients' lives. Though CNAs obtain immeasurable rewards from caring for patients, the downside may be the intensity of the workload. The job requires long shifts where CNAs spend most of the time standing, lifting, and bending to ensure that patients have all they need. Workplace injuries are not uncommon, and there's the possibility of hostile encounters with patients. You'll know if you're not up to the task. If working as a CNA is not for you,  use your training and experience to go back to school to become a registered nurse.
Life Care, LLC
Life Care provides nursing assistant students with the opportunity to prepare for a career as a Certified Nursing Assistant in just three weeks. The program includes two weeks of instruction in the classroom and skills lab (40 hours) and one week of hands-on clinical in a long-term care facility (40 hours). Qualified nurse instructors cover basic nursing skills, nutrition and feeding, anatomy and physiology, medical terminology, infection control, vital signs, personal care, safety and emergency procedures, and end of life care. Students will also complete the training required for CPR certification. At the conclusion of the program, students will take the Louisiana Certification Exam conveniently administered by licensed professionals at Life Care. Daytime and evening schedules are available. Day classes meet Monday through Friday from 9:00 am to 2:30 pm. Evening classes meet Monday through Friday from 4:30 pm to 9:30 pm. The program admits new students every three weeks.
Admission criteria:
Be 16 years or older – those 16 years will need to obtain parental consent
A high school diploma or GED is not required
Must be a US Citizen or be authorized to work in the UU
Submit to a criminal background check
Complete a TB skin test – within one year
The registration form may be completed online
Contact the school to find out more about the cost of the program.
Address: 5100 Westbank Expressway, Ste. 4, Marrero, LA 70072
Phone: 504-872-9985
Fax: 504-872-9026
Nunez Community College
Through combined classroom and clinical instruction, Nunez Community College prepares students for employment in acute and long-term care facilities. In the classroom, students learn basic nursing skills, body structure and function, bed-making, the role and responsibility of the nurse, laws and ethics that govern practice, nutrition, personal care, death and dying, safety and emergency procedures, infection control, and medical terminology. Students will receive CPR certification. In addition to classroom instruction, students will also participate in patient care activities under the supervision of a licensed nurse instructor. Upon completion of the program, students will be eligible to sit the state exam to be added to the Louisiana Nurse Aide Registry. The duration of the program is one semester. Students earn 7 credit hours that may be transferred to the LPN program.
Admission criteria:
Criminal background check
Complete a drug screen
Obtain TB clearance
Complete the health requirements
Complete any additional requirements as determined by the clinical affiliate
Use the contact information below to learn more about the cost of the program and schedule.
Address: 3710 Paris Road, Chalmette, LA 70043
Phone: 504-278-6467