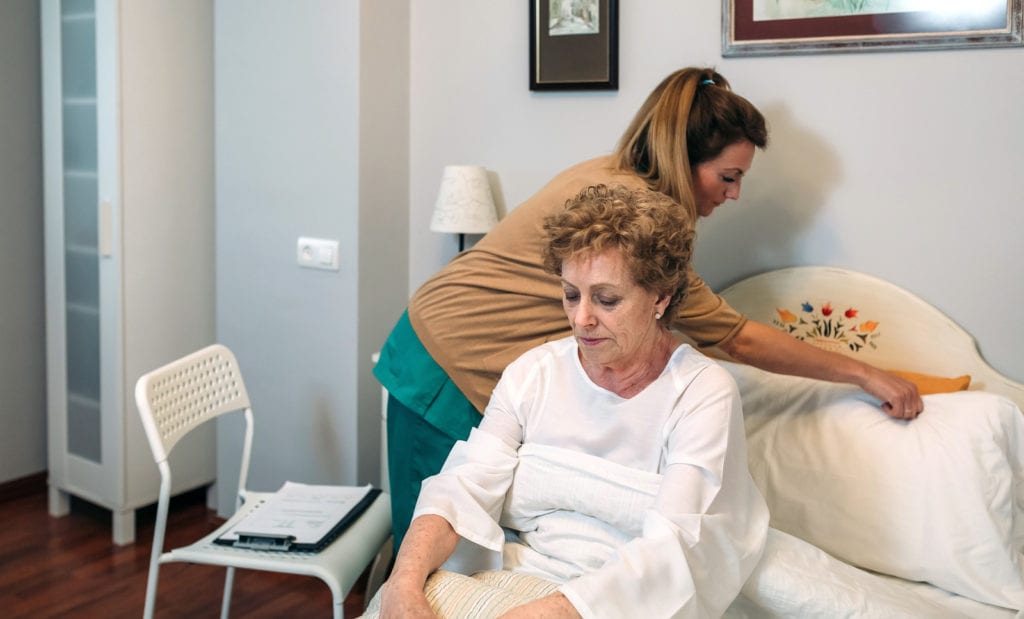 You can get started as a Certified Nursing Assistant just by completing a short 80-hour training program in Colorado. While the 80-hour guideline is the minimum required by the state, many programs offer training that exceeds the minimum. There has never been a better time to enter the field of healthcare. The aging baby boomer population increases the need for health care services, especially in long-term care. Nursing assistant programs prepare adults to meet this need. The profession offers stability to those who want to care for others in a long-term care setting and under the direction of a licensed nurse. If you're longing for a career as a licensed practical or registered nurse, training and experience as a certified nursing assistant will help you get your feet in the door. It will also give you an insider look at the challenges and rewards of patient care.
CNAs perform the numerous duties under the guidance of a nurse or physician. They work in hospitals and clinics but mostly in long-term care. CNAs have a vital role in caring for patients in these settings and perform the bulk of the duties related to the physical and emotional support of patients. Their duties include but are not limited to taking vital signs, assisting with rehabilitative procedures, maintain a clean environment in patients' rooms, escorting patients to examining rooms, assisting patients with mobility, feeding and assisting with personal care, and reporting any concerns to medical staff.
Agape Angelicum
All potential candidates for enrollment in the Nursing Assistant program in the Agape Angelicum must attend an interview with an admissions' representative. The program delivers 80 hours of instruction in the classroom, skills lab, and clinical practicum. Course topics include but are not limited to medical terminology, anatomy and physiology, basic nursing skills, the role and responsibility of a nurse aide, communication and interpersonal skills, Alzheimer's care, nutrition, and personal care. New classes start the first Monday of every month. The classes meet Monday through Friday from 8:30 am to 2:30 pm for two weeks. A 16-week evening schedule is also available. Use the contact information provided below for scheduling information.
Admission criteria:
Pass a background check
Complete the Health Declaration form, which includes a physical exam and TB clearance requirement
Provide immunization records
Demonstrate English proficiency
Have current American Heart Association BLS for Healthcare Professionals
Contact the school to find out more about the affordable tuition.
Ann Rose School Of Nursing Arts Inc
Ann Rose School of Nursing Arts offers nursing assistant students flexible scheduling, small class sizes, hands-on training, and on-site practice. The class size is limited to 12 students to offer personalized attention. Students learn how to monitor pulse rates, bathe and groom patients, monitor blood pressure, update vital information, take temperature, and provide emotional support. After completing the in-depth, hands-on program, students will be prepared to sit the State Certification Exam conveniently conducted on Ann Rose's campus. Several class schedules are available. The morning class meets Monday through Friday from 9:00 am to 1:15 pm for 15 days. The evening class meets Monday through Friday from 5:00 pm to 9:15 pm. A fast-track 8-day class is also available. Students meet in the classroom for 8 days then complete 2 additional 8-hour days for the clinical experience. The curriculum delivers a total of 80 hours of instruction in accordance with state guidelines.
Admission criteria:
Be 16 years or older
Demonstrate English proficiency
Obtain criminal background clearance
Submit to a drug screen
Provide documentation of immunization and TB clearance
Tuition costs $1,200 and includes background check and books. Additional costs for uniform, watch with a second hand, and state exam fee are the student's responsibility.
New Directions Nurse Aide
New Directions Nurse Aide facilitates a Nursing Assistant Certificate program that provides the knowledge and skills students need to work in an entry-level position as a nurse aide. The curriculum includes 104 hours of didactic and practical instruction in the areas of basic nursing, direct care, personal hygiene, communication, vital signs measuring and recording, observation and reporting, legal and ethical guidelines, medical terminology, and infection control. Graduates will be scheduled to sit the state exam offered at New Direction's facility. Convenient day and evening schedules are available. The day classes meet Monday through Friday from 8:30 am to 2:00 pm for 4 weeks. Evening classes meet Monday through Thursday from 4:30 pm to 10:00 pm for 4 weeks. A fast-track class meets Monday through Friday from 8:30 am to 5:00 pm for 2 weeks.
Admission criteria:
Complete a background check
Complete the health requirements
Be 16 years or older
Meet with an admission's representative
Tuition costs $795 and includes the class textbook. Payment plans are available.
Website: https://www.newdirectionsnurse.com/
Address: 2501 East 104th Avenue, Building C, Thornton, CO 80233
Phone: 720-550-9090
Email: newdirectionsnurse@gmail.com
South Denver School of Nursing Arts
The Nurse Assistant Certificate program at South Denver School of Nursing Arts is approved by the Colorado State Board of Nursing. Students receive 104 hours of preparation (theory and practical instruction) in patient care, safety and emergency procedures, and basic nursing skills. The training includes 24 hours of clinical experience taught by experienced instructors in a long-term care facility. South Denver School of Nursing Arts has one of the highest pass rates in the state. Students who successfully complete the program will be scheduled to sit the State Board Exam at South Denver's facility. Morning and evening schedules are available. New classes begin every 4 weeks. Admission for each cycle is limited to 10 students to ensure personalized instruction. Students will have opportunities to engage in hands-on practice opportunities to prepare for success on the exam.
Admission criteria:
A high school diploma or GED certificate
Applicants 16 years must be enrolled in high school
Provide proof of negative TB test
Attend an interview with a staff member
Pass the entrance exam
Tuition includes BLS and First Aid certification, textbook, drug screen, uniform, materials fee, student ID badge, background check, parking, and the State Board Exam fee.
Website: https://southdenverschoolofnursingarts.com/program-information/
Address: 7853 E. Arapahoe Ct., Suite 3300, Centennial, CO 80112
Phone: 303-945-4203
Fax: 303-945-4318