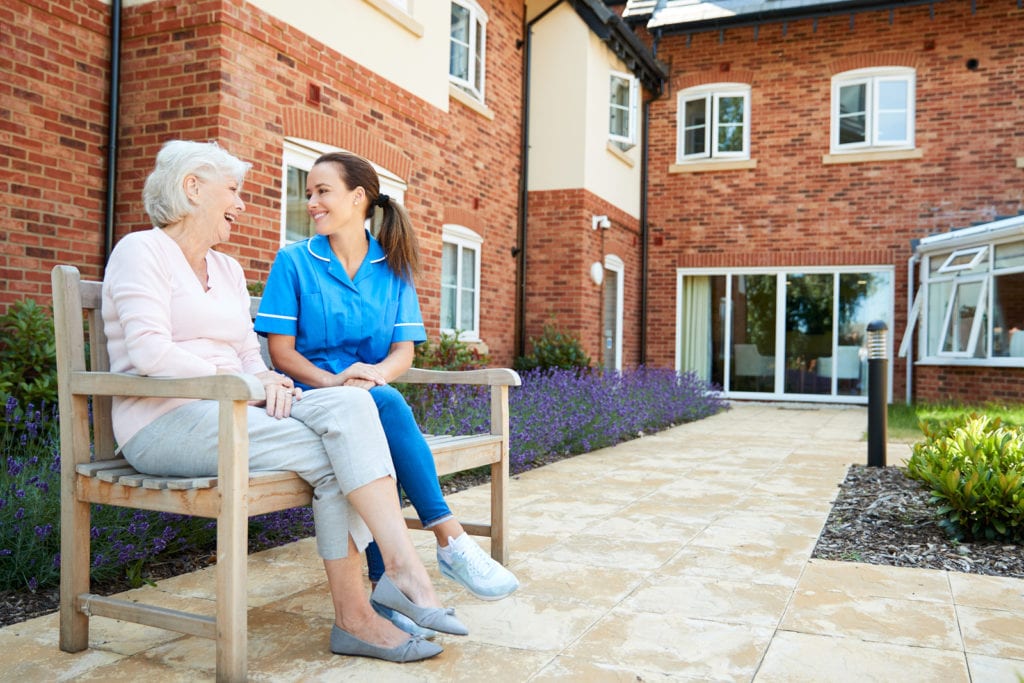 Certified Nursing Assistants and Geriatric Nursing Assistants are the cornerstone of patient care in long-term care. Nursing assistants are compassionate, patient, and endlessly optimistic as they care for residents and assist them with every aspect of daily living. They spend time at the bedside, comforting those who need comfort, bathing and dressing residents, serving meals and feeding those who cannot feed themselves, and forming lasting bonds as they devote their lives to the happiness and wellbeing of patients.
Nursing assistants are often the first point of contact between patients and the facility. There has been a substantial increase in CNA positions in assisted living facilities and nursing homes in light of the greater health care needs of the aging population. As seniors continue to be the fastest growing segment of the population, the demand for professional nursing assistants will only increase. Statistics from the United States Bureau of Labor Statistics confirms this fact. The latest report shows that the job outlook is projected to grow 11 percent from 2016 to 2026 – faster than the average for all occupations. The employment change during that period is expected to be 177,700.
Cecil County School of Technology
High school students may enroll in the Certified Nursing Assistant at Cecil County School of Technology during their junior year. The program will be concluded during the senior year. Students will receive an introduction to healthcare knowledge and skills that will enable them to pass the State Certification Exam and practice in acute and long-term care facilities. They will learn basic nursing skills, medical terminology, anatomy and physiology, safety and emergency procedures, infection control, direct care techniques, role of the health professions worker, observation, reporting, and recording, nutrition, and community activities. Supervised clinical experiences in various healthcare facilities will give students the opportunity to use their knowledge in a practical way in a real-world setting. The clinical experience will cover 40 contact hours in a long-term care facility. Students must provide their own transport to the clinical site. Articulated college credit may be available for those who complete the course with a grade B or higher. Graduates will receive a CNA/GNA certificate that will confirm their eligibility to take the state exams for both certifications.
Admission criteria:
Have a physical and dental exam
Submit documentation of Hepatitis B vaccination
Complete a PPD test before starting the program
Fingerprinting will be conducted on-site
Complete Algebra I as a prerequisite
Tuition is free but students must pay $70 for fingerprinting and criminal background check, $130 for Certified Nursing Assistant/Geriatric Nursing Assistant certifications, $90 for the course workbook, and approximately $60 for the required uniforms. The immunization, PPD test, and physical and dental exam must be completed at the student's expense.
Website: https://www.ccps.org/Page/547
Address: 912 Appleton Road, Elkton, MD 21921
Phone: (410) 392-8879
Fax: (410) 392-8880
Cecil College
The GNA/CNA program at Cecil College is approved by the Maryland Board of Nursing so graduates will be eligible to request certification and sit for the Geriatric Nursing Assistant certification exam.
The course requires completion of 150 contact hours of theory and clinical experiences. The program's theory meets the Board of Nursing educational preparations for nursing assistants. Topics of study will include infection control, data collection, safety and environment, mobility and positioning, the role and responsibility of the CNA, patient care skills, employment strategies, professionalism, and hygiene. The clinical training gives students the opportunity to work directly with patients under the supervision of the Clinical Nurse Instructor. It covers a total of 59 hours. The emphasis of the clinical experience is demonstration of the role, which may include moving and positioning patients, collecting information, personal hygiene, body mechanics, infection control procedures, and body mechanics. The program is offered on a day/evening/weekend schedule. The meeting time varies and dates and costs are subject to change.
Admission criteria:
A high school diploma or GED
Achieve the minimum competency scores on the admission assessments
Complete a drug screen
Complete a criminal background check – clearance is required to be eligible to participate in the clinical experience
Complete a health profile
Have current American Heart Association BLS for Healthcare Provider certification
Tuition and fees cost $1,745. Books, supplies and uniform will cost approximately $350.
Website: https://www.cecil.edu/programs-courses/career-community-education/workforce-training/healthcare-careers/nursing-assistant
Address: One Seahawk Drive, North East, MD 21901
Phone: (410) 287-1000
Email: information@cecil.edu