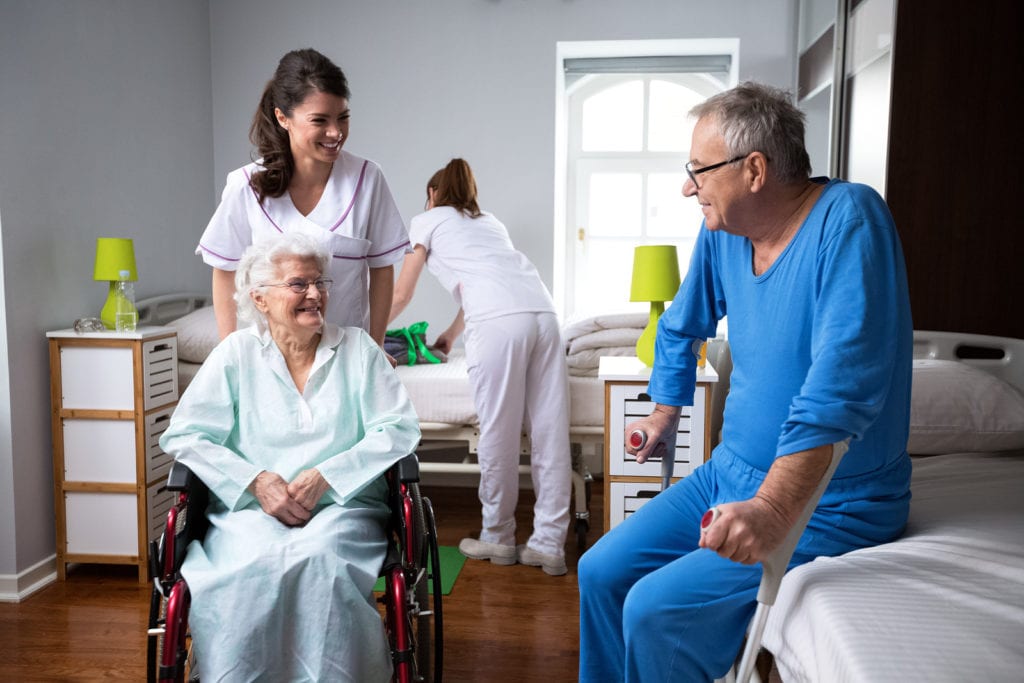 A certified nursing assistant (CNA) works under the supervision of a licensed nurse to care for patients or residents in a long-term care facility. The role of a CNA requires long hours and challenging activities, but the rewards of caring for others make the job a fulfilling one. CNAs spend more time with patients than any other member of the healthcare team. Their primary duties involve assisting patients with basic needs, such as bathing, dressing, eating, and movement, taking vital signs, serving meals and feeding patients, setting up medical equipment for exams and treatments, keeping patients' rooms clean, and responding to calls for help. Due to their close contact with patients, CNAs are ideally positioned to notice not-so-obvious changes in patients' mental, emotional, and physical condition. While some CNAs welcome the challenges and rewards of the job, others use the nursing assistant training and experience to move up the career ladder to obtain an associate or baccalaureate degree in nursing.
Gandhi Health Career Services
The nursing assistant program at Gandhi Health Career Services covers 129 hours of classroom and practical instruction. Course topics include anatomy and physiology, medical terminology, role and responsibility of a nurse aide, measuring vital signs, infection control, range of motion exercises, personal care and grooming, Alzheimer's care, rehabilitative treatments, safety and emergency concepts, and nutrition and feeding. The 129-hour curriculum also includes 5 hours of CPR training. Upon completion of the classroom sessions, students will participate in a clinical externship comprising of 40 hours of supervised patient care experiences. Morning, evening, and weekend classes are available. Morning sessions meet Monday through Thursday from 8:00 am to 2:00 pm – clinical instruction is 8 hours from 7:00 am to 3:30 pm. The evening session also covers 21 hours of classroom sessions each week. The weekend classes meet for 16 hours each week for 6.5 weeks. Students must have an attendance rate of 90 percent or better for the theory, 100 percent attendance on the practical, and a passing score of at least 80 percent to graduate from the program. Graduates will receive a Certificate of Completion to confirm their eligibility to sit the State Competency Exam.
Tuition and registration cost $1,000. Additional expenses include textbook, uniform, and the NNAAP exam.
Address: 1726 Reisterstown, RD, Pikesville, MD 21208
Email: GandhiHealthServices@gmail.com
Phone: (443) 352-8030
Fax: (443) 660-8242
New Pathways
New Pathways offers free CNA & GNA Training through collaboration with the Maryland Center for Adult Training and funding from the Maryland State Department of Labor. The program meets the state's training requirements by offering a minimum of 120 hours of theory and practical instruction. Course topics include anatomy and physiology, infection control, rehabilitation and restorative techniques, patient transfers, laws and ethics, nutrition and feeding, fluid intake and output, patient rights and independence.
Admission criteria:
Be 18 to 24 years
Demonstrate an understanding of a minimum 7th-grade math
Have a high school diploma or GED
Obtain a clean drug test
Demonstrate a minimum 9th-grade reading level
Pass a criminal background check
Provide valid documentation: social security card, birth certificate, immunization record, and photo ID.
Tuition is free for those selected to the program.
Website: https://newpathways.org/training-employment-opportunities/
Address: 110 West Road, Suite 430, Towson, MD 21204
Email: nstrohminger@newpathways.org
Phone: 410-464-2600 x102
It Works Learning Center Staff
IT Works offers both Certified Nursing Assistant and Geriatric Nursing Assistant training to prepare students for state certification. The program covers 140 hours of classroom lectures and clinical rotations in a long-term care facility. Students who successfully complete the program will receive a Certificate of Completion and will be eligible to sit the state certification exam. They will qualify for employment in long-term care facilities, nursing agencies, home health agencies, and other healthcare facilities. Course topics include but are not limited to range of motion exercises, rehabilitation techniques, basic nursing skills, vital signs, infection control, nutrition and feeding, patient rights and independence, and hospice care. IT Works offers flexible training options. The part-time schedule runs for 13 weeks, and the full-time program is 9 weeks. Students benefit from lifetime job placement, affordable tuition, flexible payment plan, experienced instructors, state-approved, and no high school diploma or GED required.
Tuition for the program is $1,800. The cost of scrubs, TB screen, CPR certification, background check and fingerprinting, state licensure and state testing are not included in the tuition.
Address: 1217 W Fayette St, Baltimore, MD 21223, USA
Phone: 410-626-0200
Phone: (410) 881-0684
Email: all@itworkslearning.com
Top Knowledge Healthcare Institute
The certified nursing assistant/geriatric nursing assistant (CNA/GNA) certification program at Top Knowledge Healthcare Institute is designed to be completed in 4 weeks. The program follows the state and federal guidelines for nursing assistant training so graduates are eligible to take the state exam. They may also use their training to qualify for admission to a licensed practical nursing or registered nursing program. The curriculum covers 115 hours of instruction: 40 hours in the classroom, 35 hours of skill practice, and 40 hours of clinical practicum in a long-term care facility. The classroom lectures emphasize the knowledge essential for the provision of basic patient care under the direction of a licensed nurse. Areas of study include measuring of vital signs, communication techniques, nutrition, medical terminology, infection control, hygiene and grooming, and toileting. In the skills lab, students will learn proper techniques for hand-washing, bed making, feeding patients, grooming, taking vital signs, and transferring, ambulating, and positioning patients. The clinical rotation will support the development of hands-on practical experiences. Daytime and evening schedules are available. Day classes meet for 4 weeks from Monday through Friday from 9:00 am to 2:30 pm. The evening program meets for 5 weeks from Monday through Thursday from 6:00 pm to 10:30 pm. A weekend schedule is also available. Classes meet Saturday and Sunday for 9 weeks
Admission criteria:
A valid photo ID and social security card
A completed enrollment application
A high school diploma or GED – applicants without a high school diploma may present the results of a basic English proficiency test
Pay the registration fee of $100
Obtain criminal background clearance
Have current CPR certification from the American Heart Association or American Red Cross
Hepatitis B vaccination or waiver form
A physical exam report and TB test
Tuition for the program is $1,345.
Website: http://tkhci.com/
Address: 22 Light Street, Suite 405, Baltimore, MD 21202
Phone: 410-528-1600