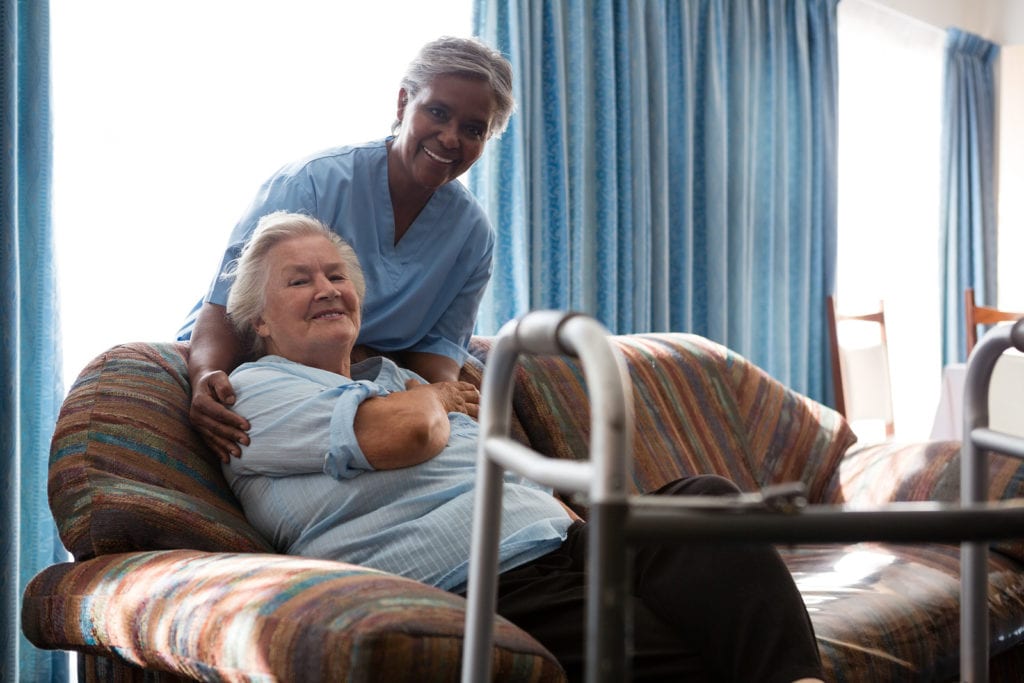 Nursing assistants use their knowledge and clinical skills to bathe, groom, and dress residents, transfer them from their beds, provide meals, and assist with medical therapy and mobility. The physically and emotionally demanding work is not for everyone. Yet thousands of caring adults across Ohio brave the low wages, unpredictable hours, and long shifts to care the senior and disabled members of society. State Tested Nursing Assistants (STNAs), as they're called in Ohio, are valuable contributors to the delivery of care in long-term care facilities. STNA training programs in Ohio must deliver the minimum federal and state requirements of 75 hours of instruction in the classroom and direct patient care at an approved facility. Many programs exceed this standard and deliver 90-plus hours of instruction to prepare students for this most important role. The physical nature of the job leads to high rates of workforce injuries and turnover rates upwards of 50 percent. As a result, many STNAs use their experience to enroll in competitive nursing programs to become registered nurses. STNAs in Ohio earn an annual mean wage of $25,850.
ETI Technical College of Niles
ETI Technical College offers Ohio Department of Health approved nursing assistant training. Graduates will be eligible to take the State Test to become a State Tested Nurse Aide. The training includes classroom instruction and hands-on skills training in addition to a supervised clinical experience at an approved nursing facility. The curriculum meets the guidelines of the Department of Health as it provides a total of 90 hours of training. Out of the 90 hours, students spend 67.5 hours in the classroom and 22.5 hours at a skilled nursing facility. Course topics include personal care, protecting patients' rights, working in long-term care, communication, controlling the spread of germs, positioning and transferring patients, measuring life signs, care for specific illnesses, end of life care, restorative care, and life skills training. Classes meet Monday through Friday from 8:00 am to 4:30 pm for 12 days. Evening classes meet Monday through Thursday from 5:30 pm to 9:30 pm/ Attendance is 100% required. Students who miss class or clinical times will be dismissed from the program. Graduates will be registered to take the State Exam at ETI's approved facility.
Admission criteria:
Be 18 years or older
A high school diploma or GED
A completed application form
Have a negative Mantoux (TB) test result or chest X-ray/
A clean state background check
Tuition for the program is $550.
Address: 2076 Youngstown-Warren Rd. Niles, Ohio 44446
Phone: 330-652-9919
Fax: 330-652-4399
E-Mail: info@eticollege.edu
Trumbull Career and Technical Center
TCTC Adult Training offers value for money. The STNA program is approved by the Ohio Department of Health and includes classroom lectures, hands-on lab, and a supervised clinical experience at a long-term care facility. Students learn and develop the skills that are critical to providing care in a long-term care setting. Course topics include infection control, anatomy and physiology, measuring vital signs, range of motion, transferring patients, measuring fluid input and outtake, patient rights and independence, communication, safety procedures, personal hygiene, and restorative care. The curriculum covers 90 contact hours of theory and practical work. The program is offered on a bimonthly basis. Classes meet Monday through Thursday from 8:00 am to 4:30 pm. There is an evening schedule that meets Mondays, Tuesdays, and Thursdays from 5:15 pm to 9:15 pm. Tuition for the program is $650 and includes books, lab supplies, uniform, and the licensure exam fee.
Address: 528 Educational Highway, Warren, OH 44483
Phone: 330-847-0503
Fax: 330-847-1117
Alliance City School District
The state tested nurse assistant program offered by Alliance City School District provides students with the basic knowledge and skills to assist residents with the activities of daily living. Students learn how to practice within the state and federal guidelines and collaborate with other members of the health care team for the best interest of the resident. Instructors cover the 100-hour curriculum in 5 weeks. Day and evening classes are available. Day classes meet Monday through Thursday from 12:00 pm to 5:00 pm. Evening classes meet Monday through Thursday from 4:00 pm to 9:00 pm.
Admission criteria:
Pass an entrance exam
Clear a criminal background check
Obtain TB clearance
Submit a completed application and fee
Pass an admission interview
A high school diploma or GED is not required for entry to the program. Career coaching is optional. The program content meets the requirements established by Ohio Department of Health and graduates are eligible to take the state exam administered by D&S Diversified. Tuition costs $685. Financial Assistance may be available to those who qualify.
Address: 500 Glamorgan St., Alliance, OH 44601
Phone: 330-829-2267
Fax: 330-821-3573
Windsor House, Inc.
Windsor House provides the training that employees and potential employees need to take become State Tested Nursing Assistants in Ohio. The training is approved by the Ohio Department of Health and includes theory and practical instruction to prepare students for success on the state test. Training is free for employees and prospective employees. Contact Windsor house for a current schedule of classes.
Address: 101 W. Liberty Street, Girard, Ohio 44420
Phone: 330-545-1550
Fax: 330-545-2444
Email: info@windsorhouseinc.com